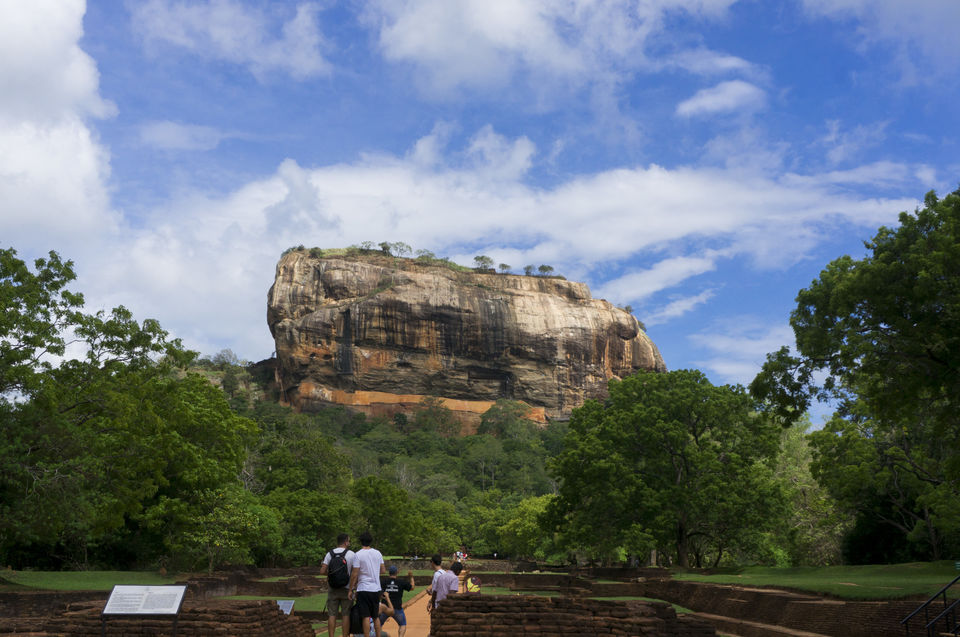 A fortress of rockitude?
The Sigiriya rock is a World Heritage Site as well as an archeological wonder. The rock plateau sits at 370m above sea level in the heart of Sri Lanka and was formed from the magma of a now extinct volcano. The beast is known for being King Kashyapa's own royal experiment. Thousands of years ago, it was actively inhabited and has water channels, gardens and a fortress built right at the top.
Enough history, let's dive into the experience.
I woke up feeling excited and refreshed at a homestay in the lazy and beautiful town of Kandy. Amped up to summit the massive rock, getting packed and ready was a breeze. After saying goodbye to our hosts and their 7 dogs, we got into the Tempo Traveler for a two-hour long journey to Dambulla.
The views were refreshing, the wind had a bit of a chill to it and the anticipation was peaking. There were a lot of monasteries on the way, each one more remarkable and unique than its predecessor. I wondered if we could make a stop for a minute just to marvel at the architecture and the air of mystery around them.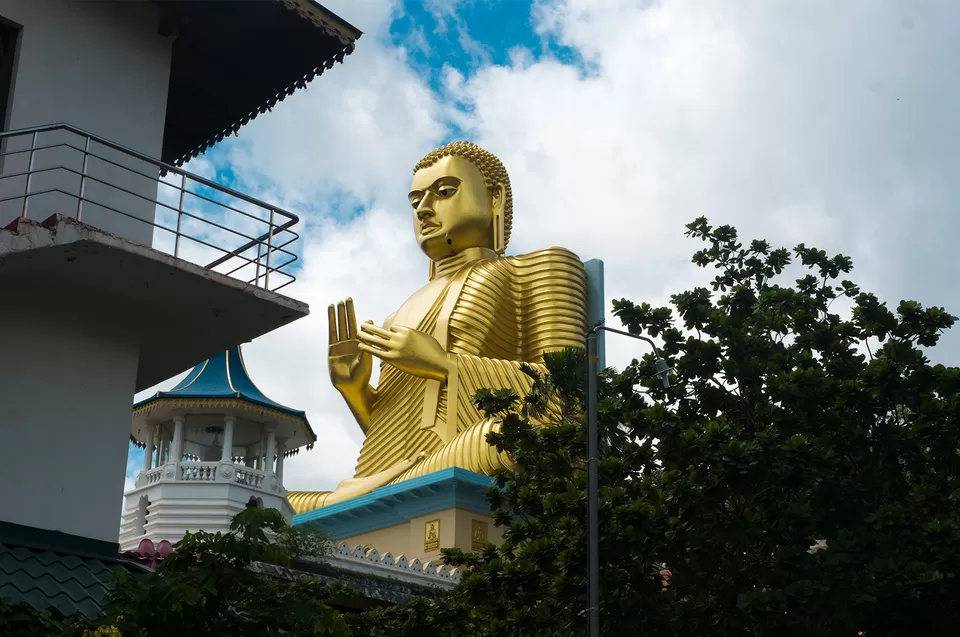 After the traffic-free smooth ride, I found myself climbing the few hundred steps that lead to the Dambulla Cave Temple. We were greeted with the sight of a massive golden Buddha almost promising us more spectacular views, should we choose to carry on with the journey.
Fruit and snack vendors were strewn about the whole way, selling mangoes and other treats to help you on the journey. And in a place like Sri Lanka, famously known for the Indian mythology book, Ramayan, you could expect a few monkeys around as well. And these guys weren't aping around!
As soon as a tourist occupied the attention of a vendor, the monkeys were swift to snatch anything that was kept unattended. What a sight!
If things couldn't get better, there were puppies on the way! Tiny puppies literally littered around us with their lazy moms hanging out in the shade.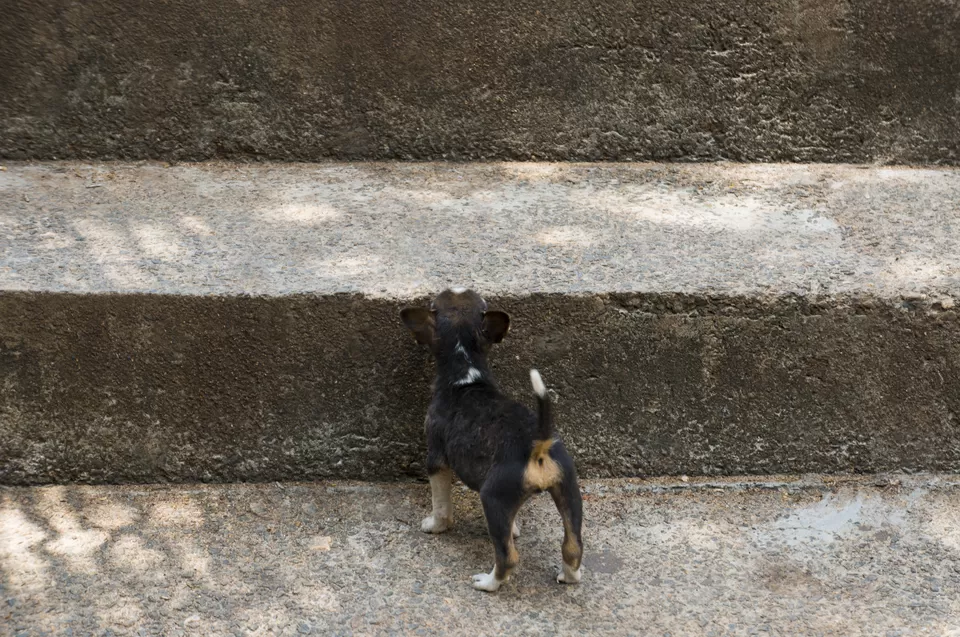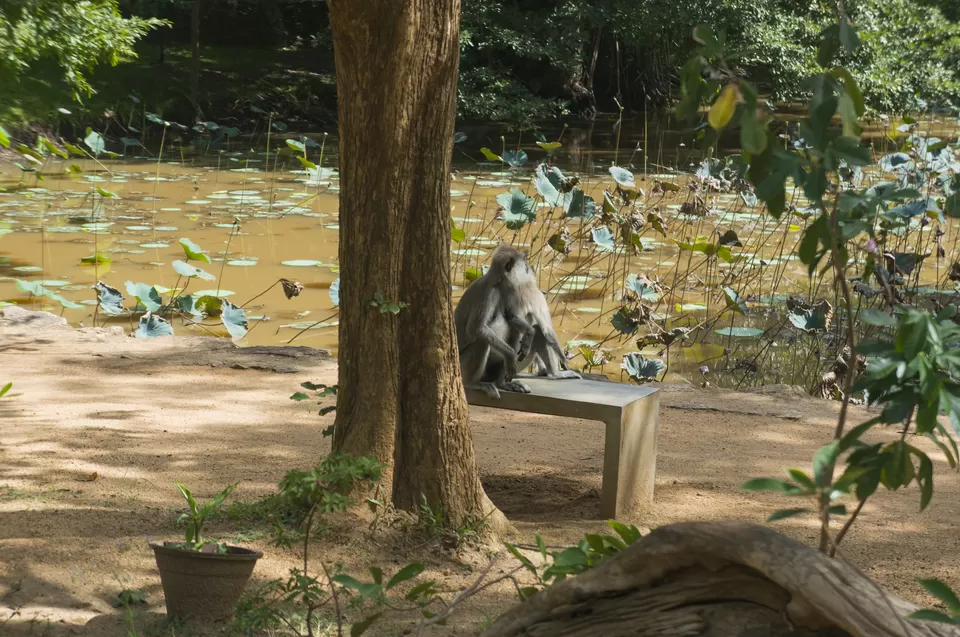 Dambulla Cave Temple has a hustle-bustle of its own. Some temples have rules that do not allow you to enter with certain parts of your body exposed or even ripped jeans! This World Heritage Site was one of them. Tourists in tank tops and/or shorts had to be covered up and that included a few people in my own party.
The temple was extremely interesting. Our guide spoke about the significance of each statue, the way they were made, their makers and the reason they were kept where they were. There were a whopping 153 statues of Buddha! One of the caves had a reclining Buddha as well.
The five caves were dark so the guide asked us to turn on the flashlight in our phones to look and manoeuver. The only downside was that I couldn't shoot anything.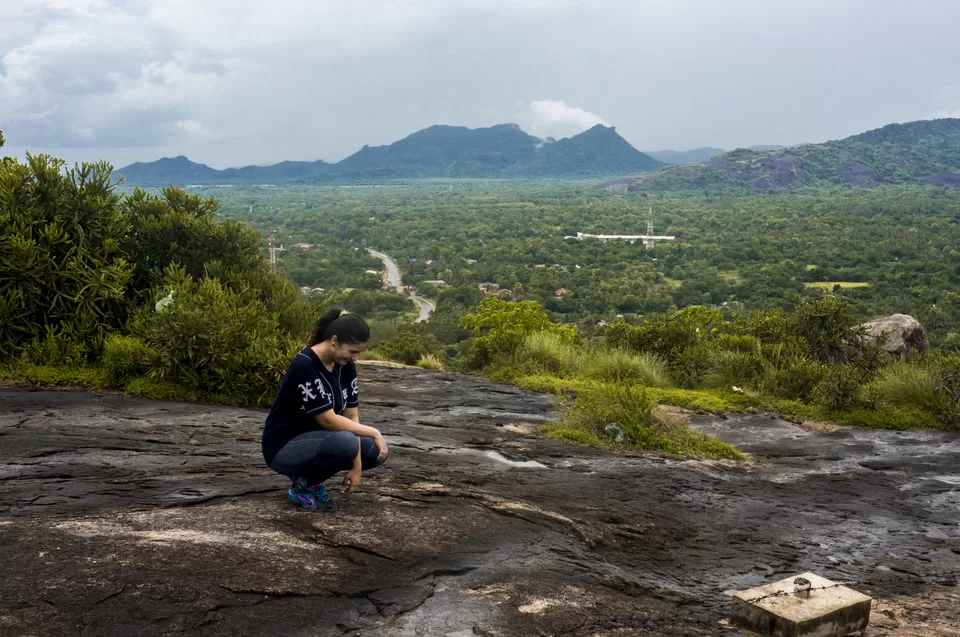 After descending we began our journey toward Sigiriya.
1200 steps to go, I thought to myself.
The Behemoth stood right in front of me, it's massive size and threatening altitude beckoning me.
The Sigiriya Rock had an entry of 1950 LKR for SAARC tourists with identification proof and since I didn't bring my passport (like a total idiot), I had to pay 3900 LKR.
While getting cussed at and made fun of for my idiocy, I walked through the entrance.
The sun was shining at a Super Saiyan level, making me sweat and squint instantaneously. The famous water channels were on either side of the path, casting imaginative visions of the time of King Kasyapa. You could almost hear the quiet sloshing of the water, smell the flowers in bloom and sense the people of yesteryear, on and about their days in this kingdom.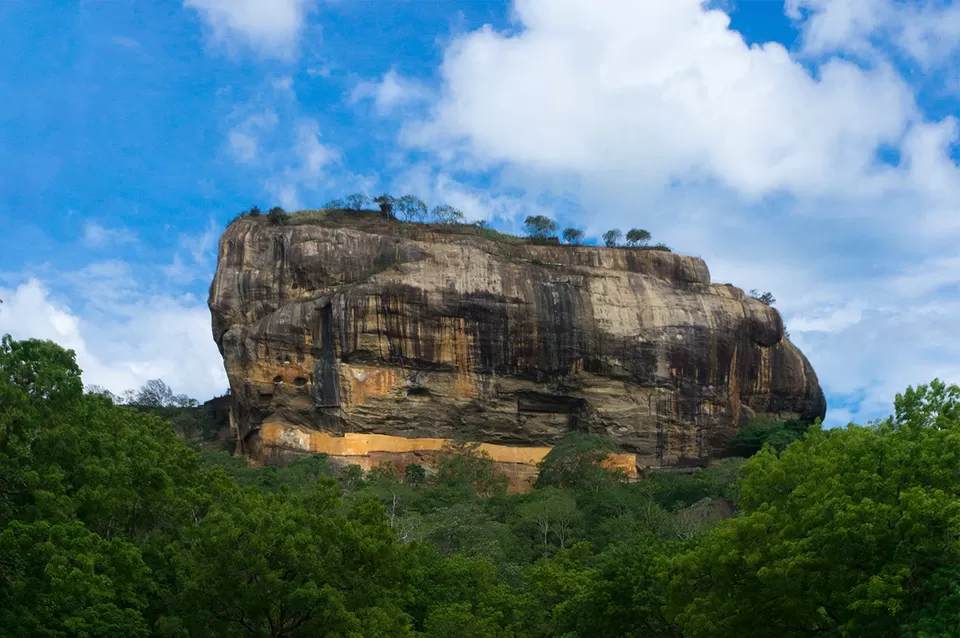 Once you stood in the shade, all the points on the compass promised beauty and delivered it.
Tourists like us stopped at various places to capture the perfect photo for the Gram and more often than not, they decided on the middle of the path.
"Yes! Of course, dude that's dabbing, I didn't know when I needed a rest stop! Thank you for making that decision for me!"
The scenery changed as we walked on further. Grassy, open grounds were replaced by a narrower tree-line and that's where we encountered our first real steps. Pretty easy and basic, these steps were made of the same red rock mini-boulders that lined the path. Each step was about 1 3/4th the height of your normal staircase step, making you really stretch your muscles with each stride.
You could hear the complaints and dissatisfied mumbles of everyone else as the climb got harder. I was one of them too, just saying.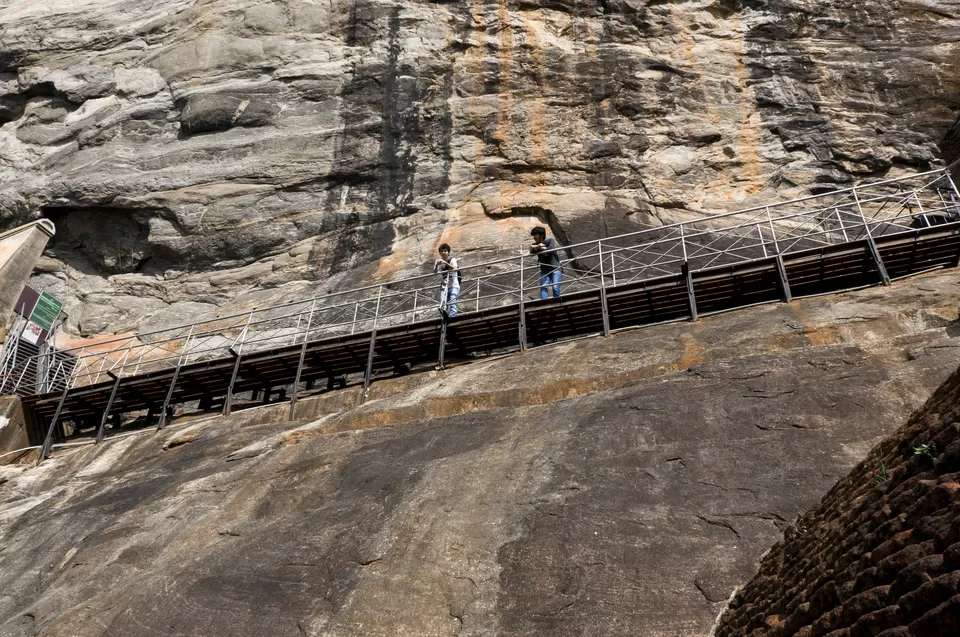 We reached the huge bridge on the side of the Rock, near the halfway point, where we found a few famished dogs. They looked thirsty and fatigued. I whipped out my only water bottle, made a makeshift bowl in my hand and poured water into it. They lapped up the whole litre bottle while happily wagging their tails. That experience is still one of the best in my life.
The halfway point had extremely amazing views of one side as well! We could see the whole route that we came from, the forest on either side and the beautiful blue mountains that lay beyond. After a few minutes of photography and vlogging, We trudged forward. The splendid sights fuelled us and now we wanted to see the 360-degree view.
Step 921, 922, 923..
Nearing the end of the journey and finished with our water supply, my two brothers were outrunning me in energy and stamina. Gosh, I used to be an athlete. The few dozen last steps were ladders and staircases, crowded by people taking their sweet time. Most of us wished we had a bigger breakfast or just stayed home. While the sun was grilling us one side at a time, like shawarma meat, our goal was getting closer than ever.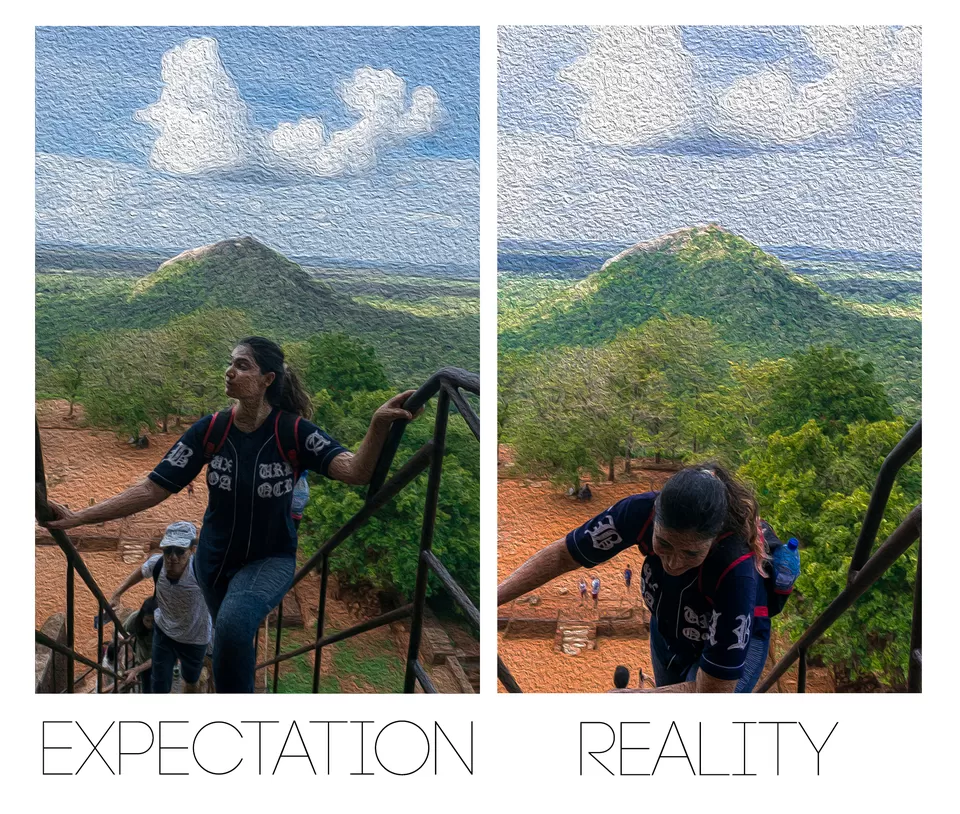 And there I was! Standing atop the gigantic Sigiriya Rock! I had done it! I might have overreacted a little with the exhaustion. Can you blame me? The sodden steps wouldn't end!
The vistas made every thought in my head clear out, giving way to a sense of accomplishment and contentment, alike. A panoramic scene; it felt like I could see all of the island!
Every side had a different view, though I couldn't decide which one I wanted to look at more. Tufts of soft white clouds hung out by the bright blue sky, massive mountains encircled the whole terrain, the sun glinted off the rivers and lakes in the distance and the trees in the forests swayed their leaves together in harmony. The whole aspect felt like it was painted in hues of blue, green and brown.
The ruins of ancient architecture left all to your imagination with a few structural prompts to help. I couldn't even begin to understand how life must have been for the inhabitants of this rock but it sure was fun to think about.
It's truly amazing to visit places that possess the full potential to take your breath away.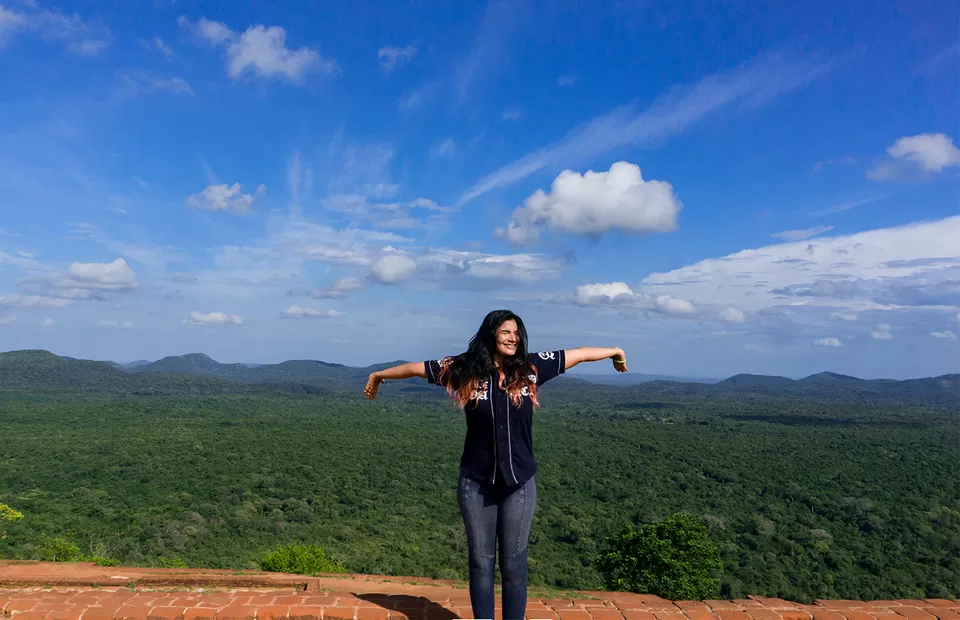 Sigiriya = scaled. 1200 steps.
Totally winded, I sat down. No worries or pain to feel. Just the sun on my face, wind in my hair and the sweet taste of success.
Then it dawned on me: We've got to get back down.
---------------------------------------------------------------
Travel Tips:
- Carry your passport with you. It's a given, I know, but I still slipped up.
- Carry lots of water! You never know who you'll run into that needs it more!
- Bring a snack! An energy bar, biscuits or a sandwich could help if you suddenly feel fatigued or be a really nice treat right at the top!
- Wear comfortable shoes. It's okay to walk with new shoes but it's highly suggested that you wear a pair of already broken into shoes for a better hiking/trekking experience.
- A headscarf, hat or cap could be useful in the sun. A pair of sunglasses wouldn't hurt either.
Happy travels! Until next time!
Frequent Searches Leading To This Page:-
Sri Lanka tour packages price, Best places to go in Sri Lanka in march, Top tourist attractions in Sri Lanka, Tourist attractions in Sri Lanka, Best beaches in Sri Lanka in November