Ice Hotel Sweden – A must experience in one's lifetime!
Initially, I was surprised when I first heard about the concept of Ice Hotel. Was even more surprised when I dug more information about it. Every year, in the winter, this hotel is built out of ice mined from the nearby river. It stays on until summer and melts away when summer sets in. And next year, they build it all over again! Mind blowing, isn't it??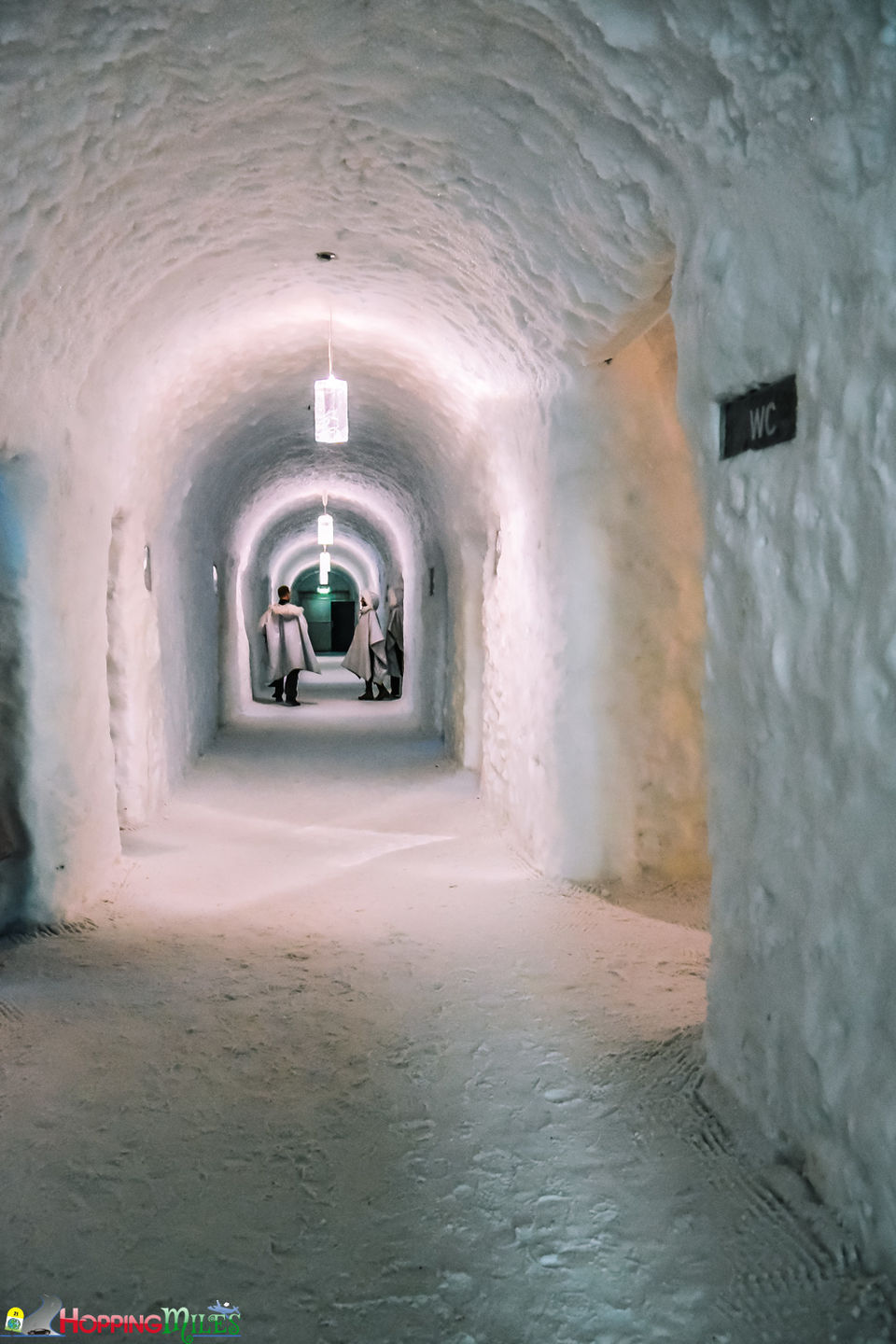 Ice Hotel in Jukkasjärvi
Ice hotel is located in a small of Jukkasjärvi in North Sweden. The nearest town to Jukkasjärvi is Kiruna, from where we have daily trains from major cities of Sweden. From Kiruna, Jukkasjärvi is a 15 drive from car/bus. Jukkasjärvi town itself is a pretty destination. A walk in Jukkasjärvi town in summer brings up views of cute wooden cabins in the backdrop of Torne River surrounded by lush green vegetation. Colourful flowers pop up in every corner of the town. It was first inhabited by the folks of Sami tribe and the town even hosts a Sami museum where we can get a glimpse of lives of Sami ancestors.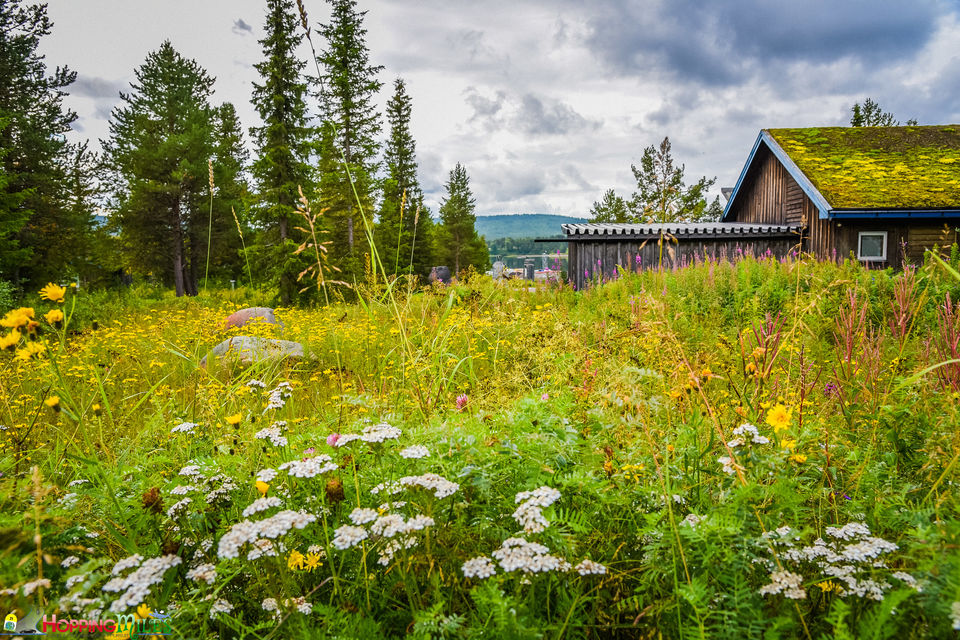 Ice Hotel rooms
From November 2016, a new concept called Ice Hotel 365 was unveiled. That means that instead of letting the ice melt away, the ice rooms are maintained at a constant -5 degree Celsius with the help of solar power. So the guests could experience the feel of ice rooms in summer too. I was one of the fortunate people to have visited Ice Hotel 365 in the first year of its inauguration and slept one whole night in an ice room that too in peak Swedish summer!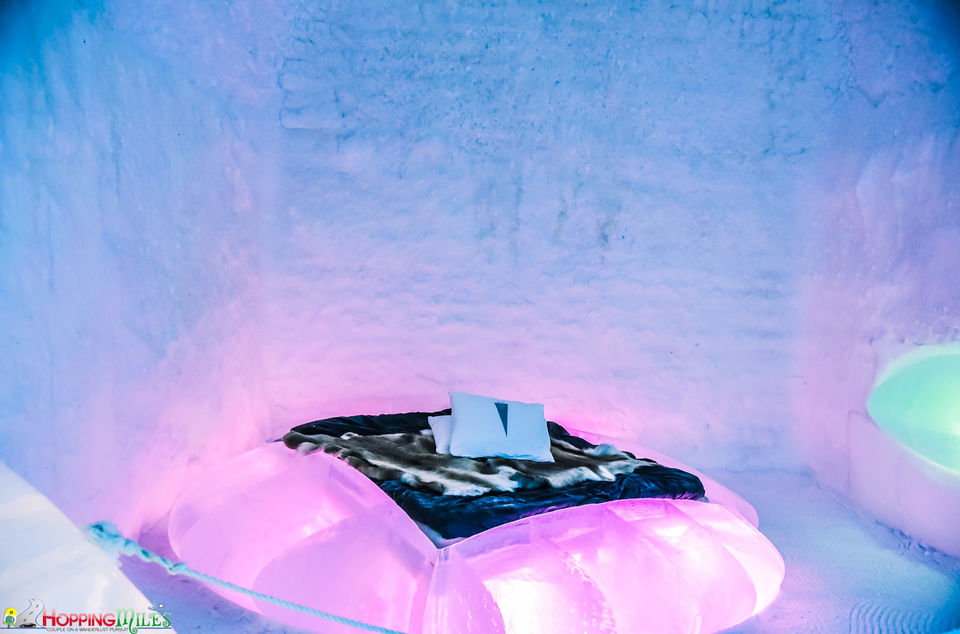 There are 2 types of rooms in Ice Hotel - the Warm room and the Cold room. And as the name says, the warm rooms are warm and the cold rooms are cold. But, the specialty is, in winter, the effort is spent in keeping the warm rooms warm and in summers, the cold room cool!
Cold rooms are equipped with exclusive Carpe Diem Beds and we were told to wear comfortable pyjamas and were given warm sleeping bags that would sustain up to -40 degree Celsius. The bed was topped with a reindeer skin which was soft and warm. A dream of sleeping in igloo was accomplished! Next morning, we were woken up a generous supply of warm lingonberry juice. It was much needed after spending a night in -5 degree room!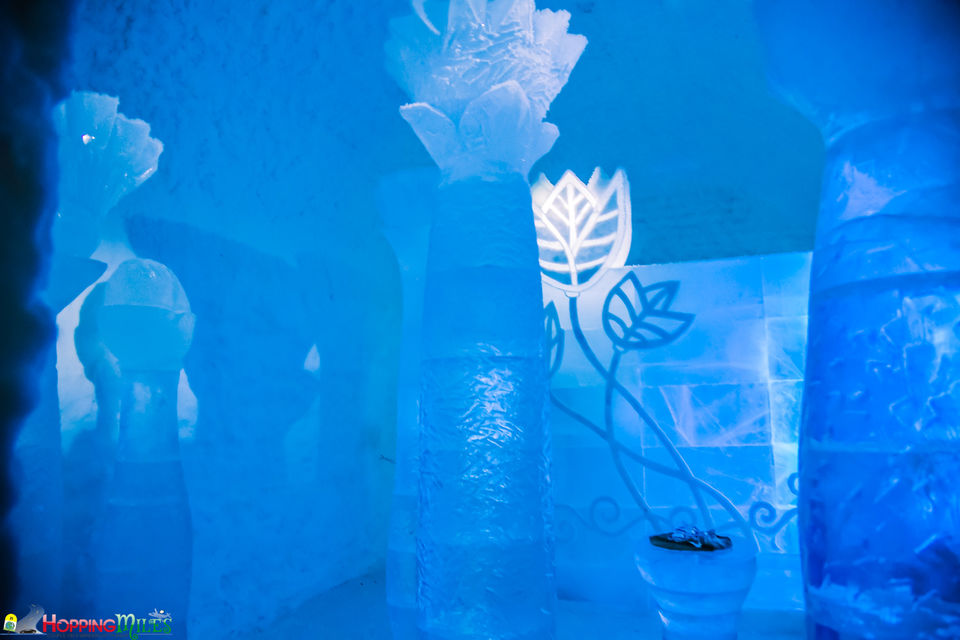 We spent the next two days in warm room of Ice Hotel.
Activities
In winters, there is an Ice chapel built. Every year, many marriages take place here. How cool is that? There is also a soccer field built in winters! Snowmobiling, dog sledding, ice sculpture carving are some of the activities we can do here. Also, Ice Hotel is one of the best places in the world to see northern lights.
Ice storage
Ok, Ice Hotel is all Ice. But ever wondered from where is all the ice from? Well, just next to the Ice Hotel premises is the River Torne. This river gets completely frozen in winters. Then is the time when the ice is harvested for Ice Hotel. The ice is cut into 2 ton blocks and sculpted into beautiful rooms, a church, soccer field and much more. Do you know that there is an Ice Bar too! Here, the drinks are served in Ice glasses. Earlier, the glasses used to be made by hand. But now, due to the constant demand, they have been made by ice.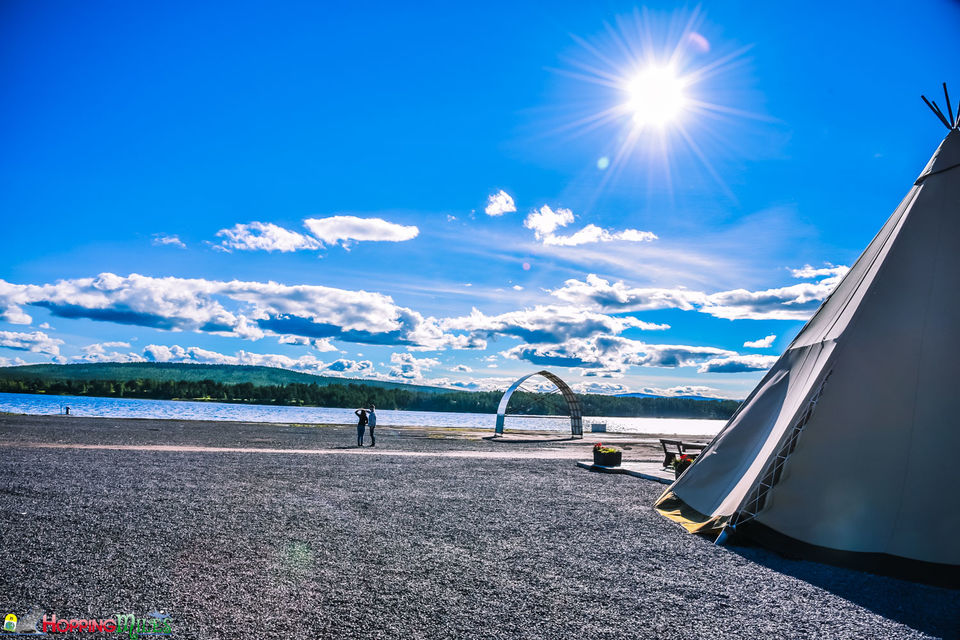 There are many Ice bars around the world – Stockholm, Norway, Denmark and Tokyo. The ice glasses to these places are served by Ice Hotel in Sweden.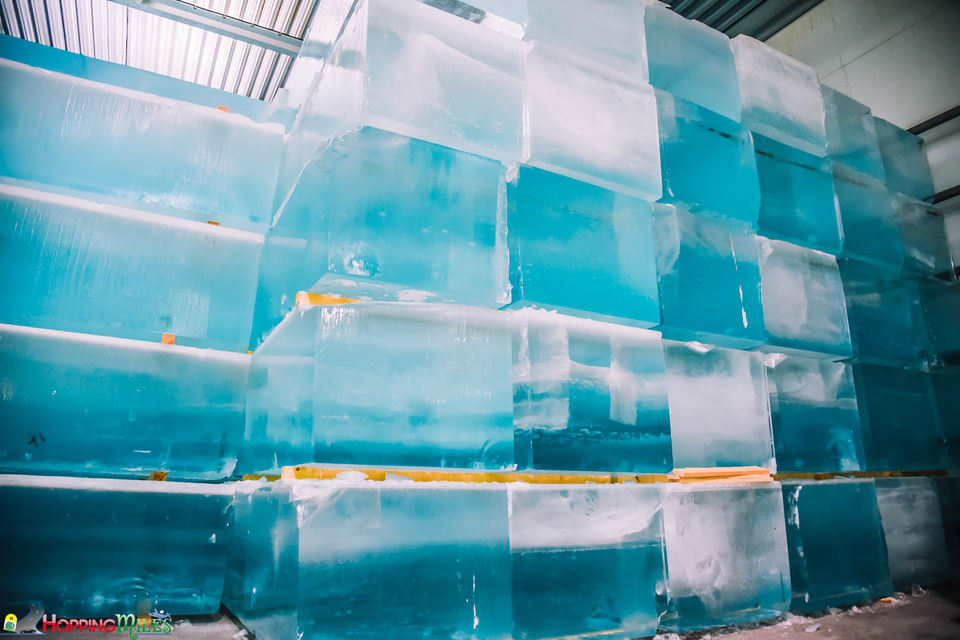 Check out the live video I did from Ice Hotel.
Events
Apart from weddings, many events and photoshoots have been held in Ice Hotel. Ice Hotel has been featured in popular websites like Condenast, CNN, National Geographic, and Discovery Channel. Top models have shot in various ads and photoshoots in Ice Hotel.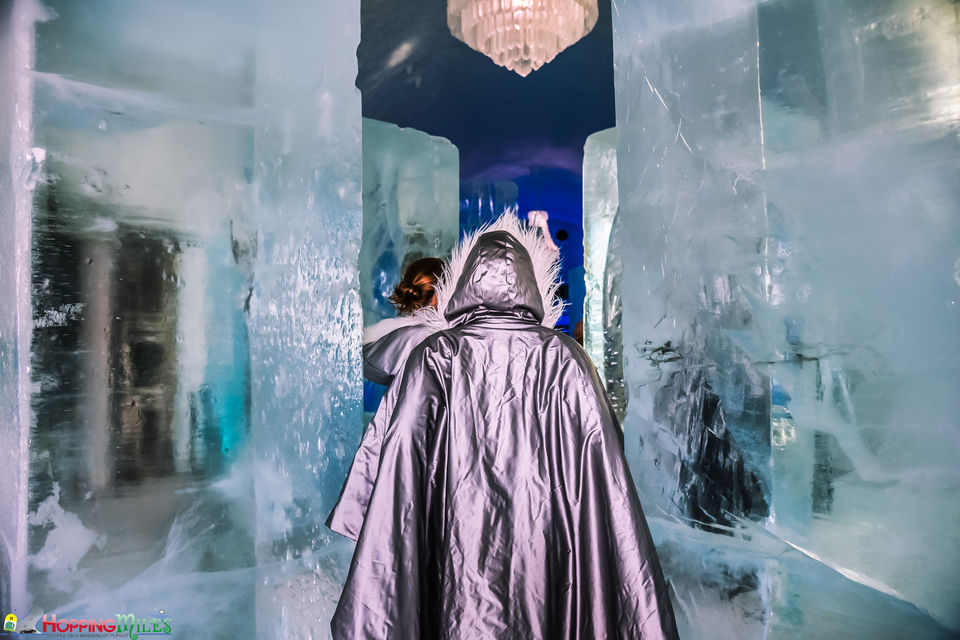 Fine dining
Ice Hotel hosts a beautiful and warm restaurant where food is served in Ice plates! The ambience and décor of the restaurant is classy.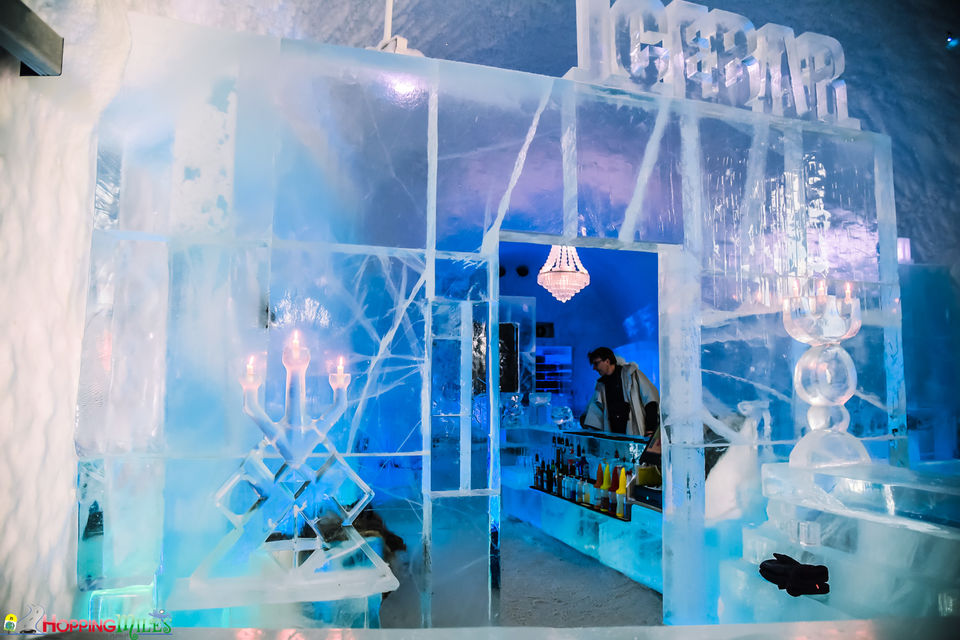 The food is delicious and their breakfast spread is something to look out for! I personally loved the cereals and the creamy yogurt! Unlimited supply of coffee and hot chocolate was something that cheered me up in the cold Jukkasjärvi weather.
The lunch was a 3 course meal with yummy salads and a main course that would fill our stomachs to the brim and of course, the dessert would be something we'd be waiting for at end of every meal! :)
Overall, the experience of staying in an Ice Hotel was something we were looking forward to and enjoyed it as much. The entire concept of staying in an Ice Hotel and sleeping on a Ice bed, that too in summer is a unique concept and how glad we are to have experienced this :)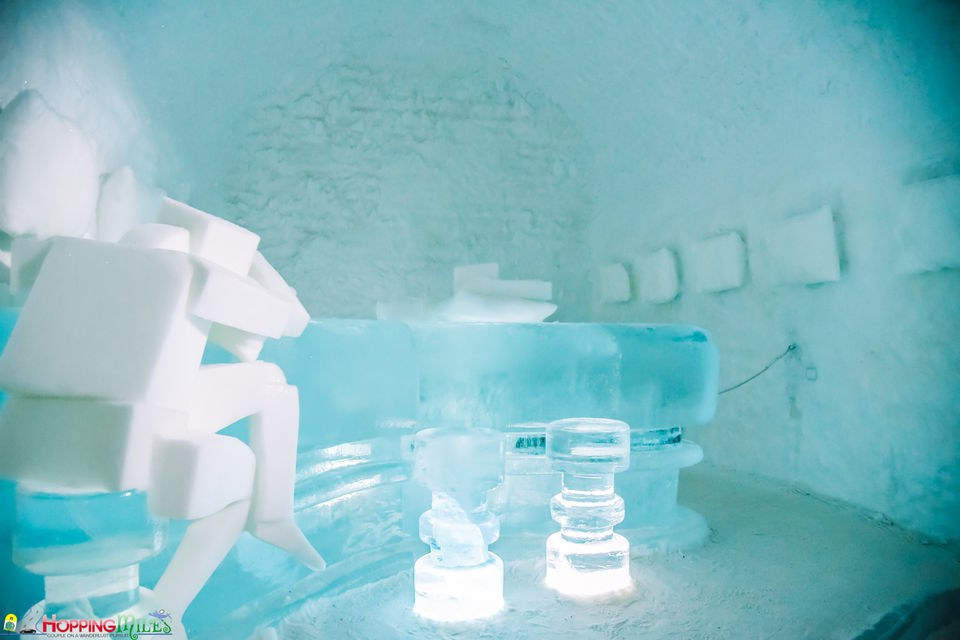 If there is one experience you should never miss in your life, then it is this! So, put this in your bucket list and plan your trip to Ice hotel asap!