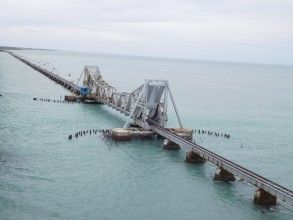 RAMESHWARAM
A visit to the divine destination Rameshwaram - one of the 12 Jyotirlingas – is a dream come true for anyone, especially the religious-minded. Situated around 55 kms away from the district headquarters Ramnad in Tamilnadu, the place is hardly 2 hours drive from there, en-route Mandapam, a tiny, sleepy village, on the shores of Bengal Bay. The main land ends at Mandapam, leading way to the first ever sea bridge of India Pamban, the only transport mode (rail) available decades ago to reach the holy place. This 2-km long bridge comprises midway, an automatic, retractable arrangement that opens up to facilitate ships/barges to pass through. Spectacular it is, but one has to have luck to witness it, as God knows when a steamer is due on this stretch. But now a modern bridge is put in place for road movement too. Named after the late PM Indira Gandhi, this road bridge runs parallel to Pamban. Be it any, but driving over a sea bridge at a higher altitude is itself a breathtaking experience. Curiosity abounds. If you are on your own vehicle; you can stop over half way, parallel to the Pamban, for a closer look and a photo session with various fishing boats at the background. After crossing the sea, one encounters a small island (Kurusadai) where coral reefs can be seen aplenty, provided you get Fishery Department's permission. To the right, at around 2 KMs from the main road, there is a Memorial for India's most revered spiritual leader Swami Vivekananda in a serene atmosphere. The next stop is Rameshwaram. Fishing being the prime profession for the locals, foul smell rents the air all over.
The lofty gopuram visible from a distance seems to welcome the tourists and devotees alike. Making way among the crowd to enter the temple precincts is an experience in itself. Once inside the temple, we can see high-rise stoney pillars with astounding architectural skill at all the four corners, a standing testimony to the artistic handwork of the sculptors of the time. It is said to be the longest temple corridor in the whole of Asia (600 feet x 400 feet). The main deity Rameshwara is to have been installed by Lord Rama himself (before embarking on Srilanka Yatra to fetch Mother Sita), to pray Lord Eshwar, whose staunch devotee the demon king Ravan was, to refrain from helping Ravana.
Next comes the holy bath @ the 22 wells within the temple corridors; of course for a fee, but one need to stand in serpentine queues. To save on time, we can engage a volunteer paying a higher price and do the process in an hour or so. Being one of the Char Dhams (four holy places), people even from North throng this temple in thousands each day.
Do not forget to have the Spatika Linga darshan at the main temple. A special time is fixed for this (4 and 5 early morning); of course for a fee (Rs.50/head). This Linga is said to have been donated by the Adwaitha philosopher Sri Sankaracharya to the temple.
A dip at the Agni Theertham (right opposite the temple) is known to cleanse the body and soul but one can't, as water is unimaginably dirty with the entire area gagged by people performing ceremonies to their dead ancestors, what with earthen pots, flower and such other items haphazardly strewn around. Also, beware of agents who loiter around the main temple and pester you no end for a special seva at the shrine (sanctum sanctorum) and swindle you heavily.
After darshan here, one can leave for other locations to the north of the town that include (a) Gadamadana parvatam, a small hillock 3 kms away - where Lord Rama's foot impressions engraved on a chakra can be seen (b) Sakshi Hanuman temple, where Hanuman showed Rama the choodamani ring given by Sita as evidence of his meeting her at Lanka (c) Bhadra Kaliamman temple (d) Sugriva Theertham (e) Lakshmana Theertham where floating stones said to have been used by Hanuman and party to build the Rama Sethu bridge could be seen (f) Rama Theertham and (g) Sita Theertham. Locals at any tourist place back in India are known to woo tourists adding masala and butter to stories/incidents and putting a make-shift tent with a table, fix an entry fee and rob the visitors. Rameshwaram is no exception. Sita Theertham is one such. There is literally nothing to boast of, except a half-filled artificial pond. Unavoidable emotional blackmail it is.
It is now time to set off to Dhanushkodi (18 KMs) along the sea border). Vehicles stop 4 KM before. From there, local fishermen's rugged jeeps ply over the sand, silt and wavy waters till the tip of the land for a fee (80 bucks per head). But it is really worth it. Even elite class enjoy the ride shouting and guffawing. Journeying atop an open jeep is a lovely experience where one gets to see full view of the surroundings. It takes almost 2 hours to finish the ride. Along the drive, old. abandoned churches, railway tracks that once existed but got destroyed owing to the havoc caused by cyclone in 1964, can be seen. Dhanushkodi temple that existed almost a century ago, is now submerged in water. It is a wonder that several fishermen families stay at this deserted place even to this day under the coconut leaf thatches with small children, with no school, not even a petty shop to fetch even a match box. Sand, sand and sand alone all around; nothing else. Way back, there is Kodandaramar temple where Ravan's brother Vibheeshana is said to have surrendered to Lord Rama.
Last but not the least. Rameshwaram tour would be incomplete without a visit to the memorial to our late President Dr.Abdul Kalam. It is hardly a stone-throw distance from the main temple. Turned out a tourist spot lately (Prime Minister Narendra Modi ji inaugurated the Memorial on Kalam's 2nd death anniversary in July 2017) at Peykarambu), a visit to this place is undoubtedly worth it. His typical 'hair style' made out in grill work and fixed on the outer parapet wall is a landmark that helps recognize the house instantly. Hats off to this truly secular, simplicity-personified man with great ideals, a real scholar who used quotes from Hindu epics Ramayana and Mahabharata with such ease that one can't believe him to be a non-Hindu – a phenomenon hard to see these days. It is said great people are always great. I feel proud recognizing this great person's stature. .
It is time now to bid good bye to Rameshwaram and head back to our place with sweet memories.