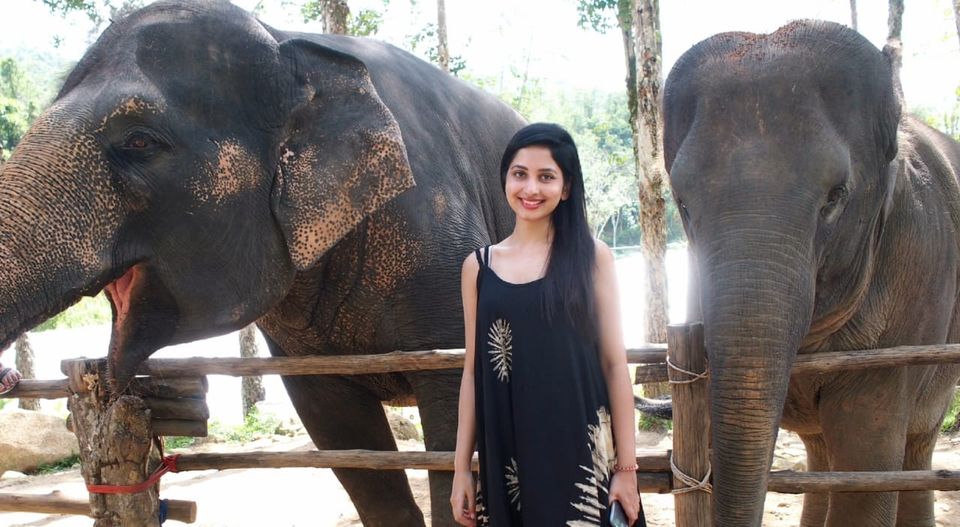 Hola! Grateful that you guys chose to click on that link and read my blog, a first timer as far as "Travel Blog" is concerned. Brief about me, I have traveled across 25+ countries with family/friends but recently developed a knack towards solo travel, and what better a place to start than the en-captivating beaches of Thailand in Asia!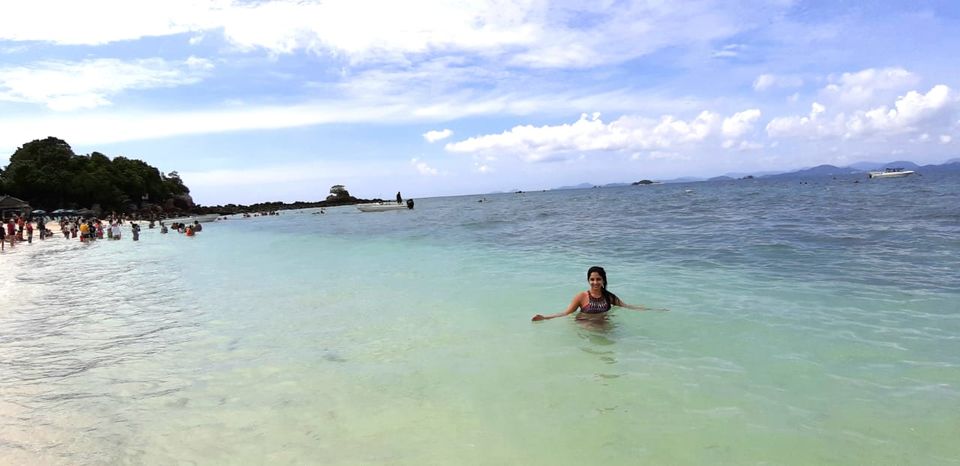 Just to make the read worth your time, I am not making this another mainstream travel itinerary outlining sequence of daily activities specifying timelines, quite sure most of you've already been here, some probably more than once and as for the rest, you definitely know at least one person who's been here and spilled the beans already.
Idea is to layout some prerequisites and a road map for solo female travelers just like me ,especially if your an Indian travelling from India, still in two minds planning that one trip for long time now, something's holding you back from travelling alone. Yep, this one's for you! For the others just have a good time with this casual read, suggestions most welcome :)
Bitter Sweet Welcome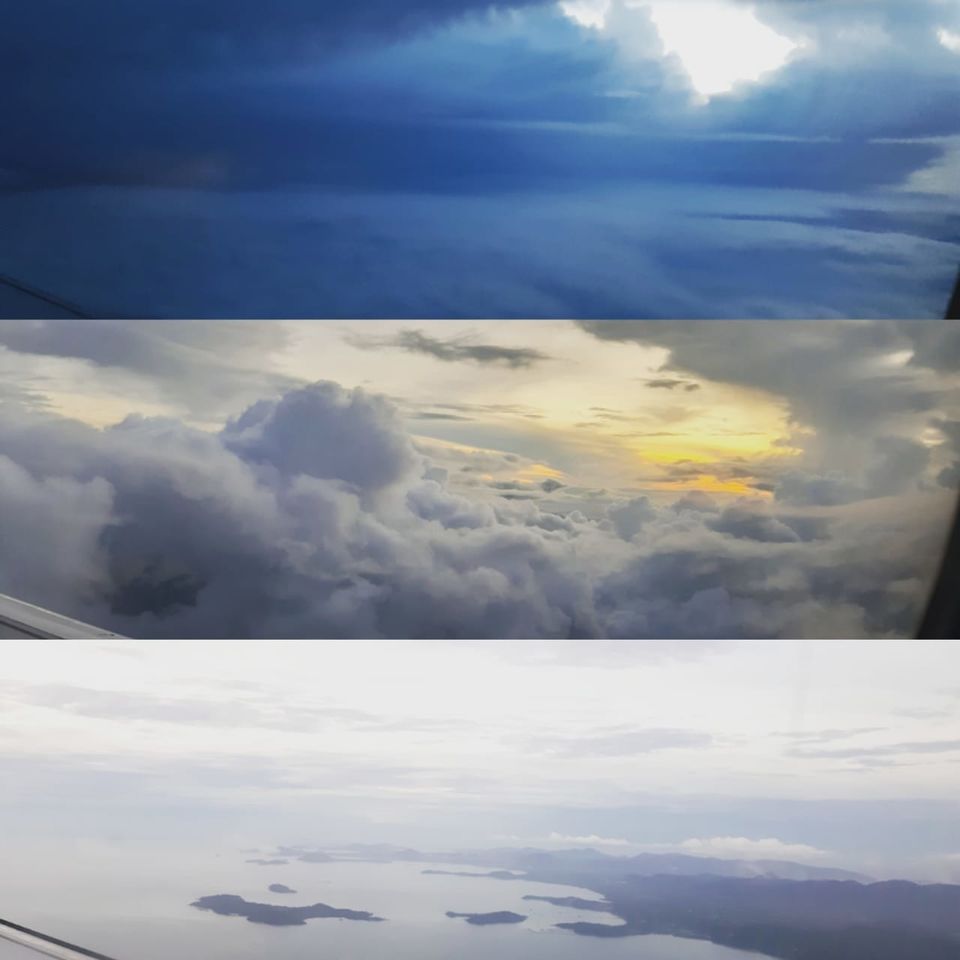 Maiden day, I am all geared up, escape plan ready from my boring monotonous job, pulled up my socks and boarded that Indigo direct flight from Delhi to Phuket, munching on some grilled chicken salad on the way (saving my appetite for the fried spicy Thai food & to be honest it tastes better than Indigo sandwiches). Upon arrival, cleared immigration & security in no time (Tips for skipping the VISA on arrival queue - get an E-VISA Approved Form from "ivisa" with your particulars listed in the document prior to your departure). And here comes the bummer! My luggage hasn't arrived :(
Waiting endlessly in front of the luggage belt, I finally inquire at the Information desk only to gather that my luggage (1 suitcase) is detained at Delhi Airport because it had a "powerbank" inside, something which wasn't prompted anywhere in Indigo's website or by Checkin personnel at the airport.
For those of you who aren't quite well versed with this norm (given my travel history, only once was my baggage scrutinized during checkin with one unwanted item instantly removed before allowing the baggage to be loaded) be extra careful about prohibited items for during international travel its totally uncertain & depends solely on the airline and destination country to pre-inform you in case of a check-in baggage issue
After recovering from this shock, filling out my credentials and receiving an almost-convincing assurance from a straight faced Thai lady that they're going to inform me as soon as my baggage arrives at the airport, I pulled myself together and headed straight for the exit, crossing a long queue of the equally anxious passengers clueless about their bags
Phuket reminded me of a countryside - cool breeze blowing through my hair, nicely decorated V-shaped roofed houses meeting well built roads covering mostly 2 wheelers, driven by women. My hotel was slightly uphill (like most destinations there, more of plateaus to be precise, as the terrain isn't flat) got an early checkin, freshened up and headed straight to the malls nearby to purchase primary essentials & cover for the missing luggage. Oh did I forget? The driver was super nice, made sure I enter the right hotel gate and wave a re-assuring good-bye before he left.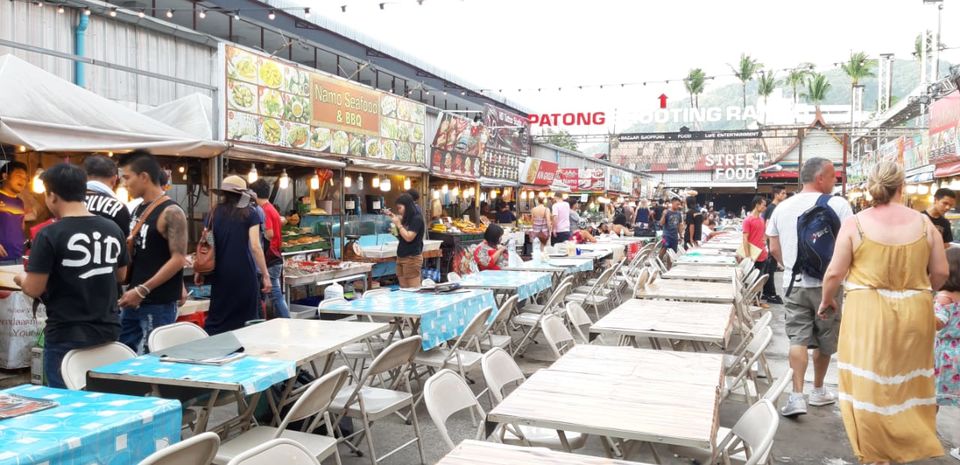 Now the area where I resided for 3 and a half days is called "Patong" and if you are not quite fond of boisterous 24*7 lit restaurants, departmental stores, garment shops, pubs/bars and people cluttering across the streets aimlessly (post evening) it wouldn't be a bad idea to strike this off your list and go for a more tranquil area. Not my reasons either for choosing this place, 3 shopping malls, 1 money exchanger, 4 7-Elevens and numerous restaurants (multiple cuisines including Indian) and street food stalls all within less than half a kilometre (0.3 miles approx) made it significantly easy for me to navigate around without hassle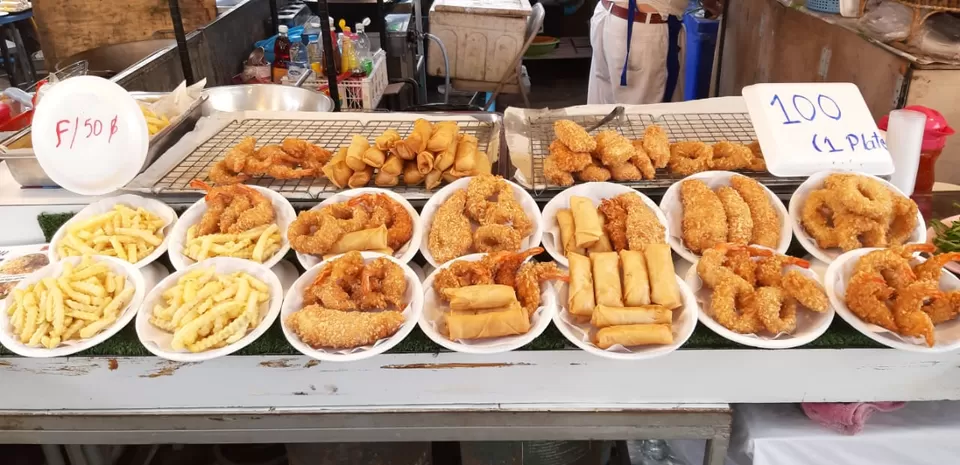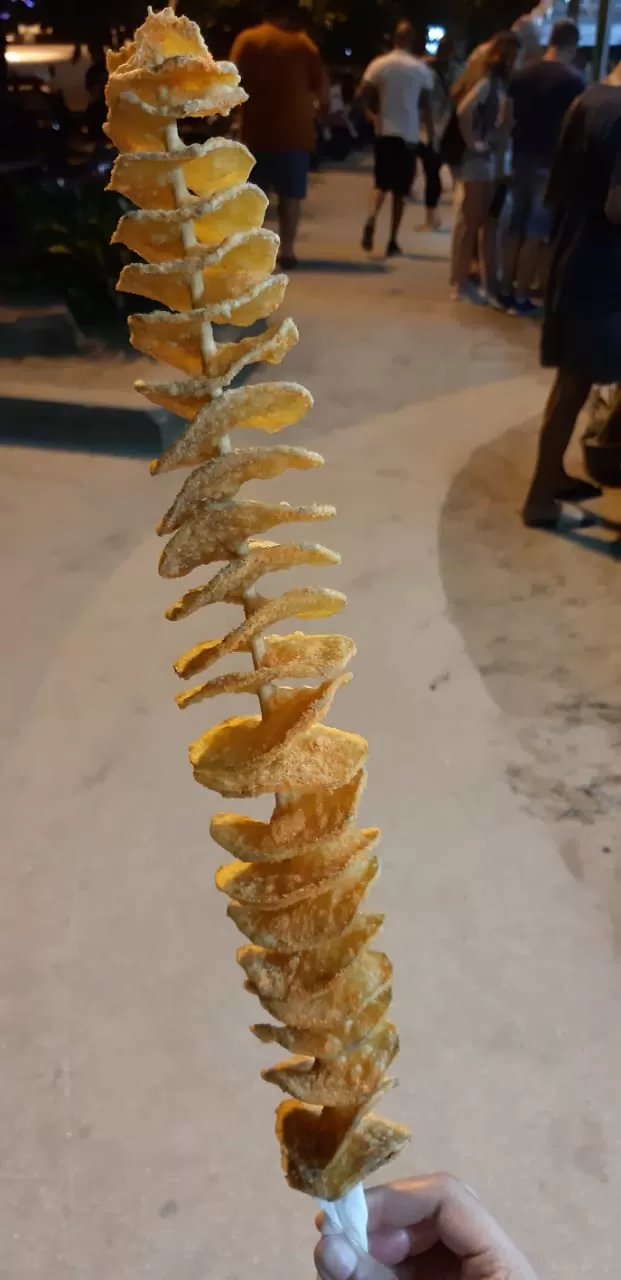 Patong Beach was the longest walk, around 7 - 10 minutes, reasonably crowded (was travelling during mid November), facing it was a week long Thai Food Carnival with cooking demonstrations and food tasting at the same time, during early to late evening. Surrounding the beach are mind blowing sea food stalls with eclectic variety of local cuisines and snacks, spent almost every evening trying something new out there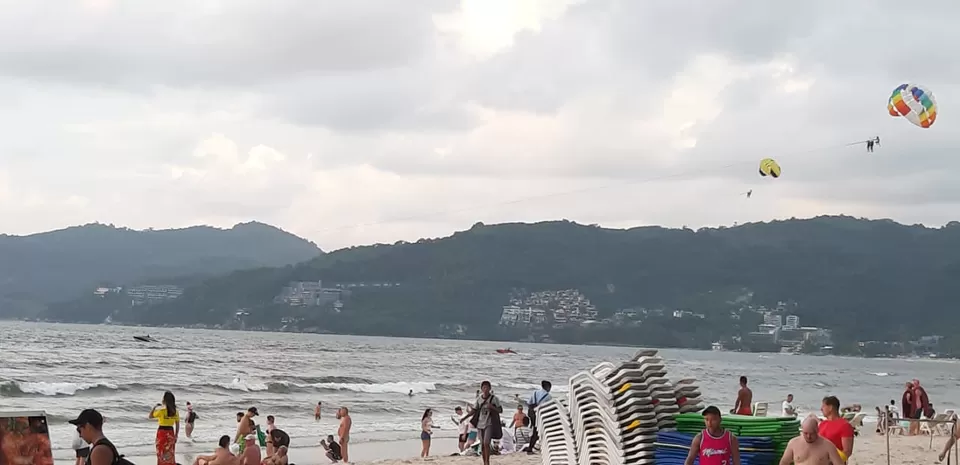 Taking the plunge
Just as promised, without getting into the nitty gritty details of my itinerary, let me share some useful info about my personal travel plan instead, which might come handy if you choose to ditch the usual who's who of the travel agencies and make individual reservations. "Phuket Tours Direct" is a well-known and trusted local website for online pre - booking "Phi Phi Islands", "James Bond Island" and couple of other reservations as per your plan. Personally I prefer getting in touch with local tour vendors (specific to destination country) than popular names offering tour options worldwide (eg: Viator) as these are more reliable and closer to the travel destination, also I vouch for this one particularly as it responds to queries super-fast on email (pardon the broken english)
So yeah back to the trip, Phi Phi islands turned out to be more breath-taking and refreshing than I ever imagined. Onus of this unforgettable experience is on the super enthusiastic and hospitable trip organizers - "Ocean Mania" ( FB page with same name in case you want to get in touch directly) who'l make sure you don't have a single dull moment throughout the trip
The pier was slightly less than an hour drive from my hotel, from where I was picked up in morning. Around 400 Thai Bahts required as entry fee to Maya Bay. Some really comfortable rubber slippers to help walk on sand, waterproof mobile carriers and other essential items are available for purchase in the shops, while you wait to board the speedboat
Khai islands is the most beautiful island with three different shades of blue blending beautifully into the white sand, to generate just the right contrast. Swimmers and snorkelers paradise, trust me you'd be clueless how time flies by before you realize its already been an hour on this island. Tip: sunscreens, just like most essential as well as non-essential items in Phuket, are sold at exorbitant prices (not very different from clothes either, whose colors fade right after the first wash) so make sure to carry one of your own unless you enjoy shopping to the core. Every island you visit have line of stalls laid out selling myriad varieties of juices, drinks, fruits, snacks and what not and funny part is even if you aren't hungry the seller's miffed expression upon your initial refusal dupes you to order something just for the sake of it!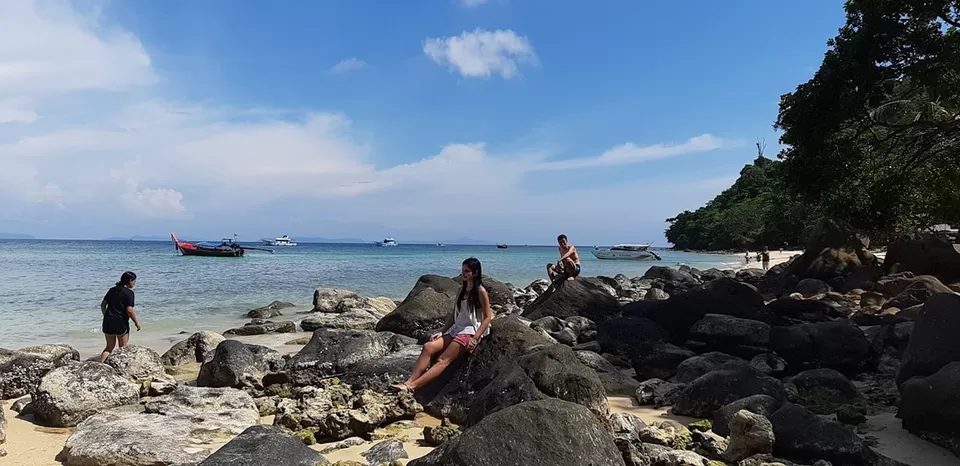 Time for another tip: while snorkeling devices, life jackets and delicious snacks (watermelon is a highlight) and drinks are provided on board throughout the journey, make sure to wear your swimsuits as there's no proper changing room/facility inside the speedboat. Next destination from Khai island was Monkey beach, of course no prizes for guessing lot of monkeys leaping around wondering why on earth a bunch of humans have dropped in from no-where just to get clicked with them! Scenery perfect for that spot on display pic with no-filter-required background. Hopping on to another island for lunch and chill, Thai food as no-introduction required was yum, buffet serves lot of options to choose from and ambiance is beachy. Small showers close to the restrooms help you quick clean after a prolonged swim.
By this time you are terribly tanned (good luck if you have an infallible sunscreen lotion - let me know the brand for next time or you carefully sheltered from the sun all this time). Phi Phi Lae island has a spot for snorkeling that gives best view of tapestry of aquatic life colors, also fleeting encounters with Viking Cave, Pi Leh Cove etc on the way but one thing you cant take your eyes off for sure is the smashing emerald clear sea water.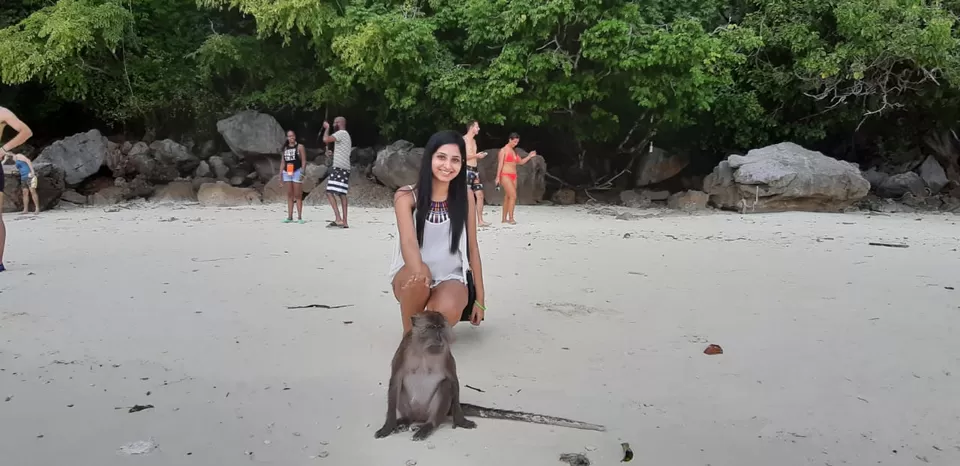 Exhausted and drained after one day's tour that almost seems like a week not sure why, its a long sail back to the pier. If you manage to keep your eyes open though, its never enough to get the feel of super cool breeze blowing right into your face while the boat speeds off into the opposite direction making deep routed arcs into the water, owing to the Yamaha motors
Finding the "Elephant" in the room
Here comes the most exhilarating part of my trip, Elephant Jungle Sanctuary - Phuket. This is something that isn't covered in itinerary of most tourism agencies here in India (can state this confidently looking at number of Indian visitors in this trip amounting to 0) so you need to book by yourself through their official website. Good news, their campsites are based out of three other locations across Thailand - Chiang Mai, Pattaya and Samui, in case you travel to any of these locations instead of Phuket. Not just for my sheer love for these gentle giants, but I was intrigued by the list of fun activities described in their website, engaging with these creatures throughout the day and particularly heartened by their strict "no-riding" policy and rescue mission for abused animals from different parts of Asia
Tip time again: carry your change of clothes as lot of mud bath, water splash and fortunately nothing else is coming your way. Pickup from hotel at your chosen time slot, slightly more than an hour drive uphill (same route later extends to James Bond Island pier) and you are greeted with a warm welcome by the jovial staff. Post settling down in seating area and sipping few refreshments, an enlightening and extensive summary about the pedigree of camp's elephants, back story, anatomy, features and mandatory interaction instructions are imparted.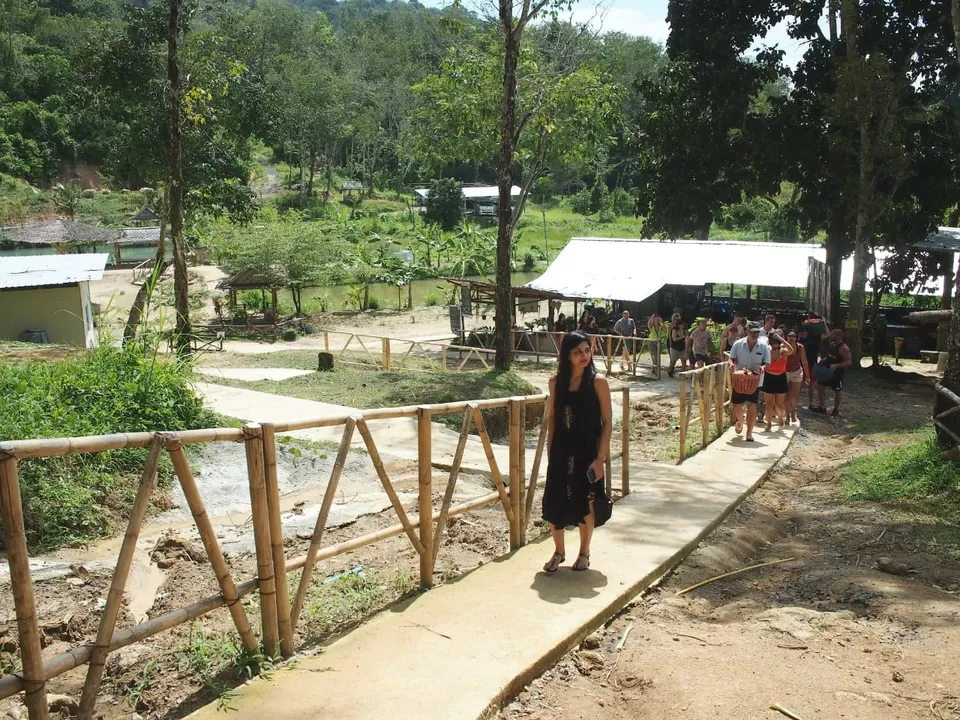 Practical work begins once theory session's over, our entire group (several European, Australian, British and Middle Eastern natives) proceed to grind 5-6 core dietary supplements which are fed ultimately as lunch to the waiting elephants. One of our team members volunteered to prepare the food, rest of us carried baskets of watermelon, bananas and prepared rice mixture from the storage base slightly uphill to the elephant base.
We were in Base Camp 1 (total 4 in Phuket) which had 6 elephants in total, 4 young and energetic, 1 middle aged and 1 grand-mom elephant 75 years old( quoting the caretakers). Several rounds of feeding, taking turns at meeting a new elephant each time playfully getting clicked alongside. While the hungry elephants reach out for food relentlessly extending their trunks, there's also the option to put food directly into their mouths (never did that before, discovered they have a long slimy tongue), some elephants competed with their counterparts in grabbing more food from confused visitors trying to figure which one to feed first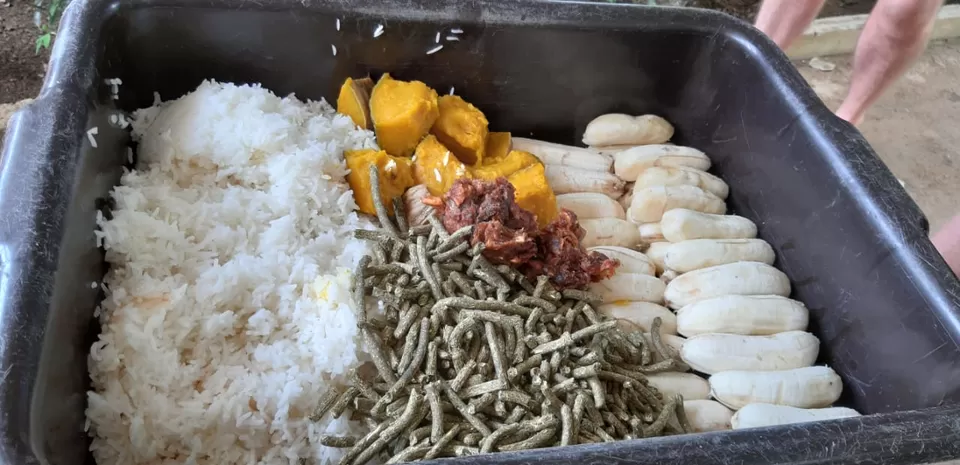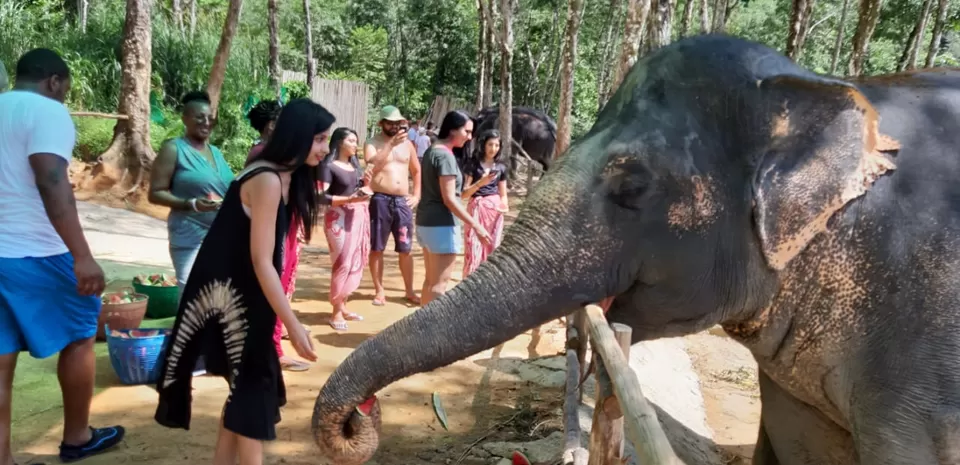 After a long stretch of time and a nice satisfactory meal, elephant herd finally headed downhill for bath. This is when the accompanying humans are expected to change to their bathing costumes (changing rooms and shower available) and head to the "Mud Spa". Personalized lockers are available to store mobile phones, wallets and other belongings in lieu of a refundable deposit fee. Elephants casually spilled huge volumes of water off their backs as humans continued to scrub mud across surfaces of their body (tourists aren't allowed to touch elephant's back, tail, rear legs and ears).
By the time you are almost as dirty sweaty and muddy as the elephant standing beside , you head to the pool. After the pool party of "swim with elephants (sometimes also with their poop)" you walk towards "Outdoor Elephant Shower" to cleanse off the remaining dirt. Camp assistants even use brushes with harsh bristles to rub off left over mud from elephant's body. Some fun shower water splashing happens here if you have mischievous group mates. Time for humans to rejuvenate now, as fellow elephants head back to their original spots after having a productive day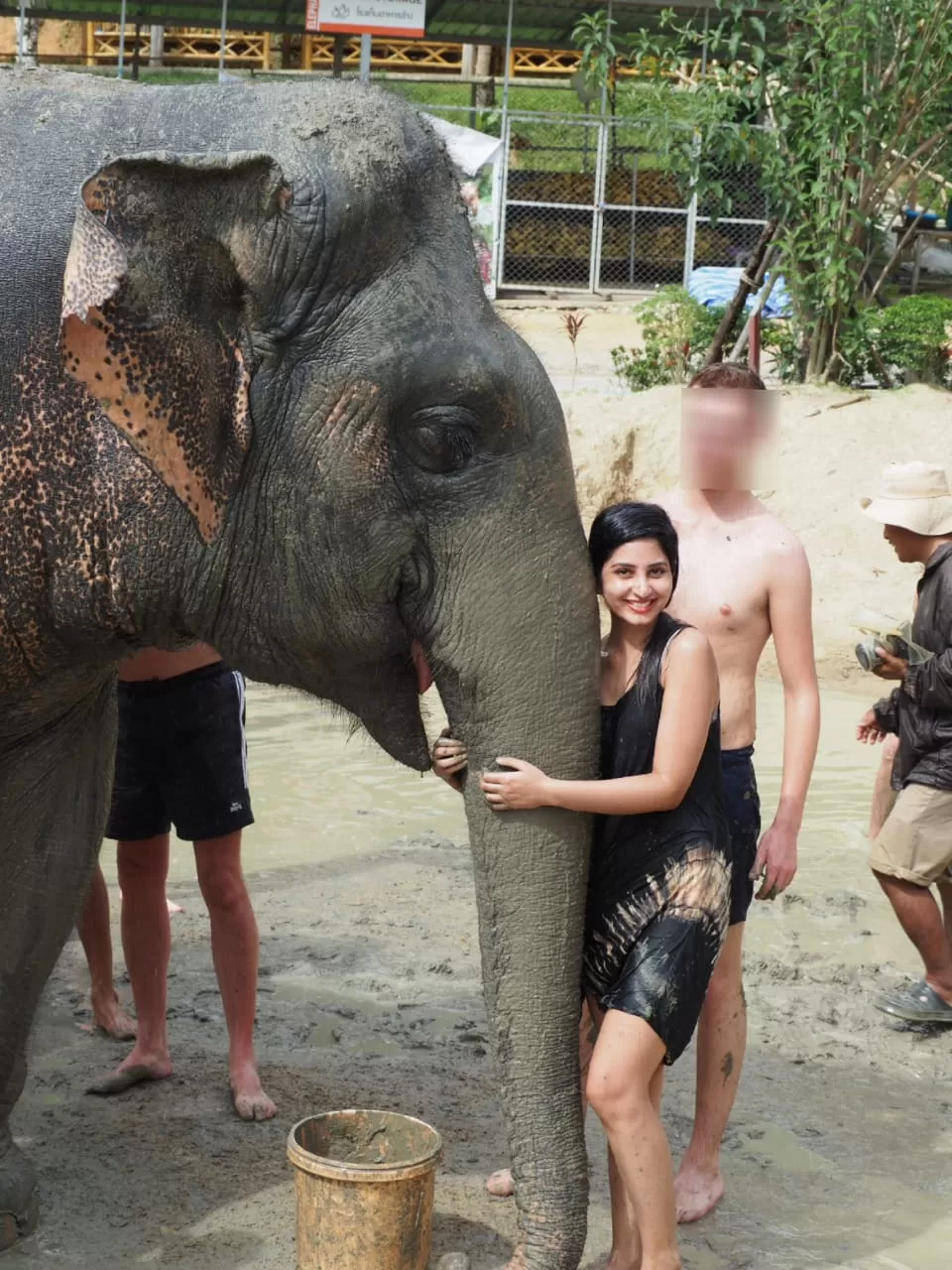 Camp volunteers teach us cooking Pad Thai from scratch, with all ingredients organized before-hand. Next comes the tastiest Thai meal I had during my entire trip. Thai buffet comprised of selected dishes with each one contributing a new flavor to crave for more. Coconut soup with banana was cherry on top. Ironically this was the last place I'd have expected such delectable collection of dishes. Trip back was quick soon after we collected the souvenirs and rode back downhill towards the city with fond memories
Strengthening the "Bond"
Last trip of my journey, James Bond Island. Many of you would be aware of this famous location, owing to the cult movie shot here. Majority travelers choose to visit either one of "Phi Phi" or "James Bond" islands, I chose the latter as well to experience canyoning at one of the enchanting islands - Hong Island, an intermittent stop that I'l discuss later. James Bond Island is situated closer to Krabi than Phuket, hence travel time would be lesser for tourists commencing their trip from Krabi
Ao Po Pier was approximately one and half hours drive from Phuket city. Quite the same procedure of paying 300 Thai Bahts National Park Entry fee, snacks and refreshments before heading towards boat lagoon (3-5 min walk and a bus drive to the dock). First stop, Ice Cream Cave, flagship island of Phang Nga Bay, comprising stalactites and stalagmites. Tip time: wear comfortable slippers, if misplaced shouldn't hurt you much as all the footwear are generally collected by a staff before boarding the speedboat and stocked up in a pile, only to be returned after reaching an island.
One needs to wear a mandatory helmet (ones that'l remind you of construction workers) before entering the cave as most of the stalactites narrow down steeply to a height close enough to hurt your head if not very careful. Also the walk on the uneven terrain isn't very smooth, more like following a secret passage with background sound of water trickling down from somewhere at a distance. At the end of the tunnel, lies a fairy tale view of the sea towered by different rocks from three directions
Next stop is the one I briefly alluded in the beginning, Hong Island with its magnificent limestone rocks (a view of James Bond Island too from the other end) and amazing canoeing scenery. Here you have more than plenty of options to get clicked and the professional paddlers graciously agree to take your pictures on request. Slowly and stealthily we sailed across the sea, exploring all the nooks and crannies within, small water inlets surrounded by limestone rocks and it is notably exciting when you need to duck while floating amidst narrow openings between two rock pillars. Also, some of the rock structures form significant shapes, like one is in the shape of an elephant head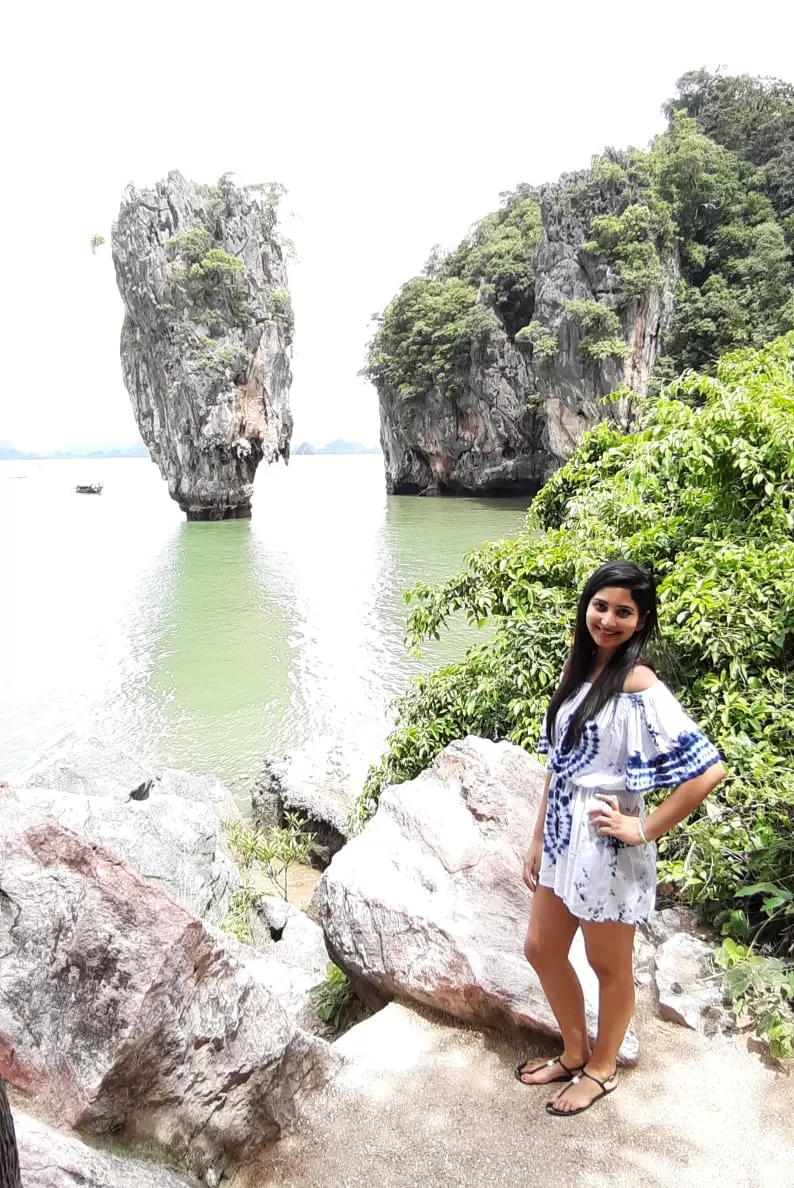 Like every good thing comes to an end, we bid farewell to this paradise and moved on to our next and most paramount destination - James Bond island along with Ping Kan island. Needless to mention, multiple spots to get that perfect snap with James Bond island right in front of your eyes. A staircase carved along Ping Kan island leads you to the top to have a perfect view of this popular landmark along with the option to walk down, few steps into the sea on the other side, arriving at the origin of the entire block structure. A Muslim village is situated on the other side of the island selling all sorts of ornaments, embellishments and decorative items tailored for foreign tourists. You also have the option to swim here
James Bond island is followed by lunch at a floating restaurant in Panyee Island. More fried chicken in the buffet menu, being an Indian I absolutely relished it. Post lunch and some up close and personal chit chat with fellow group mates ( a couple from Australia and 1 from UK) I took a stroll across the floating enclosure enjoying the natural beauty from sea facing balcony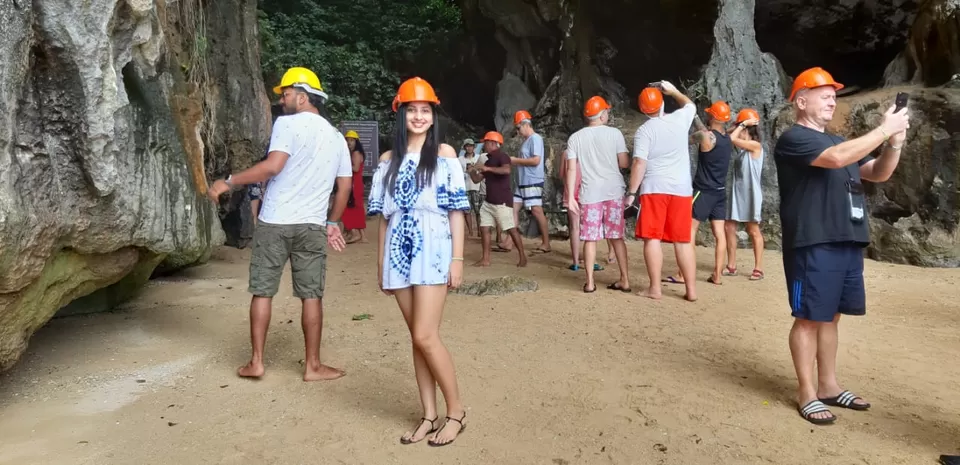 Last halt of this trip and my Phuket trip was Naka Island, allowing travelers some free time to relax on the beach, swim, snorkel, jet-ski or simply sip in some refreshments. Now, vendors/hawkers in this island were surprisingly cranky, especially at visitors who refused to buy anything upon repeated probing. Also, sitting on chairs anywhere on this island without paying or purchasing from any of the stalls is construed as an offensive act here. Not trying to scare you, but it always helps to be extra careful prior to visiting an unknown place
Au Revoir!
This takes me to the final segment of my journey as well as my blog (yeah finally!) when all I did was pack (whatever was left with me in the name of luggage), have a good night sleep after a tiring day before waking up late at night to leave for the airport and take my return flight back to India. Did I mention that I also tried authentic Thai "Rice noodle with prawn and oyster sauce" from an authentic Thai restaurant? By now, Thai authorities finally obliged to return check-in baggage to Phuket Airport, just before I was scheduled to depart for India, sigh! As they say, All's well that ends well :)
Though not deliberate, but somehow this blog is stretched to a much longer version of what I initially expected it to be, nevertheless if you're still with me and enjoyed a good read...my next one's coming soon, till then stay tuned!