Thailand is a Southeast Asian country located in the heart of the Indochinese peninsula. The capital city of Bangkok is home to more than 8 million people, making it the most populated city in Thailand.
The country has a rich culture and history, dating back to the 13th century. Thai cuisine is renowned for its balance of sweet, sour, spicy, and salty flavours, and Thai massage is a popular form of relaxation.
With its tropical climate and stunning beaches, Thailand is a popular tourist destination, attracting more than 30 million visitors each year. Whether you're looking to experience the vibrant city life of Bangkok or relax on one of Thailand's many idyllic islands, there's something for everyone in this Southeast Asian gem.
Thailand is a tropical country with two distinct seasons - the rainy season and the dry season. The best time to travel to Thailand depends on what type of weather you are looking for. If you want to experience the country's lush greenery and enjoy cooler temperatures, the best time to visit is during the months of November to February.
However, if you are looking to escape the cold weather at home and enjoy some sun and sand, the best time to travel to Thailand is between March and October. Keep in mind that Thailand is a popular tourist destination, so expect crowds no matter when you visit. To avoid the busiest periods, try to plan your trip for either early in the season or late in the season.
The hot and wet season in Thailand is not always a poor time to travel, but it is off-peak for a solid reason. Don't travel to Thailand at this time of year if you want a picture-perfect beach holiday.
However, this isn't a terrible time to visit Thailand if you're interested in more cultural attractions, general sightseeing, or would like to spend time in the cities. Simply pack an umbrella and be ready to head inside to a café, gallery, or temple if it starts to pour.
What are the peak seasons in Thailand?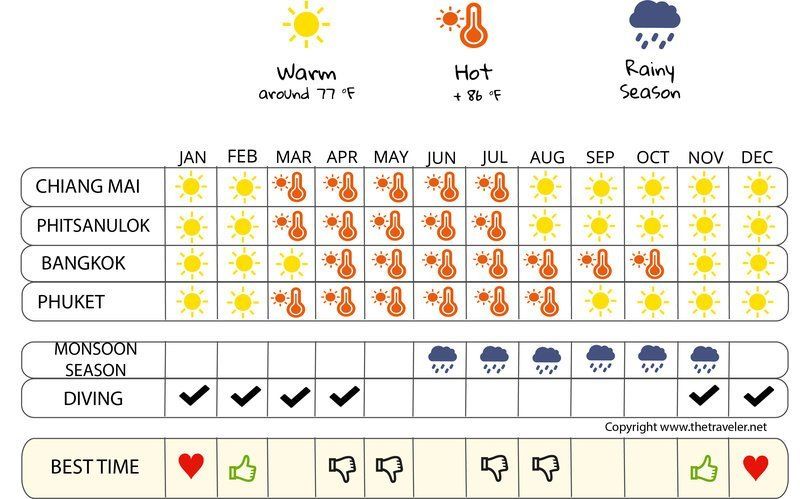 Thailand's busiest time is from November through February. Peak season truly does refer to peak season because Thailand is one of the most well-liked tourist destinations in Asia. But a sizable number of visitors stick to a small number of recently heavily developed locations.
Finding beach, island, or mountain spots that aren't swamped with tourists isn't that difficult if you're searching for a more tranquil setting and are prepared to travel a little further.
How to avoid crowds and still have an amazing trip to Thailand?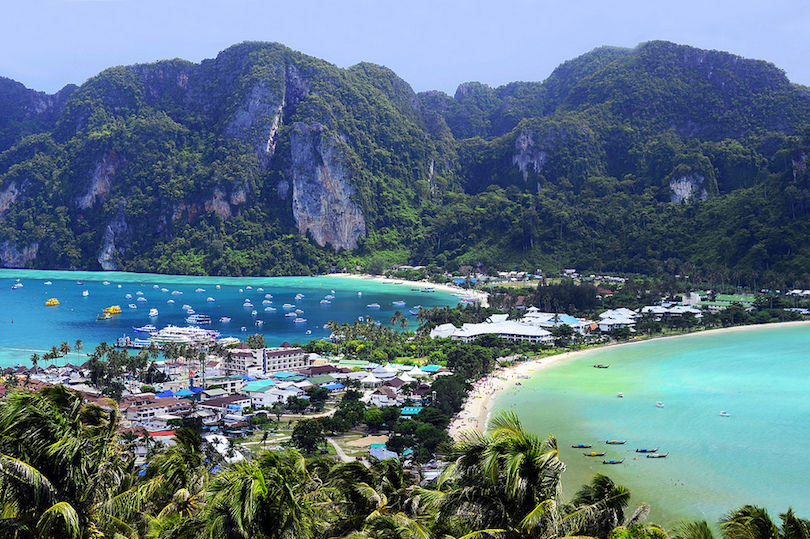 For many people, the idea of travelling to Thailand conjures up images of tropical beaches and endless sunshine. However, the country has a lot to offer at any time of year.
Travellers can often find cheaper flights and accommodation during the shoulder or off-season. In addition, popular tourist spots are usually less crowded, making it easier to enjoy the country's natural beauty and culture. And for those who don't mind a little rain, the rainy season can actually be a great time to visit, as the rains help to cool down the humid air and green up the landscape.
So whether you're looking for sunny beaches or verdant rice fields, Thailand is a great destination at any time of year.
The best time to travel to Thailand depends on what you want to see and do while you're there. If you want to experience the country's world-famous festivals, then you'll need to travel during the peak season. However, if you want to avoid crowds and save some money, then consider travelling during the off-season.
Travellers can choose from a wide variety of experiences with Thailand holiday packages. There is something for everyone in Thailand, from the beaches of Phuket to the jungles of Chiang Mai.
Whitewater rafting, rock climbing, and elephant riding are a few of the activities that can be incorporated into Thailand vacation packages. In addition, tourists have the option of taking a cooking class, shopping in Bangkok, or relaxing on a beach. With so many choices, Thailand holiday packages offer a great way to take advantage of everything that this special nation has to offer.
Before planning a trip to Thailand, it is always recommended to consult a travelling agency. The High Journey is one of the most competent in this field. To get Thailand vacation guidance and packages do consult The High Journey.