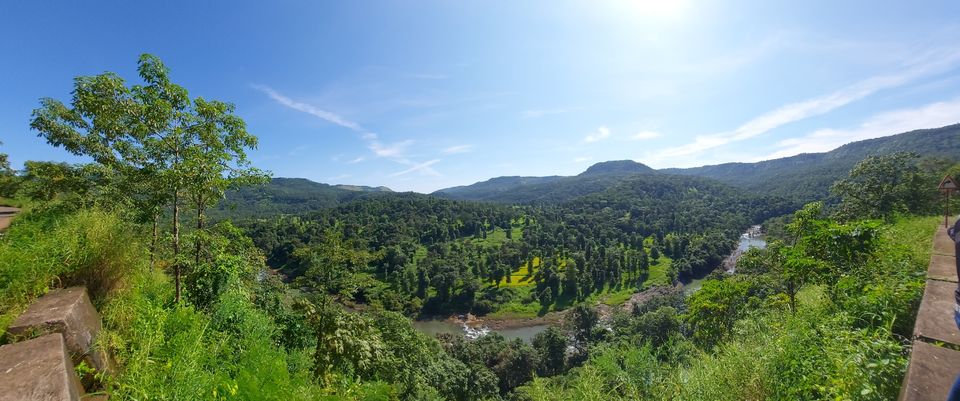 In India vehicles both 2-wheeler and 4-wheeler are considered as a part of one's family. Travelling with family members are always fun filled and memorable. After getting over the lockdowns, me and my brother decided to go on a bike trip. This was my first bike trip in this new normal. I was researching about the destinations where could we travel, feasibility so on. After researching about places, I came across the place called Khodala. Khodala is a secluded place in Thane district of Maharashtra. A small village blessed with nature and natural beauty.
Khodala is approximate 3-4 hrs. of drive from Mumbai. The day was Sunday 03rd October, me and my brother left around 06:45am. While leaving I was fully excited for the much-awaited bike trip. To my surprise there was fog on some parts of the highway. Visibility was less at some parts of the road due to the fog but as on when we moved forward it became clear and sunny. After some time, we stopped at a restaurant in highway to have our breakfast. The breakfast was just amazing and the reason was the Adrak vali Chaai. After having breakfast, we left for our onward journey.
While riding I was just thinking about the destination, because there were no clear review or information provided in the internet and the ride was like self-exploring tour. After staying on NH 48 for approx. 85 kms we took the exit towards Wada- Manor Road. As soon as we entered the Wada Road the roads became narrow. The roads were passing through many rural areas. We also passed through a market in between the town area. The roads were not in good condition excluding some parts. We continued the course of the road and entered the Ghat road or the mountain road. The roads were just amazing and well maintained. Both sides of the roads were with full of trees, nature, and I could feel the nature by its aroma. As riding I could continuously hear the sound of water flowing though streams. The weather was just amazing and perfect for riding.
Being a Ghat road, network in mobile phones was gone for some time, but looking at the beauty of the roads mobile phone was automatically unlooked by me. The colour's of nature was just amazing. The green grass, green leaves, blue and white clear skies, was just filling my eyes and mind with wowwwww! We took halts at some places rather it was photo halts. After exiting the Ghat road, we reached the Khodala town. It was small market area and by asking the local we came to know about the waterfall and we proceeded towards the waterfall. The roads included ascending and descending slopes, along with some corner bends. We continuously kept riding but there were no signs of waterfall in nearby area. En route the waterfall we took halt on a bridge. The view from the bridge was so relaxing looking at the calm water blue in colour I just felt like jumping in the water and to add to add extra effect the skies were clear and some of the cloud's formation felt like cotton candy where one could just grab and have it.
We finally reached the waterfall, but to our bad luck the gate of the waterfall was closed. There were two waterfalls namely- Ashoka Waterfall and Vihigaon Waterfall. I was disappointed as I was unable to view the waterfall, but I realized that I was able to enjoy the ride with nature, where nature was showing its beautiful forms so why to be sad for not getting the view of a waterfall. It was around 12 noon and the sun rays were becoming strong. We decided to leave for home and while going back we took a different route. We reached home around 15:40hrs
Khodala as a destination is totally unexplored and one of the beautiful places of Maharashtra. A small village filled with nature, a place which is perfect for family drives, rides, and according to me this place needs to be explored but in a responsible manner.
Pro Tips:
1. Carry own water bottles and food as there won't be that much shops available apart from the market areas.
2. There were obstacles in roads especially for 4 wheelers, but vehicles were passing through some other roads.
3. Switch off the bike while descending to save petrol as it would descend at a speed of 40-50kmph.
4. There are two routes one can take to reach Khodala
• Through Western Express Highway, NH48 and exit to Wada- Manor Road (Scenic Route)
• Through Thane and Kasara Ghat route (Takes more time according to Google Maps)
5. Best time to visit would be during monsoon or just after the monsoon