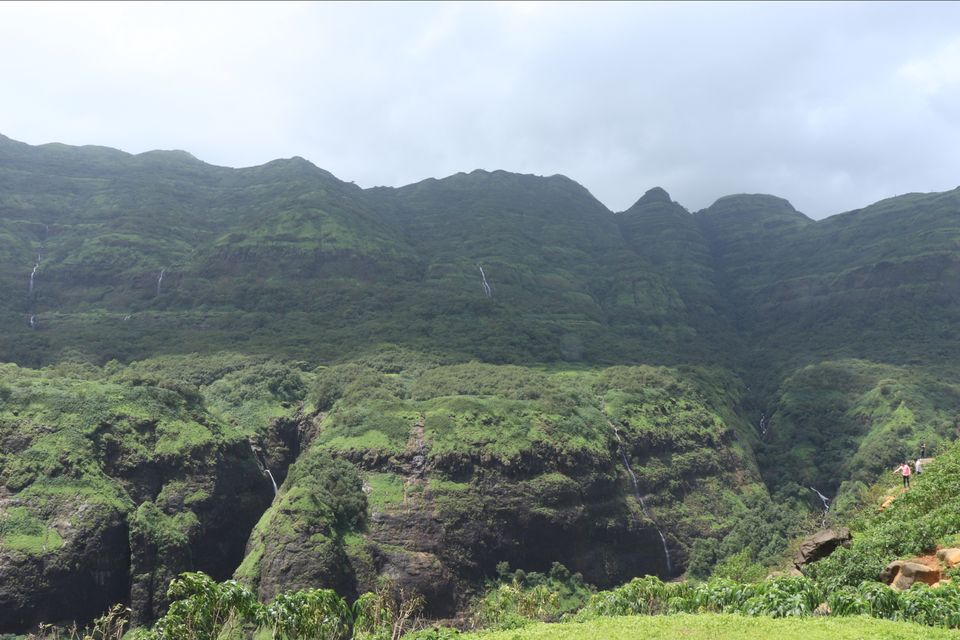 Tamhini Ghat is around 50-60 km from Pune. This beauty lies between Mulshi and Tamhini in Maharashtra. The journey towards this place itself is mesmerizing. Surrounded with beautiful mountains, waterfalls and lakes, you are bound to stop at every possible spot to capture the scenic view. Best time to visit Tamhini Ghat is in monsoons during the month of August and September. Monsoons add more charm and greenery to this place.
So we started our journey around 10 in the morning from Wakad,Pune. Weather was clear. It was a sunny day. Initially the roads were really good. The journey was smooth. But after some kms, the road were in a pretty bad conditions. The ride was rough. Because of such bad roads,it took more time to reach the destination.
Our first actual spot was Tamhini Ghat waterfall. We parked the bike and went towards the waterfall. It was splendid. The water was very cold. People were really enjoying there. Some of the kids were looking so cheerful playing in the waterfall. It is a good place to visit with friends and family. We too got drenched in the waterfall. Had a great time there. There were restaurant alongside the waterfall. Also there were local people selling roasted corn(bhutta), Maggi, chai, bhajji, etc.
We continued our journey towards the Tamhini ghat. The roads were alongside of ths Mulshi lake. It was indeed a beautiful journey. You could actually feel the freah air and feel so happy about this place.
We had our lunch at Vittal kamath restaurant. As soon as we entered the restaurant,it started raining heavily. we sighed that we halted at correct time.We had pav-bhaji and missal pav there. It was delicious.
As rain stopped, we continued. We reached at Tamhini ghat, but we didn't Know where to go next. We were just riding along when we saw a guy took a right turn towards the hilly road. So we also went through the same path. While going through the path, we saw some people walking (or trekking) towards the same path. The area was densely covered with trees on both sides. It looked like a forest. After riding for a while, we reached the spot. It was super amazing. We were so overwhelmed to see the place. It was surrounded by lush green mountains with small waterfalls on it. It was fabulous. I may not have enough words to describe this place, but it was so magical. (Check out the photos) captured the place from all angles. Sat there and gazed it. It was so peaceful and refreshing.
It started raining a little, so we hid under the tree to save our camera and phones. After the rain stopped, we were just sitting there. Enjoying the nature.
Didn't feel like leaving the place, but had to. While returning home, we stopped at some spots like the Mulshi lake(do check the photos). So after this breath-taking journey, reached home around 5pm. Tamhini Ghat had it's own charm. People who love nature, will definitely like this place. It was altogether a cheerful experience.