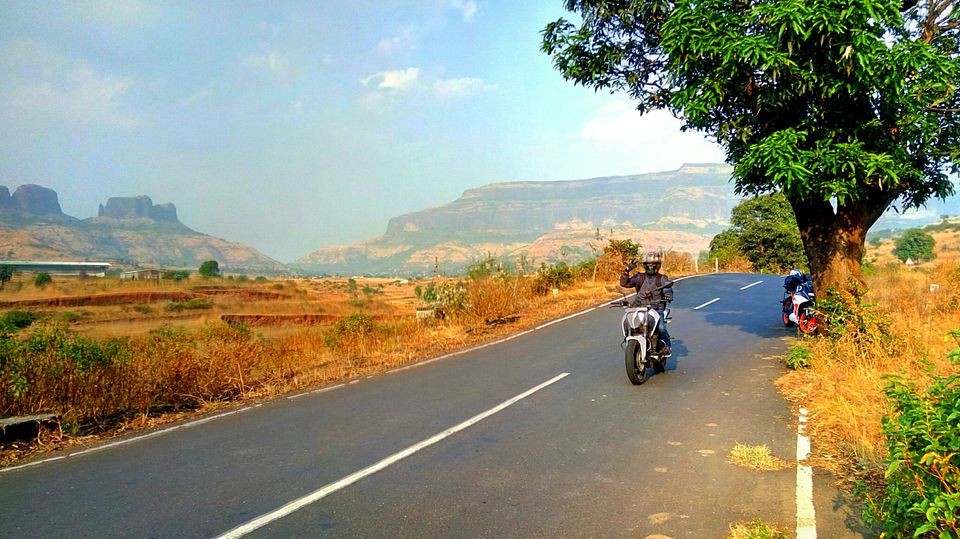 "If you don't know where you are going, any road will get you there!"
Long bike rides have become my way of getting high. The hypnotic views and the untraveled roads liberate me and remind me there is so much more to life than just a 9-5 job that end with a Friday night party every week and a weekend trip home. It's just me, my beast Pulsar 200NS, and the open world to just ride on and explore.
I have been a solo rider and I used to really love the rides I do alone until this trip.
One day, me, a friend Shubham (who has now become a ride brother) and Vikram were riding back home after watching a movie. Me on my Pulsar, Shubham on his KTM Duke 250 and Vikram on his Dominar, we were riding through the night, when it clicked. I could see a group bike ride. Three of us. Shubham was already ready for it. Vikram agreed too (but had to drop out later) and couple of days later Shubham's friend Prasad joined. I volunteered to suggest the places and plan the ride. And finally, it was on…
Pune-Daman-Trimbakeshwar (decided on the way)-Igatpuri-Bhandardhara-Pune.
740 kms.
2 Days.
Day 1 | Start at 5 AM from Baner, Pune
We decided to leave by 5 in the morning. We three met up. Clicked a picture and geared up to begin the much awaited journey.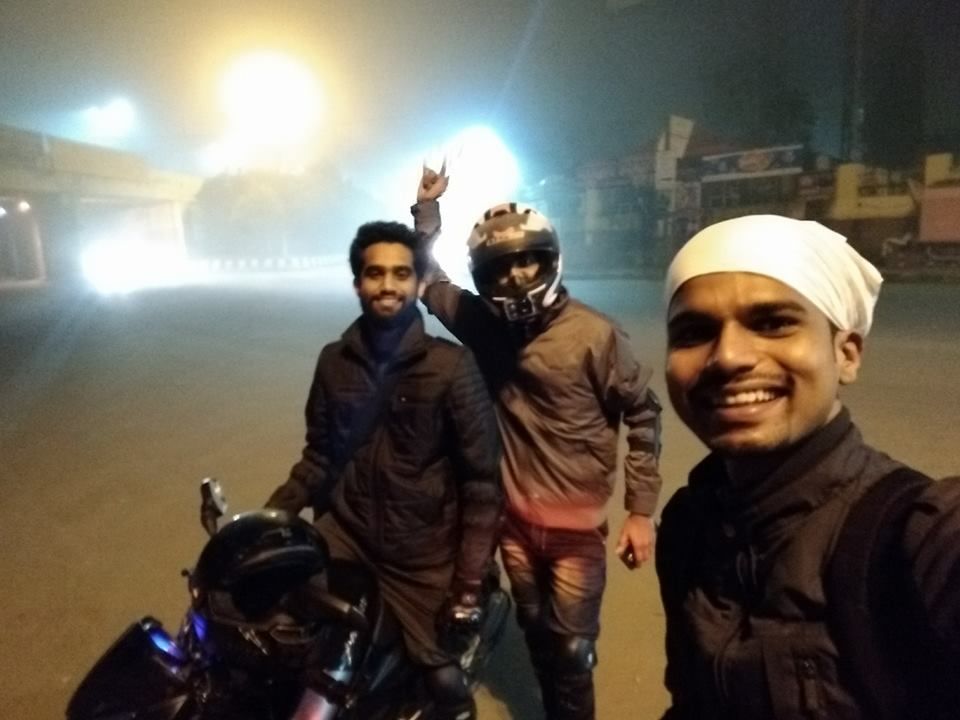 We reached Daman by 4 PM, checked into a hotel in Moti Daman, near Daman sea face. We chilled there a little bit and later strolled the Jampore Beach. We waited overnight at the hotel and made sure we slept enough as the next day was going to be more adventurous.
Day 2 | 9 AM - Ride towards Trimbakeshwar

Plan was to leave by 7 AM, but we left Daman by 9 AM. Something we regretted a bit, later. You will know why. We rode again towards Kasa by the NH48. Took another left turn to the ghats. The roads here were surprisingly smooth and blessed with a view of the beautiful country side and the mighty mountains . The zig-zag roads became our playground.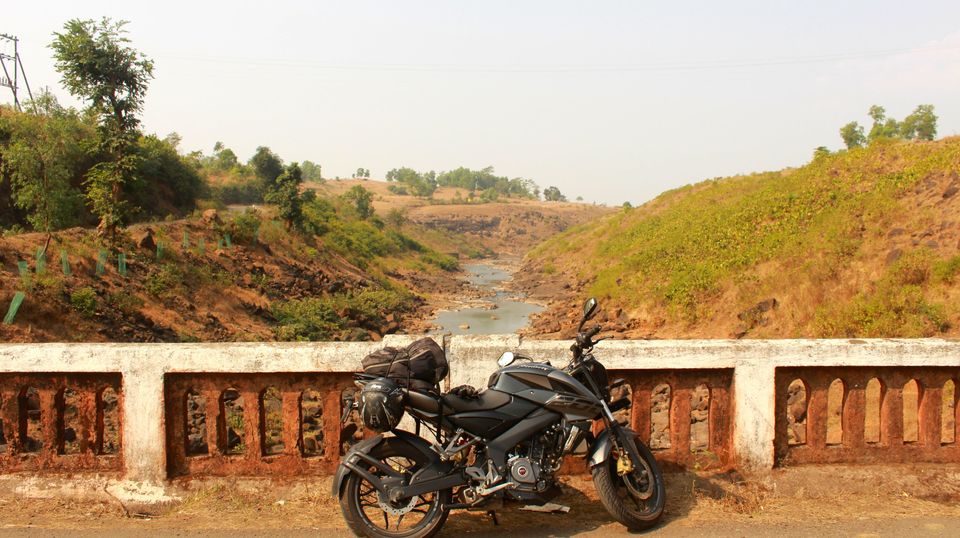 It was already 7 PM when we reached Bhandardara, but we got a chance which we may hardly ever get. Riding along the Bhandardara dam in moonlight.
Then started the descent and the challenging night ride from Bhandardara to Baner, which I'll never to forget. We got to test our headlamps and our riding skills. The road was sandy and rocky and our bikes slipped a lot. At times, we also thought that we had a flat tyre. But it was the sand tricking us. We still enjoyed leaning our bikes through the turns. We looked into our maps and found that this road connects to a State highway SH21. We were relieved that we will get to ride on good roads finally in 10 minutes. 2 hours passed and we were on the same rocky road but were treated with a beautiful night view of the villages near Narayangaon from the ghat. Finally, we connected to the SH46 and realized we were riding on SH21 all along. The chilling night ride continued until we reached Pune by 12AM.
Many achievements unlocked. Many lessons learnt. One great memorable ride. This ride has made my belief stronger that travelling or bike riding is much much more than just getting to the destinations and clicking memories. Its the path, the roads, moreover, the untraveled roads that make the best and lasting memories.
Fin.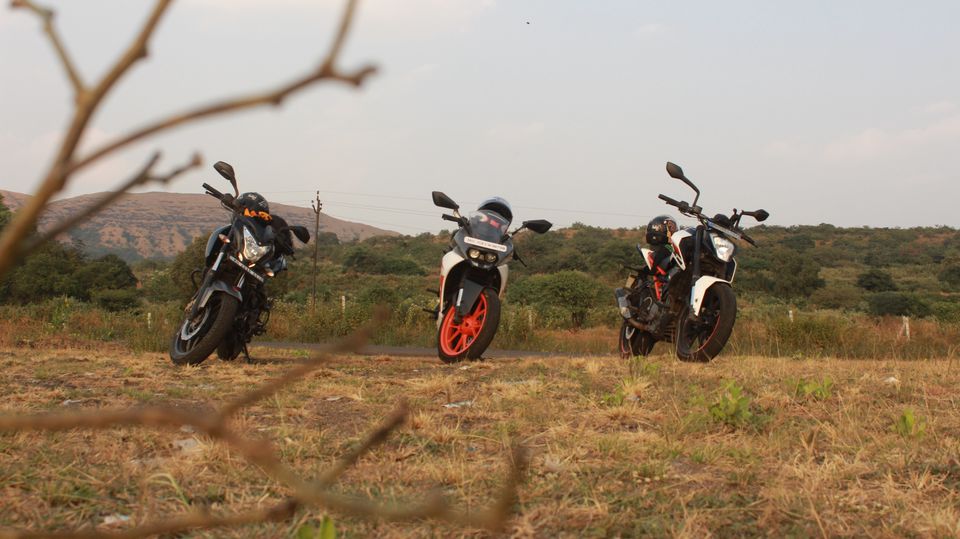 We moved ahead, towards Thane. It was cold enough which made the ride easier, through the Mumbai traffic. We stopped by Vasai for a refuel. Then arrived the time to unleash the beasts in our bikes on the NH48 highway. This highway is a real treat for bikers.
We took a left turn at Kasa near Dahanu and left NH48, to ride towards Bordi Beach. We stopped by and had some delicious sea food near Bordi. It was the best one I had ever had.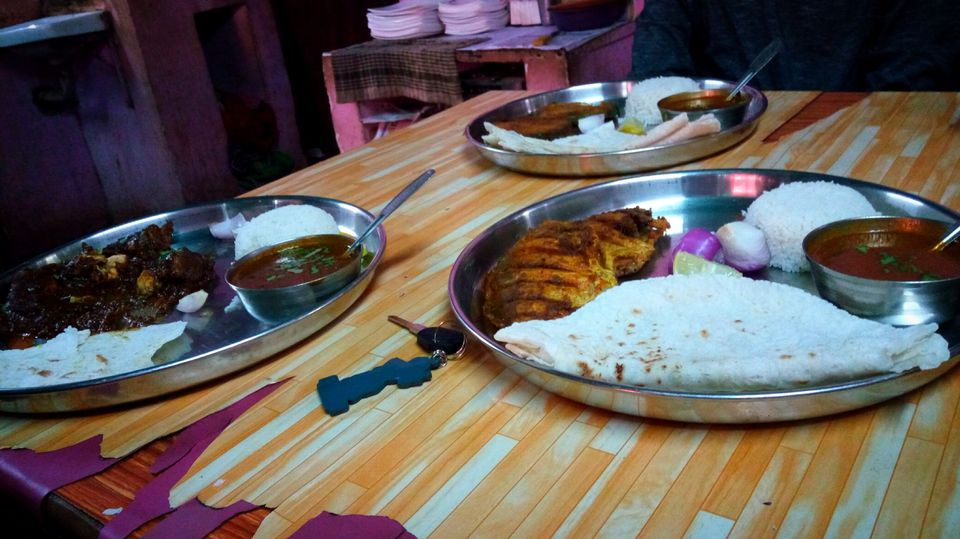 As soon as we started the ride, the first challenge was already waiting for us. Fog. Thick fog with visibility to just about 10 metres. It reminded us of the Delhi debacle. We were really worried as there were many trucks on the highway with faulty tail lights which scared us to death when they would appear from nowhere. We slowed down to 30-40 kmph. We later came to know Pune and Mumbai was in heavy fog that day. Riding through the fog was scary but fun.
Later, as soon as we could see clear, we bolted towards Lonavala. We stopped by at a tea stall. Sipping some really good chai, admired the beautiful sunrise.
After lunch, began the beautiful beachside ride. Earlier we had planned the highway to Daman. But thanks to a friend Rahul Banga, we chose this coastal road.
We continued our ride through the beautiful village roads towards Daman.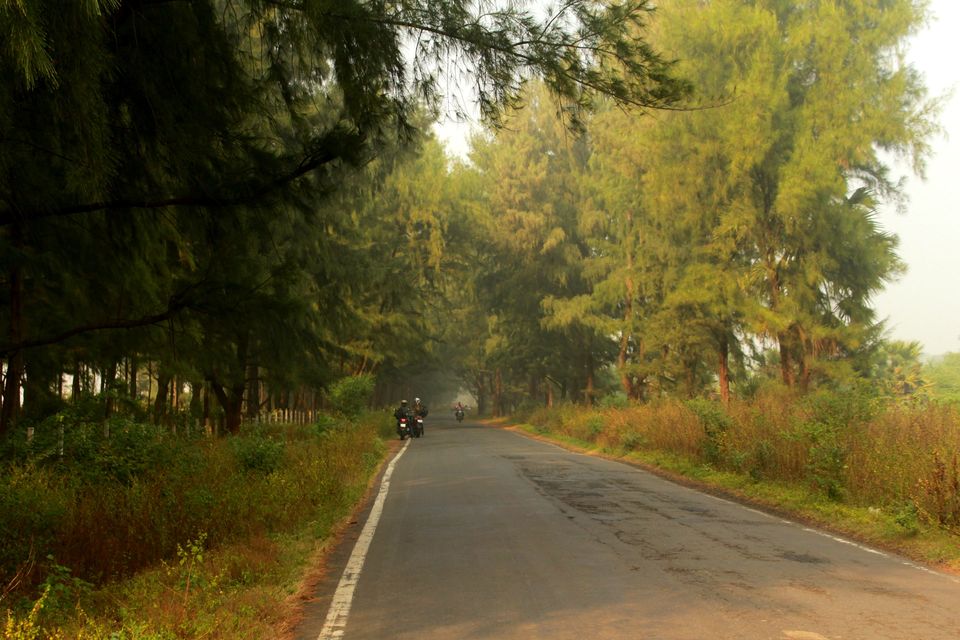 We couldn't stop praising the roads of Gujarat. When we were in Mumbai highways, we always had to be careful about the road, because sometimes we wouldn't know when a deadly pothole would turn up. And when we do, its usually too late.
Though the roads were really good, I was riding slow to feel the surroundings. There was a constant smile on my face, gazing at the beautiful farms, the mountains, the villagers, and kids who waved at us.
Next stop was Trimbakeshwar temple. This wasn't part of the itinerary, but Prasad suggested this wonderful place as it was nearby and we agreed to pay our visits.
We continued our journey towards Igatpuri. And the roads just blew our mind.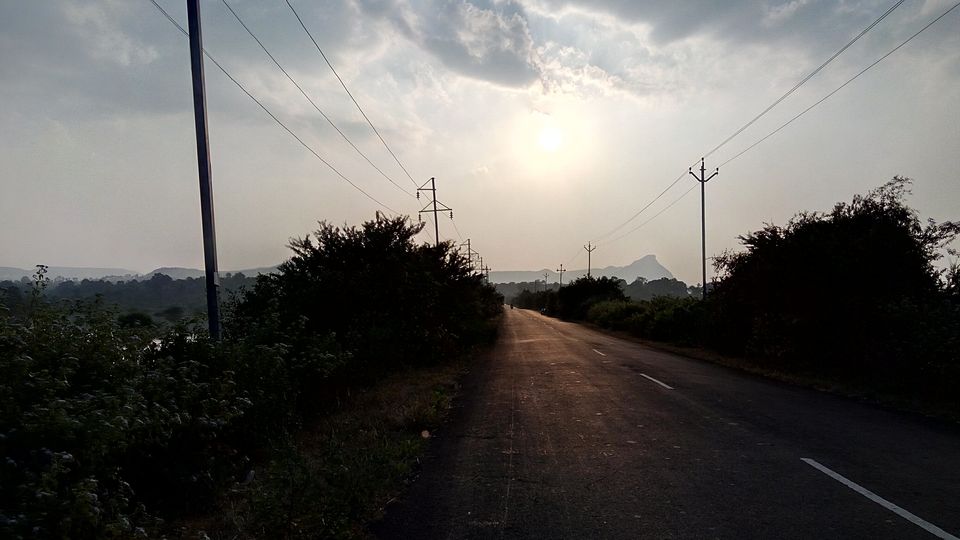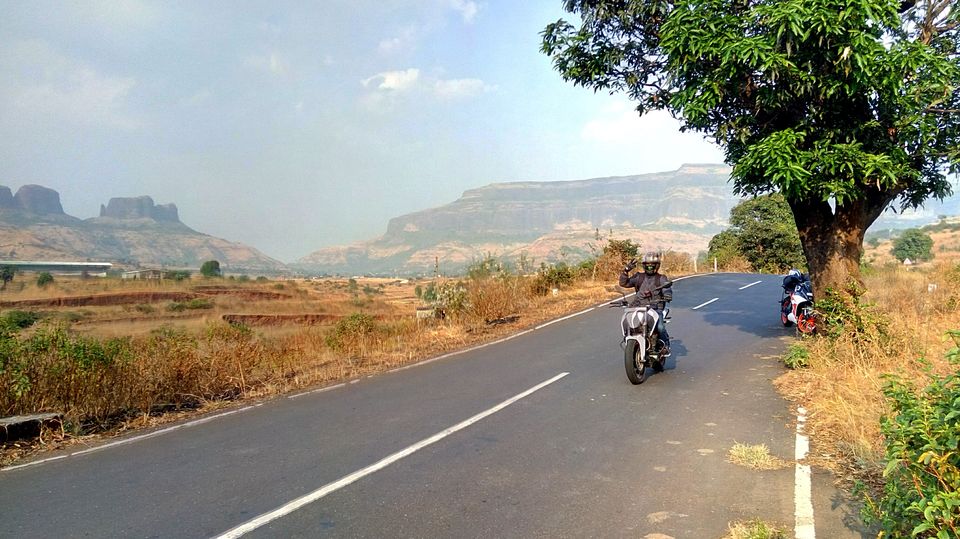 Later, we didn't stop for any pics. Because we didn't want to stop at all! We kept riding through this beautiful road from Trimbakeshwar to Igatpuri.
We stopped by the beautiful Upper Vaitarna Reservoir, because we could not help but stop by to admire the beauty. 
We continued on our journey..and that's when this happened.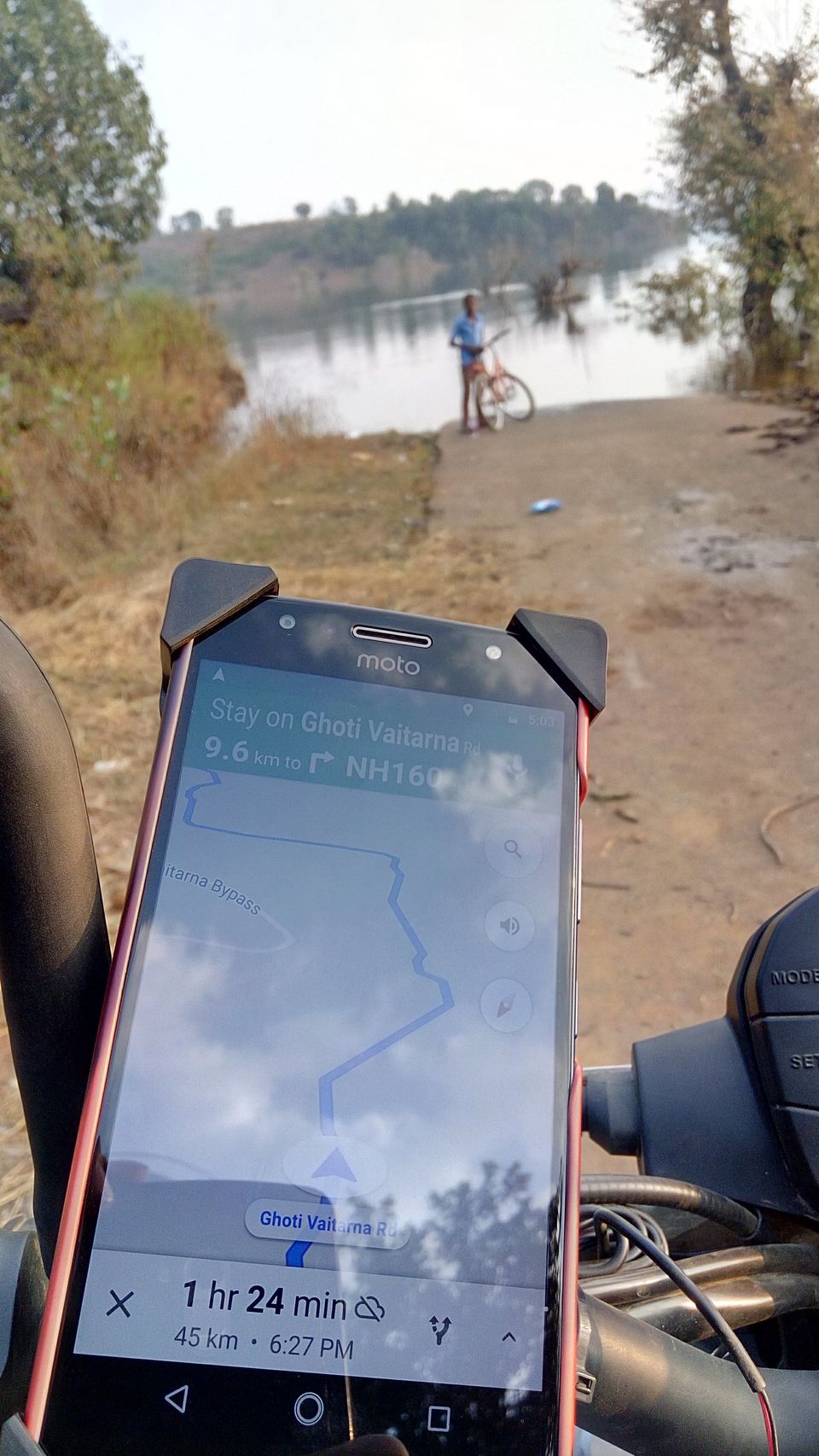 Thankfully we were not speeding. The road was actually there, but submerged. We chose not to get more adventurous and took a route around the lake.
We couldn't get enough of the roads. It continued to be smooth. We had a sunset ride along the big Upper Vaitarna reservoir and through Igatpuri.
The Sun was down when we started our journey to the final checkpoint – Bhandardara. 
And began our night ride.