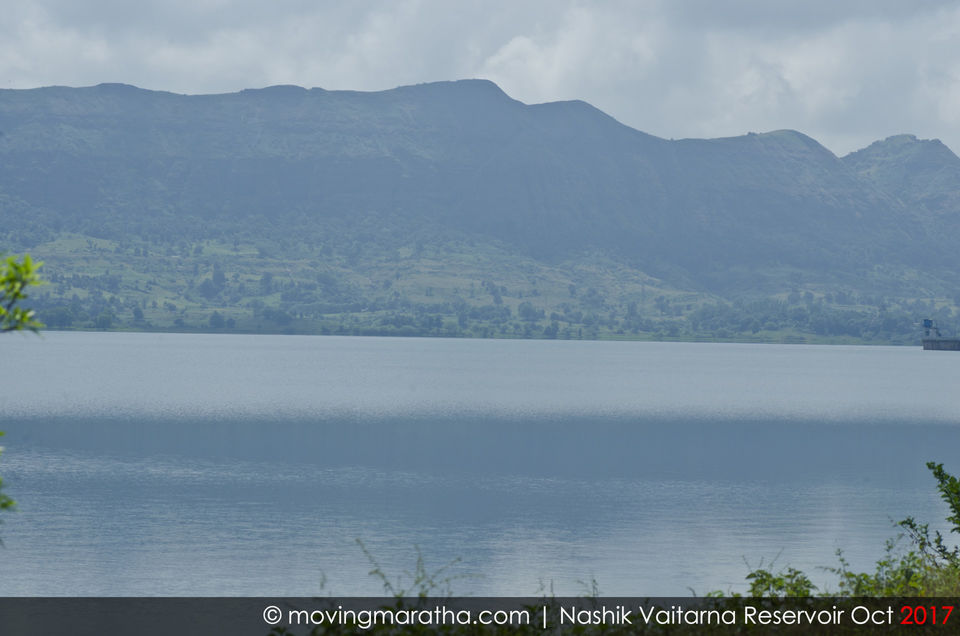 Summary: One of the best routes to travel if you looking for a weekend getaway or a long drive from Mumbai. Best during monsoon the Mumbai - Nashik highway has a lot to offer.
Best time to visit: Monsoon being the best. Aug - Feb is also great.
Drive: Nashik highway (Mumbai - Agra National Highway) is a busy route for multiple places like: Bhandardara, Igatpuri, Shirdi and more.
On the map, you can see, the road to Vihigaon is a left exit on the Kasara ghat road. Because of heavy vehicles crawling on the left side of this road, you need to keep left and not miss this exit. You don't want to take the pains of going on reverse gear on this busy road.
At the peak of the monsoon, Vihigaon is full of mist. Its a lovely drive with beautiful grass lands to the road sides and visibility around 100m.
From Vihigaon, an easy trek to Harihar Fort is quite an attraction. You can also visit the Ashoka waterfalls and also spend some time on Vaitarna Lake.
This lake can be seen only in satellite view on maps. Almost all water bodies in this area have the name Vaitarna(Lower / Middle / Upper).
Below video of road towards Vihigaon from Kasara
Vihigaon has beautiful scenery around. Its a small village with around 100 homes. As I drove through it, people and kids looked at me. They were probably thinking, who the hell is he?
Khodala is the place where I had to turn left to reach Zarwad. The road is beautiful all the way.
Below video of road towards Zarwad from Vihigaon
As I continued ahead, I saw a large water body, laying flat like a mirror on mother earth. This was the Upper Vaitarna reservoir and it was huge. My excitement continued as I kept riding towards it.
As I got closer to the destination, I was greeted with views so beautiful, the entire reservoir in picture now; been guarded by a mountain range. This is the Anjaneri forest area in the background and I am standing right at the middle of the reservoir. A narrow path floating above this massive water body.
Below video of Vaitarna Reservoir Landscape
Next morning, I continued to Trimbak. I had not expected the route to be this scenic. It was one of the most wonderful rides through thin village roads. There is barely any traffic here. But the road being in bad shape and gravel mostly, the bike ride was very slow.
As I reached Dhadoshi village area, I was treated with great views of Bramhagiri Mountain / Metghar Killa area. The road stretch here is good.
I left for Mumbai the next day. I decided to take a different route. Looking at the things in the sky and the feel of the wind, I knew it would rain and yesterday's slow route would not have been great to ride in heavy rain. A highway was the need of the hour. The road from Trimbak through Jategaon towards Vilholi was scenic as well. Good I took this route.
Just before where the Kasara ghat starts, it started raining and quite heavily. It rained the entire length of Kasara ghat. It became too cold to ride, however fun. There are a number of waterfalls on this ghat road in peak monsoon, you can park your vehicle and enjoy.
Brakes: From Mumbai / Nashik, Upper Vaitarna reservoir is a one-day trip. However, you can choose to stay there as well for a break from city life. The stay options are on a higher budget side. But the views are worth it. Its an extremely peaceful place.
Mobile network is present here.
Vaitarna reservoir area was extremely scenic and peaceful. Great place for photography.
If it's not monsoon time, with a group of friends one can even camp here.
Alternatively, you can choose to stay at Trimbak to the north or Igatpuri to the south of Upper Vaitarna reservoir. There are plenty of resorts and hotels to choose on the route.
For more, visit MovingMaratha.com
Follow us on Instagram @movingmaratha