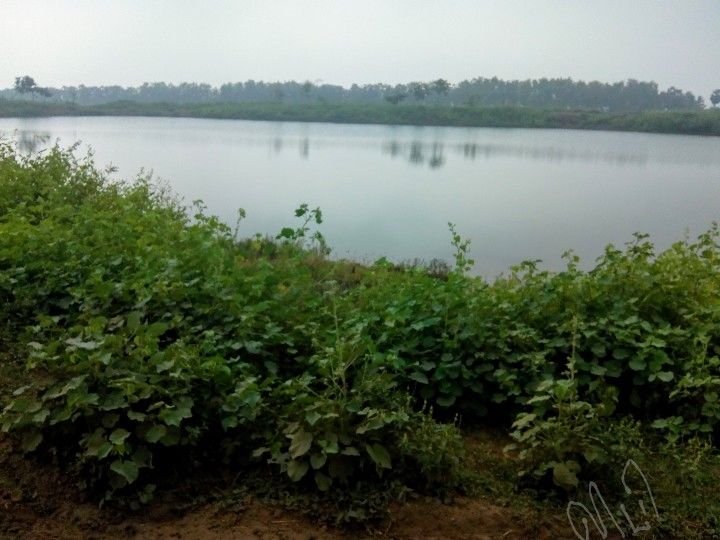 It was a short drive from thirukaatupalli to Thanjavur junction hardly an hour drive which was indeed a worthwhile drive to understand why Cauvery is called the life giving water.
It was a foggy December morning, though it was 7 in the morning the entire place looked misty. I started my drive by 7.30 am by an autorickshaw which would drop me by Thanjavur junction.It was my fortune that I did not find any public transportation, else I would have missed this scenic beauty across the way.
I started from thirukaatupalli and travelled through a lot of small villages which I don't remember the names. As I passed through I could witness why the river Cauvery is called the life giving water. That route wasn't new to me every year I go to this place in the month of May. It's the time when the same place would look so malnourished.All that I was able to see during my May visit was river beds without water,parched fields and ofcourse summer heat piercing to your brain.
The December view of the same place gave an entire new look to this place.On one side of the road there was a river flowing with its own elegance,on the other side,there was lush green fields stretching to the horizon,that is when I realised I should not be sitting inside the autorickshaw rather I should take a walk enjoying that blissful countryside morning.I saw cultivation hand in hand with nature, birds actively chirping,water flowing across the entrance of each and every house, "Wait.. am in Kerala??", that was the question which came to my mind, because the entire place was graceful differing from the version which I had seen for years.
As I was amazed witnessing the entire new look of that place I eventually landed up to the place which was responsible for all this resurrection. Yes I was standing on the Cauvery river bed looking at that mighty river spreading across the land, marching like queen.
That's when I understood,it was river Cauvery which had bought life back into that place.