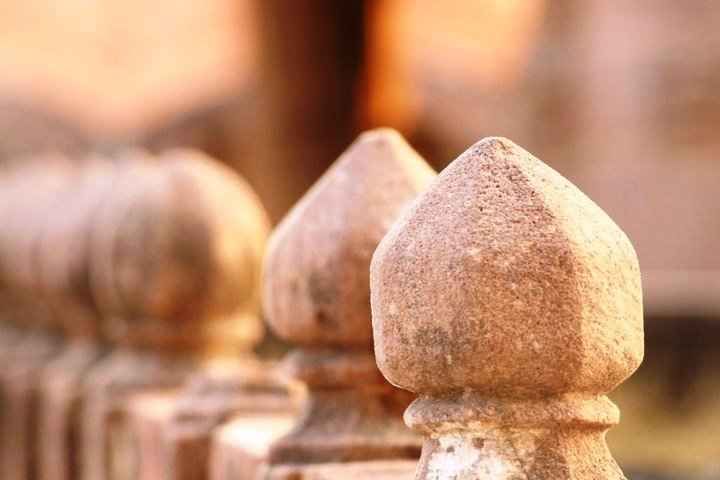 Travelling for me is all about the sights and sounds of a place. I love ruins and somehow I feel that ruin loves me too.. Can not stay apart long and so on again at Amer. The city of forts. The place seems to Still stuck in time, this marble shaped monument, the walls of the forts, step well has seen a lot over the years, from the Rajputana era of the Mughal and then the British before India's independence. Its colonial past, however, haunts it till this day. As you walk slowly, the buildings, the doors, the temples, the streets, and shops bring alive its history. Amer is a small city surrounded by Amer fort, Nahargarh Fort and Jaigarh fort. Popular with western tourists, the town is very friendly to English speakers, and everything from the restaurants and shops to hotels and roadside stalls are tailored (or rather preserved) for Hinglish speaking man. Amer is a great short holiday to experience ruins, history, relax and have a cup of tea on the verandah.

The barren roads, the pastoral calmness hung in the air, changing color of the mud-dunes from clay brown to camel yellow, the nomadic hue of the lifestyle, frequent calls of a peacock and the half-forgotten walls set against the backdrop of an azure, blue sky, this region seemed to have soaked its beauty in the rustic chill of its lifestyle.
The complete Guide of Amer and nearby Forts
When to go:
The weather at Amer is tropical – hot and humid. The scorching summers from March to June and the torrential rains from June to September are best avoided. The most pleasant time to go is between October and February, where the climate is a bit cooler with sporadic rainfall.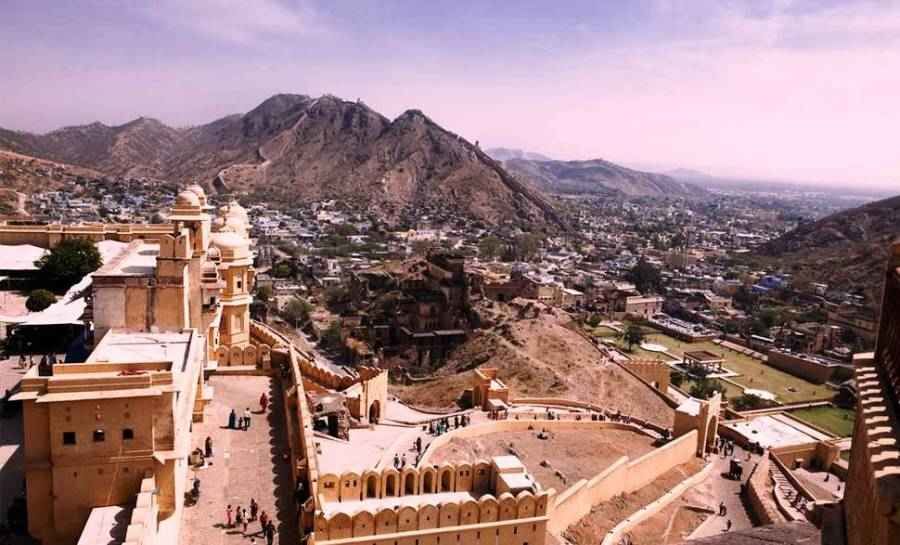 Getting there:
Amer is a little over 30 minutes drive from Jaipur Airport. Prepaid taxis are available at the airport and fully air-conditioned . Nahargarh and Jaigarh fort are bit away from Amer Fort and Palace.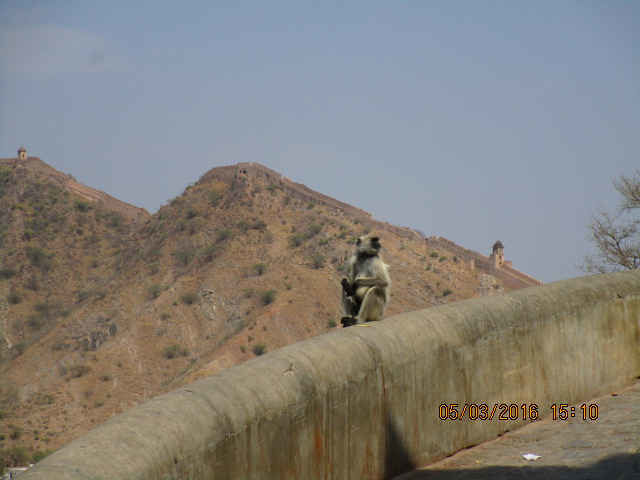 How to go:
Amer is around 230 Kms from New Delhi. You can get down at Jaipur railway station or Jaipur Airport, Amer is 14 kms from there and you can get a taxi from the station at a rate of Rs 1000 to cover all three forts.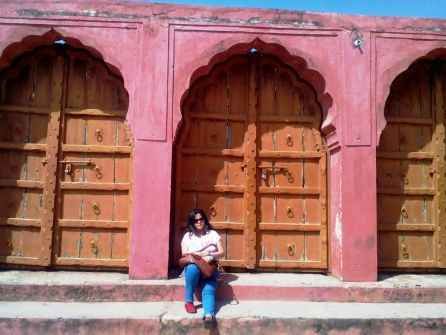 Things to do:
Walk around Amer Fort and Palace - where ruins look like it carries on exactly the way it did 500 years ago. A few hours at the Amber Fort will leave you with some treasured memories. For me, it was the revised chapter of History, about King, their roundness & their gratifications covering my thoughts, and the thought of the fort with changing life as the centuries passed, from Raja Man Singh himself and his entourage of family, armies and servants, to the British in the days of the Raj who even in their imperial glory must have been overawed by such magnificence. I also thought over and over again of the hundreds of architects, artists who devoted their talents to the Fort and I thought how proud they must have been when they witnessed their finished creation.
Discover the ancient architecture and step into the pride of Rajputana Victory; Jaigarh Fort -
Jaigarh Fort had a major role to play in the defense or battle mechanism in Jaipur. Highlight is the visit to the world's largest cannon on wheels named 'JaiBhan Cannon'.
Take a trip to Incredible "Indo-European" Structural Design; Nahargarh Fort. The trendy song Masti Ki paathshala from the blockbuster movie Rang De Basanti was pictured in this fort. Some scenes of 2013 hit movie Shuddh Desi Romance were also shot here.
Book an evening Light and Sound Show at Amber. An unforgettable experience, the show is set at the base of the fort, known as Kesar Kyari, with a stunning view of Amber Fort with the hills in the backdrop. This magical act elated us in time and was the perfect wrap for Jaipur and its culture.
Set off for a village tour and you will be amazed by the richness of architecture in the village near Amer. The Rajputana cultures still live in its past, and decades or centuries old temples, cenotaphs, wells are still the main landmarks in the village. There are havelis which have been restored and converted to schools and bungalows of villagers. There are havelis which are now abandoned, but these weaves a story for us, they tell a tale of the era when this region was a strategic trade point. These random havelis are emblematic, existing as symbols of lost pleasure, wealth and easy life. Today they are dwelled by pigeons, grasp for some fresh air to live their rich past in their present, but they still pull you. Many of these havelis and temples are now ruined and glared to the tourists with empty eyes.
If you are shopaholic like me ,you can find plenty of accessories or small gift items to buy outside or inside of the forts . Silver jewellery, 'wooden gift items and colorful bandhni sarees and dupattas. While the high prices may put you off initially, put your bargaining skills to the test for a better deal.
Hike to the Amer fort from Amer Palace through a 20 km covered tunnel which not only adventurous but also exciting journey . The gate of the tunnel open few times in a year and the journey to Fort through this tunnel surely a remarkable goose bumping journey.
Take a lazy round at Nahargarh fort palace, where the old rooms still whispering and cherish the history of glorious past.
Things not to do:
Take ride of Elephant or camel (animals) as I personally feel that they have their life and they even feel pain at scorching heat while carrying tourists. So as a responsible traveler travel by your feet while roaming and exploring new places.
Do not hire private guide. They charge a lot, instead of private guide, hire Government guide or audio system.
Spit any public place or write anything on monuments, wall of the forts, cenotaphs.
Drink alcohol or trust unknown people.
Where to stay:
Heritage Khandwa Haveli: Hotel Khandwa Haveli Heritage is one of the oldest heritage property in Jaipur. This old bungalow now converted to a hotel, has been exquisitely renovated and expanded with every modern amenity. The hotel is furnished with artifacts and antique style furniture, while hand-painted murals and miniature paintings feature throughout the hotel. The hotel is situated in a peaceful and residential area and is approximately 4 km from the Central Railway Station and Bus Stand and approximately 16 km from the Jaipur Airport. It charged approx 2900 for 2 persons, 2 nights with complimentary breakfasts and mineral water.
Where to eat:
For people who love going street food, Amer is a bit of a challenge to find. Since most of the visitors to this area are from Jaipur or outside of the place, authentic Rajputana cuisine is easy to find. While you will get the spicy Laal Maans, most of it is cooked tempered down, or you will get Daal Baati Churma, Ker-sangri (Special vegetable only available at Rajasthan).
Most of the hotels in the area have great restaurants, but they tend to be expensive.
If you looking for something Royal style Pink City A Heritage Restaurant, Handi Restaurant are very nice and provide awesome mouth watering food.
Wanna try a bit expensive but top class authentic restaurant then sure go for Surya Mahal (Goner Road, Luniawas; 141 268 0101;oberoihotels.com/oberoi_rajvilas). Three courses £25-£55, Peshawri (ITC Rajputana Hotel, Palace Road; 141 510 0100; itchotels.in). Three courses £19-£24, set menus £11-£16.
Chokhi Dhani (12 Miles, Tonk Road; 5165000; chokhidhani.com). Entry with thali included, £7-£9 depending on dining area. A Remarkable experience where to get proper rajasthani cultural.
Notes:
The weather at Amer is tropical – hot and humid. The scorching summers from March to June and the torrential rains from June to September are best avoided.
Jaipur city is well connected and very modern. So you can easily find shopping malls to roam around and the shops are also very pocket friendly. Rajas Park shopping street also very famous for shopaholics.
Metro already opened in various part at Jaipur. So travellers can travel via metro to save money.
This post was originally published on 'EVERY CORNER OF WORLD'.