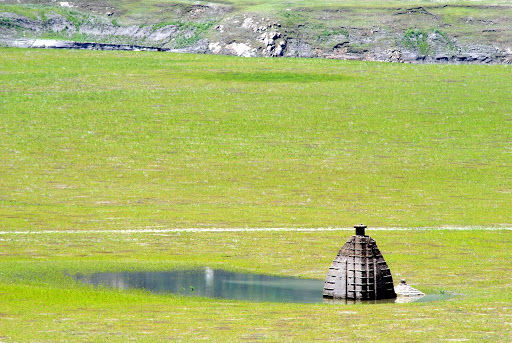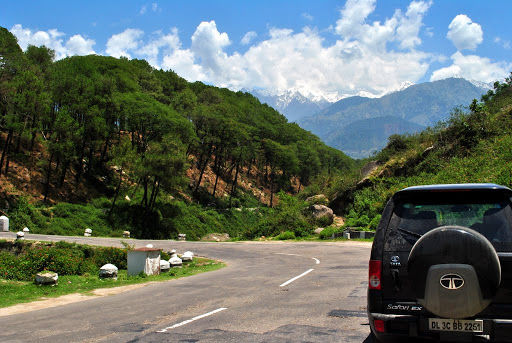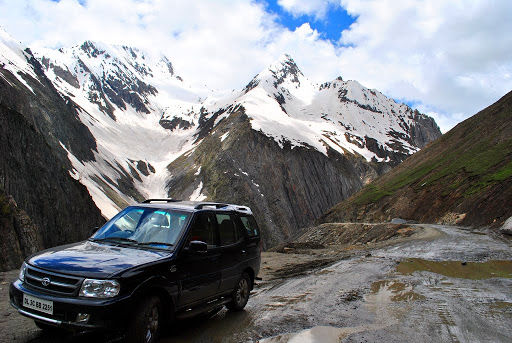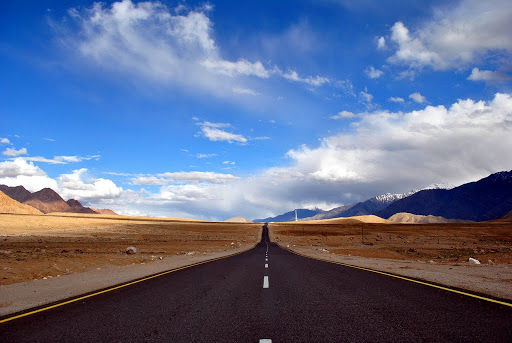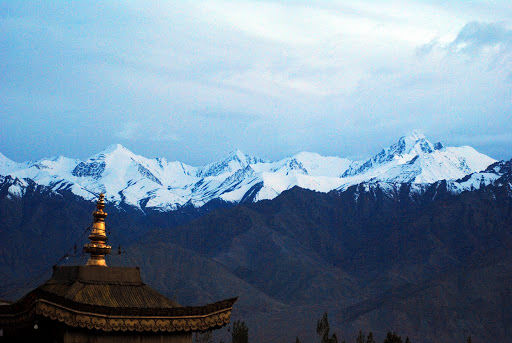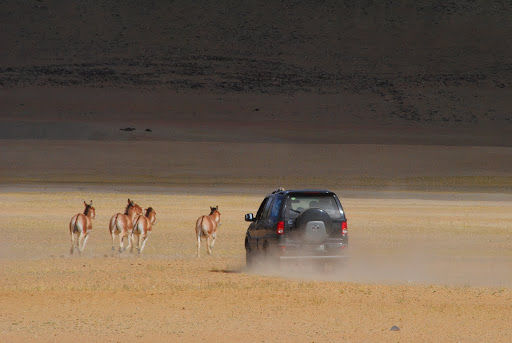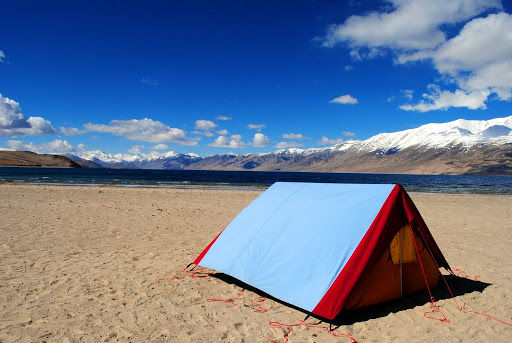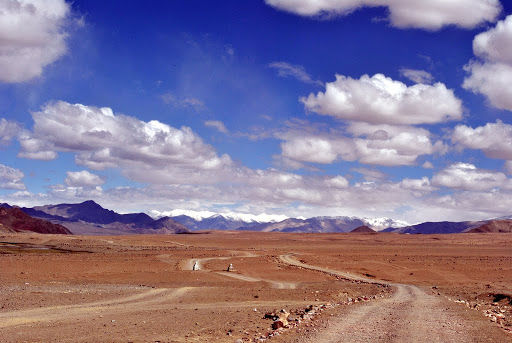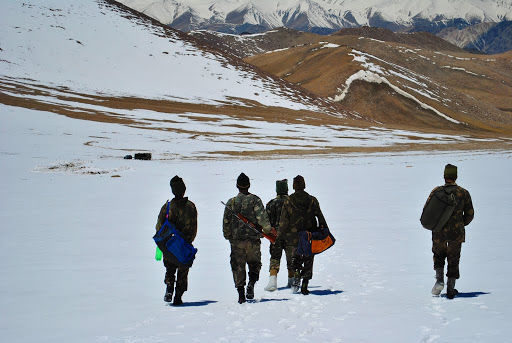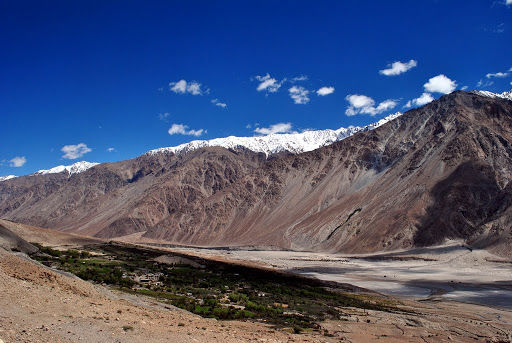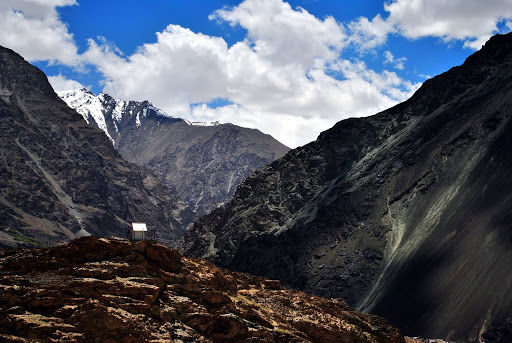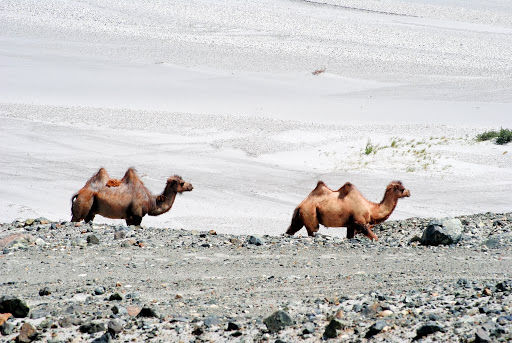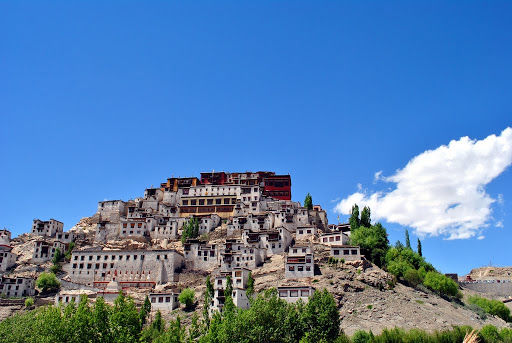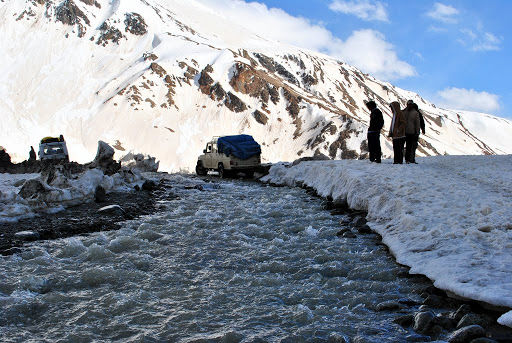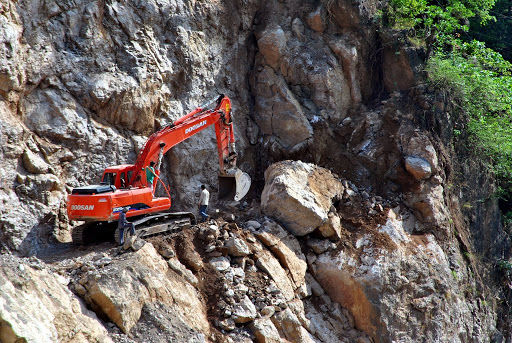 The trip gave us a taste of all kinds of adventures - a change of plans at the last moment, a long drive to Leh via Manali & Srinagar, a crazy ride with Kiangs, getting lost near a lake only to discover a relatively lesser used route to the elsuive Chumur, a visit to the charming Hanle, a drive to the beautiful Pangong Tso, conquering the highest "motorable" road in the world - Marsimik La, discovery of another relatively lesser known road from Changthang to Nubra, exploring the border village of Turtuk & finally followed by a crazy drive back home to Delhi via Manali.
The travellers: Aarti & Harsh
The machine: Our very own wild ass - Tata Safari 4x4, we call it Kiyang
The journey covered 4500 km in all and it took us 17 days to do it. Thankfully, both of us drive, making it possible to cover more ground per day without getting too exhausted.

Day 1 (June 10, 2010): Delhi - Manali: 560 km:
We left our house at about 3:30 on the 10th of June, without further incidents managed to cross Chandigarh by 8, and reached Bilaspur by 11 am. The submerged temples, with green patches around, were looking as beautiful as ever, and we decided to go down to click some pictures. However, we were not able to find our way and after some offroading misadventure, decided to abort the plan and moved on towards Manali. Our regular trips to Himachal meant that our route and time schedule to Manali was more or less fixed - leave Delhi early to reach Manali in time for a late lunch at our favourite joint, Il Forno. As the Outlook Traveller Himachal guide says, the owner of Il Forno, an old lady, "is from Naples and her pizzas are from heaven"! .As we approached Manali, it started raining, further dampening our hopes of crossing Rohtang the next day. After checking into a hotel, we wandered about, asking local taxi drivers about the road condition up ahead. All of them painted a very grim picture, and said that it would take at least another day for Rohtang to open, and a good 5 for Baralacha to open. One taxi driver explained to us at length the exact situation, saying that he'd been there a couple of days back, and elaborated how glaciers had come on to the road. According to him, the highway would take at least another 10 days to get completely open till Leh. But as they say, every dark cloud has a silver lining, and soon after talking with him we read on BCMT (via Tanveer, tsk1979) that the road till Hanle is open. We were overjoyed at this piece of info, and our earlier fear of roads and passes in Ladakh being closed was washed away. Thereafter, we took out our maps, added up kms, made an alternate itinerary, and went off to sleep. The next night halt would be Patnitop, a good 500 km or so away, and we needed a good night's sleep.

Day 2: Manali - Kangra - Pathankot - Patnitop : 490 km - 15 hrs:
With a heavy heart, we abandoned all hopes of doing the Manali - Leh highway on our way up to Ladakh. Hoping that the Srinagar - Leh road was as beautiful as the Manali - Leh one, we set-off. And we were not disappointed at all! Although a little less difficult, the road offered some spectacular vistas along the way. But first things first, we had to come up with the best route from Manali to Patnitop. The ideal route seemed to be Manali - Mandi - Joginder Nagar - Palampur - Dharmasala - Pathankot - Udhampur (via Jammu bypass) - Patnitop. Although it did not look very interesting, we were nevertheless excited since this would be our first ever foray into the Kangra valley. The route turned out to be exactly what we'd expected - a boring drive. The few highlights were the shivering monkeys at the Pandoh Dam and the breathtaking first view of the Kangra Valley. Lunch happened at a roadside Dhaba an hour before Pathankot, and we were happy with our progress so far.
As we approached Samba, we started looking for the detour towards Udhampur, which would lead us away from the ugly traffic heading towards Jammu. It was a good decision at the end, with the detour being quite scenic and running along the newly constructed rail line from Jammu to Udampur. The rail link become operational in 2005 , and has some of the most dramatic rail bridges I've seen in the country so far.

Day 3: Patnitop - Srinagar : 190 km - 7 hrs:
After the previous day's long drive, it was time for a short drive to Srinagar from Patnitop. So we decided to start off the day a little late at 9 am. A good rest was necessary for the 3 day haul from there to Leh. The first attraction of the day was the Baglihar dam that we saw from a distance from a view-point on the highway. With a convoy of Stallions to overtake every few minutes, we were cruising along the Chenab for a while. Moving ahead, it was not long before we crossed the Jawahar tunnel to reach the Titanic view point where we were greeted with the first view of the beautiful Kashmir valley. The road beyond the tunnel was a straight one, lined with Chinars, with rice fields on either side. We reached Srinagar early by around 4:00 pm, checked into a hotel and then decided to go on a longish Shikara ride in the Dal lake. It was a fun & relaxed evening, which ended with an authentic and delicious Kashmiri dinner at Ahdoos. The place is a must visit for all the foodies out there, turn your vehicle in the direction of Residency road and you should be able to locate it quite easily.

Day 4: Srinagar - Kargil : 200 km - 11 hrs:
The drive towards Sonamarg was breezy, with good quality, although narrow, roads. It had been two days since Kiyang had shifted it's transmission to 4x4 mode, and it was aching to do so! Since we were doing good on time on our way to the Zoji La check post, when the opportunity for some off-roading came, we grabbed it! A narrow kuchha road led off the highway to the river, and although not very challenging, the detour was super fun. We rested beside the pretty river for a while, clicking the beautiful horses grazing around, which in fact is a common sight in and around the Kashmir valley. Soon it was time to proceed towards Sonmarg. A couple of twists and turns later we reached Sonmarg. And what a sight it was! Lush green hills and meadows all around! However, the sight of a gazillion tourists littering the place with plastic bottles and wrappers put us off and we decided not to stop. We tried to offroad on a hill as well, but were stopped by the locals who conduct horse rides there. According to them, one has to pay a fine of Rs. 500 for off-roading, which was pretty surprising. We then started the dreaded climb to Zoji La. It was quite a bumpy ride, with lots of pot holes on the road. The greenery suddenly vanished and gave way to a landscape of brown and white. We could see a path sticking to the river and running parallel beneath us. It took us about 1.5 hours to climb the pass from Sonmarg. At last, after 3 solid days of travelling, we were finally on top of a high altitude pass, and were totally enjoying the feeling. After paying homage to the soldiers of the 1948 war with Pakistan at the war memorial there, we started our descent. That is when we came across the tallest snow walls we'd ever seen in our lives! The biggest one that we'd seen yet was on the way to Spiti last year. But this was mammoth! It must've been close to 25 ft in height, if not more. The road was in a mess, full of craters.
A couple of bends later, we saw a board pointing to a hill which said 'Tiger Hill'. Since we were the only ones there, and the arrow was pointing to a hill quite close to the national highway, we got a little confused since we were not ready to believe that Pakistan had managed to capture a hill so close to the main highway between Srinagar and Leh. It is very unnerving to realize that our enemy had actually come this close. At that moment, the pride and respect one feels for the Army for having re-captured the Tiger hill cannot be expressed in words! The war memorial evokes quite a strong feeling of patriotism. One can see the Tiger hill at a distance, and the Tololing range just above. The peaks which the enemy had captured were so very close, and it was obvious that the highway must've been their prime target. The security threat was grave. The peaks looked unscalable, and it was difficult to imagine how our soldiers managed to climb those mountains with the enemy firing at them! The list of lives lost in the war had filled up a huge wall, and the pictures of our troops during operation Vijay threw some light on the adversity faced by them.

Day 5: Kargil - Lamayuru - Alchi - Leh : 240 km - 12 hrs:
Today would be the day when we would finally reach Leh. Needless to say, we were super excited! About an hour later, we stopped at Mulbekh for some breakfast. After a hearty breakfast of omelette and pancakes, we moved ahead for the next pass on the route - Namika La. The landscape already had changed to a lot of brown, and the pass was the icing on the cake. The road was in a marvelous condition, and had it not been for the altitude, the curves and the gradient, one could've gone at 150 kmph on it. It was so fantastically smooth! The climb to Fotu La was similar to Namika La. Fantastic roads, similar landscape and cloudy weather. While descending from Fotu La, it became very foggy, and we sadly missed the first view of the Lamayuru Gompa.
The orange, pink, brown and black shales on the hill ahead were very inviting, and so were the yaks grazing in the meadow beneath them. The climb itself was gentle, the gradient comfortable enough initially to do in 2nd gear 4H mode, but soon I had to shift to 4H - 1st gear and in the end it was only 4L and 1st gear! The road could be seen far ahead, snaking in and out of the barren mountains, and for a while we just stood there, reveling in the beauty of the place. We of course went crazy clicking pictures there, particularly of Kiyang. We then took the detour to Alchi, as Aarti had been there earlier and wanted to revisit the place. Had an amazing lunch of macaroni & cheese at a camping resort there. The place had an amazing place to stay with super clean bathrooms.

Day 6: Rest day at Leh (permits) : 0 km:
It was my first time in Leh, but Aarti had been there 5 years back with her parents. I was really awestruck by it's beauty, and also with the feeling of just being there. I did not expect to get the permits so easily, but the whole process was very smooth. The next order of business was to give Kiyang a nice bath, which, after a bit of asking around, happened at a car-washing place in Choglamsar. The rest of the evening was spent relaxing, eating delicious food and recuperating. The plan for the next day was to go to Nubra... However, God had something completely different in store for us. I think Ladakh in general does not like people with fixed plans and itineraries.

Day 7: Leh - South Pullu - Leh - Tso Kar - Tso Moriri : 310 km - 13 hrs:
As per plan, we set off for the 'highest motorable road in the world' early in the morning. As we approached South Pullu, the check-post 15 kms before Khardung La, we could see a line of cars ahead of us, and instantly knew that something was wrong. The Army guy at the check post told us that today was down-traffic day, which meant that only vehicles from Nubra to Leh would be allowed. The opposite traffic would be allowed, if at all, only late in the evening. I could see our plan completely crumbling! However, by the time I reversed the car to head back, Aarti had already figured out the situation and had an alternate plan chalked out. She suggested that if we leave for Tso Moriri immediately, we might just be able to reach there by evening. Reach Tso Moriri we did, reach Karzok we did not! The road till Tanglang La was a breeze, marvelous flat roads. Soon thereafter we saw a cut on the road with Stallion tracks going up towards the road above. Thinking this must be a short-cut, and in mood for some off-roading action, we took the cut. The road led nowhere! That's what our dear friend Nithin KD calls "Ullu Bana Da La", or those roads which go nowhere and from where you need to turn back!
oon enough, we reached Tanglang La, and it was completely snowed out at the top. Tso Kar and the area around it is very rich in fauna. We had read at many places that Kiangs are definitely found near Tso Kar, and Brahmini ducks and cranes can also be sighted. It was almost quarter past 4 by the time we were done with Kiangs and moved on towards Tso Moriri. With a good 90-100 km still to cover, we were running pretty late. The road till Kiagar Tso was not much of an adventure, apart from another sighting of a Marmot, but again the elusive animal escaped without us being able to take a single shot. We were all set to reach Karzok in another 45 minutes, right about the time it gets dark. It was almost dark when I saw some tiny spots on the opposite bank of Tso Moriri. It was then that I realized that we had come on the wrong track and Karzok was on the other side, now a good two hours away!

Day 8: Tso Moriri - Chumur - Hanle : 180 km - 10 hrs:
Little did we know that the adventure was not over yet... It was close to about 1 am when both of us were awakened by some noise outside our tent, it seemed someone or something was scratching the tent from the outside. Oh well, it was nothing thankfully... just the outer layer of the tent flapping due to the strong wind. Although the temperature had dropped below zero outside, we were quite warm inside the tent. However, neither of us could sleep well due to the constant flapping of the tent. he sun came up soon enough after, and after refreshing ourselves, it was time to cook some moong dal halwa breakfast (surprised? don't worry, it was a ready-to-eat packet of halwa) ). Enjoying garam garam halwa with an open view of Tso Moriri from inside our tent was a priceless feeling! As per our original plan, we were supposed to stay the previous night in Karzok, and had planned to ask the villagers the next morning whether a direct route to Chumur from Tso Moriri existed or not. This road was on the eastern bank of Tso Moriri, and our research on Google Earth earlier told us that if a direct road from Tso Moriri to Chumur existed, it had to be in the eastern bank.So, based on all these signs and under all these assumptions, it was decided during breakfast that we would head out towards Chumur. If we reach there by evening, well and good, else if we have to come back, we would stay the night at Karzok. And if we have to camp again, we were prepared. It was around 10 am when we turned a bend, and got a rude shock! The road blasting work was incomplete and the road ended abruptly ahead. We were close to the southern most part of Tso Moriri.
Soon we saw that there was a board at the point where the road ended. As we reached it, we saw what was written on it: "Aage road band hai, kripya neeche se jaaye". (The road ahead is closed, please move ahead by climbing down). It was almost a 40 degree descent! This was the road! We were scared, off-roading was one thing, but off-roading alone without a backup plan was not a wise idea. But we were in no mood to turn back now, and went on. Thus the thread topic - two idiots. The next task at hand was to climb the hill in front of us. At first glance, it really seemed impossible. But as our eyes followed the Stallion Tyre tracks, we could see the path and gradually became confident that although tough, it was doable. Once the ascent was done, it was a relatively gentle and straight climb towards the next pass. No-one to be seen for miles, no settlement, not a sign of civilization, not even a single Changpa around. No roads, just some tyre tracks to follow with aid of GPS and one's instincts. It took us at least an hour and a half to reach Chumur village after a couple of wrong turns. The GPS coordinates of Chumur, although not precise, were more or less correctly marked on Google Earth, and we must thank the person who marked it, for it was largely because of him/ her that we were now almost at Chumur.
A visit to "the Gompa with the mummy" was on the cards, but that was more of an excuse rather than the real reason to visit Chumur. The Lama who had died sometime in the 1970s wished to stay in the gompa forever, and the only way to grant him his wishes was to embalm his body and keep it inside the monastery forever. Another legend of the strange monastery goes back to the 1920s when a lady of the village, suspected to be a witch, was punished by having her hand dismembered from her body. Her son too was punished similarly for helping her in her wicked deeds. Their hands were then embalmed and are still kept in the monastery and serve as a message to the villagers not to mess with the "LAW".
We left for Hanle from Chumur at about 1:30 pm. Soon we came to the climb to Salsal La. It seemed like an almost vertical climb! After huffing & puffing for a while, we saw that a road had been blasted and we finally joined it mid-way in our climb to Salsal La. The road was in an awful condition, but at least the gradient was gentle. A short while later, it was time for us to get back on our way to Hanle. The ride further to Hanle was long and tiresome. It was a mix of rocky, bumpy and at times a smooth drive too. But one always has to really concentrate, to avoid stones hitting the underbelly. The final stretch to Hanle deserves a special mention. It was the most worst stretch of road in a flat wetland ever! With Hanle at a tantalizing distance, and the average speed at 7 kmph, it was one of the most frustrating drives ever! We had to start looking for a place to spend the night, but before we did that a visit to the Hanle Observatory was a must. And oh by the way, contrary to popular belief, this is not the world's highest observatory. Check Wiki!

Day 9: Hanle - Loma - Dungti - Loma - Tsaga - Spangmik (Pangong Tso) : 210 km - 10 hrs:
The plan for the day was quite straight-forward - leave Hanle at leisure, reach Pangong Tso by evening, and stay at either Man, Merak or Spangmik, depending on the distance we cover. The road to Loma from Hanle is quite interesting. Imagine a larger, straighter version of Moreh plains. There are no rules, drive where you want to, but preferably stay close to the main track. By 11 am, we were able to reach the bifurcation from where one road goes to Loma and the other to Dungti and Koyul. So we took the right at the bifurcation and happily proceeded towards Dungti. Civilians are not allowed till Dungti, and the ITBP guys were understandably pissed at us for being there. We apologized to have arrived there without permits, and quickly took a U-turn to return to the bifurcation. With our permits checked and approved, we proceeded towards Chushul. The drive was quite desolate with only a village by the name of Tsaga enroute. The climb to Tsaga La was relatively straight forward. We were moving parallel to the Indo-China border and we could see a lot of bunkers to our left. It was an eerie but great feeling to drive knowing that we were being watched by our soldiers.

Day 10: Spangmik - Marsimik La - Tangtse : 124 km - 9 hrs:
Every traveller to Ladakh dreams of conquering Marsimik La, the highest "motorable" road in the world, and we were no different. Our homestay in Spangmik was wonderful. The food was delicious, and our hostess was very nice. We left for Marsimik by 8 am, and reached Phobrang in about 45 minutes. The real climb to Marsimik began soon thereafter. We must've done the last stretch of about 10 km almost entirely in 4L mode. The final climb took us about 20 minutes to complete, and the scene ahead was disheartening. Right below the top, the snow had yet to melt and there was no way we would be able to make it to the pass in Kiyang. Nevertheless, we decided to move ahead and try to get as close as possible to the top. With the road cleared, we proceeded to cover the remaining 500 m and parked our car next to the Stallions.
The plan for the next day had not been decided yet. We had managed to use up all of the 80 liters of diesel we were carrying and our calculations showed that we would not be able to do Pangong-Shayok-Nubra-Turtuk-Leh with the amount of diesel we had left. The only way that route could be done was if we managed to get an additional 25 liters of diesel from somewhere. We had asked the OiC at Phobrang but he had declined, saying that he himself did not have too much. But this time lady luck smiled on us and we were able to arrange for 40 liters at one of the tents at Lukung. Thus it was decided that we skip Changla and take the direct route towards Nubra via Shayok. The next day would be about the discovery of a new route from Shayok to Nubra.

Day 11: Tangtse - Shayok - Agham - Panamik : 150 km - 5.5 hrs:
Day 11 saw a very very late start! We were pretty tired after our Changthang roller-coaster, and simply did not feel like waking up early. Of course, another reason for us being lazy was that our planned drive for the day was not heavy. The target was to reach Panamik by late afternoon, through the Shayok - Agam route. The road to Shayok cuts off from Darbuk, and one enters a very narrow but beautiful valley. The road follows the Shyok river, and climbs up a mountain before finally descending into Shayok village. It took us less than an hour to reach Shayok, and we were delighted at the sight of the rather big village surrounded by barren mountains, the entire setting being very picturesque. As we moved on, we saw a sign-board that literally made us halt in our tracks! It said "Shayok and Agam straight, 'DBO' right"! DBO stands for Daulat Beg Oldi, which lies at the easternmost point of the Karakoram Range, very close to the Chinese and Pakistani borders. Although it is a cold desert, the Indian Air Force has an operational airbase there. After about an hour, the tarred road gave way to a kuchha one, and a short while later, we reached a stretch where one literally had to drive on sand! Despite Kiyang being on 4H, it was skidding a bit, but we managed to keep the car on the 'road'. At Agam, we saw a road branching off towards Tangyar, 11 km away. Soon the sand dunes came into view, and we were glad to finally be in the Nubra Valley, even though we were already missing the desolation of Changthang. The road to Panamik is very pretty, lined with trees and pink bushes, and the road too is awesome. The people of Ladakh are really very hospitable and a pleasure to interact with! When we started back towards Panamik, the sun had set, and we had probably an hour of light remaining. We still wanted to go to the 'wishing pond' which I'd read about and also seen on our way to Panamik earlier in the day. The wishing pond is a small body of water surrounded on all sides by small hills, on the side of the road, some 10 km before Panamik when one is coming from Khalsar. One has to climb the hills, and then descend to the lake.

Day 12: Panamik - Hundar - Turtuk : 140 km - 6 hrs:
To be very honest, Harsh didn't like Panamik too much, and you can't blame him... after all, it really was nothing compared to Changthang! I'd been there earlier, so for me too Panamik didn't hold too much. As a result, both of us were now all the more excited to explore Turtuk. The next 2 km are beautiful, with the road stretching in a straight line, and nothing but white sand on both sides. After some clicking on this stretch, we drove quickly to Hunder, only stopping to capture the confluence of the Nubra and the Shyok rivers from a view-point on the road. The first photo op on this route was the air strip at THOISE (The Halting Of Indian Soldiers Enroute). The long strip in the wide valley surrounded by huge, barren mountains was truly a beautiful sight! Immediately after THOISE, the valley narrows, and the landscape starts turning a dark shade of grey from the usual brown. The almost black colour makes the mountains look even bigger and gives the valley a creepy feeling. Every 10 km or so you encounter a check-post, and your permits are checked on every other stoppage.
As we entered the the village of Bukdang, 25 km before Turtuk, we realized that we'd left Buddhism behind and were now in an entirely Muslim area. Somehow, one always relates Ladakh to Buddhism, but the fact is that nearly 46% of the total population of Ladakh are Muslims. At Chalunka, about 10 km before Turtuk, we gave a ride to a Muslim family of 5, who directed us straight to the PWD rest house when we finally reached Turtuk around 2:30 pm. One of the first things that strike you about Turtuk is its proximity to Pakistan. The border is a mere 6 km from the village, and although civilians aren't allowed beyond Turtuk, the locals told us that one can easily see into Pakistani villages from the LoC. During the Kargil war, Turtuk also experienced some severe shelling, and the entire village had to be evacuated. We crossed by the village mosque before we reached his home, and decided to stop and have a look inside. The kids in the village were surprised to see us as they were still not accustomed to tourists.

Day 13: Turtuk - Hundar - Khardung La - Leh: 210 km - 8 hrs:
Our journey from Turtuk to Hundar was uneventful, except for a sighting of some wild (?) Bactrian camels just before THOISE. We were looking forward to driving on the straight stretch of road right before one reaches the bifurcation towards Panamik, and also to capture that stretch on camera. We stopped for lunch at Khardung village, and were at K-top by 3:15 pm. The final 15 km, after North Pullu, were quite bad, with the snow being recently cleared from the road, thus making it pretty narrow and full of potholes. The top was infested with tourists getting themselves photographed in all kinds of poses, so we didn't spend too much time there. We also had a decision to make - to head back to Manali the next morning, or to spend the next day in Leh, visiting a monastery or two and get some shopping done. We decided in favour of the latter, primarily because we had an extra day in our itinerary, and also because Harsh hadn't visited a single monastery yet in Ladakh.

Day 14: Rest day at Leh : Day visit to Thiksey: 0 km:
After the delicious brunch, we set off to visit the Thiksey monastery. It was 12:30 pm when we reached, and had only about 20 minutes to roam around and click pictures before the monastery closed for lunch. The primary agenda for the day was to relax, thus afternoon siesta happened. Then, at about 4 pm, we set off again to the main bazaar, this time with a clear agenda to shop. Spent a couple of hours buying knick-knacks, which also included two 'The North Face' jackets for ourselves.

Day 15: Leh - Tanglang La - Pang - Sarchu - Baralacha La - Sarchu: 290km - 15 hrs:
This coupled with the fact that the Manali-Leh highway is notoriously unstable, we decided to dash till Jispa on Day 15. It obviously meant an early start to the day from Leh and we were on our way at about 6:30 am. A km later we were at the same bifurcation we'd taken a week back, the road to the left leading towards Tso Kar, and our hearts were aching to again take the cut which leads to the enchanting Changthang plateau! However, better sense prevailed, and we marched on towards Manali. The Moreh plains had begun and it was an awesome feeling to drive on them! It was a dream come true for us, and we were enjoying every second of it! I was on the wheel, and looking at the smooth hills on the left, I suddenly felt like driving Kiyang on them. We crossed Pang at 11:45 am, and were just getting over the beauty of the Moreh plains when we saw one of the most beautiful landscapes unfolding before us... stark brown, barren, huge mountains, many of them shaped like ant-hills, surrounded us, and the blue sky dotted with beautiful white clouds just made the scenery look heavenly. We'd thought that we wouldn't find the Leh-Manali highway to be too beautiful, considering what we'd already seen, but we were so so wrong! The road stuck to the river mostly, climbing and descending at times, punctuated with small, pretty, green bridges and then came to the notorious 'Kangla Jal'.
The climb to Lachulung La was uneventful, although beautiful with snow everywhere. The pass isn't very scenic, and it was super windy at the top, so after a customary shot of the yellow sign and prayer flags, we began our descent. On the descent, we off-roaded a bit, and ended up saving some 5 km and a good 15 minutes! Soon we were climbing Nakee La, hardly an ascent, and there too after the same customary shot, we moved on, now excited to drive on the Gata Loops. After we crossed the Gata Loops, we caught the first sight of the pretty Tsarap Chu, which originates somewhere near Baralacha La, and is one of the tributaries of the Zanskar river. As we were crossing the Whiskey Nallah, we saw a bunch of bharals crossing the road ahead of us, and managed to get some shots of them. A while after crossing the Brandy Nallah, we came to the bridge which divides J&K and Himachal. We reached Sarchu at 3:15 pm, and stooped for a quick lunch of some delicious dal-chawal at one of the tents there. It was about 4 pm when we left Sarchu for Baralacha La. The day was progressing as per plan, and according to us, pretty soon we would cross the treacherous Baralacha La and stay the night at Jispa. This would give us plenty of time the next day, and we thought of doing the trek till Guru Ghantal Gompa at Tupchilling, and even then we would be able to cross Rohtang at a reasonable time and reach Manali. Of course, plans on such trips often go haywire.
The climb to Baralacha La began soon, the whole place was a freaking snow show. Kudos to the BRO guys to have opened the road at all this year. A bend later we found ourselves looking at a beeline of cars and trucks waiting for something. Oblivious of the peril ahead, we marched on only to find a section of the road missing up ahead.

Day 16: Sarchu - Baralacha La - Keylong - Manali - Kullu: 260km - 17 hrs:
The tent at Bharatpur was surprisingly quite cosy and comfortable, and we slept nicely. We were up the next day at 5:30 am, and intended to leave as soon as possible for the roadblock. The IMD weather prediction was bang on target, and we could see dark clouds circling the mountains up ahead towards Baralacha La. We skipped breakfast, and managed to leave for Baralacha La by 6:30 am. The drive to the roadblock was filled with anticipation. We hoped that the blockade would've been cleared and that we could get to roll before anyone else took a shot at it. When we reached the place, it was quite disheartening. To add to our woes, it started to snow! Although it was our first snowfall experience ever, we were not able to enjoy it at all, given the bleak situation we were in. It was cold and windy, we were hungry, and there was no sign of us getting any food anytime soon. At 11:30 am the roadblock was cleared for us to proceed. The slush was quite deep, but Kiyang did it fairly easily, and the Swift also managed without needing any help. The road was choc-a-bloc with traffic waiting to be released to move towards Leh. he road was narrow and there was a lot of snow on either side of it. The climb to Rohtang was muddy and slushy, but nothing was as challenging as before. The top was littered as usual, and it was so dirty that we did not even stop for customary shots and proceeded towards Manali. It took us 4 hours to reach Manali, of which an hour and a half was spent between the petrol pump at the Vashisht cut and the bridge over Beas that leads to the mall road. I think the entire Delhi and Punjab was in Manali, and that being a Friday just made matters worse. As soon as we reached Manali, we went to one of our favorite haunts - The Johnson's Cafe - for a nice dinner. The ride next day would be a long, uneventful haul to Delhi.

Day 17: Kullu - Delhi: 530 km - 16 hrs:
We reached Chandigarh by 8:30 pm or so. Had an eventful dinner, and proceeded towards Delhi by 10:00 pm. We had reached South delhi by about 2:30 am or so when our friend Nithin KD, NKD (BCMT), pestered us to join a party happening at his place. We were dead tired but somehow he convinced us to join for a couple of beers. It was a good decision in the end, since we spent some more time in the "trip mode" and were surrounded by travel enthusiasts discussing the trip. The next day was allocated to recuperate and recover from "APS" or "Acute Plain Sickness". . It was back to mundane life again, but only till the next trip, for which the excel sheet has already been made!