1. Budae Jjigae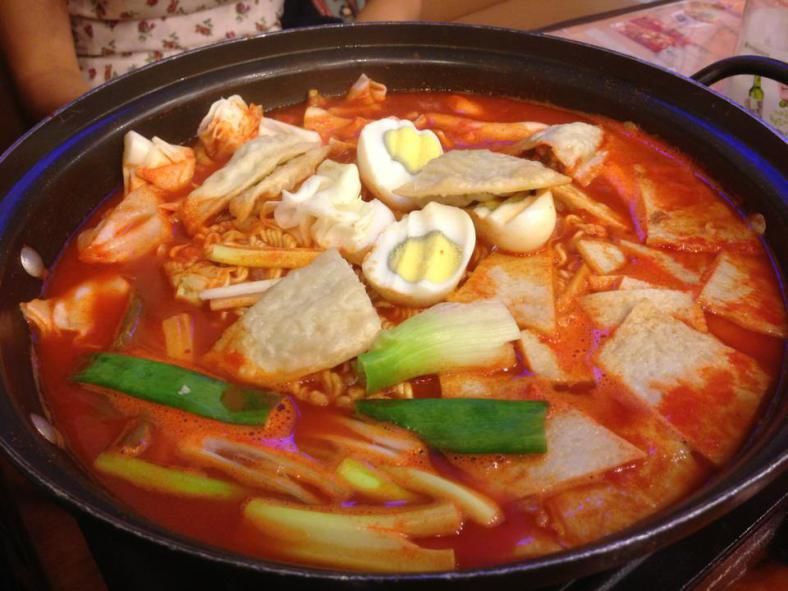 Budae jjigae otherwise commonly known as army stew is a kind of thick korean stew flavored using gochujang (their local spicy red pepper sauce) filled with truck loads of ingredients like sausage, egg, tofu, vegetables that are in season, leek, baked beans, maggie mee, beancurd skin. A comforting dish to warm up your stomach on a cold day.
2. Dakgalbi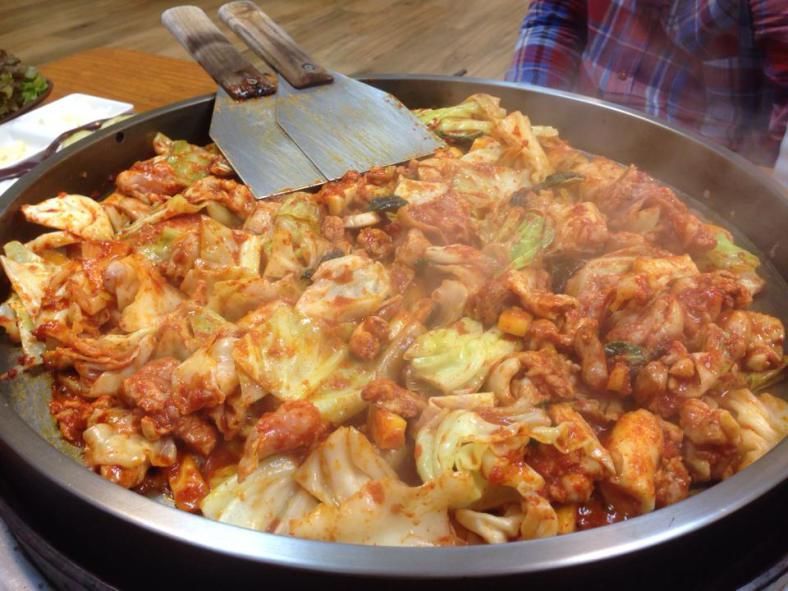 Dalkgalbi is a stir frying of marinated diced chicken thigh, cabbage, tteokbokki, potatoes, scallions, onions sometimes added with kroean vermicilli or fried with fried using the left over sauce after you're done with the dish. Tantalizing taste to the taste bud. Tender chicken meat with fresh crunchy cabbage. It's a sharing dish, usually they require min 2 pax to eat.
3.Palsaek Samgyeopsal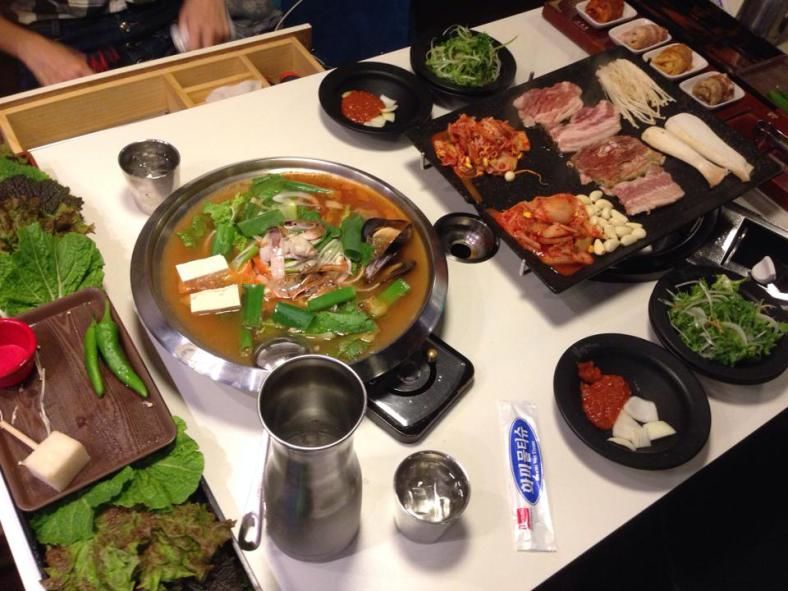 Palsaek Samgyeopsal serves fresh local pork belly meat well marinated with eight kinds of special sauces (garlic, wine, ginseng, pine leaves, herbs, curry, miso paste, and hot paste) and free flow of different kind of greens for you to wrap your meat in. & it typically comes with a seafood stew. Meat used are generally juicy and well balanced portion of meat and fats. It's a pity to not try it!
4.Samgyetang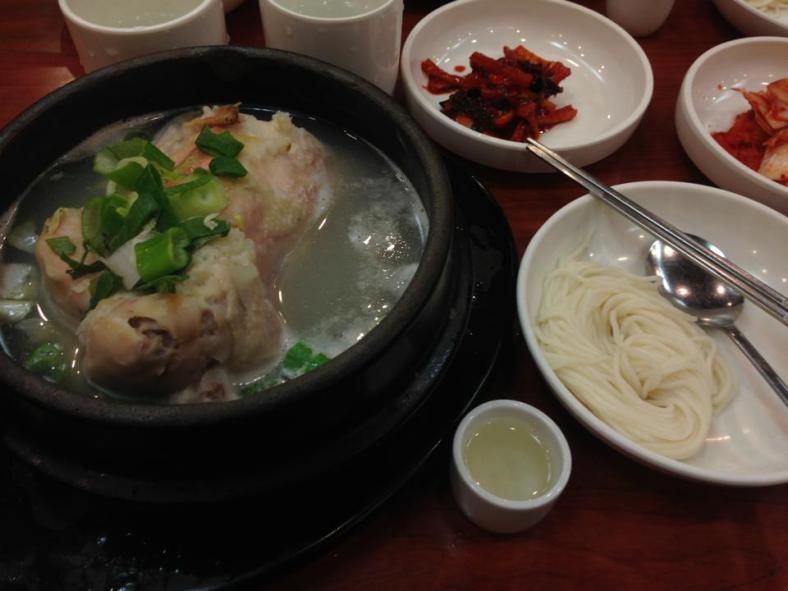 Samgyetang is commonly known as korean ginseng chicken soup. Whole chicken stuff with glutinous rice is used to simmer in the broth containing various herbs and ginseng. A light and refreshing dish. Intensity of ginseng taste may vary from place to place and some place may include a shot of ginseng wine for you to pour into the soup to further enhance the taste.
5. Jeon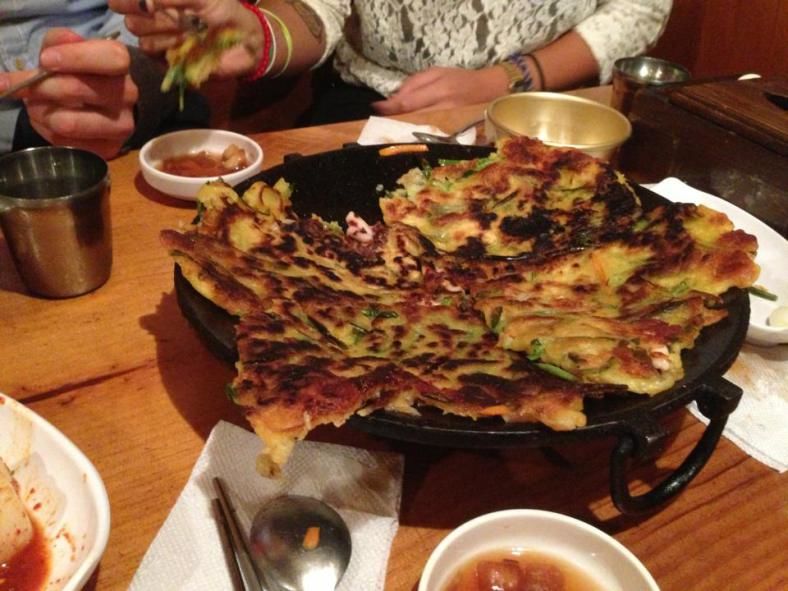 Jeon is basically known as pan-fried pancake in korea. There's a variety of them such as pajeon – chives pancake, kimchijeon – kimchi pancake, haemuljeon – seafood pancake and more. These are the few main ones. For instance, seafood pancake will contain squid, scallions, green pepper. A popular snack/ appetizer to munch on. Some taste crispy while some may taste more dough-y.
6. Chimaek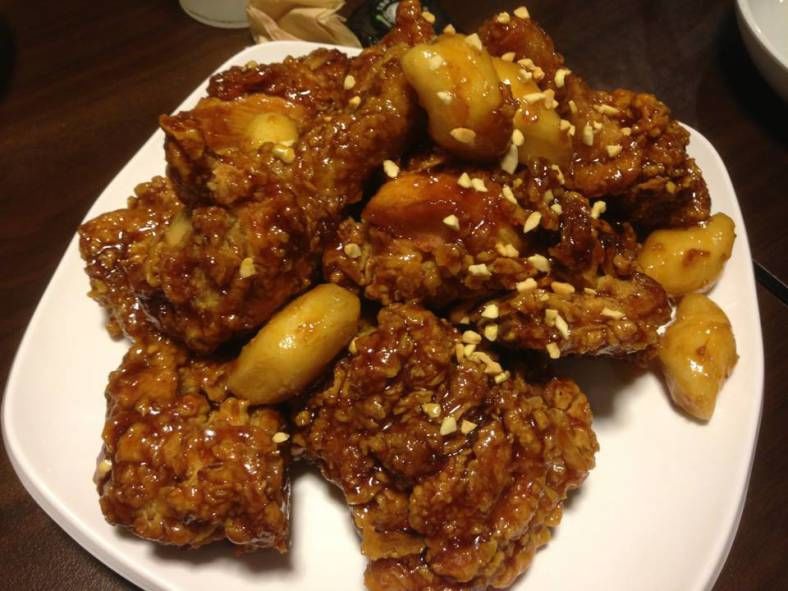 Chimaek is the pairing of fried chicken with beer! One of the favorites among the local. There's a variety of fried chicken type – bone or boneless, in big chunks or small bites, sweet sauce or hot pepper sauce etc etc! Most important, they are well-seasoned irregardless. Choose a combination which you like best! The refreshing beer will keep you munching on these fried chicken for the whole night!
7. Korean BBQ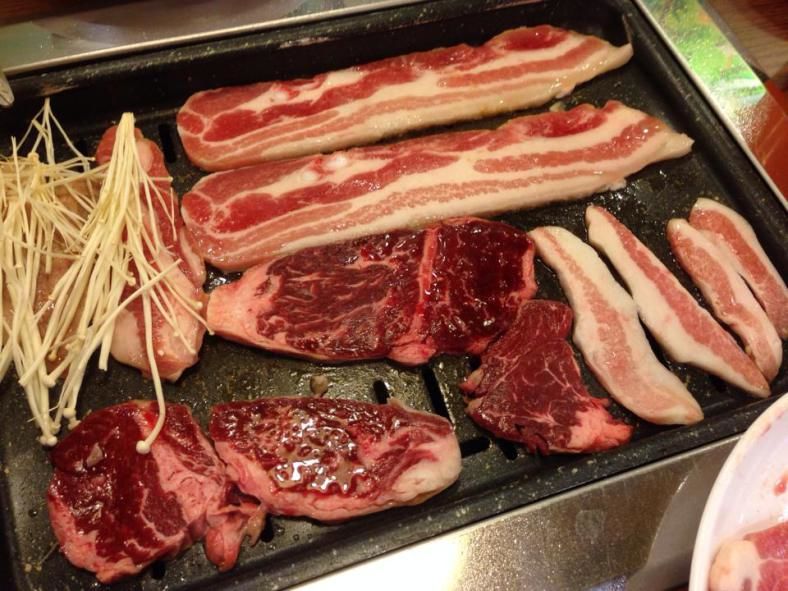 Korean BBQ is a common sight in korea! Some of the meat comes with light marination or some might have heavier marination. Meat is tender and juicy and price is definitely more worth it compared to in Singapore. So if you're there, definitely must eat to your fill! Must try their Samgyeopsal (Grilled pork belly), it's damm good and not fatty at all!
8. Gamjatang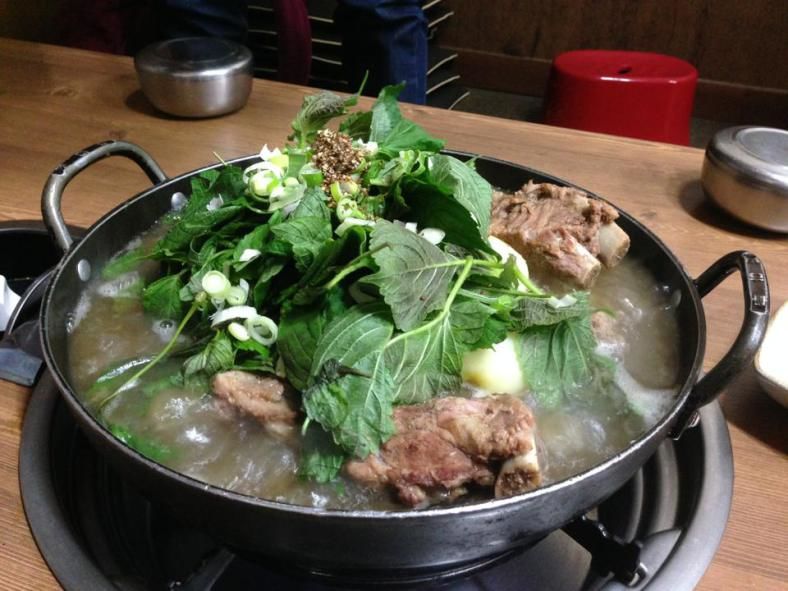 Gamjatang is made with pork ribs or spine and generous servings of potatoes and vegetables seasoned with ground sesame seeds, herbs, green onion and red hot peppers sauce. A very rich flavored stew that goes well with bap (rice)!
9. Seolleongtang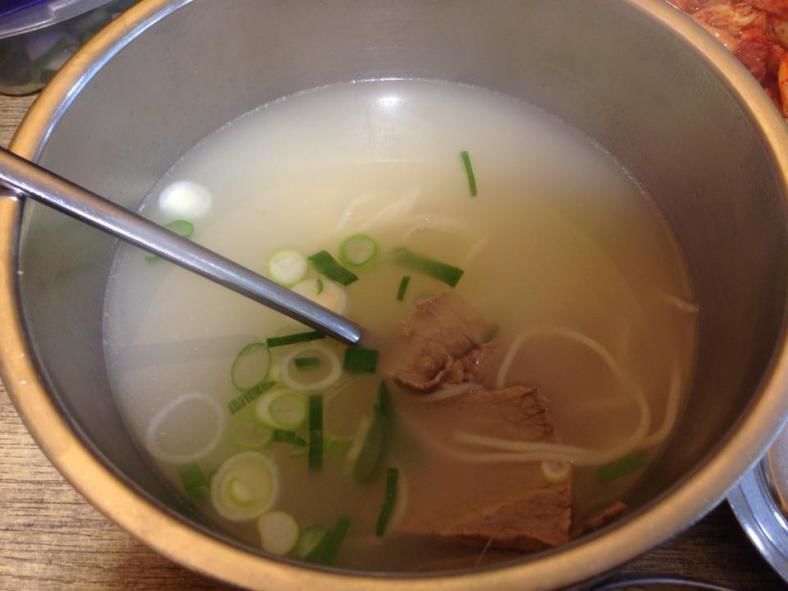 Seolleongtang is a kind of korean broth made with ox bone and garnish with spring onions. More seasoning can be done by yourself after it is served, usually with salt and pepper. Usually rice are poured into the broth and eaten together. A very refreshing, light and sweet dish with all the flavor being extracted from the bones after a long period of simmering.
10. Sundae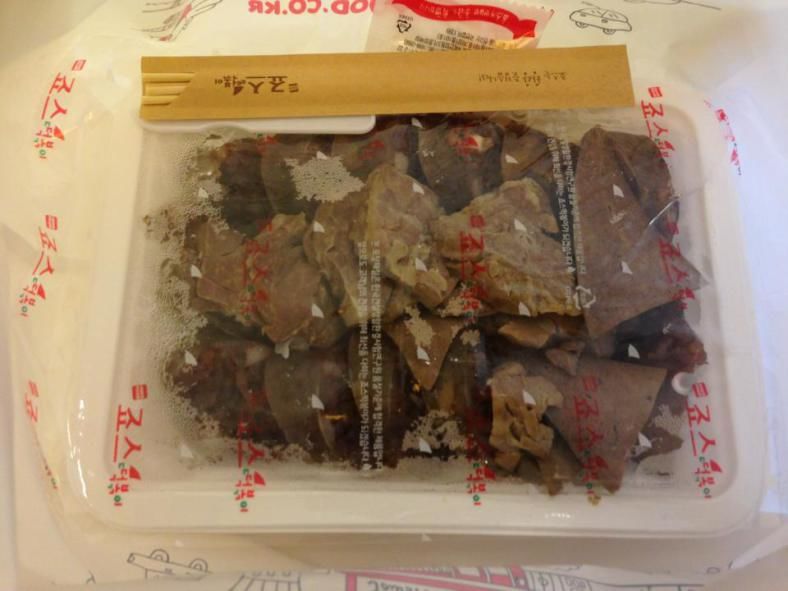 Sundae is also known as blood sausage. Pig intestine stuffed with various ingredients like glutinous rice or vermicelli followed by boiling or steaming. The taste is very subjective. Either you like it or you detest it. I guess it's still acceptable just for a taste of it!
11. Hoe


Hoe refers to a variety of raw dishes in korean from hwal-eo hoe is the raw fish slices to the famous live octopus (sannakji) to fresh abalone to many other raw seafood. The live octopus is commonly seasoned with sesame seed and sesame oil. The feeling of eating it live is WHOAHH. Very sweet, fresh, springy and crunchy! But i still prefer cooked abalone! Live abalone is a little too hard to my liking. Head down to the famous Noryangjin Wholesale Fish Market. You can find loads of fresh seafood there at affordable prices (prepare to haggle down the prices if you're a tourist to them) and they have shops there to help you prepare the various live seafood in whichever way you want.
12. Juk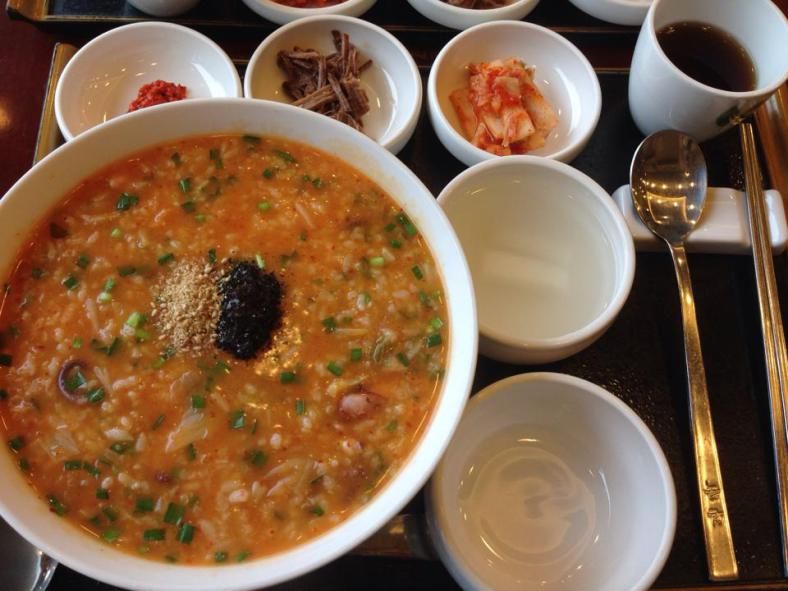 Juk is the korean style porridge. They have a variety of juk flavors from simple ones like pumpkin to stronger flavor one like spicy seafood, beef, kimchi juk and more! I totally love their porridge. It's more of the watery kind yet flavorful with generous amount of ingredients. Total burst of flavors in your mouth.
13. Naengmyeon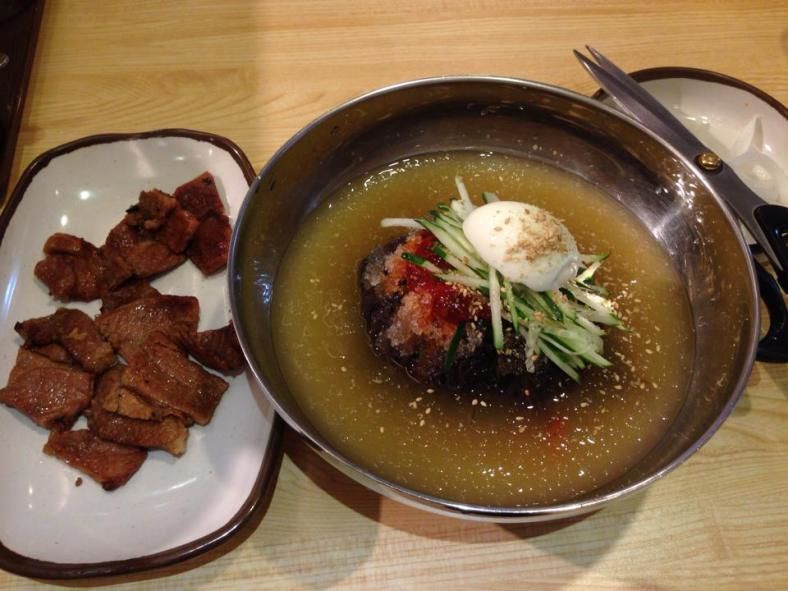 I believe Ramyeon is quite a typical dish to many. But when you're in korea, on a hot summer day, what you need will be a Naengmyeon! Naengmyeon is basically a tangy iced broth with noodles handmade from flour and various starch ingredients and topped with shreds of cucumber and half an egg. In some shops they do serve with some pork slices as a side dish. Noodles are typically chewier compared to ramyeon. One variation of it is called Makguksu, specialty of Chuncheon! It has a more kimchi-radish soup base and noodles are more rough due to higher content of buckwheat.
14. Jajangmyeon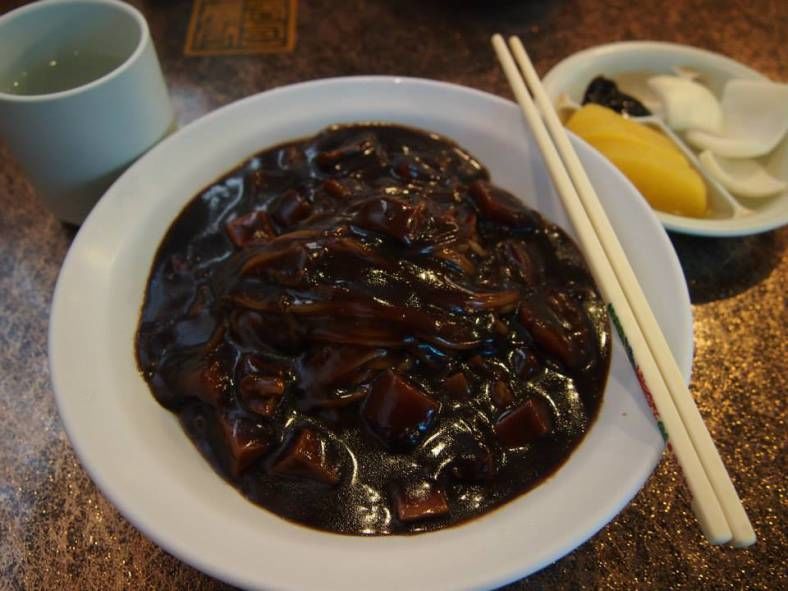 A noodle dish served with chicken and vegetable dices and topped with thick black bean paste. A very Chinese fusion dish.
15. Rabokki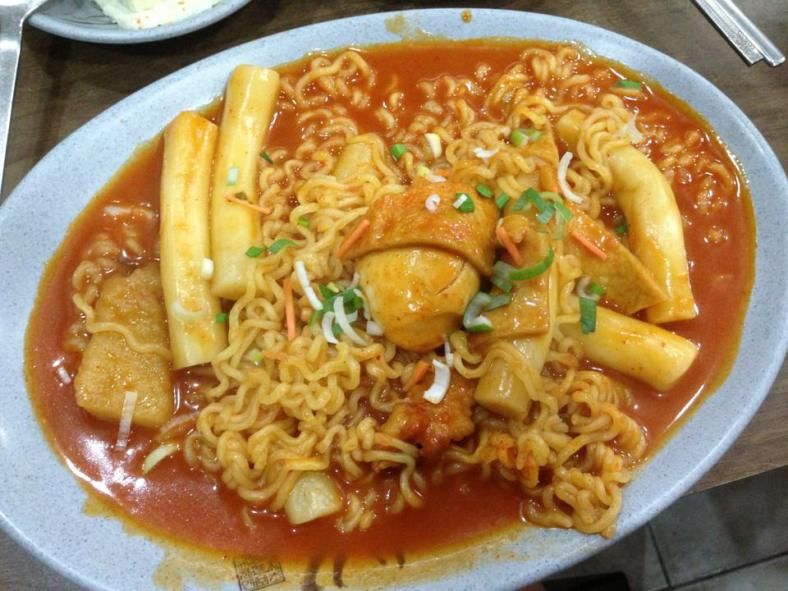 Rabbokki is a combination of their 2 famous – ramyeon and tteokbokki with egg and bencurd skin in red pepper sauce. A little sweet and spicy. A simple dish to settle your lunch or dinner!
16. Bibimbap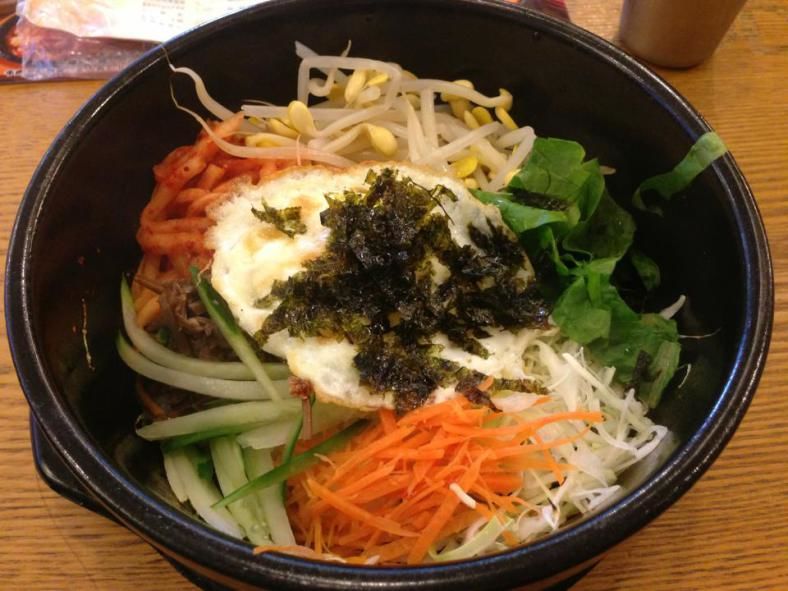 It's one of their signature dish. It's typically served in a hot stone and the simplest version is rice topped with various vegetables and an egg. Nowadays there are a lot of variations to this simple dish, for instance, instead of just vegetables, it is replaced with meat and also there is choice of adding cheese to it. Mixed it well, and all the varying versions taste equally good!
17. Yuhwang Ori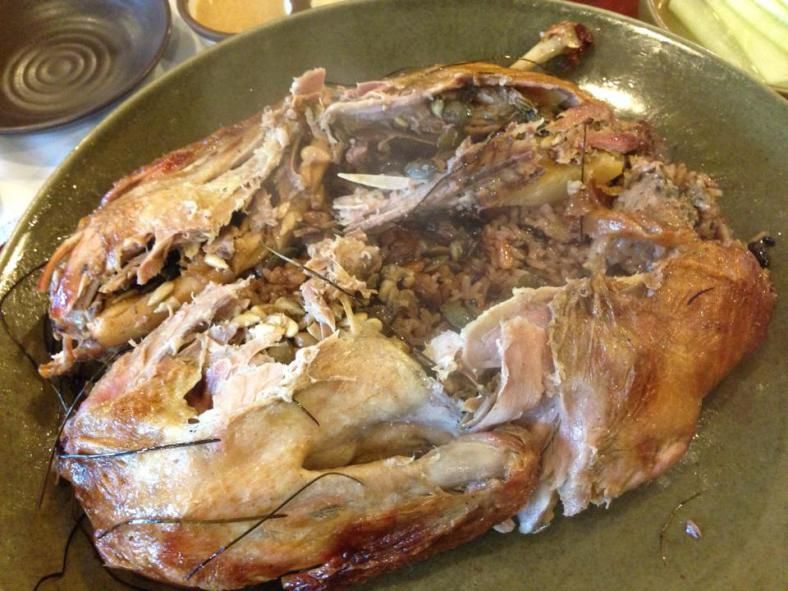 It is one of the korean dishes adores by many. Sulfur-fed duck roasted for 3 hours in a earthenware bowl with 23 other ingredients. It is similar to a duck confit with crispy skin and tender meat that melts in your mouth. A delightful dish to be tried!
18. Tteokbokki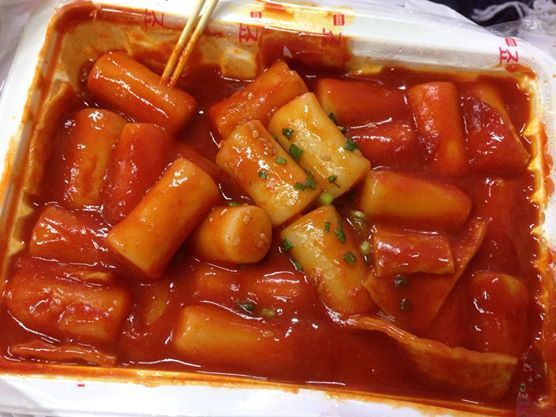 It's a famous korean snack made from rice cake, fish cake and accompanied with sweet red chilli sauce. It's fun to chew on due to its chewy texture and some tteokbokki can get very spicy!
19. Jjigae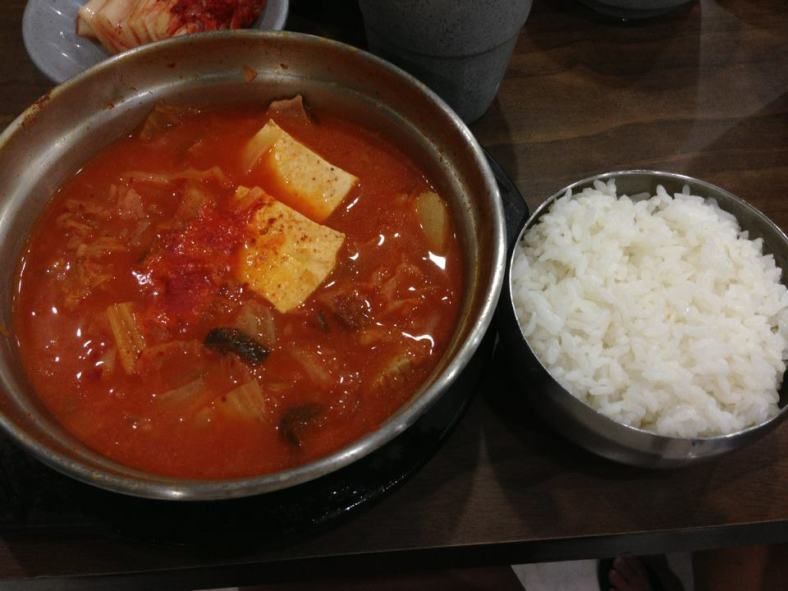 Jjigae put in simply, they are just korean stew. There are a variety of jjigae available in korea, like kimchi jjigae, doenjang jjigae (soybean paste), sundubu jjigae (soft tofu) and more. The difference lies in the main ingredient used, like seafood, kimchi, tofu, or meat such as bulgogi (known as bulgogi stew) and the flavor varies accordingly. In general, they are all rich in their taste, goes really well with rice.
20. Gimbap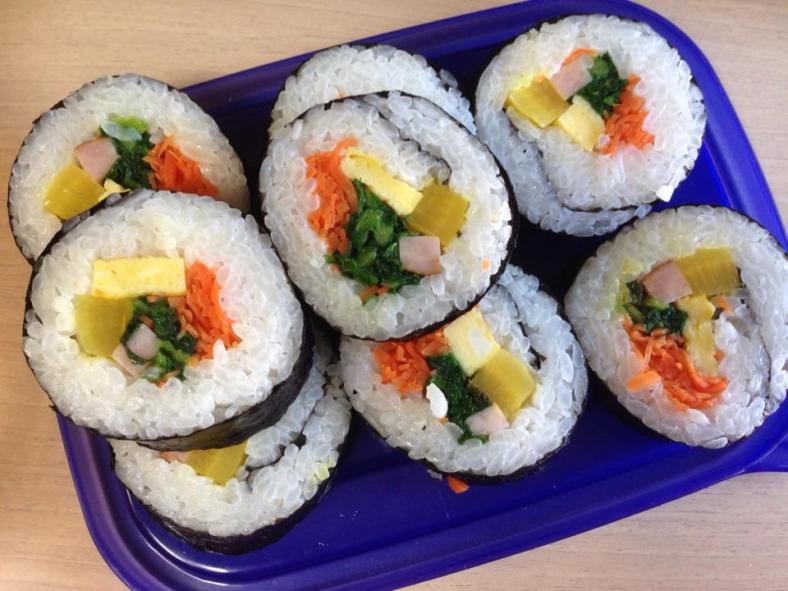 Gimbap is like sushi roll – rice and respective ingredients wrapped together with seaweed. There's quite a few variations of it too. A good snack to munch on the go.
21. Patbingsu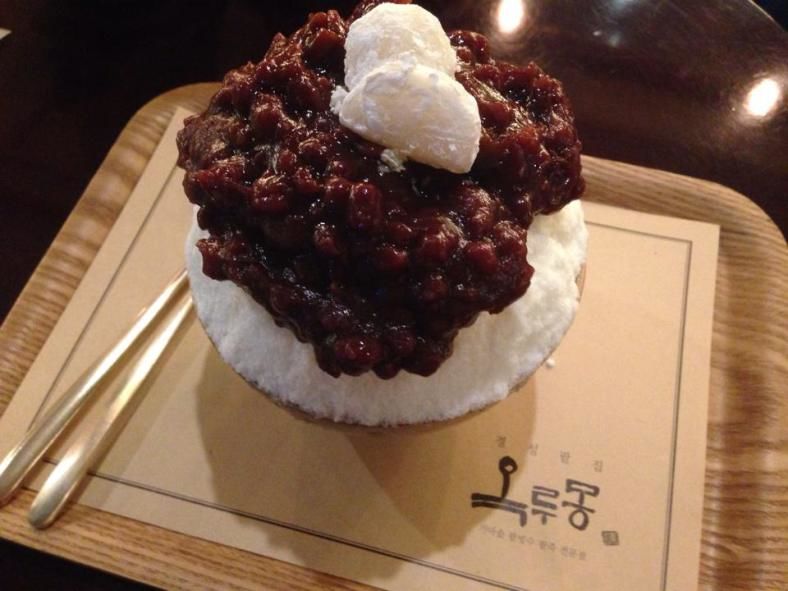 Patbingsu is a kind of korean shaved ice dessert topped with red beans! There's a lot more other variations! Fruity flavor, chocolatey flavor, milky flavor etc! The shaved ice is so fine that it literally melts in your mouth. Taste good even on a cold rainy day!
22. Pat Jook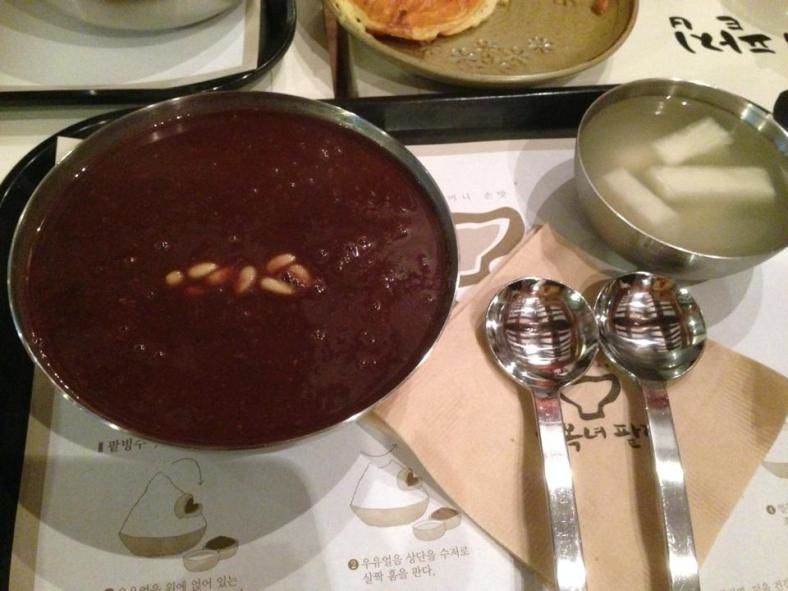 This is like a hot version of red bean dessert. Red bean porridge! Smooth, thick and rich with red bean. Subtle sweetness. It taste really healthy like eating all your wholegrains and stuff and you may not get used to the taste. So do ask for sweetened version!
23. Street Food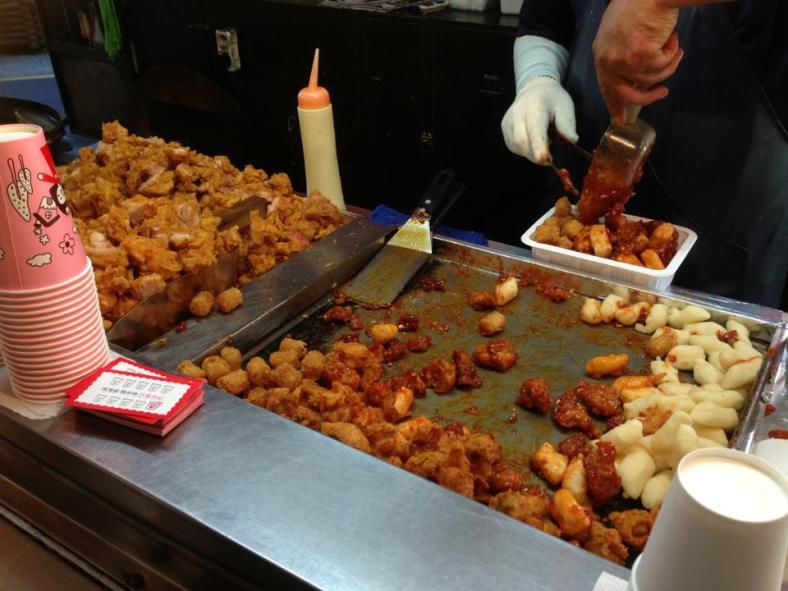 They have loads of street food! Find them at any street! Like sinchon street, myeongdong street, ewha street, hongdae street etc! Some of the street food includes Cup chicken (as shown in pic), Odeng (skewed fishcake), Mungbean Pancake, Grilled squid/Dakkochi (chicken skewers), Hotteok (dessert pancake filled with cinnamon, honey, pine nuts), Dalgona (like a sweet lollipop), Egg bread (sunny side up on toasted brioche), Corndogs (Hotdog covered with french fried/bread sprinkled with sugar and top with dressing), Tornato potatoes and more! They are all cheap and good! Buy one to munch on while you shop along those streets!
24. Bungeoppang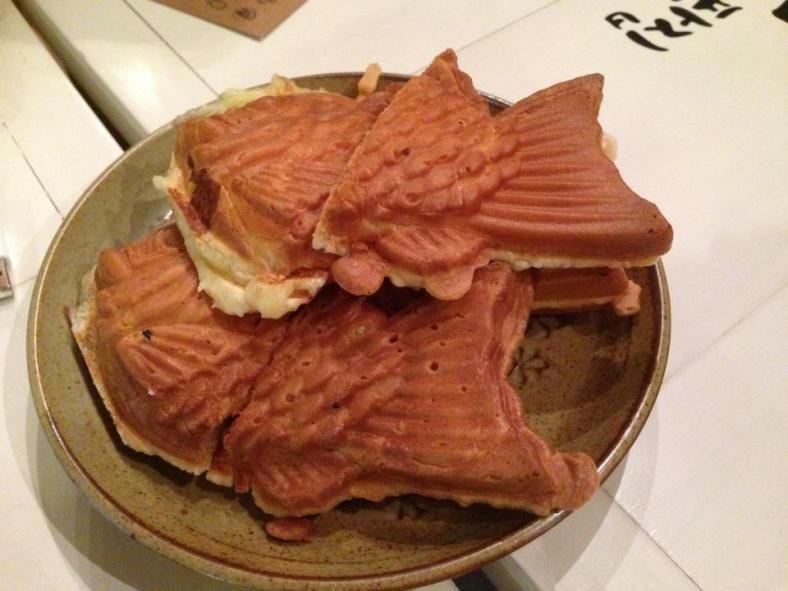 It has a shape of the fish filled with red bean paste. It can be found along those street too. It taste specially good while it's piping hot. The exterior is super crispy! Pretty good snack to snack on!
25. Gaeran Mari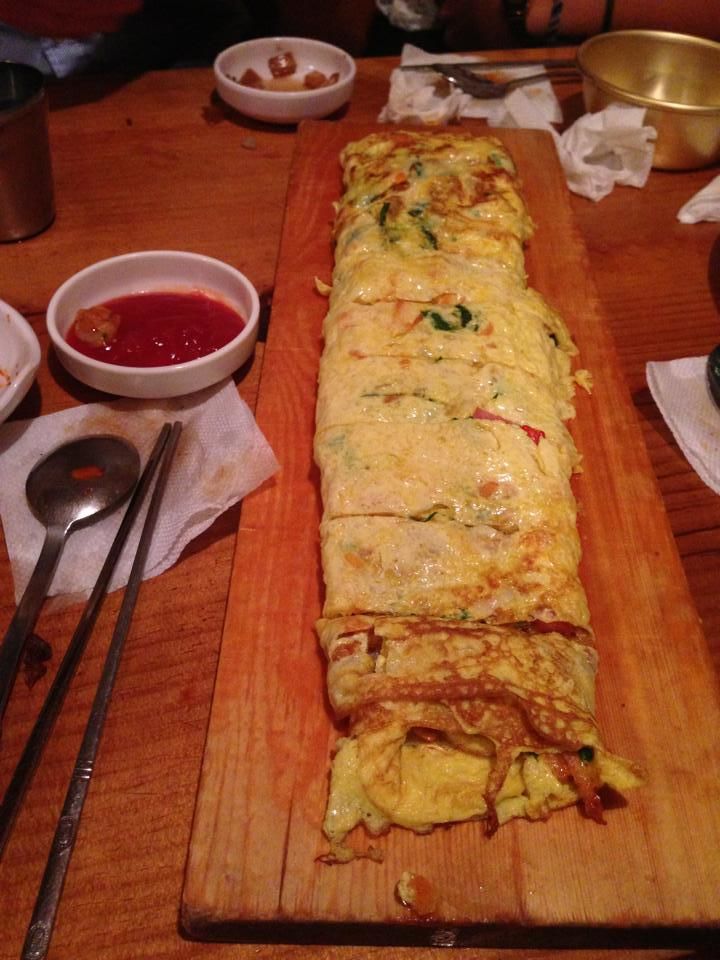 It's a rolled egg omelette stuffed with various ingredients, it can be served as a dish on its own, or sometimes as one of the side dishes. Omelette are soft and usually bursting with ingredients.
26. Makgeolli & Soju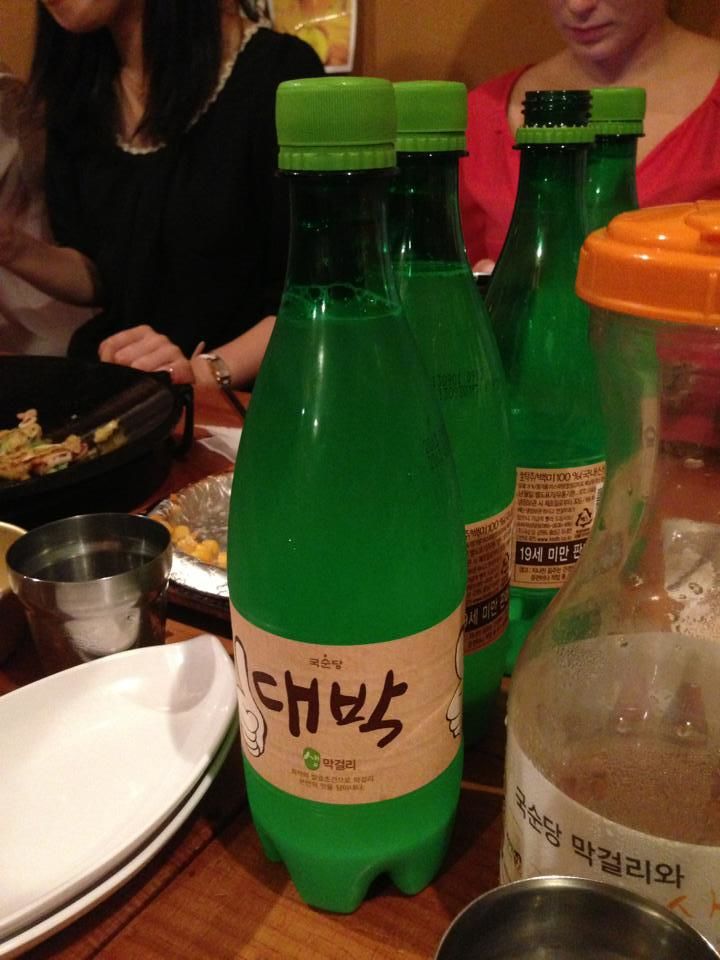 Makgeolli: Rice wine mixed with nuruk. Off white in colour and usually sweeter and smoother compared to soju. They have flavored makgeolli too.
Soju: Distilled beverage containing ethanol and water, they usually drink it in shots. Higher alcohol content compared to Makgeolli. Quite strong in taste.
27. Mandu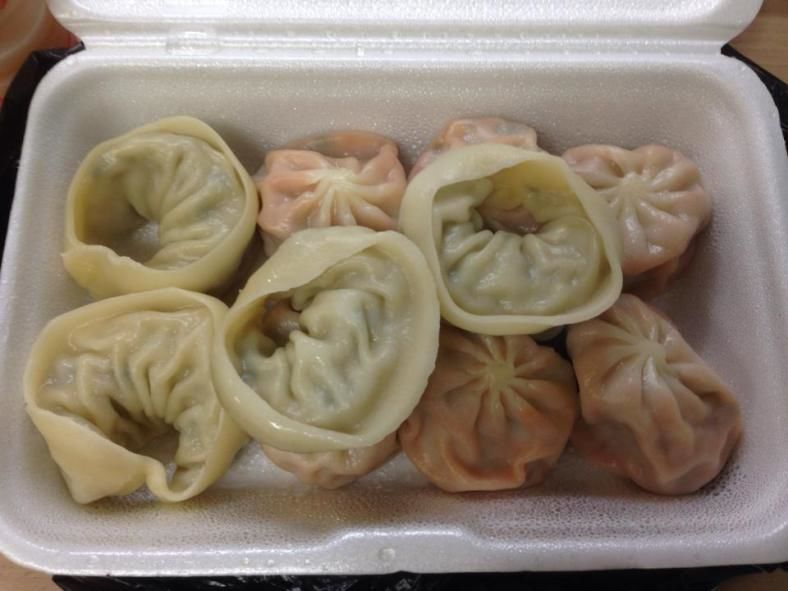 Otherwise known as dumplings. Typical ones are filled with minced meat, green onions, tofu, garlic. They are usually steamed on cooked in soup. Very thin layer of skin containing generous amount of meat and ingredient within. Very crunchy mouth feel. & there's kimchi mandu too!
28. Jjamppong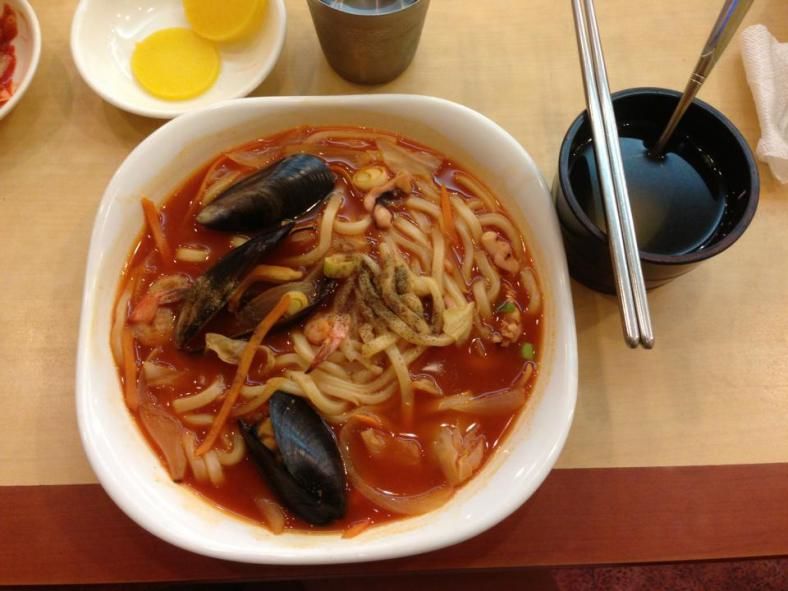 Another very Chinese inspired cuisine. A spicy noodle soup flavored with chilli oil and onions cooked with variety of seafood such as black mussels, squids, prawns and clams. Broth is sweet and spicy. Sweetness from the fresh seafood.
29. O'sulloc Green Tea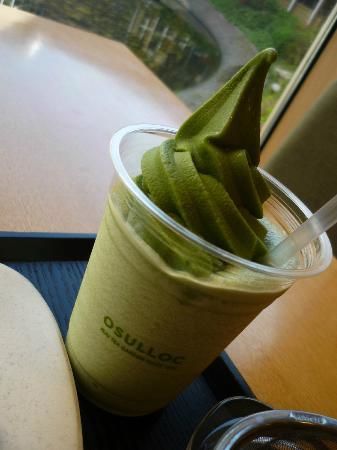 It's a definitely must try dessert place for matcha lovers! Their green tea is just soo so goood! There's like mochi, tiramisu, cake, ice cream, drinks and all for you to choose from. Rich but not overwhelming yet refreshing.
30. Maeuntang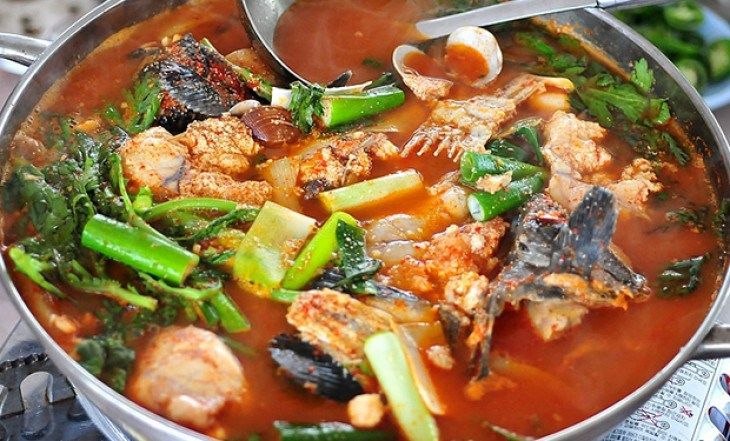 Korean hot & spicy fish stew! Fresh or saltwater fish is cut and boiled with vegetables like watercress using gochujang as their soup base. Tantalizing to the taste bud and something comforting to your stomach on a cold day! Rich in flavors!
30+1. Local Delights



Besides eating all the good delicacies, not to forget their simple local mains like kimchi fried rice and japchae! Simple yet delightful dishes to fill up your stomach for a meal!
This post was originally published on Pooh's Adventures.