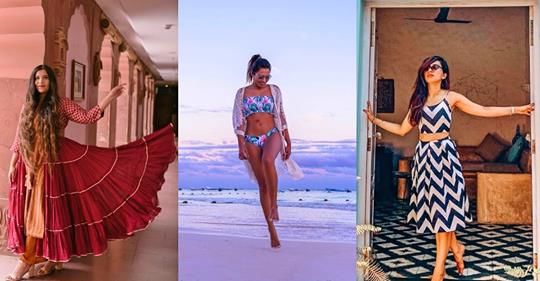 You've booked your ticket, planned your stay and looked up all the places you want to visit. While your vacation to-do list is almost complete, it can be tough to finalise the outfits that will not only be comfortable but will also look good in pictures.
With more people choosing to invest in travel experiences, the focus on travel style has grown as well. And since we're big believers in celebrating both travel and personal style, we've rounded up some of our favourite fashion-travel bloggers to help you up your vacation style.
1. Keep it fun and chic like Ajmira Shaikh
Popularly known as Eat Travel Laugh on Instagram, Ajmira Shaikh's fun posts and personality are what make her relate-able. And while her journey is an inspiration in itself, her constantly evolving travel and fashion style keeps us engaged and gasping for more. Keep an eye out for her one-of-a-kind outfits to spice up your travel wardrobe instantly.
Keep up with her travel adventures on Tripoto.
2. Wear your confidence like Shraddha
If you think that adventure and glam don't go together, let me introduce you to Shraddha. One look at her Instagram handle, The Sassy Pilgrim, and you will not be able to guess that she is an adventure and travel blogger. Her vibrant outfits light up the frame. But as you dig deeper, you will discover her passion for stunning locations, perfect outfits and crazy adventures.
Follow Shraddha on Tripoto for more!
3. Glam up your travel wardrobe like Vaishnavi
A mix of glamour and chic, Vaishnavi's Instagram, Grubmode, will fill you with inspiration and envy. Her classy style and understated glamour keeps you hooked to her pictures, which present a collection of beautiful landscapes and vibrant outfits.
Follow her here on Tripoto, and get all the inspiration you need.
4. Stay effortlessly stylish like Pupul
When you look at Pupul Pachauri the first thing that crosses your mind is how comfortable she is in her own skin. With her easy-breezy outfits, well-framed shots and vibrant personality, she engages you instantly. And she has a stellar collection of flowing dresses that look just as gorgeous as the landscapes behind her.
Stay updated about her stylish sojourns on Tripoto.
5. Experiment with colours like Bhagyashri
One look at Bhagyashri's Instagram—Rovingrainbow, and you will know that she loves colour. From vibrant outfits to pretty backdrops, her pictures will just light up your feed. If you're looking for some serious outfit and travel inspiration, then she should definitely be on your must-follow list.
To know more about her travel adventures, follow her on Tripoto.
6. Give your wardrobe a boho twist with Vrinda and Kriti
Artistic and bohemian are two words that, in my mind, describe Vrinda and Kriti's style. They're not your usual travel-fashion blogger combo, but instead give you insight into a spiritual side of things. Their Instagram gives off a serene and peaceful vibe that you keep wanting more of. If you want to feel experiences rather than just reading about them, these are the girls to follow.
To know more about their travel adventures, follow them on Tripoto.
7. Unleash your inner goddess with Tanushree and Devashree
Sassy, glamorous, and unabashedly sexy, the two sisters who run The Glutton & The Owl are all this and more. Their vibrant personality comes across in their beautifully captured pictures. They truly bring the phrase "travel in style" to life. Keep an eye out for their next adventure as you head on over to their Instagram.
To know more about their travel adventures, follow them on Tripoto.
What is your personal travel style? Are you more boho or more glam? Let us know in the comments below or create a photoblog on Tripoto with your latest travel pictures.