And the History Repeated Itself...nah !! we didn't missed our bus this time :P , so this blog includes adventure of me and my boys ( kartik , manoj and anil ) , it all started on a lazy evening , me manoj and kartik were chilling , smoking a joint or two and playing cards, manoj was sharing his experience he had , on his visit to Goa, as manoj had never been to himachal pradesh we planned this trip for October , but as it was my birthday week , manoj was able to convince me and kartik to go after 3 days only , and we decided to go for camping this time. place wasn't decided , but as i had told them about the magic of magic valley they wanted to visit that place and feel the magic by themselves , and by magic i mean ' ahem ' you know what i'm talking about right ? XD , next day me and manoj went to pahadganj , and Azaad market for purchasing camping equipment , sleeping bags and tent.
THE DAY OF DEPARTURE
we had booked HPTC AC Volvo which was supposed to leave at 8 pm. Me kartik and anil were waiting for manoj at ISBT , kashmere gate , he was coming by uber and he had 4 sleeping bags, tent and 2 more bags with him , no big deal right ? well , wait XD , anil decided to have tea, while me and kartik decided to buy a bottle of rum or vodka from a nearby local wine shop on lothian road , kashmere gate. This task was completed successfully. Manoj called and we went to the gate from where he was coming IN. We met and divided the stuff between us to carry , we boarded the bus and the journey began. wait ! how can things go smoothly for us ? XD me anil and kartik were waiting for manoj to board the bus, as the driver had started the bus already. I saw manoj having a conversation with the driver , asked him what happened , he told me that he had forgotten his wallet in the uber he came , and i told kartik and we laughed :P immediately kartik said pulkit '' tere blog k first day ka content mil gaya bro :D '' (here is the content for your blogs day 1 lmao :P , on our last trip to pushkar and udaipur , he forgot his precious slippers and now this XD and people reading , please don't judge him :P , the driver stopped the bus at majnu ka tila , and the cab driver was waiting for manoj, damn! the look on his face when he got in the bus , here is a short video of him all happy after getting his wallet back ;)
during the bus journey , i received a call from my cousin brother , that he is also on his way to kasol , and out of joy i was like bhai bc tu bhi !!!! XD , the happiness meter was high already !
so we reached Bhunter around 10:30 am , my brother wasn't far behind us and we all met at a common meeting point , discussed what to do next , so a nearby shop owner got into our discussion and he was almost able to convince us to change our whole travel plan and go on a completely different treks like going to pandav caves , mantalayi (very difficult ) dina park (one of the best) and shrikhand mahadev trek. But manoj and kartik wanted to see the magical fields of magic :P so me and boys decided to go to malana first and my brothers went to kasol.
HOW TO REACH MALANA ?
to reach malana , easiest way is to take a cab or a bus from bhuntar bus stand to Jari. As we wanted this trip to be completely raw , we decided to take a bus , and damn !!! the bus wont't move until it's fully packed , and all buses in himachal have a loud music system over which they play cheesy bollywood guilty pleasure songs XD imagine a bus moving on hills, full of people looking at each other , exchanging smiles and talks , 90s cheesy background music , cold air , and you looking down on a river and the bus moving over the edges of the road :P
JARI TAXI STAND
after reaching jari , you have to take cab for malana , which costs RS 900 , before leaving, me and kartik went to a local grocery shop and bought everything necessary required for the trip (food , drinks , band aids , etc ) , i went to an ATM and took out cash because you won't get any ATM while going to malana after jari. The ride from jari to malana village is amazing , full of blind cuts and the view , the view !!! here is a short clip ;)
while driving our driver told us all kinds of stories and interesting stuff about the valley , and he asked us not to stay the night in malana , as it's just a village and the actual purpose of us visiting the valley won't be fulfilled here, so after reaching malana , we stayed there for a while and then continued our journey for Wai chin, now the taxi fair is 1200 rs instead of 900 rs which was for malana. The cab dropped us till the Dam ! which is the starting point for waichin valley trek.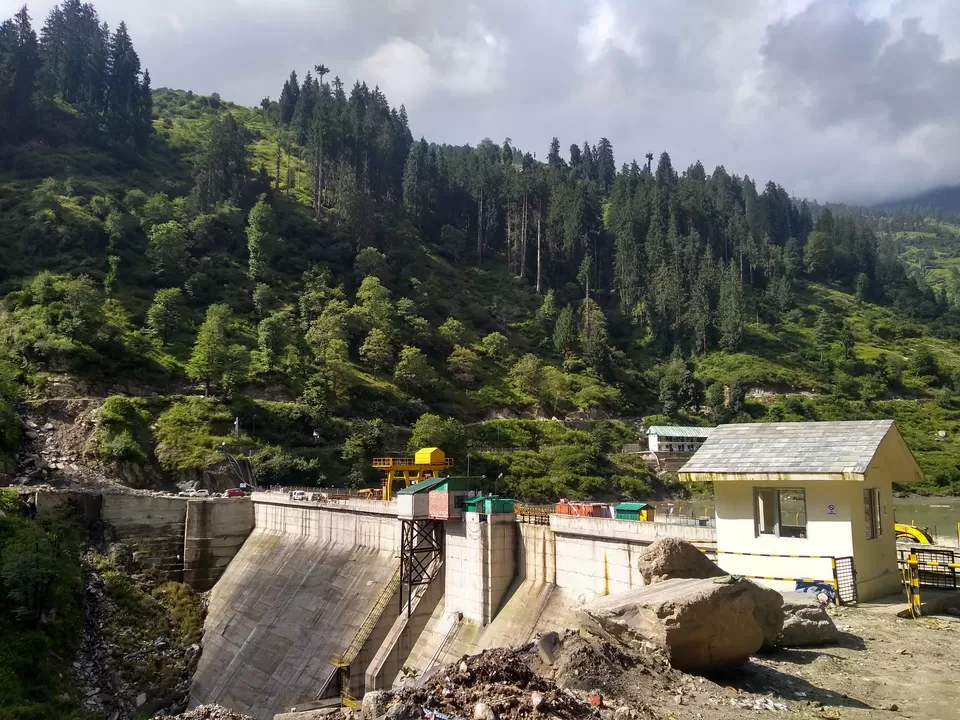 Tales of Magic Valley aka Waichin Valley
camping : ₹₹₹ and food : ₹
This trek will make you shake hands with a less traveled part of the beautiful and peaceful Himalayas. As it's name magic valley is known for its eye capturing beauty which it produces throughout the trek. The view is just fascinating and the purity of the environment will keep you awestruck throughout your journey. A local guide, which we met at the dam itself guided us along the way , as the trek progressed we started seeing the real beauty of waichin , just imagine a river flowing between two mountains , exactly how we used to paint in our childhood days, exactly green mountains , covered in flowers , the sound of water crashing on the stones , the air had that magical smell , which made our trek more pleasant ( wahan ki hawa me hi nasha tha ! you know what i'm talking about right ? :P
Waichin is a small village, with a total population of 15-20 people , and it is approximately 4 kms above Malana. In winters even the villagers shift down to Jari because it is very difficult to survive there. Best time to visit this village is in the month of September, October , as it's the time for cutting the magic from the magical fields XD
This trek is easy initially but difficult in the end so do not carry unnecessary weight, the difficulty starts from the last waterfall you reach , carry warm clothes and a first aid box with other necessary medicines. here is a short video of the waterfall from where the trek takes a difficult turn ;) remember it , don't forget it XD
WHERE TO STAY IN WAICHIN ?
There are 4-5 camping sites in waichin valley , we stopped in the one, which was most near to the magic fields ;) , so let's reveal what is magic ? Magic is WEED , WEED fields , that's right ! ladies and gentlemen , kilometers of magic , everywhere you look, you look at magic , you feel the magic and you breathe the magic !!! it's a wonderful feeling which touches all our senses at once ! it's a heaven for stoners and travelers who want to just relax and live pure.
here is a view from our camping site
REMEMBER : the only source of power is solar power , so don't forget to keep your power banks charged and jio and airtel work here , so if you want to go live over Instagram or Facebook, connectivity won't be a problem ;)
found 1-2 cafes in Waichin upper side, the food that you will get there is prepared on the spot. You just need to ask your camp guy what you want to eat and he will cook it for you. You can also cook for yourself, The view from the camp site , oh man !! it will just steal your heart !! you can see fog coming towards you by the minute and in the evening the fog covers the entire valley , and at night if you're lucky, the moon comes out and the moonlight shines over the weed fields.. we got the see this magic for a few minutes and damn!!! it was totally worth it... You can just sit out side your camp around the bonfire , smoke up , play music and gel up with the people you meet there.
the next day , early morning , manoj and anil decided to go for a little hike above our camping site , me and kartik went behind them for a while but couldn't find them , we came back to our tent , and later on they came , manoj had both his palms green, we knew he went up and rubbed weed buds on his hands, without wasting any time , he started rubbing his hands together , and there it was fresh malana cream falling down from his hands, it was not much , but enough for a big fat joint, it was fantastic !! we had good heavy brunch later on and we decided that we'll leave the valley in noon...
the downward journey seemed to be very easy as compared to when we had to climb up , climbing up part is tiring af !!! you'll feel like giving up on yourself , it will test your limits and if you succeed , the reward is priceless.
KASOL !
next day around 2 pm , we decided to say goodbye to magic valley and go visit my brother in kasol, the same cab ' bhai ji ' took us down to kasol , we payed RS 1300 in total from waichin dam till kasol chowk. manoj went to a hostel and we took a room where my brother was staying.
later in the evening we searched for a quite and calm place for smoking a joint or two towards kasol camps road but couldn't find any because nowadays most of the cafes and camps have uncles and people drinking alcohol , and more over camp owners refuse to let you sit in there cafes if you haven't taken room or tent in there site. kasol didn't used to be like this back then, this was frustrating af !! manoj decided to take us to his hostel instead , which was on the river side Moustache hostel , he already had met with two other travelers who were here in kasol for the first time , so we joined them and had a good talking session , later the hostel owner and his cat joined us for sometime, but the cat decided to stay because we were his slave and he was getting continuous petting from us, also , damn ! he was enjoying the high he got while sitting on our laps XD
BC billi high kardi :P :D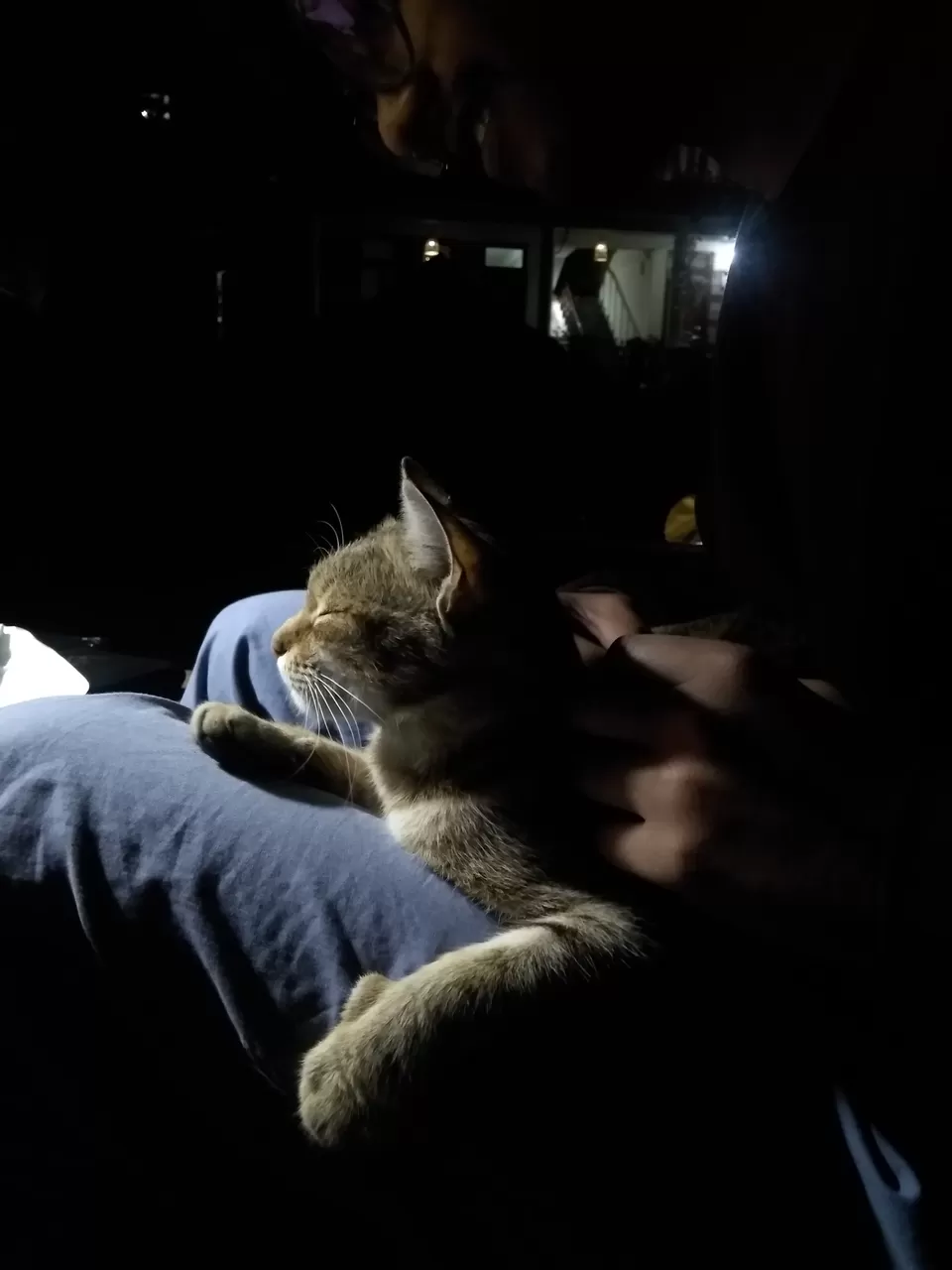 manoj took a hit of the bong , went to his room , and texted kartik that he couldn't take it and he isn't coming back , after dinner, we came back to our room , anil and kartik went to sleep while i went to join my brother and his friends, after having few drinks , i came back around 1:30pm, before going to sleep i set my alarm for 5am and slept like a baby ;)
in the morning my alarm rang and the next day started , as i wanted to go sit along side the river parvati and watch the sunrise , i woke my boys up and we were ready to leave by 6:00 am , manoj said he'll join us later. so me , kartik and anil went to the river side , kartik started rolling as soon as we reached perfect spot for sitting near the river .
we all went and sat away from each other for sometime, and we were with our thoughts with a beautiful view of the mountains and river , most importantly there was no else there except us. If you want to catch the real beauty of kasol , whatever is left of it , i'll recommend you to explore it while there are less people.
THINGS I DIDN'T LIKED ABOUT KASOL
i have been a frequent visitor to kasol , so i can differentiate better from the kasol it was back in 2013-14-15-16... kasol used to so chill back then , you could hardly find people above 40 !
yes !! and now you'll find uncles and aunties every where , kids crying in the cafes , mothers smoking hookah , and her kid is sitting right beside her !! kasol used to be a place of stoners and happy people , playing happy hippie music , but now where have all these drunk uncles and aunties come from ? playing bollywood item songs inside the cafes !!! what the fuck !!!! dafuq happened ???
well, commercialization and money ! people are literally milking kasol for money right now , cafes have turned into a family sittings , the number of people have increased , there is park which has been made where the old taxi parking used to be , and PEOPLE ARE BEING CHARGED FOR ENJOYING THE BEAUTY OF THAT PLACE.
for the first time in my life , i felt sad visiting kasol. boys kept asking me , what happened pulkit ? are you not happy being here.. and i had no answer.. Kasol is not what it used to be... for people coming here to for the first time , might enjoy it more, but for people like me , who have been coming here for quite sometime now.. won't enjoy it as we used to before.
after sitting on the river side for almost 2 hrs , we came back high af , and went to a local eatery for breakfast.. there we decided that we won't be staying here longer and will catch the 12 pm bus from kasol chowk to barsheni. Bags were packed , said goodbye to my brother who decided to stay in kasol with his friends , the bus ride from kasol to barsheni is full of bumpy roads , blind cuts ! the roads are dangerous but Does it matter to himachal roadways bus drivers ? noo !! they drive with one hand and talk over the phone with the other :P
mid way tosh the bus got stuck because it was a landslide infront of us , which happened a few minutes before we reached there, the driver and conductor went out of the bus and there was silence in bus. but do my boys like silence ? no lmao XD , we were high af ! manoj took out the Bluetooth speaker and started playing music , in no time the whole bus listening to the sound of music coming from the back of the bus, people even asked the name of the songs being played ;) Tora hi alag hai bhaiyon ka :D after a bumpy and jumpy bus ride , we got at barsheni , from there a cab took us to tosh village. cab fare : 300 Rs. You can trek up to Tosh village from Barsheni if you want, it will take you around 1 hour to reach Tosh.
TOSH :
tosh is the kind of place what kasol used to be , so people who miss the old kasol , must visit tosh to feed the travel bug inside them. Tosh Trek is one of the simple treks anyone can find, It is the most visited place after Kasol because of its ease to trek and better transport facility till Tosh Nala. Tosh village is at distance of 40km from Kasol. And from Barsheni to Tosh trekking distance is around 4 km. As Kasol is becoming well known among travelers and becoming crowded, tosh attracts more attention for people who are seeking a less crowded place to spend quality time surrounded by ice-capped mountains.
As soon as you enter the village you will find shops, restaurants, and guest houses, we went up till the end of the village and booked a room there for Rs 500/- per day.
we slept for about an hour in our room and went out to chill , we couldn't see many locals there, the houses were mostly made of woods with slate rock roofs and were quite old, there are some fancy cafes and restaurants where you can chill and have good food. tosh is for people who are looking for some solitude, peace, and stargazing.
boys stayed in Shiva mountain cafe smoking and chilling , while i went up to ' Pink Floyd ' cafe, and this cafe is amazing ! i sat there , asked the guy to pair my phone to the cafe speakers , and i told him that i'll not play loud music , but to my surprise he said , '' bhai ji slow bajana allowed hi nahi hai cafe me '' , ( bhai ji , slow music isn't allowed in the cafe) i was like damn !! is this cheery on top or what ? XD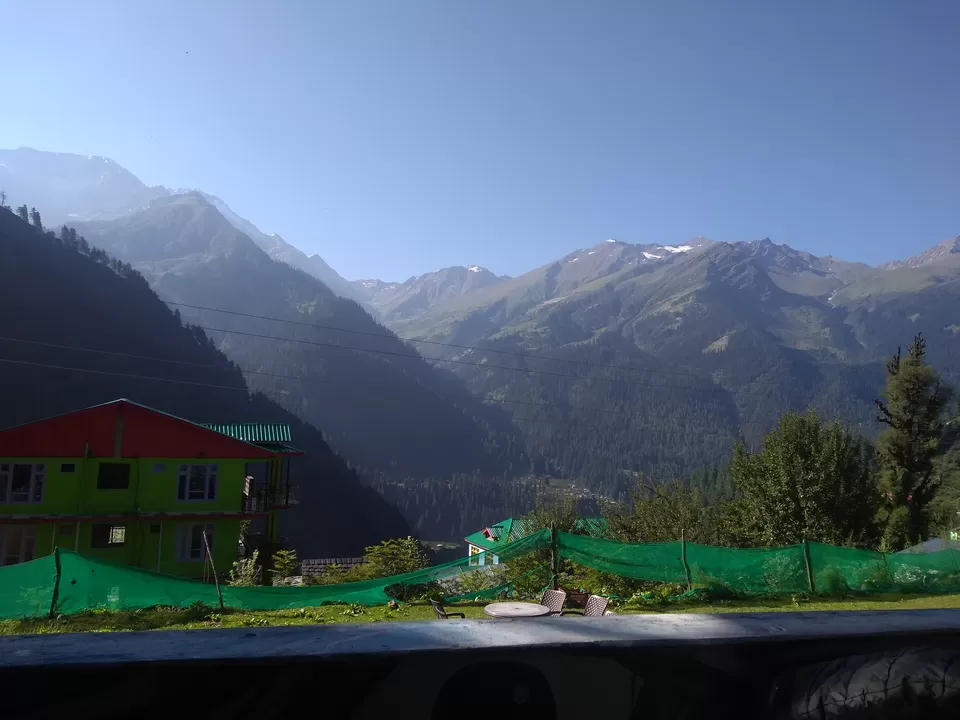 cafe had a perfect view of the mountains and whole tosh village can be seen from the top,there i met a cheerful , curious bubbly girl from delhi , who came up to me and asked if i could give her a rolling paper, i was like okay , gave her few papers , she back and asked if i could roll a joint for her :P , '' oh ya sure '' i said, she sat there and as i was rolling her joint , she asked me , if i could teach her how to roll a perfect joint :P , starting from basics , from crushing the hash to filtering the cigarette , step by step i was telling her how and what to do and there she was trying to roll the 4th joint by herself but i had to intervene and do it for her, hearing her stories of travel, she was an experienced solo traveler , one thing mention-able here is a common thing between us which she told me was that , why do people travel and waste there time sleeping , like why ? you already have very limited time while travelling and people waste it on sleeping for hours, she said this because her friends were sleeping and she was wandering on her own in tosh XD
after having few conversations , and joints made by me , it was time for her to leave she asked the cafe guy to pack brownies :P for her friends and she went ahead on her journey.
by the way here is a short video of Pink Floyd cafe and it's view ;)
later in the evening when people started coming , i even received few compliments from people sitting in front of me , for my music collection ;) and i'm not kidding :P , people who know me personally know better about my music taste XD
things get a little interesting from here :P
it was evening and i went down to find my boys , they were high af and we decided to have hash brownies XD ,oh fuck ! those hash brownies !!! boys were sitting in the guest house cafe and i went down a little to sit in the garden area.. there was no one else , just me , joints , music and the view ! the view !!!! finally the order for brownies came and anil refused because you know he does not get high like this, passive kar lega but directly nahi :p , manoj was confused about weather to eat it or not... i took the spoon and had my first bite, the taste was amazing !!! ;) you just can not stop after taking one bite, so i took another, kartik wasn't far behind an he took one big chunk of the brownie.. manoj gathered some courage and he took one bite as well. he stopped after this, because he didn't wanted to have BT.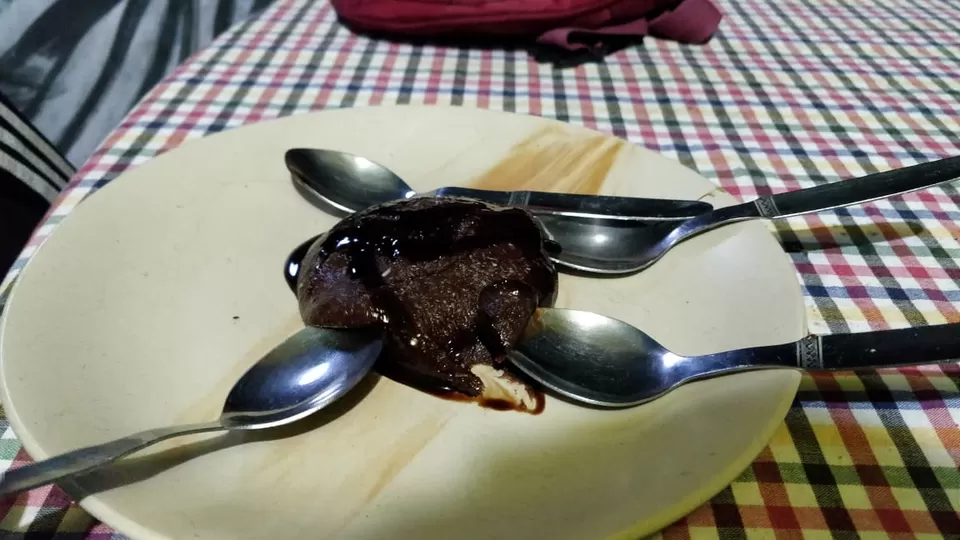 after 4-5 bites i stopped and kartik ate half of the brownie... IMPORTANT : the thing about brownies is that it doesn't hit right at the moment , it hits you when you don't expect it after an hr or so.
THE TRIP (part 1 -pulkit )
after sometime i went down in the garden again to enjoy my music and suddenly it hit me, i knew i was up for a trip and as i'm a music person, i put the volume of the speaker to 100 % , and i started increasing the pace of the music , one track at a time , and when i started feeling hallucinations i put on the shiva tandava mantra closed my eyes and submitted myself completely to the music , the feeling of being in trance is indescribable , there were no thoughts in my mind, as i described it to my boys later '' i don't know were was i ? not here , not there , just flying and floating in some dimension, i don't know if it's too much , but i'm lacking words to describe the feeling. most people can't handle this state , but since i've done this before and because being into meditation for 2-3 years now i was able to manipulate that trip according to me , this is same as lucid dreaming. when you don't sleep for many days , you sleep while you're awake or have hallucinations for the same.. i was loving my state of trance...It is the belief of many, myself included, that there are other levels of existence beyond the physical and mental. In trance, we withdraw from this belief system that our mind is not our body, our soul is distinct from both mind and body, and when the last song ended.. i turned the speaker off and there was complete silence... oh man !! that satisfaction , boys were looking at me from the top , when i turned to them , they asked me how it was , i just opened my arms wide and laid back on my chair and i said '' *sigh* like this and smiled '' , remained in that position for good 3-4 minutes.. after sometime packed everything and went up to my boys because i was hungry af !! i ordered myself a pizza ;) and full cheese pizza ;) and you know how your taste buds are like when you're high !! that pizza at that time kinda released the soul from my body XD
here is a video of where i was sitting in the lawn
THE TRIP (part 2 - kartik )
so we went to our room around 10 - 10:30 pm and we decided to play few game of cards , but we couldn't play much , anil went on call, and manoj slept ( in his language as he likes to say it - '' minute se pehle aisa sounga na '' XD haha ! ) he can literally sleep anywhere, while watching movies , after a joint or two , i envy this about him , me on the other hand , i can stay awake for hours and hours even after i'm high or drunk or both !!! kartik came a little later and went straight to bed , so now the scene is like this , me on one corner of the bed , kartik in the middle and then manoj , manoj is sleeping , i'm lying down but not sleeping, anil came in closed the lights and we tried to sleep, suddenly after a minute or two , i don't know the exact time , we heard a loud noise from the bathroom door, and kartik stoop up , shocked and scared af because of the noise , and he looked at anil with a killer look , got up and sat on the bed, looking here and there , ( hindi me ise fatna ya ashcharyachakit hona bhi bol sakte hain :P :D ) he just couldn't sleep after that , and abused anil for this :P
scene 2 :
we're all lying down, anil is in his sleeping bag , and suddenly kartik wakes up and sits again, again looking here and there.. he's lying down, he sits up , lying down and sits up , i knew his mind was messing up with him , in this state whatever you imagine or think about , the feeling is 10 times stronger. in his case , he was feeling cold , as he told us , that he went into ice age lmao XD , the people who have seen the movie LUCY will get this point , yes ! the one with scarlet Johnson in it... just like she went from one point to another , kartik's mind tripped and he started connecting the dots , he's in tosh, in this cafe, this cafe has a view of the mountains , mountains have ice on top, he's on top the mountains, he's cold, and it's snowing and from there he went into ice age.. can you believe that , he was wearing his jacket and was in a very warm blanket, but the thoughts in his mind were 10 times of his feeling, to cut this anil got up , turned on the lights and to shake kartik of his feelings , he asked him to play games, he started playing clash royale and he kept loosing because he couldn't focus, still remember him saying angrily '' fuck this game '' and he tried to sleep again..
secene 3 :
as soon as anil turned off the lights , my mind flipped seeing the lights to a blackout , i immediately knew it was my turn now , after sometime , i turned towards kartik and i whispered '' bhai jaag raha hai kya '' ? ( like bro are you awake '' ? kahin main akela to nahi hun jiska mor ban raha hai ! hahaha XD , this made kartik so happy later that he wasn't the only one having this experience, whenever i closed my eyes , my mind started going back in circles , i couldn't sleep , i couldn't stay awake , i was aware that i needed to change the trip , so i asked kartik again '' bro utha hua hai kya '' ( bro you still awake ) , and that asshole laughed again saying ''hahaha teri bhi fati padi hai '' we both laughed at this , and couldn't stop laughing for quite sometime XD !!! , after that i got up , sat in a meditative position and took long deep breaths , after i don't know for how much time i did this but that made me sleepy and i slept... interesting thing is that we were supposed to go for Kheerganga trek in the morning lmao XD !! ,
i woke up around 7 in the morning , boys were sleeping , it was so damn cold outside , i decided to enjoy the early morning and rolled myself a nice pencil joint , pulled a chair outside and sat there watching the mountains in front of me , and clouds moving , few curious souls like me started coming our of their rooms and we all are sitting in a line , it was beautiful :) , well here is the view, i know you guys are greedy and want to see it :P
as kartik described his morning , his hangover from last night , he woke up around 8 in the morning , as soon as he took his first step out of the bed, he's knees went weak and couldn't stand properly , he knew he's still not over with the brownies trip from last night , he sat on the bed again trying to control himself , after sometime coming back in our room we were confused about doing kheerganga trek today , as manoj was having doubts on kartik whether he can go on trek, but kartik said he'll decide once we're done with the breakfast , after the breakfast , it was decided that we will do this kheerganga trek today.
KHEERGANGA
Kheerganga lies at the extreme end of Parvati valley and the last inhibited village while trekking to pin valley via Pin-Parvati pass. Kheerganga's panoramic skies and greenery are a much-needed delight to a trekker's eyes and especially the tired legs. It is a holy place with a small temple of Lord Shiva, the place tells you the story of Lord Shiva meditating on these hills and incidents related to him. We took a cab from tosh village nala to kheerganga trekking point , the DAM. this route is a little difficult as we were supposed to trek through the forest. Complete journey is accompanied by the Parvati river.
Trek Experience is really awesome though it's a long trek but if you have good company it's a bliss, it gives an opportunity for close encounter with nature be it in terms of water falls, hiking through the dense forests, experiencing the beauty of maple trees and feeding the goats , sheeps and dogs on the way. you'll always find dogs on this trek, feed them something good and they'll very loyally accompany you on your trek , don't believe it ? check this out
There are multiple fresh water streams so no worries of getting dehydrated. Also, there are small shops at every 1-2 hr distance to feed your stomach. Wear waterproof boots , Kheerganga is a trek which is beautiful, not so tough, tiring but the moment when you reach the destination, you forget it all and you feel that you have reached a different realm altogether. I can still feel the fresh air hitting my face up there.
The kheerganga summit is covered by mountains on all four sides and the experience of Hot water Kund is a bliss, the place is very positive and untouched and away from the rest of the world. However, I was disheartened to see littered plastic bottles and other debris which indicates that irresponsible people also trekked here in the past. I am glad we used bio toilets at our camp and stayed in tents. There are two sides to cover this trek, one is from Tosh via Rudra Nag and other is from kalga. kalga is the forest one which we took.
TALES OF KHEERGANGA
So for kheergnga , we decided that we'll carry 2 bags and shift them on each other one by one , 1 pair of clothes each and rest food and drinks. manoj rocked the way to the top , carrying the bag on his own and playing peppy bollywood songs giving us energy and shaking our minds from the tiring journey. we made only 2 stops , that too because of me , i just couldn't move forward damn!! but did all this stopped me and the boys from making a personal record breaking time for doing the trek in 2 hrs 40 minutes ??? no !!!!
yes !!! you read that right !!! we completed the kheerganga trek in less than 3 hrs !! EXACT TIME ACCORDING TO KARTIK IS 2HRS 40 MINUTES, we met people on top saying that they did the trek in 7hrs , 5 hrs , 6 hrs and even 4 hrs... we listened to them and then we look at each other and smile ;) like bitch please we did it in 3. i recorded a video just after completing the trek...
while doing the trek , we all saw a guy running throughout the trek , we saw him running while he was going up and we saw him again while he was coming down , and we were still going up. that guy was crazy ! i guess he completed the whole trek going up and down in 3-4 hrs.
as soon as we came up, the search for our camp begin and we decided to go for the camp with the swings, it's quite visible while going up towards the temple, after settling up in our tents , we went for the much awaited hot water bath in the kund , man that was the best feeling ever , doing a 12km trek and then going straight into hot water, looking at the mountains , with cold air. it was EPIC!!!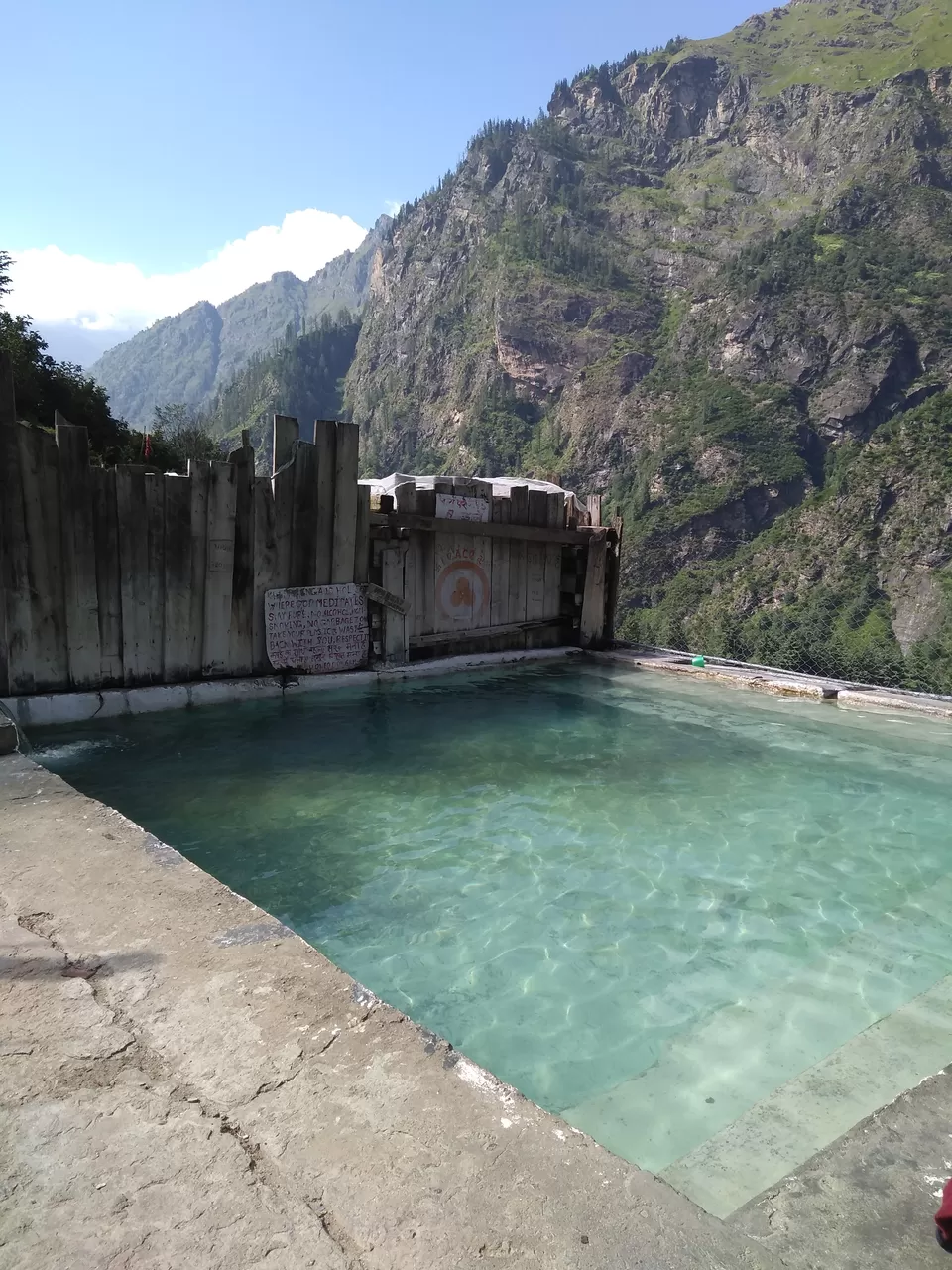 after bathing boys went to take a short nap , while i decided to go sit in the camping common area and sit on the swings, have my redbull and my joint and just swing through the air looking at those huge mountains in front of me. this was a totally different feeling for me , high af ! swinging ! and the view ! dayumn !!! can it get any better than this ? wanna see , what view i was trippin on ? XD
after sometime towards the evening , i too went for a small nap but couldn't because boys were up and they started pulling my leg , we all had good time , they went out while i stayed and relaxed for some time, kartik came back to pick up jackets because they were going in the forest for a walk, and gather wood for a bonfire, guess what they ran into ? flock of sheeps, it was the wildest feeling ever , seeing that many sheeps in the forest...
i got up and went with them , they went ahead and i got back carrying dried sticks and wooden log with me. while putting the wood at it's place , i noticed a girl sitting on my spot , my spot as in the swing , saw her first in tosh, pink floyd cafe and then here in kheerganga. like a good host :p went up to her and asked her if she would like to join us for a bonfire , she agreed and we exchanged few words, they were two of them and they were camping in the same site as us. Boys came back carrying more wood , but the camp owner or in charge told us not to do bonfire but sit inside the cafe where there already is a fire place. we were disappointed and decided to go inside and play cards instead.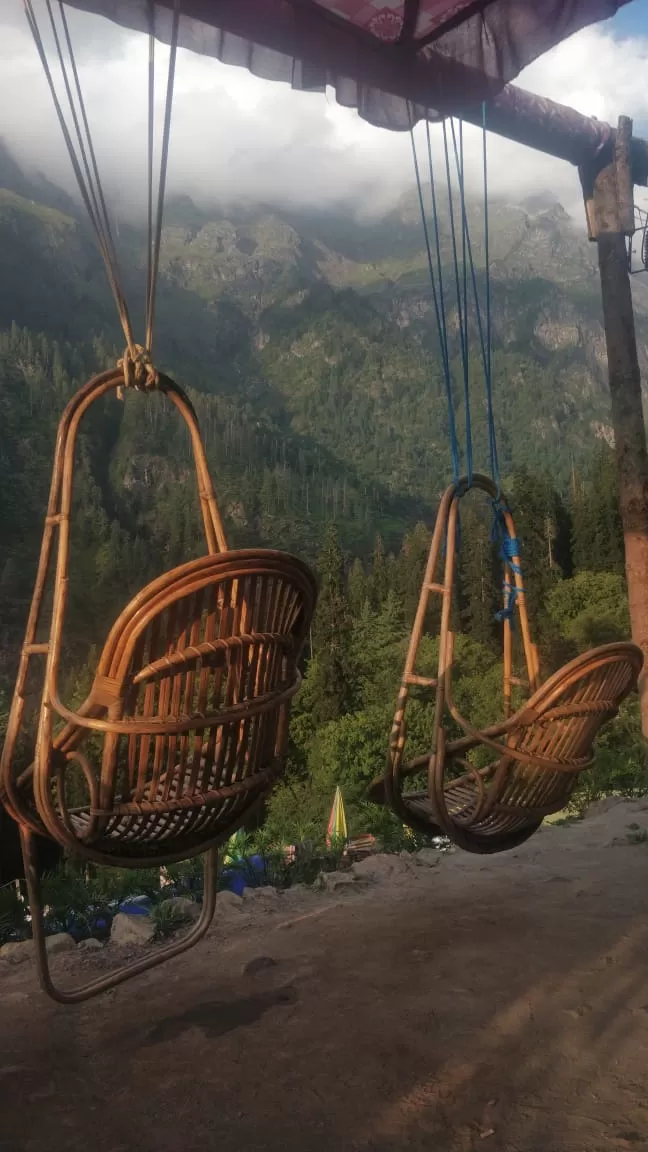 the evening was warm and cozy , filled with laughter , and game of cards, by the way i lost few games to the girls , they were damn good at it , even though one of them didn't know how to play cards. it was embarrassing and funny at the same time , after sometime , girls ordered dinner , me and boys came out for some star gazing and have tea, after dinner the girls joined us again and again we were sharing our experiences , during a questions answers session , i asked girl 1 in the specks , what is the best part about traveling for her ? she told me that , she doesn't like visiting to places or monuments created by man , or anything which can be created , nature is what attracts her because nature is something which cannot be created by man , her answer got me thinking like damn okay!!! interesting !
2nd girl , told us that how a local guy in kasol sold her a locally made transparent alcohol drink called RAKSI ! , which was in an aquafina water bottle , saying '' madam aap isko peeke dekhna '' it is strong and better than other brands, she bought it but she didn't drink it , she carried it all the way up to kheerganga, and i asked her to bring it to me :P
i was like at least we should have a taste of it , she went and brought me the bottle , i had a sip and found it tasted like when you mix vodka with rum or vodka with wine , she tasted it herself and was speechless, then kartik and manoj tasted it afterwords , laughing at lame jokes , looking at the stars and moon , can't even remember the last time i saw that many stars in the sky, it was beautiful, the girls had plans to leave for kasol early in the morning at 5am, me and the boys were like ahem ! okay let's see haha XD , we wrapped up the evening around 12 and ,it was night time , as the girls were leaving , 2nd girl picked up the bottle of water from the table and left the alcohol drink RAKSI on the table. This was a mistake which neither of us realized, we brought back RAKSI to our tent thinking it's water :P XD
setting my alarm for 5am in the morning , because i didn't wanted to miss the sunrise, i went to sleep. next morning when i woke up , the sun wasn't out yet so i waited till 6 am and then went to fresh myself up , came back to my tent , rolled myself a joint and went straight to my swing ;) around 6;30 , anil and manoj came to the swings area and anil was having that bottle of raksi with him , none of us knew it was the alcohol and not water, and remember he doesn't drink or smoke, he was right in front of me , and he took a huge sip and he threw it out saying '' BC ye to daaru hai !!! manoj and i burst into laughter , got up and smelled the bottle , yes it was the 2nd girls bottle of Raksi !! , i don't know what evil came to anil's mind , he asked me to stay quite about this , and after sometime kartik came out of the tent and asked anil for the water bottle , anil threw the bottle at him and bhai aa raha hai maze se , ki ab valley ko dekhte hue mast paani piyunga :P, and this time me , manoj and anil are waiting for kartik to open the cap and drink it , and he opened the cap , and hahaha !!! as soon as he drank it , the reaction on his face was priceless , now the alcohol is in his mouth and he is looking at us and we are laughing at him like crazy !!!! kartik ne jo gaaliyan di hain anil ko dayumn !!! XD XD , subah subah maza aa gaya ye dekh ke !!!! we were standing there talking and i saw the girls coming out all ready for hiking down back, it was quite impressive to be honest !
and guess what ? the 2nd girl was having our bottle of water with her , thinking it's her alcohol , we told them the whole scene , at first she didn't believed us , but when we gave her the bottle to smell and taste she was shocked ! we all a good laugh discussing this incident !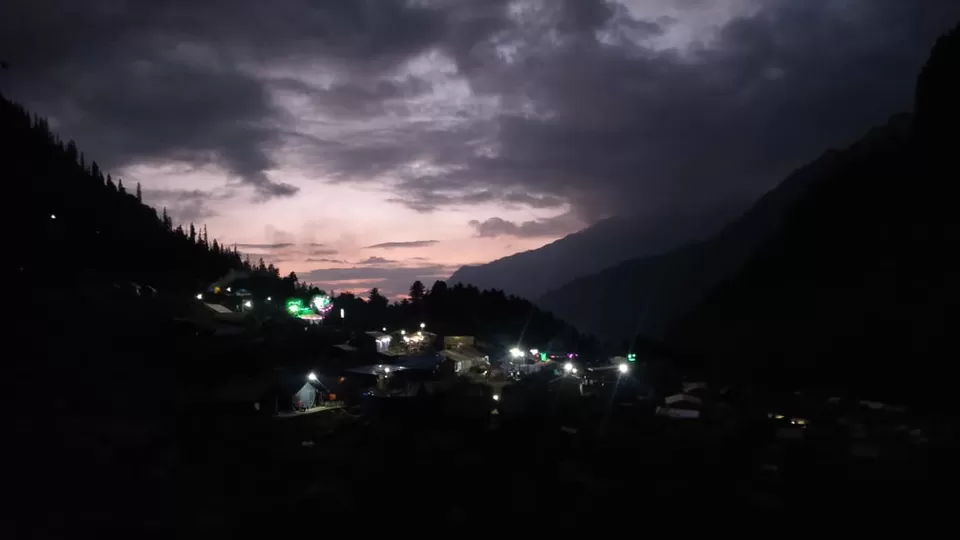 after saying goodbye to the girls , who were hiking down , kartik and anil again went for the hot water bath , while me manoj smoked a joint, around 7:30 , 7:45 am , we were also ready to trek down for tosh. just like last time manoj carried the bag to the top , this time i had the bag with me. keeping 3hrs in mind we started our trek downwards, manoj took his position to play peppy music , and we were accompanied with dogs our whole way, after sometime , i went ahead , anil after after me , manoj and kartik after anil , and guess who i ran into ? :P the girls XD bas fir kya tha ... guess who else completed there trek in 3 hrs :P :D haha !
we took a different route this time for rudranaag waterfall. it is a quite huge waterfall , the journey was pleasant , full of laughter , music , talks , buying apples from the locals, feeding the dogs , and the dogs joining us for the trek, one thing i remembered from feeding the dogs, the girl no.2 , kartik and i named her doga , in between our trek, doga i know you're reading this but let me share why we named you doga XD , so me and the boys were feeding the dogs whenever we were able to , but the girl no.2 , fed them once , and all the dogs swore an oath to accompany her only , and because of this ,when ever she stopped all the dogs stopped and whenever she moved , all the dogs moved with her, so a women controlling a group of dogs , hence, DOGA !!! master of the dogs XD ! but sometimes the dogs messed with her too :P , aise hi bakchodi karte karte , we didn't even realized where the time went by and we completed our trek, we all rested in a small tea shop where we waited for our cabs, saying final goodbye to the girls, they continued with their journey ahead and went to kasol , while our cab took us back to tosh.
and here we all are concluding our kheerganga trek safely
we were supposed to go to kasol too because my brother was calling me back but decided to stay one more night in tosh , because let's be honest , tosh is way better than kasol now.
we were dead tired after the trek , and we slept after we came back to our room again in tosh, after yet another amazing evening and night with deep discussions, delicious food , music and talks about our lives , minus the brownies this time , we slept early. , and waking up early in the morning, manoj wanted to smoke up , he asked me if i wanted to , and do i ever say no to an early morning joint ? :P heck no !!! XD , that too in front of that beautiful view, after that good morning , we had our breakfast, went to our room later , packed our bags and we left for tosh taxi stand. the taxi dropped us till barsheni and we took the bus leaving at 12pm,
THE DAY OF FINAL GOODBYE : WHICH COULD HAVE LITERALLY BE A FINAL GOODBYE
we had our cab booked for Delhi at around 10:30 pm in the night , so we had plenty of time with us to explore kasol a little, after meeting my brother , we decided to have a drink or two in the forest near the river , where the water level is low enough to bath in it, taking all the food and drinks with us.
we had a last and little party in the forest, talking , playing cards, drinks music and bathing in that chilly cold water, my brothers friend and a female solo traveler from Mumbai joined us for smoke up , that was a beautiful evening. we all came back around 8pm , while coming back my brother picked up another bottle , manoj , kartik and anil wern't drinking only i was.
ACCIDENT : A NARROW ESCAPE
i called the driver asking where he was and he said that he'll reach kasol around 12 , and just like that we had 2hrs more with us , we all were sitting in the garden , another session of drinks and smokeup went by as none of us went to our rooms and a couple from nearby joined us for cards , and within no time , it was time and i asked the boys to do the packing , the driver was waiting for us at kasol chowk, and around 12;30 , we were on our way back for delhi. before leaving kartik and anil asked the driver if he'd like to take a rest because he was driving continuously for quite sometime now, but the driver said and i quote '' aap tension mat lo sir , ye hamara roz ka kaam hai '' , thinking this i sat in the front and boys in the back , we took a stop after 3-4 hrs , the driver wanted to have tea, me and anil went out with the driver, everything was well till now, we continued our journey again and reached mandi bus station , it was around 4;30 am in the morning and i started getting sleepy ( neend k jhatke lagna ) , after days of smoekeup and an evening of drinking it's quite natural isnt't it , and then suddenly it happened , i don't know how but our car crashed into an electric pole just after we left mandi bus station , over a bridge , bammm !!!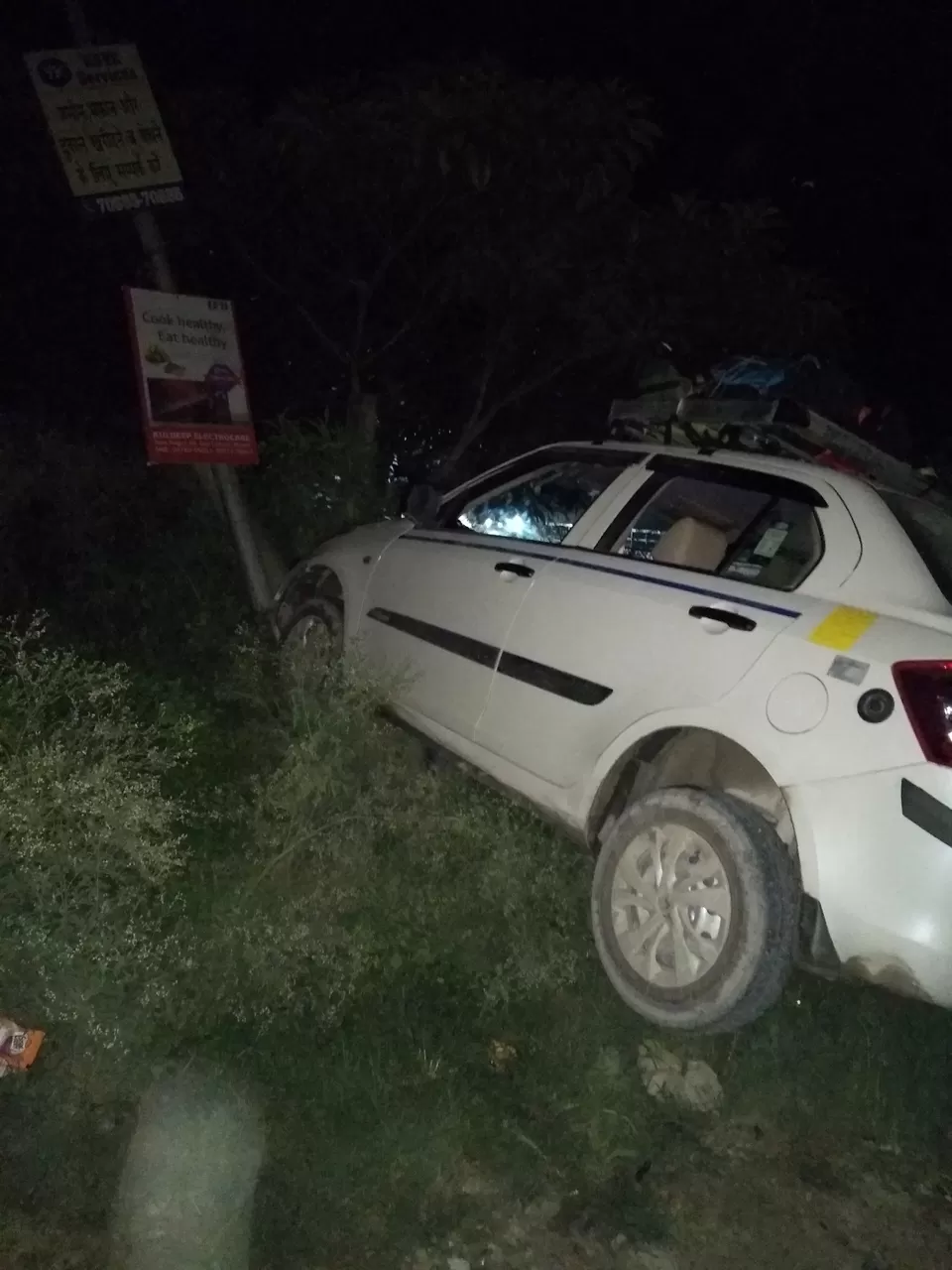 everyone woke up including the driver who was sleep driving !!! nearby truck drivers who were sleeping rushed towards us , we all got out of the car safely , thankfully me and the driver were wearing seat belts , the car crashed into the mile stone and then jumped crashing into that electric pole , which stopped the car from going into the river, which according to the locals was 1000 ft deep.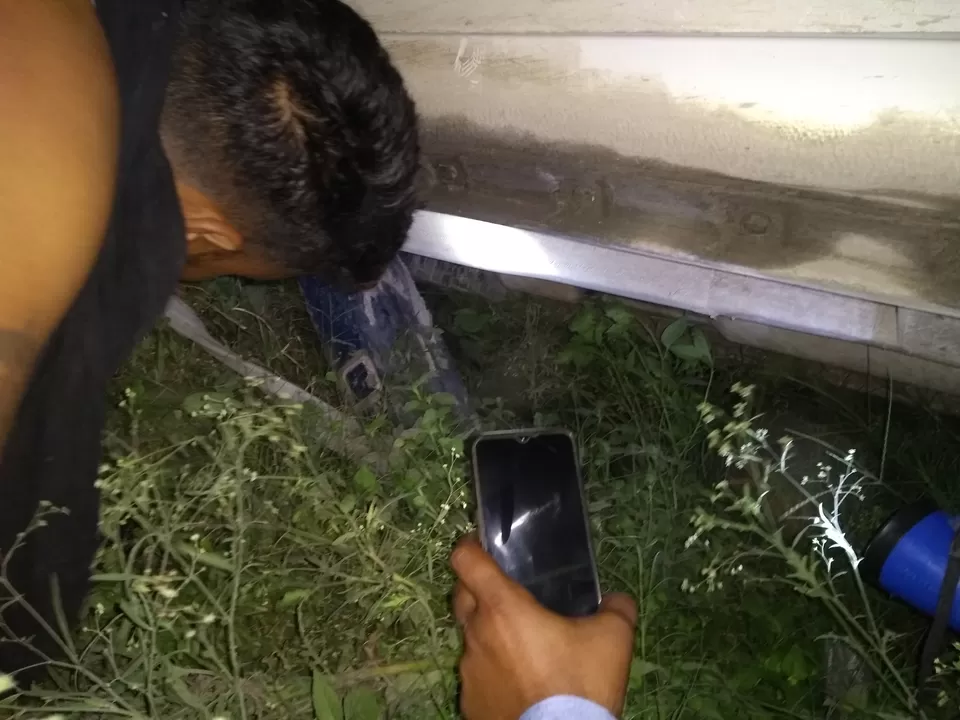 one of em even said that '' sir ji ye khamba na hota to aapki jaan nahi bachni thi '' ( if it wasn't for this pole , you all would haven been dead right now ) , the horror of this accident on manoj's face was unreal , he wasn't talking to anyone , i wasn't bothered about it much at that time because i've already been through these type of situations on mountains while driving before (minus the accident) , also maybe because i was intoxicated .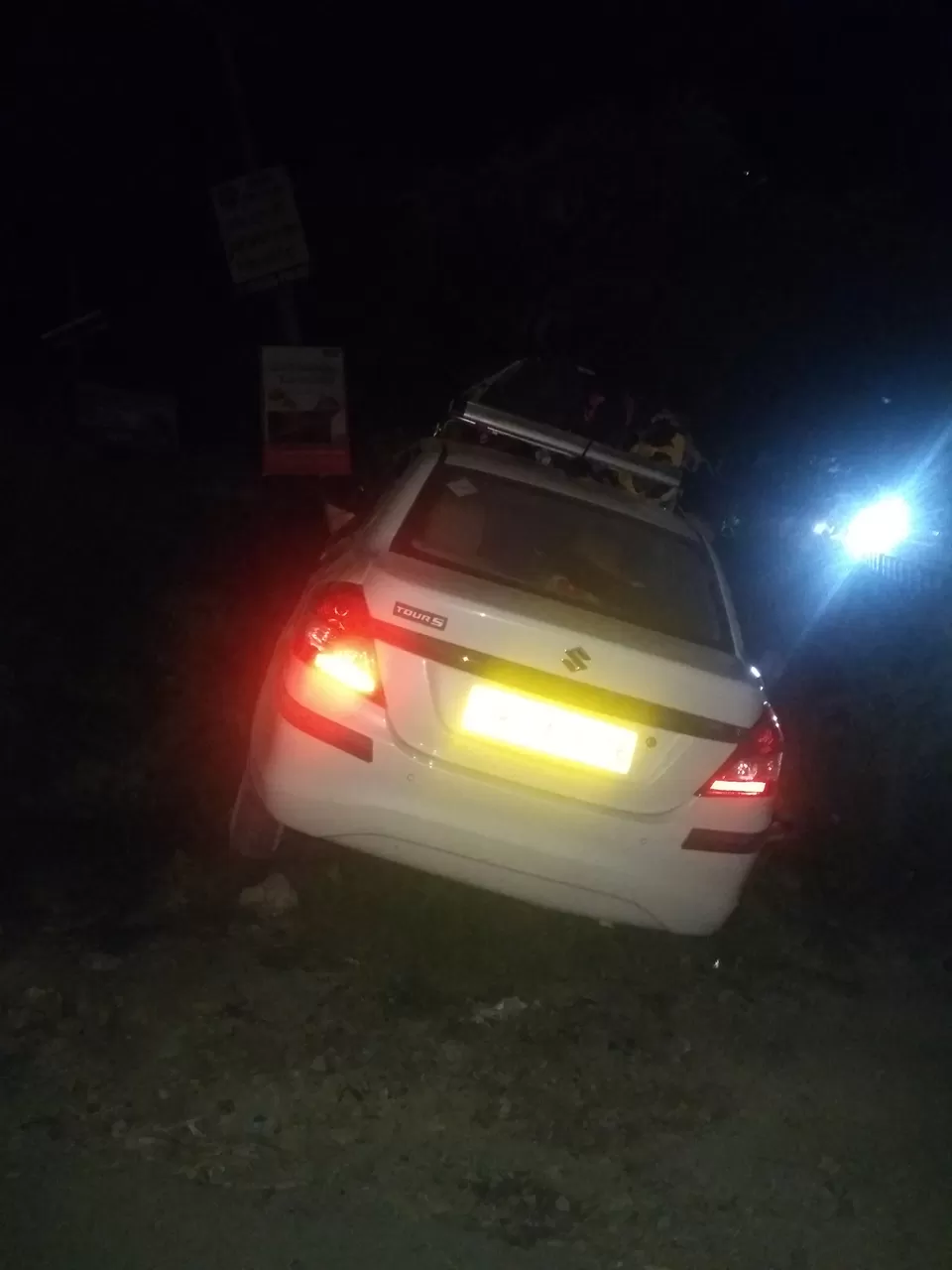 i'm very much thankful to those sikh drivers who stayed with us through that time, doing every possible thing to take our car out of that place where the accident happened. the last two tyres of that car were in air and the front part of the car was done with.
a local cab driver who came for our help , offered to drop us till Chandigarh , and hesitating a little we finally decided to go in that cab as well. i was awake the whole time till chandigarh and we were there around 10am in the morning , from chandigarh we took another cab for delhi, stopped midway for brunch in ambala and finally after dropping manoj at kashmere we came back to the happy place safely ;)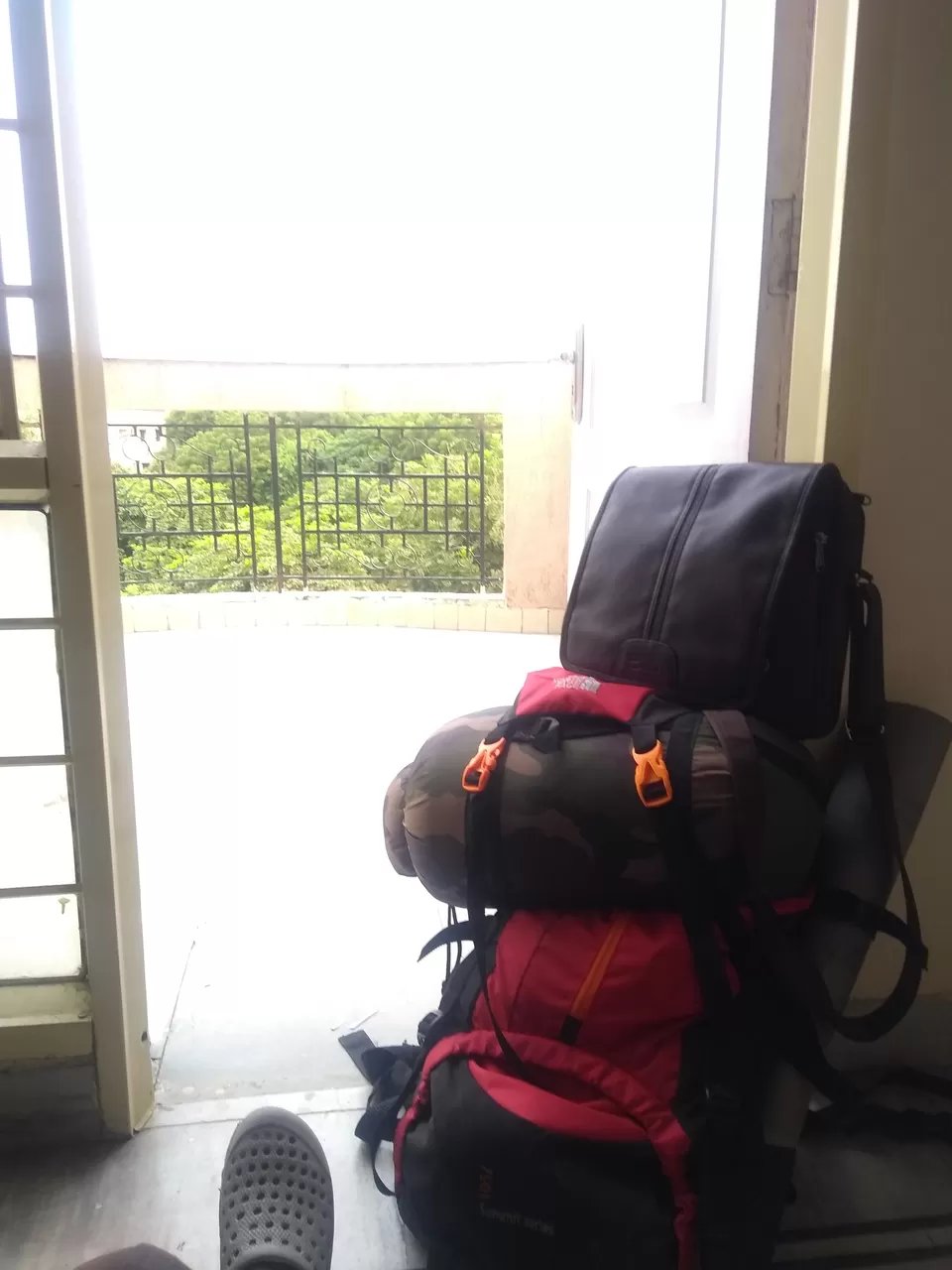 for more behind the scenes pictures , videos and discussions follow your boy on instagram : trippymusafir
STAY TUNED FOR STORIES OF OUR UPCOMING CHADAR TREK OR NEPAL ADVENTURES !!!
till then , thanks for reading and being a part of our journey, until next time , stay happy and keep exploring XD cheers !!