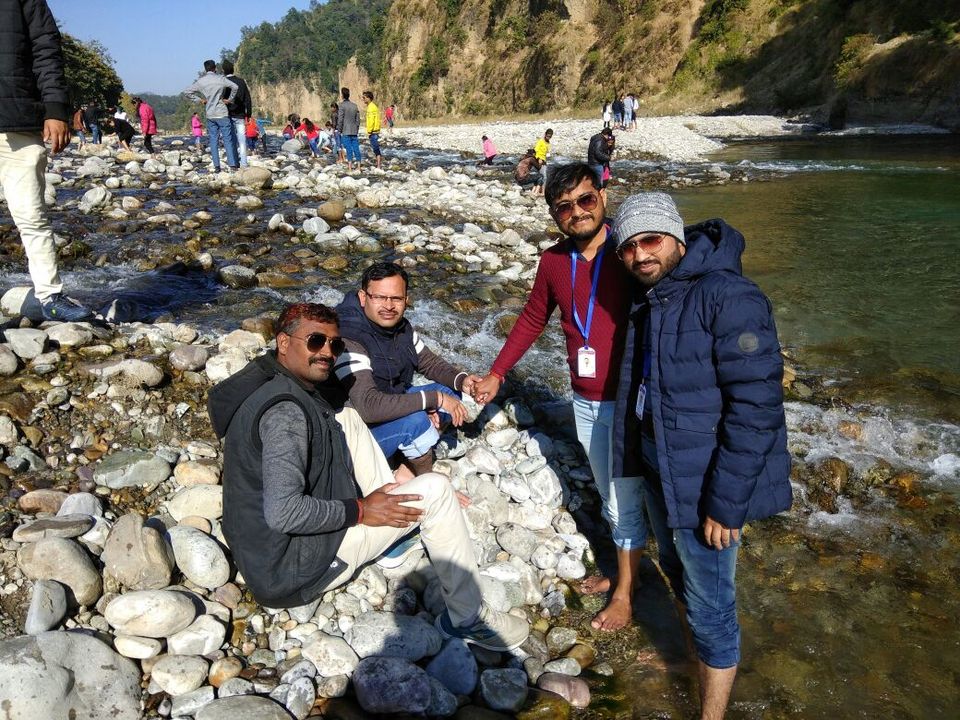 A journey into the wild.
A quest for myths and wonders of Jim -Corbett and beyond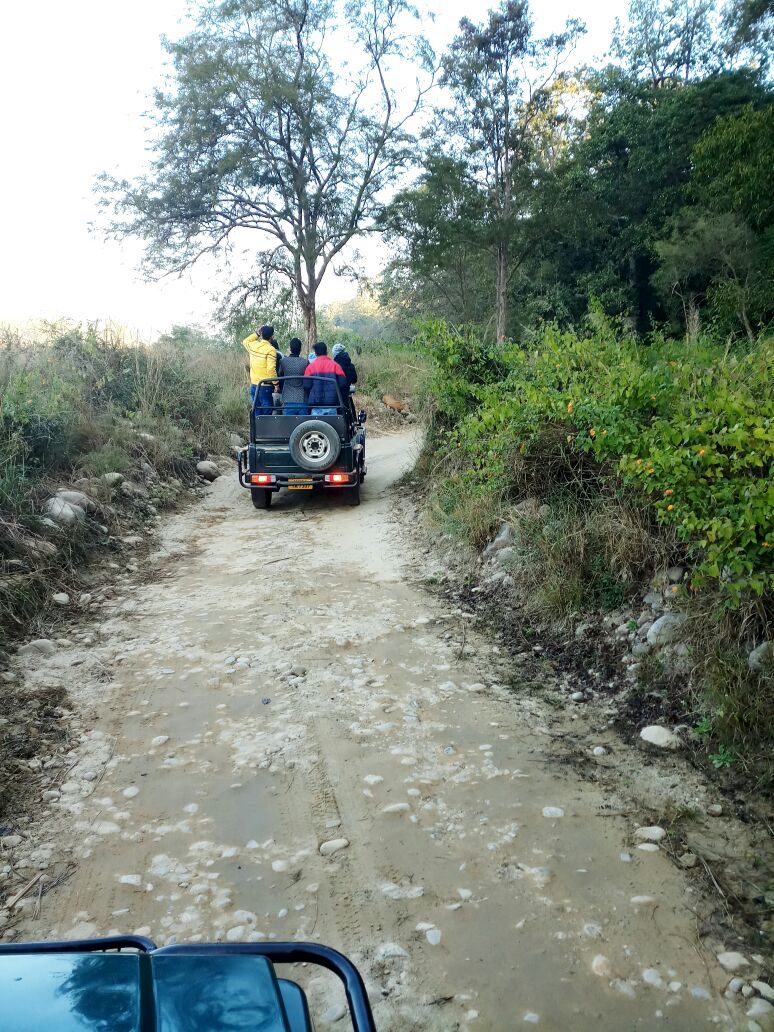 I never thought a journey into the woods would be full of such diversity. If I were asked in my younger days about my dream destination, I would always come up with a place in mind that's full of green & blue, but if I would be asked about my travel companions, I would never think of a group expedition , that , too , into the wilderness of Corbett National Park.
My fate hitched me with a great group of 50 students- teachers and I waited on wheels to turn on the line of great journey into the wild Corbett.
In the month of December we expected it to be a little colder than its surrounding areas, but our busy schedule left us with no option.
It took near about six hours to travel by a good spacious bus on the trail which already scotched by millions of nature lovers before us. I along with my (team of Golden Flower) college team reached there just before dark. When you reach your destiny after a long waiting game your initial crave tries to free all your butterflies from the stomach. You need to just check the spot, you try to find your hotel, rooms& the view point. Everything seems to be very exciting under the influence of inquisition.
Under the setting sun we never had much oblige for anything else but to find our stay.It was a great experience after all, our guide was waiting for us just at the spot where we coordinated. Mr.Birendra looked a composed man in his late 30 with seemingly much to offer to our spirited team. Our hotel was absolutely at the right spot. There could not be any other (possible) better position available than that of 'Pratiksha'. It was such a wonderful feeling to find ourselves land locked by mountains, green woods all around with magnificent outer Himalaya & great Koshi flowing across the land. Our resort was situated by the wild rivers and mountain cliffs covered with forest was all at hand's distance.
Everything started falling at place. Around 6:30pm we had our bonfire by the river. If I was not there I could have never realized the strength & beauty of nature in the serenity of its dwelling. The temperature started declining at a very fast rate so we really stomped in with our eatables & dancing troops(The energetic group members). There we had great evening snacks & coffee. The resort staffs told us about the history of the place a little bit to keep our inquisition alive. Then there was the bonfire which really sparked up the moment and it was complimented well by the amazing lucidity of the place. Though the irresistible sound of river was a continuous companion of the journey but the sound made me believe about the power of silence through the sound, the sound of nature.
At 9PM we lined up for sumptuous dinner. The meal was really delicious & we tasted the flavor of it in the chill wind from the extended balcony of the hotel. Really it was a great evening out in the open under the canopy of sky in the mist of the mountain, with all that we pulled in, fresh air was just the thing that we really started feeling a bit romantic about.
Our guide, Mr. Birendra, briefed us about the safari and its timing which was at the center of our Excursion trip . An exciting opportunity for all the team members. I remembered the moment which oscillated the urge for that trip. It was all about morning jeep safari for the caged animal like us it was an opportunity to witness the free wilderness without being disturbed by any means. The excitement was such kind that, Mr. Rajkumar, one of our team leaders woke up at 1:30am,and got ready along with his roommates. They overlooked the potential of watch & alarm. When they rang me I was out of place but somehow I was happy to know that everyone was under the influence.
Around 6:30am we headed for Bijrani gate, there are 4 major sites inside Corbett park. We were lucky to have Bijrani. As they said "You are heading inside the deepest, and largest of them…"
Our team was divided into 9 safaris. I was already charmed by the Scenic appeal of Corbett National park. When you enter you need to carry your photo IDs which would be used to book your safari before you enter. So it takes a good half an hour.
Binocular sellers caught attention of some of our crazy students in the team. The safari was a mix of everything. The grassland inside the forest is a great dwelling ground for the grand herbivores, Elephants. The season beckoned them to mark their trails. So that day when we entered we found that we were really riding on our lucks. Every next step had a clue or other about tiger or tigress somewhere very close, so excitement was in the air. Mr. Biju, our safari guide was really optimistic about tiger spotting so entire team of mine was really all ears & eyes to find any sign. In every inch of forest the peace and an amazing feeling of freshness could be felt. In search of great big cat we really immersed in a feeling of raw emotions drenched by the nature's glory. The sunrise over the woods across the valley and the golden reflection on distant mountain peaks made it absolutely irresistible for me to not to appreciate the beauty. We halted at many spots inside to just experience the truth!
Suddenly, there was a call. Bijuji thought any deer was triggered. So we chased the signs and found ourselves on a very narrow trail at a very slanted mountain track. It was about at a height of 600m. we waited and waited… The dew drops from the leaves above and the moisture all around with the smell of the flowers of Shoria Robusta (saal) kept me energized during the waiting hours. Out of the blue we discovered a large dark grey flap like stuff moving by a distant bush.
"Oh great lord! That's it. It's an elephant, There it is,'' our guide whispered. I got really excited and latched on to the binocular and saw a great sight. In the paparazzi hunt for tiger we witnessed one of the mega emperors of the land. It was young elephant with its mother and probably they were behind their group. The land which was flanked by the pugmarks of Tiger & deers, we found our unexpected creature. Our journey was really blessed. I got many chances to explore the wonderful earth. It was one of the highest orders with the mighty nature, we continued our journey in search of unexpected wonders among the usual expectations and found the true essence of nature which could never be written or expressed through sounds.
My self-conscience kept a strong grip over my other senses. I urged for deep exploration into the wild. Our guide kept on reminding the true essence of the visit. As the sun started rising over the peaks of Himalaya it kept on making things a bit more extraordinary. After an hour of attentive journey we took a halt at Dhikuli. It is a part which has a guest house, an outlet for food & beverages and a (small) stable for elephants. So we got a chance to interact with the elephants which are used in Safari. My internal craving for jungle expedition forced my guide to leave early.
The grasslands on the river bed and the bushy hideouts were crucial target areas. Many barking deer & wild foxes were the victims of our greedy eyes! Many over the line expectations, suspenses & grinding prayings all came to an end and finally our journey with the mystical wilderness etched its fine lines in my sensual part with its beautiful inhabitants. We never got our great Sher Khan and its prowess through our very lenses & lights, but we really felt its presence in every inch. It reminded me one of the old sayings, "you may not see him but he sees you, and before you know he is gone." Our team which was full of teenagers, for them it was a real learning curve. The jungle had its share with every one of us. I believed the pugmarks would be alive till next halt and maybe the great king would defy its law and I might find my big catch next time, until then its just another trail without the real glimpse. A journey which is full of wonderful experiences can only be lived, without being at the spot no words can't bring the real feeling of wild-wild woods.
Our reception lobby was full of wonder stuck teenage souls when our jeep arrived. As soon as I entered the area my team cheered and expressed the joy that was associated with only one thing that's the finding the unknown ,the unseen wonder.
"We have seen it, we have seen it", said Harmanpreet, one of our students. The great big cat actually walked a good 4 meters in front of their Jeep ,somewhere before the exit way. They showed me the wonderful snapshot. It really made my day. I could feel to be a part of it. I realized my mistake for not recognizing the importance of the group expedition. For the first time, I felt to be a part of an event even by not being present in flesh. That's a great feeling. A feeling of being united as a team. The real life scenario is what makes it more challenging but the great expedition into the wild changed me forever. Now I am more open, more welcoming, for group trips, which always bring new experiences.
After 10 am we headed for a group excursion. We divided our team into 10 groups and participated in some adventure activities, not all of our teammates were eager but you really got to try when you did not have luxury of not being ordinary. A day, dedicated to the nature & its wilderness, had it all for me. I jumped from the bridge over Koshi, did Jip lines, crossed the river with the help of ropes and river with the help of ropes and felt over the Moon!
Everyone enjoyed the rising sun with their feet plunged in the icy cold mountain stream and the crystal clear water . The wilderness of it helped me to reinvent my life once again. All of our slow- mo videos & Panoramic captures are worthy enough for any nature lover. I've returned back late that afternoon. We had our lunch by the pool and most of us just kept mum for much of that period. The ever so wild mountain river on the horizon line and greens everywhere looked so beautiful at that point of time that nobody could do nothing but contemplate on what we had at that moment. So I stayed a little longer by the river and enjoyed the moment before I assembled my team for an evening excursion. Our hotel manager already guided us about some must see places around. So we chose to have a go at every spot possible before dark. The local Corbett museum, which is 4 km from the hotel was a real experience. We went there blank but came out one of Corbett's own. So there was never a single point to waste. Finally, we went for Girjiya Devi temple, which is very close to the hotel.
It was in our itinerary even before we reached there. So we went there. It is a beautiful scenic location. The temple is situated on a large stack, detached from the main land on the river bed. All around mountains and the wild river cut across that little uplifted piece of land on which the temple is situated. It took nearly half an hour for me to reach out at the top riding on its long narrow stairs. Overall it was really a great experience to witness the spirit of human being to find a place such as this. I thanked Devi Maa from inside for what I gained on her land and left without saying a word.
After all the spiritual delights were done I left Girjiya Devi Temple and its unbelievable setting with a promise to return back again…
The time elapsed and we found ourselves at a crossroad of our journey. That evening we did nothing but stayed with our own groups and introspected our experiences. We found real joy. A trip which was full of (wonderful) surreal visual delights. I could not feel anything more extraordinary than that eventful day.
So in the morning when I packed my bag one thing was there in my mind, "why did it pass so fast?" Couldn't it stay a little longer? I really could not put my emotions flat out here but if you want to be a part of extraordinary world, you just drop everything and walk into the wild…
The great myth of Corbett is really true. Find yourself.
Swarnabha Dutta