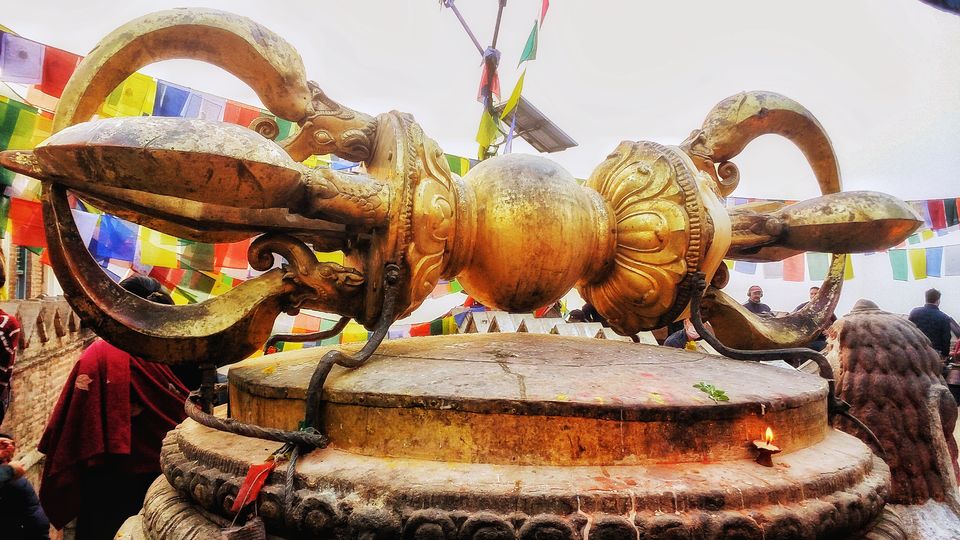 Bodhisatva Manjushri flew from Wu Tai Shan across Tibet on his blue lion to a great lake. With his sword he cut a gorge and drained water from great lake for convenience of pilgrims to visit the light of the miraculous lotus, As water drained out, a valley was formed that is what we know today as Kathmandu and the lotus transformed to a hill. Light of the lotus formed the stupah. (Myth from Swayambhu-Purana).
I was not aware of this saga when I went to Kathmandu for an office trip and was unknowingly staying within 1 km radius of this sacred site. As a daily habit, got up much before sunrise, and went out for morning walk. With the first light, I found myself on the foothill of Swayambhu Ji . It is on the east of hillock and commonly known as Bhagwan paon. An excellent ambient of religious folks of all age group both Hindu and Buddhist along with health conscious groups were busy with their rituals and activities. Local women selling clarified butter fueled lamps and flowers for offering. Mystic odour of incandescence sticks and serene light from the lamps created a heavenly atmosphere. Wide stone stairs decorated with shrines ascending to the top of the hill.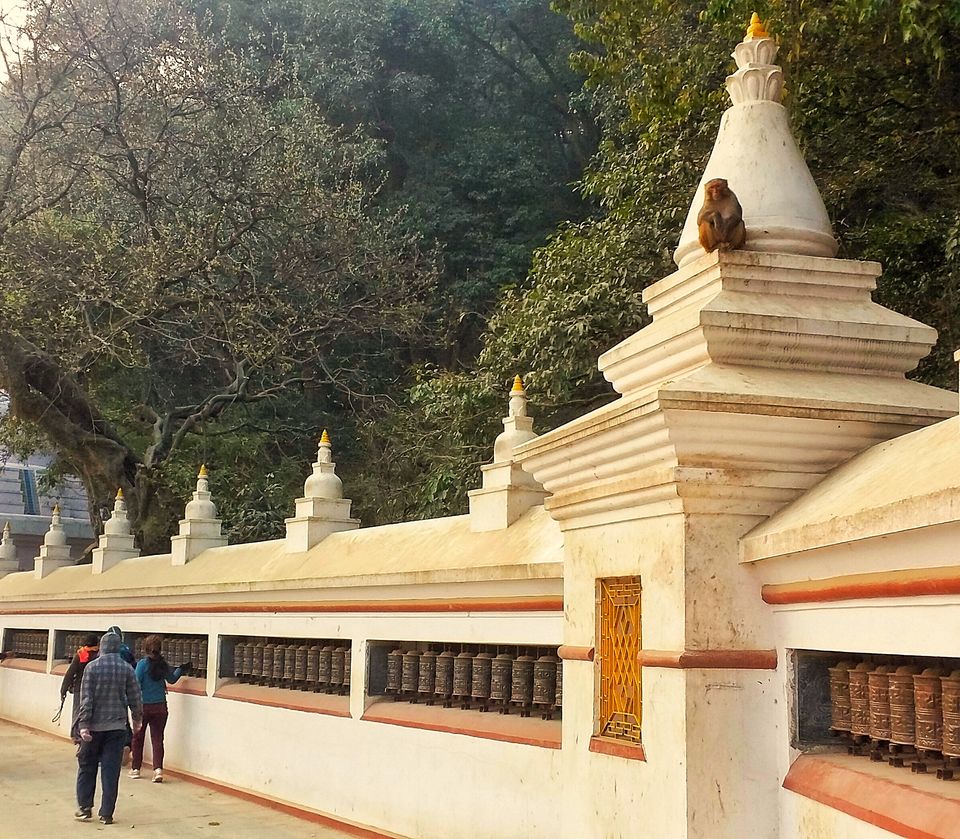 Even though the main city road is on west of hillock but the main stair is from East side. A motorable road was from south-west of the hillock to almost at the top . Within 100 mtrs of Bhagawan Pau (climbing point) is a small nice-looking hotel "Swayambhu Peace Zone" (Ph.no. :01-4275544) well occupied by Buddhist pilgrims. The hillockis surrounded with stoned pavement with prayer wheel for pilgrim walk away .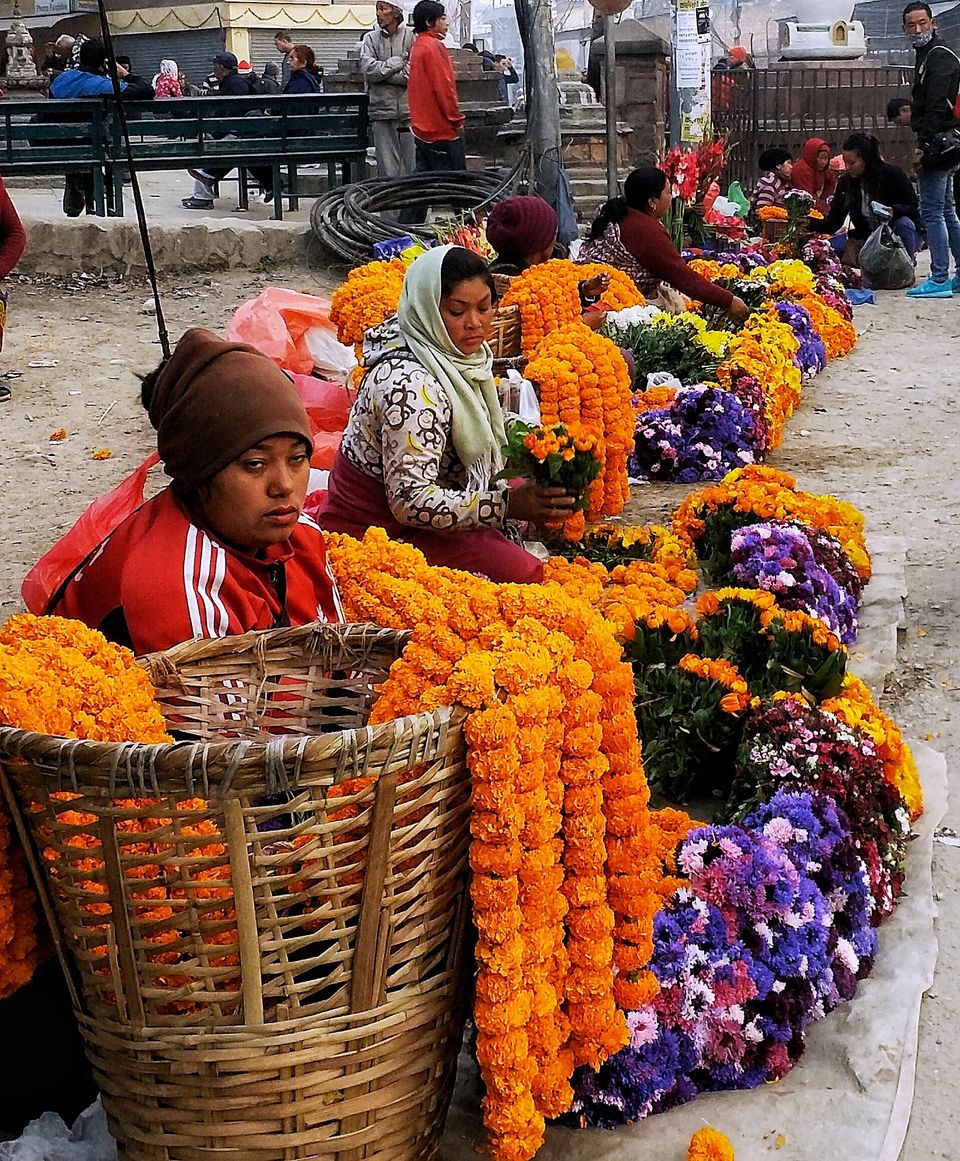 I started climbing at dawn, along with pilgrims and few youngstars, some are doing pranayama, and a good number of people are doing exercise. Few vendors are selling aloe-vera and other Ayurvedic plants and herbs juice - might be the influence of Baba Ramdev. On both sides of the staircase are temporary hawker's deserted establishment. Most of the visitors are local and regular. With a slow pace to climb 365 steps.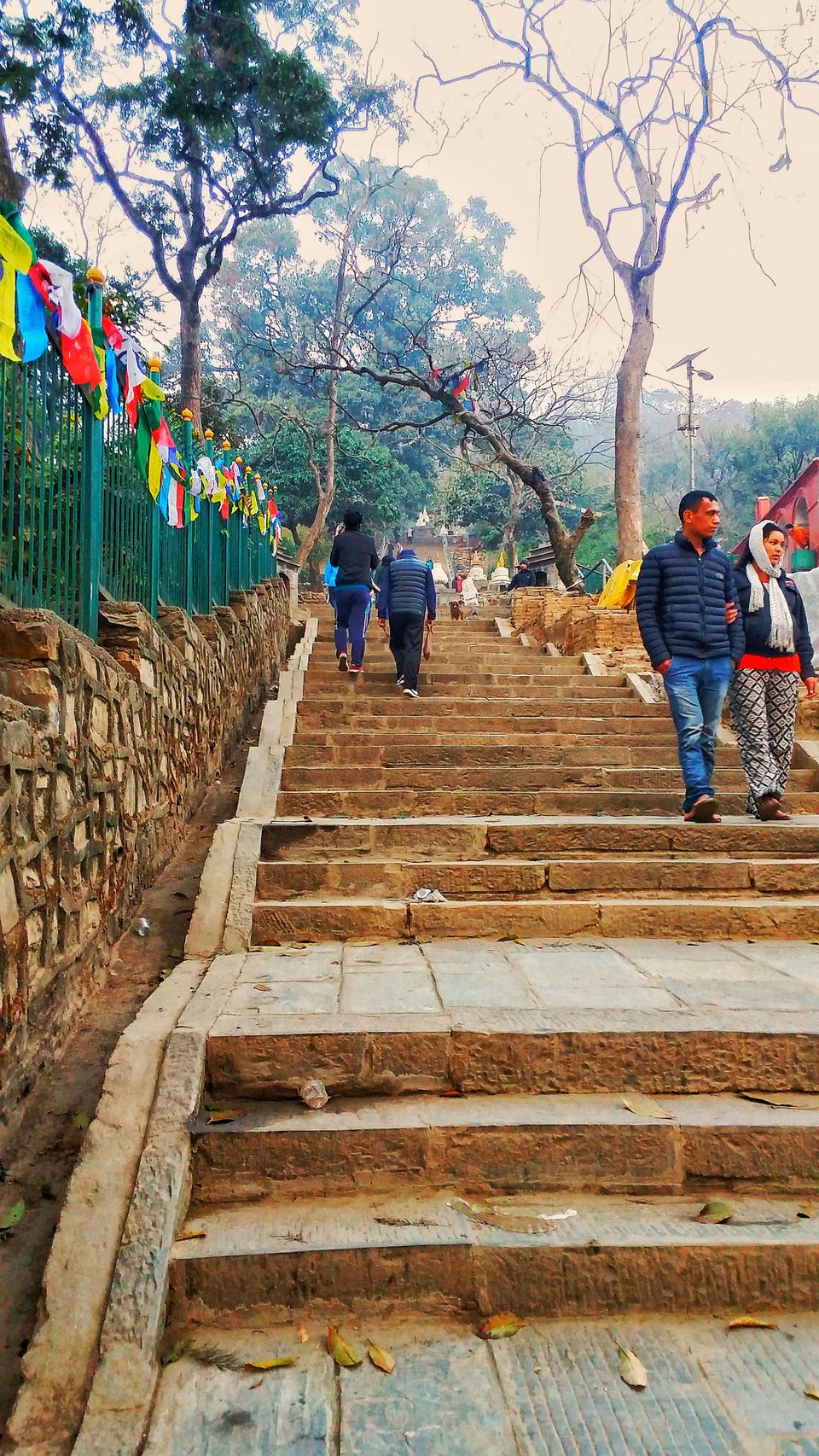 After breath-breaking final climb, first glimpse of Swayambhu Nath Temple was visible. Just at the entrance a ticket counter maintained by a smiley young man took 50 bucks as a SARC country visitor. For other foreigner it is 200 Rupees, but it is free for Nepalese.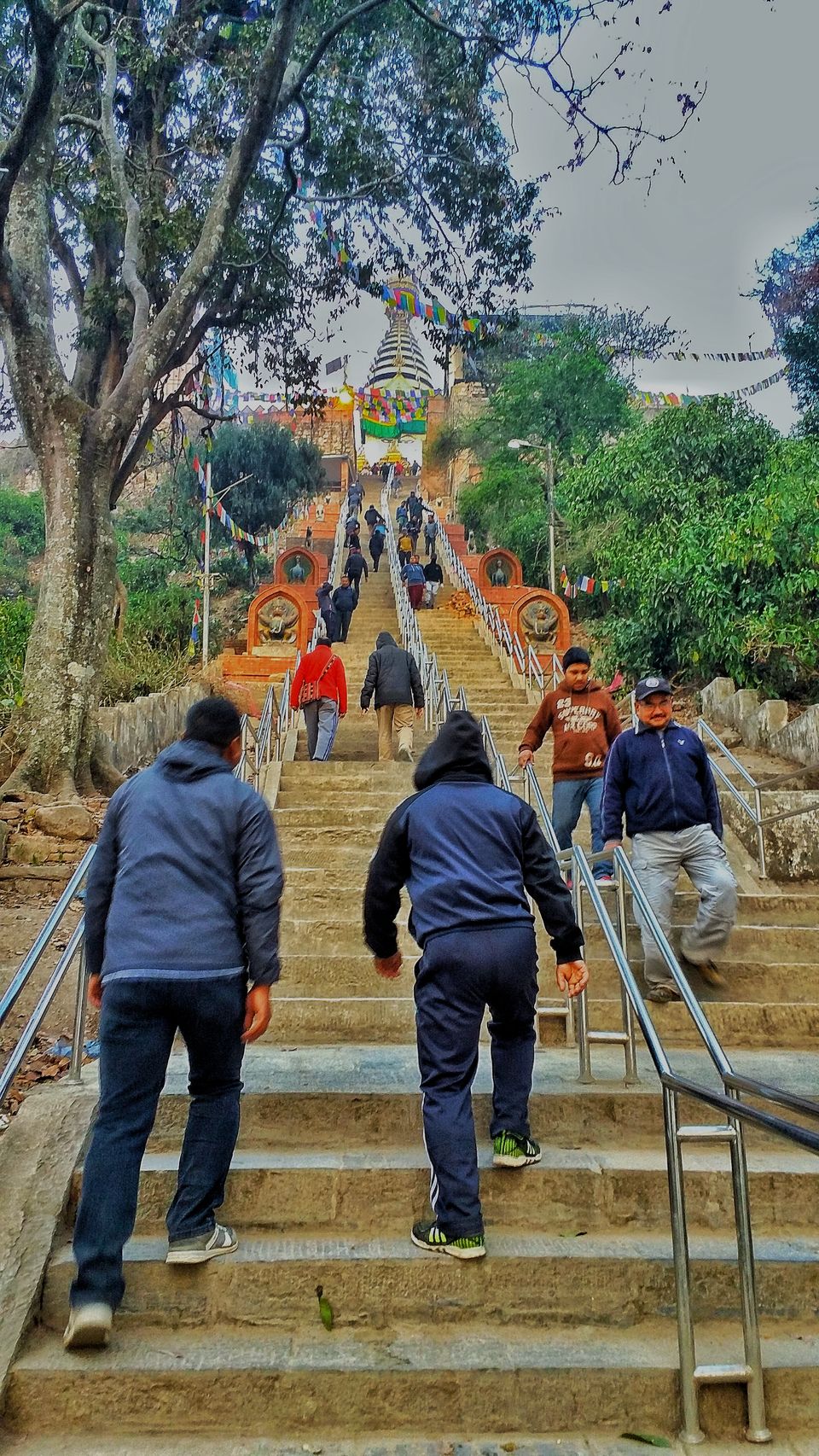 Steps ended at a huge Vajra (Thunderbolt). Two stone lions guarding the Vajra on both side . Group of devotees performing 'Bhajan' creating a spiritual atmosphere. Buddhist circling stupah, chanting prayer. And Hindus are with puja preparation to offer their prayers to 'Ma Hariti'. Religious harmony filled my heart. Devotees fed the pigeons, dogs and monkeys who wandered inside the Stupah fearlessly.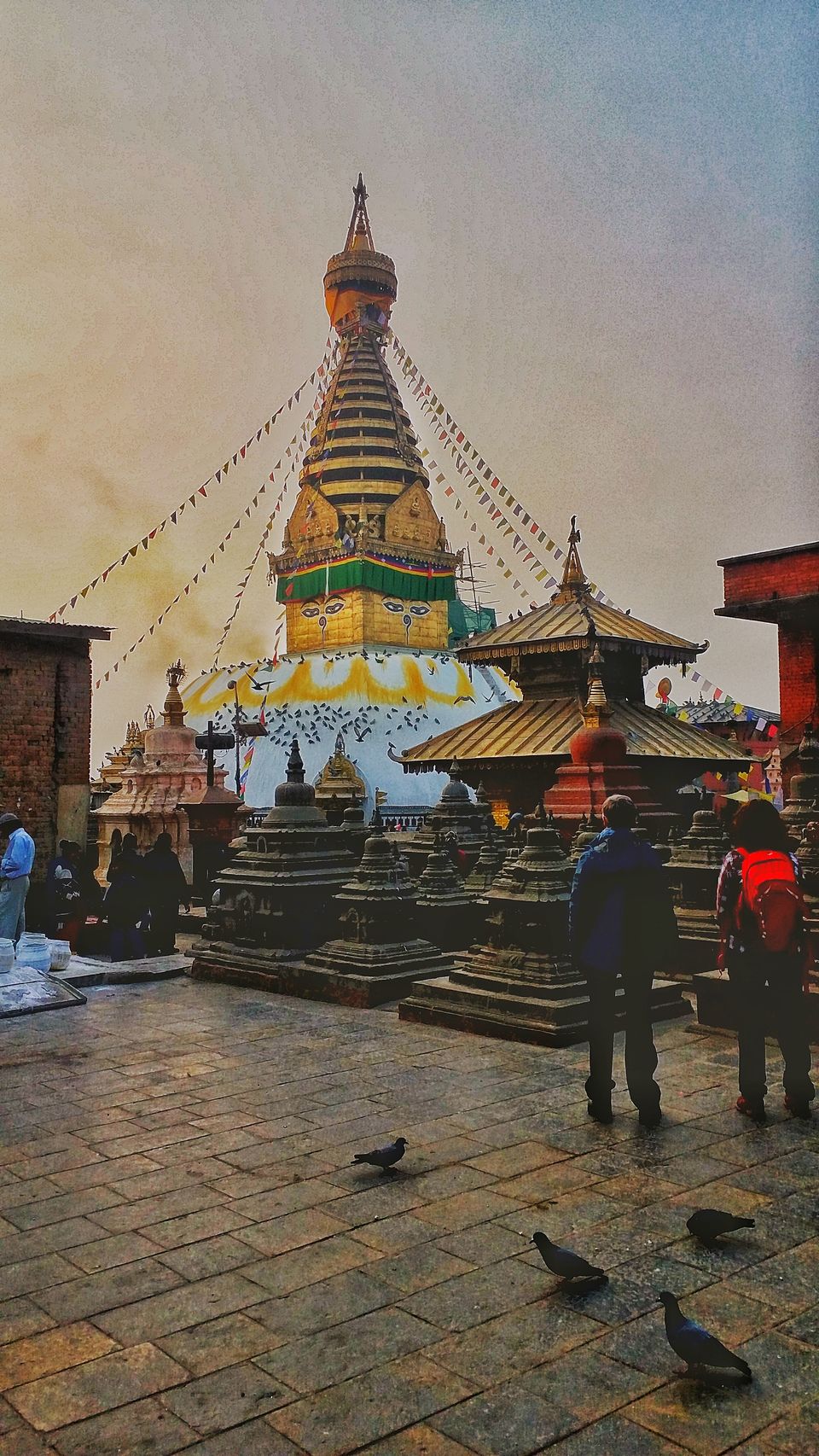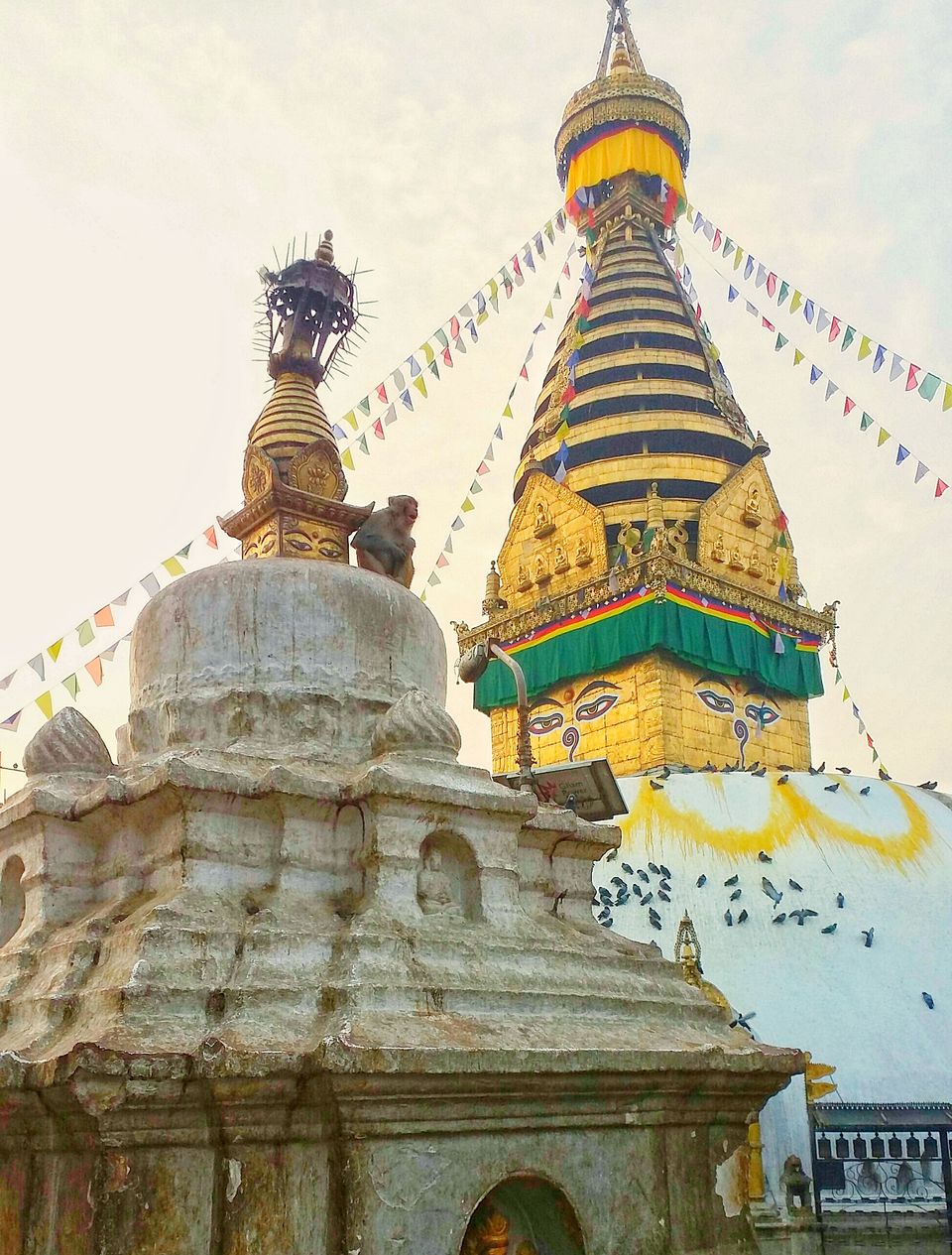 In 5th century, first construction of stupah was recorded . Different kings constructed the site over a period of time. In 2008 an organization "Tibetian Nyingma Meditation Centre" of California renovated the Stupah and donated 20 kg of gold-plating to the Stupah. In 2014 earth quake shikara anantapura and shikara pratapura totally demolished, now it is under construction. Hariti devi temple is worship place for Hindus. It is goddess of small pox and children. Few shop just opened displaying musk religious material and Buddhist art. Few devotees are doing meditation , chanting prayer and performing Bhajana. By this time sun imerge from dense fog and view of Kathmandu was amazing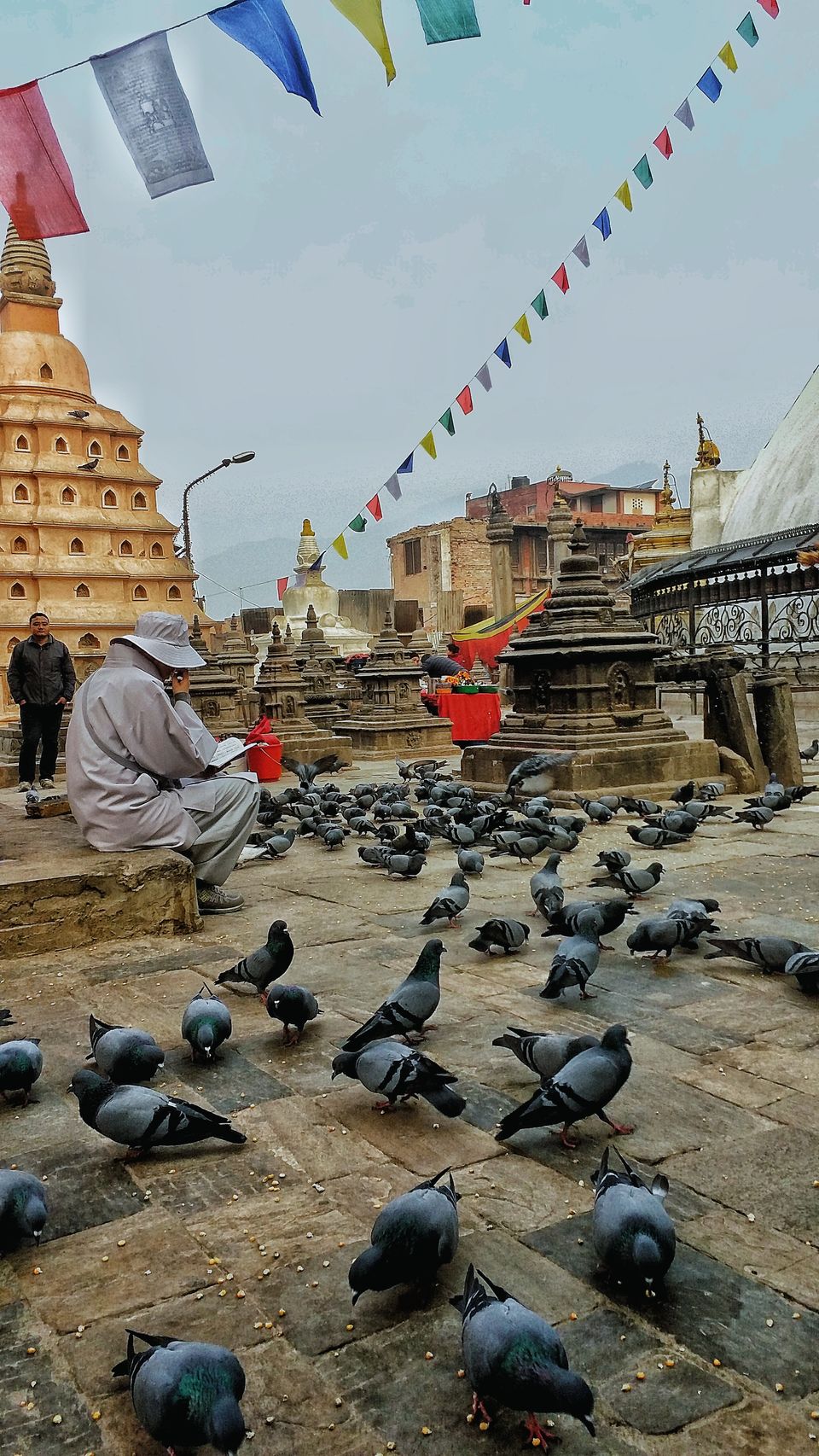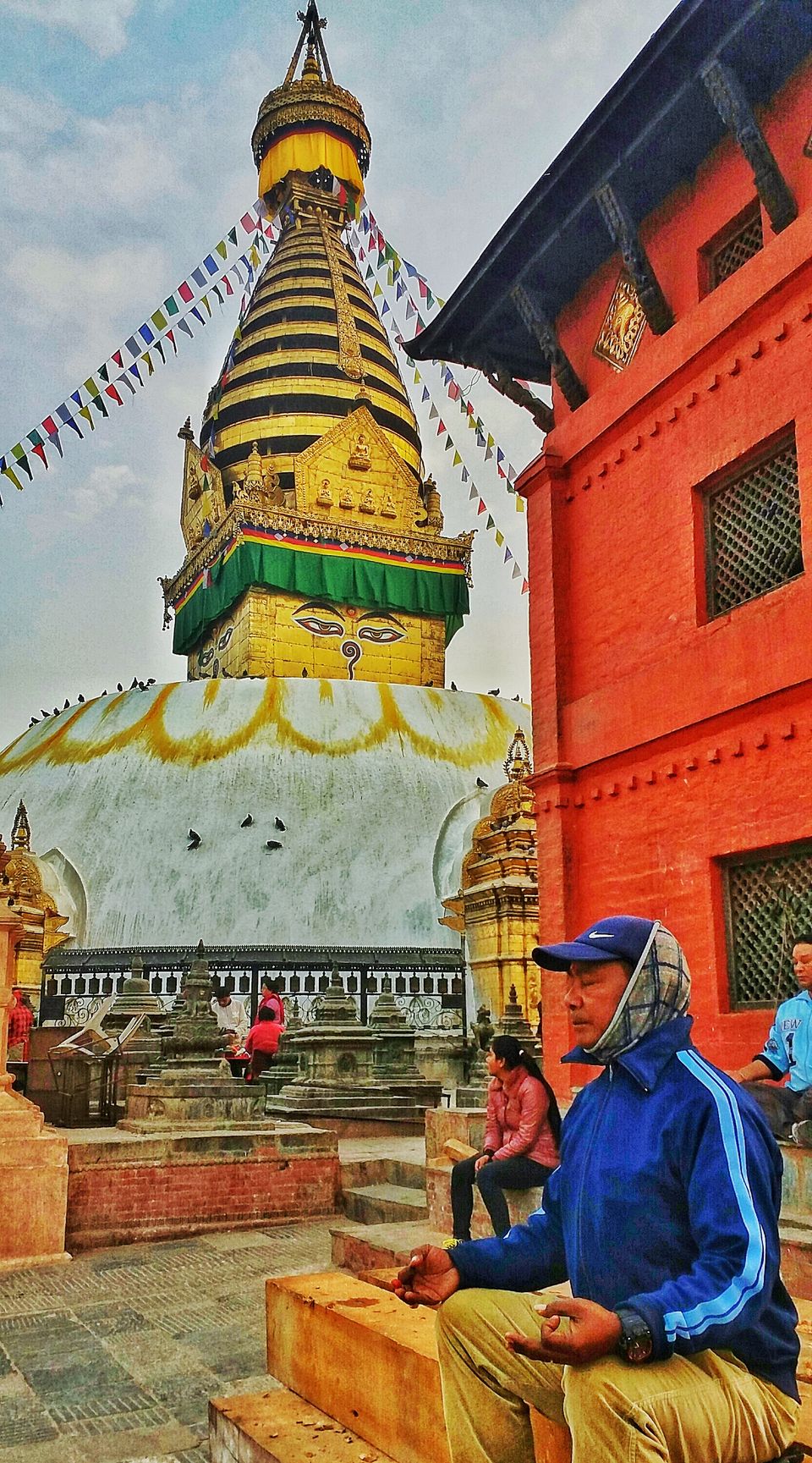 Swayambhu is a huge hemisphere painted white, which symbolizes the earth on top of that a Cubical structure painted budha eyes and nose watching every thing and the third eye on top of that thirteen pinnacle implies 13 stage of practice to perform to achieve mokhsha as Buddha believe there are seven around mainstupah.
Spiritual practice close to stupa bring strange result. Places around stupa filled with chaityas, temples,prayer wheel and necessary religious objects.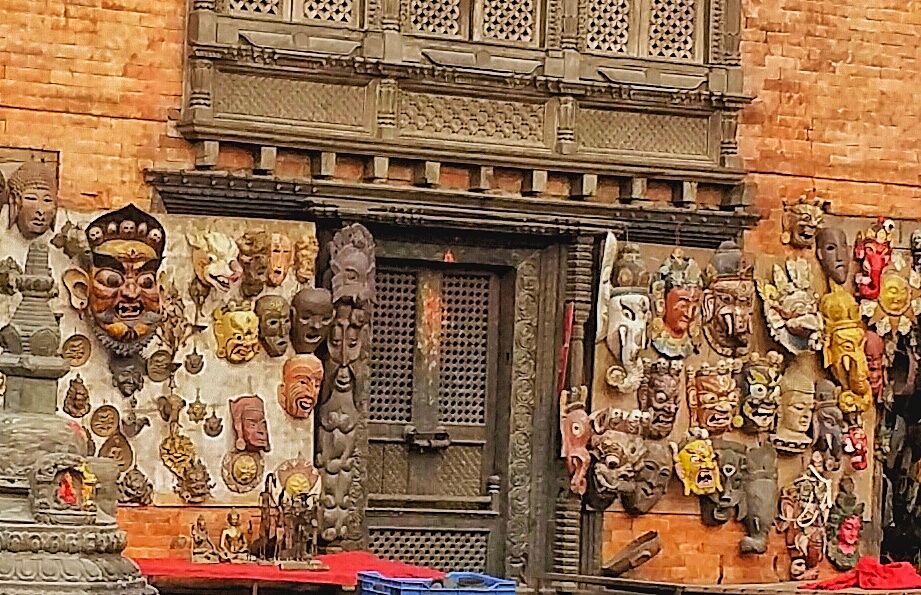 From main stupah, few stairs down is Manjusree's temple, who is the founder of the Kathmandu valley. It is said, lice from long hair of manjusree are converted into present monkeys of that area . This area is less crowded and felt best place to sit and enjoy the greatness of the place.
Tantrik temple 8th century santipur stupa was closed for maintenance. An underground chamber for practicing tantra was closed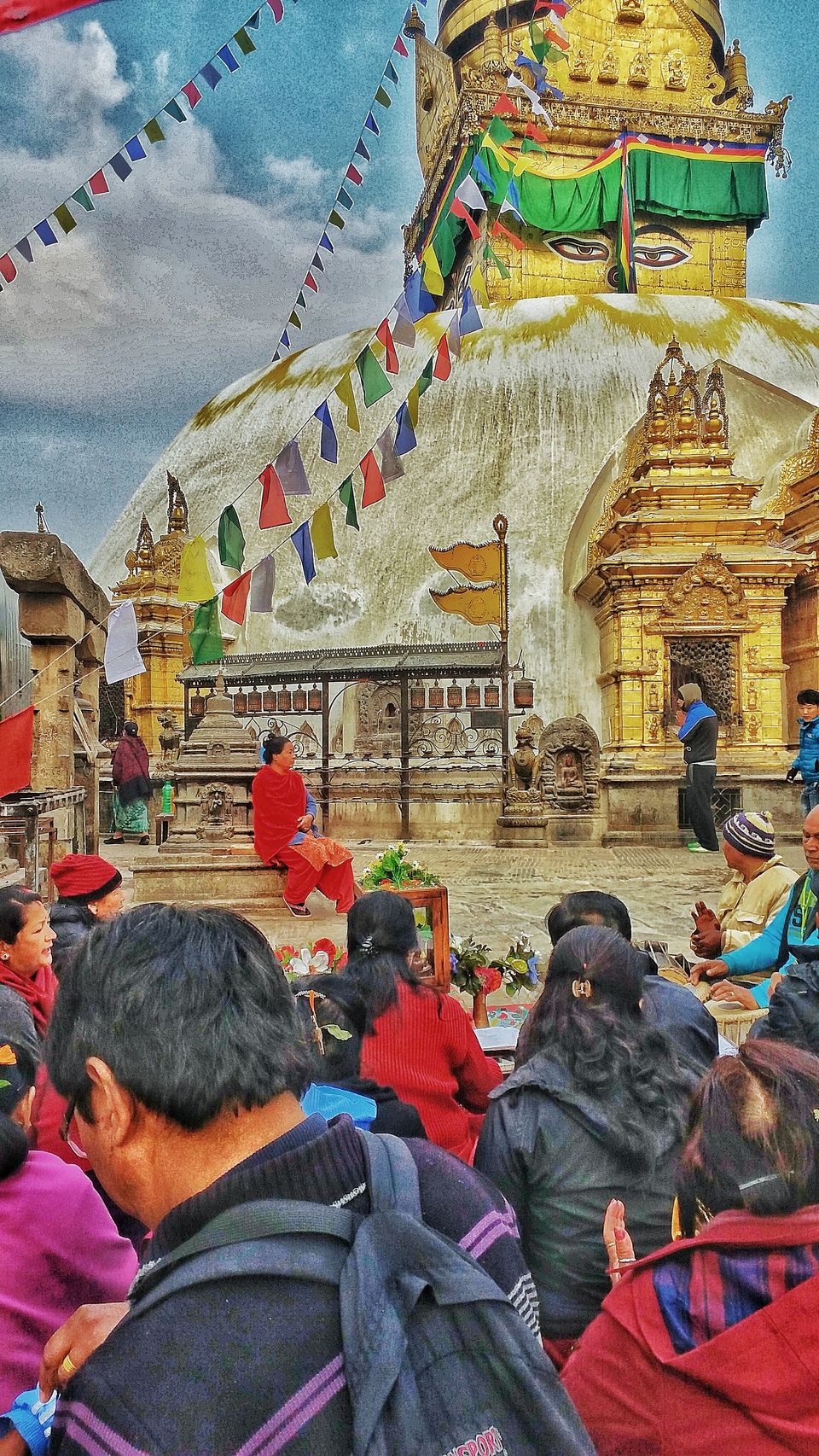 A world peace center was also located in between Manjusree Temple and Swayambhu Nath Stupah. Visitors throwing coins to test their luck. Both Hindu and Buddha devotees are meditating and praying and practicing pranayama around this place.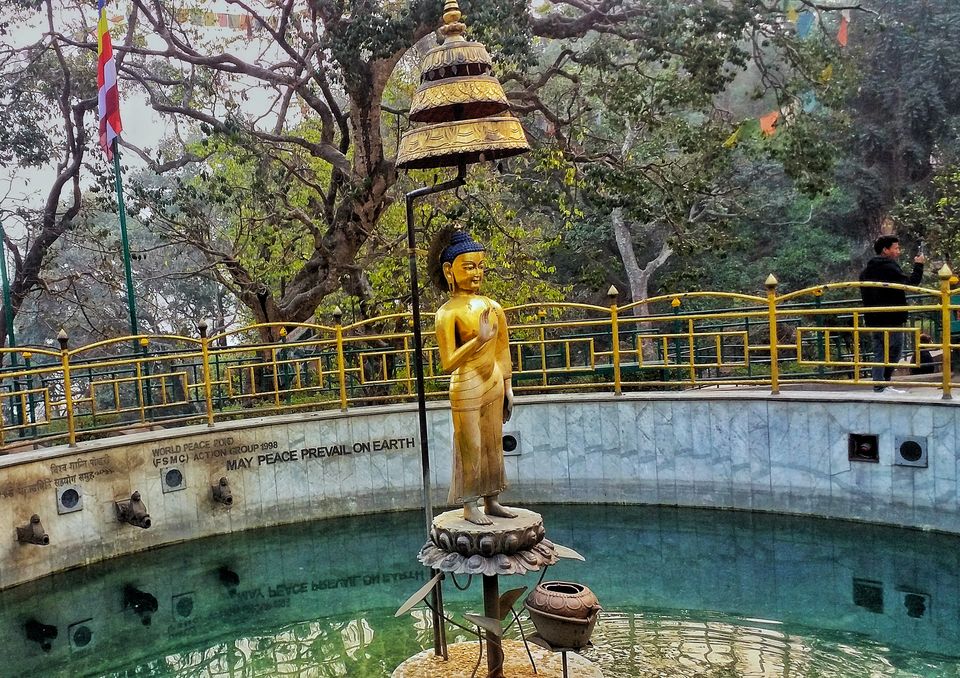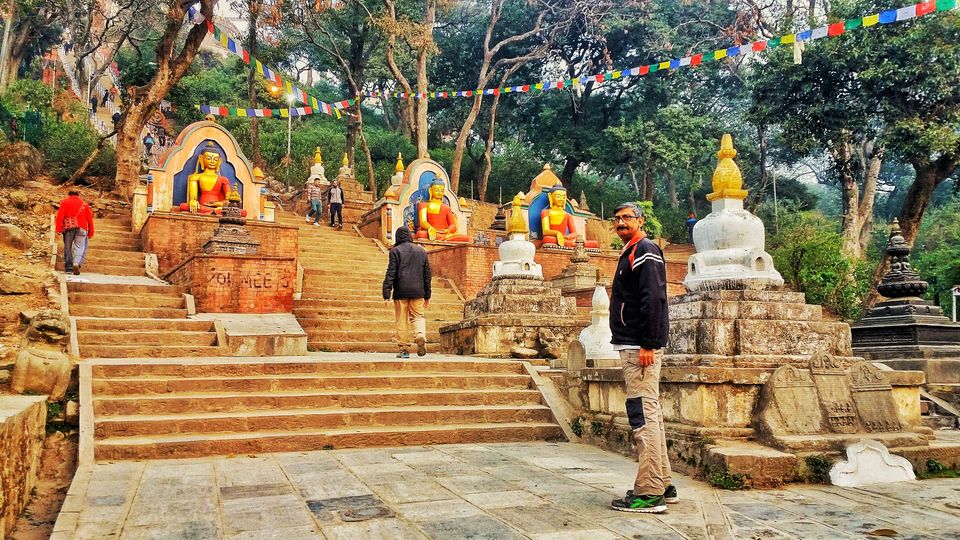 just visited this place as a morning walker but returned back to hotel with a feeling of proud citizen as a part of this reach harmony culture which we are practicing for centuries.