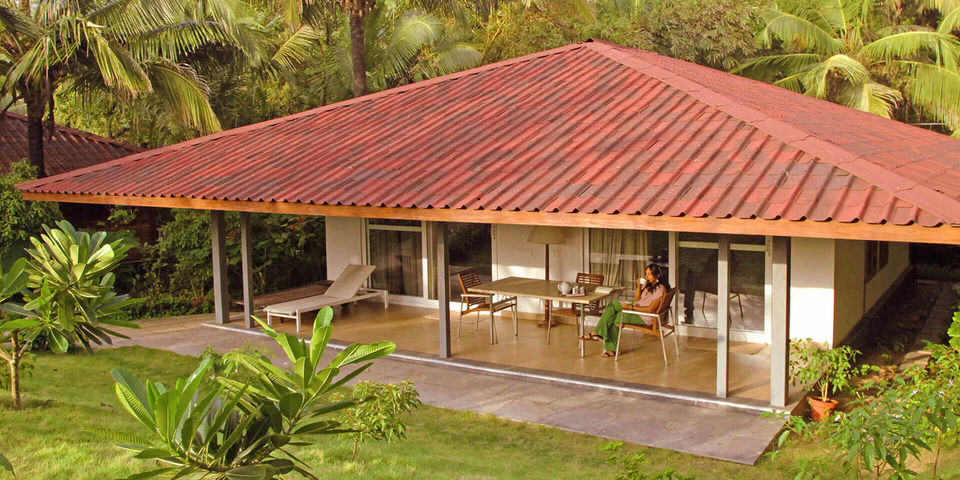 Candolim Beach in North Goa has a laid back secret that every beach lover must stay at! A luxurious getaway with a private pool and the entire villa just for you and your friends or family is perfect for this festive season. Owned by Indian entrepreneur Ajai Lakhanpal who originally bought it as a holiday home for himself and friends back in 1983, Aashyana Lakhanpal is just behind the busy village of Candolim, enter a slice of contemporary western chic.
Tucked in four acres of tropical garden with direct access to Candolim Beach, this set of modern villas, cottages and casinhas is in the perfect location for both fun and quiet seekers. In fact once you enter this property you will sense an ethereal peace.
Contemporary western chic in Candolim
Aashyana means 'nest', and once you arrive you won't want to leave. And with 19 staff for the main villa alone, including 2 on-site masseurs, there is little need to.
Designed by French architects Arvind and Nita d'Souza, the villa is a slice of contemporary western chic. If you are in a big family you can stay at the three casinhas (cottages) or the Virgo and Capricorn Cottages. For larger groups of friends or small occasions the villas are a perfect choice which sleeps six in three double bedrooms. And if you are a couple I suggest booking the beachside cottage.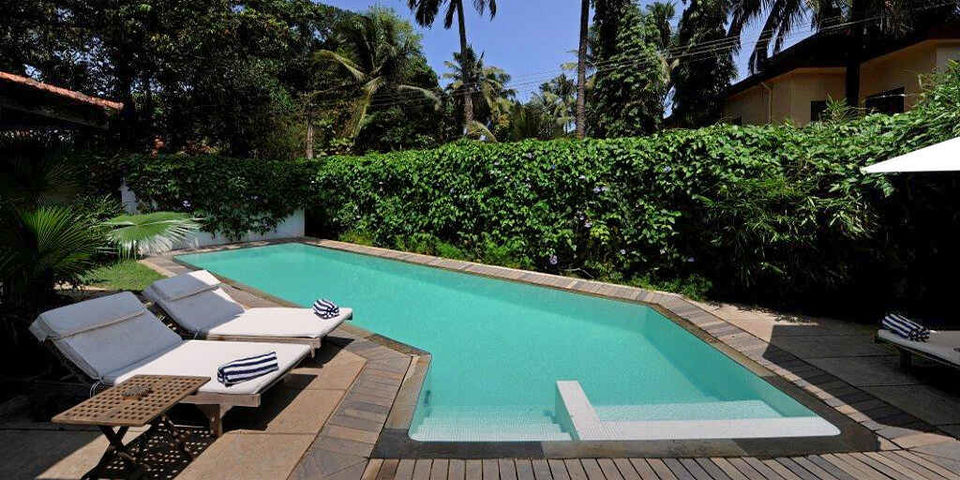 Chill in the swimming pools with one for the main Aashayana Villa guests and other one for the beach cottages and casinhas. Stroll through the huge tropical gardens to the pool, or slip onto bustling Candolim beach and watch the sun go down.
For all you Goan food lovers, the chef makes delicious Goan cuisine from local produce. Sit in the veranda surrounded by palm trees and enjoy a meal with a chilled beer.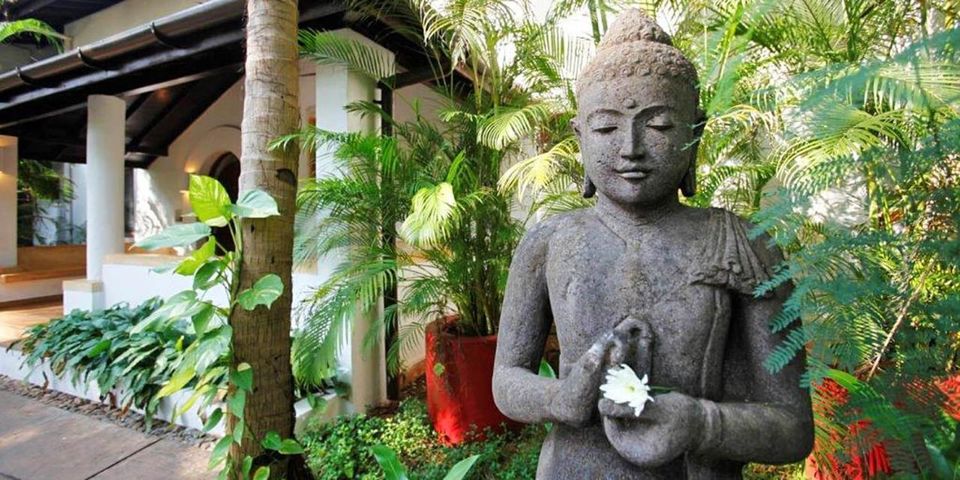 For those who want to escape to Goa to spend some meaningful time, there is a meditation room and a nightly incense-burning ceremony in the garden giving the place a spiritual feeling.
Relax and unwind
All the villas and cottages are full of wonderful open spaces yet offer a sense of privacy. With lots of verandas, open-air showers and airy bedrooms with ample of natural light, its a gentle reminder from Aashyana Lakhanpal to let go of your worries.
Walk down to the beach through the dreamy tropical garden, filled with coconut palms and cashew, lime and guava trees. You won't have to go far away to watch the sunsets, rather just take a walk with your glass of wine and cheers to each other only a few steps away.
Explore Candolim on foot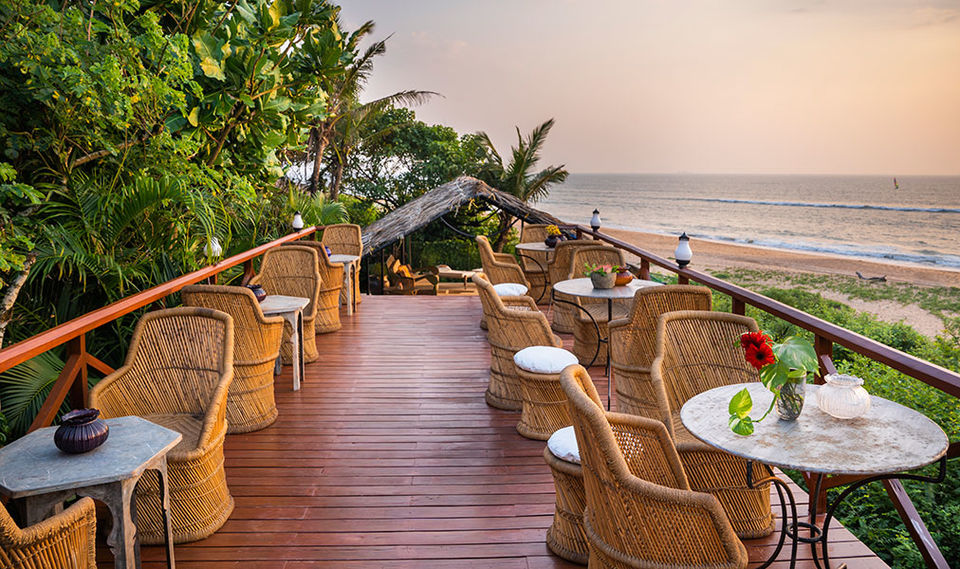 A private gate will take you straight to the bustling Candolim Beach. So you won't lack any options to eat, drink and chill. Whether you wish to unwind in the property itself facing the beach as the sun goes down or take a dip in the evenings, you will be spoilt for chances.
In the day time have a go at one of the water sports - jet-skiing, parasailing and banana boat. The best part is the massages from the on-site masseuses in the property Spa massage room. Relax as the soft breeze accompanied by a soothing treatment.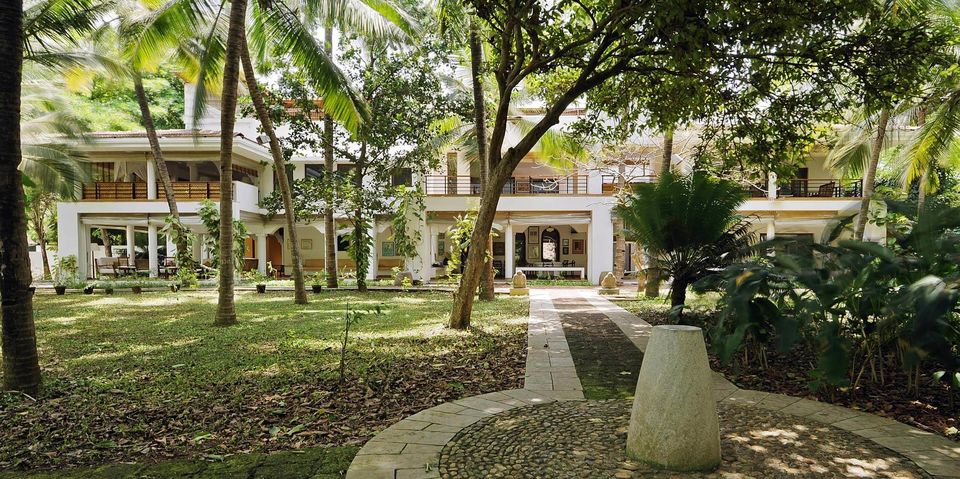 Step out of the villa to explore Old Goa, the backstreets of Fontainhas, the old quarter of the capital Panjim, where the Portuguese influence on Goa remains evident.
In fact, known for destination weddings you can even hire out the whole property! There can't be a better intimate venue with beach views, private verandas and lush tropics.
A Hidden Gem - Location
With Candolim Beach right at your step, all you can hear is the sounds of the chaotic chirping of birds and an occasional motor revving in the far distance. But if you are worried about the traffic noise, its not going to bother you at all! All you can hear is the crashing waves and the rustling of the trees.
Address: Escrivao Vaddo, Candolim, Goa 403515, India
Booking Details
So what's is stopping you booking this beautiful villa hidden in the tropics right on the beach? Perfect for couples, families or group of friends, everyone can enjoy a piece of this heaven. Due to its popular location, the villas are usually booked out, reach out to the below details for prompt booking.
Price: INR 13,169/-
Phone: +91 832 248 9225
For more information visit www.aashyanalakhanpal.com or contact them on contact@aashyanalakhanpal.com
Check out my other articles on Goa before planning your trip below
1. Bookmark These 10 Luxury Villas in Goa Made for Groups That Come with a Pool!
2. Stay, Eat and Relax with Your Pet in Goa at Amprapali House of Grace
3. 10 Romantic Waterfront Restaurants And Cafes in Goa That Will Make You Go WOW!
Ready to travel for free? Earn credits and redeem them on Tripoto's weekend getaways, hotel stays and vacation packages after the pandemic is over!