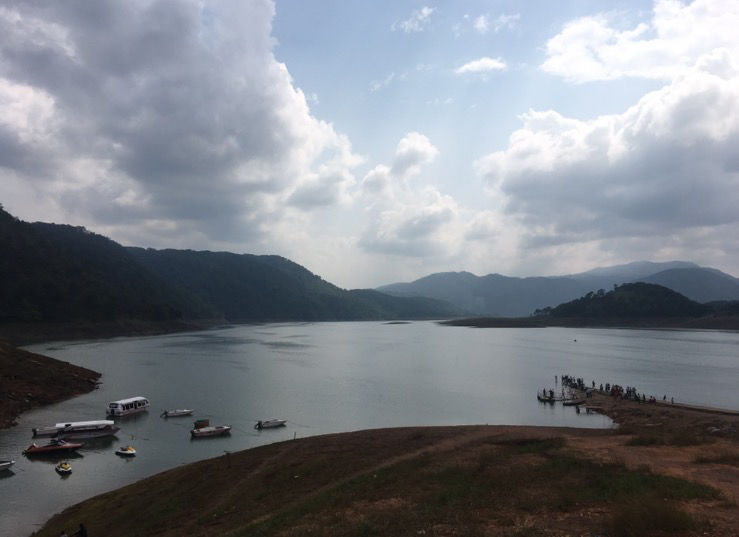 Meghalaya is one of the seven sister states of North-East India. The word 'Meghalaya' in Sanskrit means Abode of clouds. The most famous tourist destinations in Meghalaya are Shillong and Cherrapunjee. Shillong is the capital of the state and the largest city.
Reaching Meghalaya :
By AIR : (1) Shillong Airport.
(2) Guwahati Airport – 100 kms from Shillong.
By RAIL : The nearest railway station is Guwahati,which is well connected to the rest of the world.
Shillong the capital of Meghalaya is known as the "Scotland of the East" due to its similarity with Scottish highlands. It is a beautiful hill station, surrounded by the Khasi Hills.
Best Time to Visit Shillong : September to May. But during monsoons you can enjoy the lush green valleys and the breathtaking views of waterfalls.
Best Places to visit in Shillong :
1) UMIAM LAKE : Umiam Lake also known as Barapani Lake is a major tourist attraction in Shillong.The beautiful lake has boating facilities.
2)CATHEDRAL OF MARY HELP OF CHRISTIANS : Also known as Cathedral Catholic Church is a beautiful shrine located in the heart of Shillong.Visiting Time : 7 AM to 6.30 PM.
3)WARDS LAKE : Wards Lake is one of the major tourist attraction in Shillong. This lake is an artificial lake and also has a well-maintained Botanical Garden.
4)SHILLONG PEAK : Being the highest point in Shillong,it offers stunning views of lush green hills and cascading waterfalls. Shillong view point is an area under the control of Indian Airforce and offers a bird's eye view of the city. One can also get pictures clicked in Traditional Khasi attire at Shillong view point. Visiting Time : 9 AM to 3.30 PM.
5) ELEPHANT FALLS : This is a must visit place in Shillong. This is a Three step waterfall as water falls in three steps.
6)DON BOSCO MUSEUM : In this museum you can experience the entire North-East India under one roof. This museum is a major tourist spot providing a glimpse of the rich and multi-cultural lifestyles of the indigenous people of North-East India. The museum has 7 floors with well maintained galleries,each floor dedicated to a different seven sister state. This museum is a treasure trove of information for those who are interested in culture and information. The topmost floor has a Sky-walk which offers a panoramic view of Shillong.
Shopping in Shillong :
Police Bazaar is the perfect place for shopping. It has malls and a variety of stand-alone shops. Police Bazaar is the shopping hub of Shillong. There are a number of hotels and restaurants in this part of the city. One can also hire shared taxis for local sightseeing from Police Bazaar.
In November 2017 Shillong celebrated the International Cherry Blossom festival. Shillong is a beautiful hill-station, the cascading waterfalls, the Khasi hills, the lakes are a treat to the eyes of the travelers. In winters the pink cherry blossom guzzles the town and it is a sight to behold.All the major tourist attractions of Shillong can be covered in 2-3 days. One can visit Cherrapunjee along with Shillong.
For more Travel stories follow my blog :
www.wanderwithsakshi.wordpress.com