I generally dont write about flight reviews but then I believe as a budget traveller getting a good, affordable and comfortable flight is what we all look at and trust me all apprehensions were laid to rest during my recent travel to Spain.
I booked a one way ticket to Madrid from New Delhi via Moscow through Aeroflot Flight Num SU-235 and SU-2500. As ill luck could have it the flight was delayed due to air space closure and it finally announced to take off at 03:00 AM instead of 01:20 AM as scheduled. This was completely operational delay and there were other airlines who cancelled their flights. So when I started the Check-In procedure the representatives of Aeroflot at New Delhi airport I found lacked basic knowledge as the girl sitting behind the desk refused to issue me the boarding pass stating that I have a return ticket via a separate airline and it was not as per their policy. Me and my travel partner after long hours of waiting were literally frustrated and demanded to ask to see the seniors as this was not the first time we were having Schengen visa. The matter was later solved when we moved to the next counter and the girl sitting behind it issued us our boarding passes without any questions. So this was a proof that the former representative were not aware of the protocols.
The flight took off smoothly and my first view was that it was quite spacious like any International Airline. The behaviour of the Staff and attendants inside the Aircraft were quite cordial and catered to our needs and comfort. However the display screen were not functioning properly and we had to repeatedly press it. But the food provided were simply good and one of the best airline food I had. Since the flight had to extend its route due to the ongoing airspace problem we were also provided with warm breakfast. There was brushing kits available in the Toilets which was another important point I liked. Overall the flight to Moscow was quite comfortable.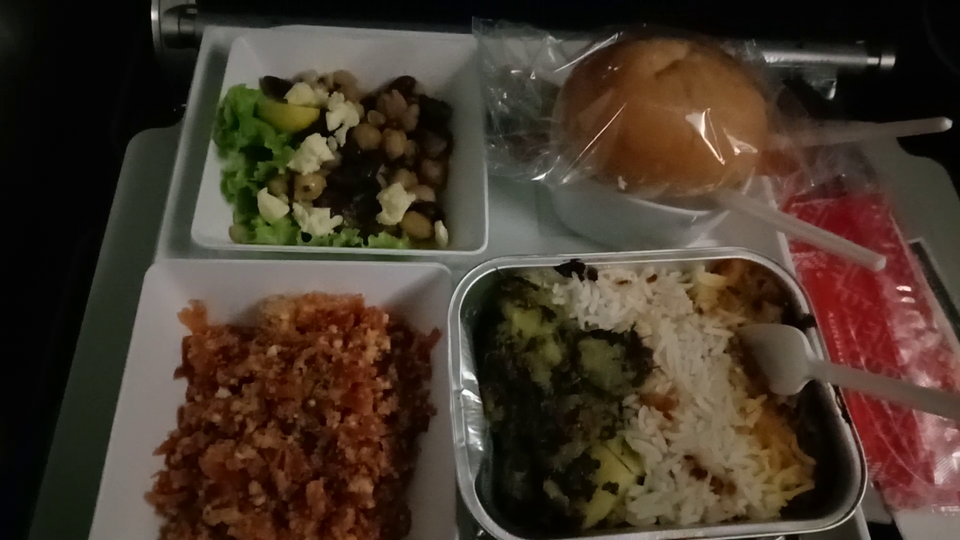 Since our flight was delayed from New Delhi we missed our connecting flight to Madrid and were rescheduled in the evening flight to Madrid. So we had good six hours in our hand. We approached the ground staff in Moscow stating our problem and they provided us nearly 2000 rubles worth of Food vouchers which we could use in any of the food counters. Ahem! I was touched. The food available was quite good tasty and cheap and more than enough for a single passenger. Another incident I would like to share is that since our phones were not working and the Wi-Fi in Moscow needed a password or a local number so we again approached a staff of Aeroflot and in spite of the language problem she understood and gave her password to access the Wi-Fi. This entire episode really touched me and showed the dedication of the Staff of Aeroflot to cater to each customer in the Airport.
The flight from Moscow took off as scheduled to Madrid but the aircraft was a bit smaller than the previous one. However the service and food were as excellent as provided previously. The landing was also smooth and yes we all passengers clapped for the Pilot who landed us safely. This is something that I learnt that how a small initiative can go a long way in appreciating the effort of every person and its service. After all isn't it that our lives are in the hands of the person who is driving the flight. But we rarely appreciate their efforts.
So in the end yes I have a big thumbs up to Aeroflot and I would like to fly them again. Infact their service and behaviour has just made me add Russia to my bucket list of Travels.
Cheap and affordable Food is awesome and filling Staff is courteous.
I believe the staff at New Delhi were representatives, I just hope they can be better trained to know the rules and regulations so that passengers don't have to wait and face harassment.
You can check my Youtube video about the flight
https://youtu.be/s9fXjUXiWEQ