These days Bali is  trending destination for newly weds and couples. Travelling with infant is never easy and so we choose Bali as our next holiday destination because we just wanted to have a relaxing holiday that would include luxurious villas and beautiful beaches.
Flights from India to Bali are not direct and this is the reason they are costly. I planned my trip 3 months in advance and we got tickets in 28000 per person (to and fro). I wanted to experience everything in Bali so I planned my trip very strategically. A well planned luxurious trip to Bali will cost around 50K including meals, stay, airfare, sighseeing and activities on twin sharing basis.
Its better to get money exchanged from India in US dollars. Indian rupee conversion rate is high in Bali. Get your money converted at airport.
The moment we landed at airport we could see beautifully decorated traditional gates and some of the statues dressed in Bali style with masks as a warm welcome gesture. However, the foreign feeling was still missing at the airport. Since our hotels and cabs were pre booked we didn't faced any problem in commuting.
 Our first destination was Seminyak. Our cab driver Mr. Ram was already there. He was an interesting guy and our tour guide as well. One thing that fascinated us was their major religion was Hinduism and 90%of population smoke there starting from school. On reaching our destination we quickly headed to our Villa. We booked: KUBAL villa which costed us around 6200 per night.
Travel tip: If you are in big group you can book villas from AirBnb to save money.
On reaching our private pool villa we were mesmerized by the place, facilities and hospitality. Backed up with all modern amenities it was perfect place to begin our luxurious holiday with.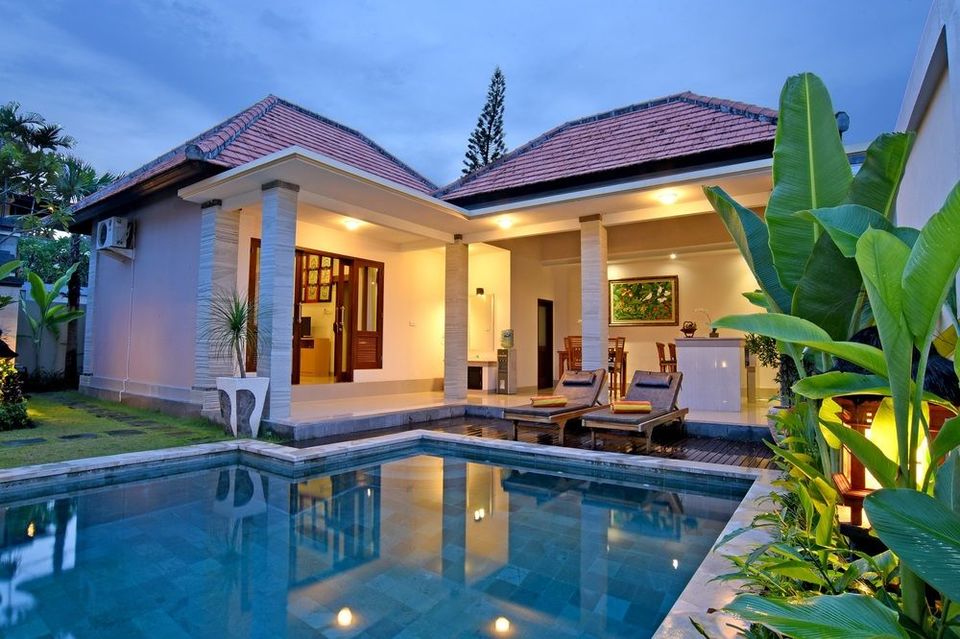 Since we wanted to have relaxing holiday, we begin our day with early morning sunrise in Batu Beling Beach which was just one minute walking distance from our villa. It was nice isolated beach with fewer crowds. After having fun at beach we decided to have traditional Balinese massage which is specialty of Bali and a must do (included in our stay). It was amazing experience and we wanted to have more. 
After lazy morning and heavy breakfast we headed to Tanah Lot Temple. Only negative about Bali is that there is huge traffic jam due to narrow roads. Lot of time is wasted in travelling from one place to another. Marked as sea temple, tanah lot offers spectacular views of sea in the evening. Nearby is a small market that offers various balinese cuisines and dresses to pick from. After clicking beautiful pictures and viewing sunset we headed to our next stop Bali Hai Cruise.
Travel tip: If you want to go shopping then remember bargaining is allowed in Bali.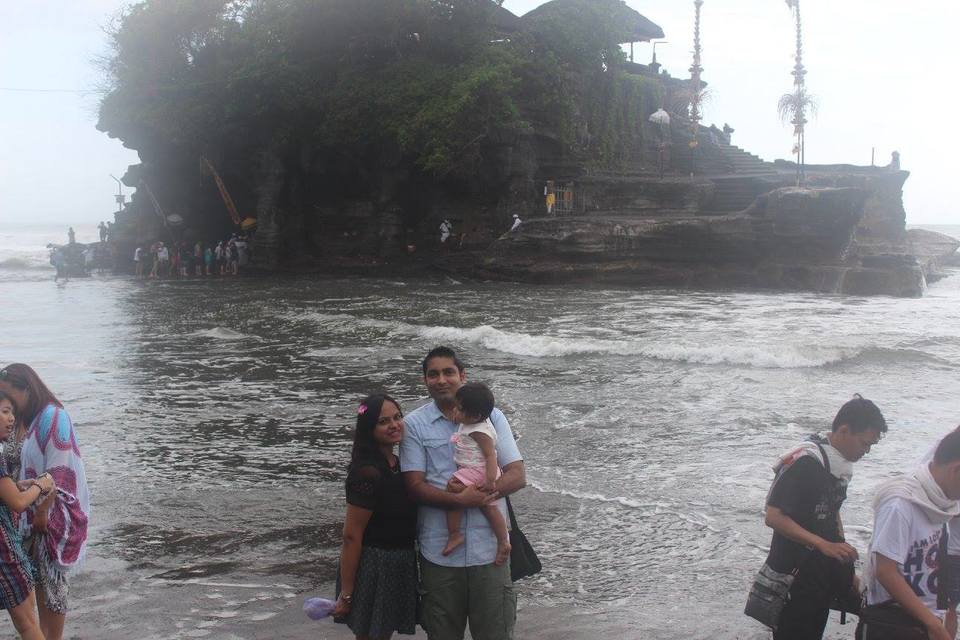 Travel Tip: If you are good at driving you can hire a bike or car for complete trip. If you are hiring a car for a day with driver that will cost around 2500 per day.
We were dropped to landing port of Bali Hai cruise at Benoa Harbour from where we embarked our 2.5 hour evening dinner cruise journey. It was fun to be part of this cruise where they offered cabaret shows followed by tasty Indian dinner and DJ. Fun part was to listen Hindi Himesh Reshamiya songs along with Indian food. We could see so many Indians on the cruise. Our cruise ended at 8pm and then we dropped back to our villa.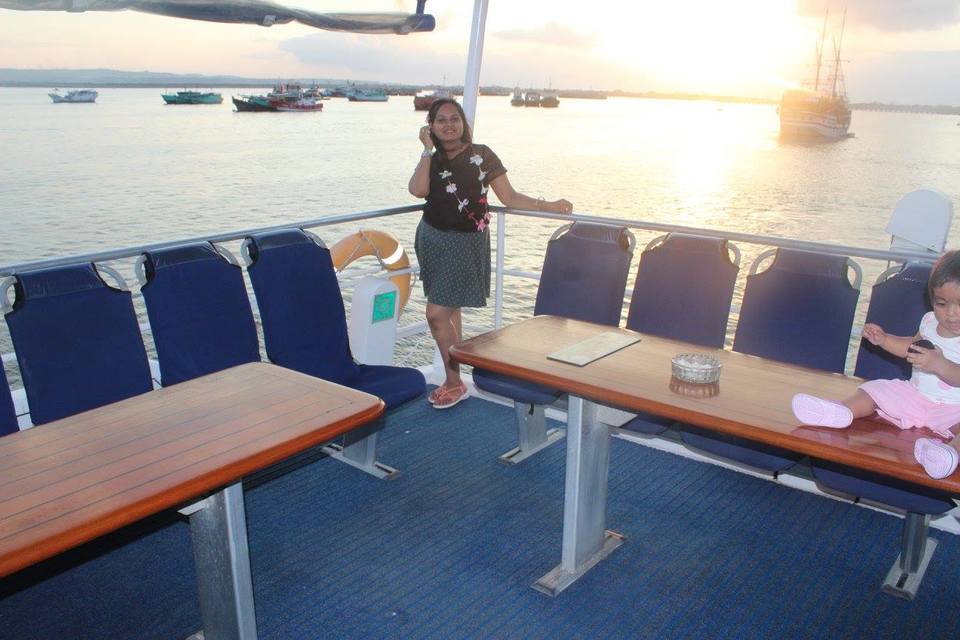 Day 3: Bali Safari and Marine Park
It was time to say goodbye to our beautiful villa in Seminyak and move towards our next home Mara River Safari Lodge. On the way we covered Uluwatu temple. Rested on a high cliff this temple offers beautiful views. However it was something that we could have skipped easily. Next we went to Pandava beach. Situated right on the southern end of Bali this is a beautiful beach with clear blue waters and statues of five pandavas. If you want to do parasailing then this is the place to be. Since we were running late we missed the parasailing part but we enjoyed a lot at beach.
Travel tip: If you want to save money on food then instead of eating in restaurants try local vendors. In bali there is no service charge therefore do not forget to give tip.
Finally we reached Mara River Safari Lodge. This was highlight of my trip.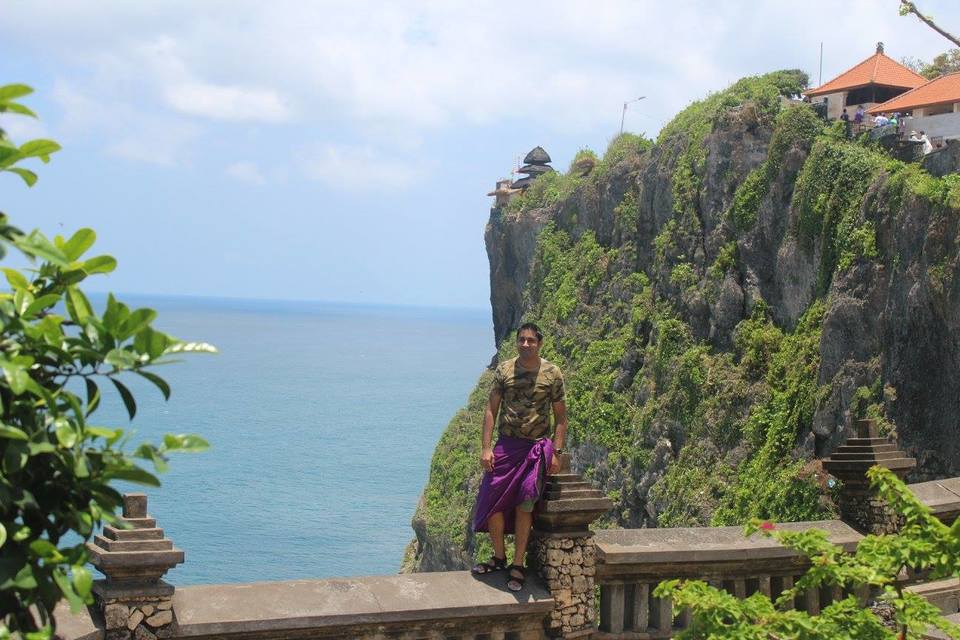 The moment we entered this place we got the feeling of entering South Africa jungle. We were transferred to our room in a tram overlooking various animals on the way. From our room we got the clear view of Ostrich, Zebra and Rhino. We even feed them with carrots. One thing that is must do here is night safari and dinner with Lions. We were locked in cage and from there we were taken to interact with tigers, lions, elephants, zebras and different animals. It was a great experience followed by traditional Kecak fire dance performance.
Day 4: Ubud
Mara river safari lodge has so much to do and see. They organized various animal shows for guests that are worth watching. It was time to say goodbye to this place move towards our last destination Ubud. On the way we went to Mt. Batur and Kintamini volcano. It has nothing great to see except having lunch near volcano. In Ubud we stayed at Bon Nyuh Bungalows. Situated right in the middle of paddy fields we had a beautiful village stay here. Bungalows were large with pool. Owner was extra caring and very friendly. He took extra efforts and took us to ubud market in his own car. Ubud market is beautifully crafted though a bit small. After our dinner we went back to our bungalow for some drinks.
Day 5: Back to India
It was our last day in Bali so we decided to have Balinese massage one more time. Since airport was far from Ubud and due to heavy traffic jams we were advised to leave early after having delicious breakfast. Our owner dropped us to Airport. We loved Balinese hospitality. Our beautiful trip came to an end and we took lot of memories with us to cherish.