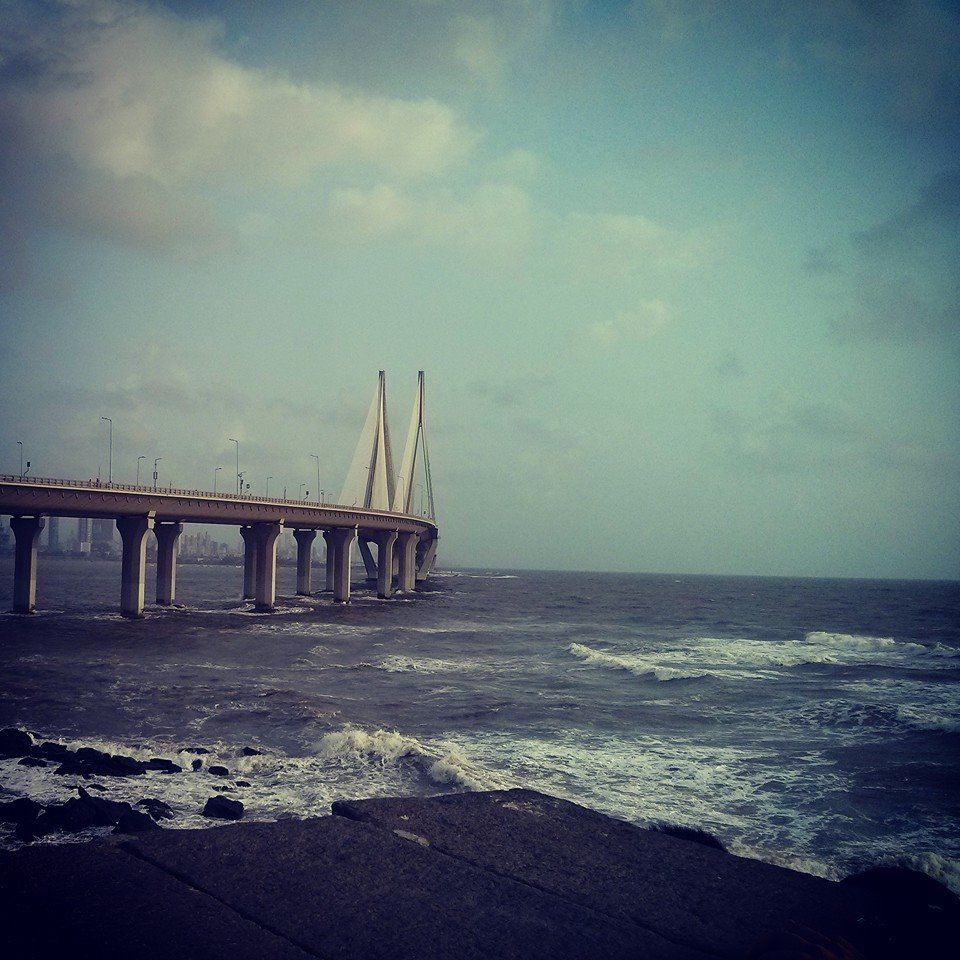 The Bandra Bandstand welcomes all - the couple canoodling on the rocks in the ocean, the jogger in flourescent shorts with earphones covering his entire face, the loud aunties digging into their 'bhuttas', the shutterbugs discussing camera contrasts and angles, the tourist trying to blend in.
The Bandstand got its name from the old culture of bands performing outdoors. There's an amphitheater overlooking the sparkling sea, a fort that provides a majestic view of the Bandra-Worli sea link, and then there is the recenty added 'Walk of the Stars', a 500 m stretch dotted with statues and palm prints of Bollywood actors.
Mumbai
has at least three promenades and like all the others, this walkway also witnesses a steady stream of people at all times. Bandstand is also home to some of the more popular actors, including Shahrukh 'King' Khan and the 'Dabbang' Salman. There is always a bee line of fans in front of Shahrukh's palatial home 'Mannat', waiting to catch a glimpse of their favourite superstar or just to get a picture of themselves with the guard sitting outside. The scenario below Salman's apartment is a little different. His fans throng the main road while they block traffic, tune out all the yelling and dance to
'fevicol'
.
The guards manning the sea face constantly warn revellers to come back as the tides rise. The vendors on the rocks below also pack up and start business afresh on the pavements. There are children running around, selfie connoisseurs, and innumerable other sorts of people here.
Bandstand is a meeting point for everything that defines Mumbai. The stardom, the street food, the strugglers, the solitude, the 'shor'. Apart from the cool breeze calming your senses, this promenade provides you privacy even amidst the maddening crowd. You don't have to make an effort to drown the noises, the sound of the waves silences all banter.
This is a world beyond the chaos of the Mumbai locals.
This is Bombay.
On a pleasant monsoon evening, I decided to take a walk from my home in Bandra West to Bandstand. When people think of Bandra, all that comes to mind are the posh cafes and palatial houses, but a walk through the bylanes will throw some amazing surprises at you. It is a mix of history, colour, culture and people. The bylanes look like idyllic villages, with a ceratin Goan charm that stands in contrast to the hip suburb.
Bandra Fort or Castella de Aguada (Portuguese: Fort of the Waterpoint) is located at Land's End in Bandra. It was built by the Portuguese as a watchtower. Today, the Bandra Fort is the closest anyone can get to see the majestic beauty that is the Bandra-Worli Sea link.