"Some people don't like long bus rides, but I love them. There's a sort of a sense of solitude" – Sam Hunt
It was a sultry afternoon in Ambala Cantonment station, and we expected nothing different. As soon as we got down, our only concern was to reach Chandigarh Sector 43 bus stand quickly, as our bus to Dharamshala would start from this bus stand. The bus we targeted was scheduled to leave at 14.35 pm from ISBT Sec 43 and we had just about time to reach the stand. Even a minor delay can make us miss the bus.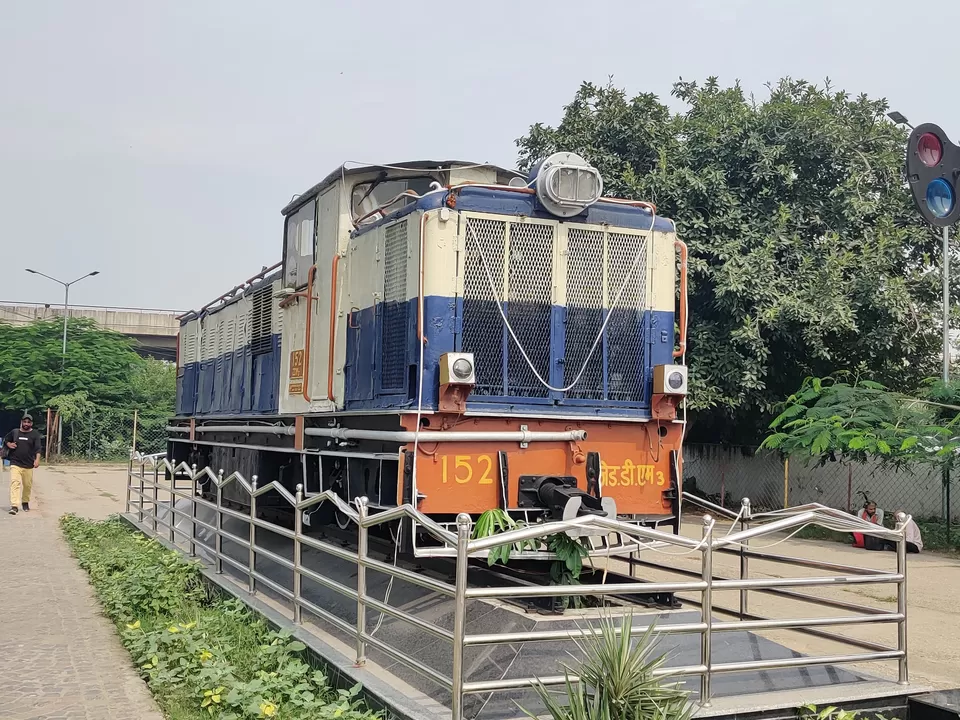 To reach Sector 43 ISBT from Chandigarh, we hurried out of the station and thankfully, Ambala bus stand was just the other side of the highway. Before we could cross the road, we saw countless autos and cabs approached us, but we marched ahead, only to see a Haryana Roadways bus bound to Chandigarh approaching. We hopped in it with all our heavy luggage. Unfortunately, the bus wouldn't go via Sector 43 ISBT and instead would drop us at a place called Kisan Chowk. From this point, autos would take us to ISBT Sec 43, which would barely take 5 minutes to reach. The distance was nearly 55km overall from our point and the bus would take slightly more than an hour.
The roads in this region are an absolute belter in terms of smoothness. Driving in such wonderful roads wouldn't be a problem and even 55km travel in a local bus didn't take much time. We reached Zirakpur and were caught in a traffic mess. It wasn't that much, still enough to make us miss our connecting bus.
Chandigarh is India's first planned city and there is every reason any person visiting the city would fall for the place. With large and planned roads, the city looked spotless and beautiful. I wish to spend some more time in the city in future, whenever I visit North India
We got down at Kisan Chowk, when the clock read 14.34 pm. We just had about a minute to reach ISBT and we were certain to miss the bus. Eventually, we felt having the sole option of taking a Himachal Roadways Himsuta Volvo at 15.35pm to reach Dharamshala. Although we both are big fans of Volvo, we thought of taking a ride in the local government bus to have the experience of the roads up closer..
We reached ISBT and straight up searched for our bay. A person instructed our bay and we saw no signs of Himachal Roadways bus, which probably left on time. Instead, we saw a Punjab Roadways bus from Nangal Depot, bound to Dharamshala via Nangal, Kangra.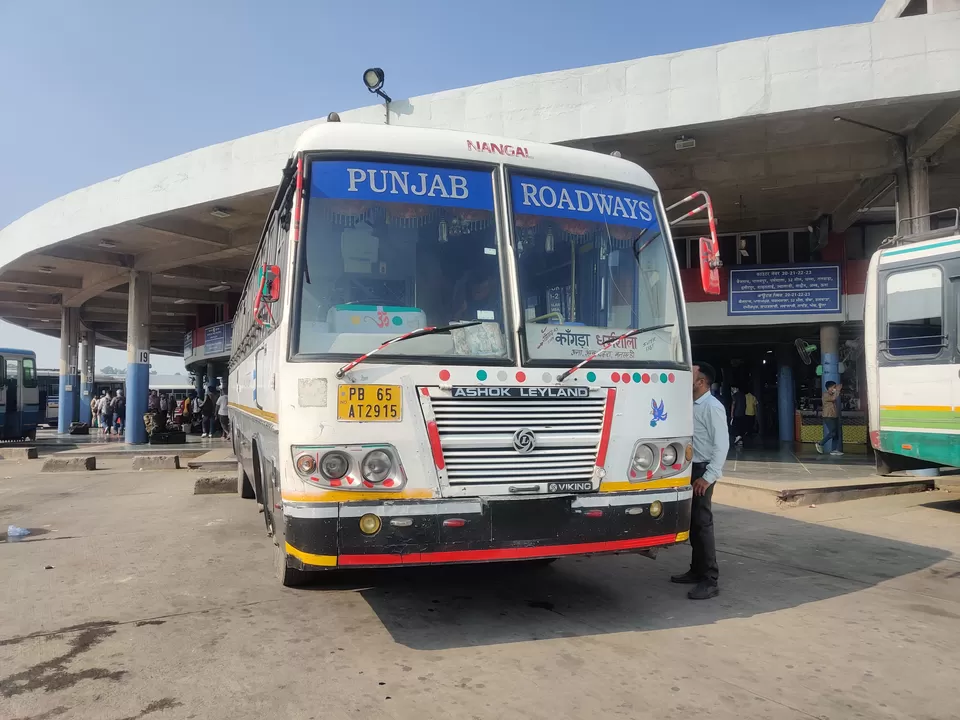 We got our tickets, which cost us 425 bucks per head to our destination. We hopped in and stuffed our bags on the shelf rack. The bus departure time was 15.10pm. We had good 30 minutes to spare and a breathing space to purchase food.
We both were hungry and undeniably thirsty too! We bought some patties and some dry food alongside. I went to the ATM and withdrew some cash.
ISBT Sector 43 is a bus spotting haven in the truest sense. It was massive in size and Volvo to Scania to Mercedes Benz buses was all lined up for different destinations. After some bus spotting and calling our homes, we hopped in our bus to commence our journey to Mcleodganj.
We started about 5 minutes behind the schedule and the driver steered towards Mohali and then towards Kharar in Punjab. The roads up to this point were broad and looked like a paradise for riders and drivers. As many of my North Indian friends have told me in the past, this was truly applicable every word in terms of the roads.
We crossed Rupnagar and marched straight towards the Holy town of Anandpur Sahib. Our eyes were glued to the roads and we couldn't contain our excitement of going to Himachal Pradesh.
We crossed the famous town of Nangal, known for having the popular Bakhra Nangal Dam over river Sutlej. After a while, we saw an SMS on our inbox, saying Jio welcomes you to Himachal Pradesh.
We entered the first beautiful town of Una and the bus entered one of the most beautiful bus stands I've ever seen, the ISBT of Una. It was extremely well maintained and saw local HRTC buses to different destinations across Himachal Pradesh and Punjab. After a brief halt for 3 minutes, we left towards Amb. As soon as we crossed the town, the Volvo to Dhramshala, which we supposedly planned to take overtook us, while some passengers were getting down at some place.
What unfolded then was even more interesting. We cruised behind the Volvo and saw the Volvo entering a bio halt. We overtook it and about a few km ahead, we entered a Dhaba for break.
We got down from the bus and started to feel the temperature dip. I was in my t-shirt and a half pant, two things I prefer while traveling.
We had a cup of Hot Coffee and some biscuits at the halt and expected the Volvo to thrash us anytime soon. There was no sign of any overtake. The time was 18.45pm and we still had more than 3-hours to cover.
I called up Moustache Mcleodganj around this time, and enquired about the dinner they served that night. The dinner available that night was Dal, Rice, Roti and Aloo Subji. The plate cost 120 Rupees. We confirmed two plates of the food then and there and enquired the directions to the hostel.
We started ahead and still there was no sign of the Volvo. We started our journey towards Dharamshala and were cruising at a decent speed. The roads up till this point were in good shape. We noticed ascending from the point and the curvy-hilly roads affirmed the point.
We spotted some notable bus crossings enroute. Saw all the Volvos, running on Dharamshala Delhi routes, including Bedi Travels, Ram Dalal Holidays and Laxmi Holidays to name a few. The hilly town enroute looked majestic in the dark and this was a sight to witness.
We reached Kangra at around 9.05 pm. At this point, there were barely 12 passengers in the bus and most of them would get down in the upcoming two stops. The conductor confirmed our destinations and only 5 of the passengers would be getting down at Dharamshala bus stand.
Kangra was quite lively at this time of the day as well. There was a small crowd around the bus stand and the market area.
Our bus raced towards Dharamshala and we were finally approaching our destination. It was beautiful in the first impression and we were excited crossing the town fringes. We reached the ISBT at 21.50pm.
The ISBT barely has two more buses coming from Kangra side and the whole area was desolate. Only a few cabbies were around and we approached one of them.
He charged us 500 Rupees from this point to Bhagsunag Parking, about a few hundred meters from our hostel. Cars cannot travel till Upper Bhagsu (our hostel location), since the roads were under some repair works.
The road towards Mcleodganj from Dharamshala is steep and would take some 20-25 minutes at most. As we neared the town center, we were taken by sheer surprise!
It was vibrant and there were people all around the town. It looked like a busy evening and streets had a Tibetan vibes. There were café and restos open, with travelers all around the main square. It felt we got down at 6pm in the evening!
We reached Bhagsu at around 22.20pm and saw a giant screen operated with a projector. An IPL match was on course and crowd in good numbers were watching.
Both of us were feeling cold right from Dharamshala, and at this point, it felt colder. The next task was to climb a steep road to our hostel! With heavy luggage on our back, we had to search the exact location.
I called up the hostel and they would someone to show us the way. The person asked us to come and stand near Chilly Beans Café, which was on the other foot with our hostel.
The road was undergoing piping work and it was excavated deep. A narrow plank connected our hostel with the road. I saw a man with long hair waving at us from the hostel side. His name is Mohit and he is part of the Moustache Mcleodganj property.
We crossed the plank and Mohit assisted us with carrying the heavier bags to the other side. Finally, we it felt we were at home!
Moustache Mcleodganj is a class apart! This is not an endorsement, but the factual experience of staying at a wonderful property. From the first minute itself, we felt very comfortable and it felt we have been here for many months.
As soon as you enter, on your right is the 8-bedded dormitory with an attached bathroom. Straight ahead of this room is the main common area with the reception and the kitchen. There are beds and tables, allowing you to sit on these and raise your leg beneath the table. There are charging points behind each one of them, allowing Stay-ccation individuals to work peacefully. The whole campus is powered with high speed WiFi, and a lovely scenic environment, allowing you to experience a lovely time, in working from the hills
On the other side of the Café was the lovely open space, allowing you to take a chair and spend a good time, watching the hills behind you. There are 3 other types of rooms alongside this zone. The first one is the 4-bedded dormitory and the next is the 6-bedded dormitory and the last one being a double bed room. You can check with the rates on Goibibo or any travel website, or visit moustachescapes.com.
Mohit took care of the paperwork formalities and helped us show the dorm room and our beds. We booked two beds out in an 8-bed dormitory. It cost us around 250 rs per bed for one day.
Our room was spic and span! The beds were superb and what caught our eyes in the first place, were the thick blankets. It was unbelievably cozy and we were eager to crash in as soon as possible.
We freshened up one by one and wore new clothes, before moving to the common area. Here, we met quite some new individuals.
First up it was Gagan Arora, a Punjabi from Bengal. Next to him was Supriya, from Maharashtra. Other two individuals present that night were Sethuraman and Karuppaswami from Tamil Nadu. The common room described what India looks like! All were cordial and discussed about their stay and other traveling plans.
This was something very new for me and Arkya. Our first hostel stay has indeed turned special.
In the meantime, Mohit came with news that the rice on our food platter got cold, while the rest were piping hot. This was still fine for us and honestly, it was a tasty and a lip-smacking food to remember. All credits to Steve, who is the person behind the food.
We finished having our dinner and said goodbye to Gagan, who was leaving back the next early morning. We moved towards our room and crashed on to our beds. The feel of sleeping after a long train travel is heavenly, and that too in such a bed with a comfortable blanket and a cold environment. Can't ask for anything more! However, we did set alarm for the next day, as we didn't want to sleep-deeply, as we had the big day of trekking tomorrow!
We connected all our devices in different chargers, and arranged our bags on the rack. With all set and done, it was time to sleep and call it a night! It was a fun travel day, backed with an exciting new experience of staying in a hostel!
Stay tuned for Day 3, the First Day of our Himalayan Trek 🙂
PUBLISHED BY
Suraj B (theTrackWalk)
Welcome everyone to my world of Railfanning and Traveling. I am Suraj Iyer, a Computer Science graduate by education, seeking out numerous expedition to numerous railfanning spots with railfans and even love to travel with my group of friends. In my blog, I will share all the possible details about all the possible journeys to my remembrance and even share about my future railfanning/ travel stories to date. Many may wonder who is a railfan? As you will go through some of my blogs in the near future, your answers will be embedded in it. As a traveler, I set up myself for tough trips, sometimes planned and sometimes unplanned. All the small or large incidents will be present in my blog in the near future. Welcome to The Track Walk by Suraj Balasubramanian Iyer :)