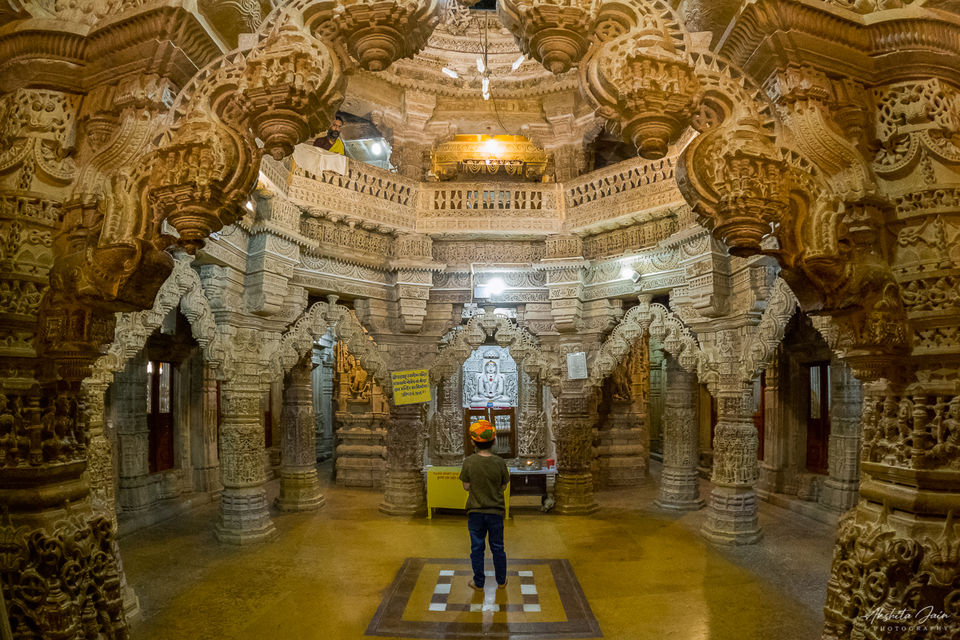 Jaisalmer, The Golden city is known for the its Golden structures, the amazing culture and the beauty of the Desert.
But the magnificent Jain temples, which are not just places of worships, but also extraordinary pieces of art remain relatively unexplored.
In this article, I would like to take you to a virtual tour of these temples.
1. Temples situated within the Jaisalmer Fort
Besides the specialty of being a 'living fort', the Jaisalmer Fort is also unique in the sense that one can find 7 Jain temples situated within, each of which looks more magnificent than the other. These temples are inter-connected and each devoted to a the Jain tirthankar. These temples date back to as early as the 16th century!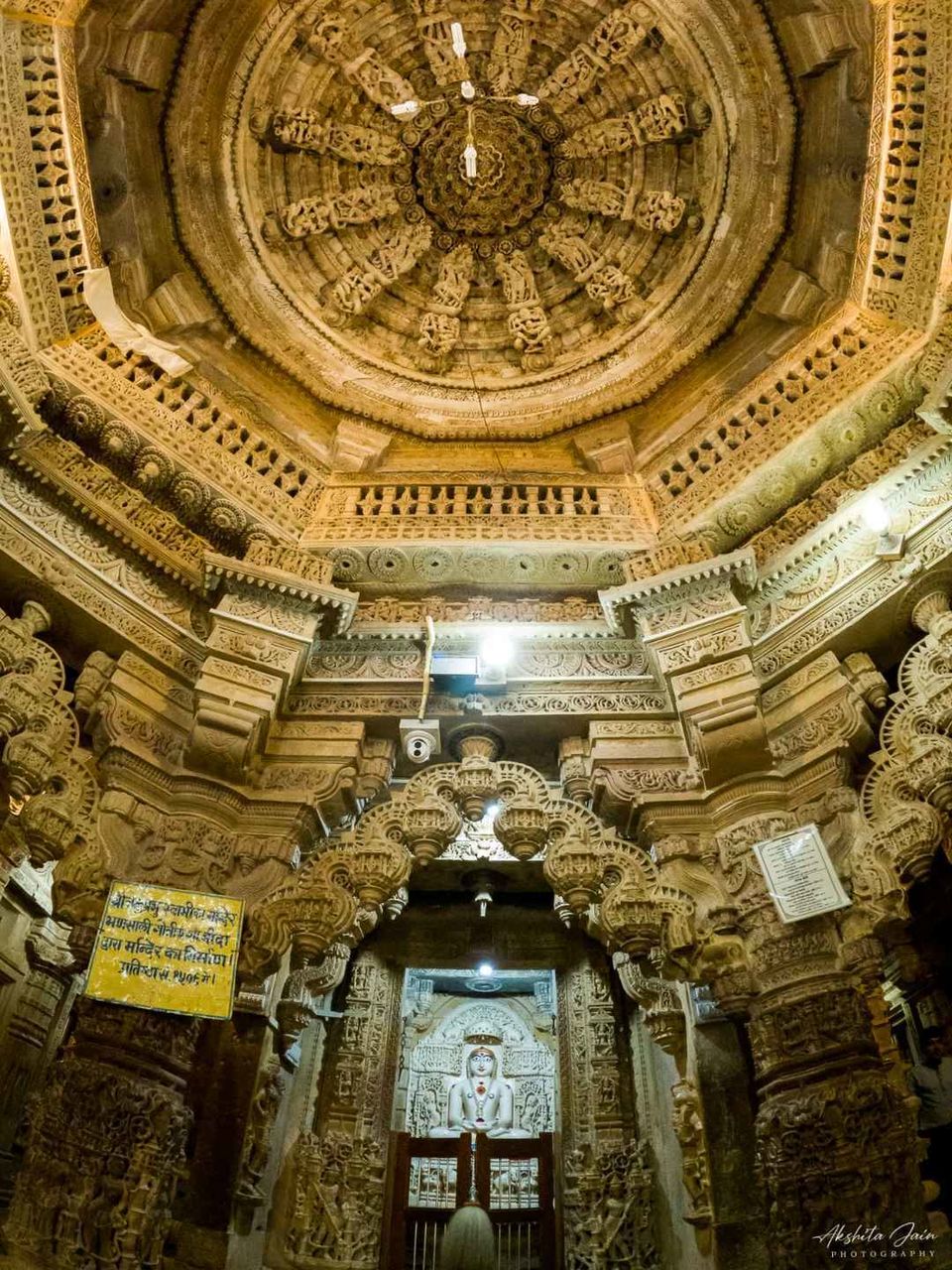 The first temple within the Jaisalmer fort is dedicated to the 8th Tirthankara, Lord Chandraprabhu. The ceiling of the dome looks stunning with intricate carvings. The temple also has a second floor, which provides a closer view to the details of the ceiling.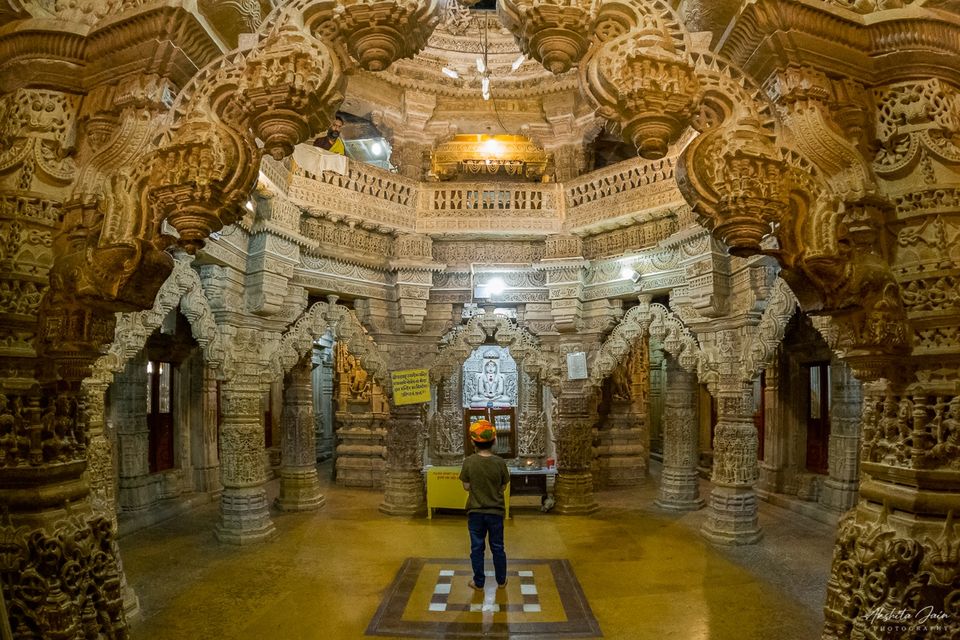 The other 6 temples are dedicated to Lord Rishabhdev, Lord Parashvanath, Lord Shitalnath, Lord Shantinath, Lord Kunthunatha and Lord Sambhavnath respectively and is one is a masterpiece of art in itself.
The temple dedicated to Lord Sambhavnath also has a library in the basement, where one can find some ancient Jain manuscripts, and other notable artefacts.
2. The Lodurva Jain Temple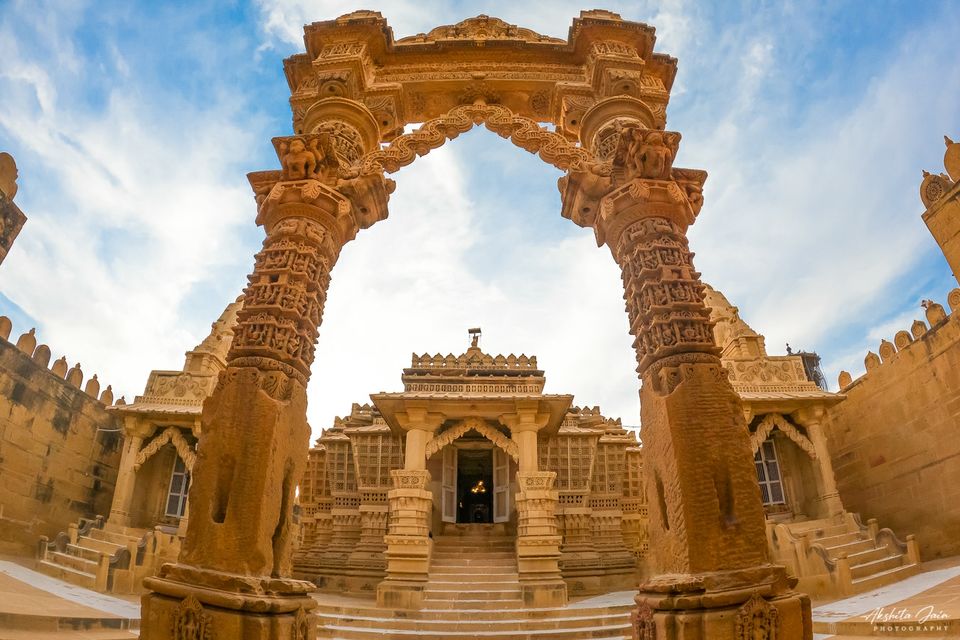 This Lodurva Jain temple, situated in the Lodurva village near Jaisalmer was originally constructed long back in the 9th century. Even though it was attacked several times by Ghazni and Ghori forces and reconstructed, it still remains magnificent with the beautiful yellow sandstone and the unbelievable detailing of the carved pillars and sculptures.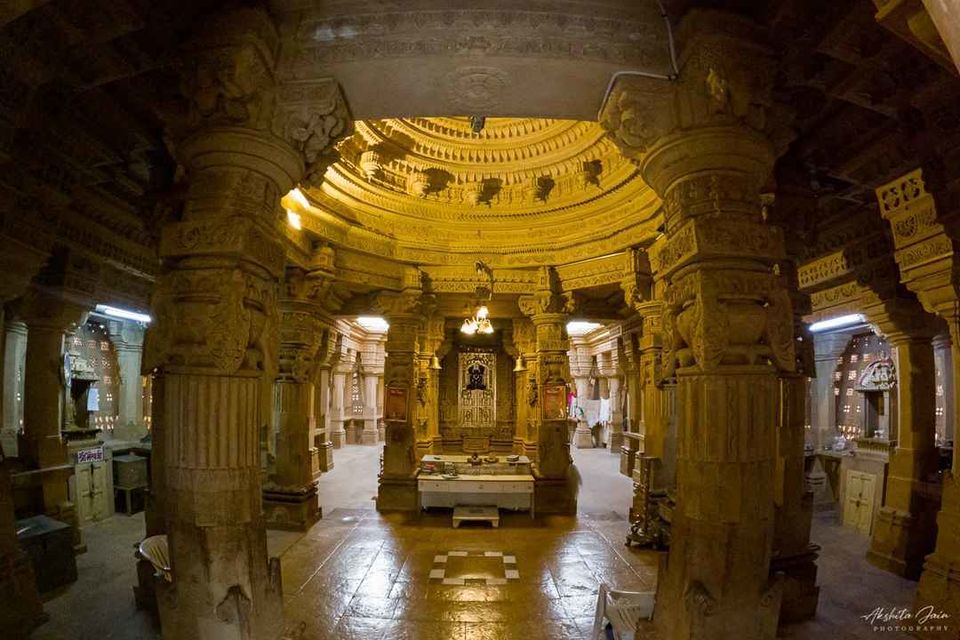 There are sieves in the walls of the temple, which allow ventilation thus keeping the place very cool. As the sunlight passes through these sieves, one can see a beautiful game of lights and shadows on the temple floor.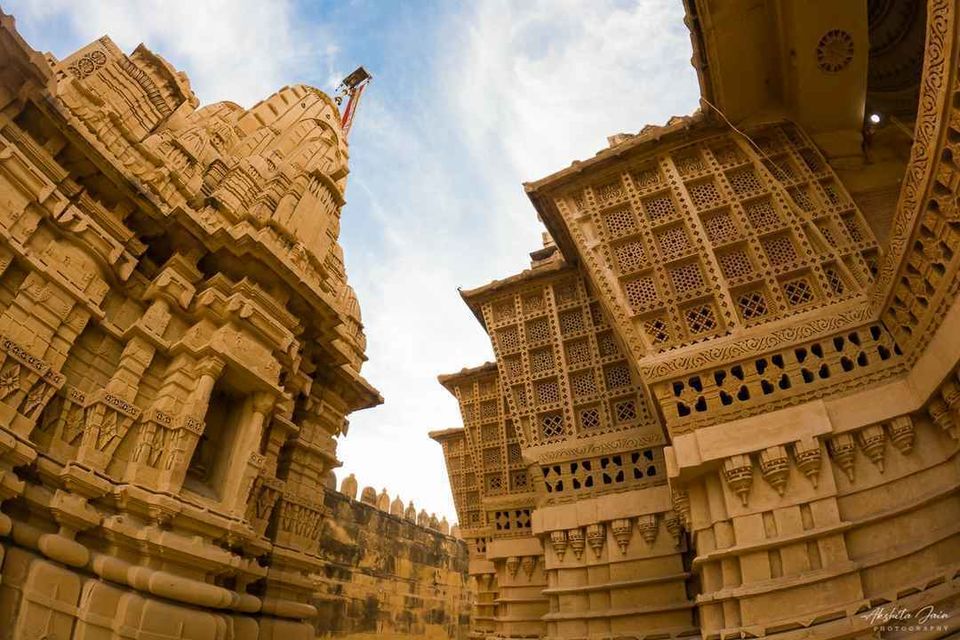 The temple is dedicated to the 23rd Jain Thirthankara, Lord Parashvanath.
Lodurva, which is around 15-20kms from Jaisalmer and can be easily reached via a cab.
3. The Amar Sagar Jain Temple
Also known as Adeshwar Nath Jain temple, the Amar Sagar Jain Temple is a treasured piece of architecture! It is located near Lodurva beside the Amar Sagar Lake (which remains dried up most of the time of the year). The detailed carving and sculptures, along with the lake side view gives one a very soothing experience.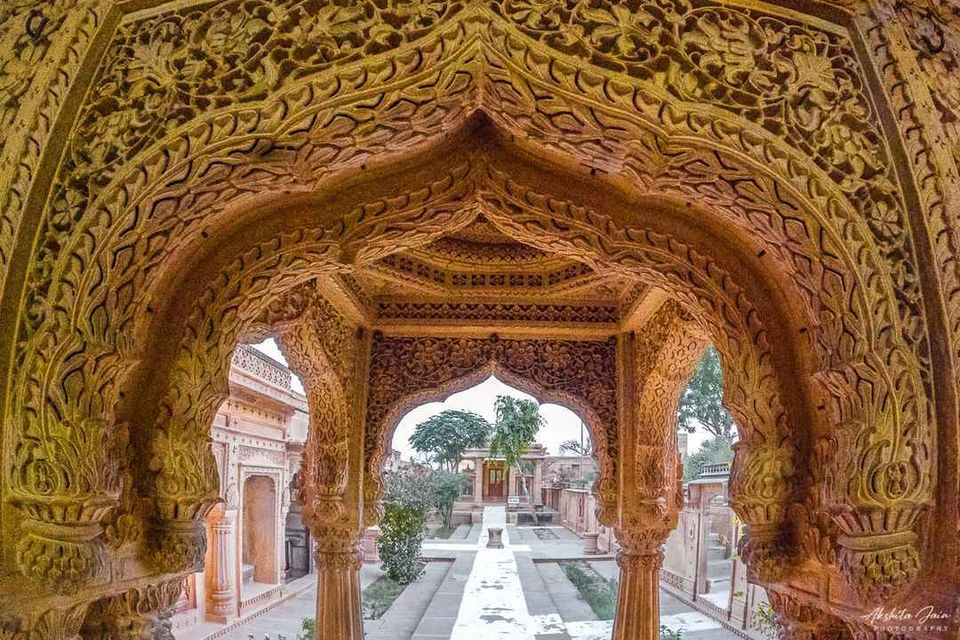 Each part of the temple has details that will leave you spellbound. The golden sandstone shines bright during the day and adds to the beauty of the carvings.
With the beautiful walls, cool temperature and amazing silence, it is a perfect place to peacefully introspect and meditate!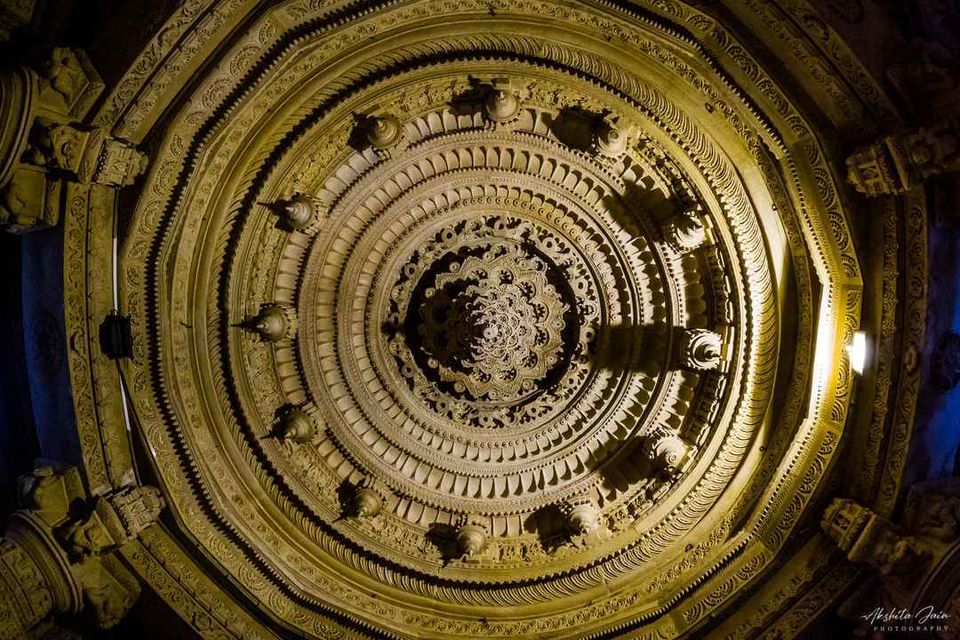 This temple is around 7 kilometers from the Jaisalmer city, and like Lodurva, it is also easily accessible via a cab.