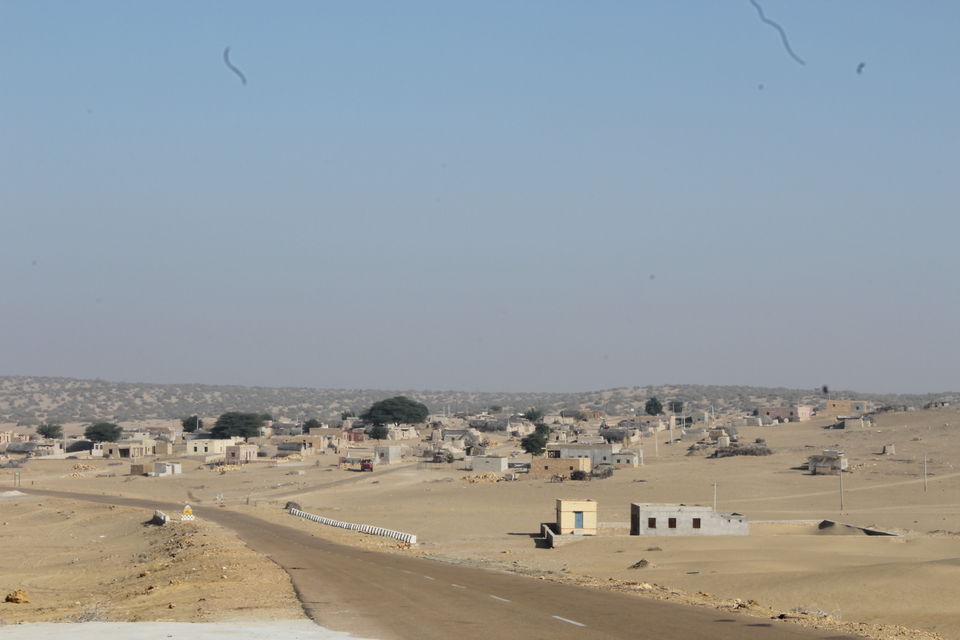 This Jaisalmer trip is a part of a 14 day trip to Rajasthan.
For anyone looking at this trip in isolation, few points to note pertaining to this trip:
Trip Timing : 2nd week of December
Mode of travel : Rented Car
Travelled With: Parents aged 70 and above, hence places to visit, stay and food choices had to be made keeping their preferences and comfort in mind

After a nice trip at Jodhpur we started from Mandore Garden, Jodhpur at about 11 AM and directly took the route to Jaisalmer. With 1 lunch break at a local dhaba, we reached outskirts of Jaisalmer at about 4 PM.
After eating some local food we retired to our stopover for the night- Antra Inn, which has come up recently and focusing on quality service. The place is located inside lanes and may not be easy to spot.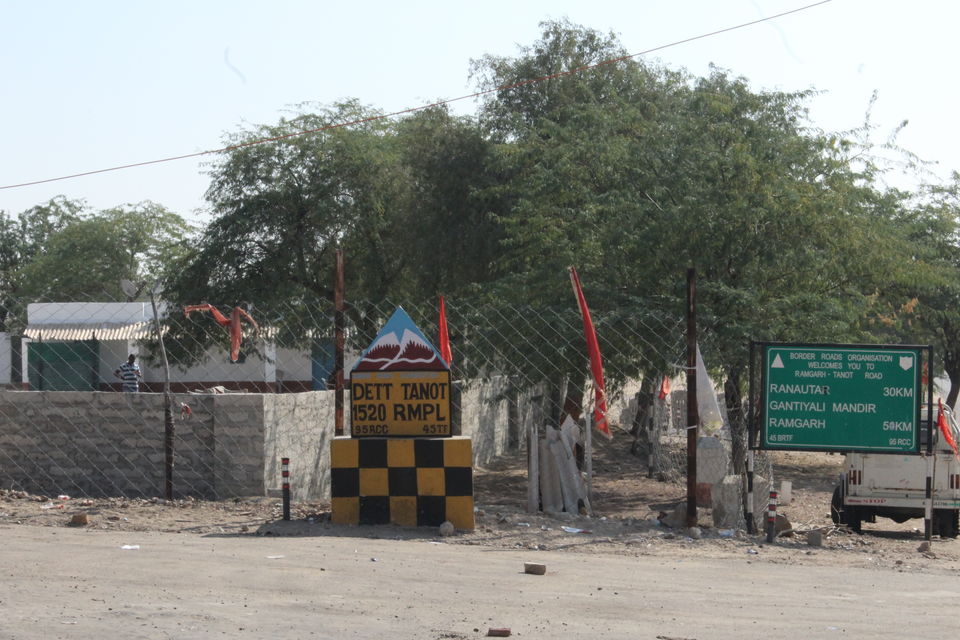 And the golden city welcomed us with sand spots all through the way. Enroute city, we stopped at the famous "War Museum of Jaisalmer", which houses arms/ ammunition / weaponry / artillery used in the 1965 and 1971 – Indo Pak wars. One can also see Pak army tankers/attack vehicles captured during the war.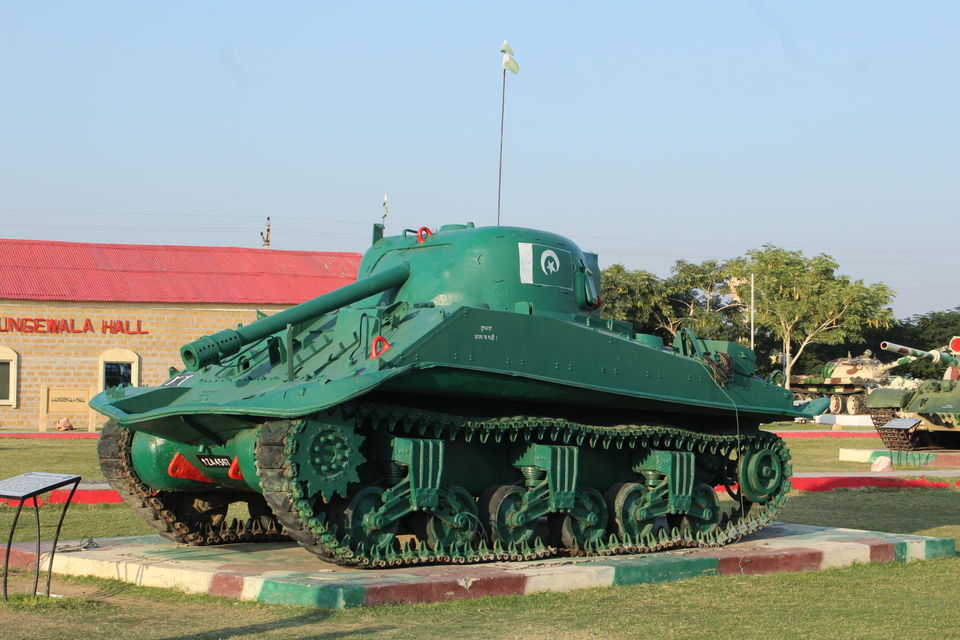 This is one place of pride that one must visit and see the defense personnel at close quarters & experience the life of army for a small period. The 20 minute AV is also worth every second.
After spending about 2 hours we proceeded to the next destination – The Gadisar lake which can be spotted on most travel blogs in its golden hour glory. We had a subdued experience because dusk had already set in, by the time we reached. Gadisar Lake is just like any other lake with boating facility. This spot can be avoided if the time is less.
As we had most of evening in our hands- we went to the nearest shopping market, known as Pansari Market around the Jaisalmer Fort. Market wasn't great except for some handicraft shops selling great artisanwork.
With this we wrapped up our day and headed back to our resort- The Gorbandh Palace. It is a good hotel with decent service and food- we would recommend this place.
Next day, our road trip came to an end at Jaisalmer as we reached airport to take flights back home.
Even though we tried to make the best use of time at hand, one additional day at Jaisalmer would have been a delight and we would have chosen that to visit the Desert National Park and trace the rare Great Indian Bustard and other desert flora and fauna. But nonetheless, we returned with bagful of memories and ushering in chilly winter at Jaisalmer – we were lucky to escape the ensuing cold.
We had heard lots about "Tanot Mata" Temple located about 90 kms away from Jaisalmer. We checked out early at about 8 AM from the hotel and headed straightaway to the temple. The road to temple gives a full blown view of Sandunes and difficult life around the desert. The legend goes that during 1965 war, Pakistan army bombarded temple and its nearby areas but none of the bombs exploded in that area. Since then military has taken control of the temple and is famous for Morning and Evening Aarti conducted by military men. The unexploded bombs have been placed in the precincts of the temple. We reached around 10:30 AM and really found the aura of the temple to be powerful. This temple is considered as one of the holy places where all desires are fulfilled.
It is advisable to leave early for the hotel and also visit Indo Pak border (the permit has to be secured beforehand from BSF office in Jaisalmer). During our visit, permit was not being issued due to sensitivity at border areas. If time permits, one can also cover the Loungewala War Museum dedicated to 1971 Indo Pak war, which is located about 30 Kms away from Tanot Mata Temple. There is a direct road from temple, which is a short cut and one shouldn't miss. In our case, we missed it and as a result had to skip it.
As we had prebooked our stay at Sam Sand Dunes, we took a shortcut with the guidance of villagers and reached Sam Sand Dunes at about 2 PM. After checking at the resort we went out for lunch at Mother's Kitchen which served delicious food. After resting for a while, we geared up for upcoming adventure of desert safari and dune bashing. I was very apprehensive of taking parents out for the heart thumping activities but they were very sporting and game over me and enjoyed every bit of the experience. Special mention of our driver, who took extra care considering my parent's age and kept telling us about the 3 deserts in the area. My parents loved camel riding experience in the desert. After watching the sun go down and clicking some nice pics, we headed back to base where we were greeted with Aarti and flowers.
We then enjoyed the cultural show in the resort along with snacks and retired post dinner (which comprised of another local sabzi - Ker Sangri). As it was close to full moon night and had clear skies, I sat under the stars watching the sand glow. This was by far my best day of the trip because the joy it brought to my parents is unparalleled. Special mention of the Sultan resort, where service was the highest motto and they did everything to keep us comfortable. The tents were nice and well kept and the servers were very considerate.
After a decent breakfast, we left at about 9:30 AM because it was the last day of our trip and we had lots to cover. We started with visit to Kuldhara- The abandoned village and considered to be spooky. This place is about 21 Kms away from Sam and houses remains of a village which vacated overnight to protect a daughter from the eyes of a lascivious ruler. This place can be given a pass, if time doesn't permit.
On our way back we stopped at Amar Sagar, a famous Jain temple of Lord Rishabhdev. Just like other Jain temples, this temple is a treat to eyes looking at its intricate carvings. If we had some more time at hand, we would have also visited another Jain temple – Lodurva located 9 Kms away. It is also reknowned for its carving. After spending some peaceful time at the temple, we headed to Jaisalmer city to visit to popular Jaisalmer Fort.
Our experience of Sonar Killa wasn't great. As it is an inhabited fort, it is very commercial and not worth the effort, time and money- unless you want to get high at some beautiful secluded locations (foreigner's choice). But what is worth seeing in the Fort compound is the series of Jain temples which are an architect and design student's delight.
We had heard the city boast of 3 havelis : Patwon Ki Haveli, Nathmal Ki Haveli, Salem Singh Ki Haveli. While searching for Salem Singh Haveli, we realized that it was far more easy to search & visit these places on foot rather than car. As we had reached far away from the Haveli, we settled for lunch at a Gujarati Bhojanalya, which served amazing food.
After that we reached Patwon Ki Haveli- which has 3 different buildings open for viewing and visit to each building is separately charged. As it was already 3 PM, so we chose to cover the main building. These havelis were constructed by a rich Kothari merchandiser to show off the opulence and money he made. All the buildings are beautifully carved in Yellow Stone and are mini museums in their own rights. One can see clothing, ornaments, antique furniture, utilities, old technologies on display in these buildings.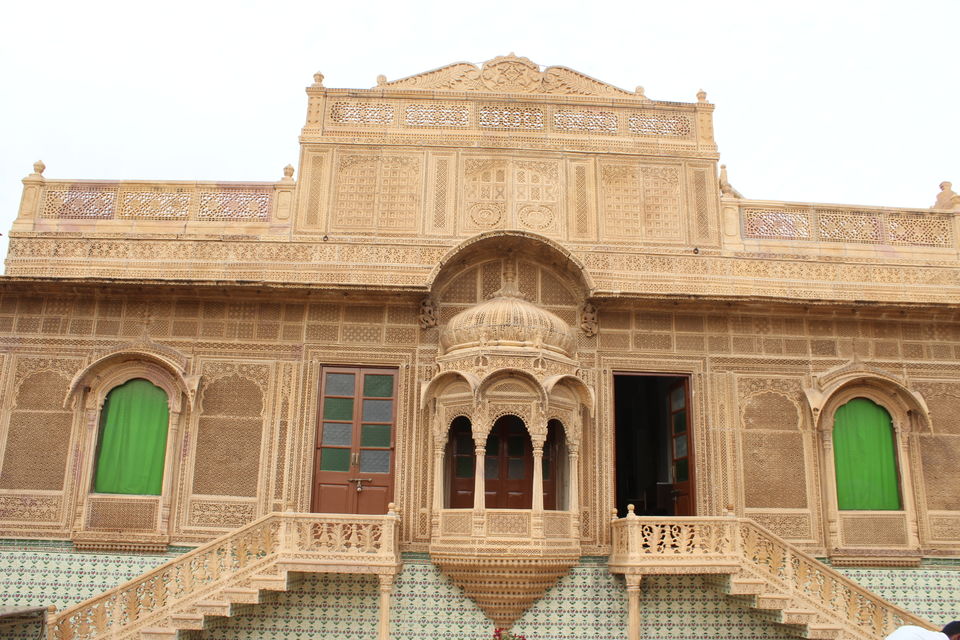 While returning, we stopped at City Palace Museum, which was a complete waste of energy, time and money and is a not worth vis a vis its counterparts in Udaipur and Jodhpur - Not at all recommended.
The last place on my list was Akal Wood Fossil Park, which was about 20 Kms away from the main city. This place is a protected geological site and has remnants of wood that has converted into fossils in absence of life elements. The tree fossils are about 180 million years old and maintained by Desert National Park. This place is a must watch for its novelty and legacy.