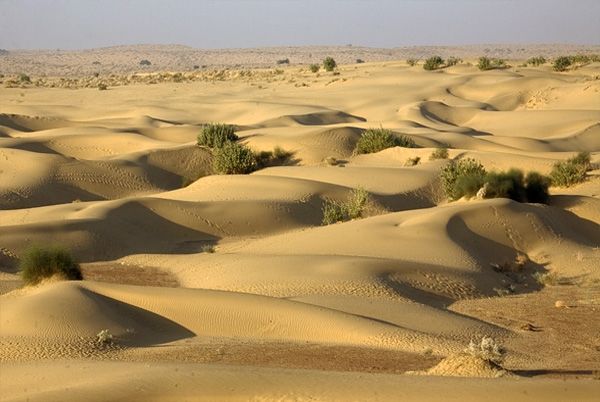 Delhi to Jaisalmer
Catch your train to Jaisalmer from Delhi (Old Delhi Railway Station) usually train runs late by at least 2hrs. I stayed at Sam sand dunes camp for a night and another in Swan Hostel, Jaisalmer.
Now let's begin with itinerary of trio without wasting much time.
Day 1
I reached Jaisalmer around 1300 hrs, as soon as I reached I hired a bike from Shiva Bikes, Jaisalmer he was very cooperative and reasonably priced 800/day for Avenger 220cc ( owner is not very strict with timings u can be late by upto 4 hrs without any charges 😋)
Than head to Amar Sagar which is around 15km from Jaisalmer.
1.Amar Sagar
This is a complex of Jain temple which is situated besides a beautiful lake. This is hotspot for photography lovers. U may click some beautiful pictures and spend a quality time in cold interiors of temple in hot sun.
2. Kuldhara
Head to Kuldhara from Amar Sagar, an abandoned village located on way to Sam Sand dunes at a distance of 16km from. Jaisalmer. This is another attraction for photography lovers. This provides a beautiful picturesque for cameras at early sunset ( 1600hrs). It takes not more than an hour to explore the beauty of architectural marvel. This place as history of 100s of years (Google for more info).
3. Sam Sand Dunes
As I had booked overnight stay at Limra desert camp(1500 for 2) Sam Dunes I headed towards Sam Dunes (or Sam Dhani in hindi) which is almost 40kms from Jaisalmer, its drive of 1 to 1m5 hrs depending upon weather if weather is harsh roads will be flooded with sands and small duens will created on roads which reduces your speed. Sam Dunes is very beautiful part of Thar expedition without visiting Sam Dunes your Jaisalmer trip is useless 😁. You will come across Desert national park on way to Sam Dunes where u will witness tones and tones of sand and never ending bushy desert.
Limra desert camp was decent camp with double sharing beds in each swiss tent they also facilitate desert safari which is a must place to visit. Trust me 1000/keep(accommodates 4ppl) is paisa vasool you will be taken across 3 different huge sand dunes which gives you a bumpy ride over sand hills. Spend your evening till sunset there (you will get many camel safari offers at cost of max 150 for 2). You will witness great views of sunset and desert views. Coming back to your camp you will have cultural events of western Rajasthan which is decent show. Have a sound sleep there and get ready for tomorrow 😋. Next day I had camel safari which was included in our hotel package he took to another beautiful sand dunes (a 2hr safari). Had breakfast in camp and checked out to head towards Tanot Mata temple.
Day 2
1. Tanot Mata temple
Which is located at 120kms from Sam Dunes.
A mind blowing drive of 120kms (leave as early as possible) through hard desert via Ramgarh. Fuel up your bike at Ramgarh as you won't get any pumps after Ramgarh. It's a drive through hot scorching hot desert u hardly get any symbols of civilization enroute to temple. This temple has historic significance for defence personnel which have motivation during India Pakistan wars. If u have taken earlier permission from BSF HQ near railway station Jaisalmer u will be allowed to visit Indo Pak border post if not forget visiting it.
2. Longewala war memorial
This is 30km from Tanot Mata temple via sadewala village. A must visit place for Indians which shows the valour of Indian soldiers which defended by only 120 Indian soldiers + 2 RCL gun against 2000 Pakistan soldiers and 30+ tanks. Do not forget to taste water which is kept at exit point.
Head back to Jaisalmer via Ramgarh which is another great drive through desert with no clues of human inhabitation for 50kms. Be prepared to drive on sand as roads get covered with small sand dunes.
Day 3
I stayed at swan hostel at Jaisalmer. A great place to stay at minimum cost 600 for two with breakfast. All these places are walkable and doesn't require any transportation facilities.
1. Gadisar Lake
Have a boating on morning in gadisar Lake and click beautiful pictures.
2. Salem Singh haweli
3. Patwanonki Haweli
4. Jaisalmer fort
A living fort which houses more than 3000 people. Spend half day in visiting palace on fort which takes around an hour or two. Move to canon view point in the evening to witness beautiful view of golden city with sunset. U will get numerous city views cafe which serves you good food (₹800 for two) and beer (₹200/bottle). U can shop for some leather products at half the price than Delhi.
A picturesque sunset and food concluded my trip and I headed to railway station to catch my train at 0100hrs. I signed off my Jaisalmer trip with great sunset and views of golden city.
Thanks to
Shiva Bikes
Limra desert camp
In shanthi cafe ( in Jaisalmer fort)
Swan Hostel ( booked via Hostelworld)
Entire trip of 2 nights and 3 days costed me ₹6000 including food, stay and activities.
Best time to visit: Mid July to January
Worst time to visit: Mid April to Mid July