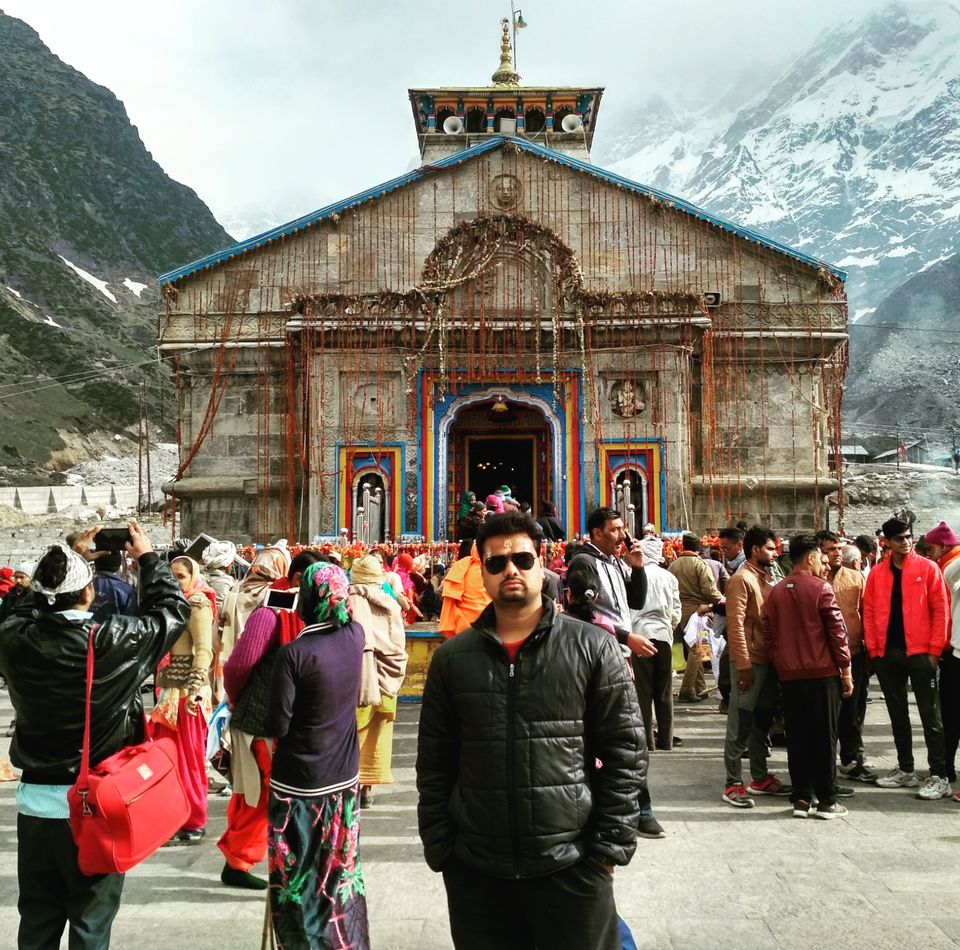 We started our trip from Delhi. We left home at around 12 noon. We filled our bike with nitrogen so that we could avoid heating of tires and avoid puncture and other such unwanted issues. We filled petrol from a Company Controlled (CoCO) outlet so as to ensure best quality and correct quantity and extract best possible mileage.
After equipping ourselves with a bag and other essentials like goggles, blue tooth speaker, earphone and a pair of clothes and a jacket we set off towards our destination.
Due to Char Dham yatra and scorching heat everyone was rushing towards the hills so there was more than usual traffic on road. But since we left on a monday so it was a bit better. We soon skirted our way out of the maze of the city. We were following google maps and to our pleasant surprise it guided us to a new way along the Gang Nahar. It was a new road where Gang Nahar escorted us all the way to the border of Uttar Pradesh. It was a very pleasing experience. Due to presence of a water body it was cooler on the way and since it was a relatively new road traffic we faced was also not very much. Although its a singe lane so we had to take care of the vehicles coming from the other side. At places we encountered dams and barrages and where the water was released from the gates, it presented a magnificent view of the gushing waters. We stopped at one such place and took some snaps.
There was a place where free sweetened water and refreshing drinks were being offered to travelers. We stopped at one such place. My friend Prateek had a glass of this drink and so did I. Then we spotted a hand pump and decided to wash our face and have a hearty gulp. And to our extreme surprise the water was so cool and refreshing that all our tiredness due to heat and dust immediately vanished. We splashed our faces with it and and filled our belly and bottle with the refreshing water and set off again towards our destination.
By evening we reached Tapovan, Rishikesh and decided to stay for the night at a hotel. We had booked the hotel online so we just checked in had dinner and slept.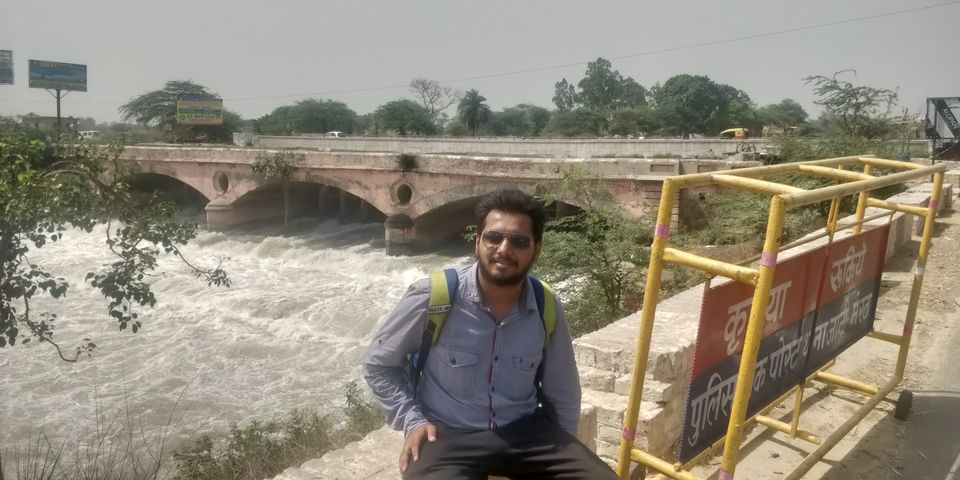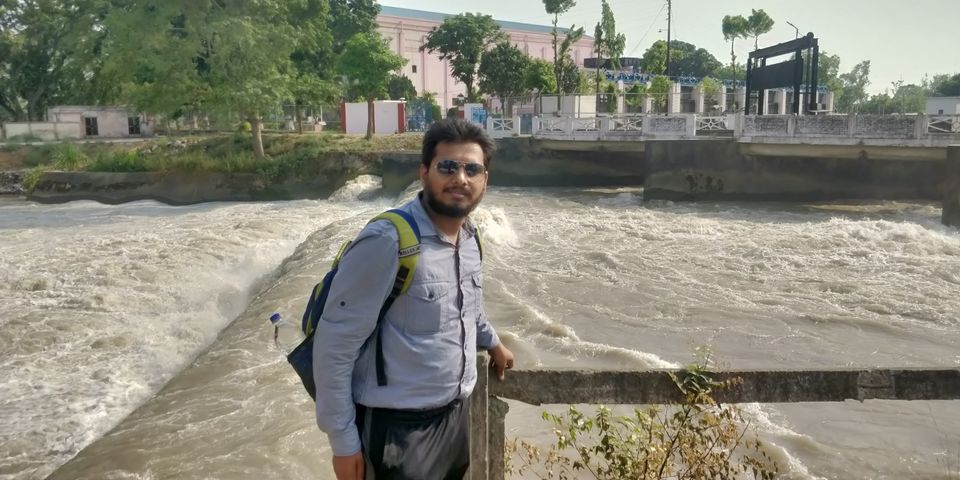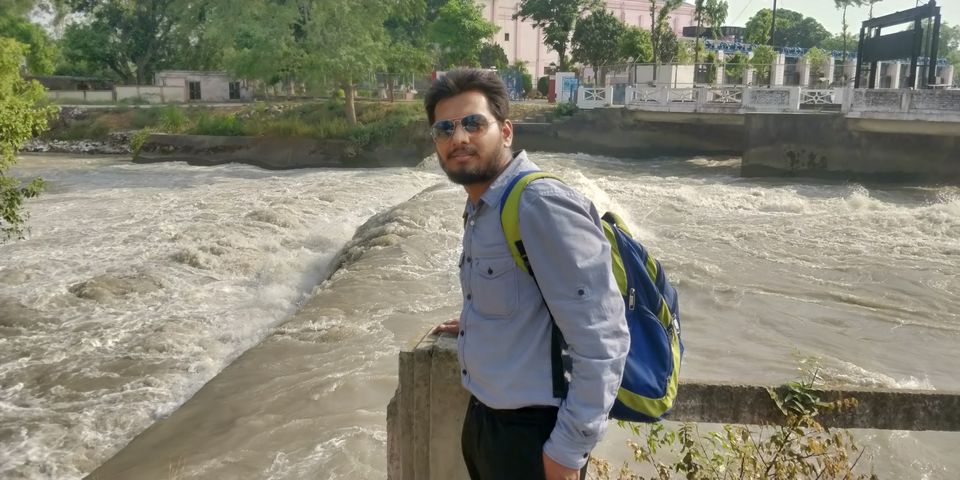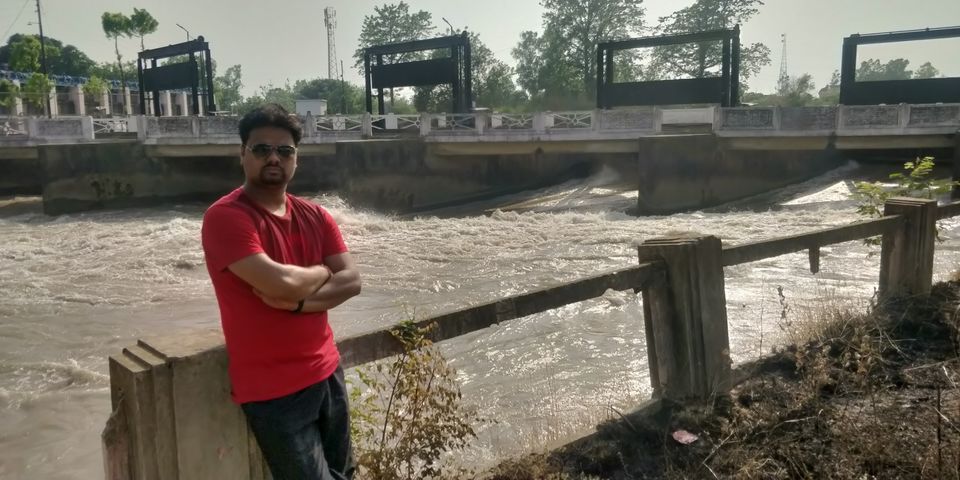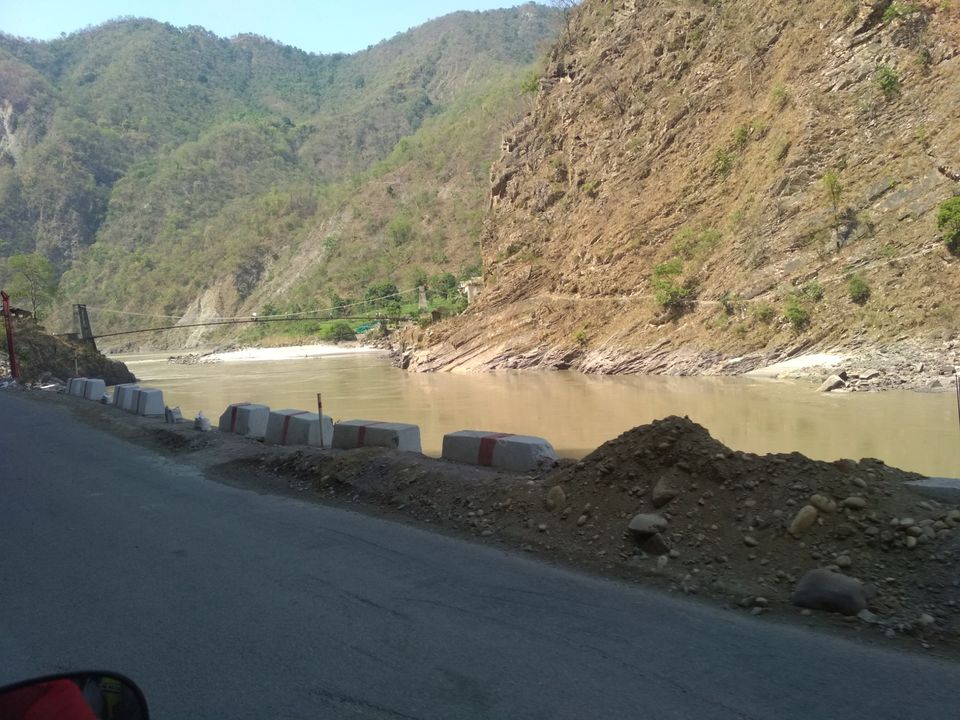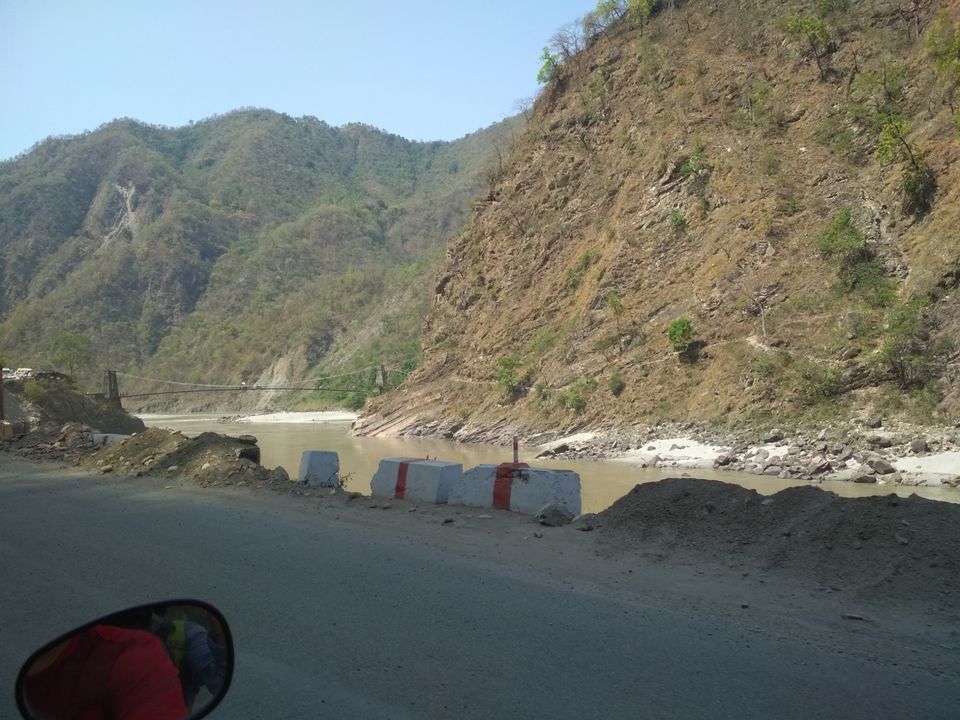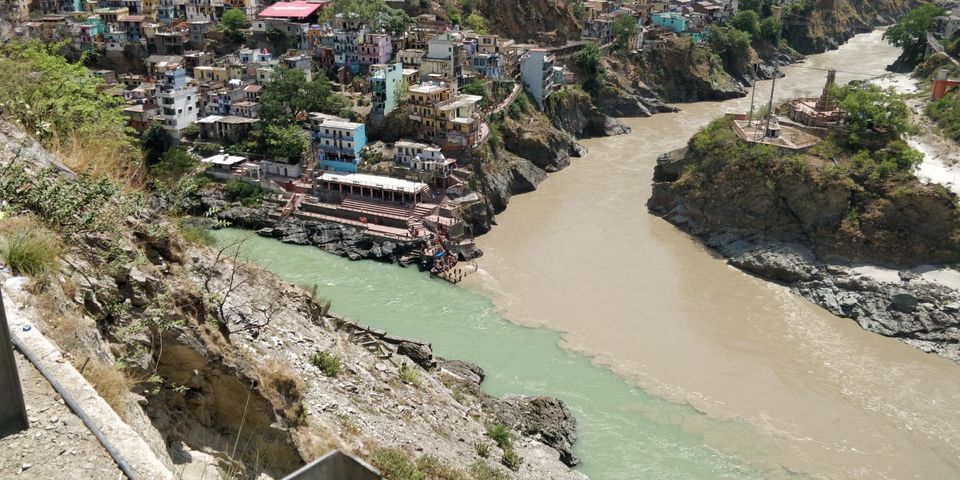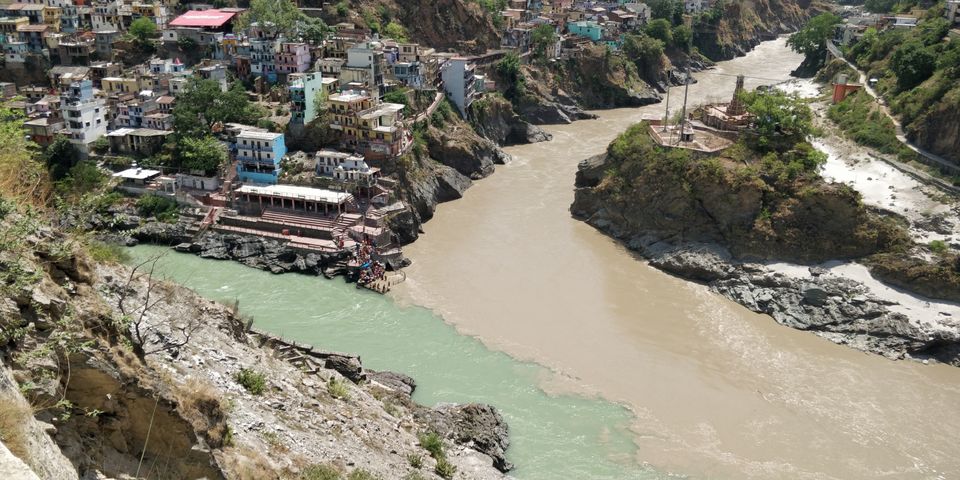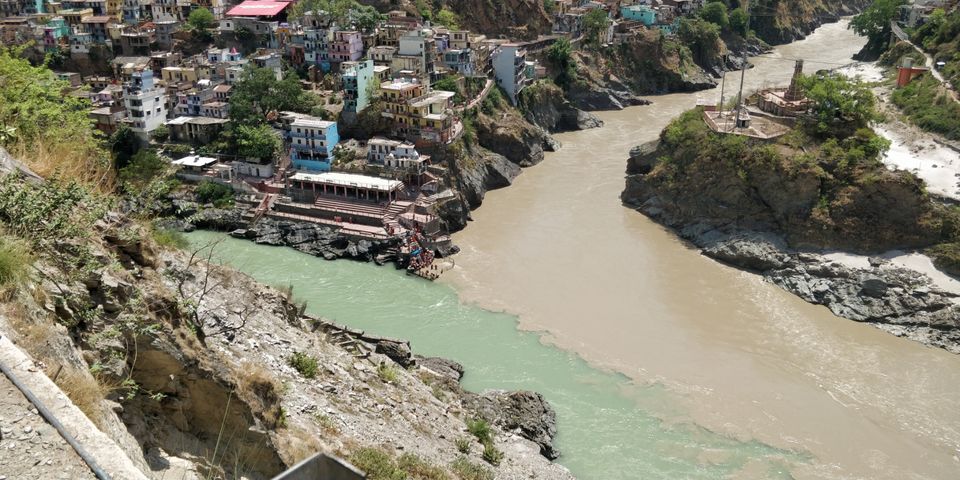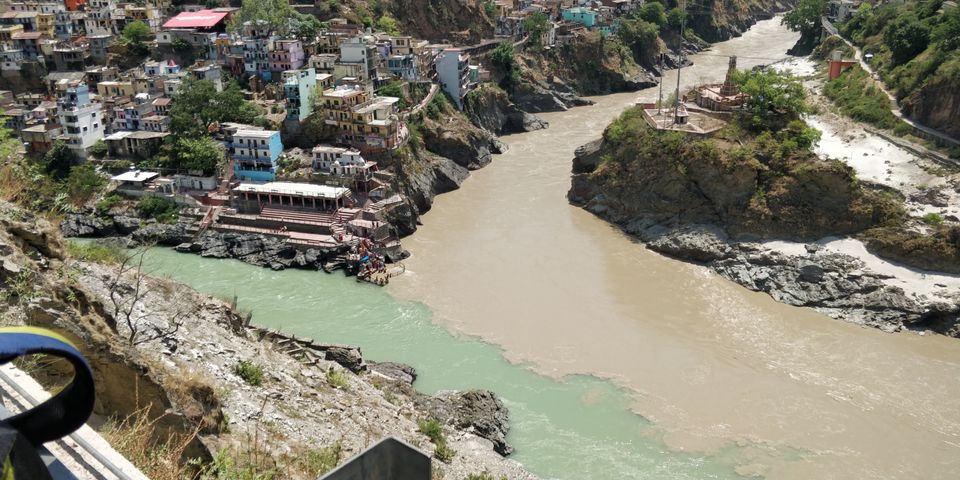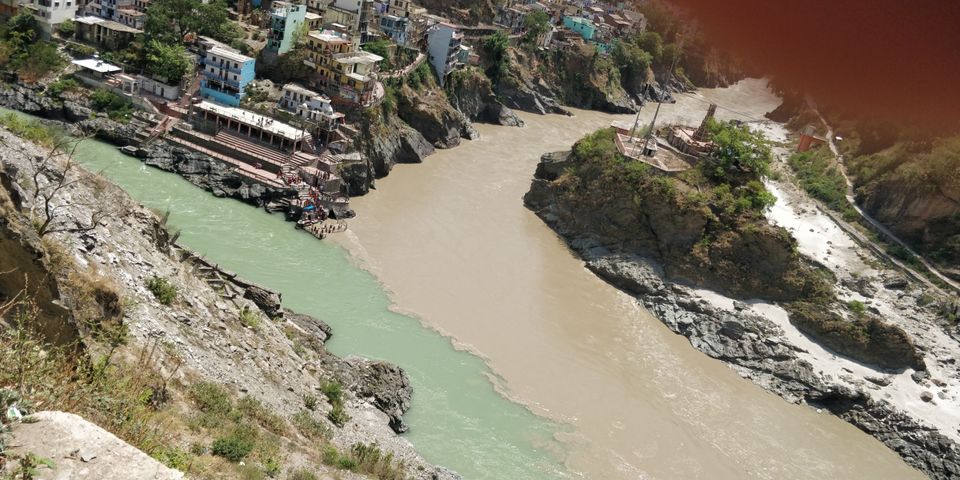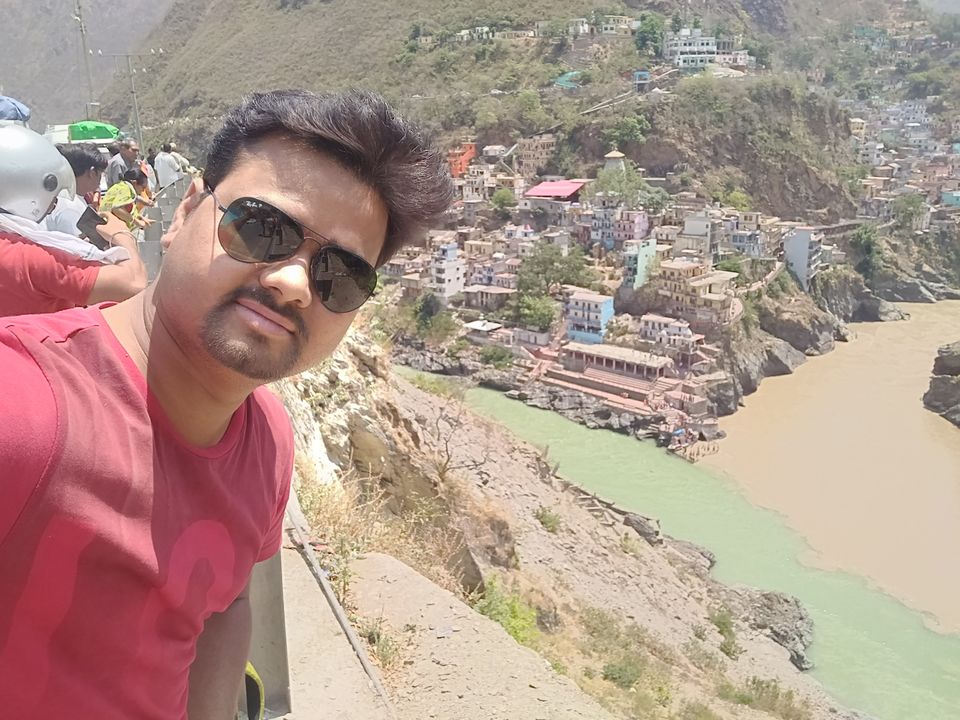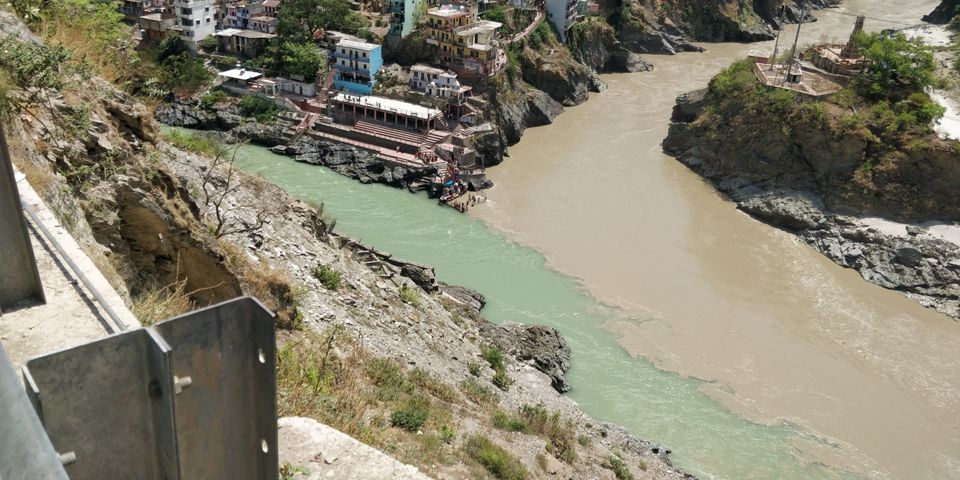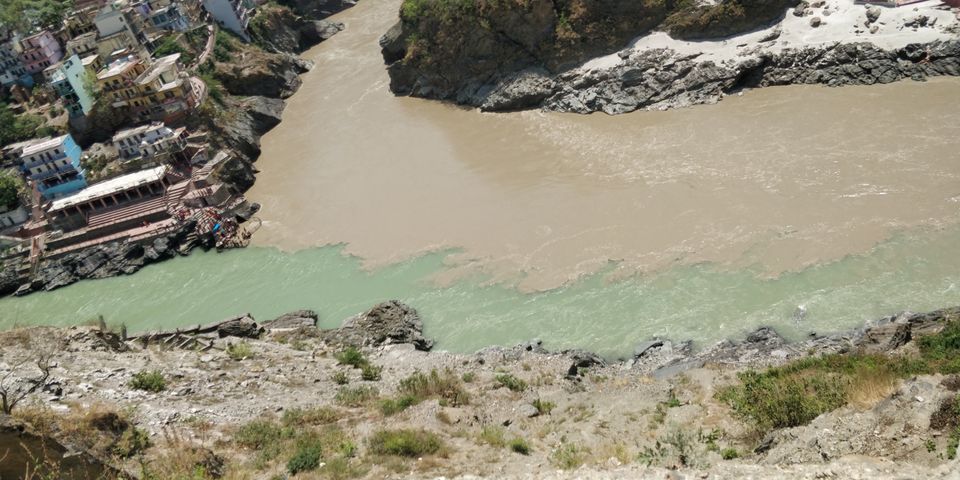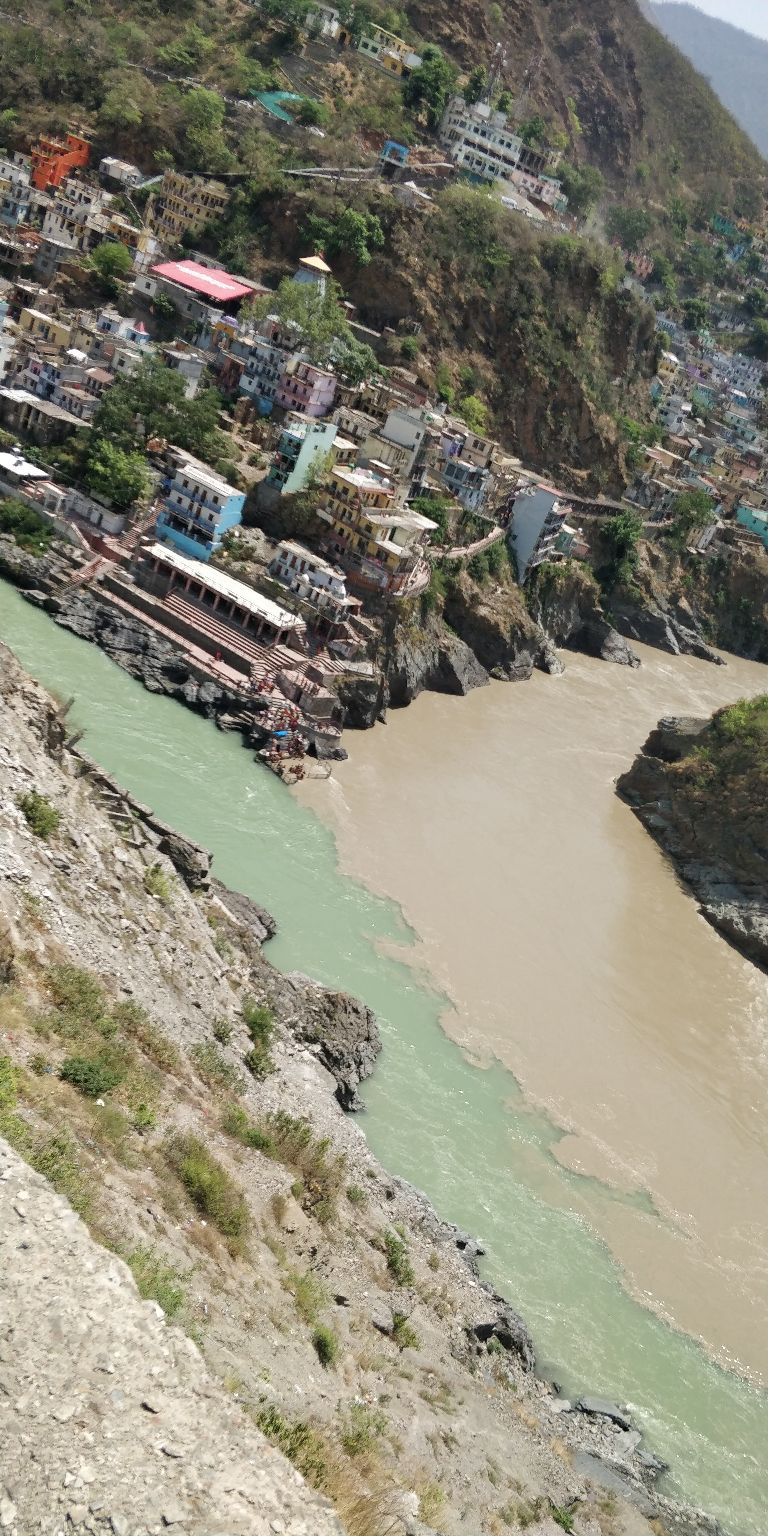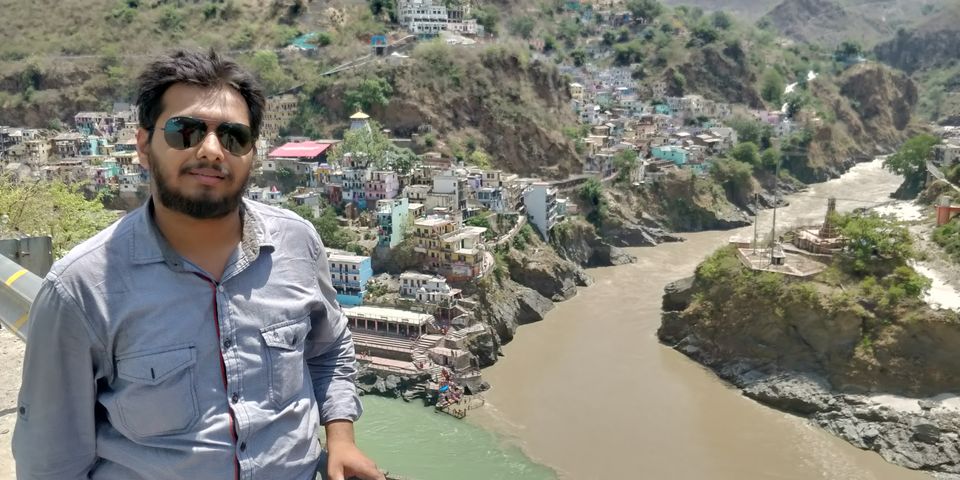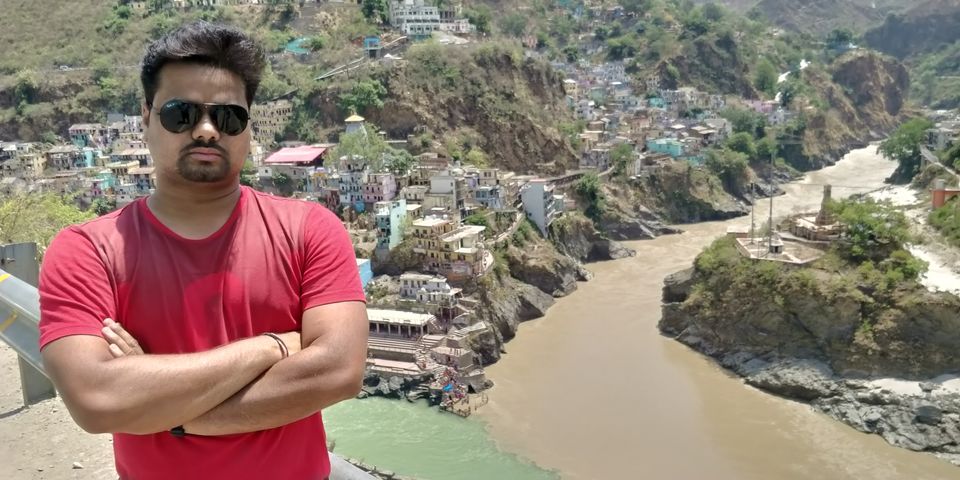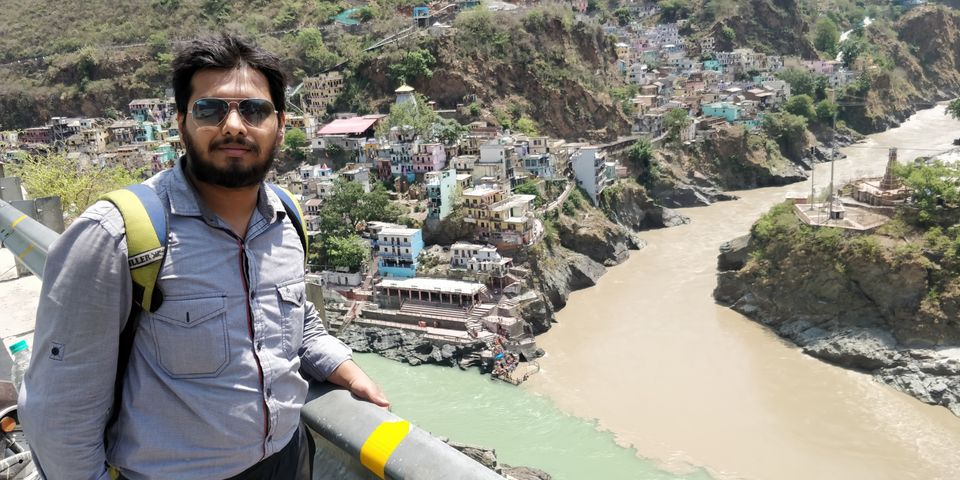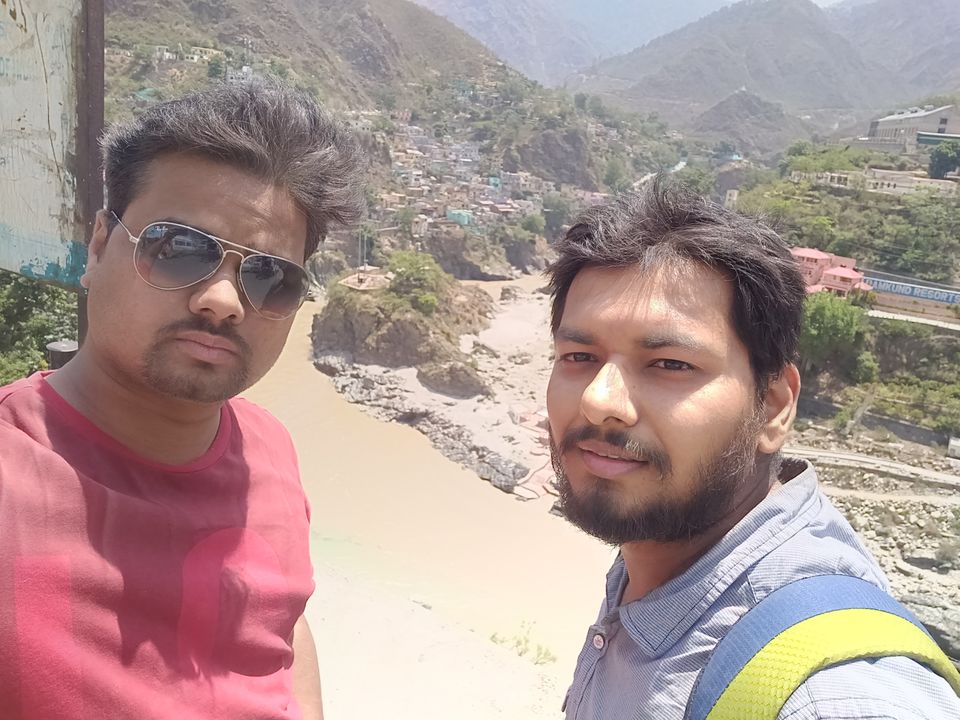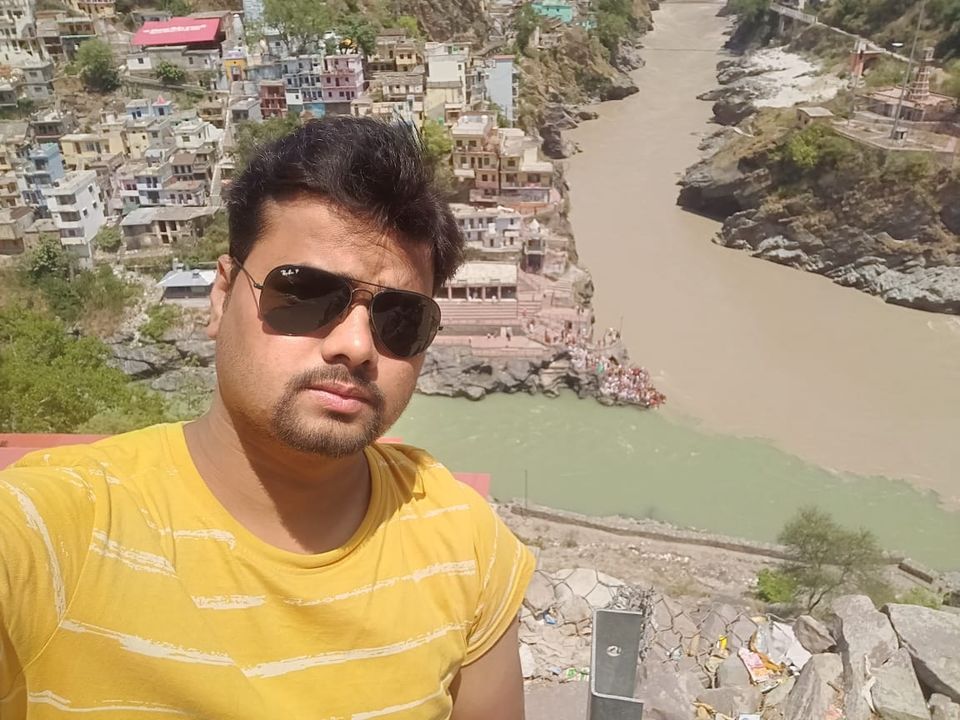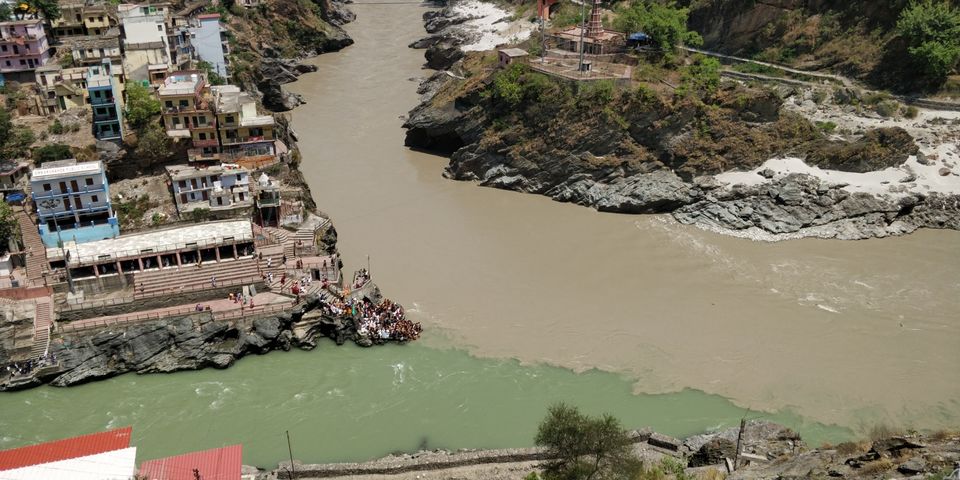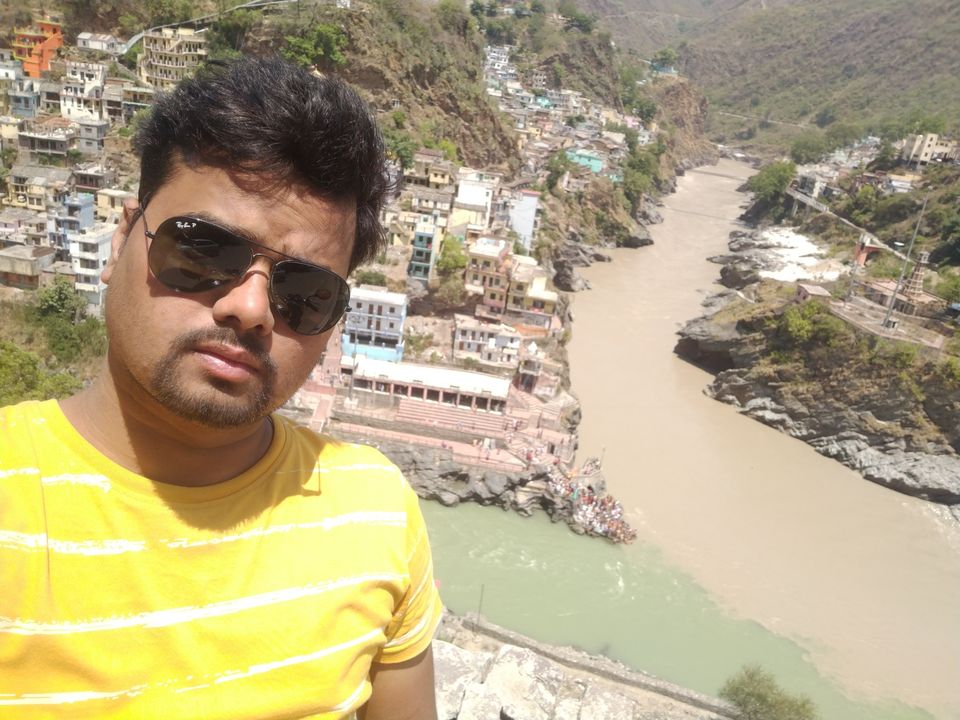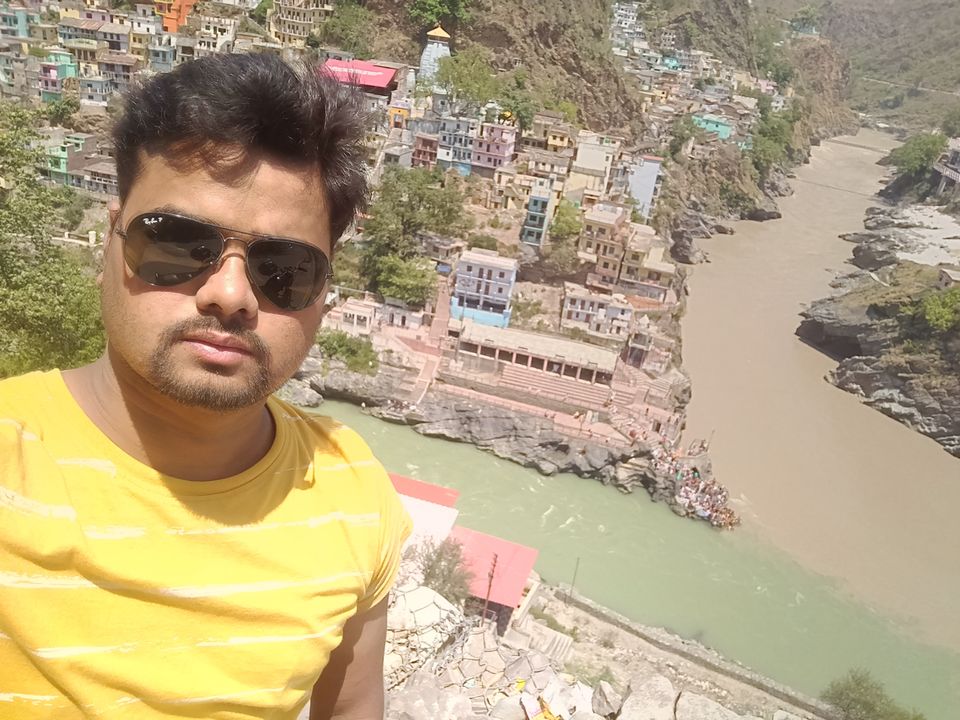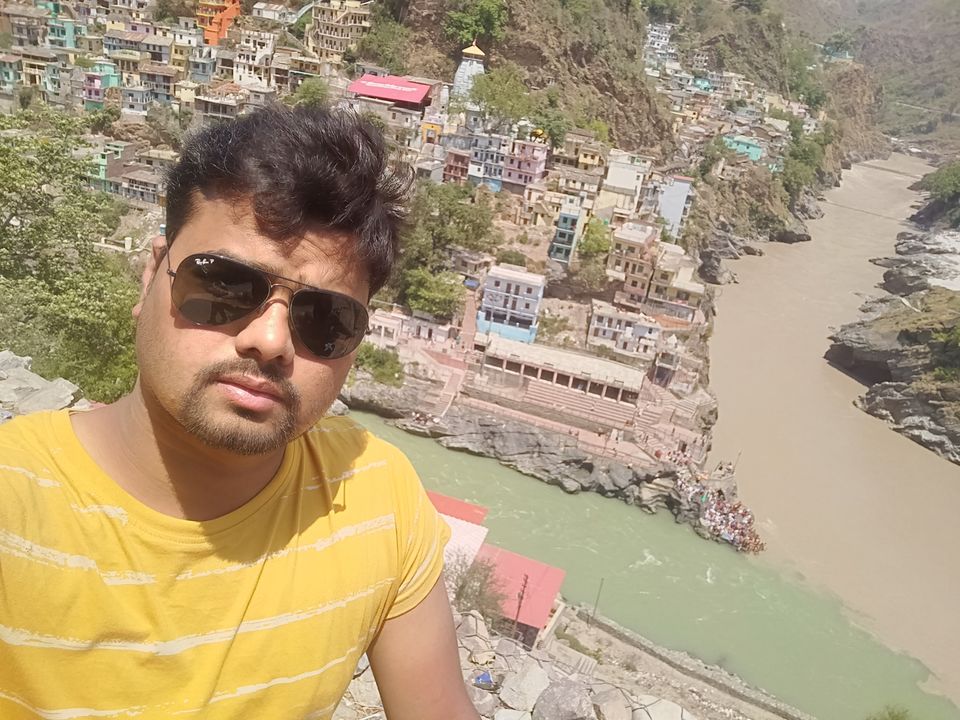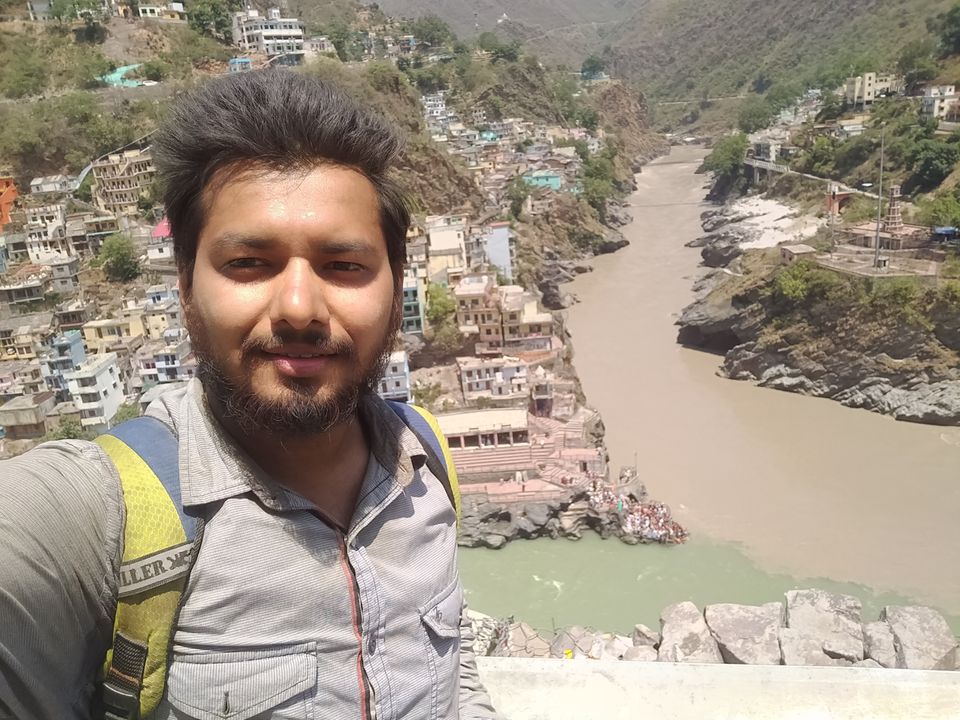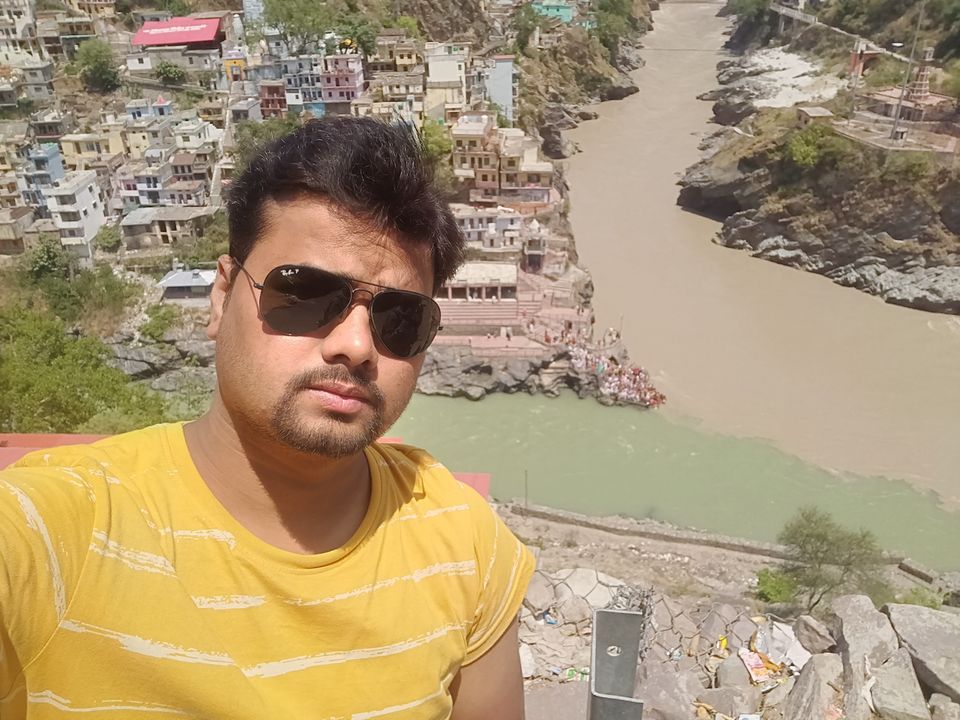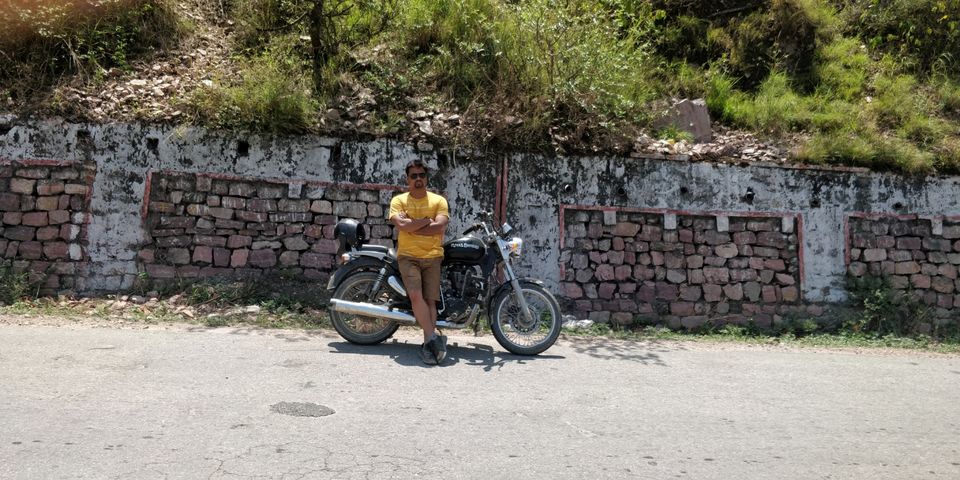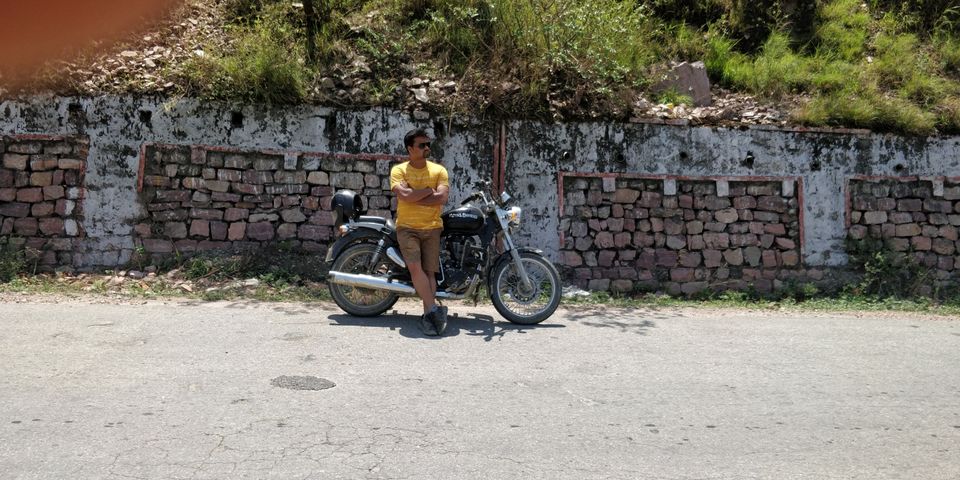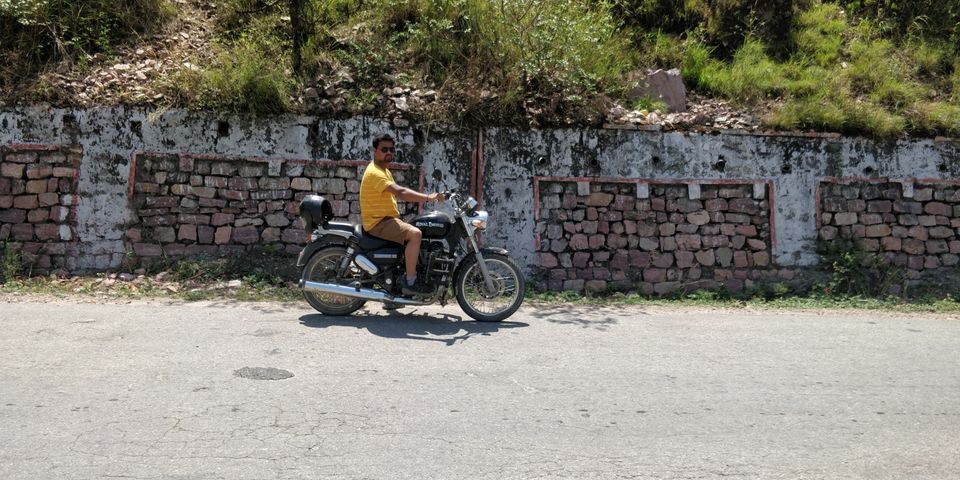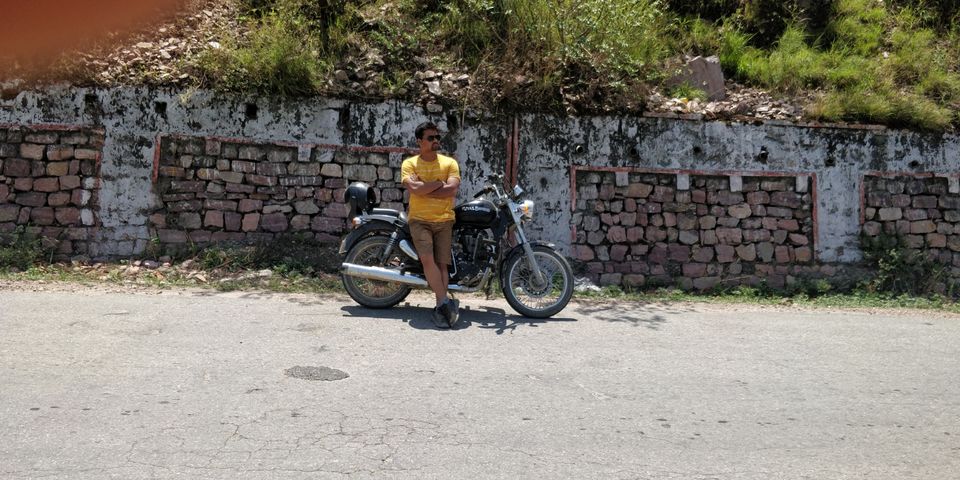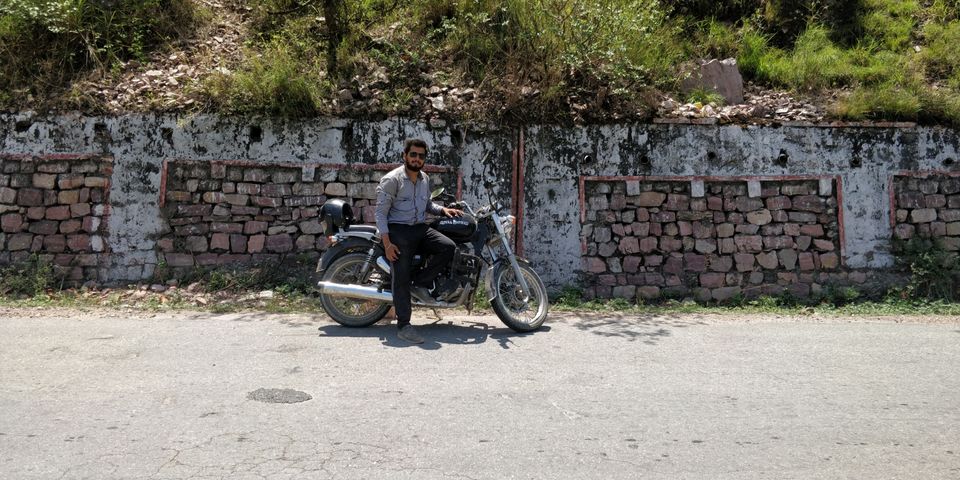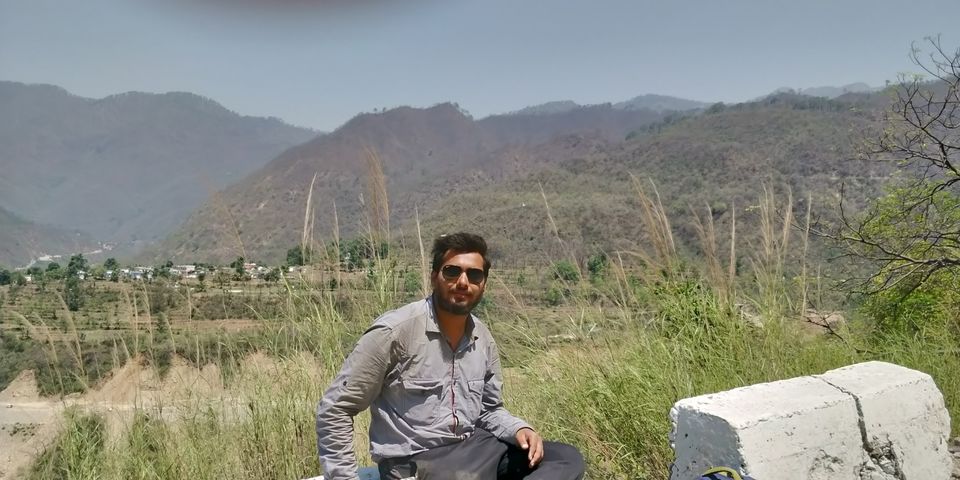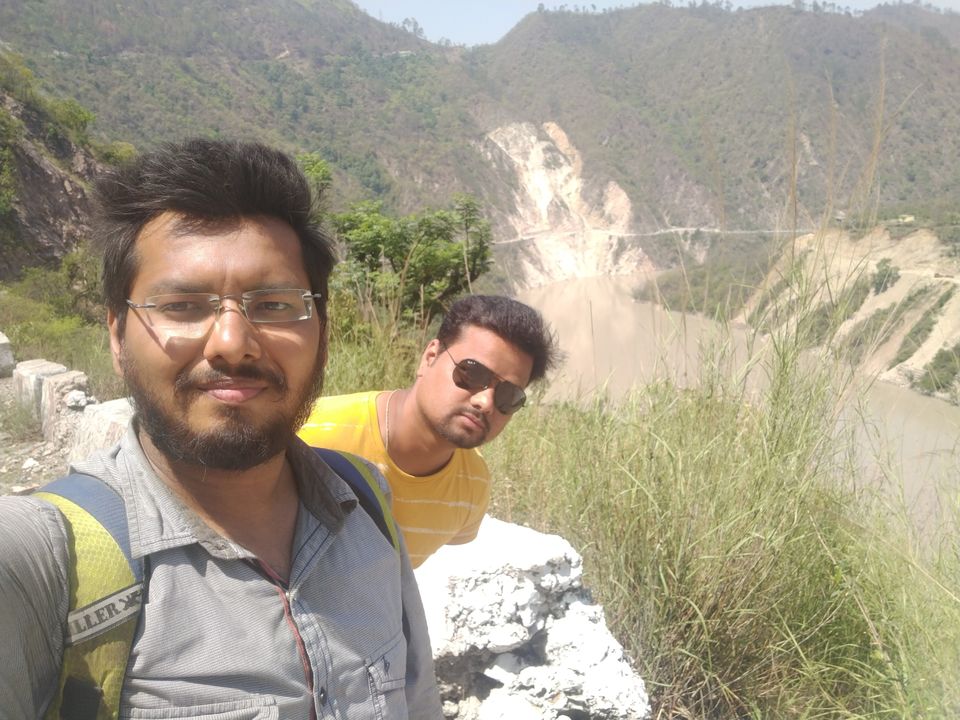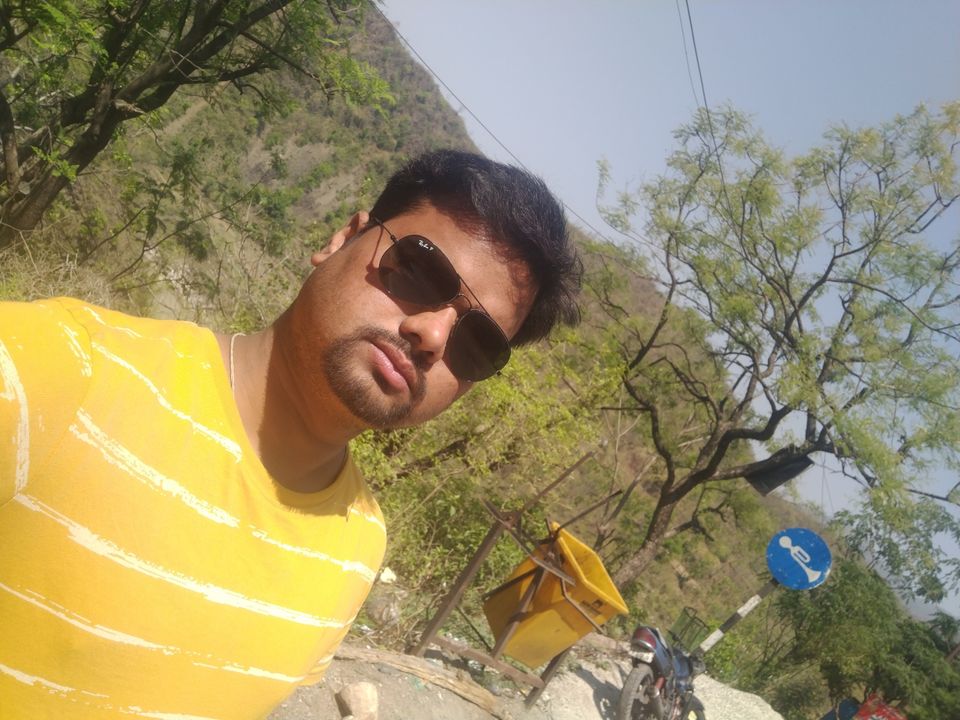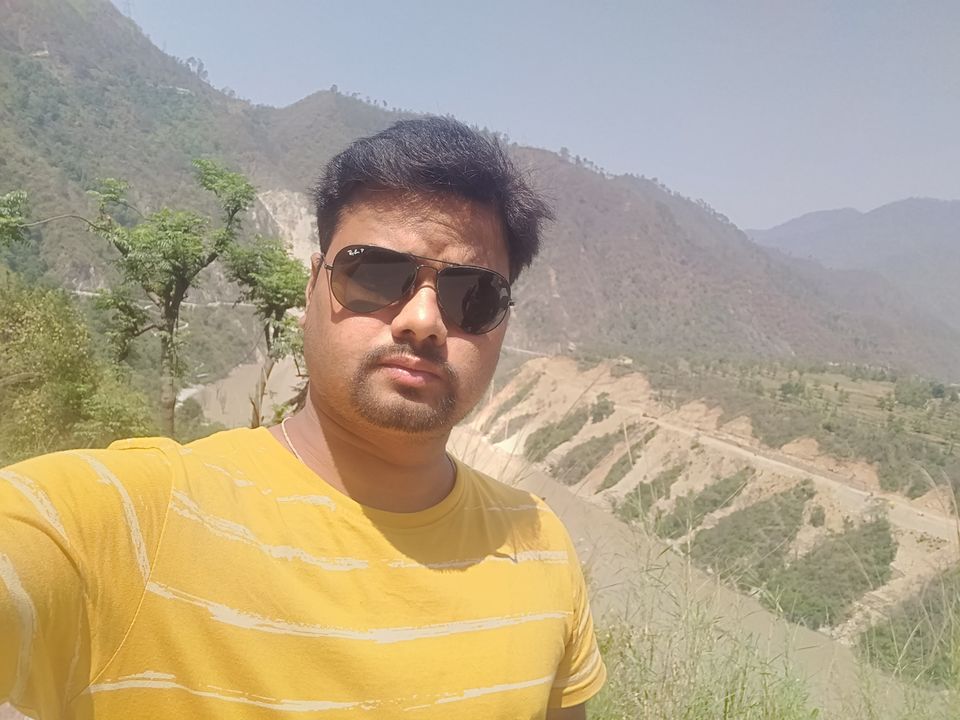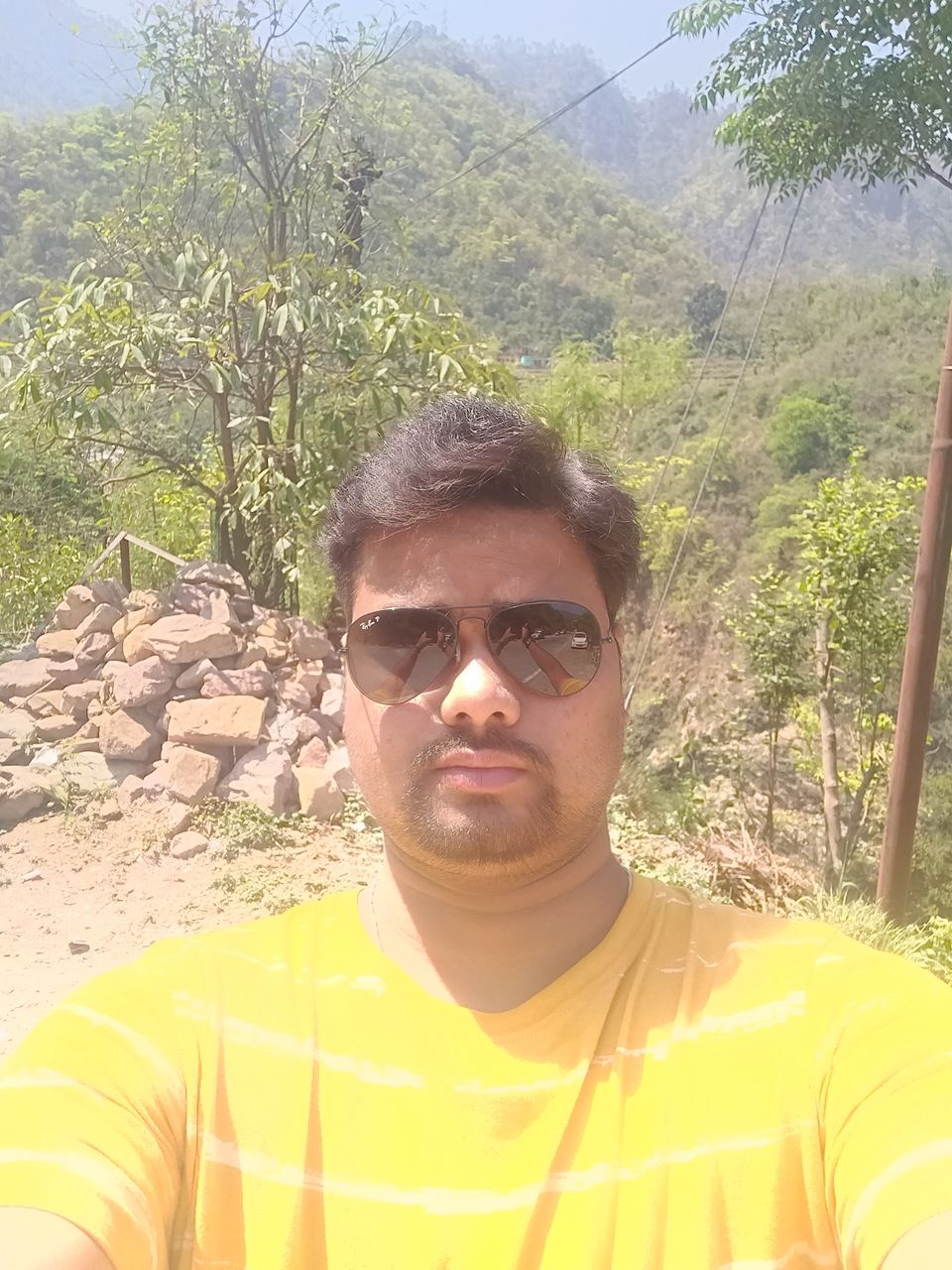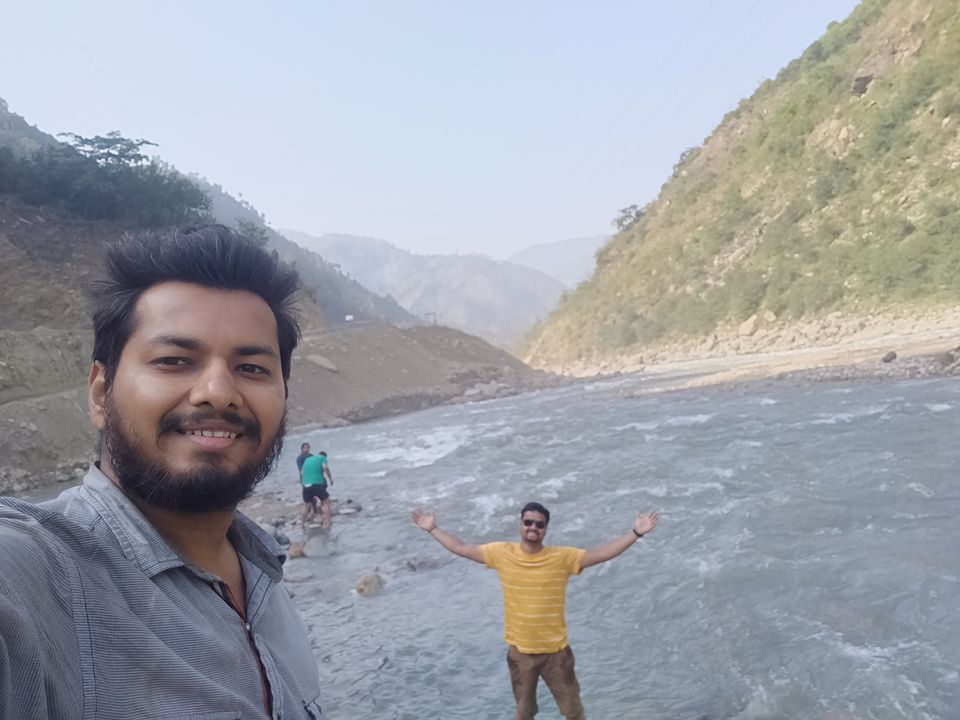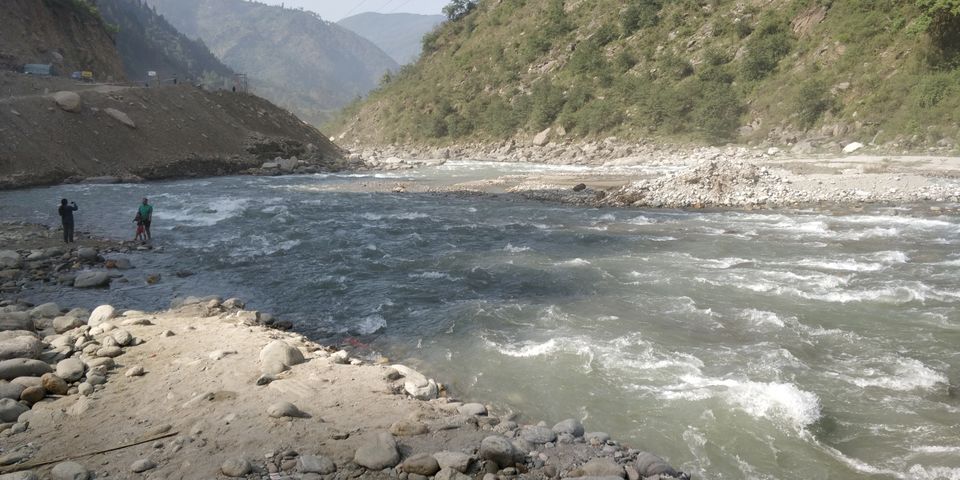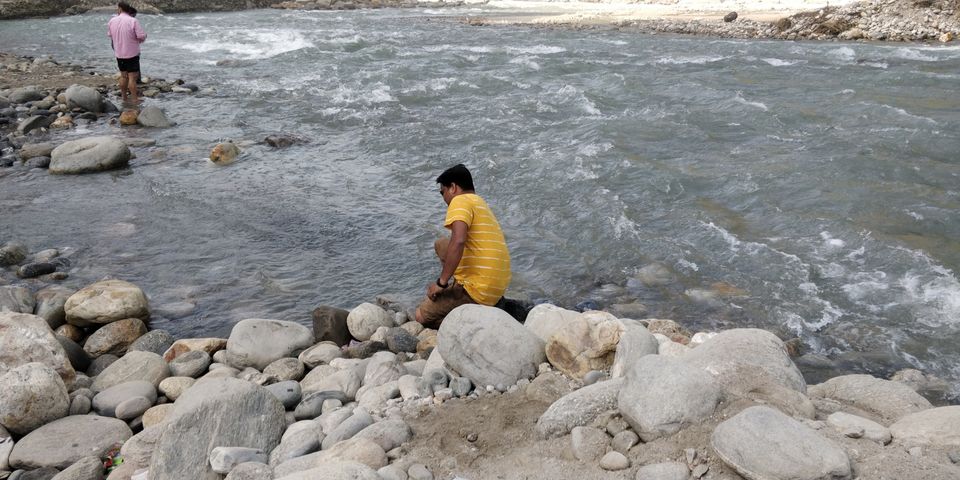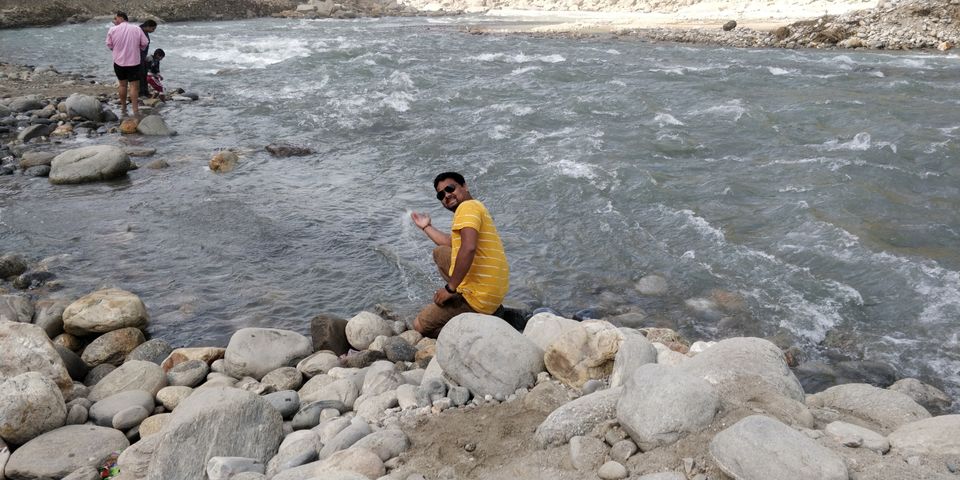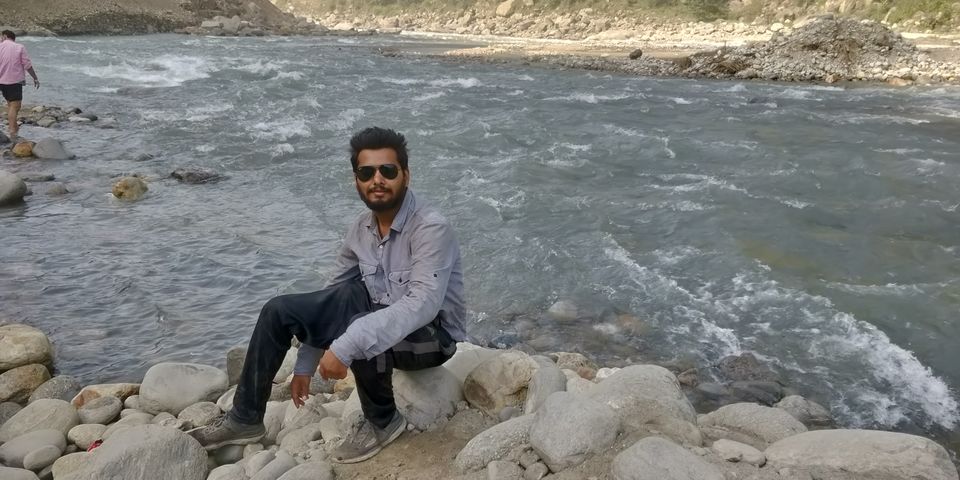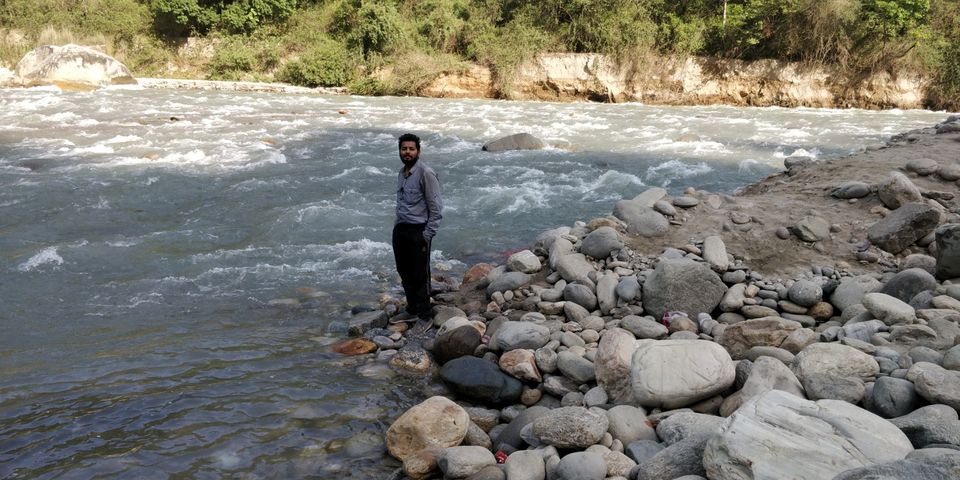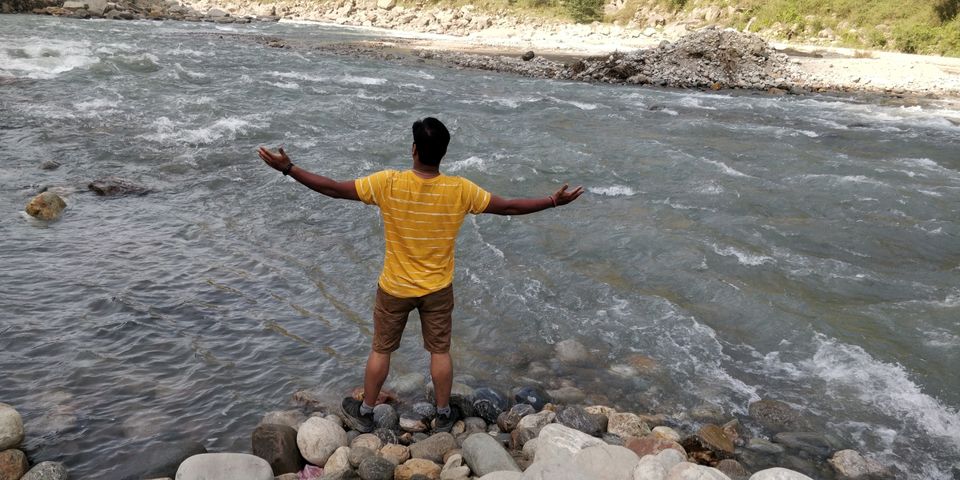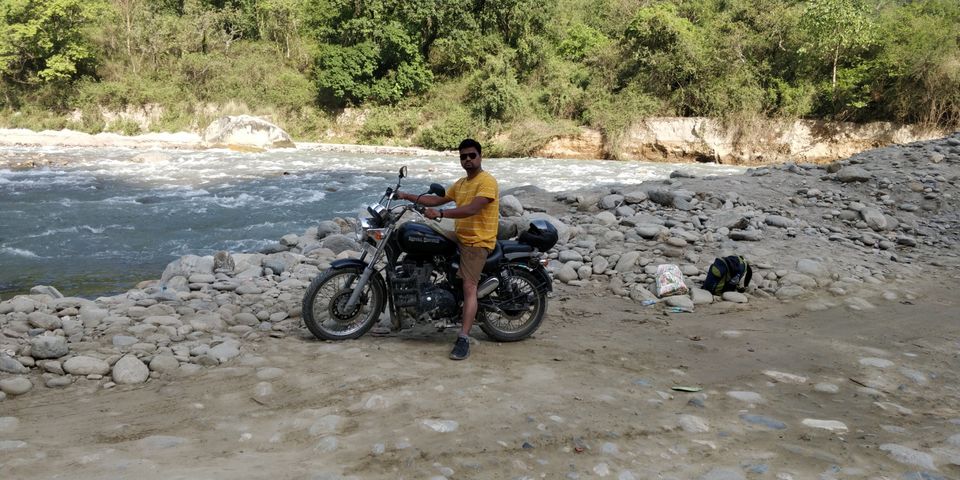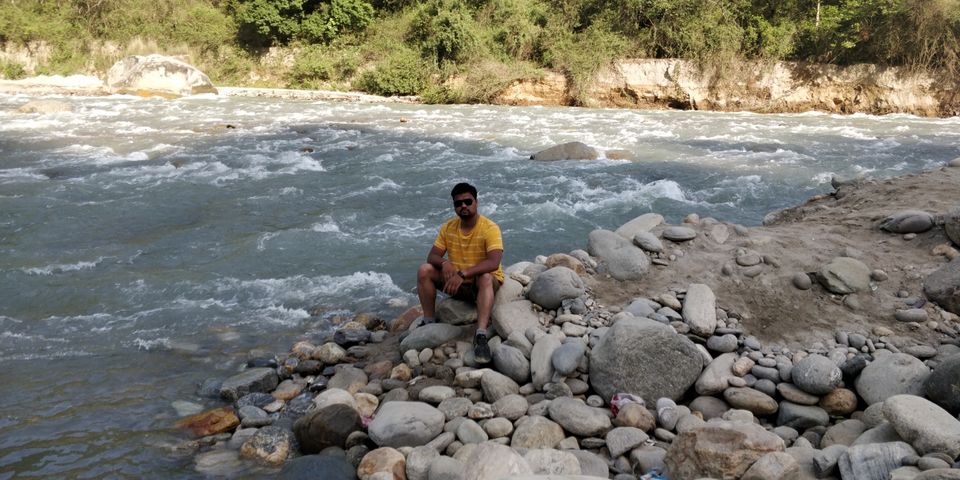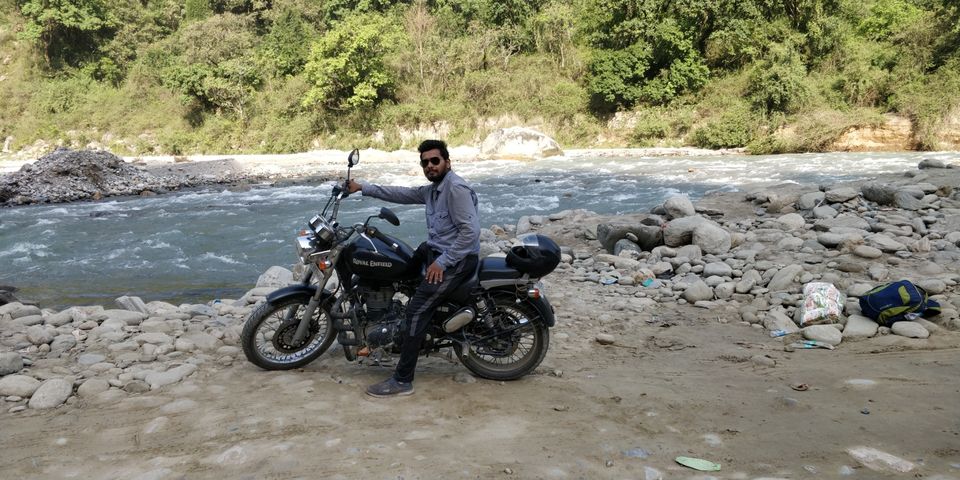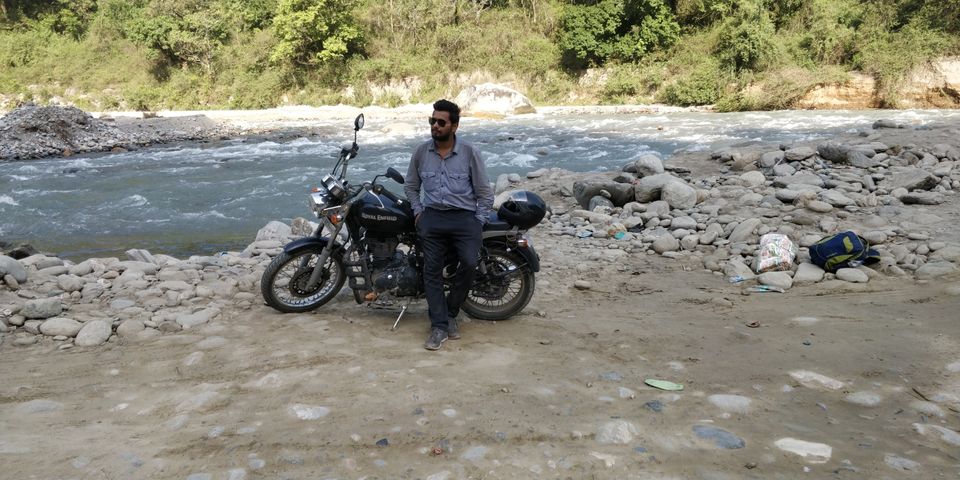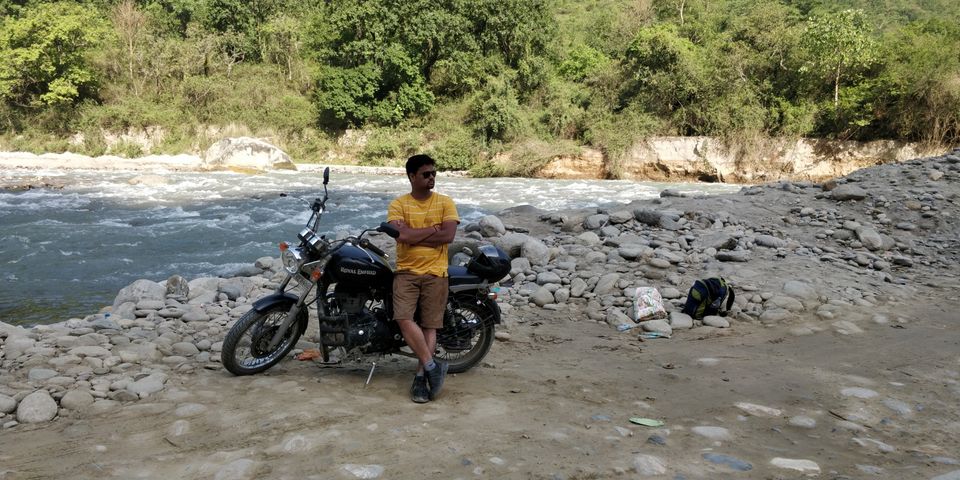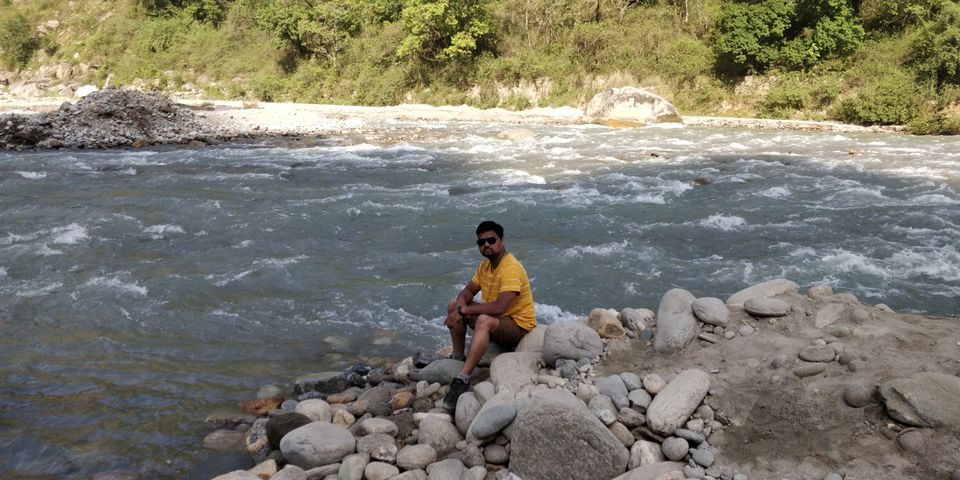 Next morning at around 8 we again started our journey and set off towards the destination. We refilled our fuel tank and stopped at a dhaba on the highway to have breakfast. The route was extremely picturesque as the holy river Ganga accompanied us in its pristine form all along the way. The view of the valley cradling Ganga Ji was so beautiful and mesmerizing that we could not stop ourselves from taking many many pictures of the magnificent view. The pure, green and clean waters of Ganga Ji made the experience so many times more enjoyable. Along the way, we stopped for a while at Shivpuri and clicked some pics of group of tourists who were starting their river rafting adventures from this place.
Next, we stopped at Devprayag. Devprayag is around 60 kms from Rishikesh and marks the place where Bhagirathi and Alaknanda confluence to form the mighty Ganga. This place is so beautiful and mesmerizing that i can't describe it in words. Only a few pics that we captured would be able to do justice to its beauty. After some click binge we set off again and moved towards Srinagar and Rudraprayag.
On moving on this route we had to leave Bhagirathi river and now the mighty Alaknanda accompanied us. The best part of this journey is that rivers accompanied us wherever we went, right up the Kedarnath shrine. And best part is that on such routes you get to see many beautiful marvels of nature and there are many such points where you feel like taking a break and enjoying the master portrait that the nature has painted for us and just soak in the beauty.
We found, beaches, waterfalls, bathing ghats, gurgling waters and what not. And one dip in the river and some fun moments later one feels refreshed and as good as new. This is the magic of nature and shows how much we need to align ourselves to it.
We crossed Srinagar, Rudraprayag and Kund. After Srinagar and before Rudraprayag we met some beautiful scenery. We stopped for darshan at Dhari Devi temple which is a beautiful temple built right in the middle of waves of the mighty Alaknanda river. The temple is very beautiful and darshan of the Dhari Devi made us feel blessed. On moving further we found a beautiful white sand beach along the Alaknanda river. It was an extremely beautiful sight and one that can't be paralleled even in foreign countries. We automatically stopped and decided to take a break and enjoy the beauty. I could not stop myself and took off my clothes and took a hearty dip and swim in the river. It was extremely exhilarating. The view was extremely beautiful with green waters, white sand and lofty mountains all around. A true picture of serenity. We then moved ahead and reached Rudraprayag, the place of confluence of Alaknanda and Mandakini.
We then left the company of Alaknanda and moved towards Kund. After crossing Kund, Mandakini river accompanied us along the way. After a long and dusty road drive due to ongoing construction work for Char Dham project, we reached Ukhimath by 6 o clock in the evening. Initially we found it difficult to get a place to spend the night due to rush but after some search we found a room which was nice, cosy and within our budget. The view of the mountains from the room was splendid and in the morning when golden rays of the sun fell on the snow- capped mountain peaks it presented a view that needs exemplary poetic talent to be able to describe properly. I hope to be able to present it in as best way as possible in the form of pictures.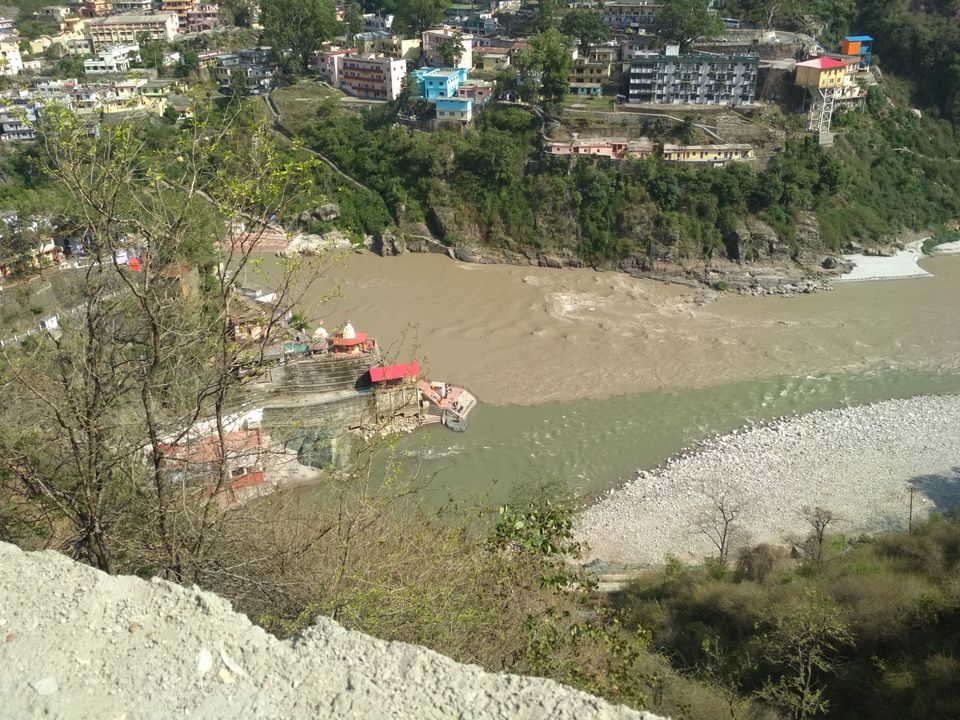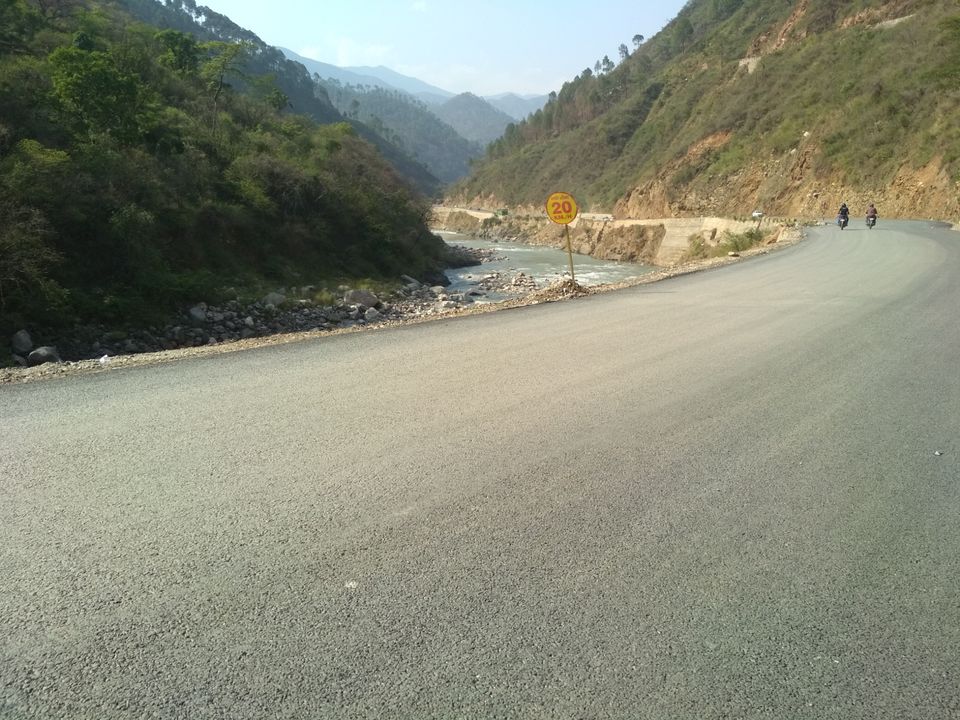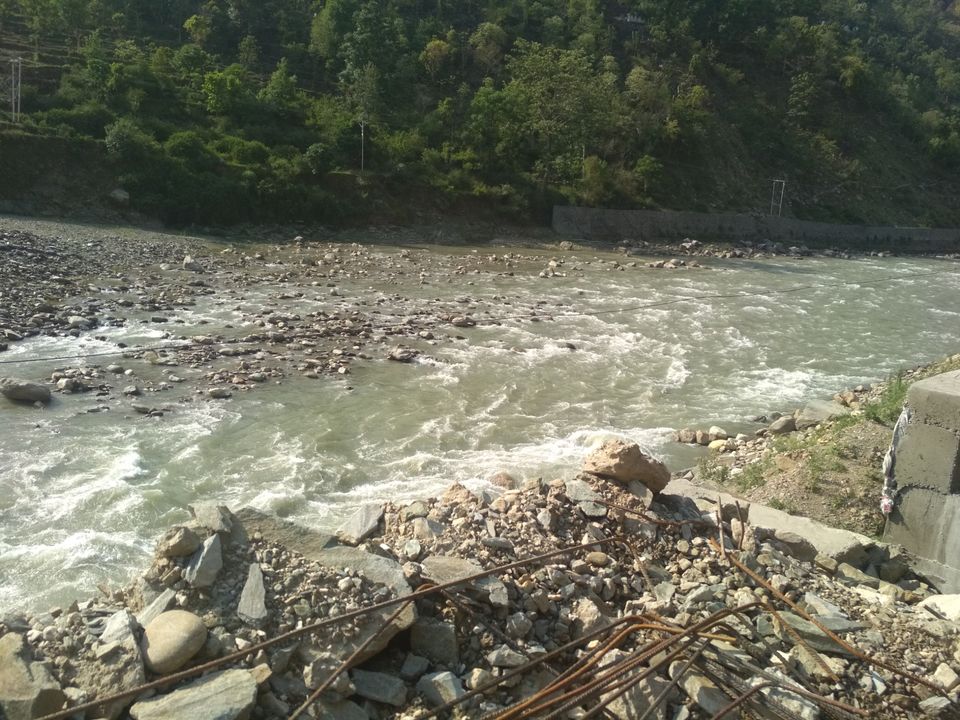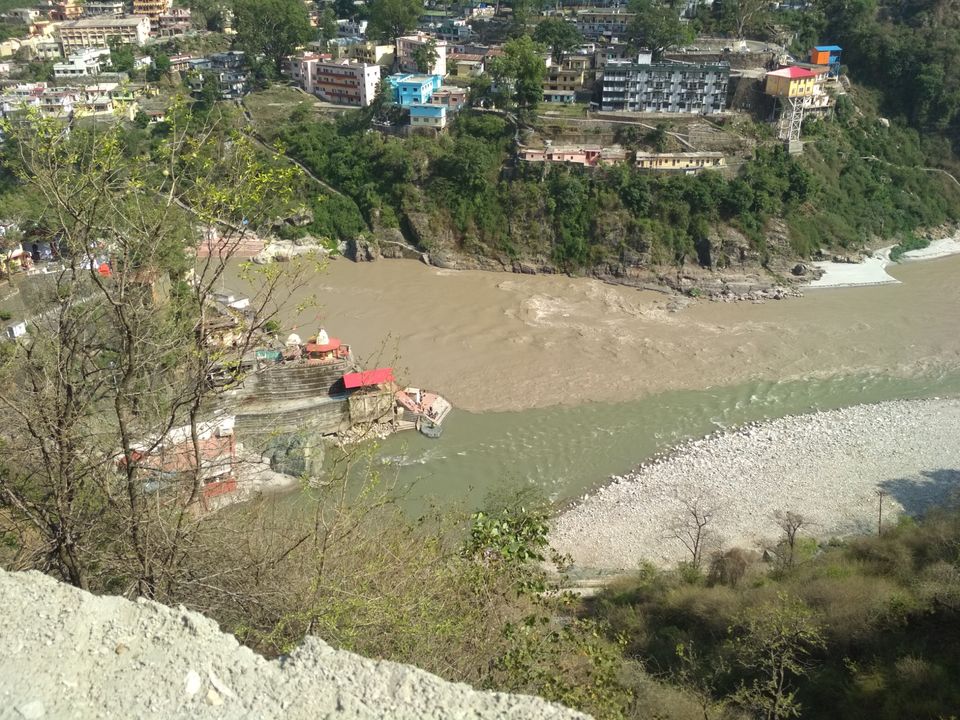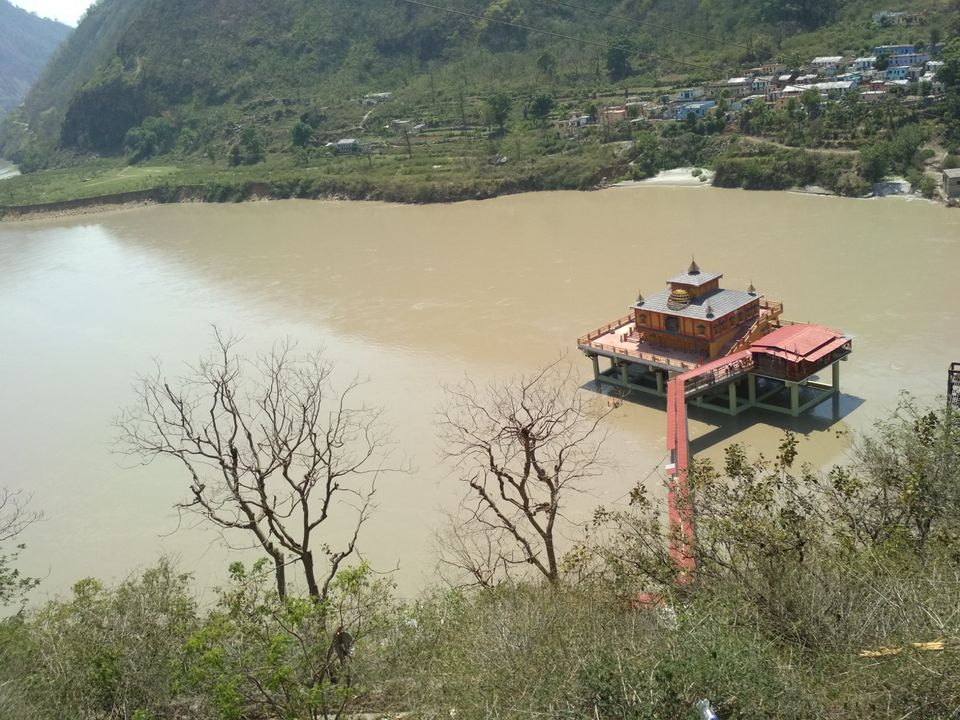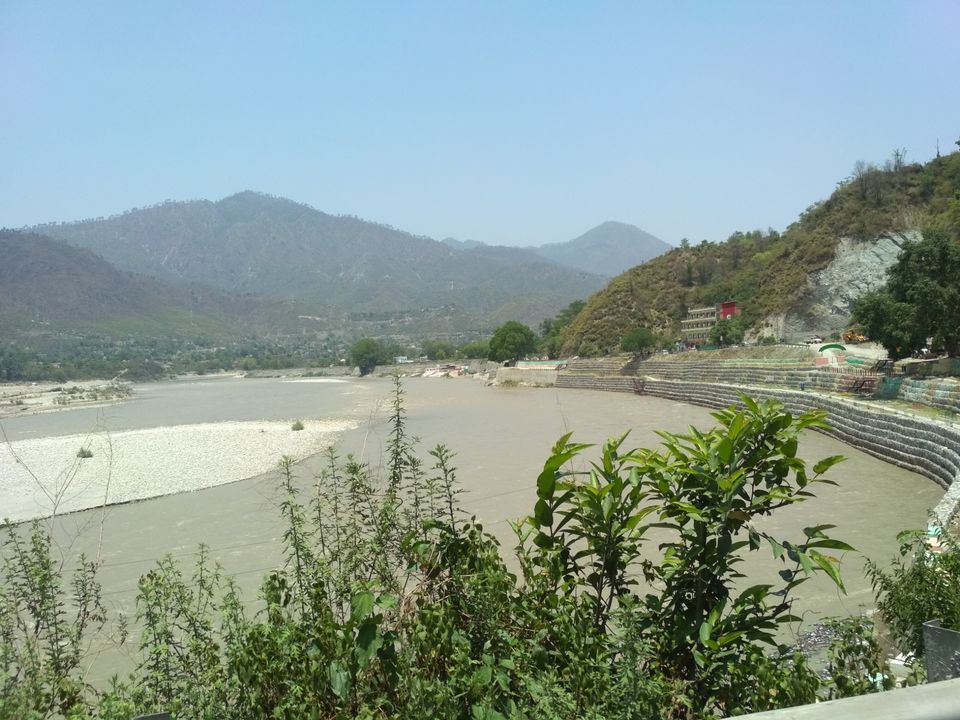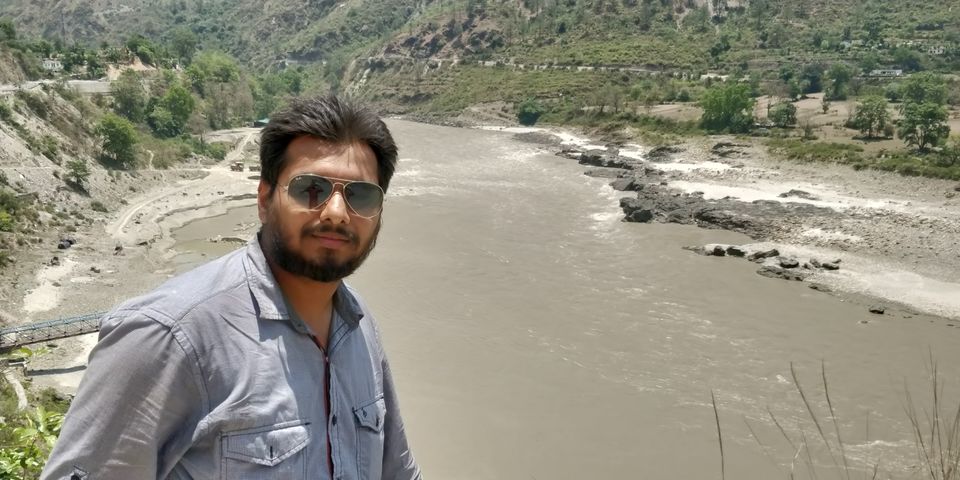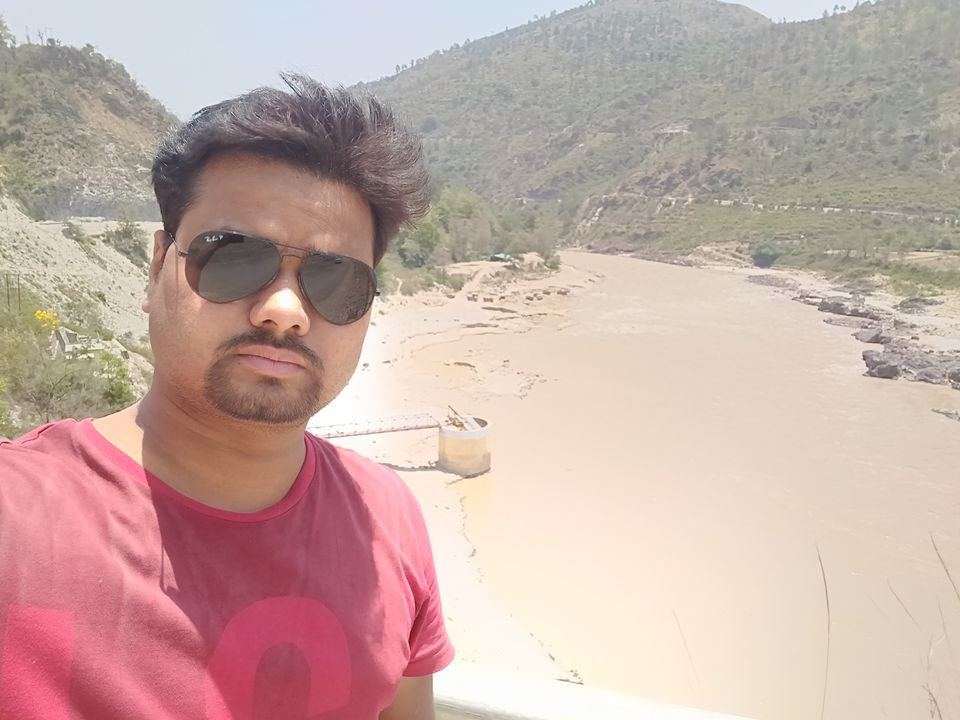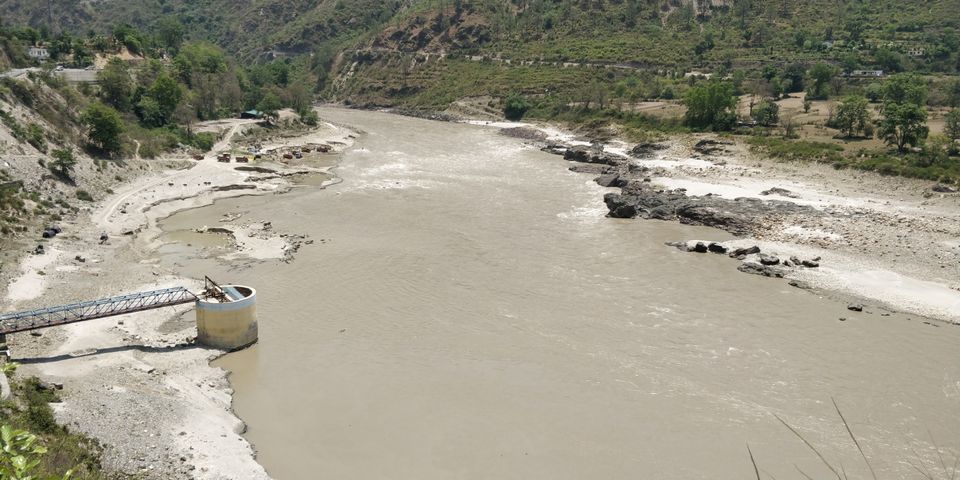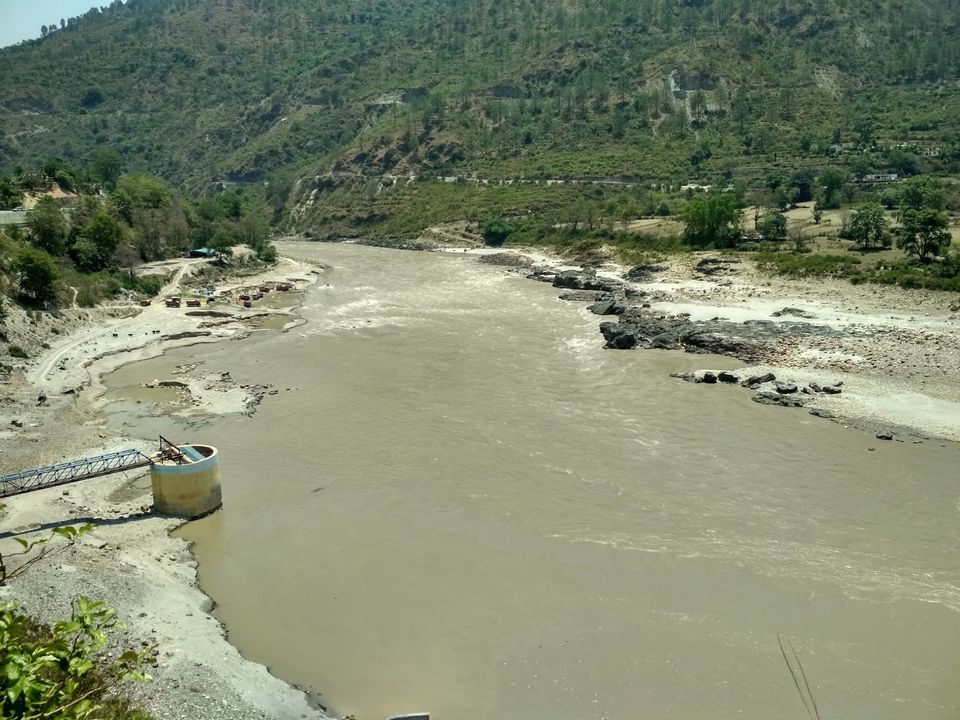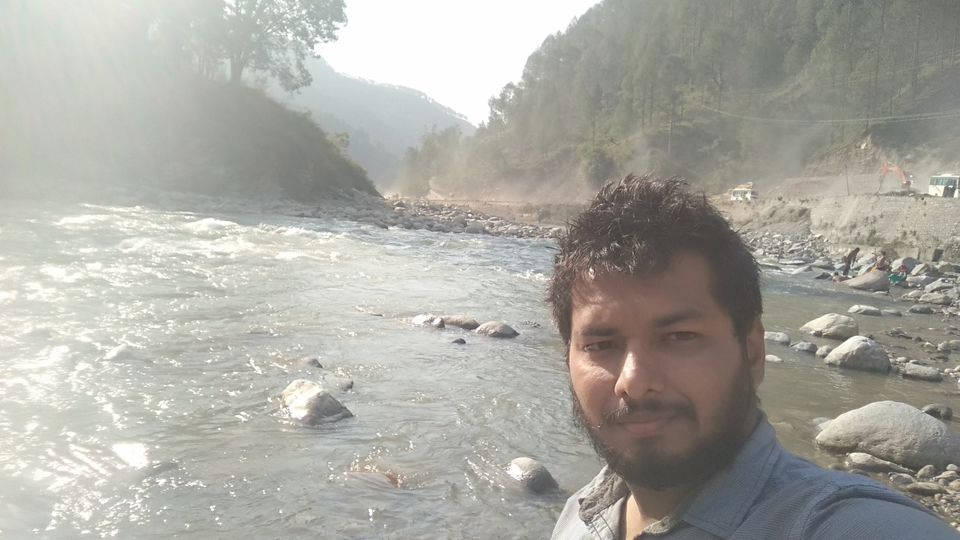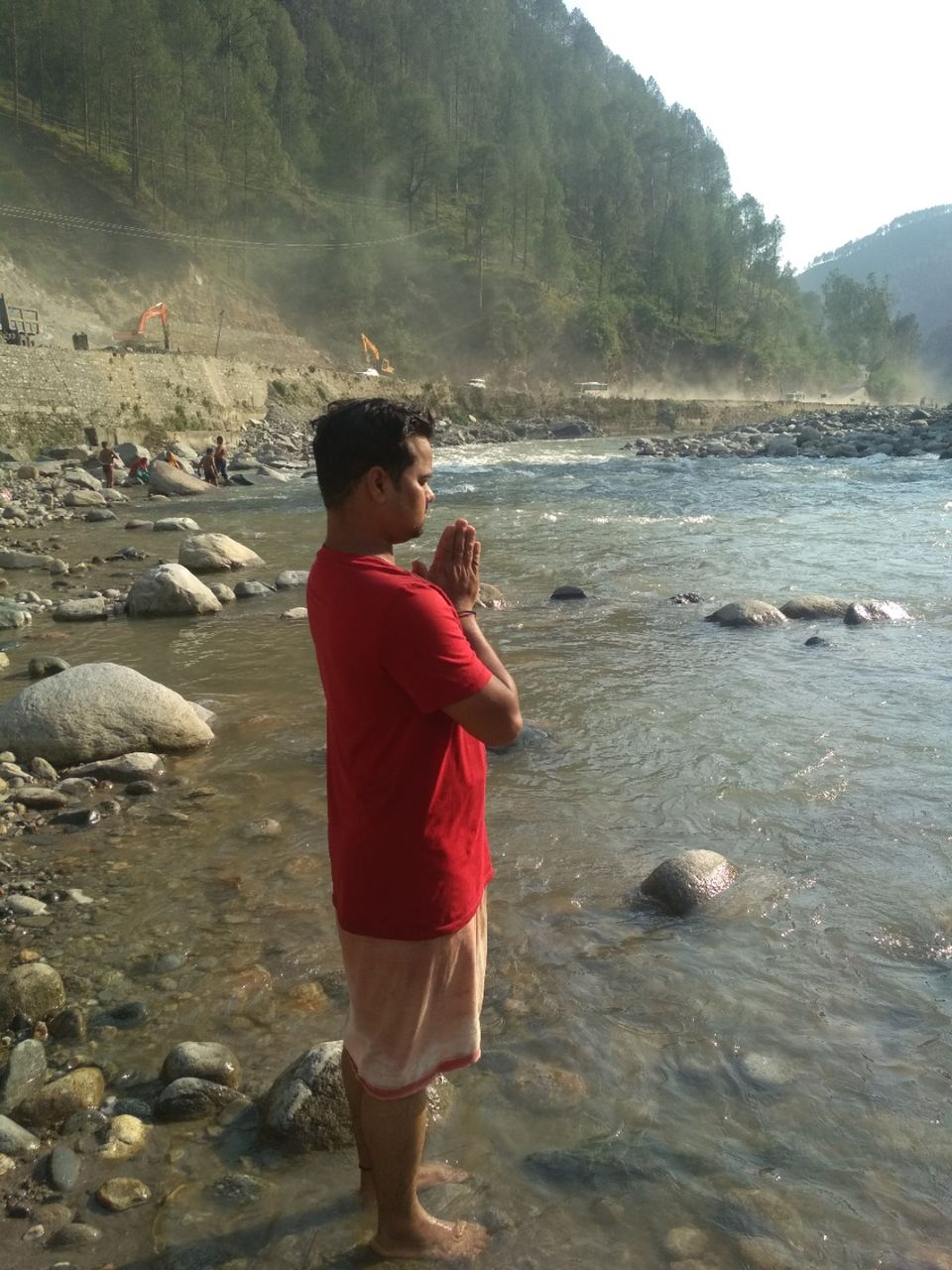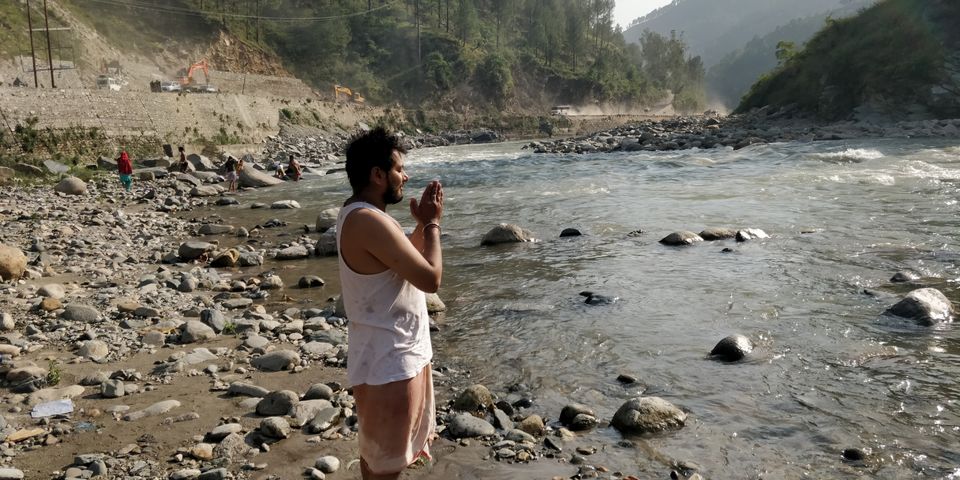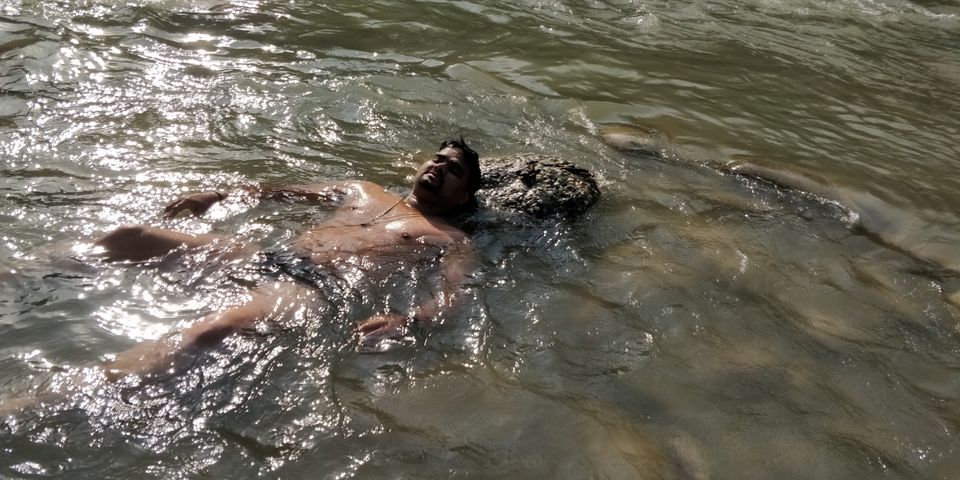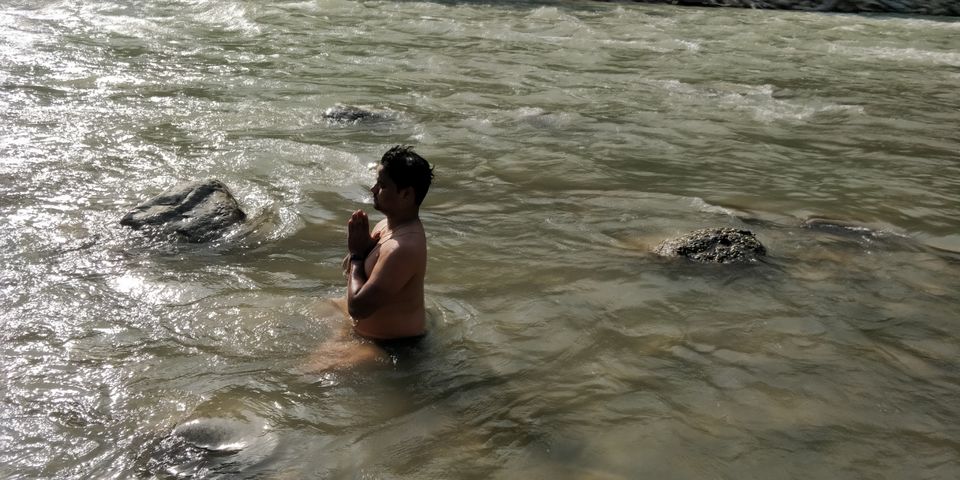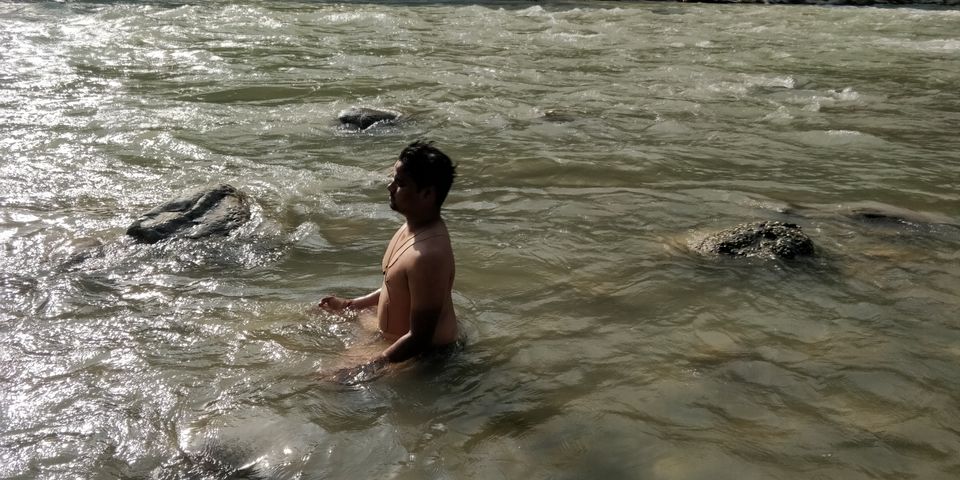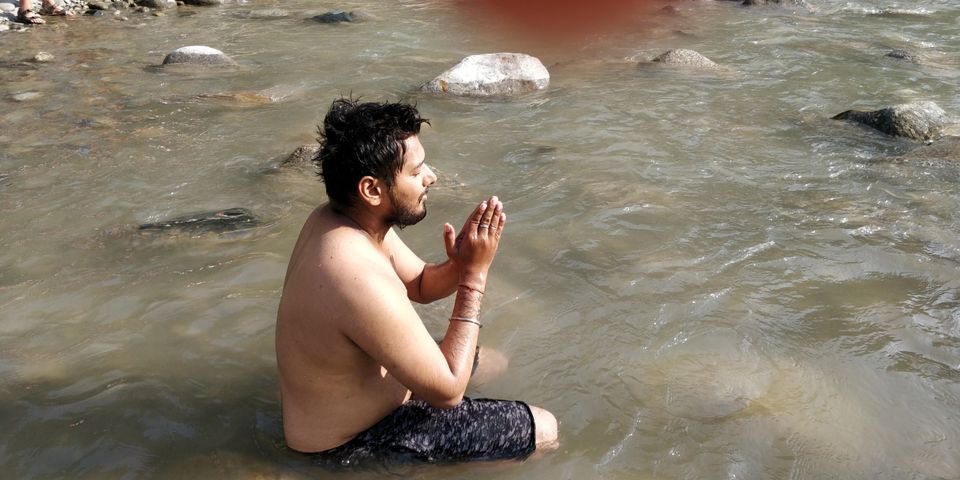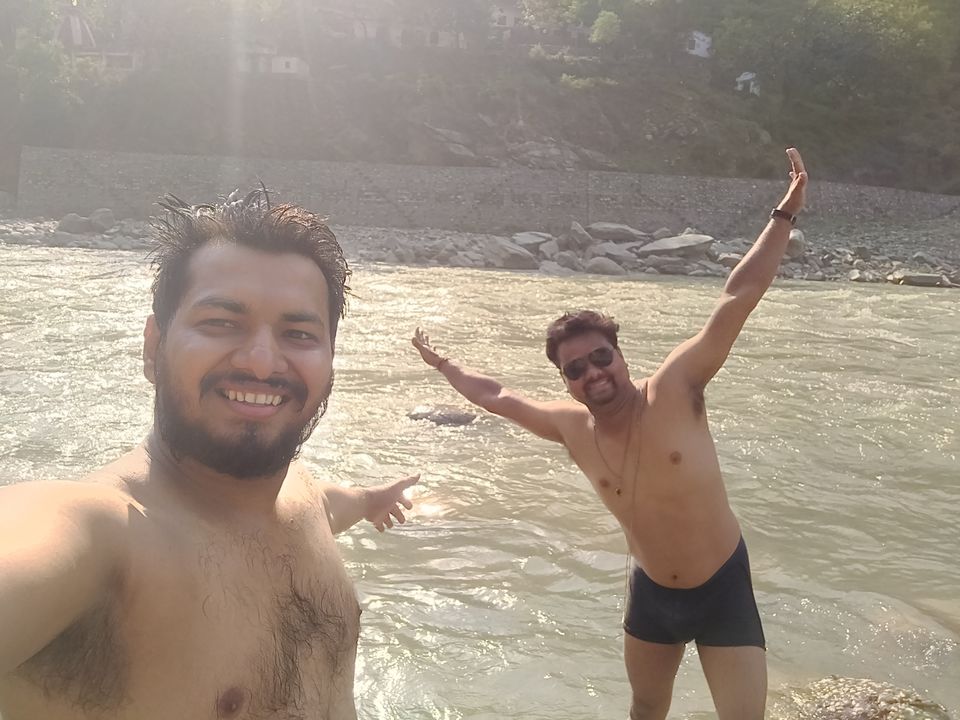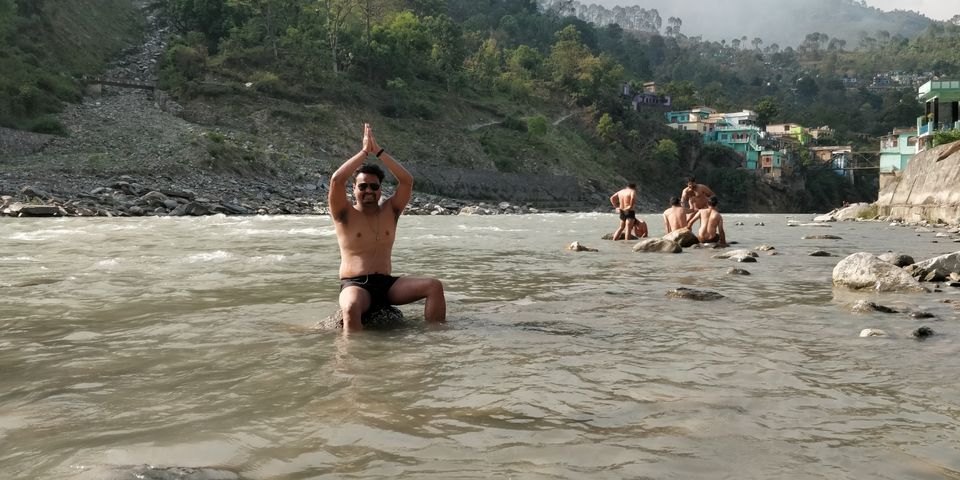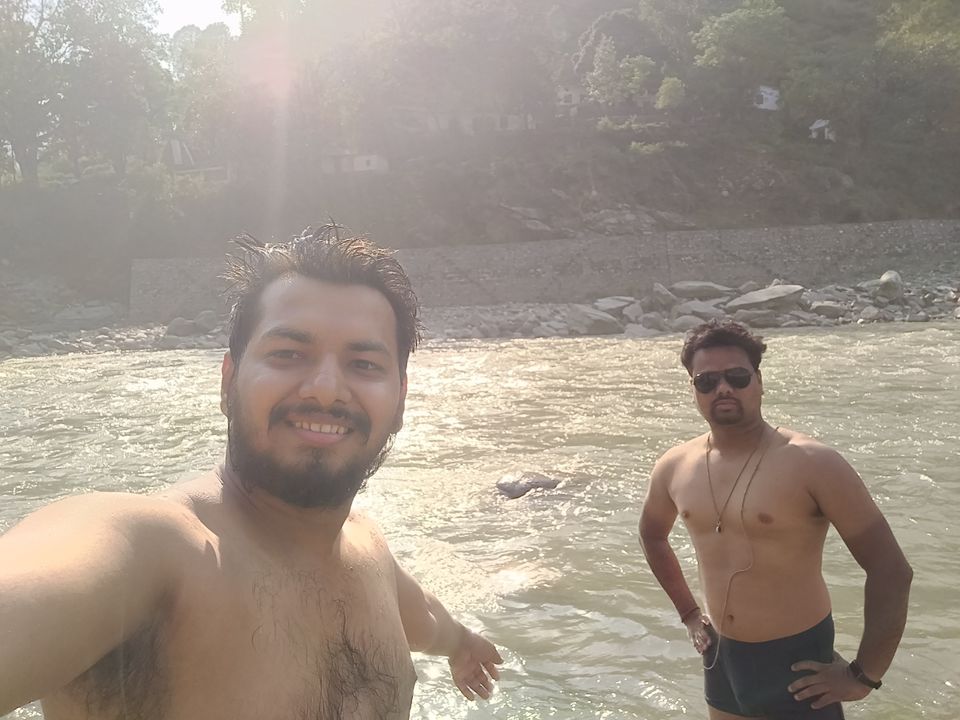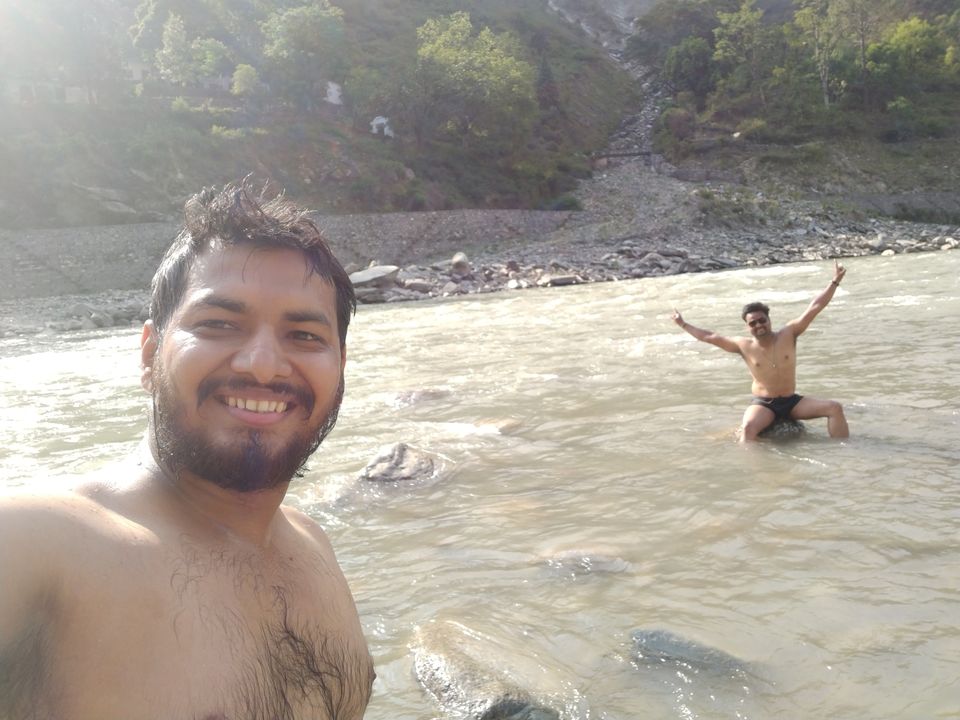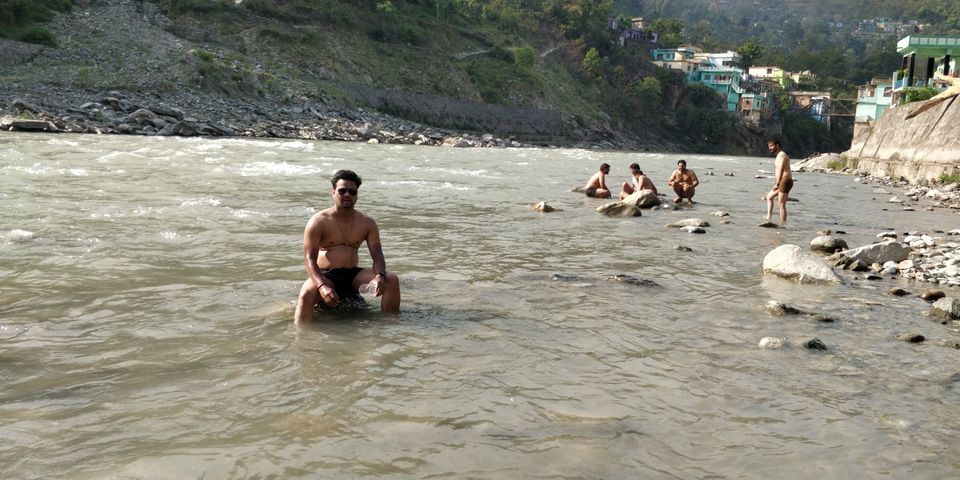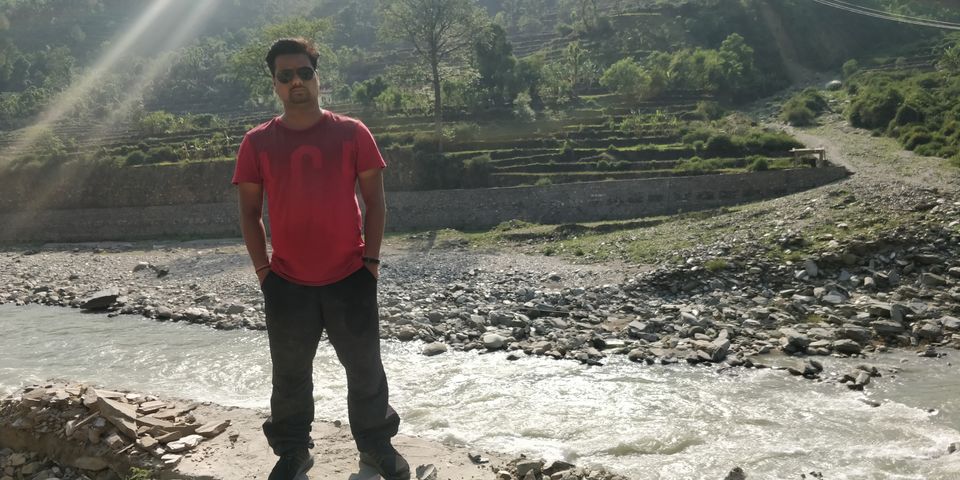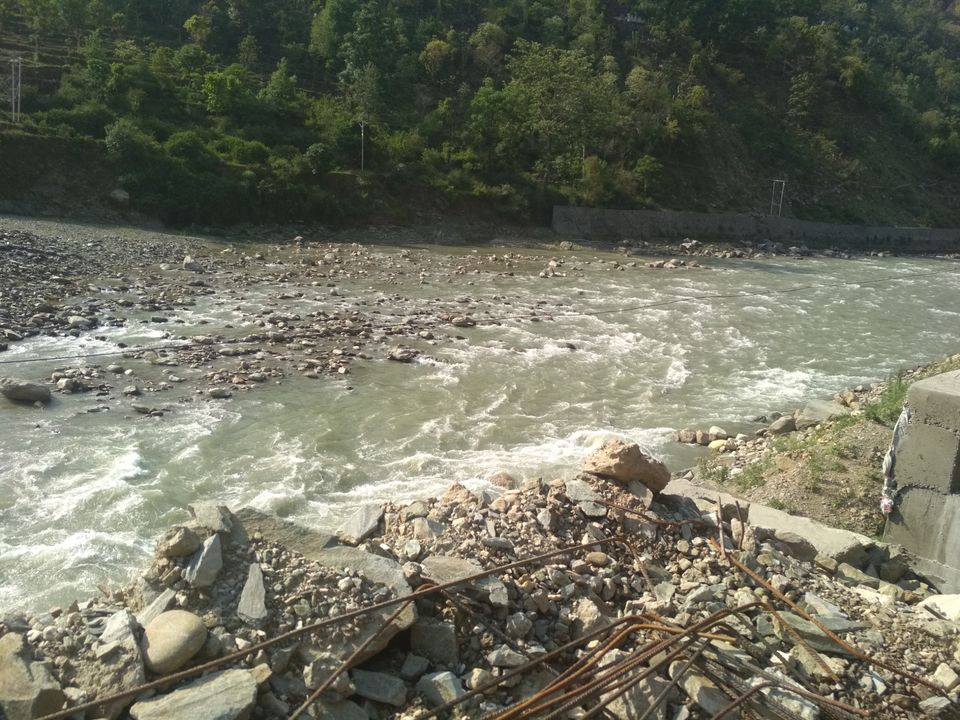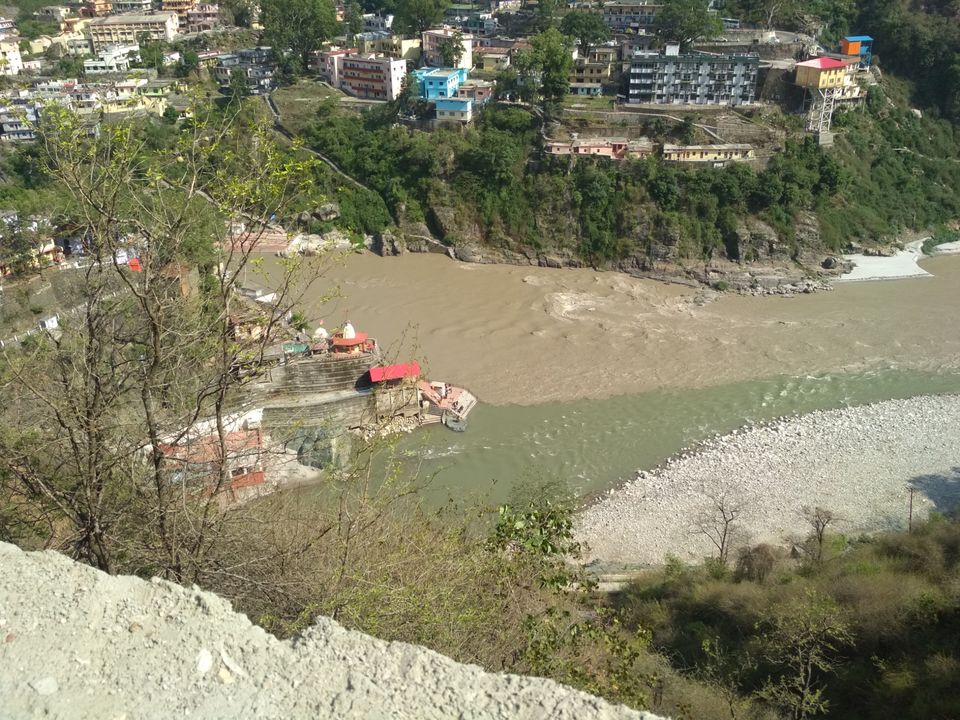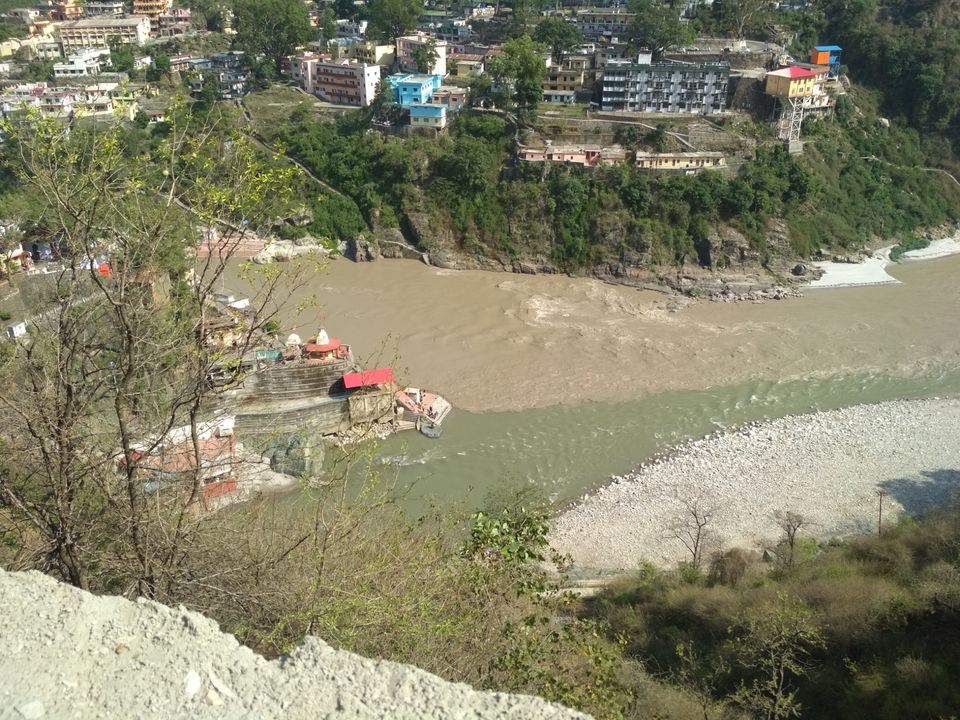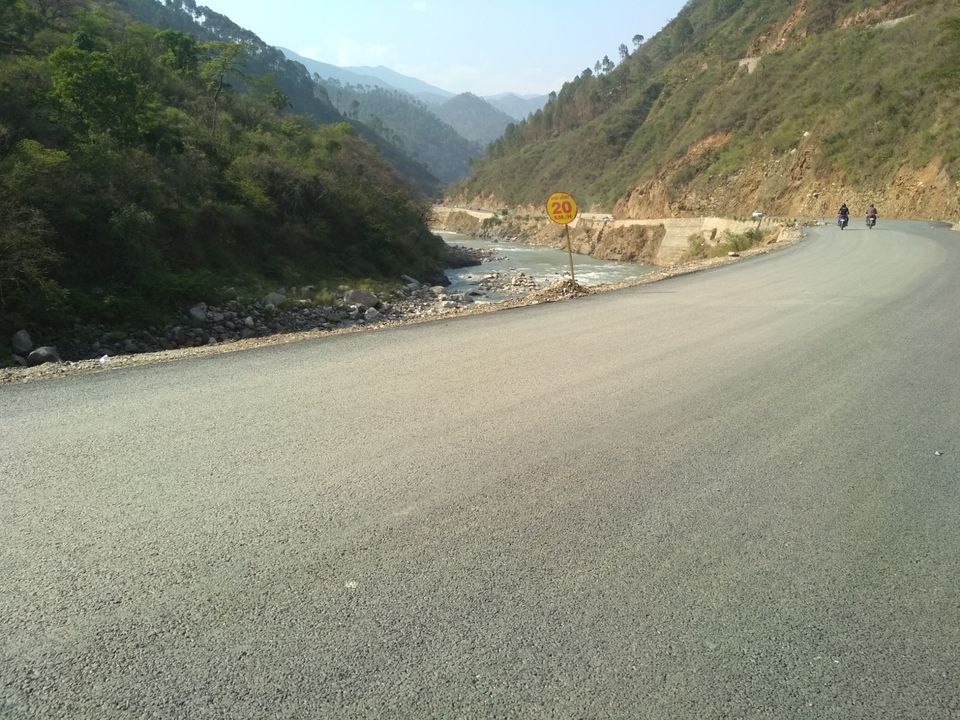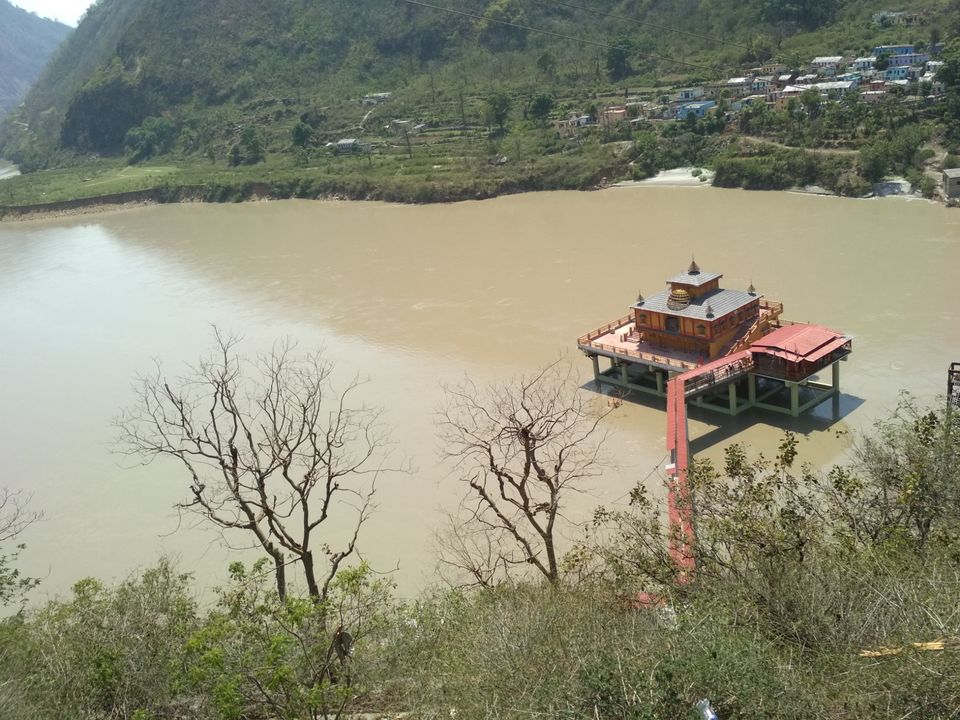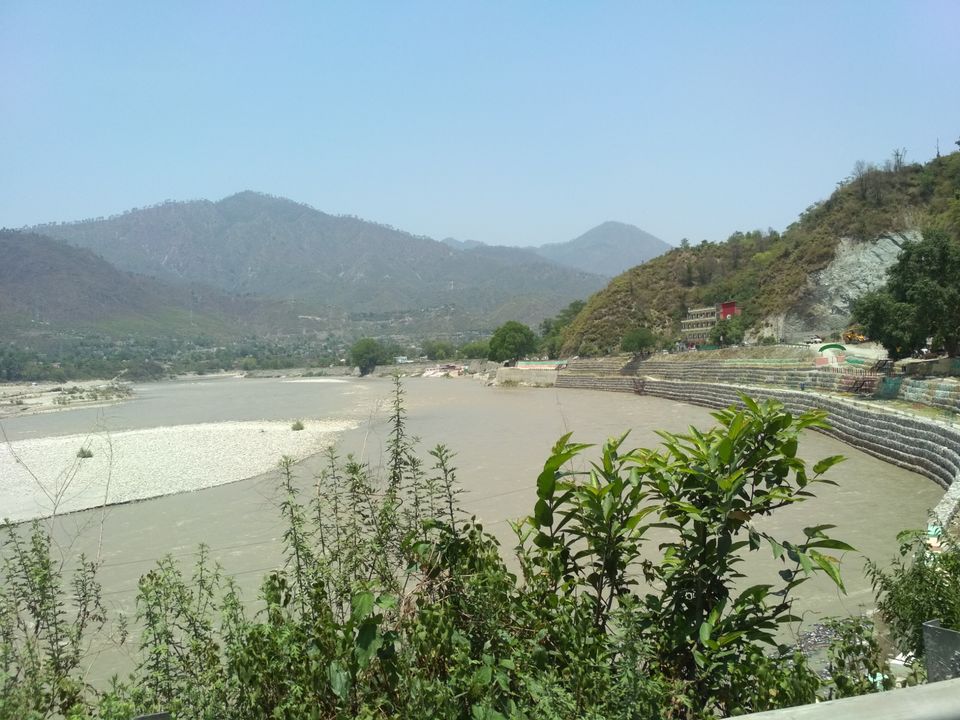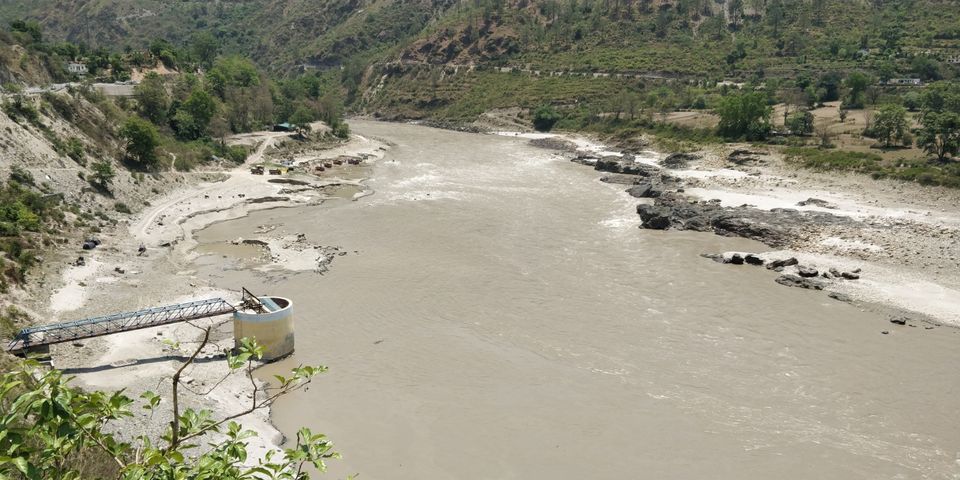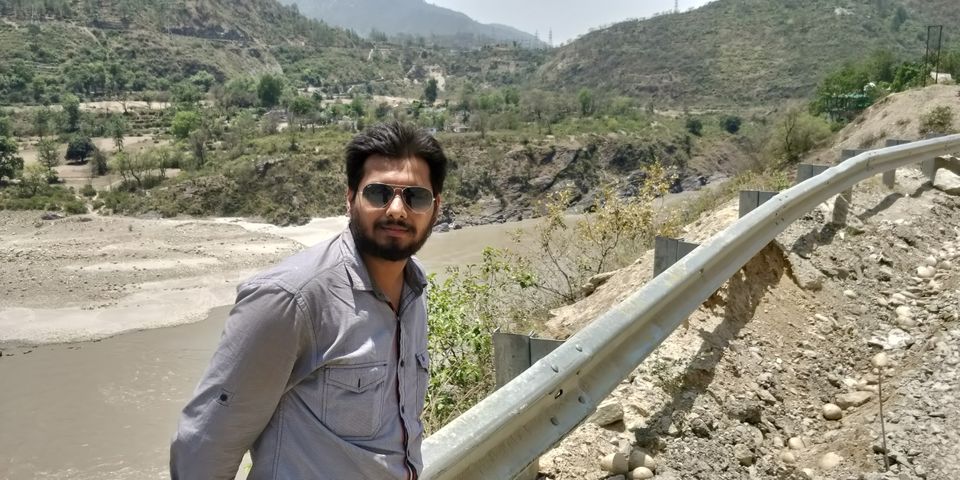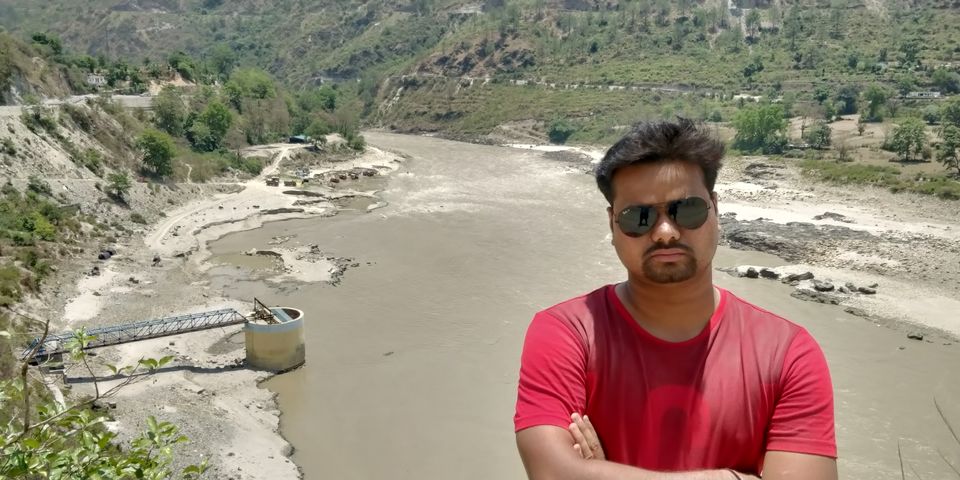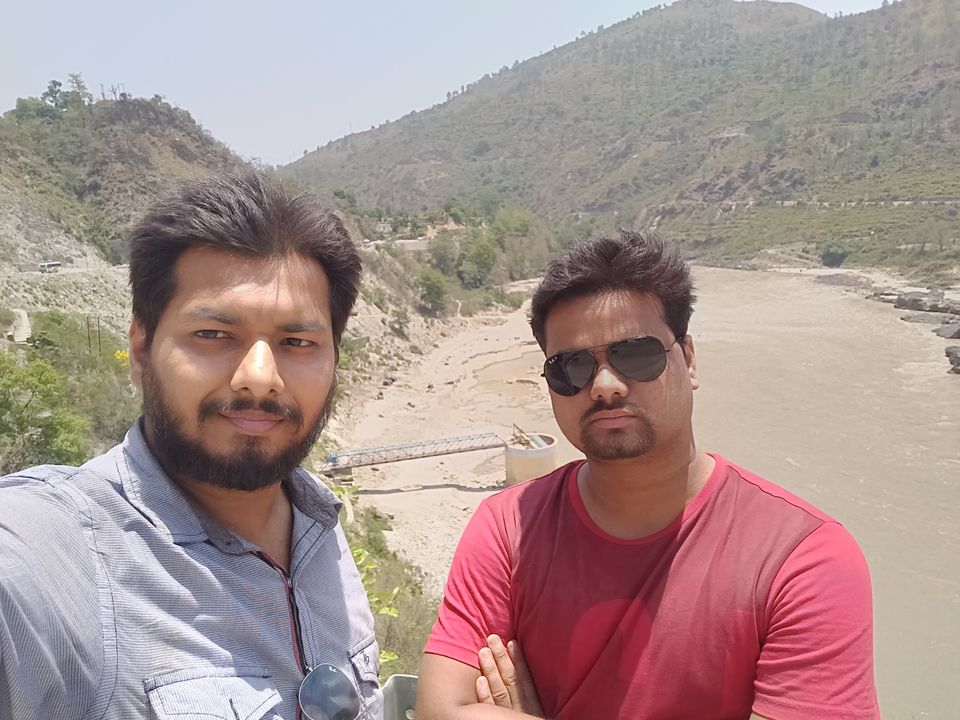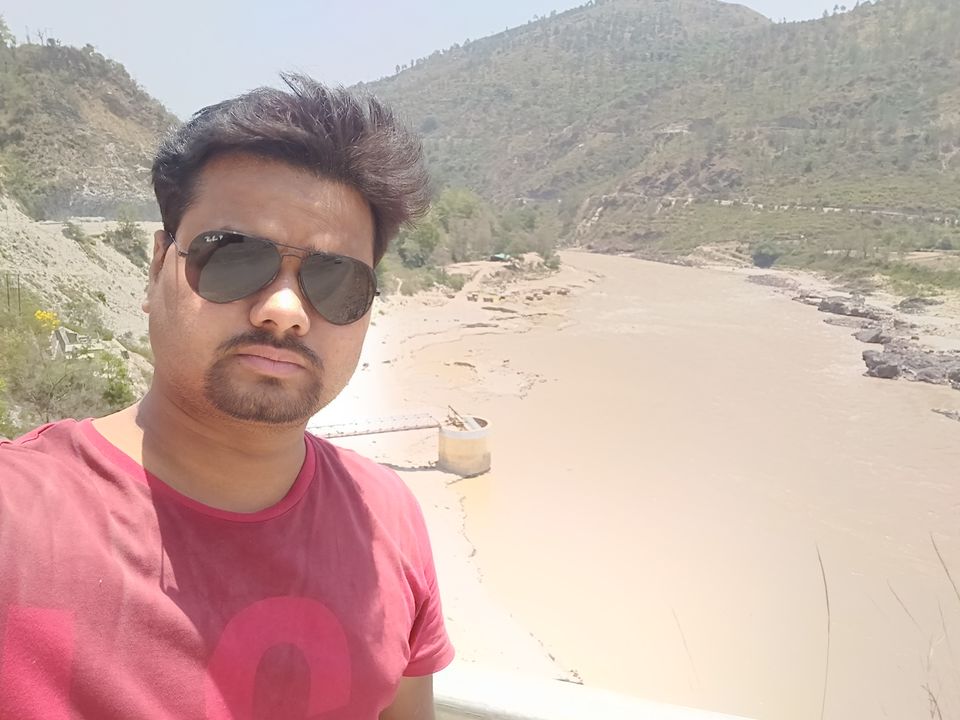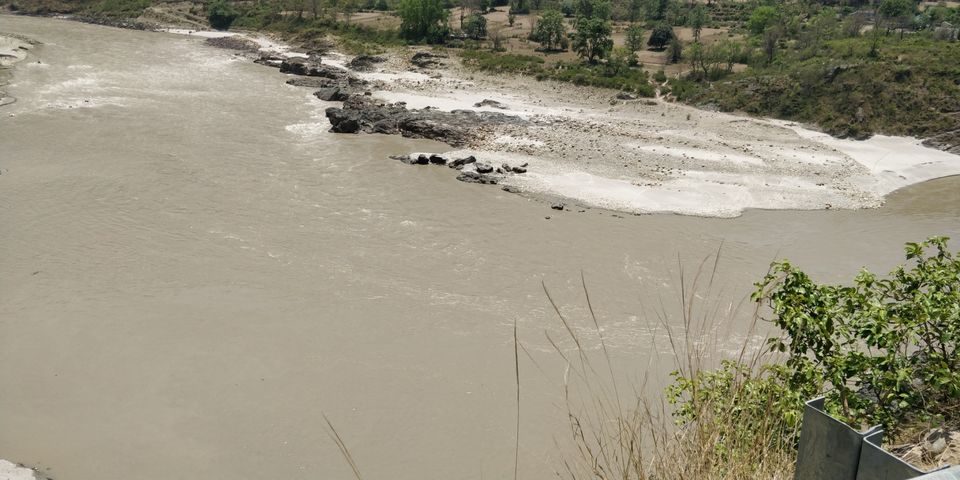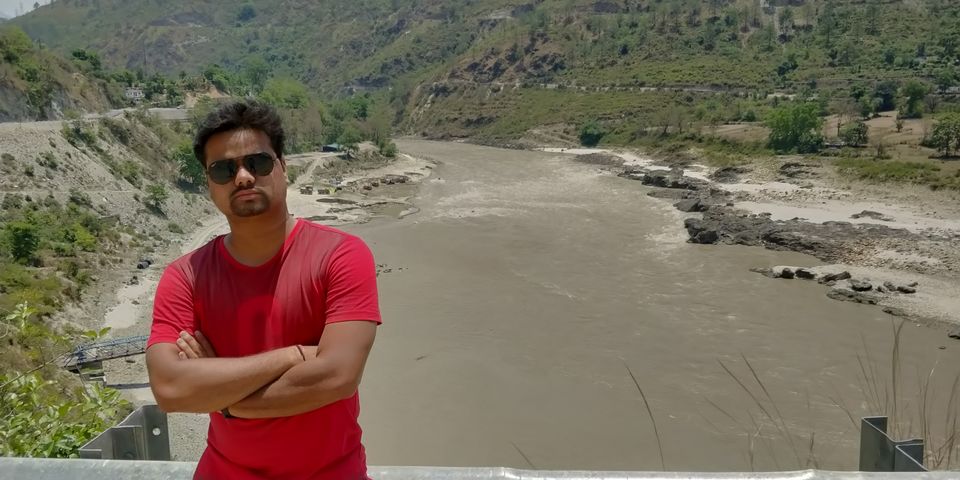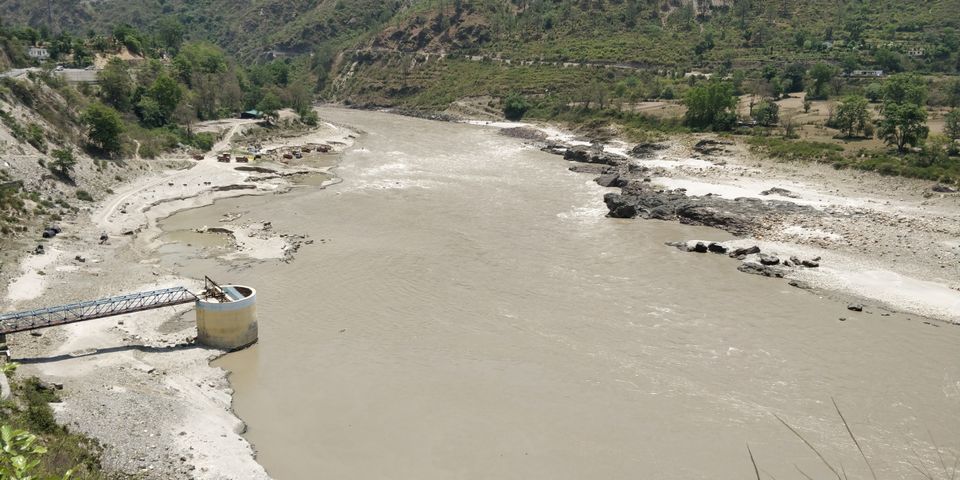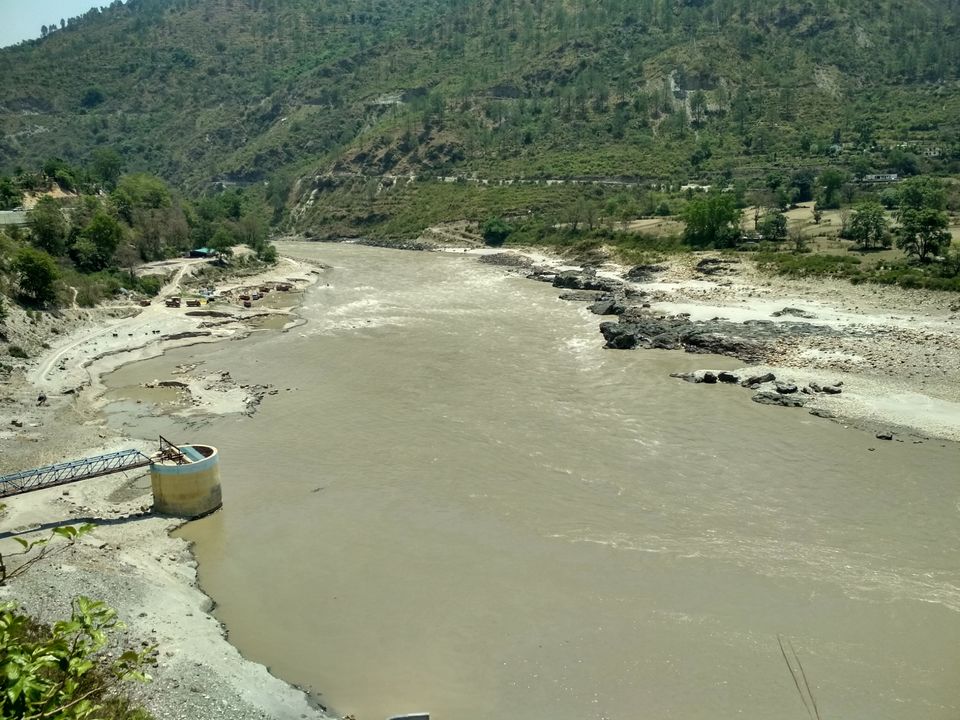 In the morning we took off from the hotel and had breakfast at Phata, the place from where you can get helicopters to reach the shrine. After having sumptuous paranthas for breakfast we proceeded forward and reached Sonprayag. Sonprayag is a beautiful place where confluence of Basuki and Mandakini takes place. This is also the last place where private vehicles are allowed.
Now we, after snaking through heavy traffic reached parking at Sonprayag, which has been made in the catchment area of Mandakini river. Here we parked our bike at a charge of Rs. 50 for 24 hours and started our ascend to reach the shrine of Mahadev.
The distance between Sonprayag and our next stoppage, Guarikund is 8 kilometres. The line for taxi was huge and it would have taken 2-3 hours just to get the taxi, so we decided to cover it on foot. The route was very picturesque with greenery all around and Mandakini river flowing by our side. And the best part was that there were many waterfalls falling on road which had cool and refreshing water. Whenever we felt tired we used to splash our faces with the fresh water and have a gulp and we used to feel fresh instantaneously. It was some sort of magic potion. Since it was ascend so we walked up slowly and after initial tiredness we gathered speed and courage and reached Gaurikund. Here one is required to do registration either at the counter or online and then move upwards. After 2013 disaster this is an added precaution undertaken by the government to keep count of the people. Although it is told that registration is mandatory but hardly 5 percent of total would have done registration. No mechanism was there to implement it. We also tried doing registration but due to poor internet connectivity we decided to move forward without it.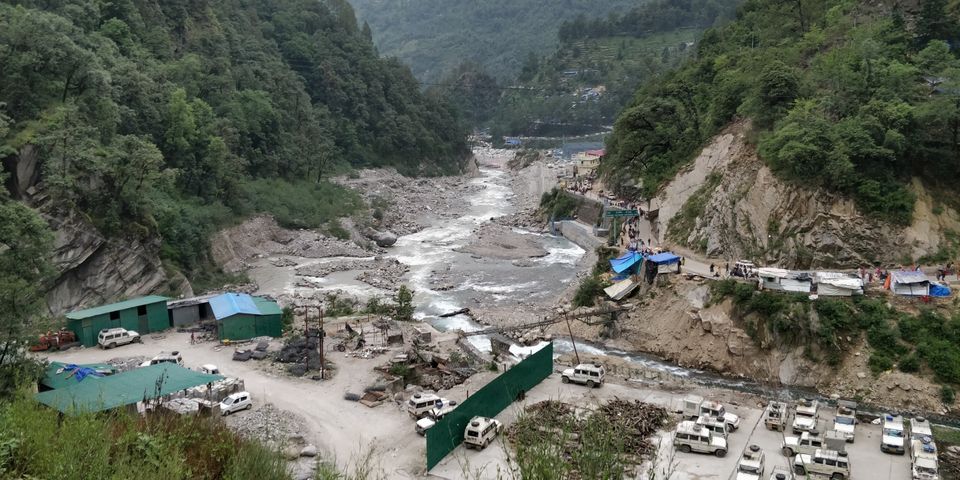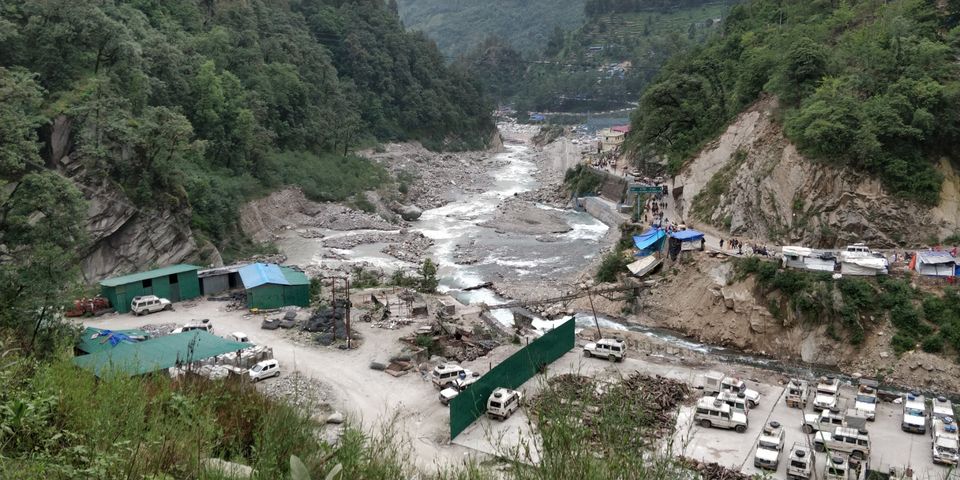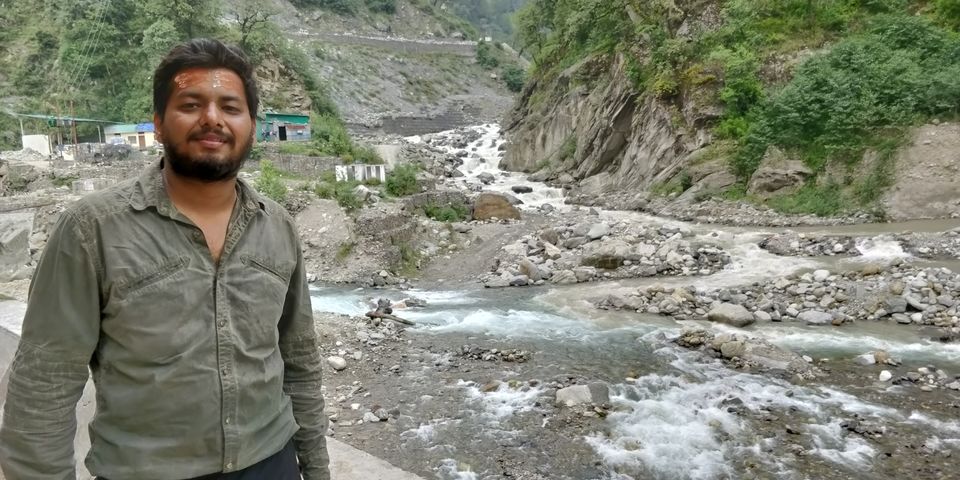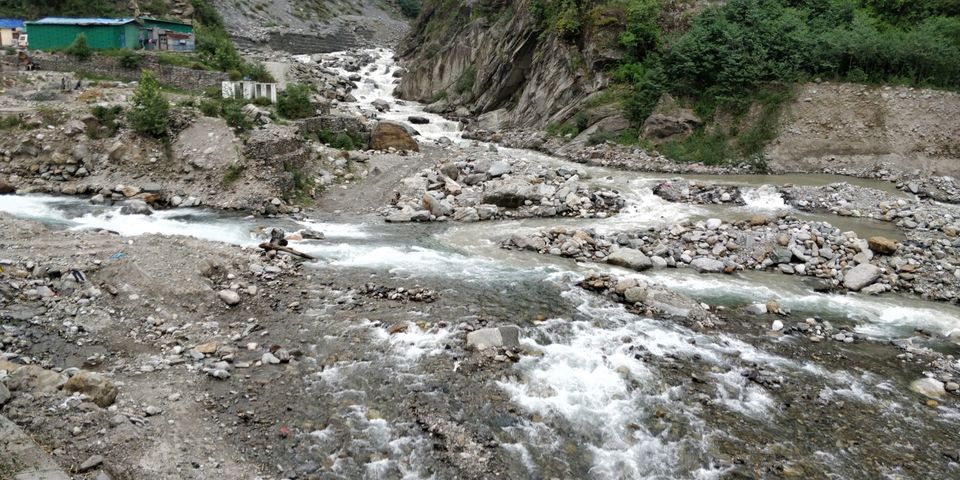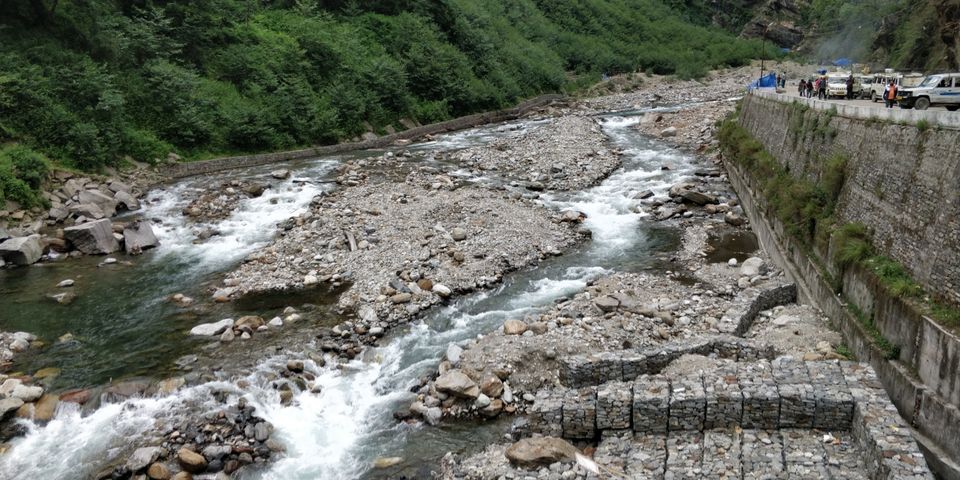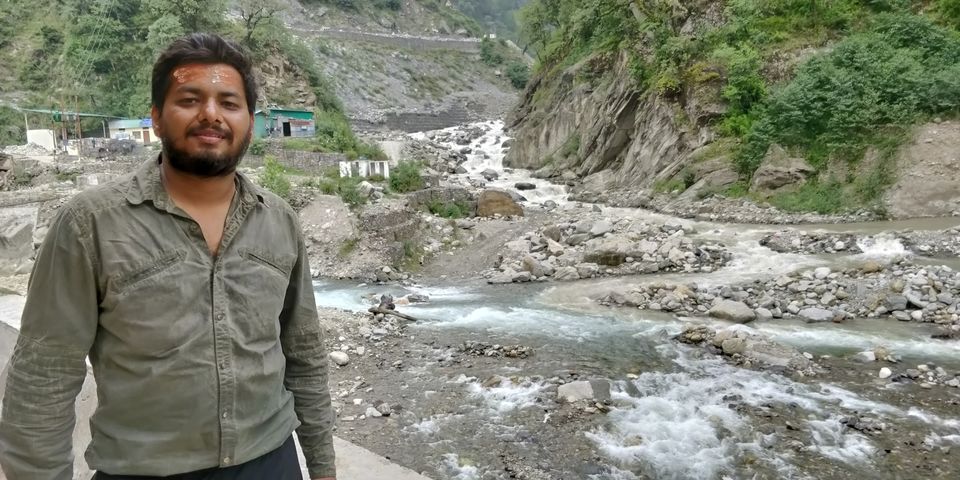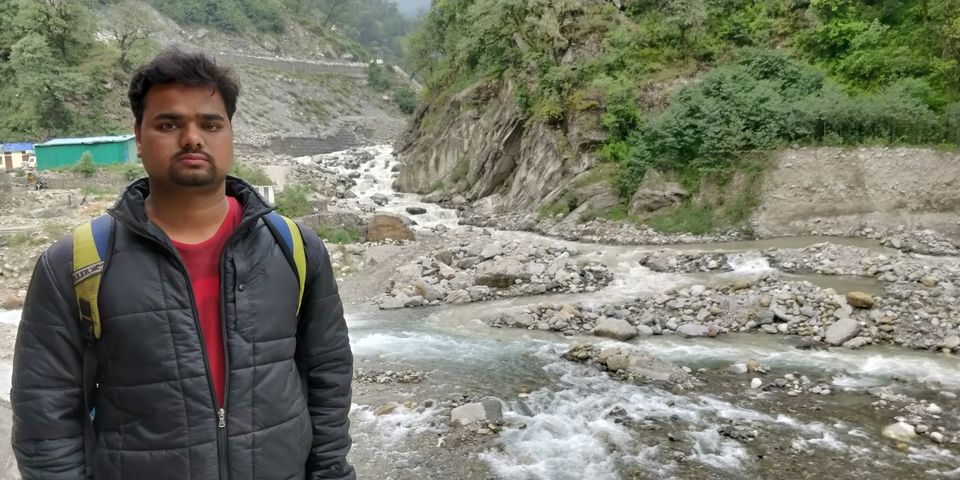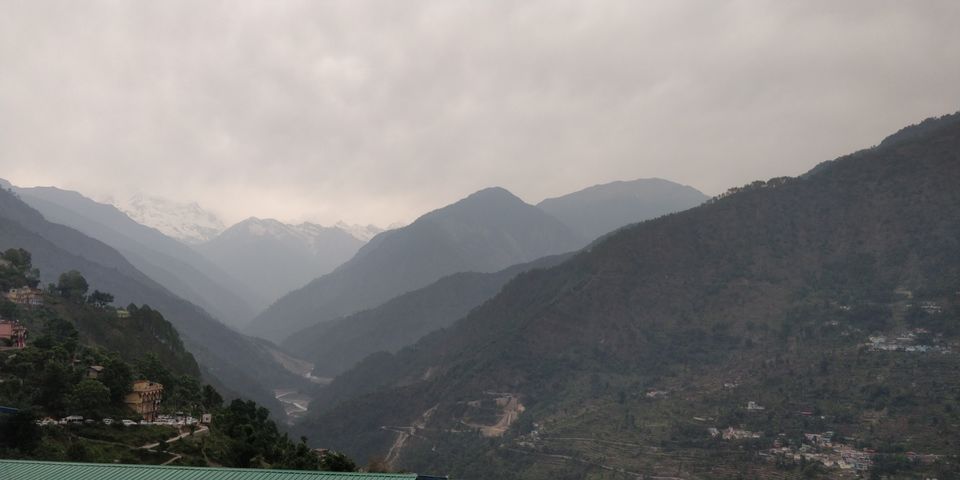 At around 12 we started climbing from Sonprayag. Reached Gaurikund at around 1:30 PM and then started moving upwards. Along the way came Rambada, Bhimbali and many resting points made for the climbing pilgrims. Whenever we felt tired we washed our faces in numerous beautiful waterfalls along the way and also filled our bottles with the cool and refreshing mountain water. The view all along was so beautiful that i do not have the ability to describe it in words. Pictures that we used to see in postcards, screensavers, wallpapers etc. were scattered all over the way adorning the path of Lord Shiva. I hope the pictures that i post will be able to do some justice to the beauty i witnessed. Whenever we felt tired we had Buransh juice which is a local drink made out of Rhododendron flower which is also the state flower of Uttarakhand. It is also a medicine and District Magistrate of Rudraprayag has made it mandatory for all shops to keep this juice in case any pilgrim needs it. It is excellent for heart health, blood pressure. It also helps in tackling lack of oxygen problem faced by people at heights. And we felt its effect immediately. All along the climb whenever we felt tired and exhausted, we had a gulp of this juice and quickly felt energy surging through our body and found a strange energy and ability to reach the shrine. Otherwise for two guys in late 20s, who work in bank and have sedentary life style, it is almost impossible to climb more than 22 kms steep, straight up, within 8 hours, when it was common to see even much fitter people taking much longer or taking help of pony. Buransh was the magic drink that enabled us to not give up and reach the top before night fell.
After numerous steep shortcuts and rest stops, we reached the top at around 8. Initially it was difficult for us to find a tent but after some struggle we managed to get a tent and two sleeping bags for us, each bag costing us Rs 300. We were also provided a mattress in the tent. Since, we had hot yummy paranthas and Maggi on our way up and kept on having some or other snack all along so we were not particularly hungry and just snuggles deep into our sleeping bag. Temperature up above was in single digits at night. We slept for a few hours and then woke up at around 2:30 and left the tent and after using the temporary lavatory and washing hands in the freezing waters we started walking towards the temple. From our tent the temple was around 1500 meters. We started walking and after walking for a while it felt as if this was the toughest walk of our lives. Earlier we were not having this much trouble even while climbing uphill. But here we were going towards the valley but still it felt as if all the energy was being sapped from our bodies. The lack of oxygen in the valley at that time in the night could clearly be felt. We took rest and then again started walking. After a few stops we finally reached the place where people were standing in line for the darshan. After a some time at around 8 we were able to get the darshan of Kedarnath Baba. Everybody was full of devotion towards Baba Kedarnath. Some devotees had even climbed all the way up barefoot. Some had even brought small idols of gods and goddesses to the top for darshan. We bought prasad and other necessary things from the shops close to the line we were standing in. I was feeling sorry that i could not take bath before darshan. But observed that not many were taking bath so we also skipped that. I washed hands from water present there and tried to purify myself in whatever possible way. The temple from insides was majestic and looked age old. There was ghee pasted on all the idols. On entering there was idol of all the 5 Pandavas, their mother Kunti, wife Draupadi and Lord Nar and Narayan. Inside in the garbh griha we got the glimpse of Baba Kedar. i offered whatever i had brought and bowed my head and hands in front of the Lord and came out. Then after taking videos and pics of the compound and showing the place to the family on video call, we decided to start our trek down. We also saw from a distance the cave where Prime Minister Narendra Modi did dhyaan for a day. After that we decided to have some paranthas and chhole bhature for breakfast and then we started our trek downwards. While going back we also saw many helicopters plying tourists to the temple aerially. On our way back we were feeling more tired as the climb had drained us physically. But we reached Gaurikund by around 4 and Sonprayag by 6. There we took our bike from the parking and went to Ukhimath and decided to stay in the same hotel where we stayed while coming up.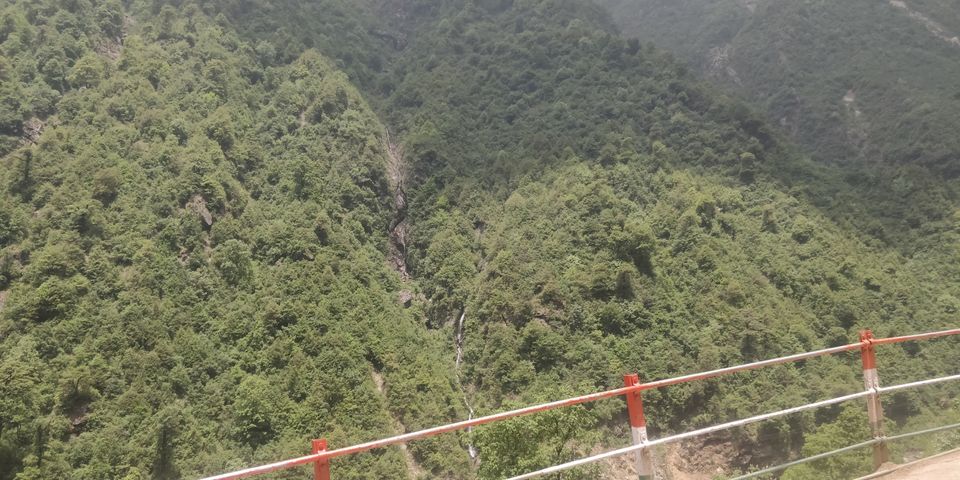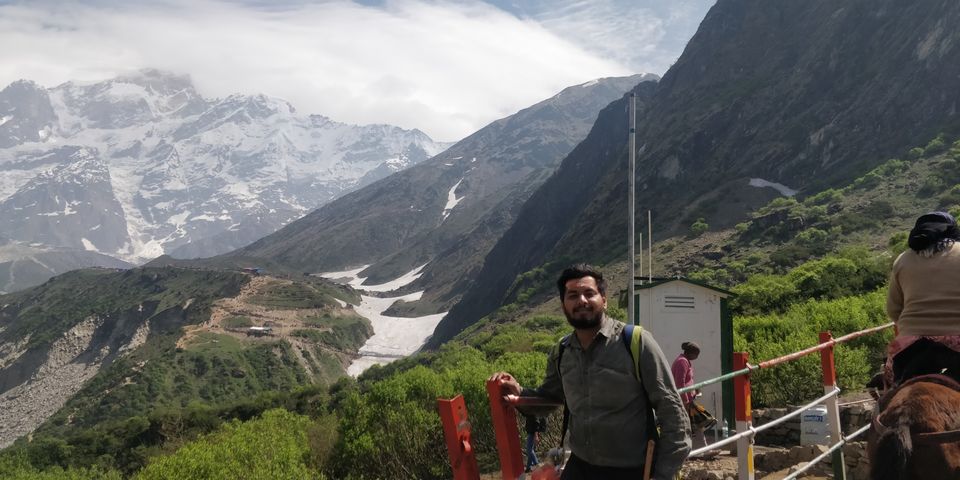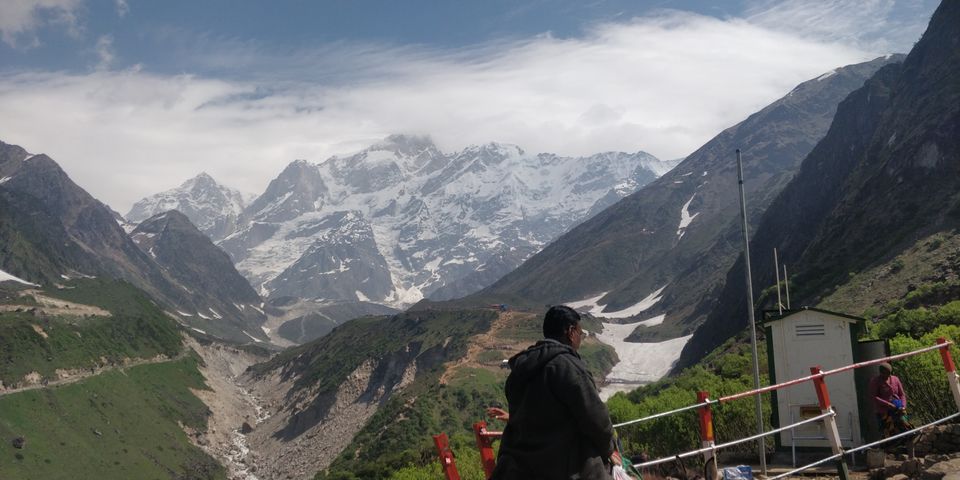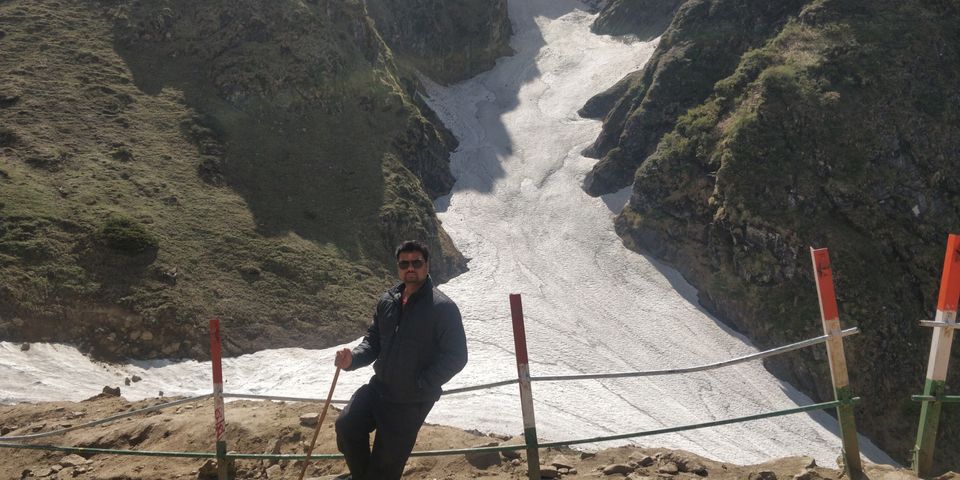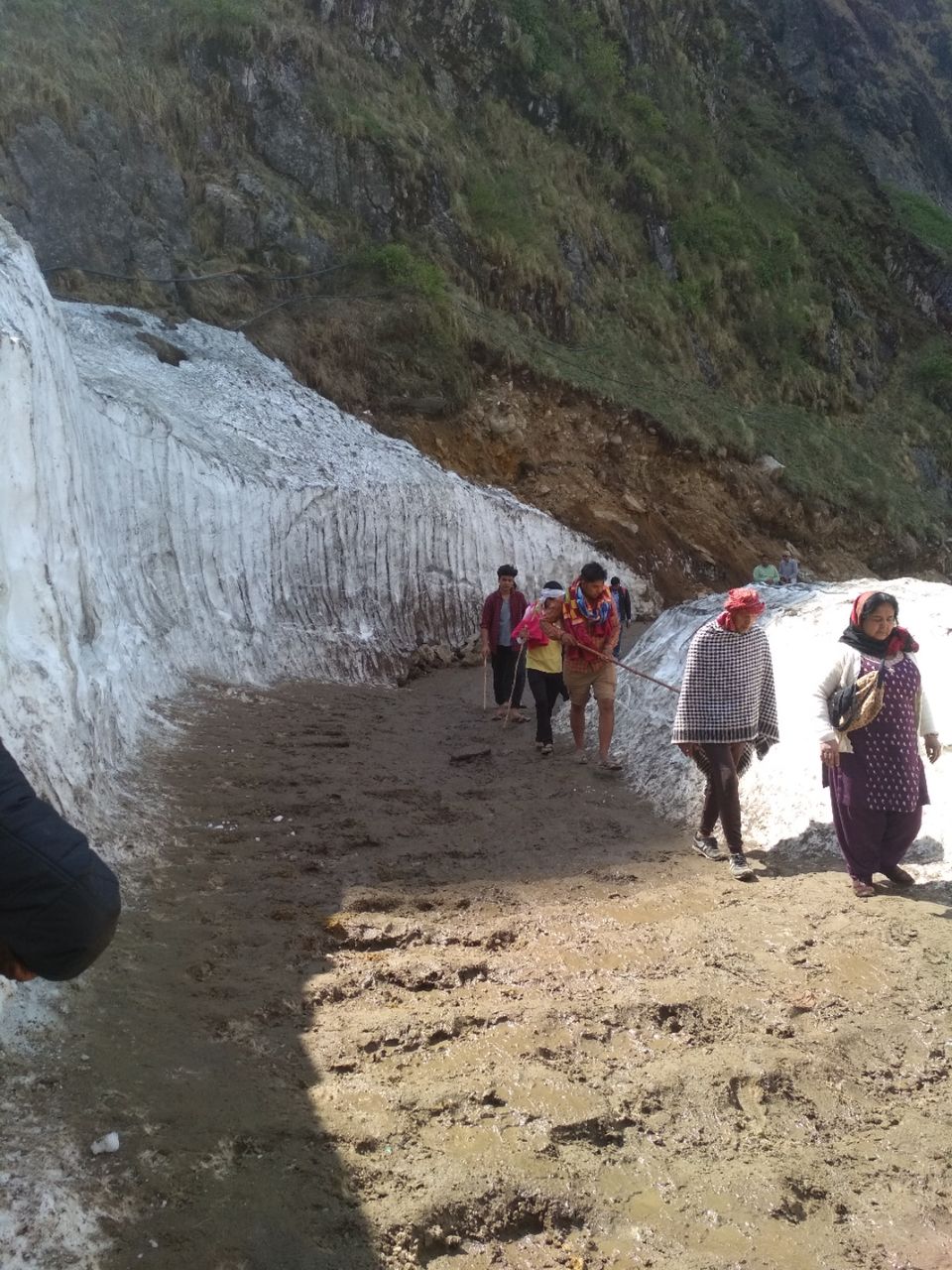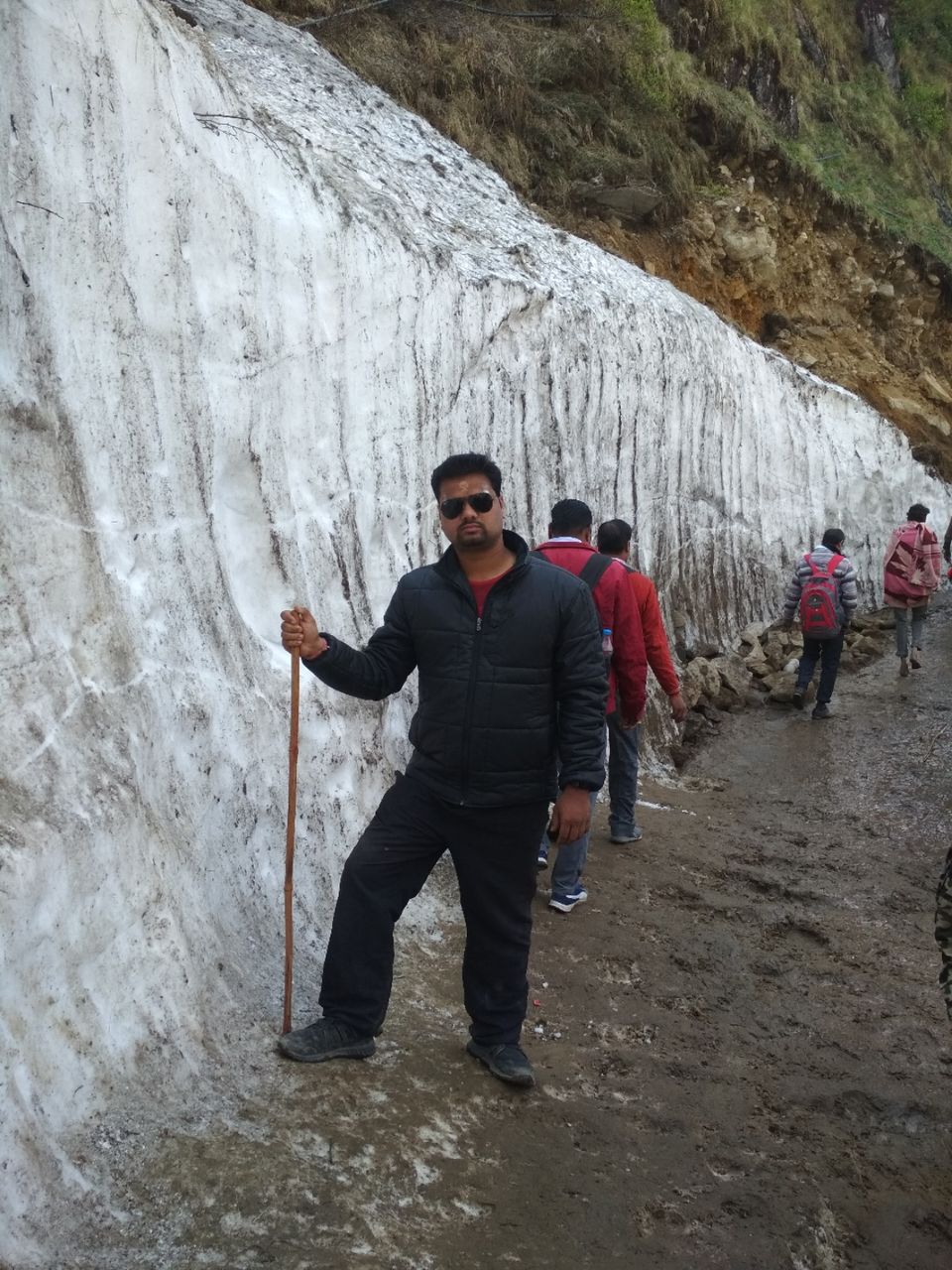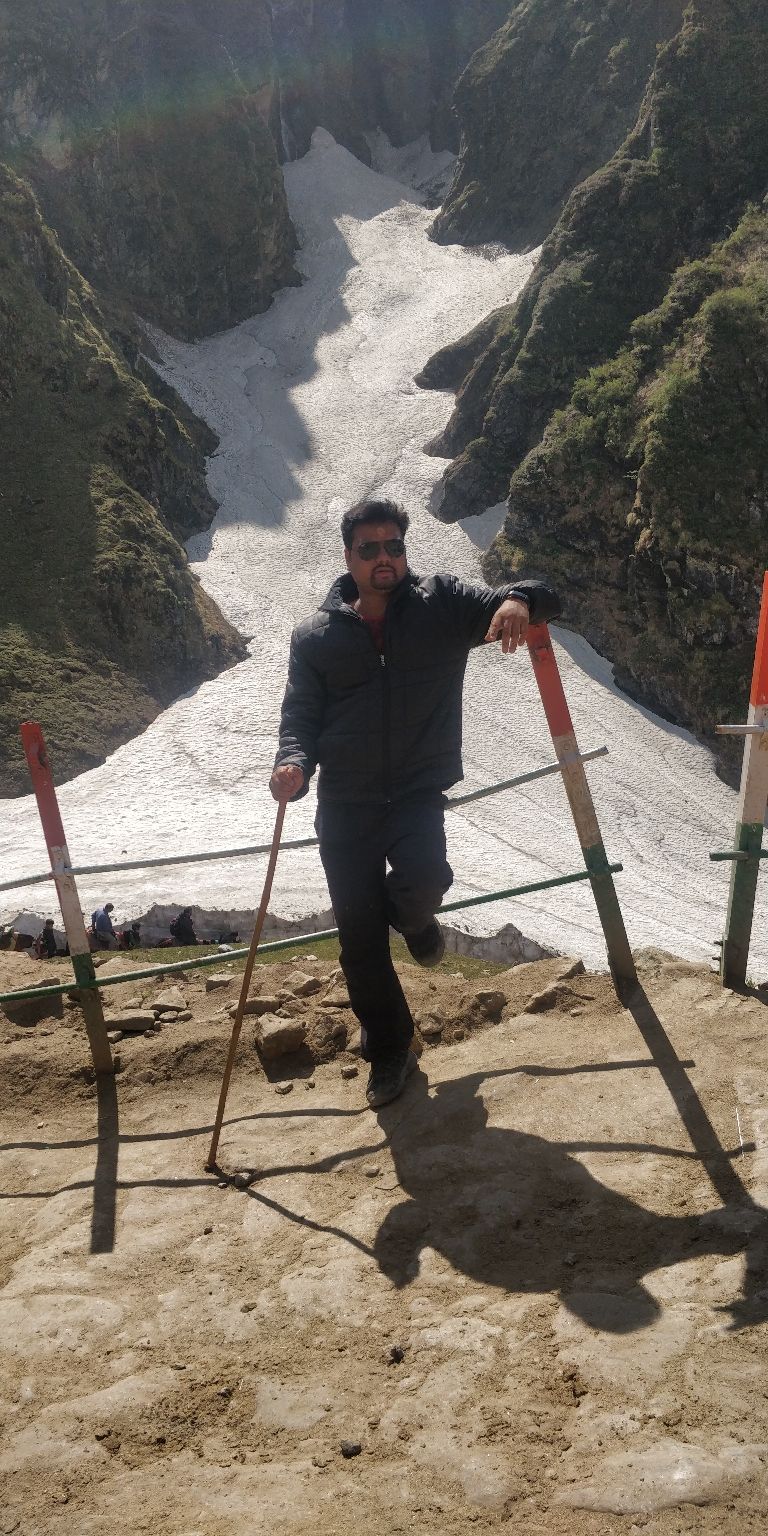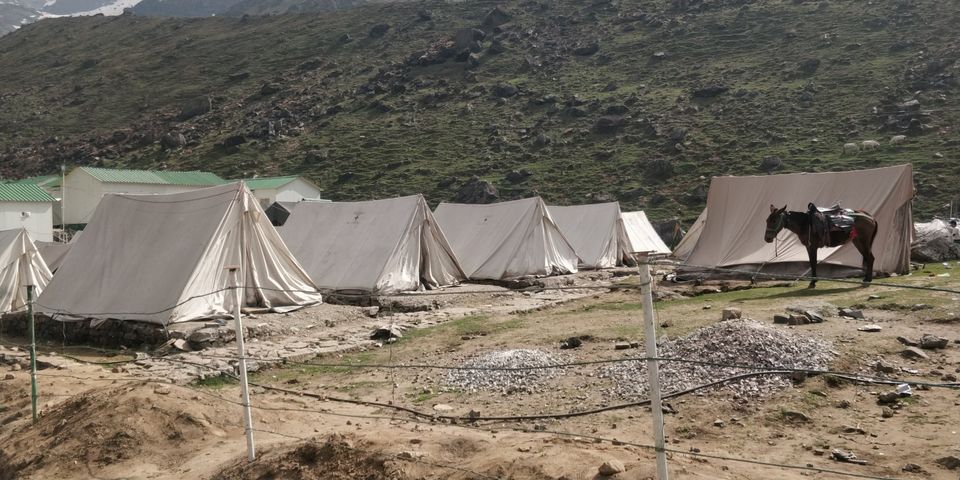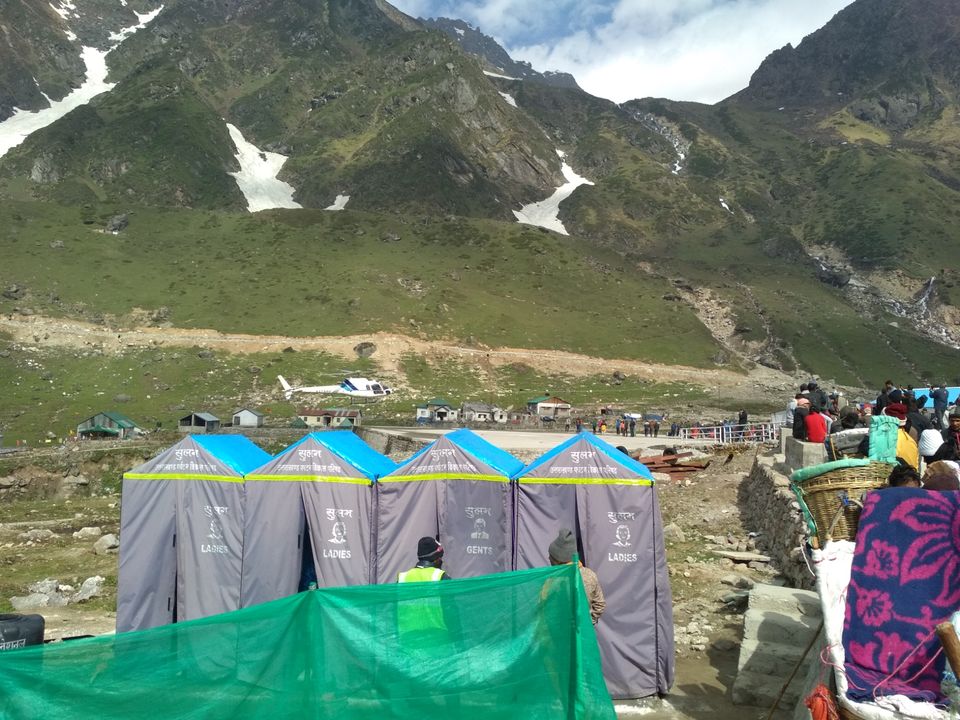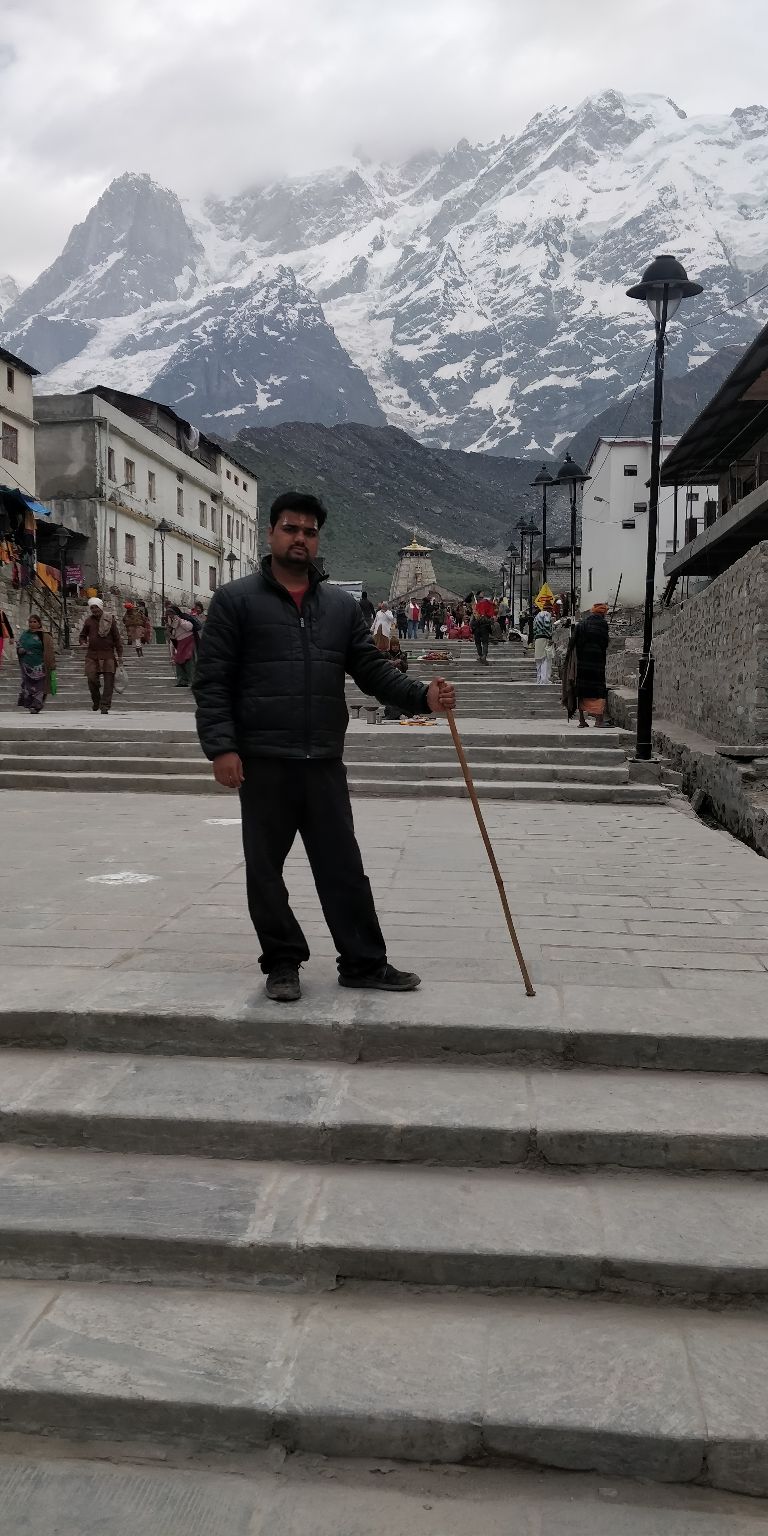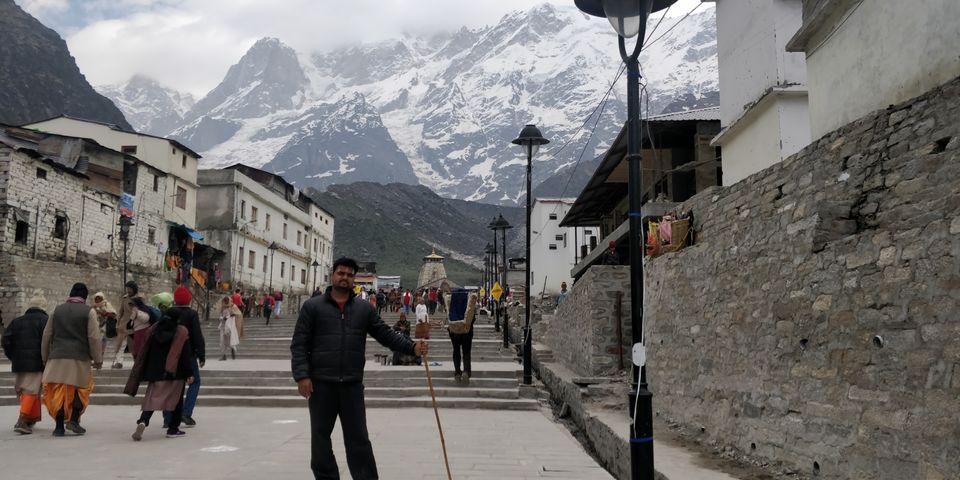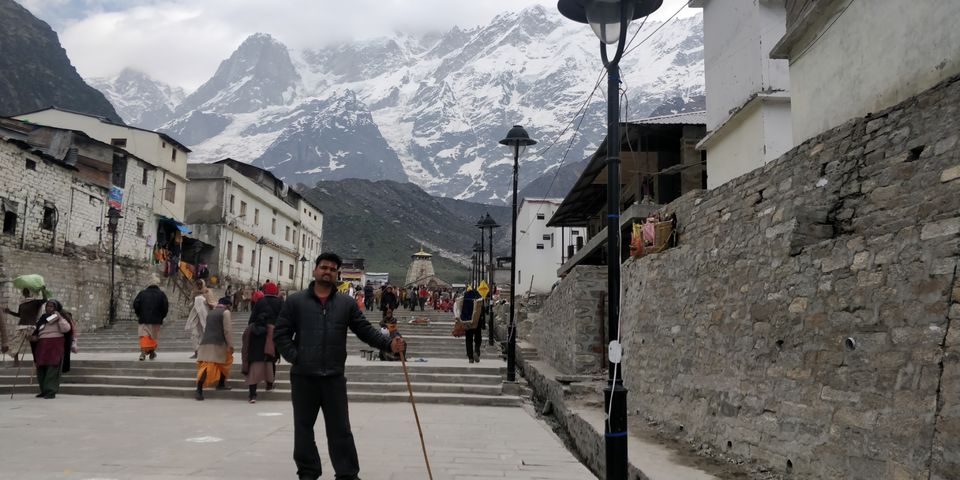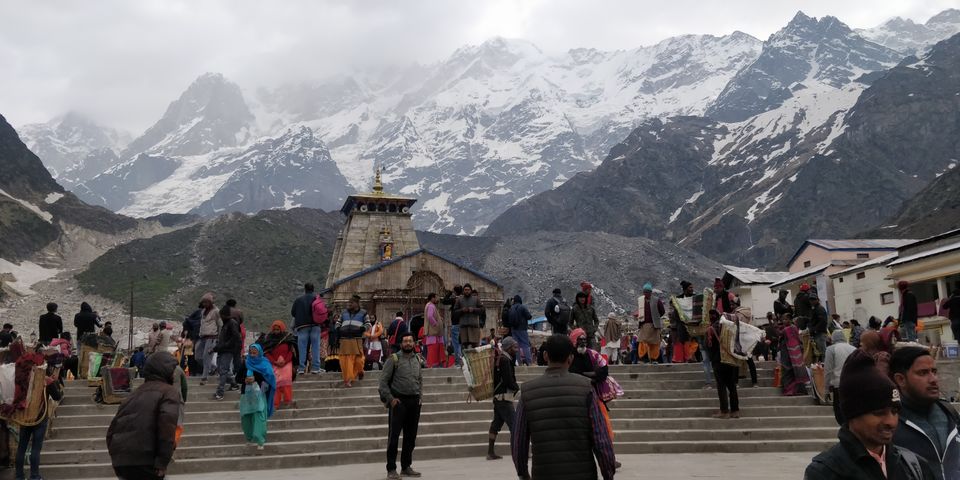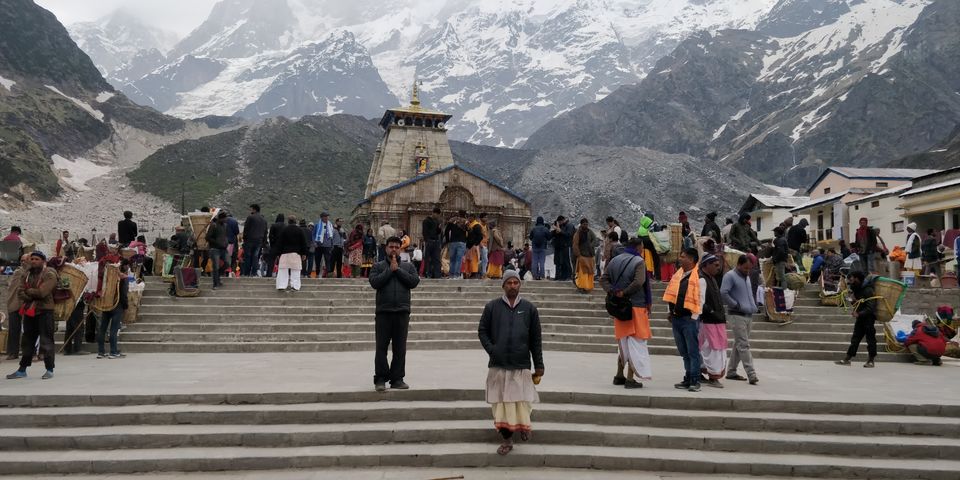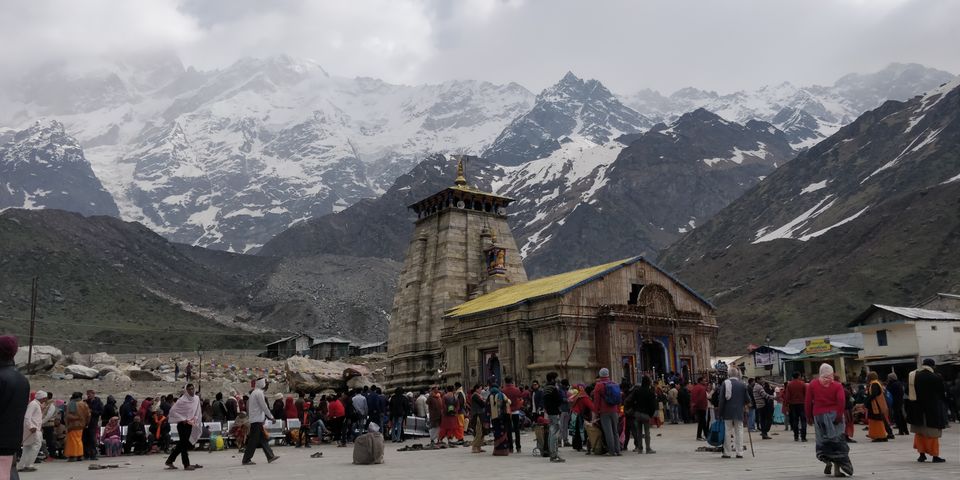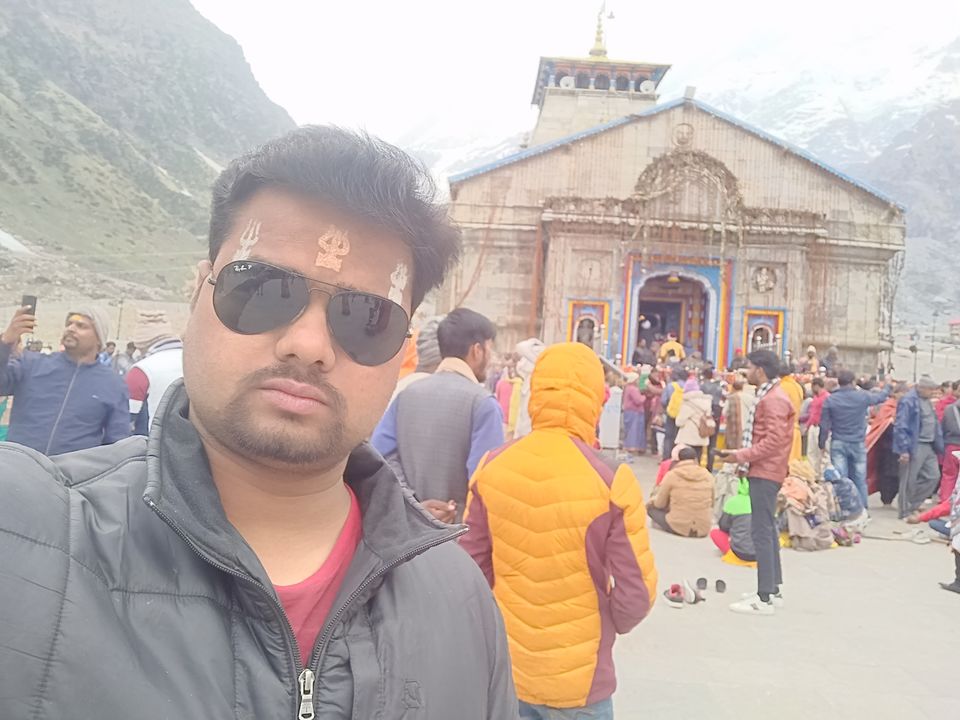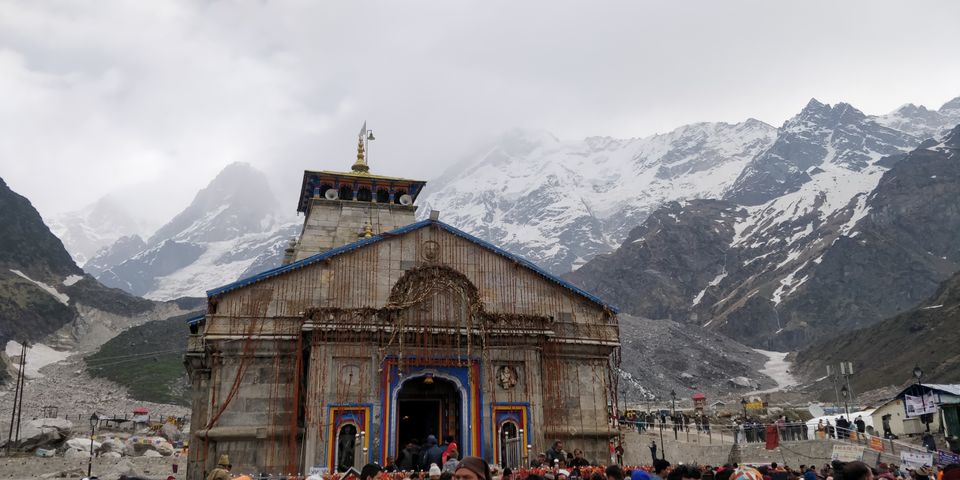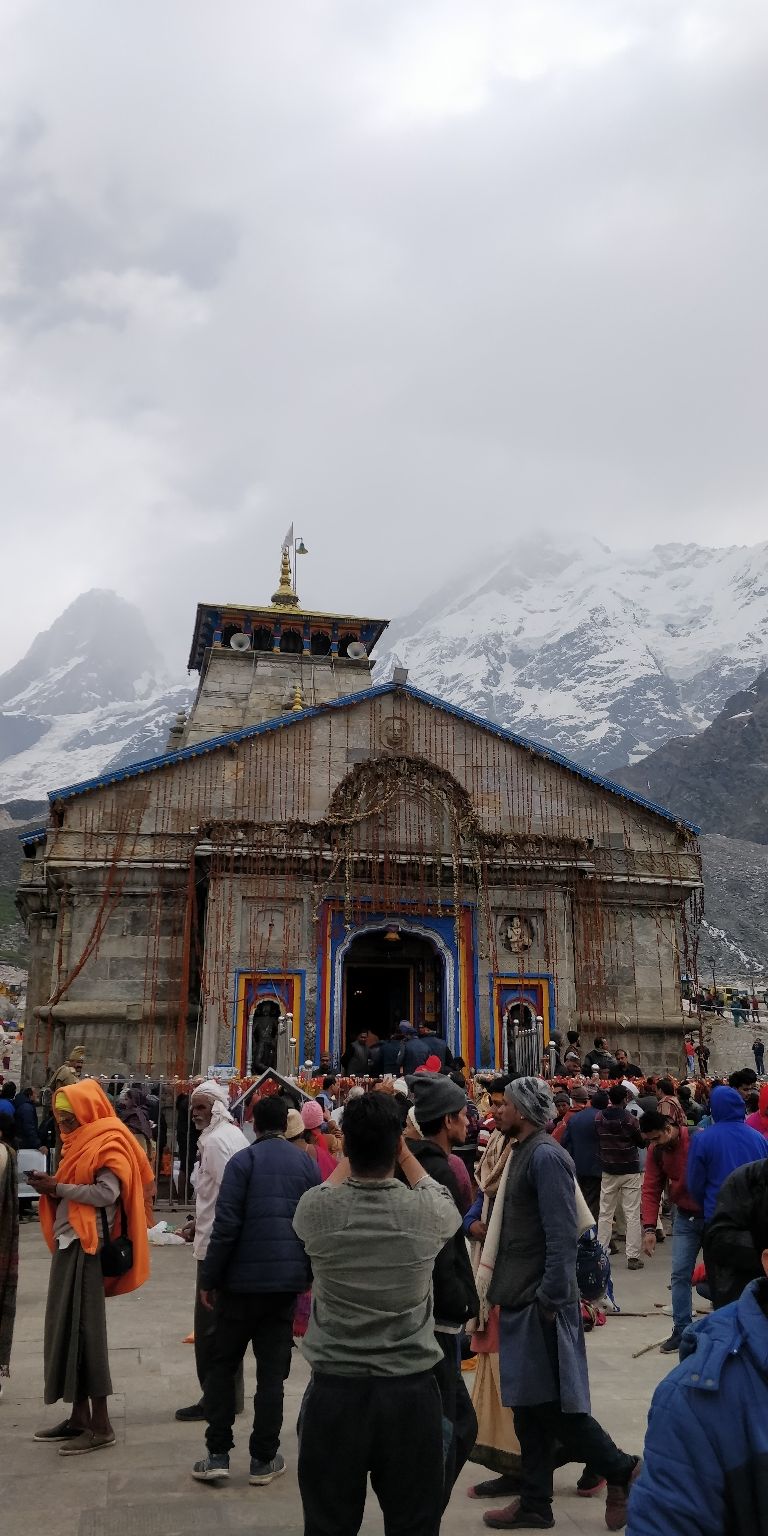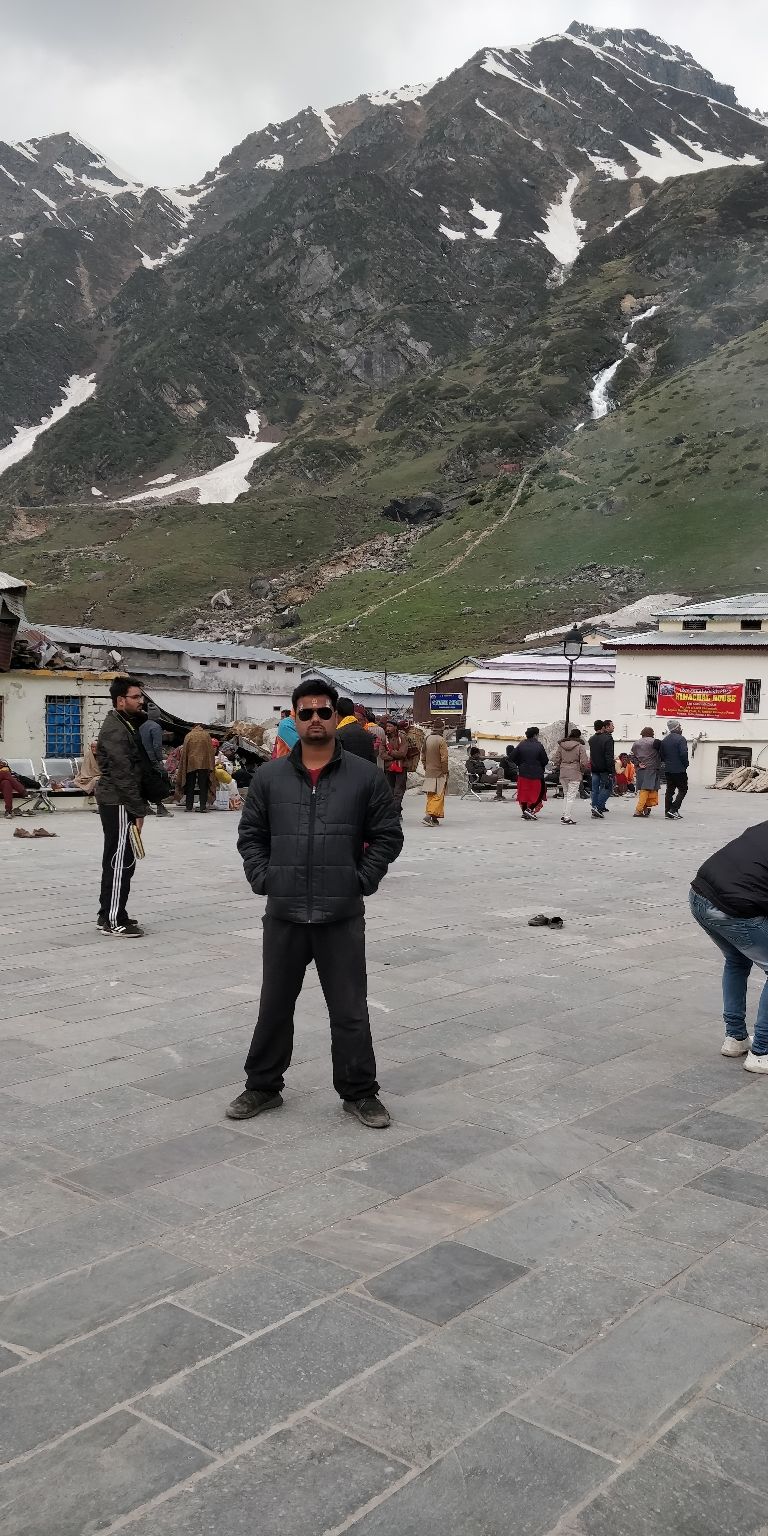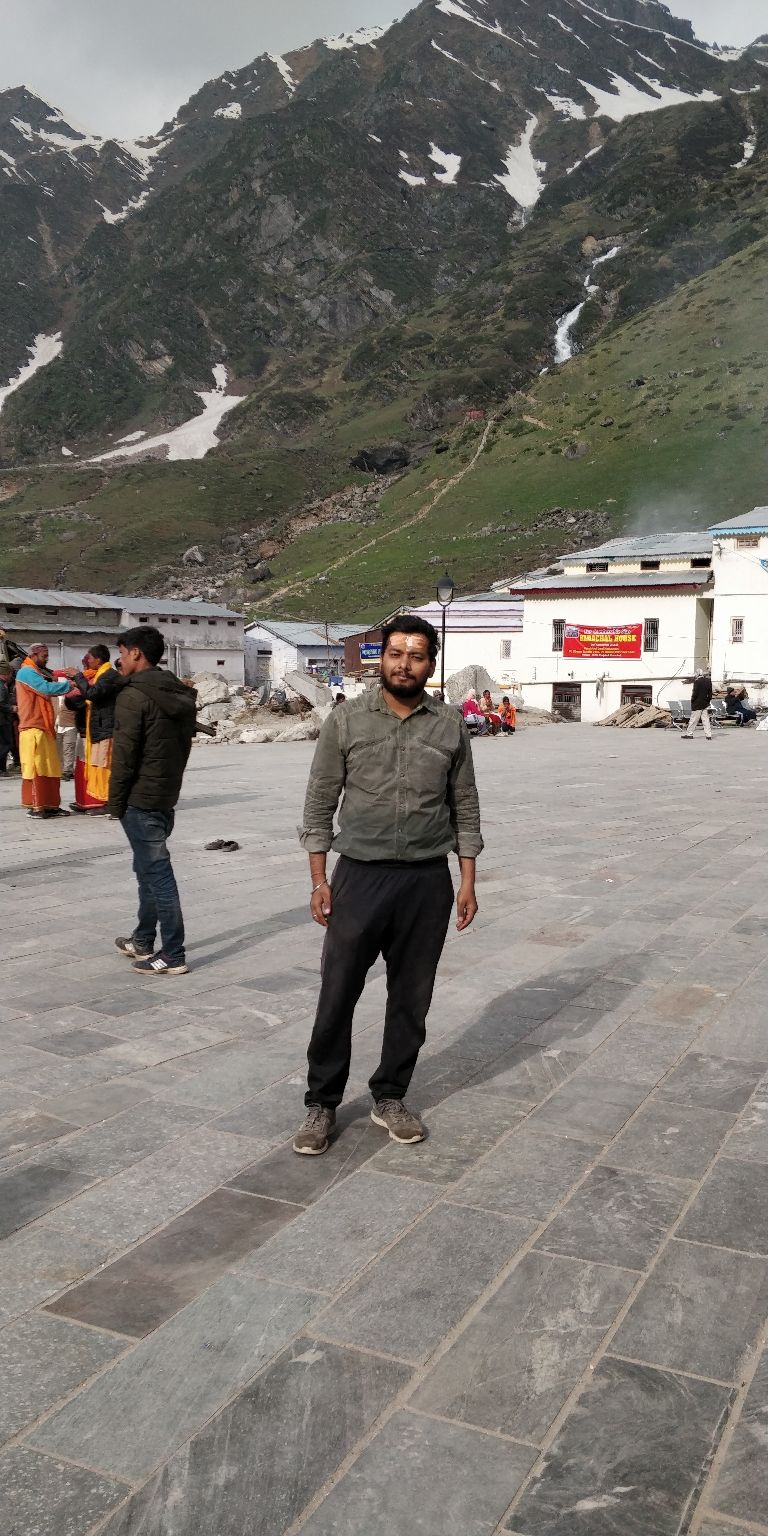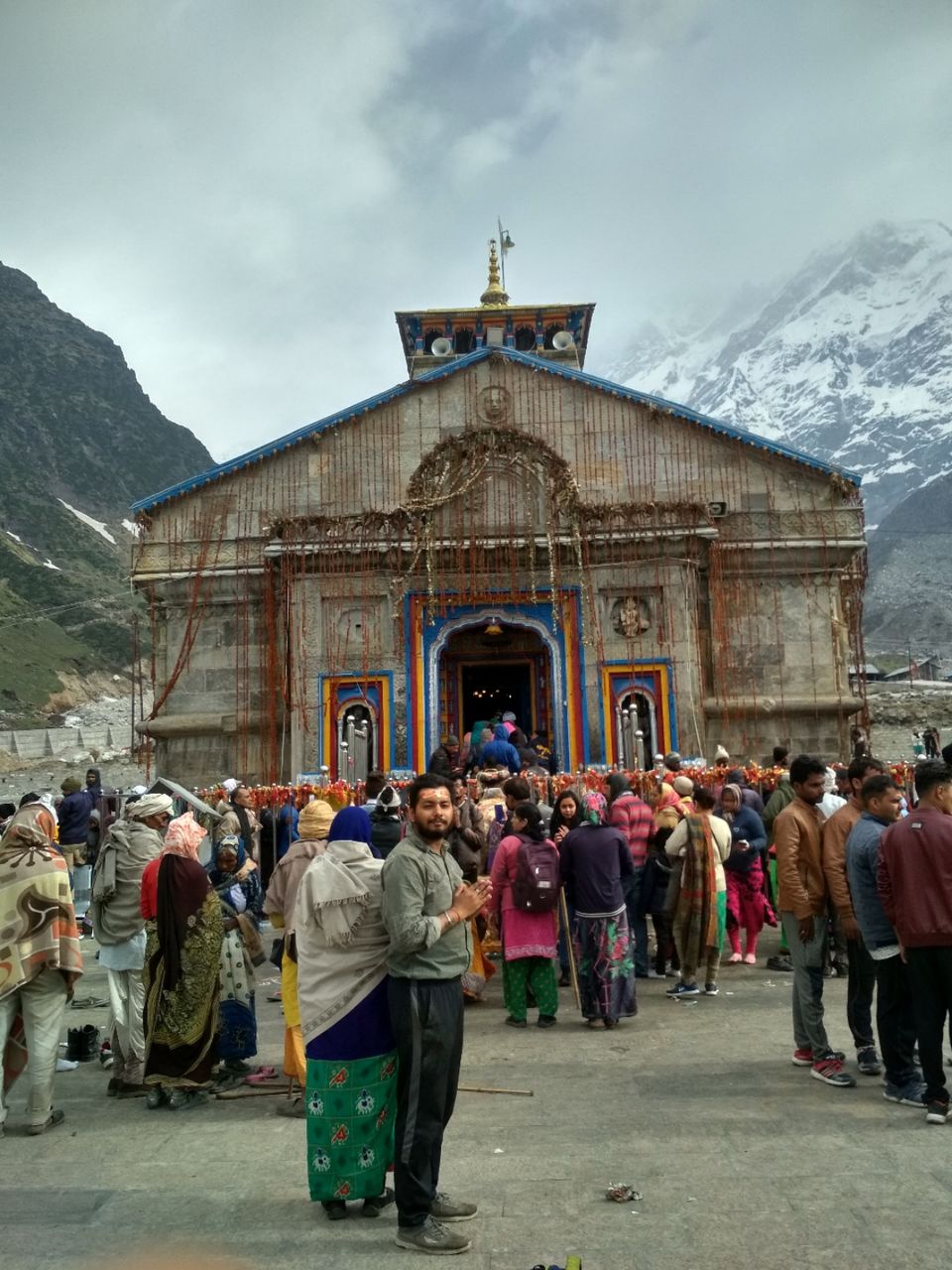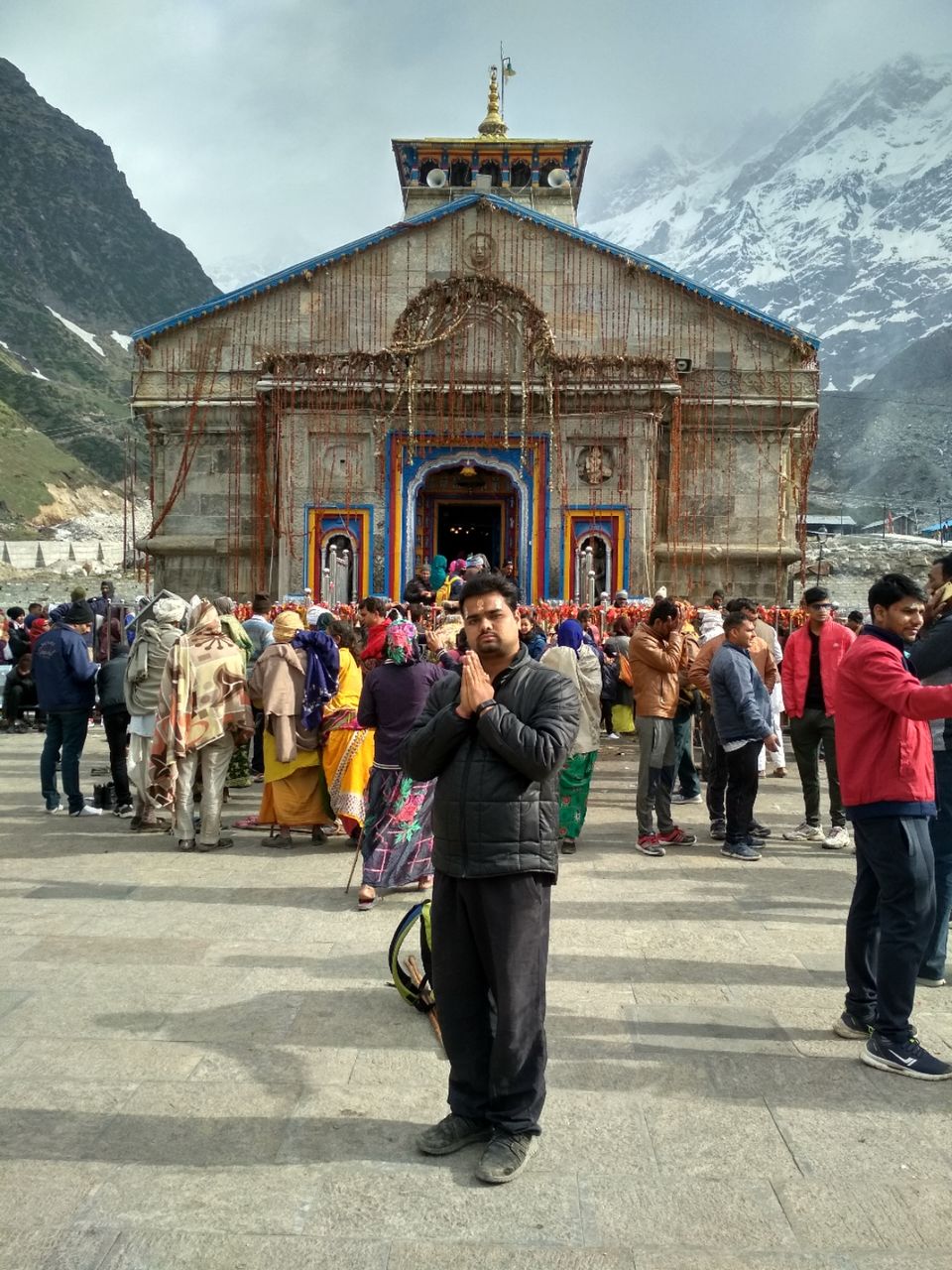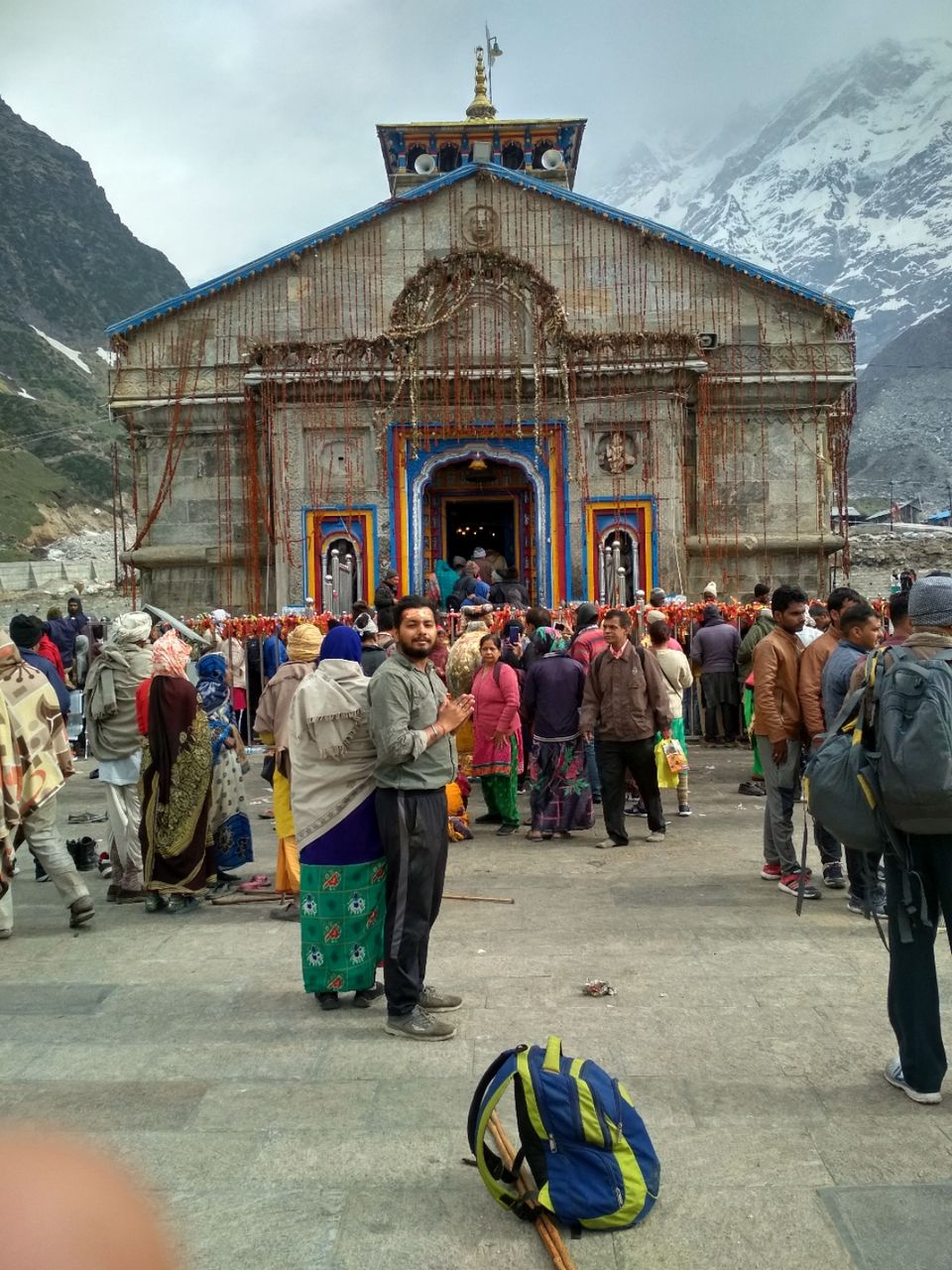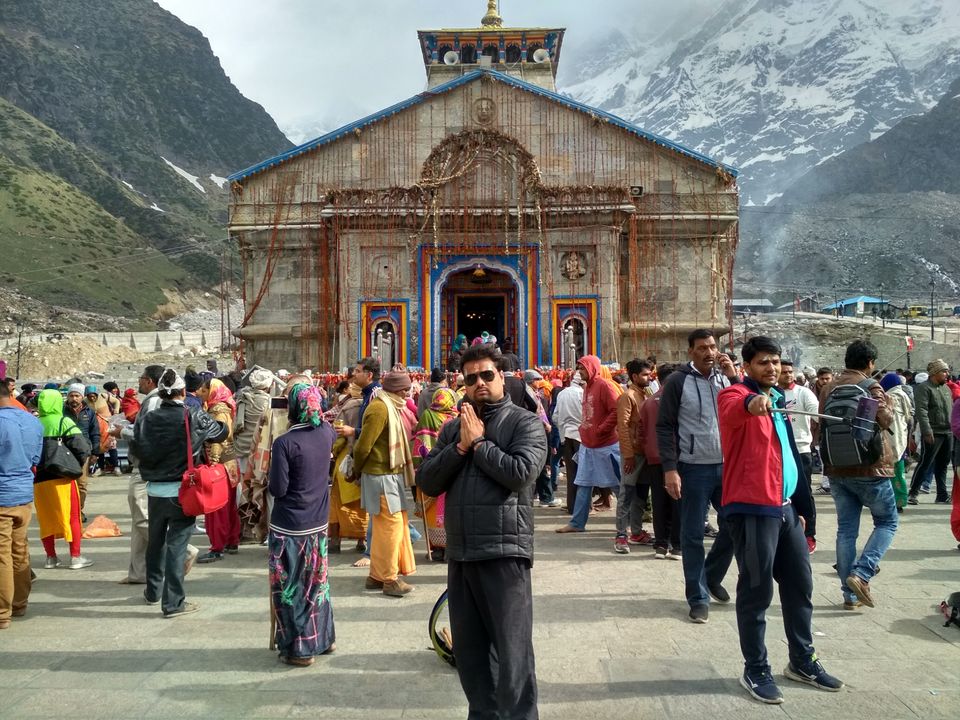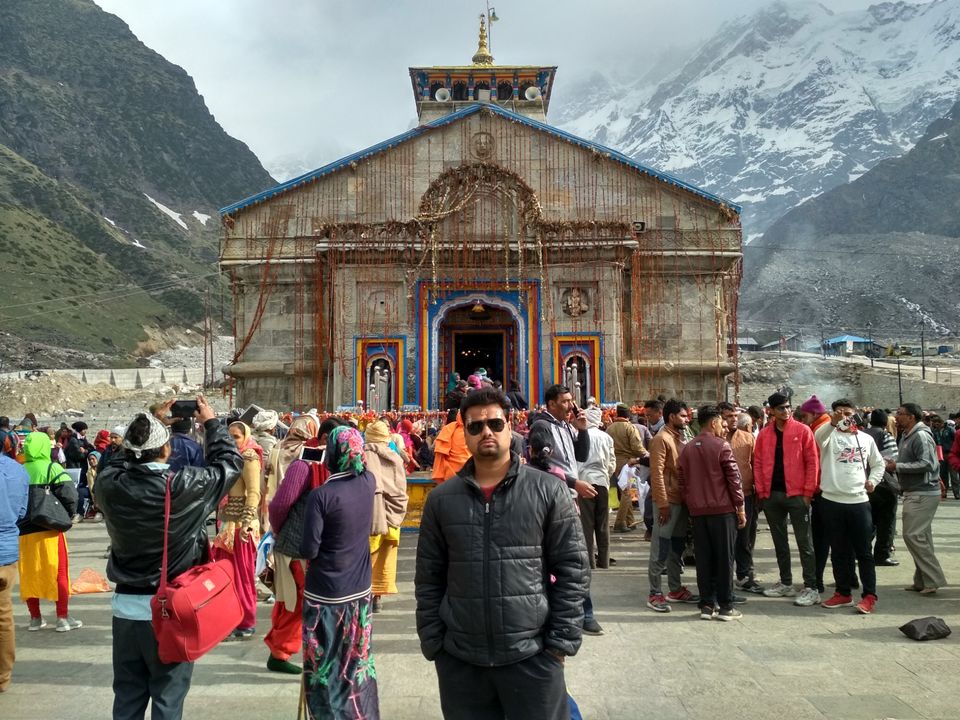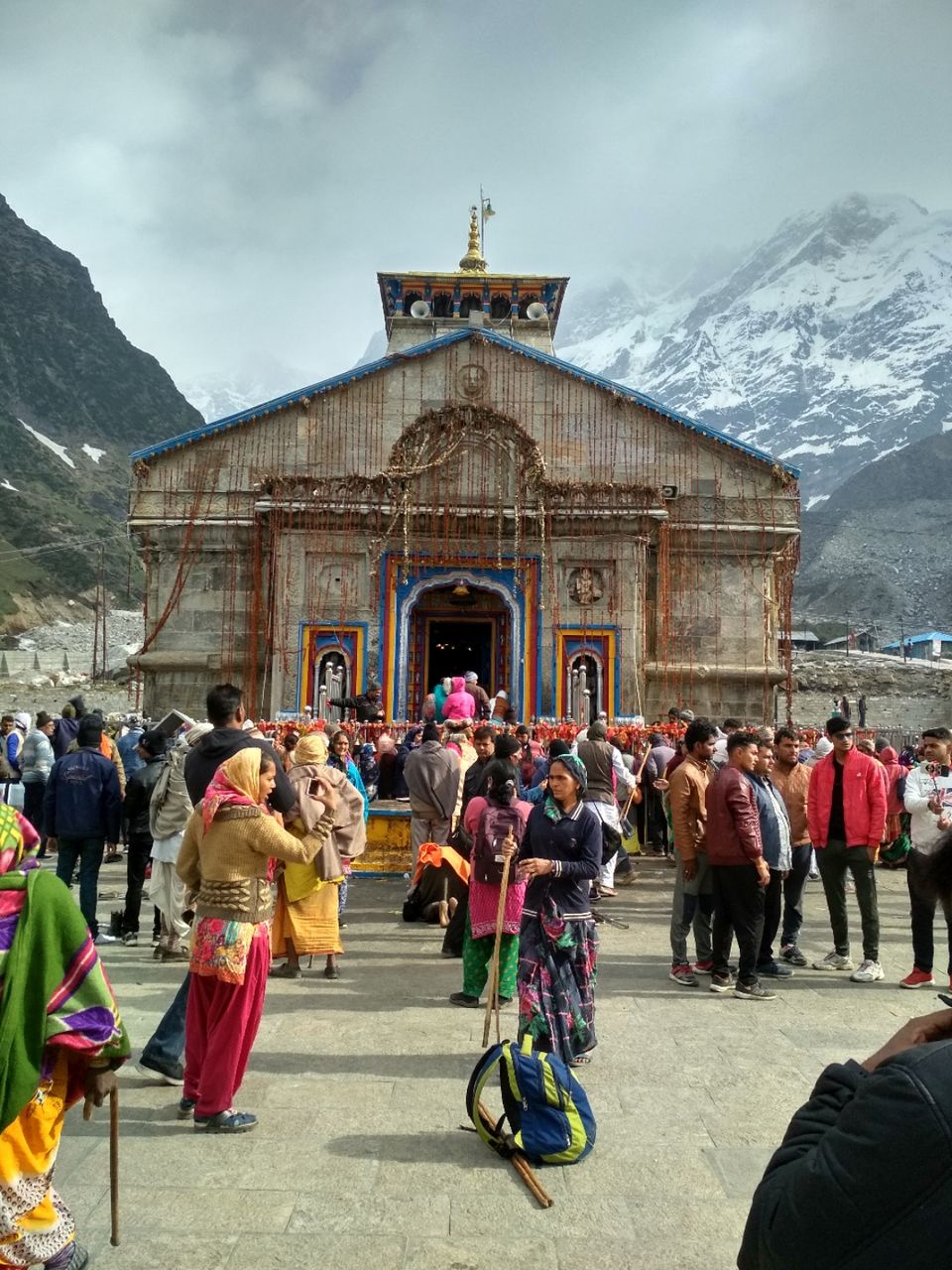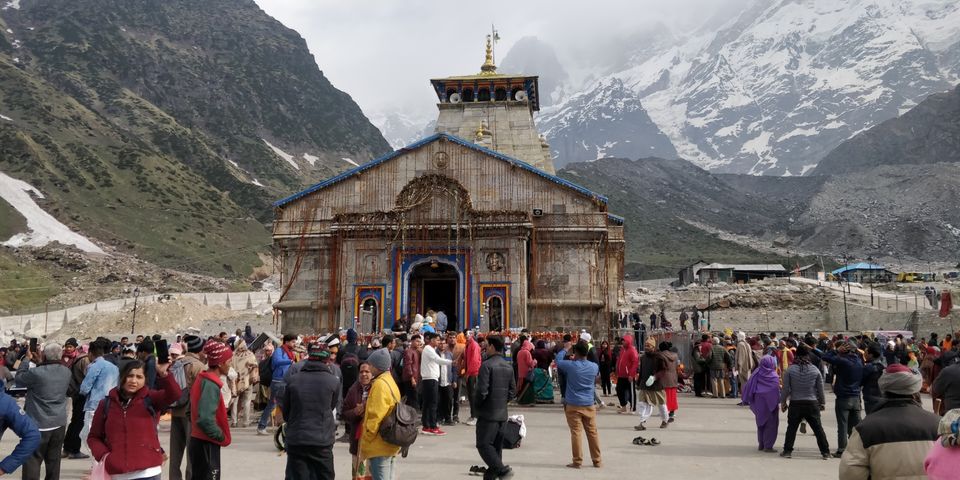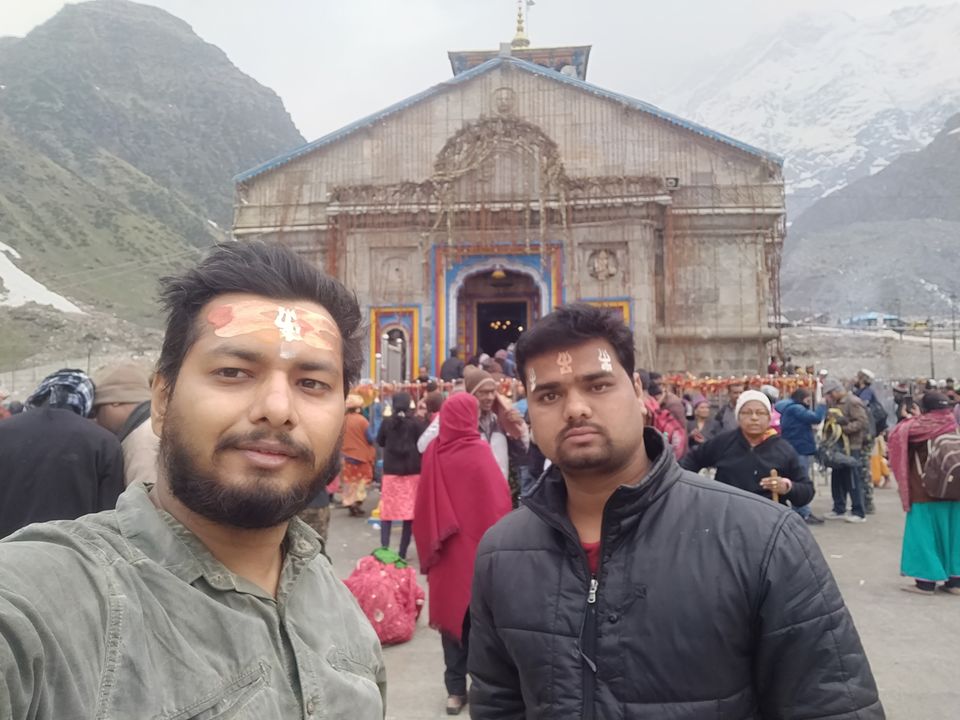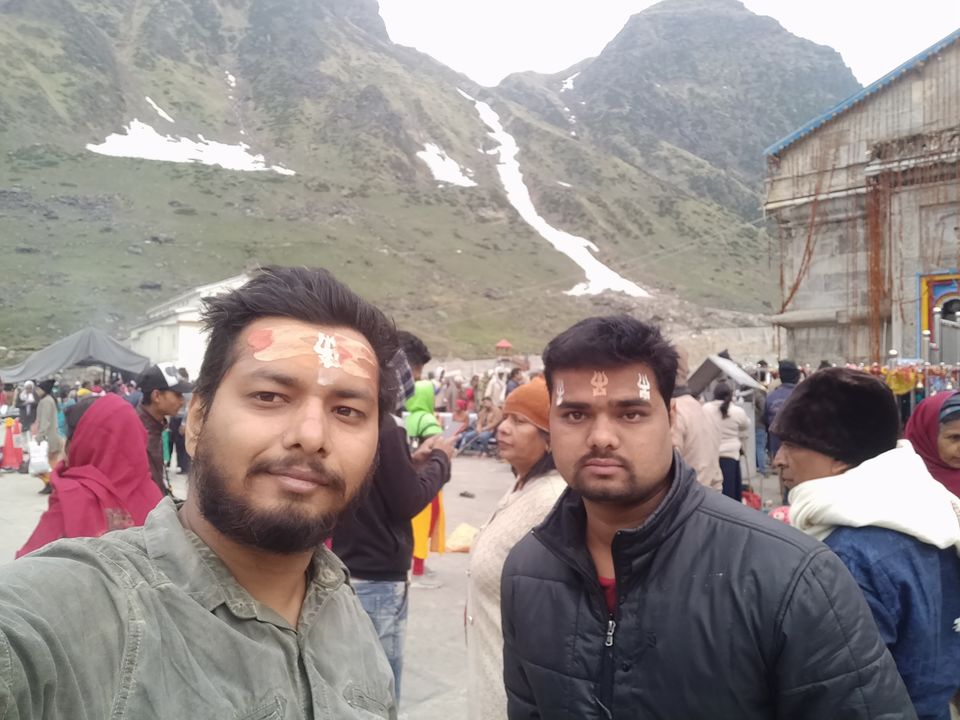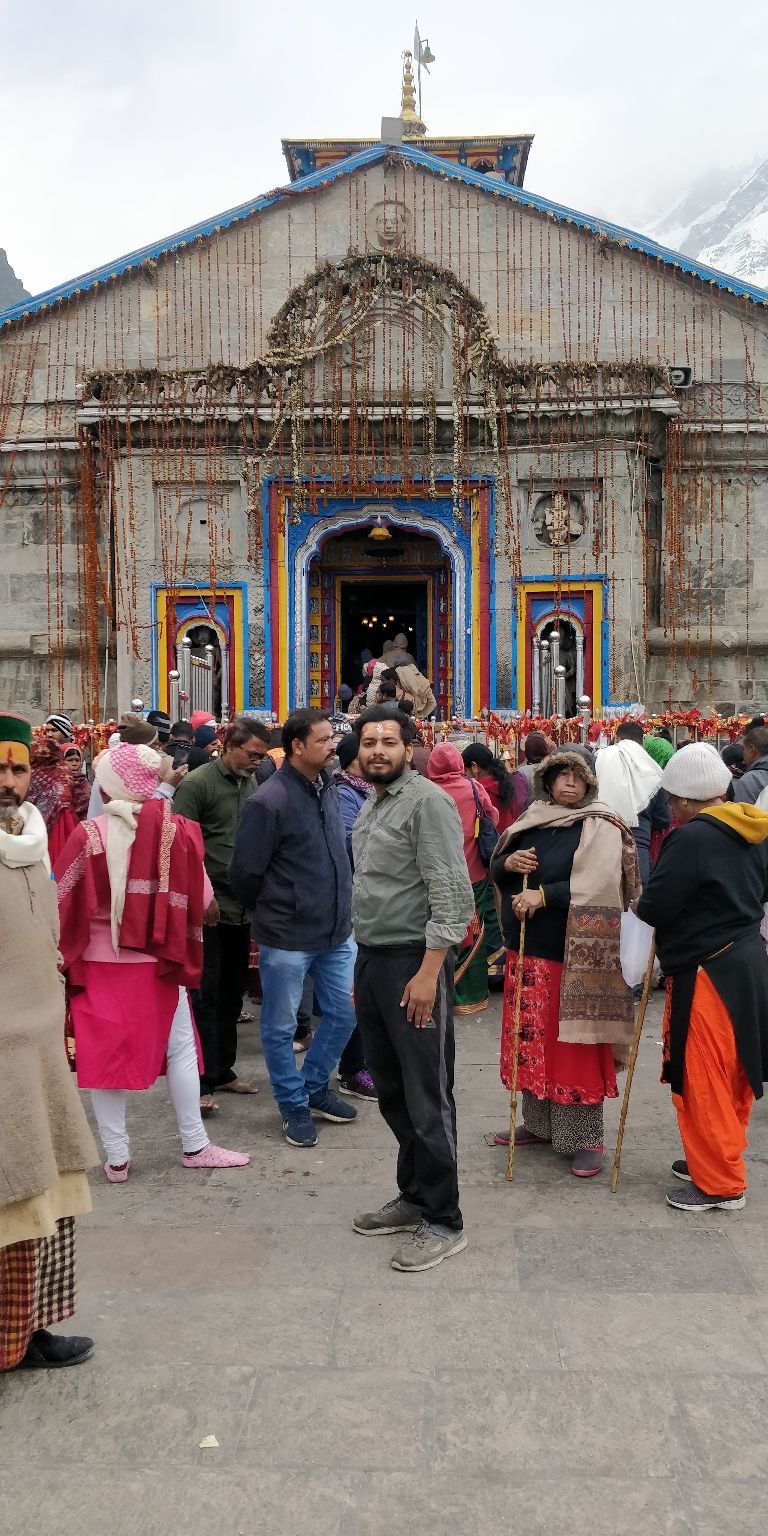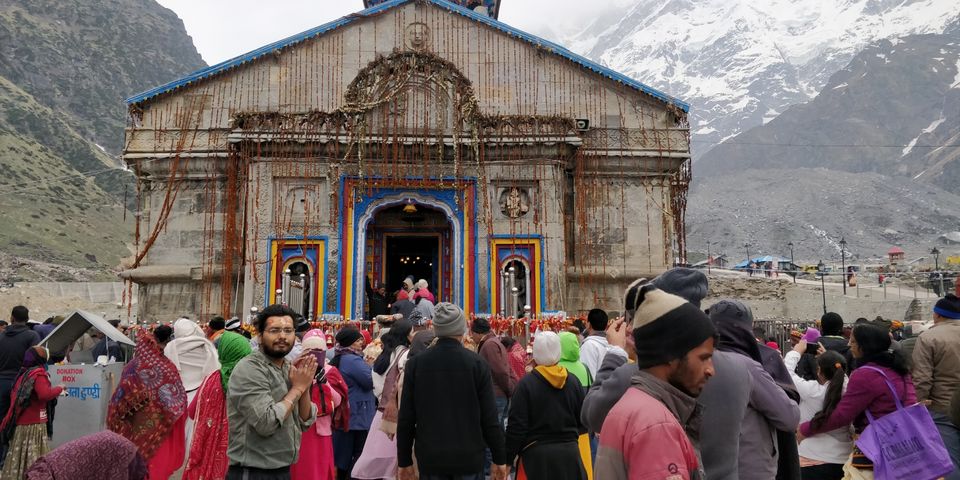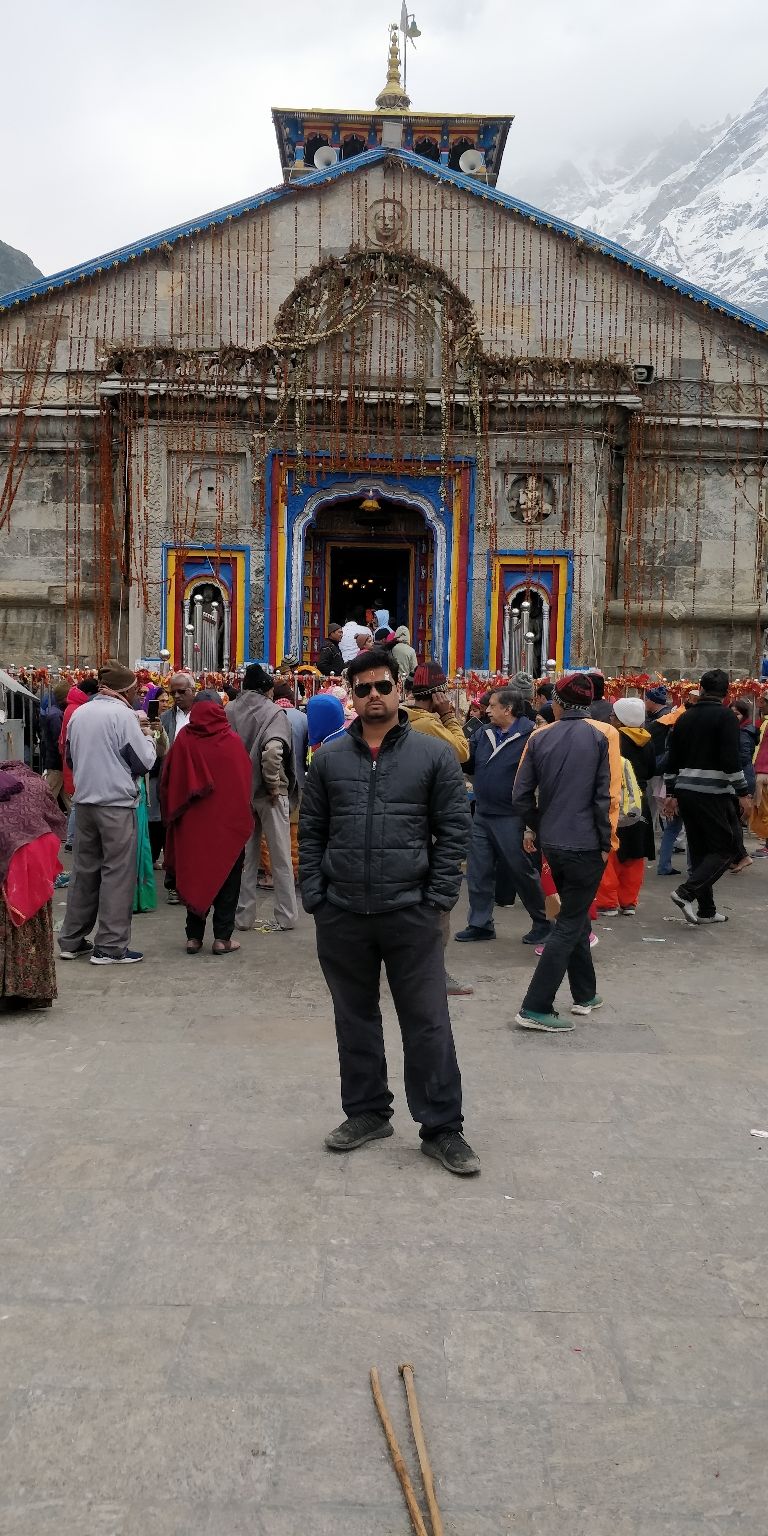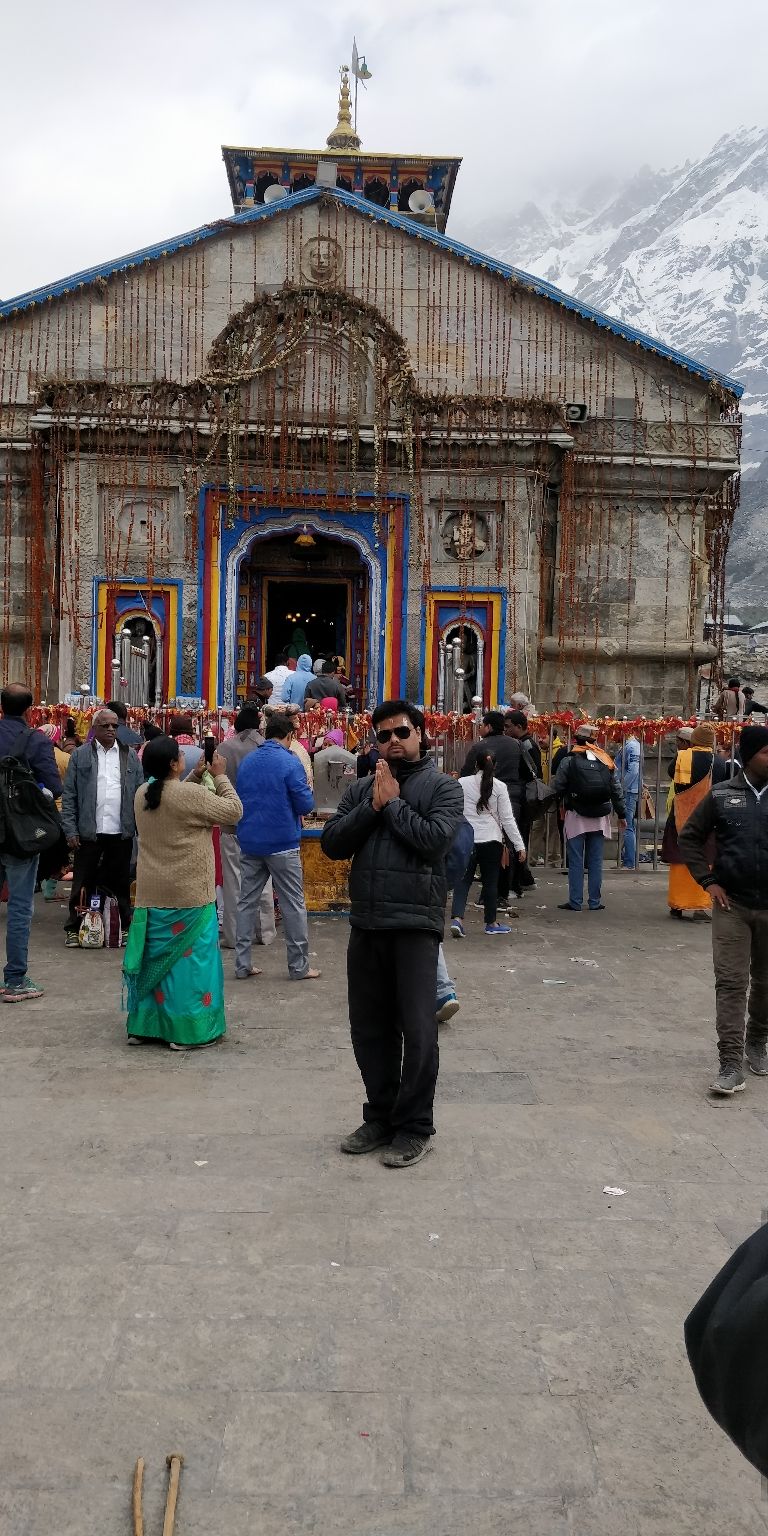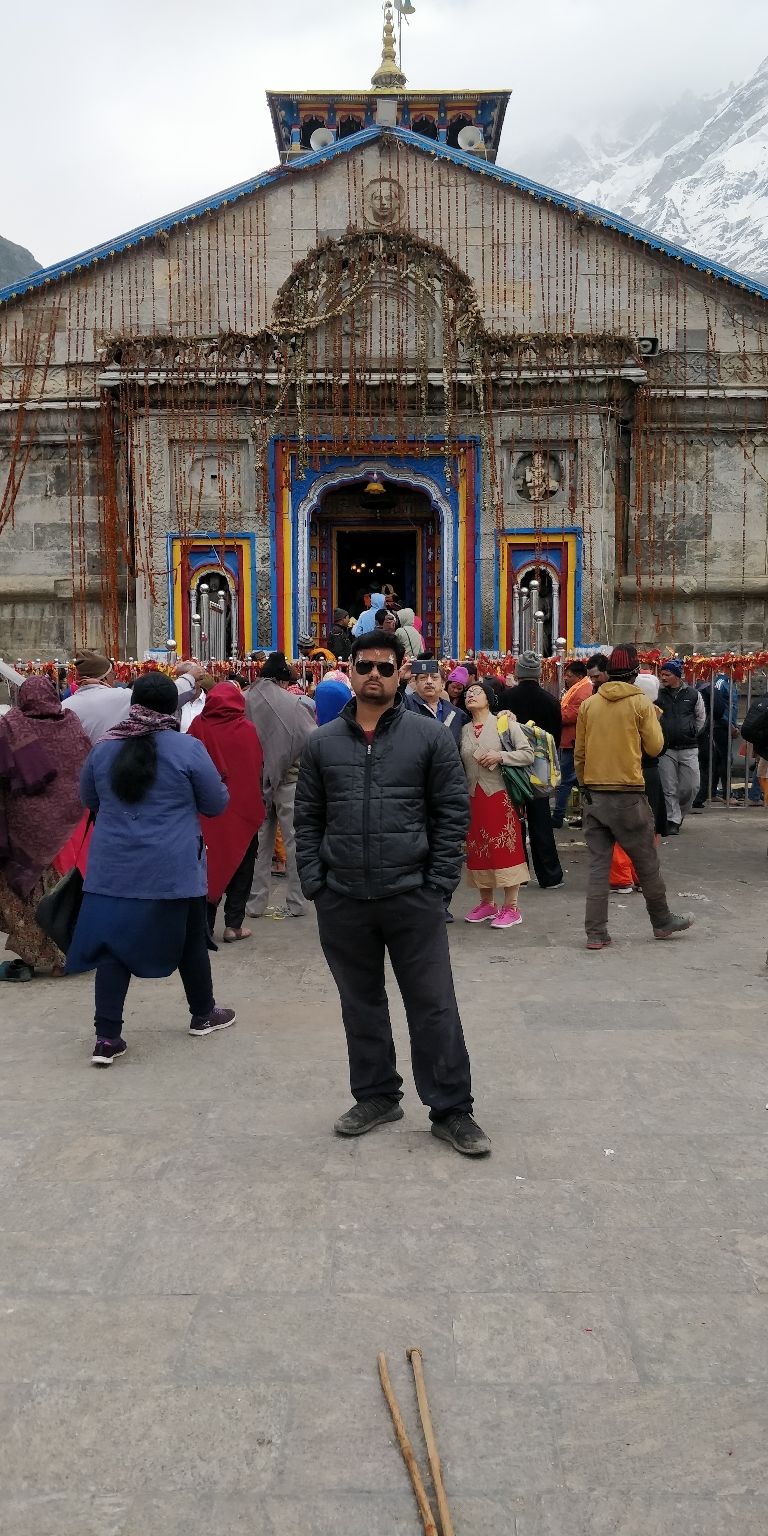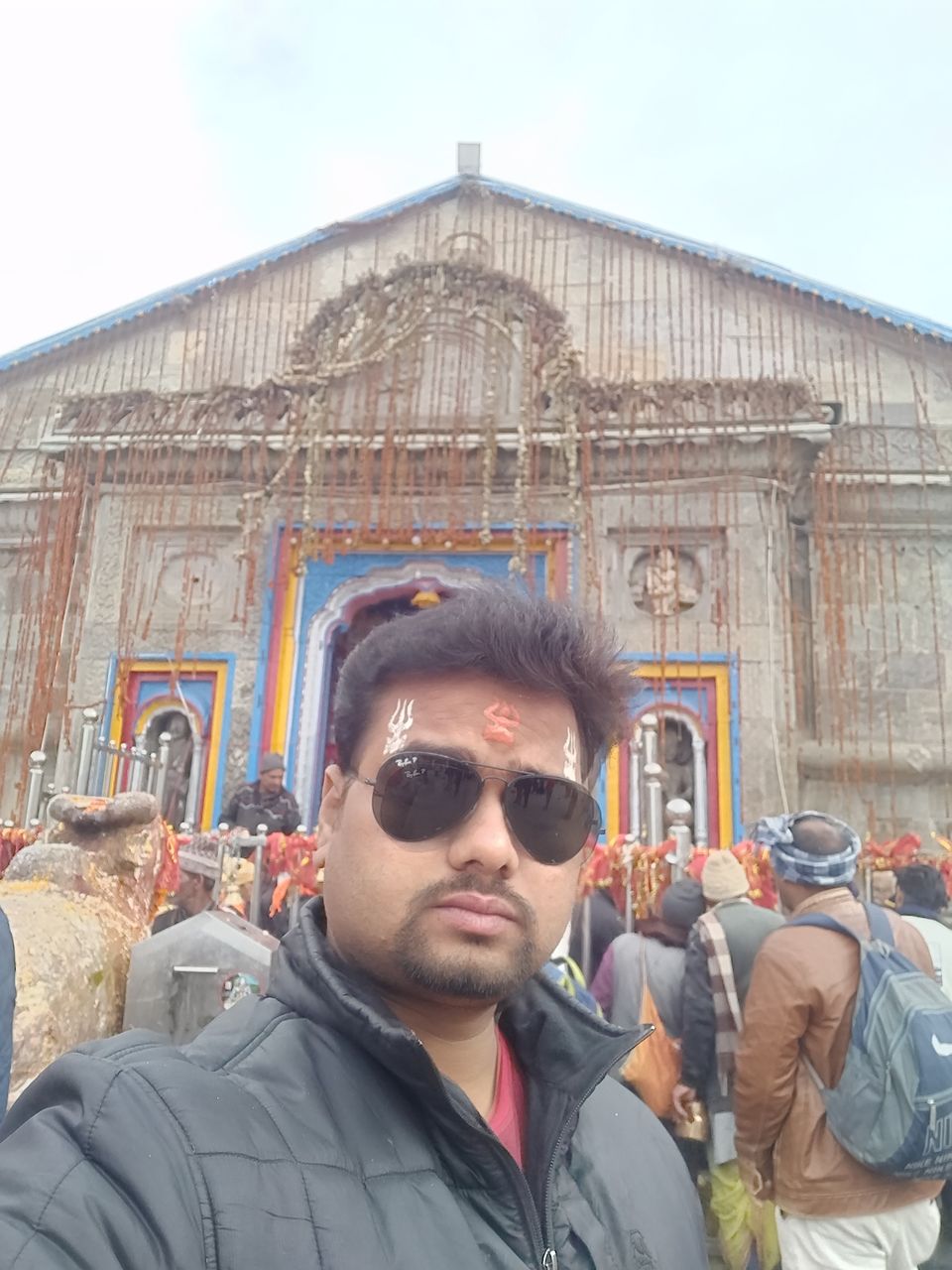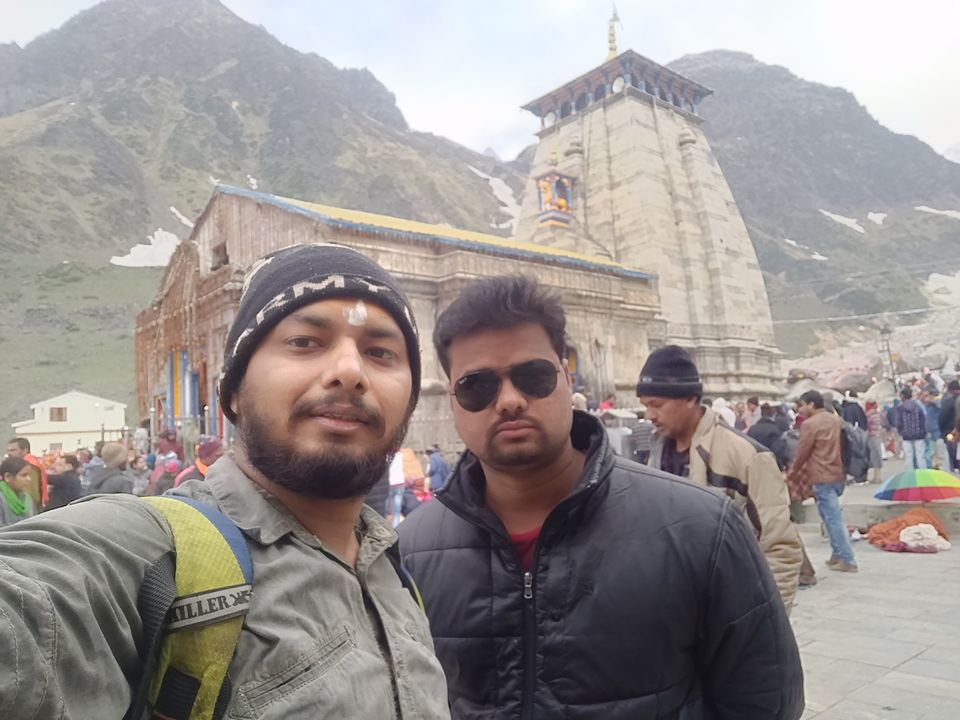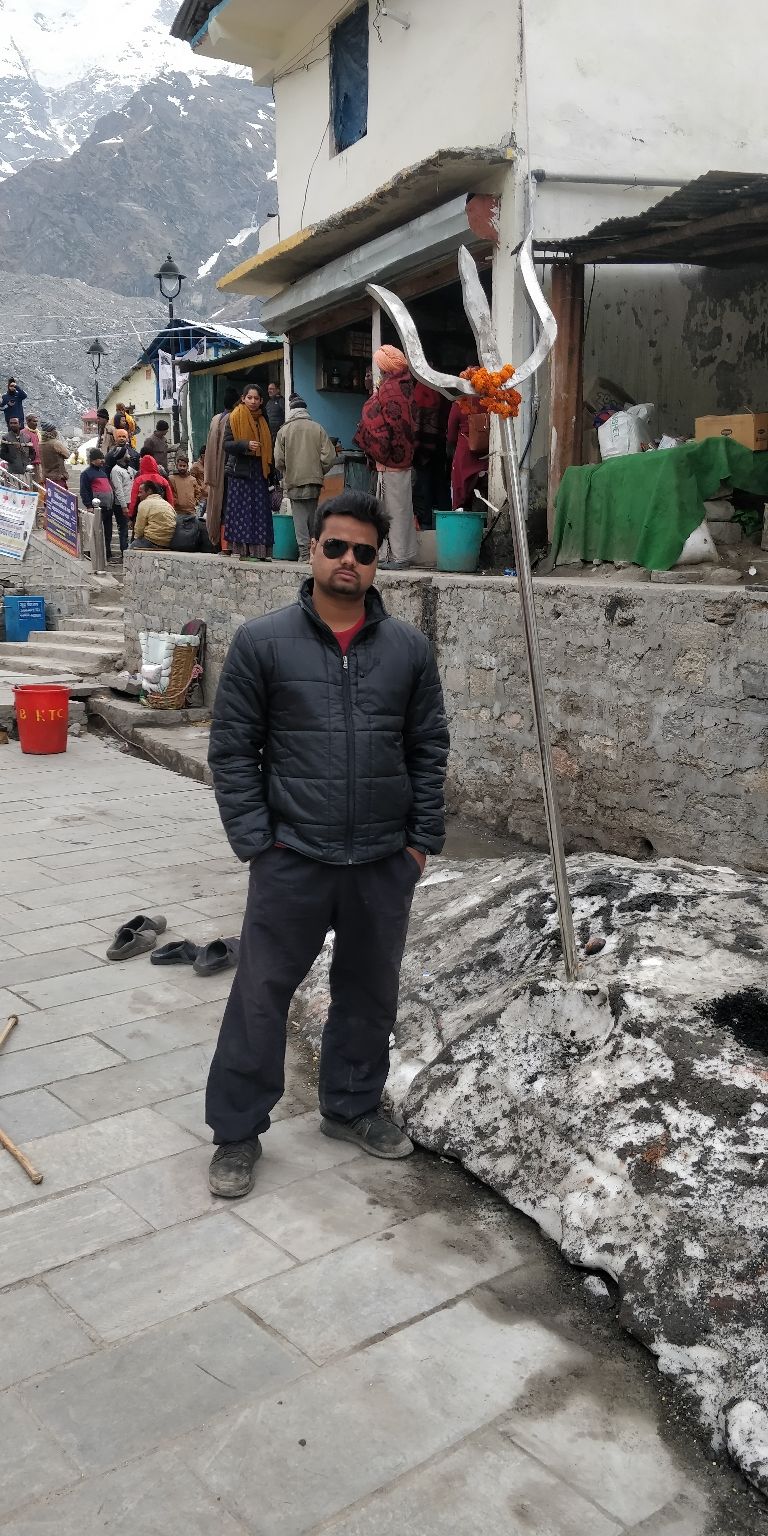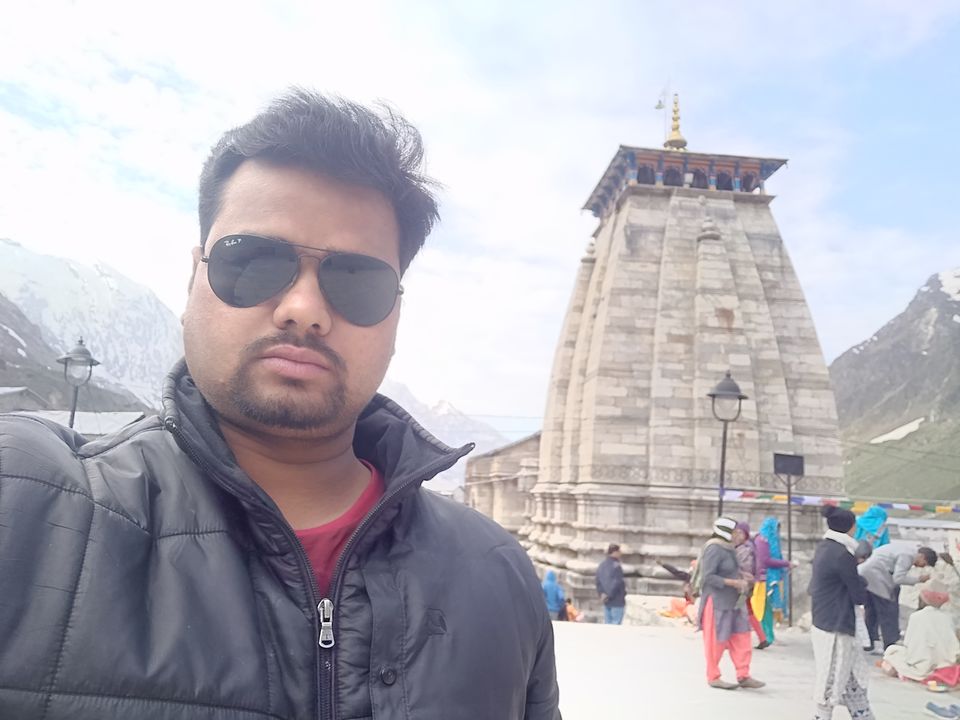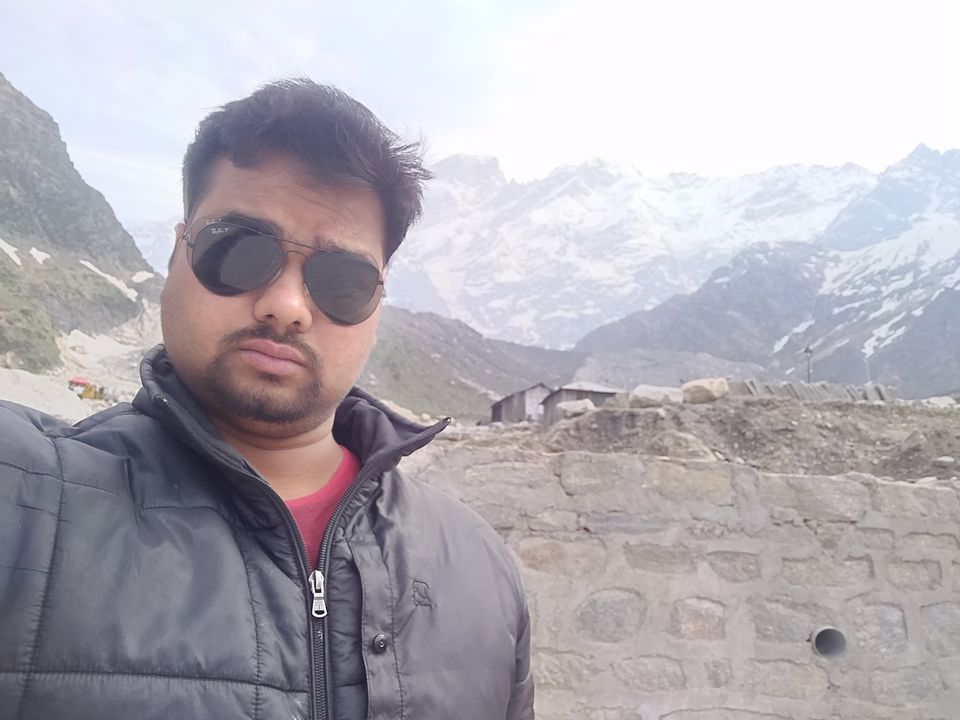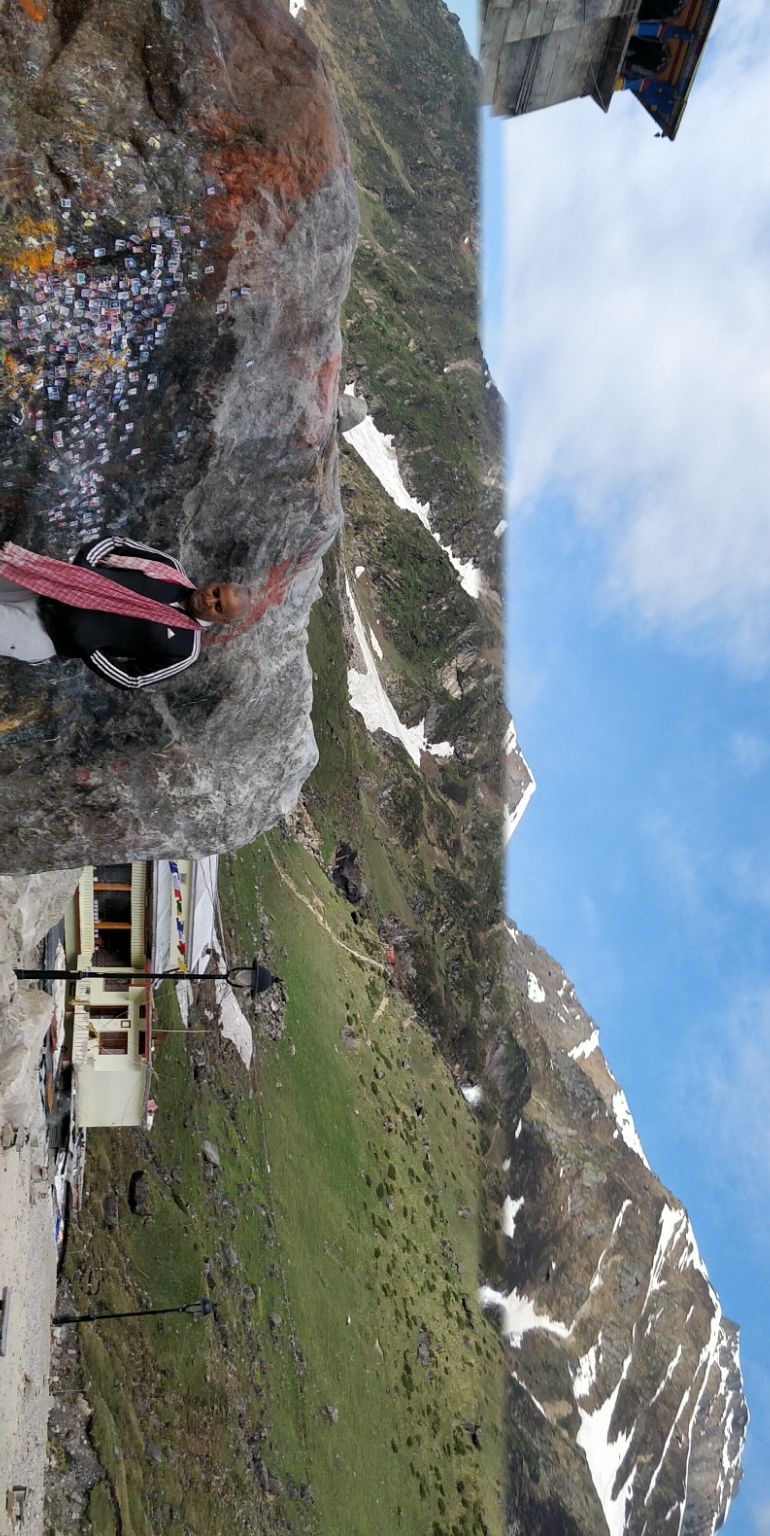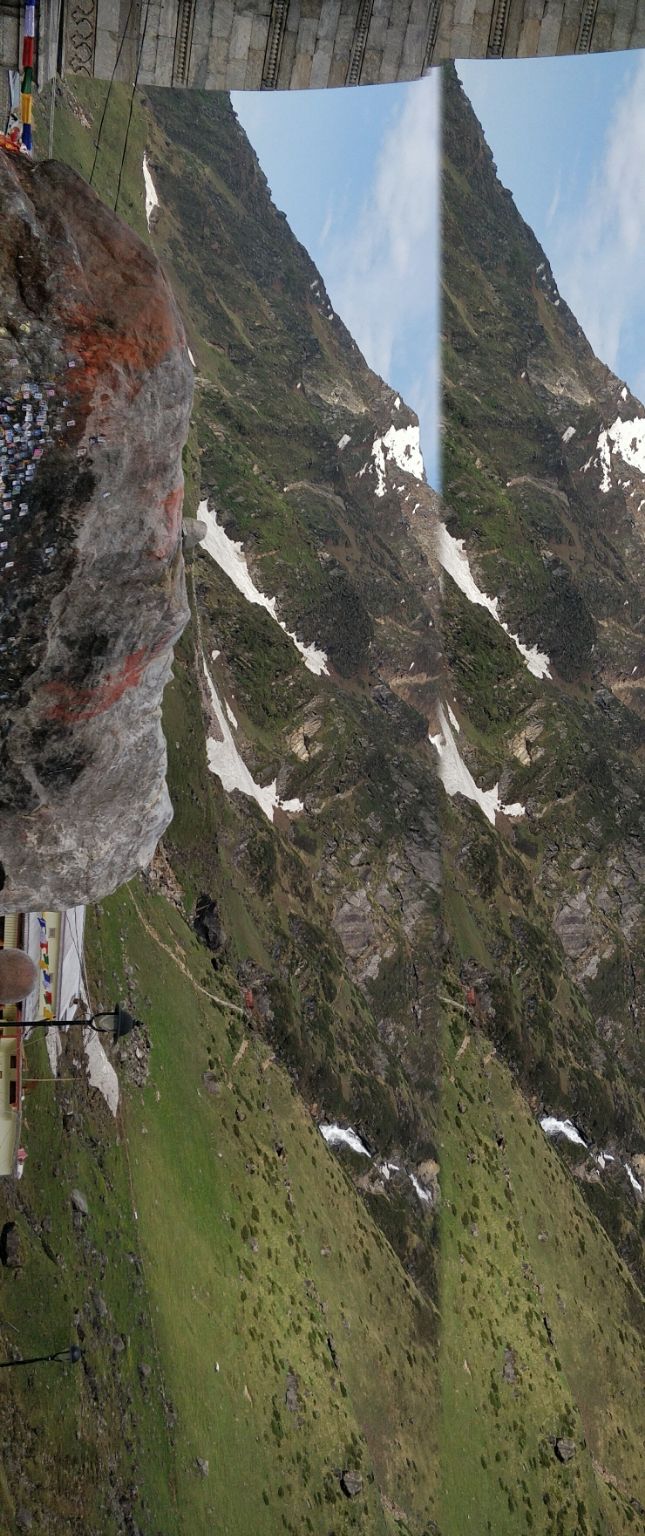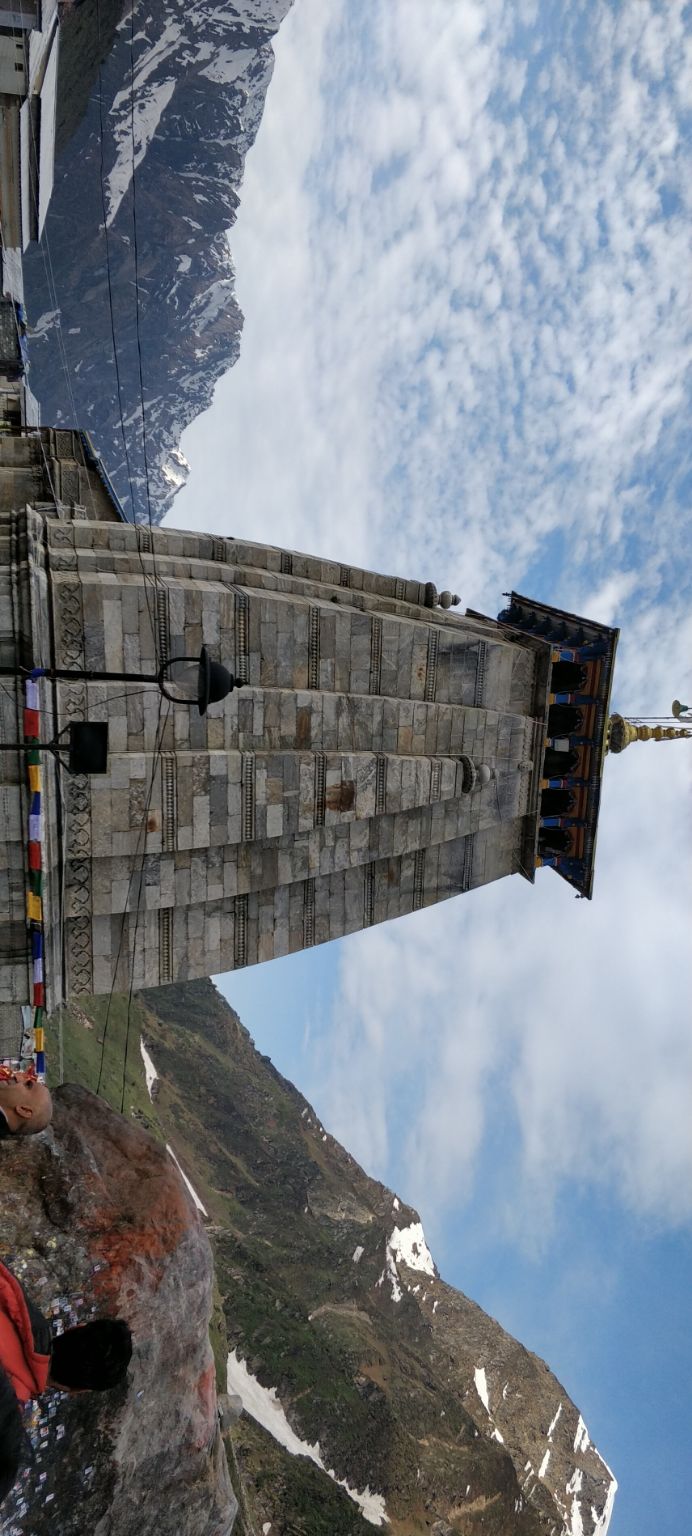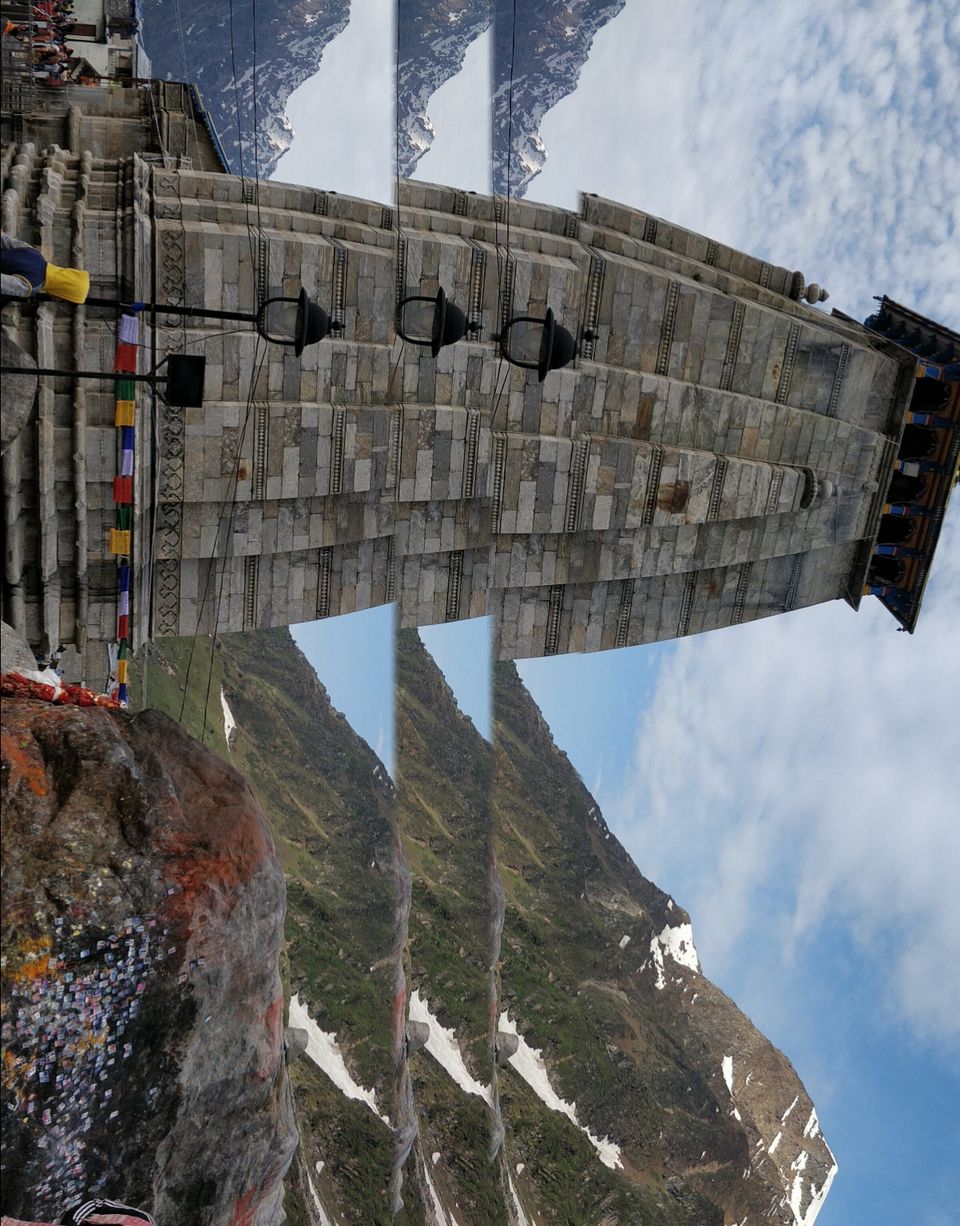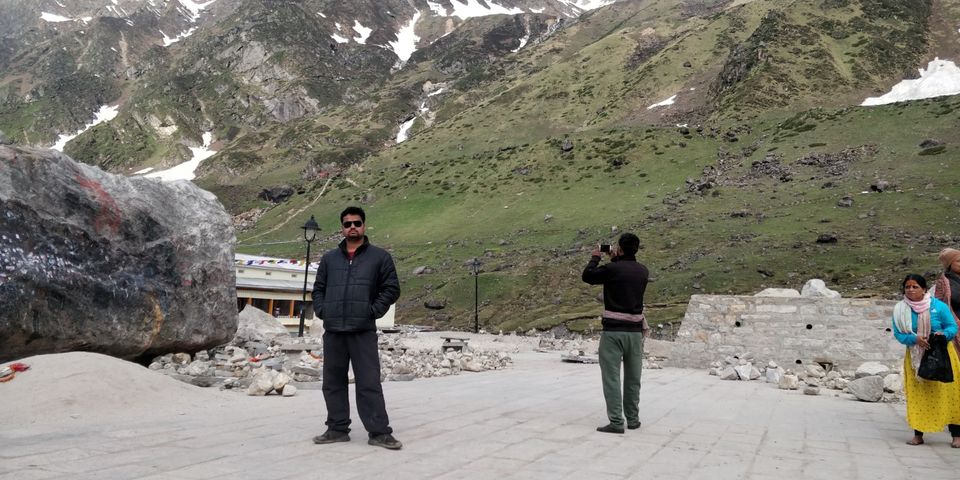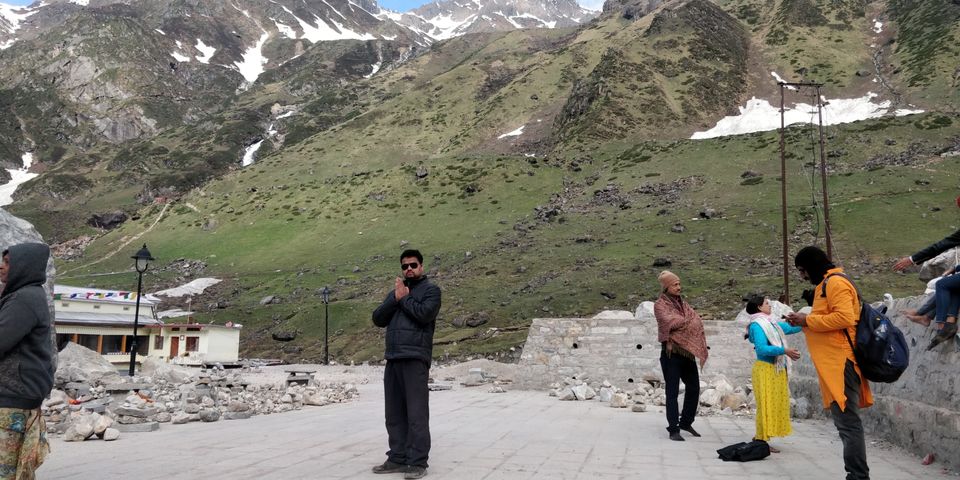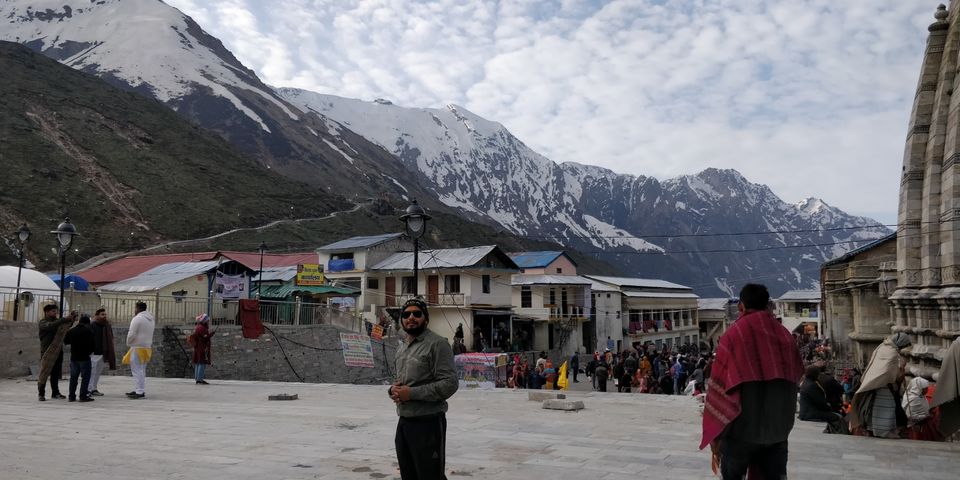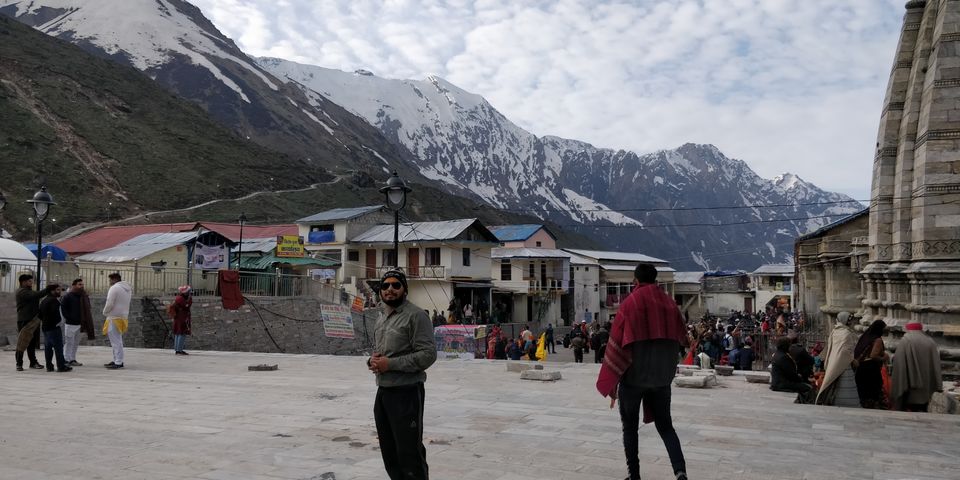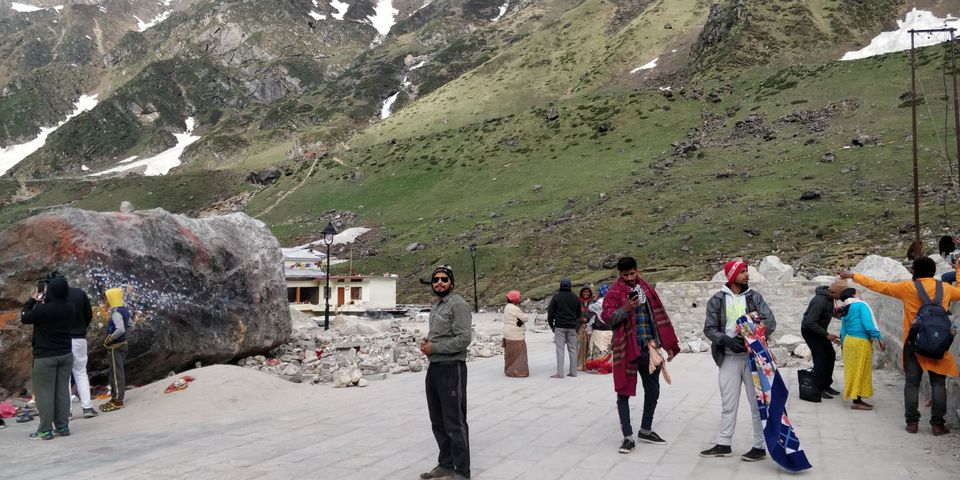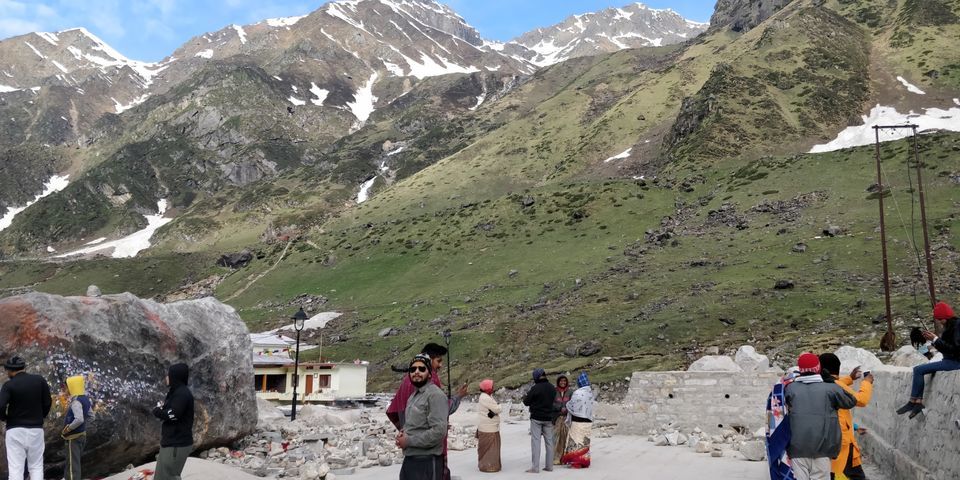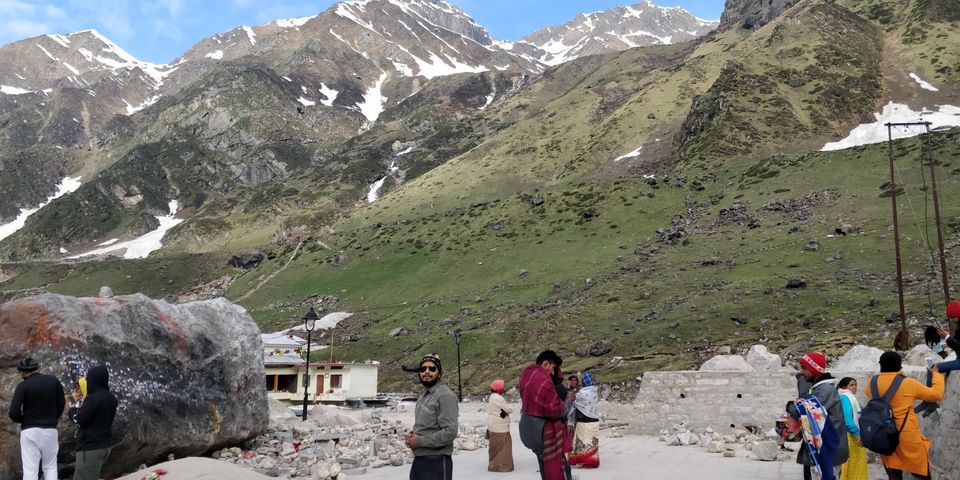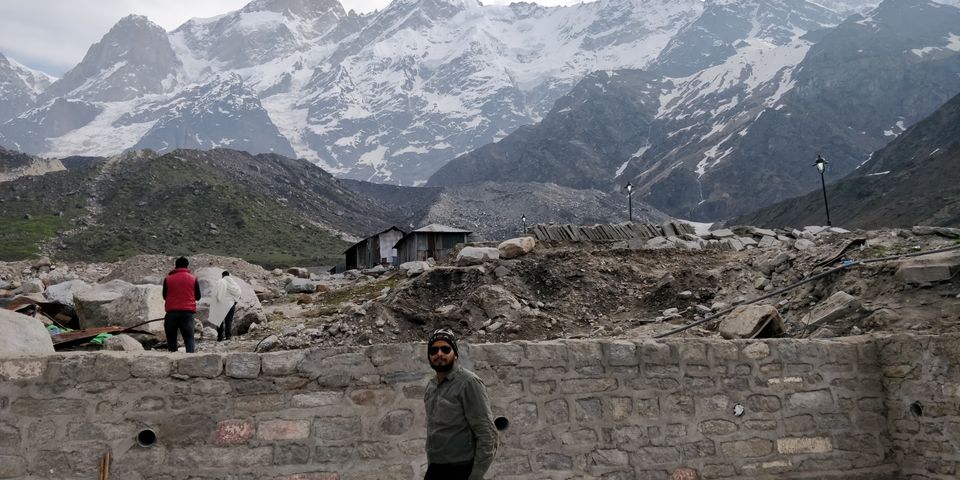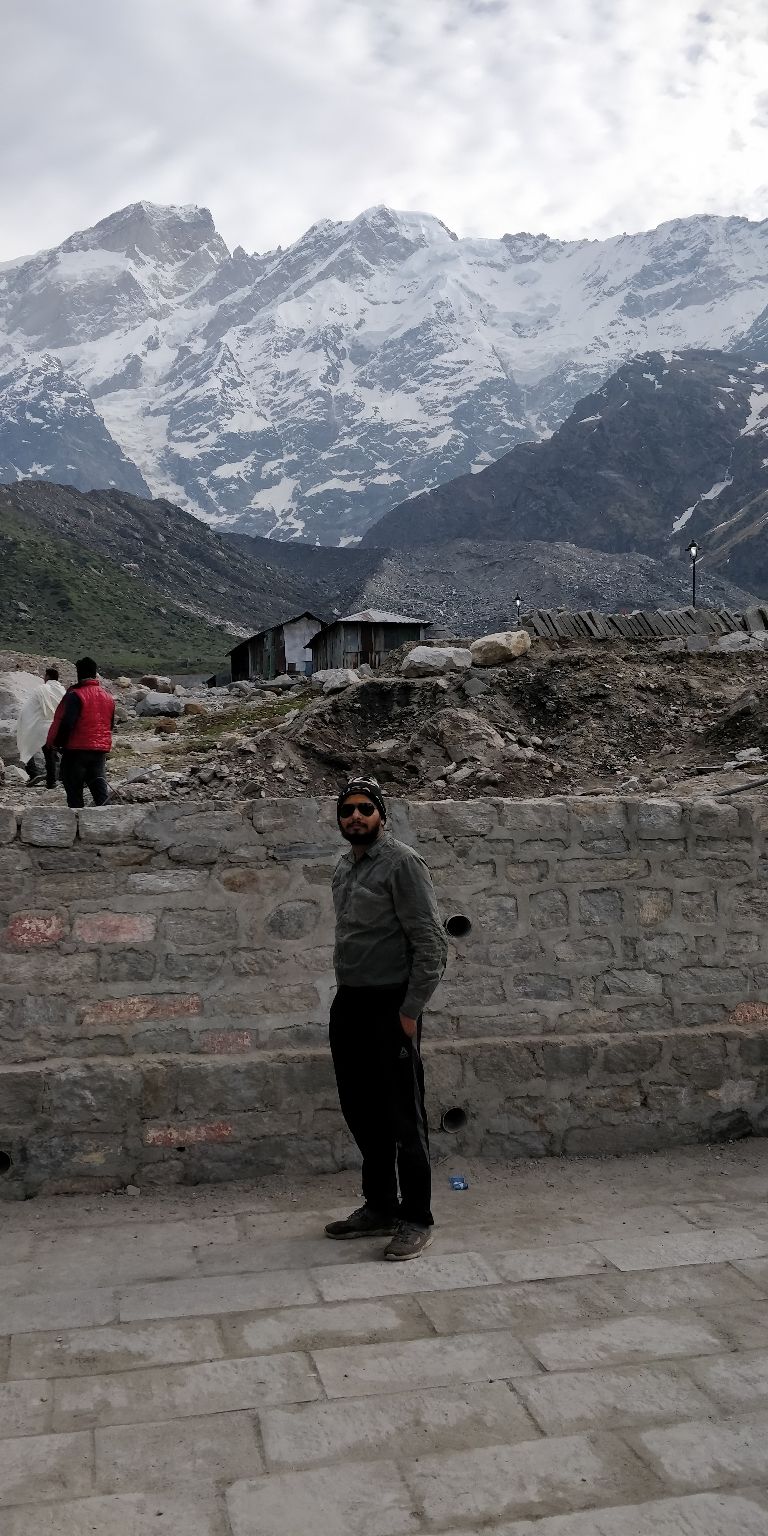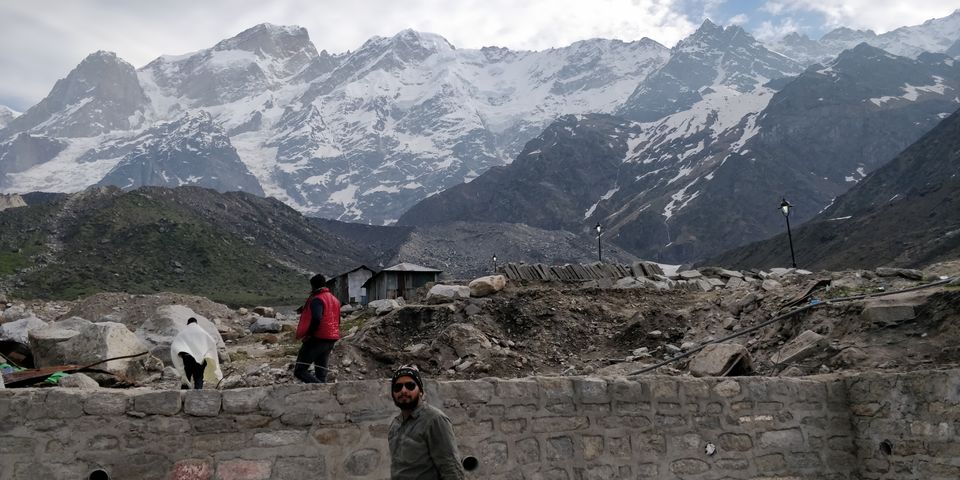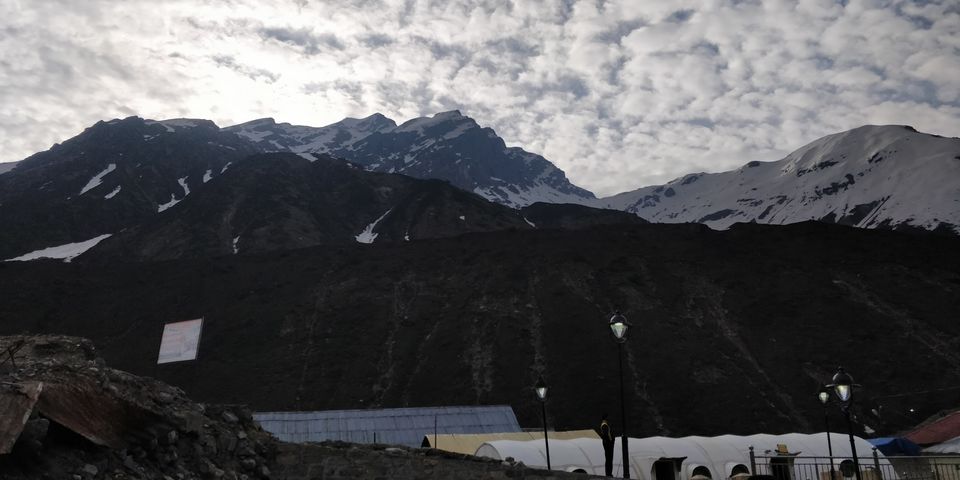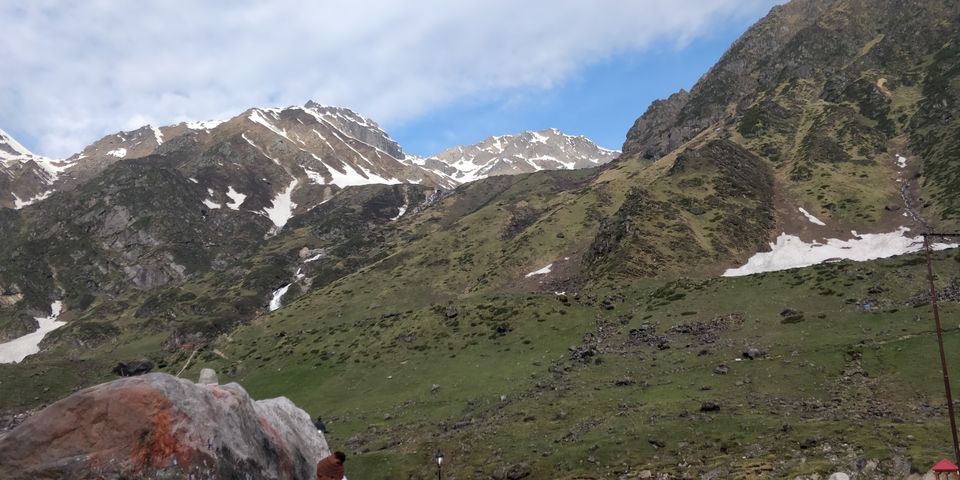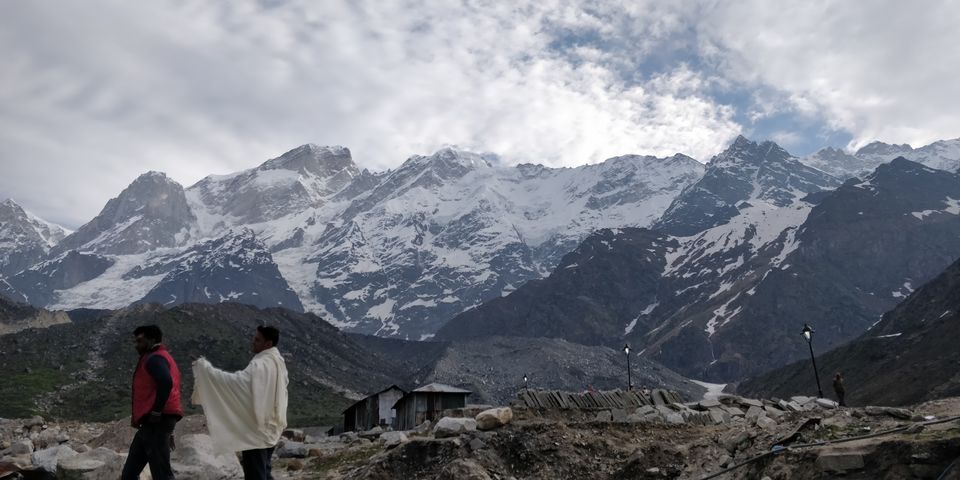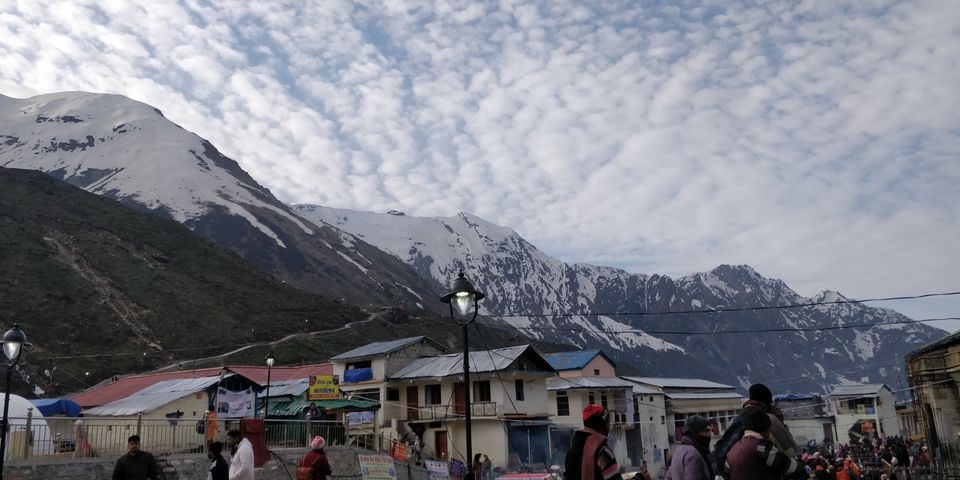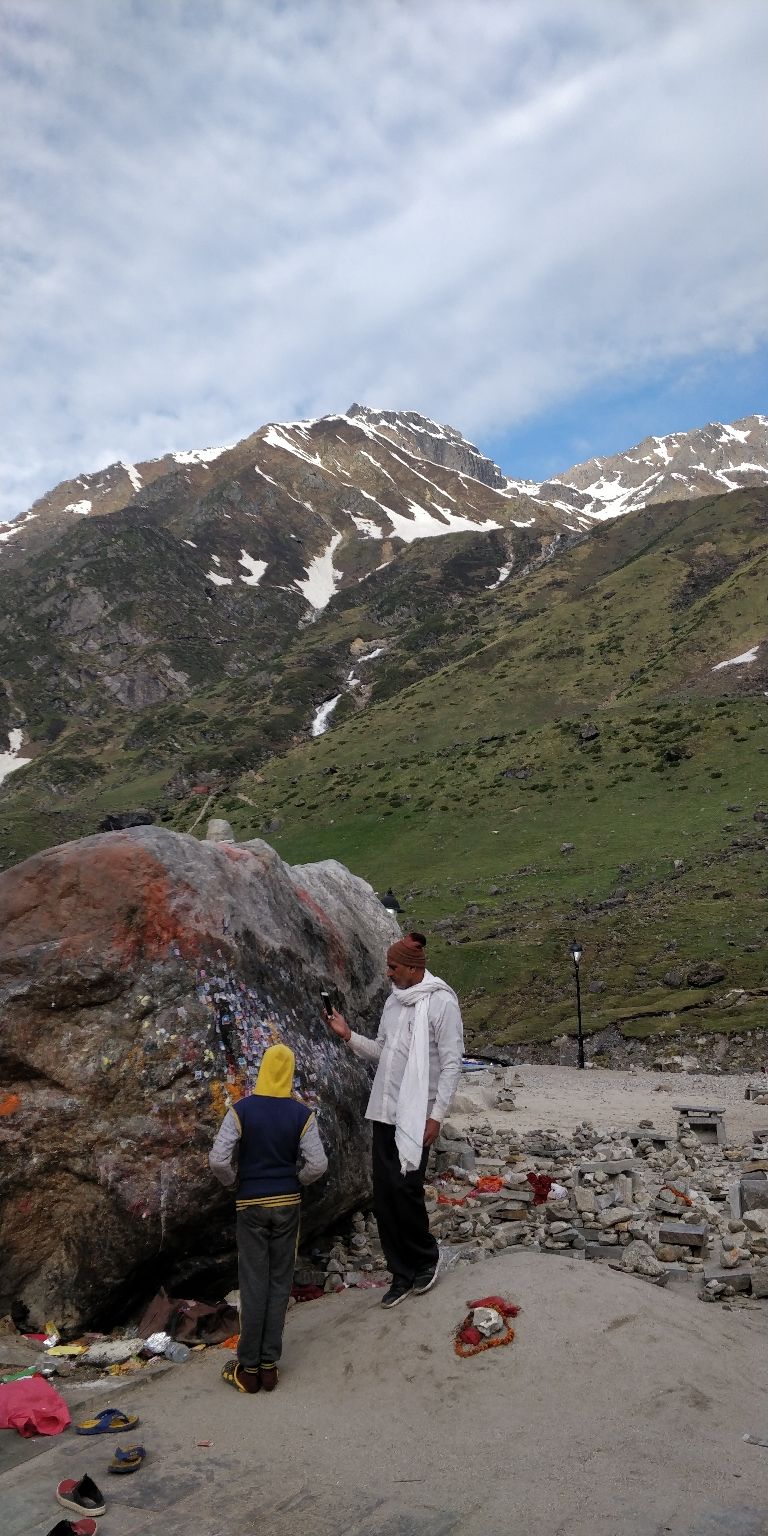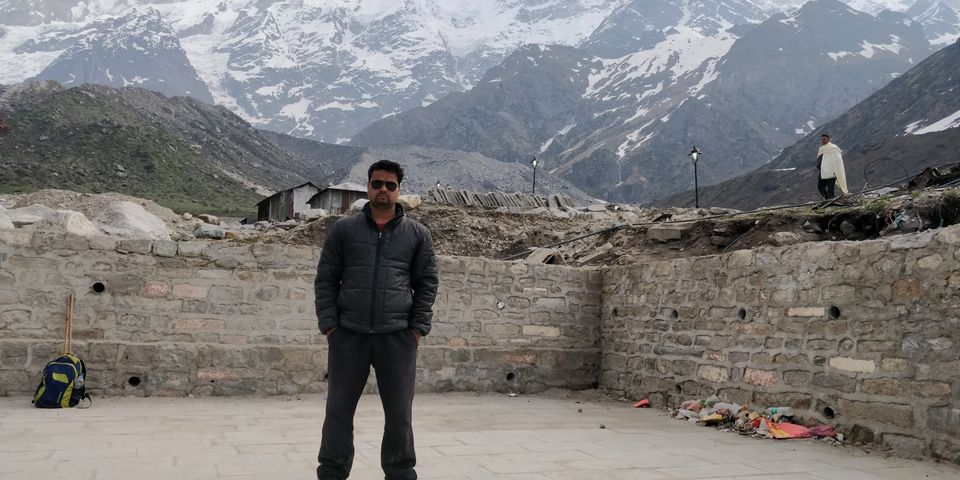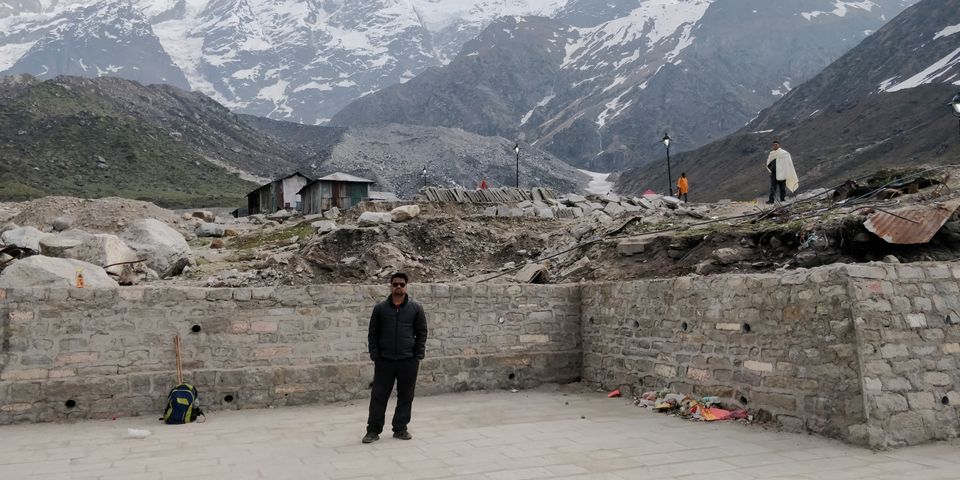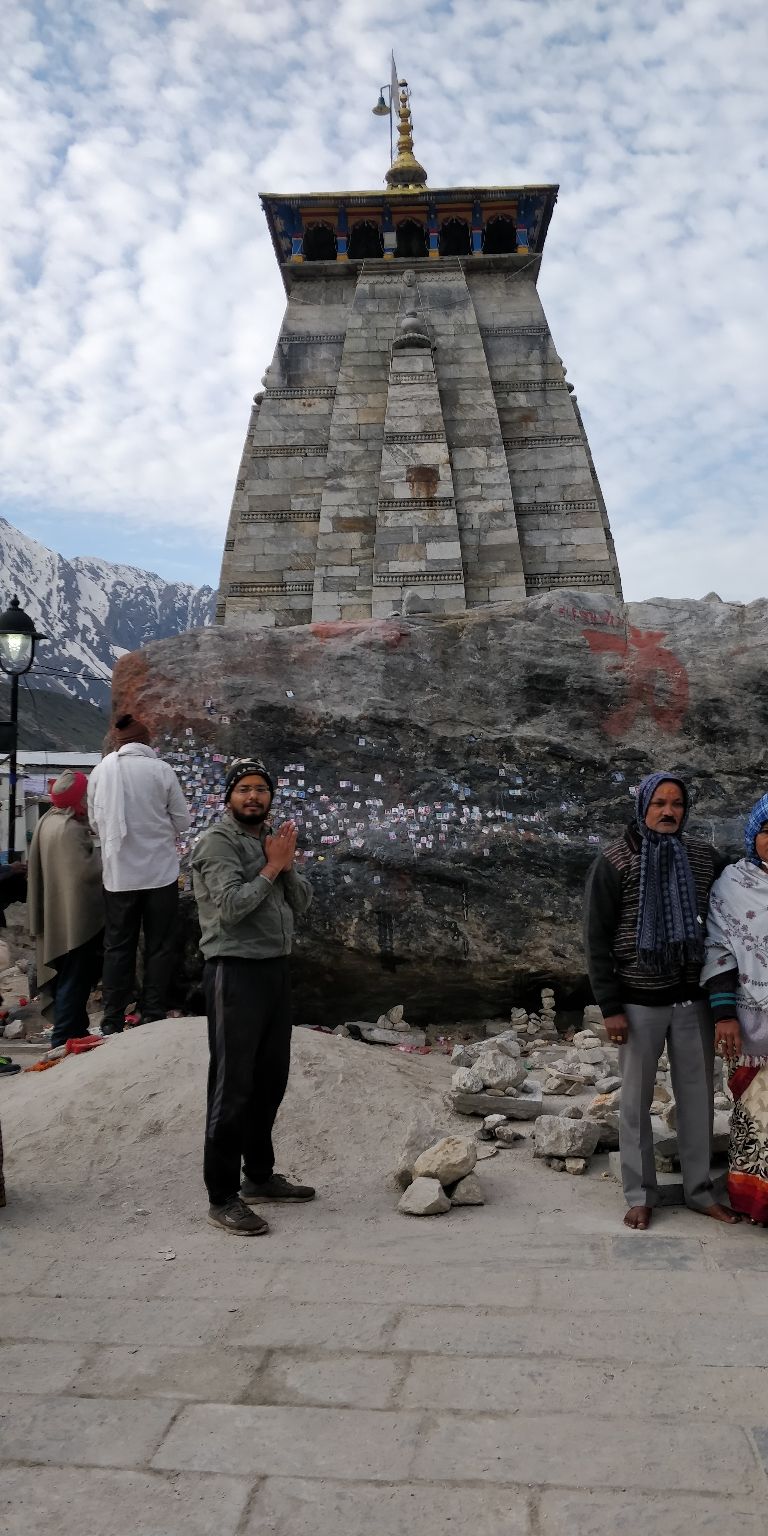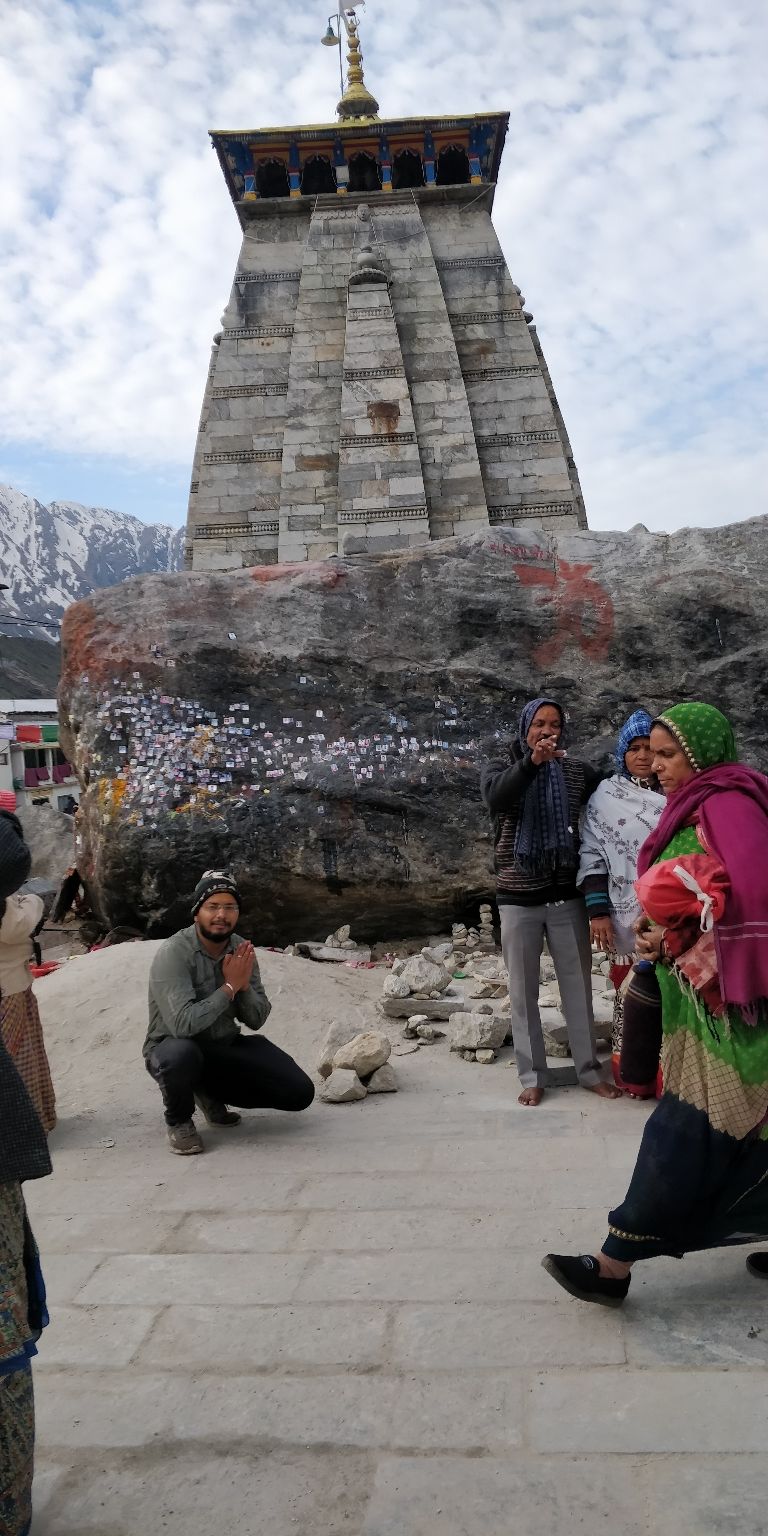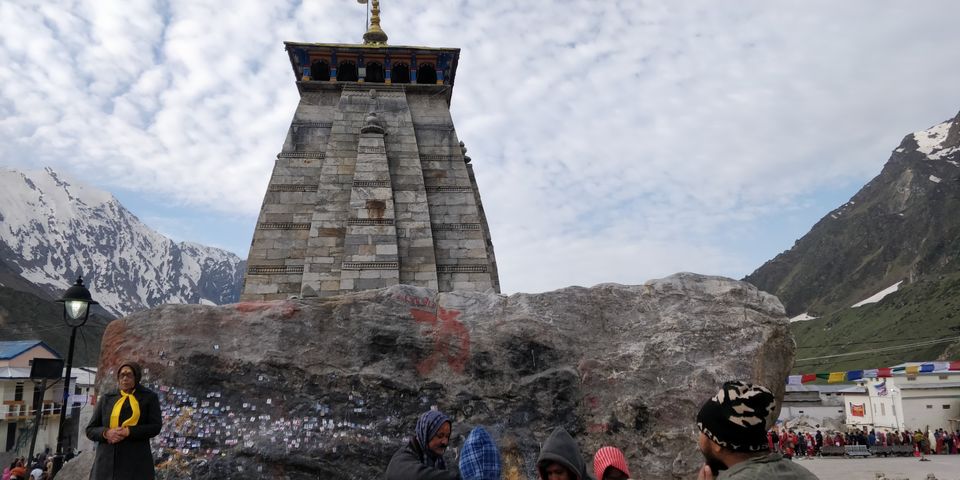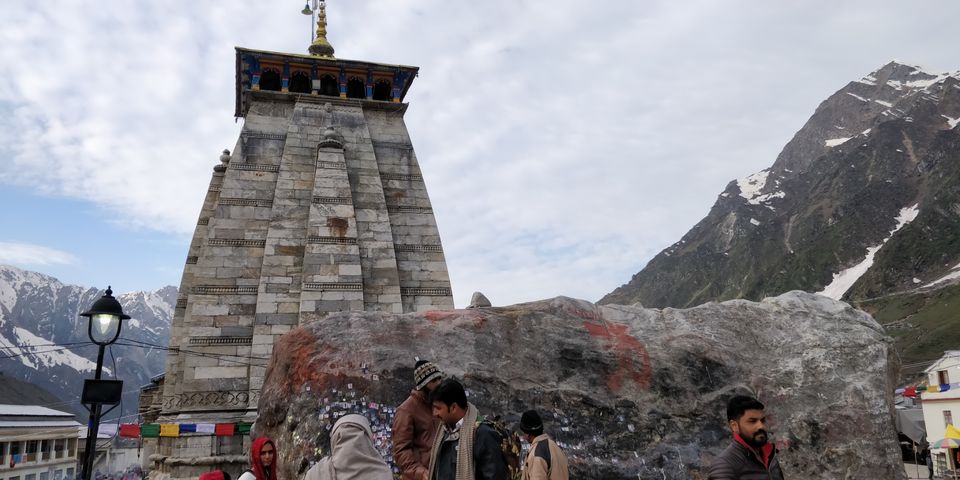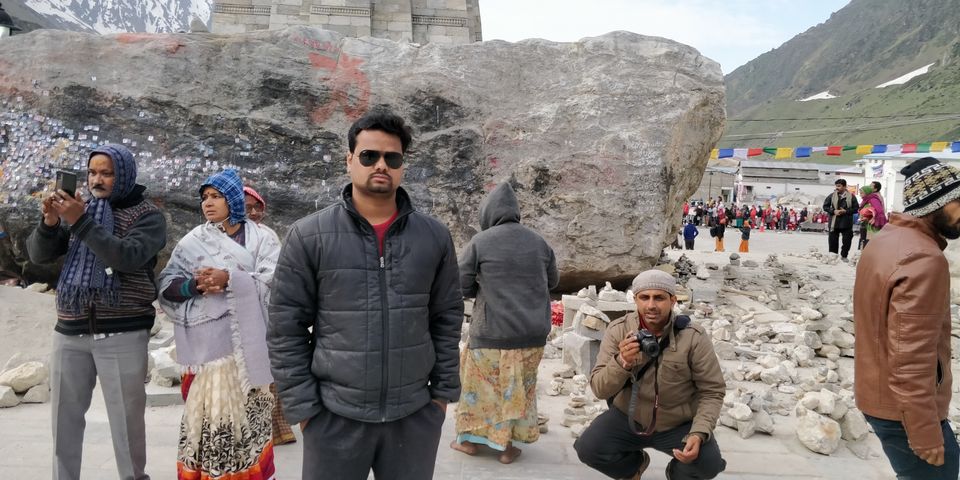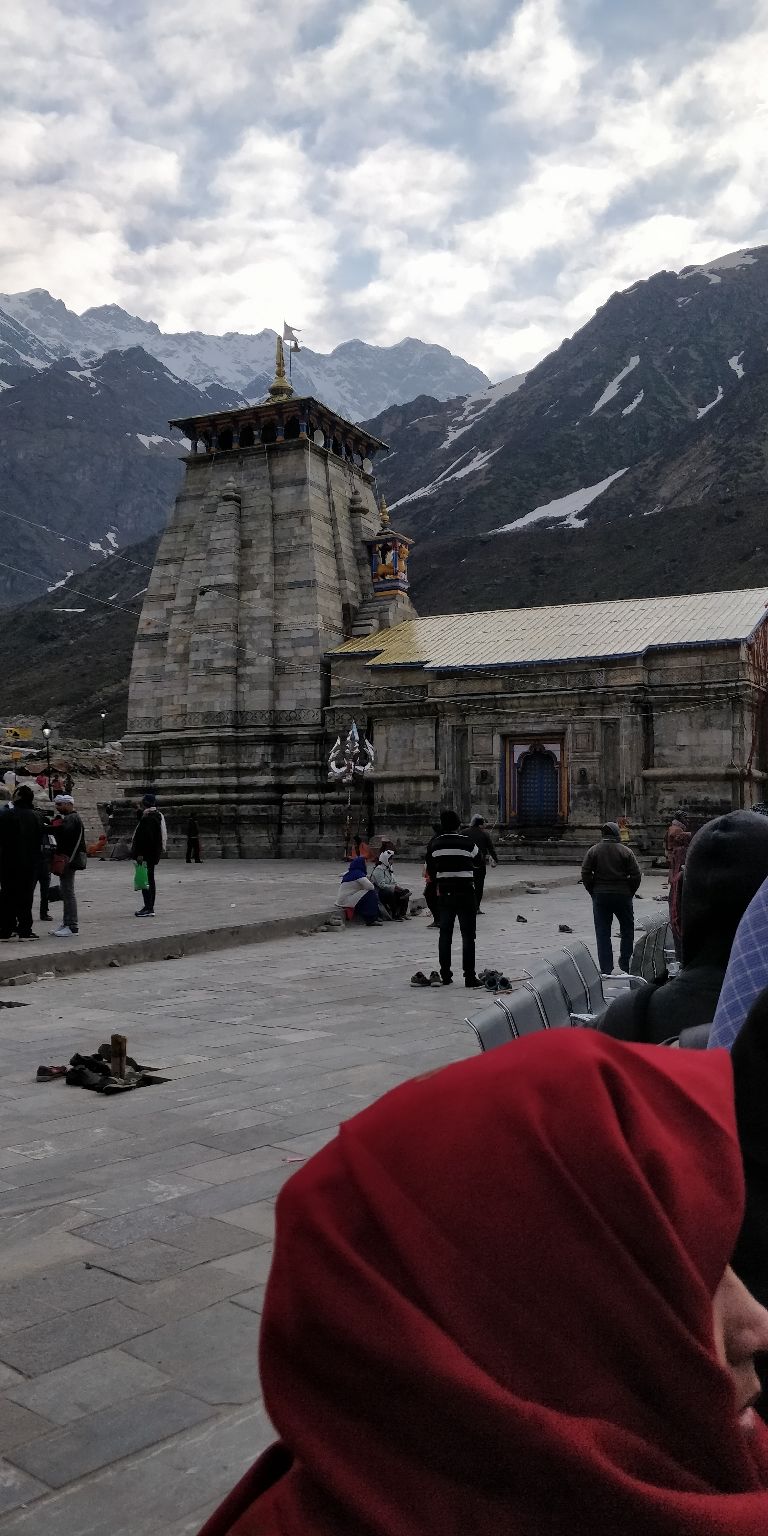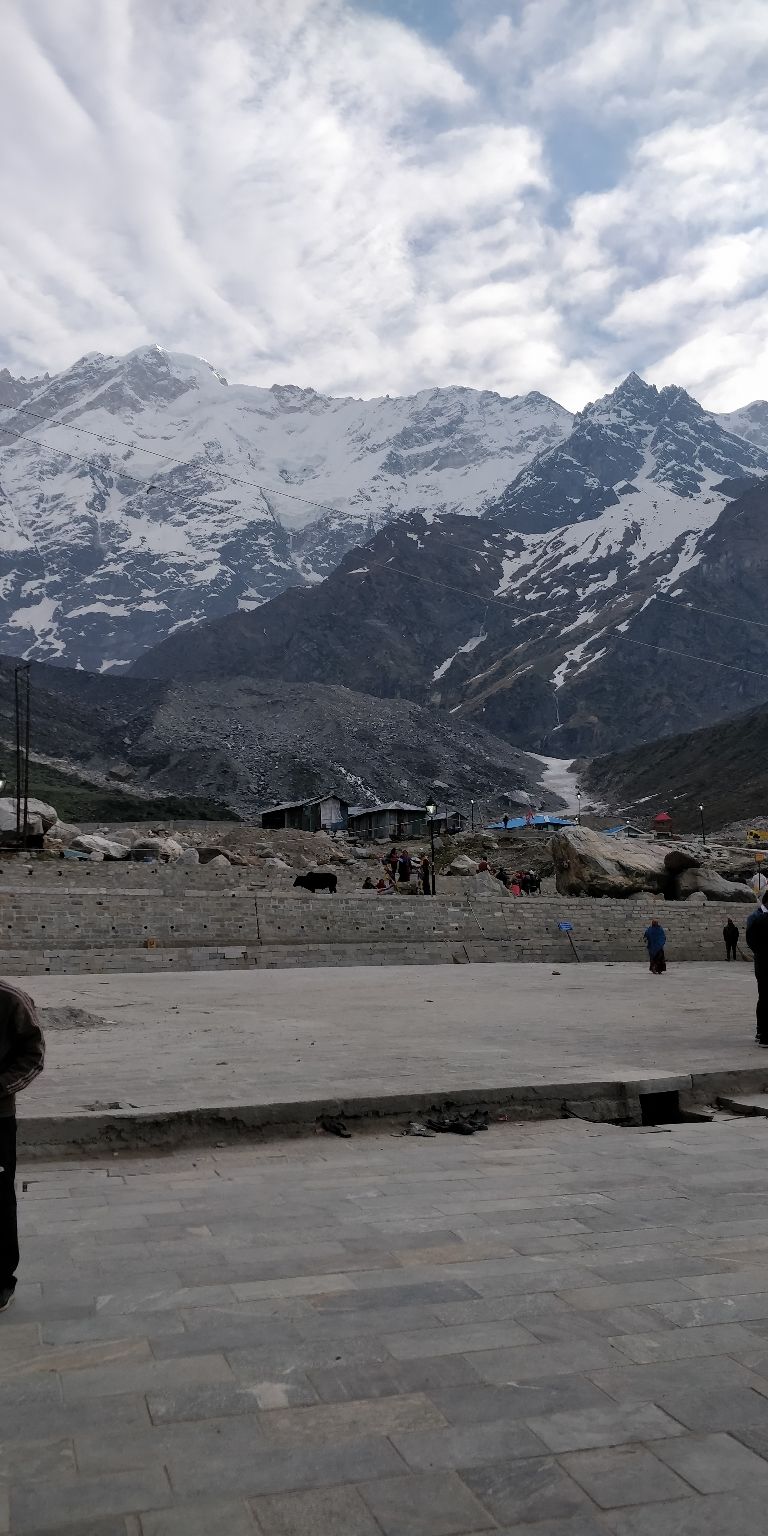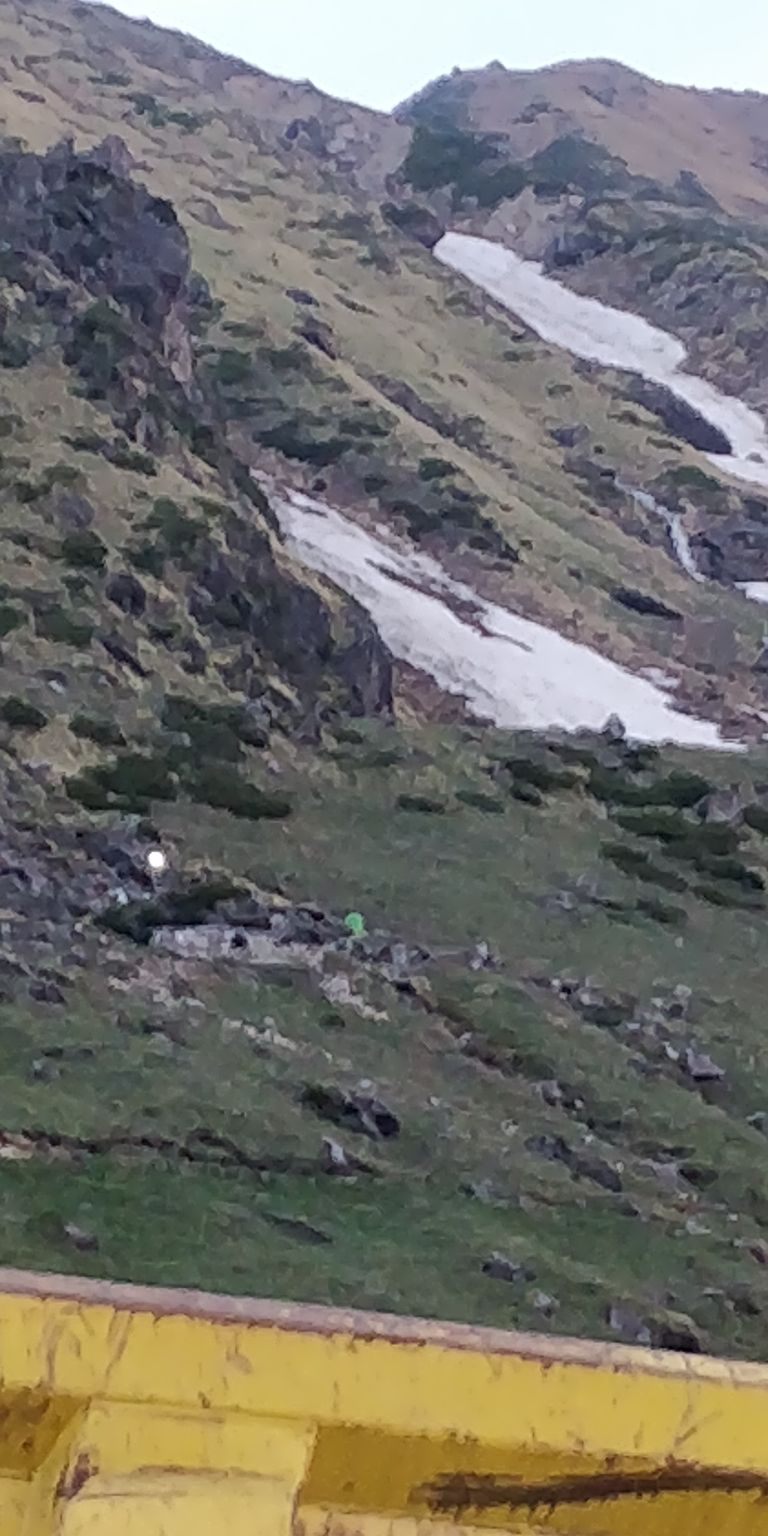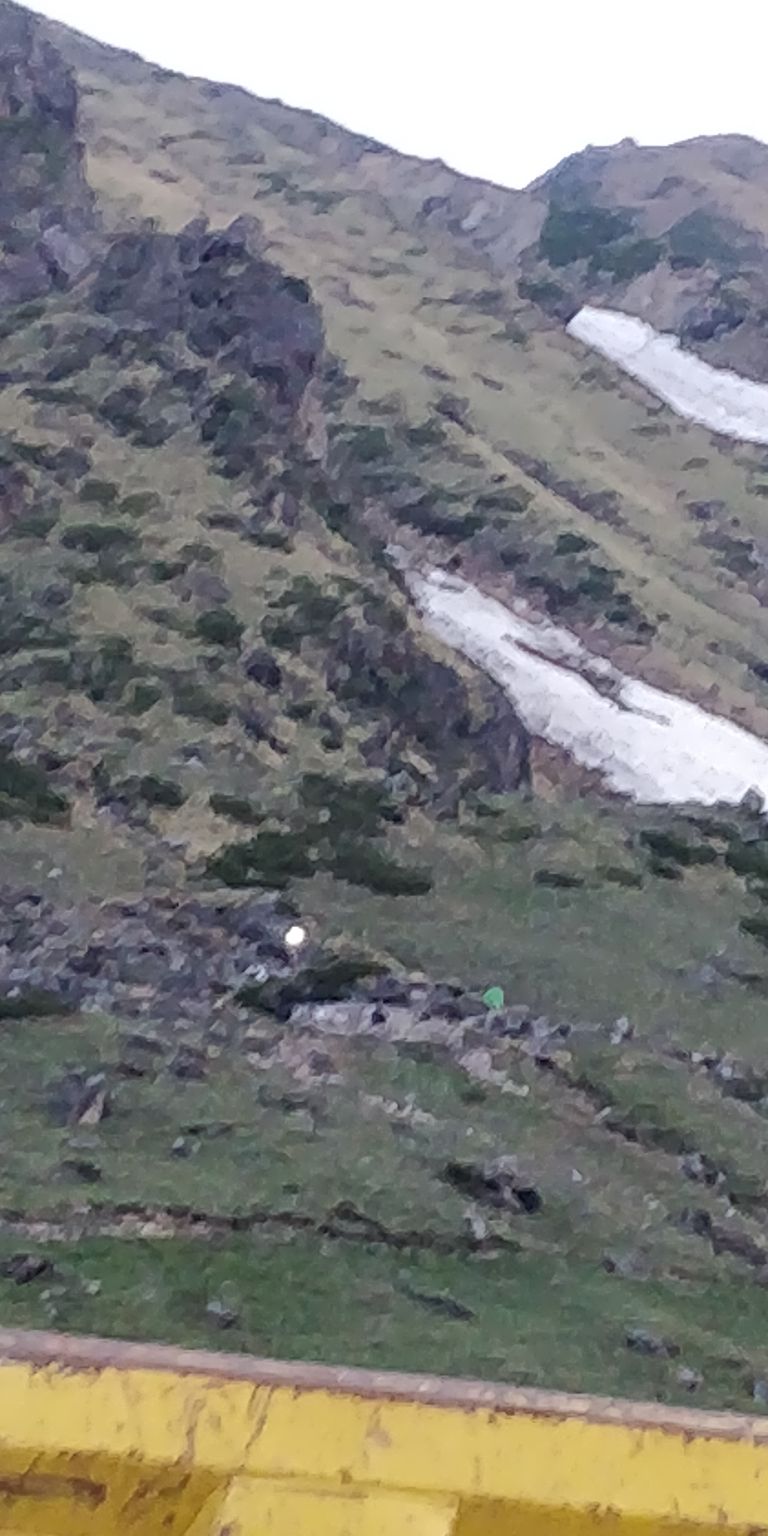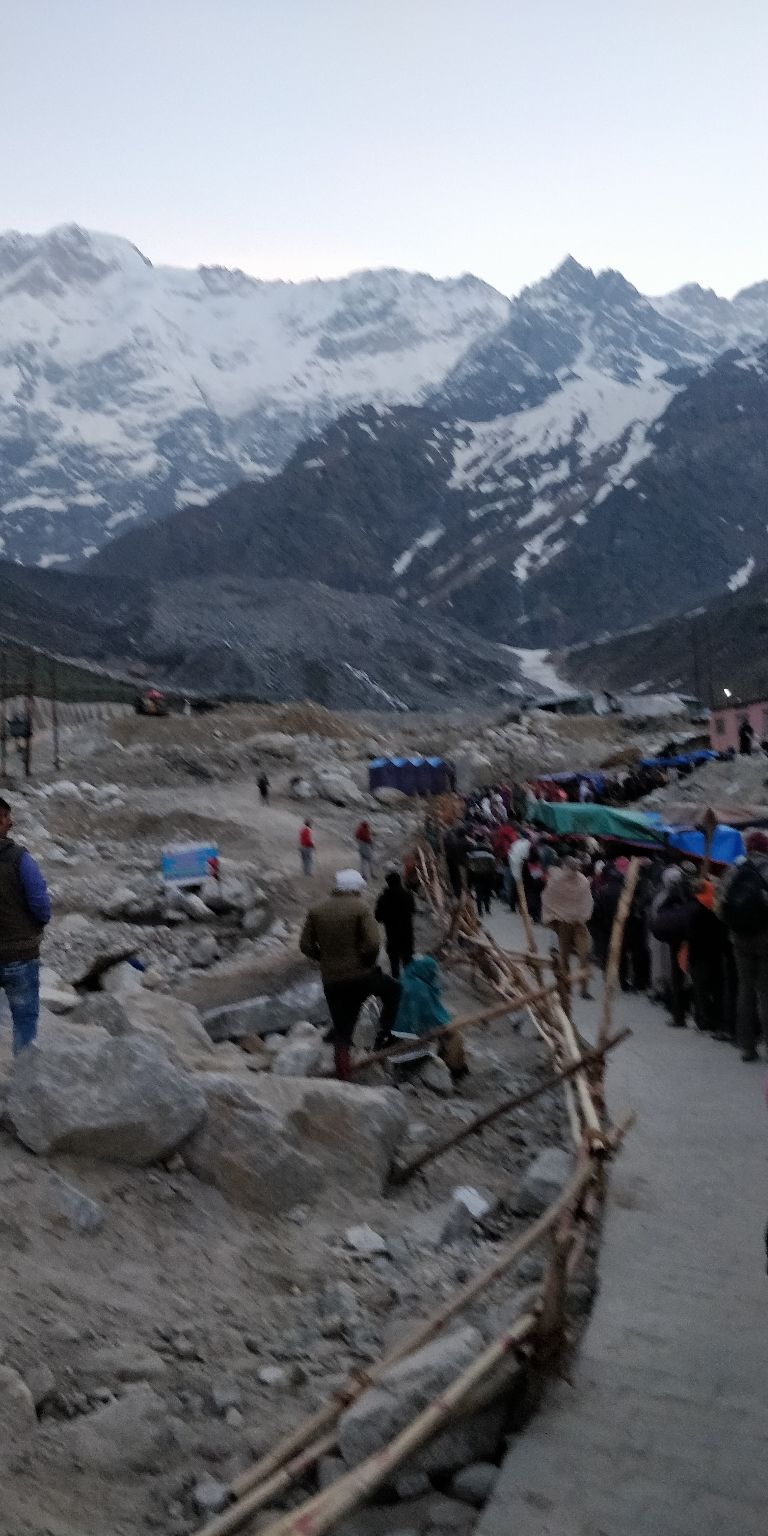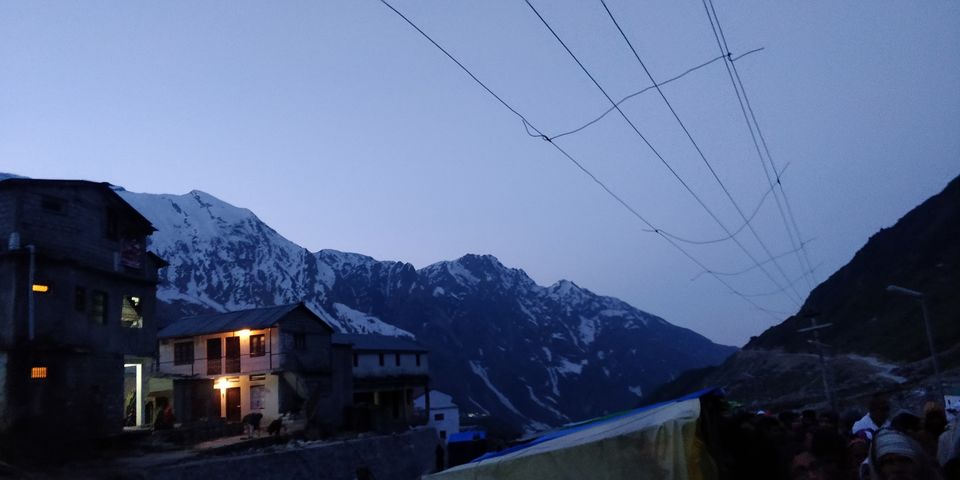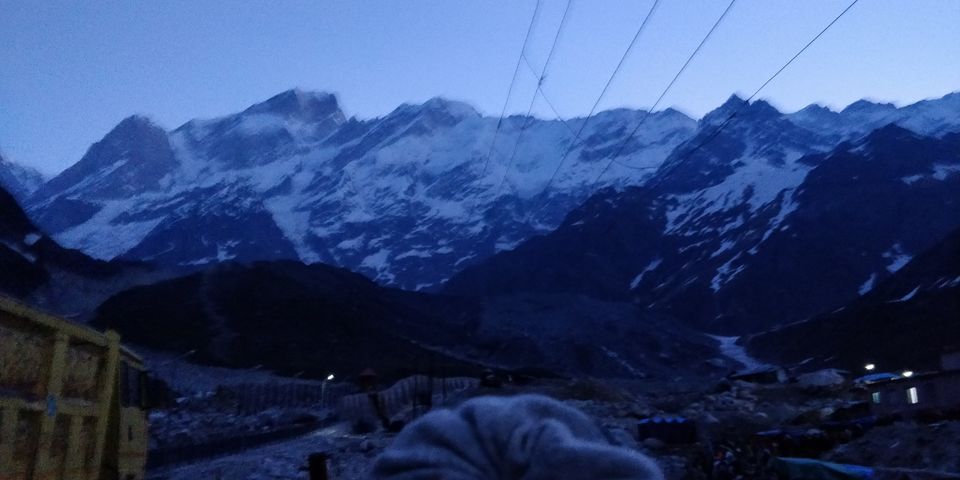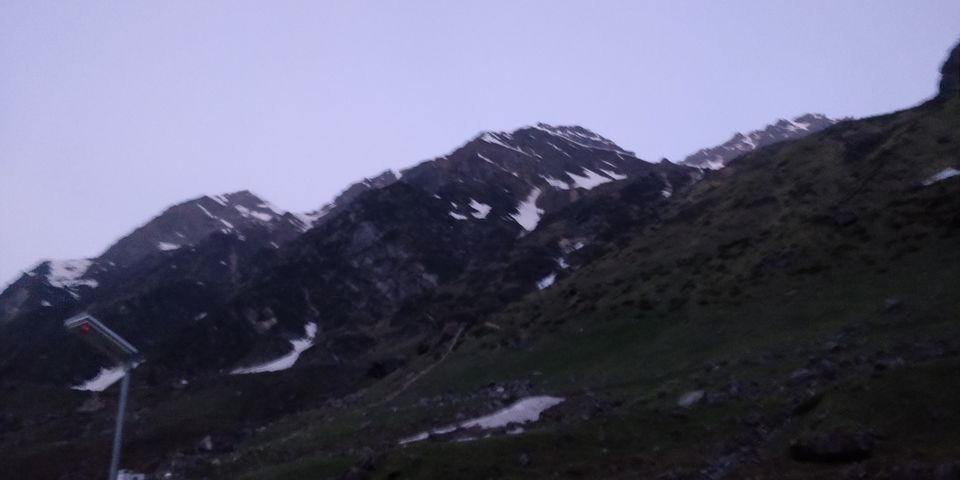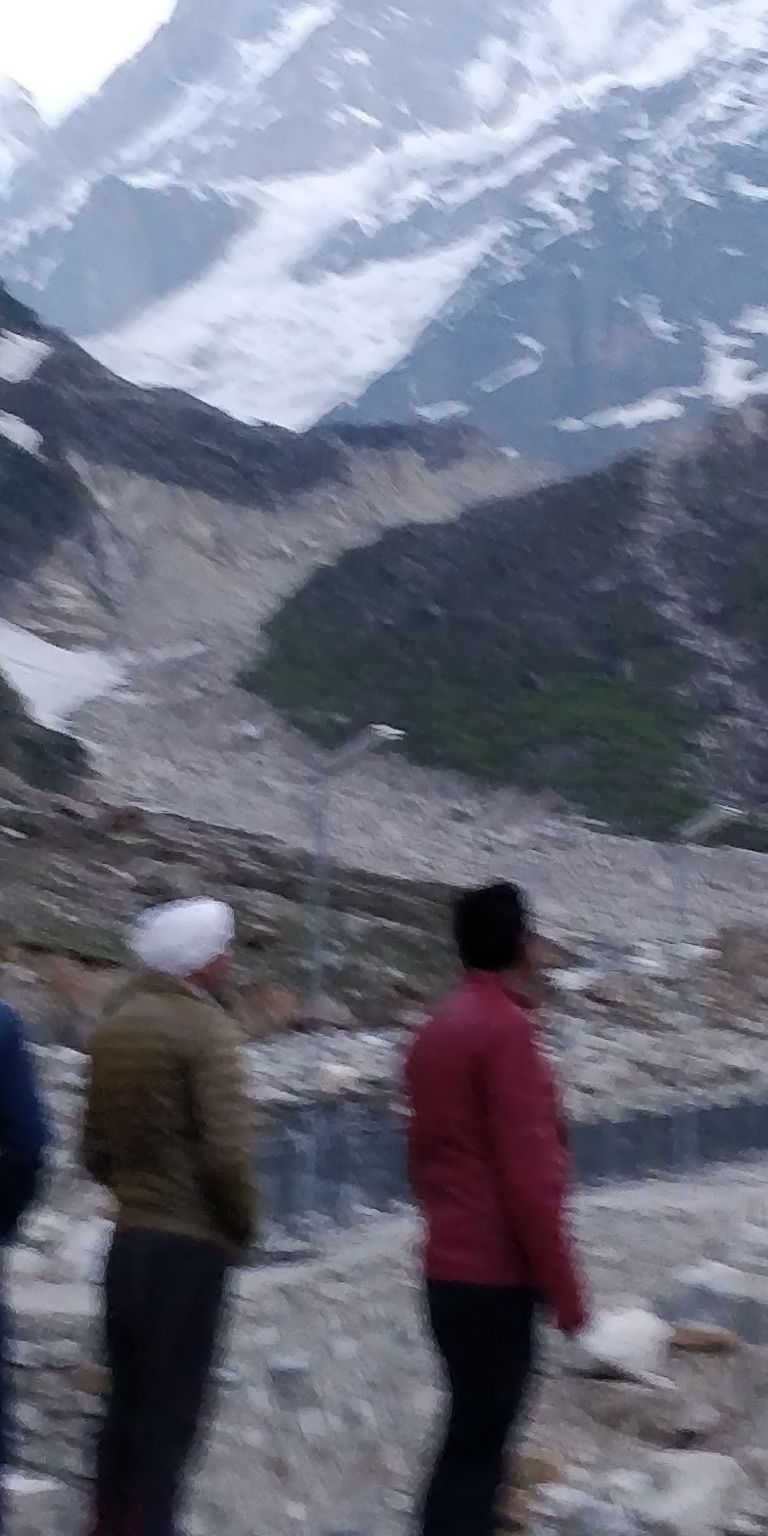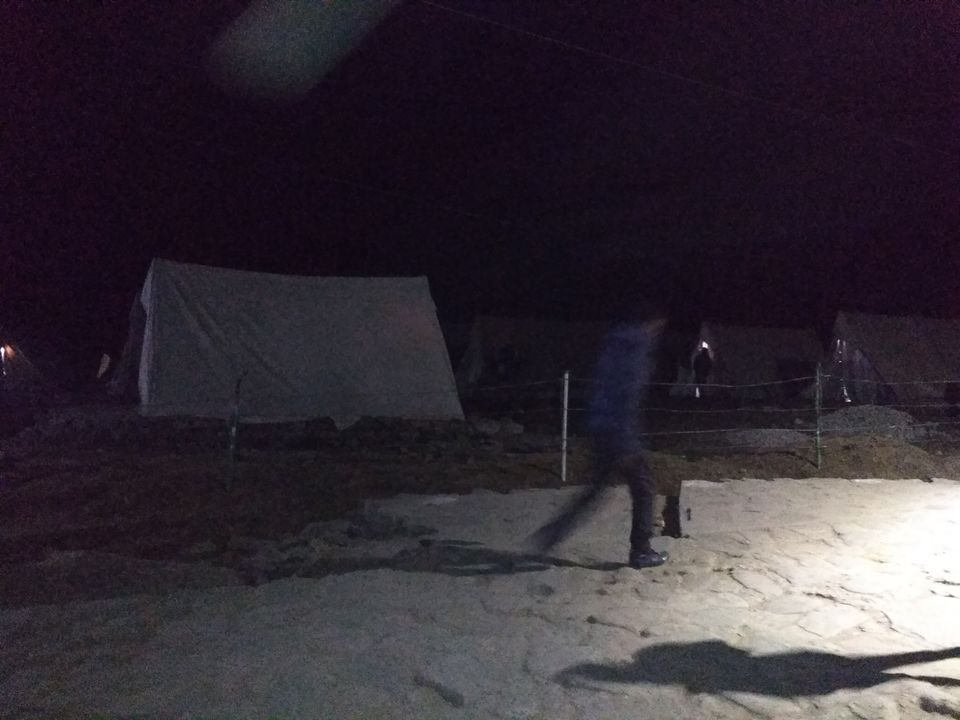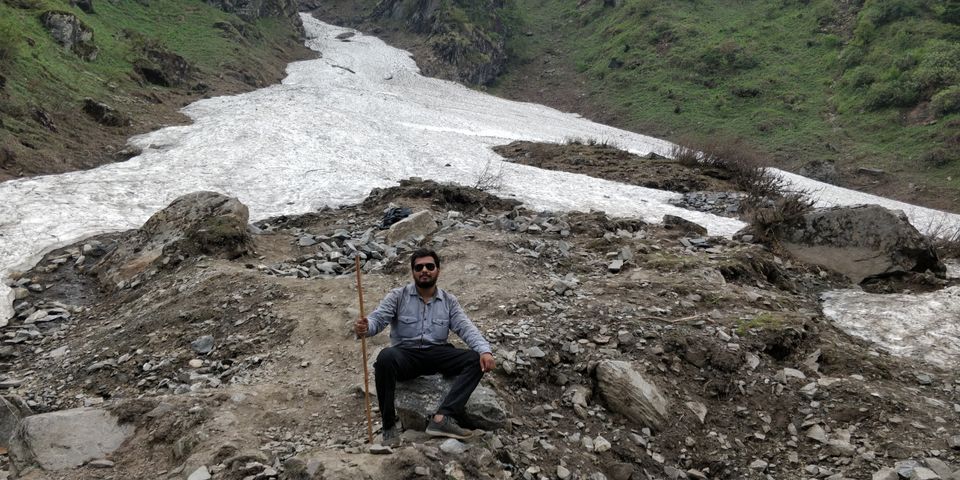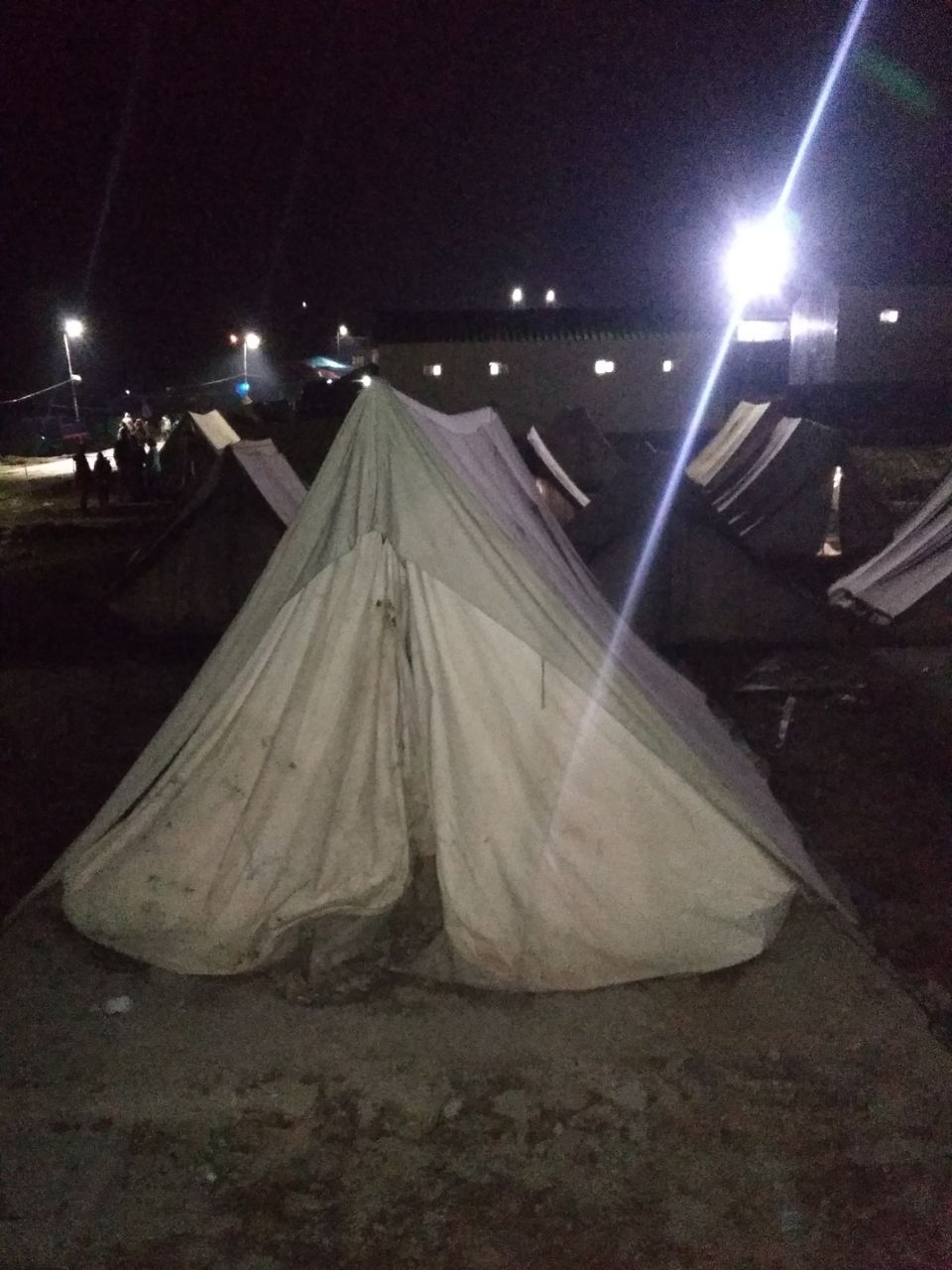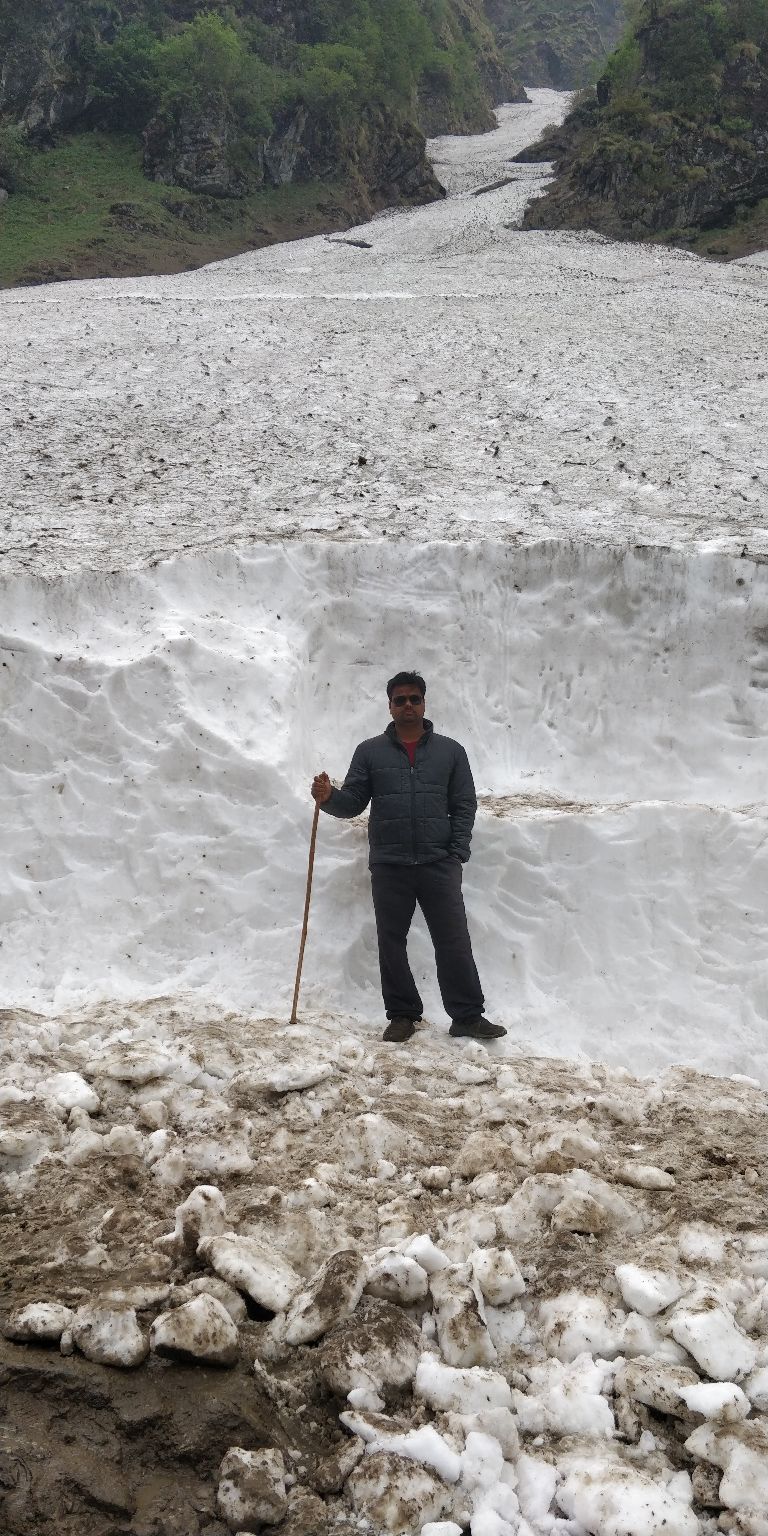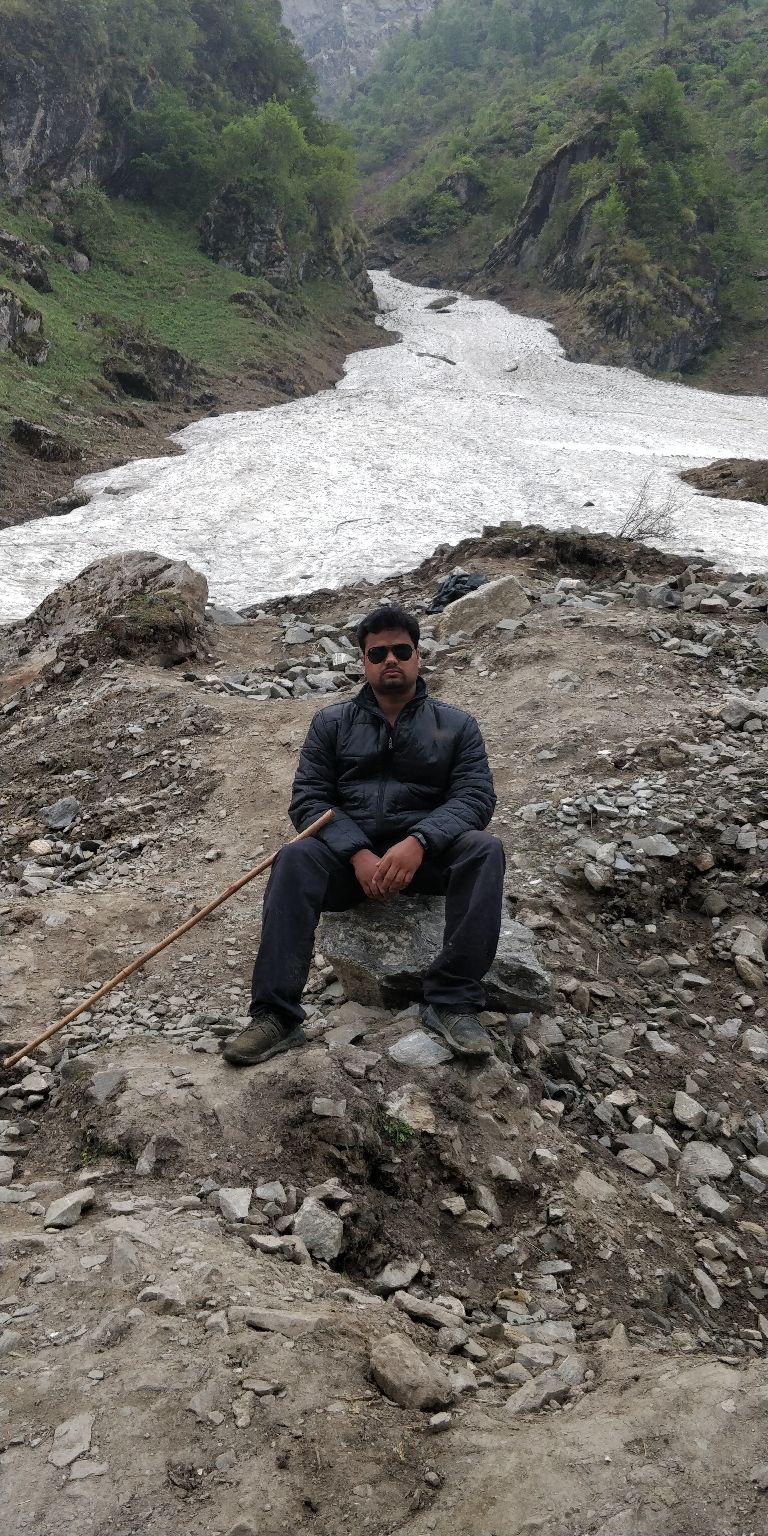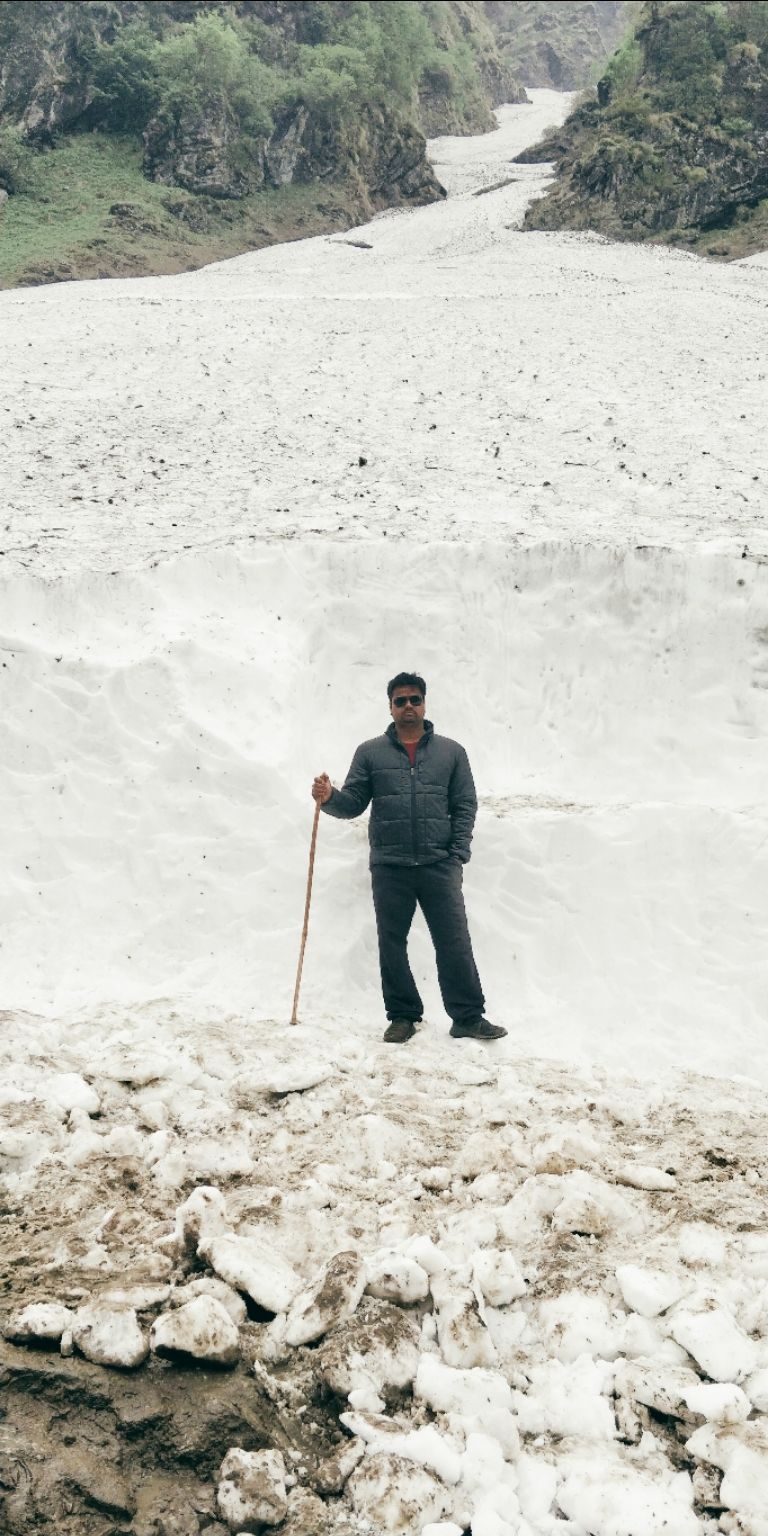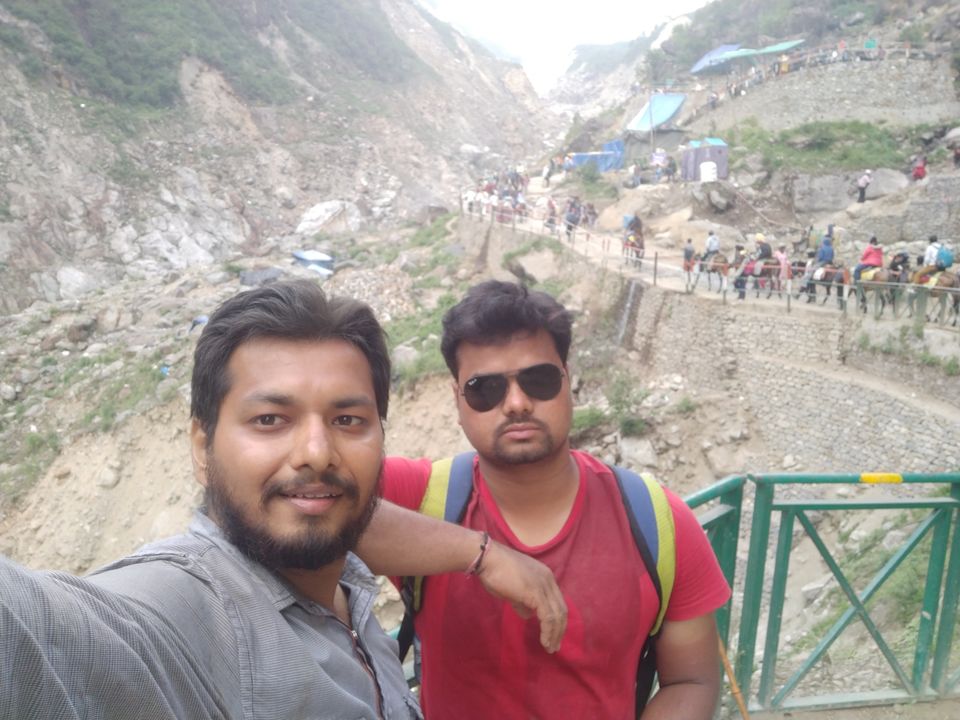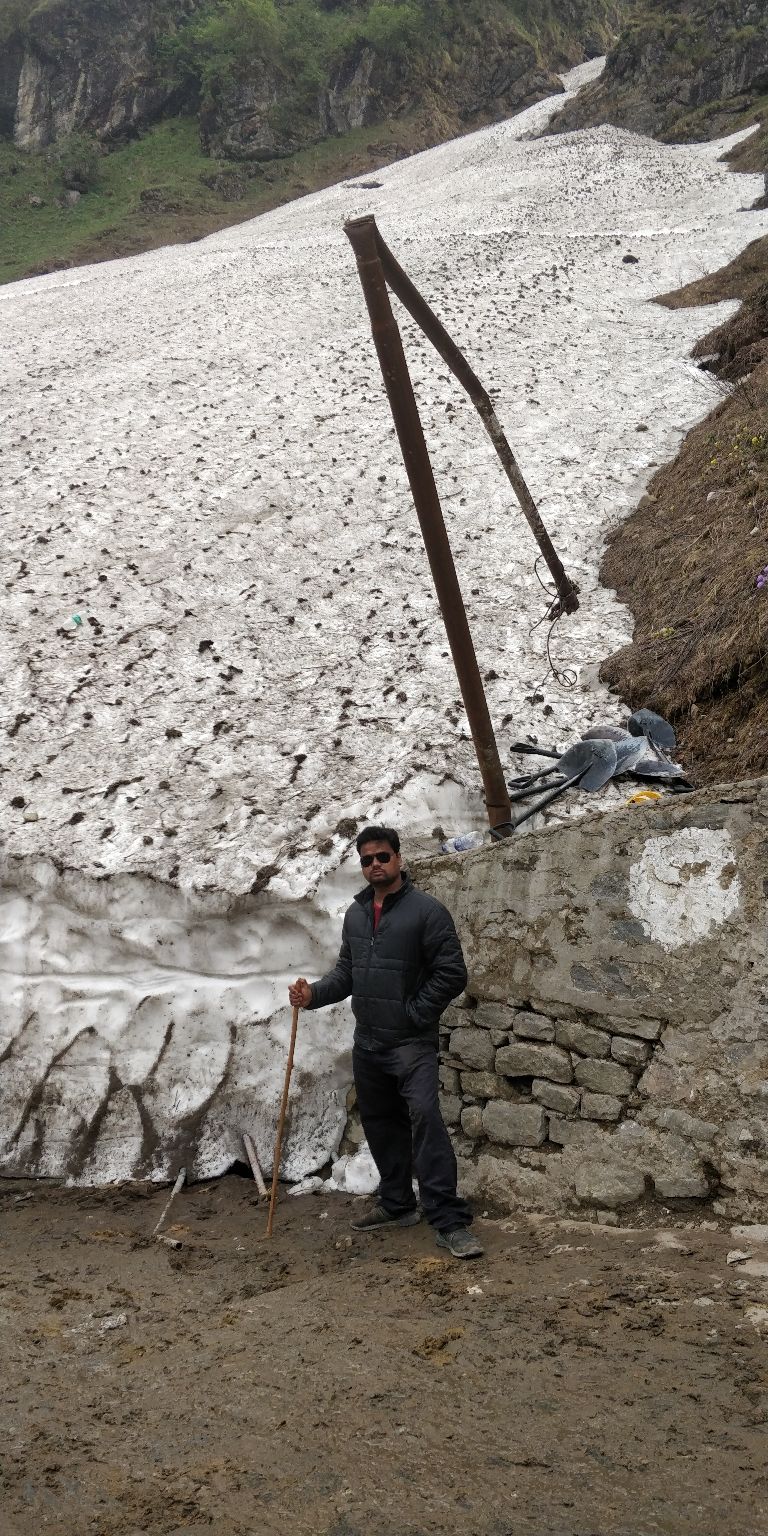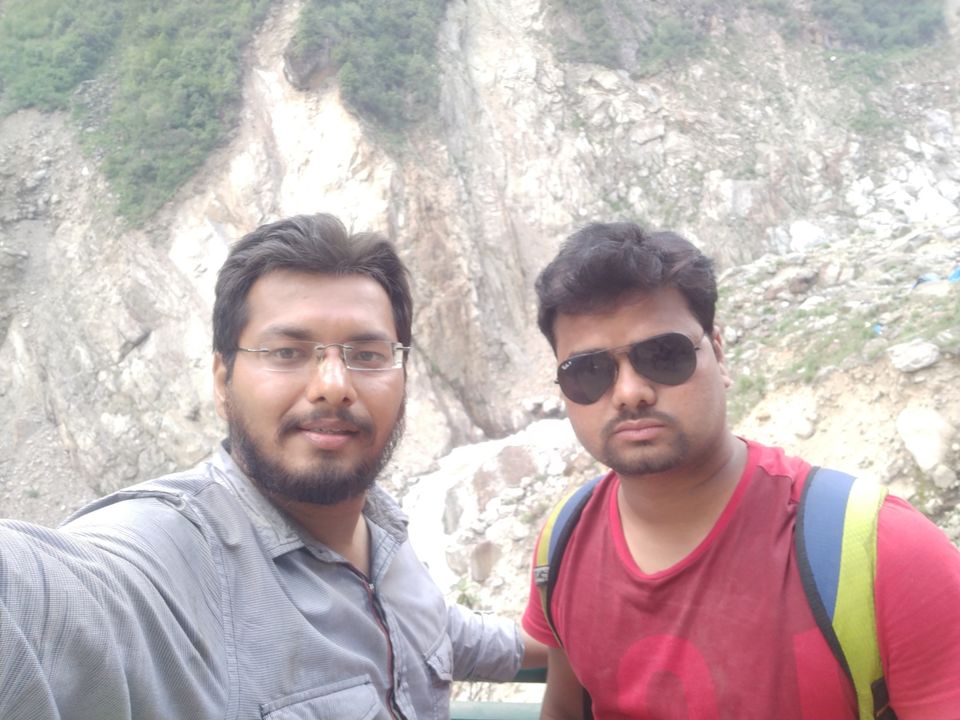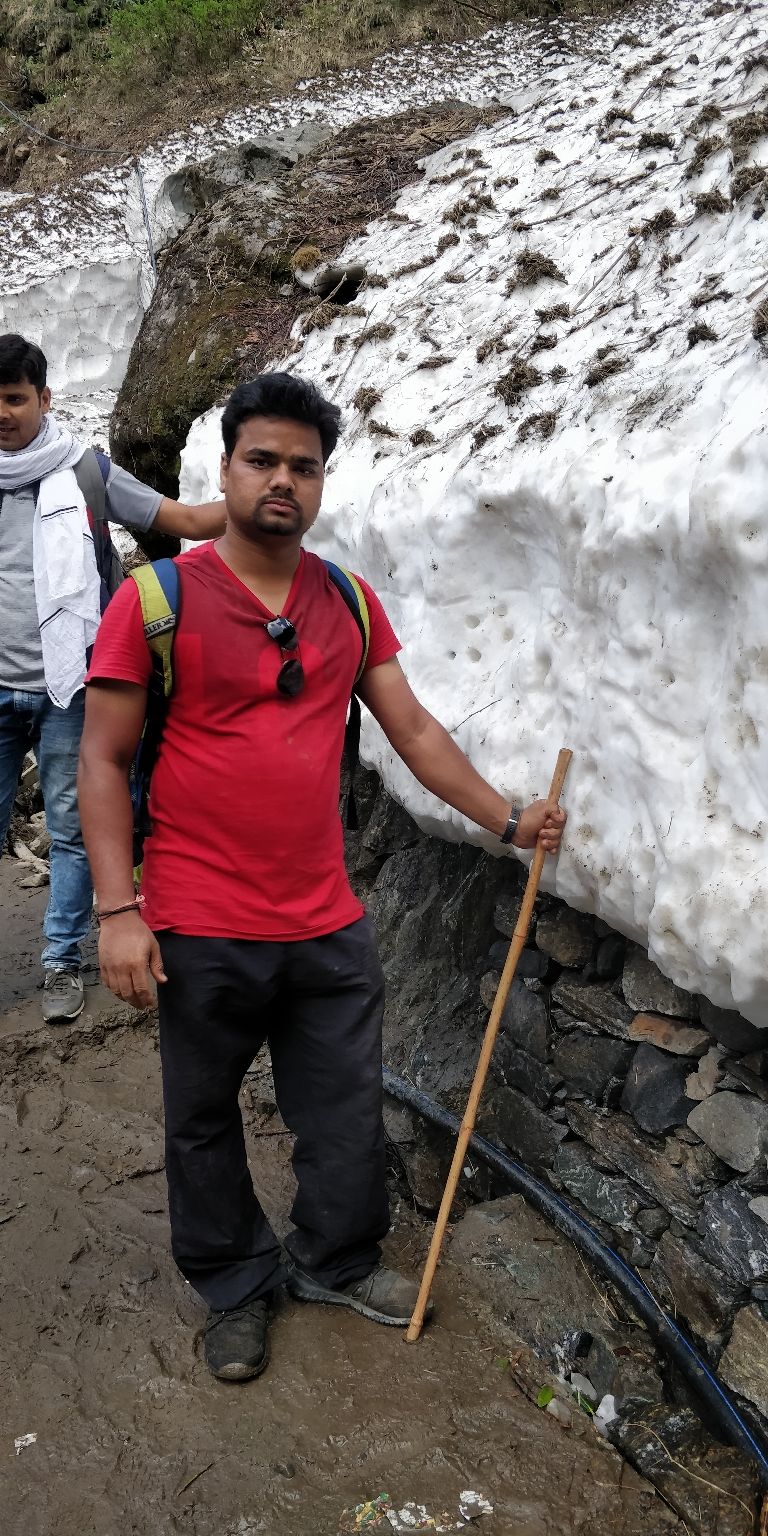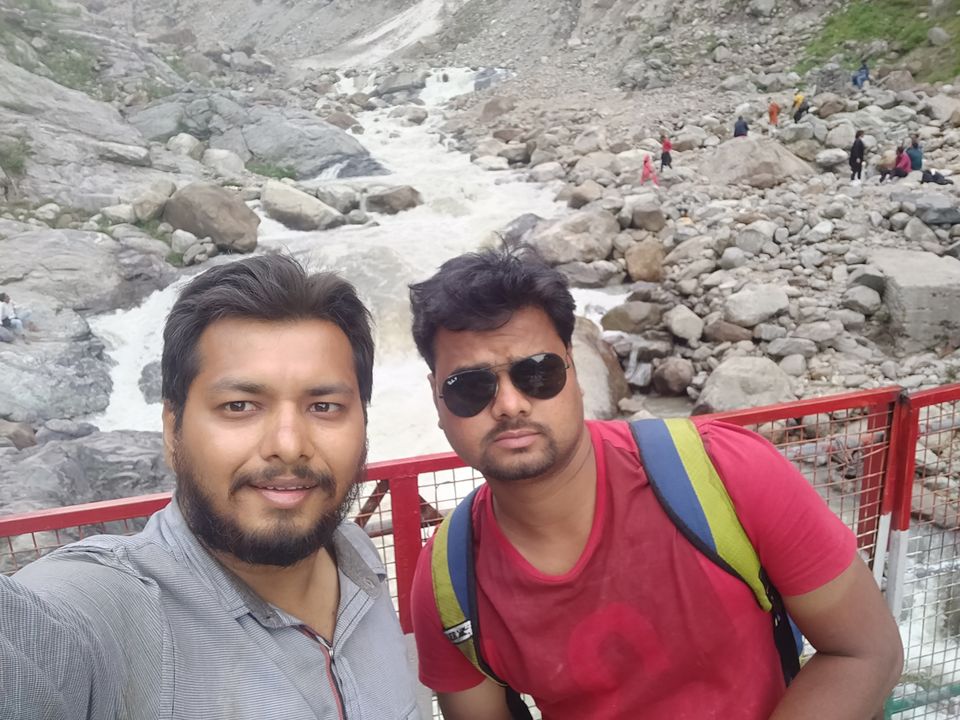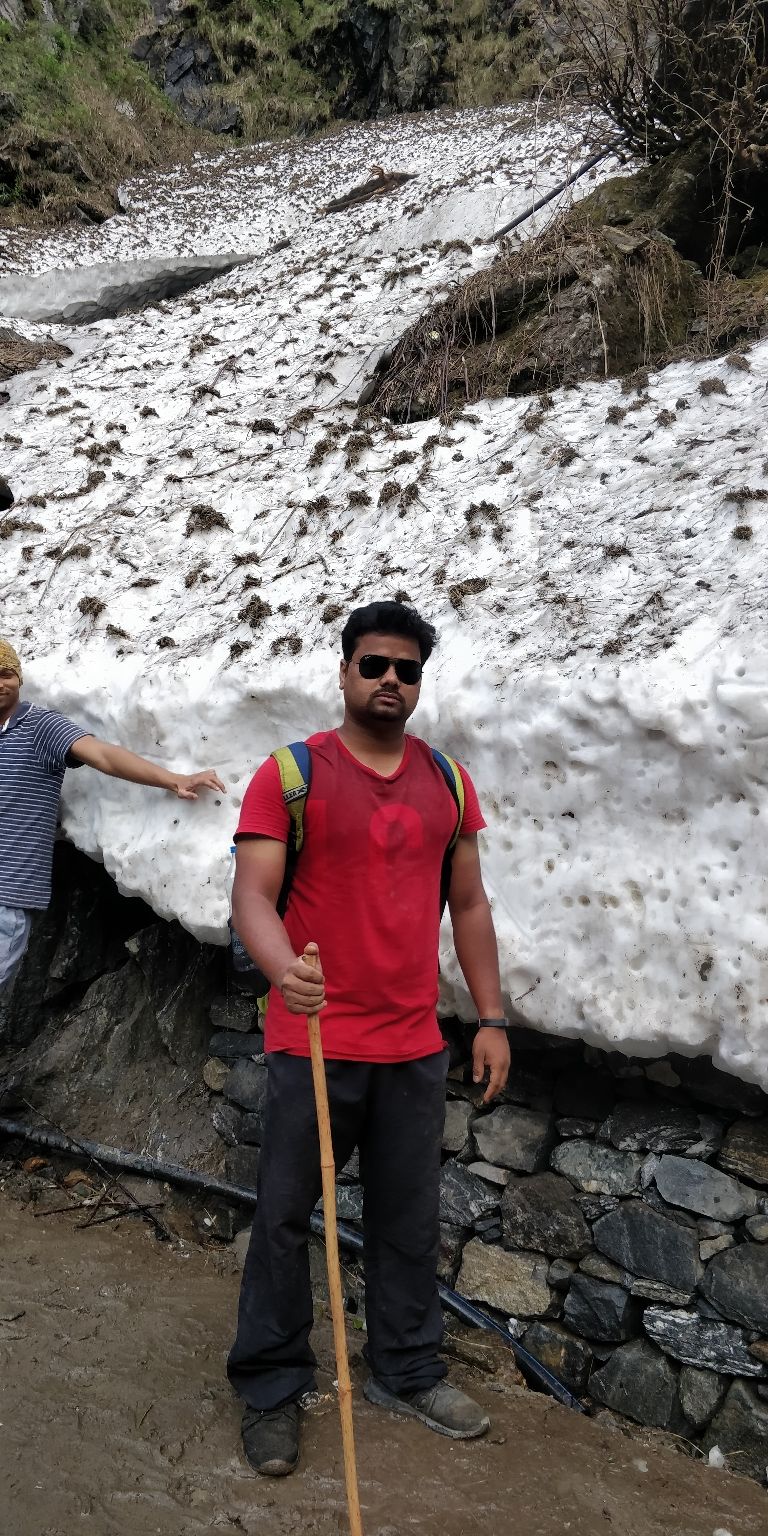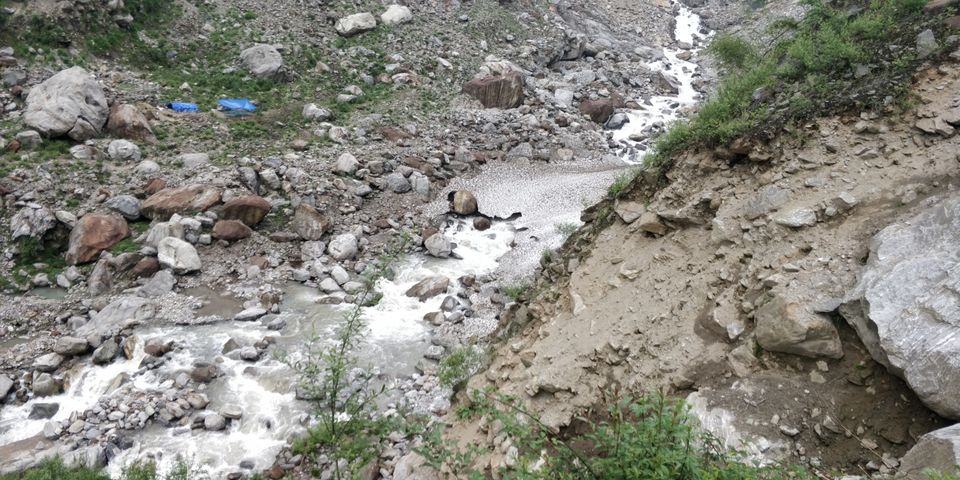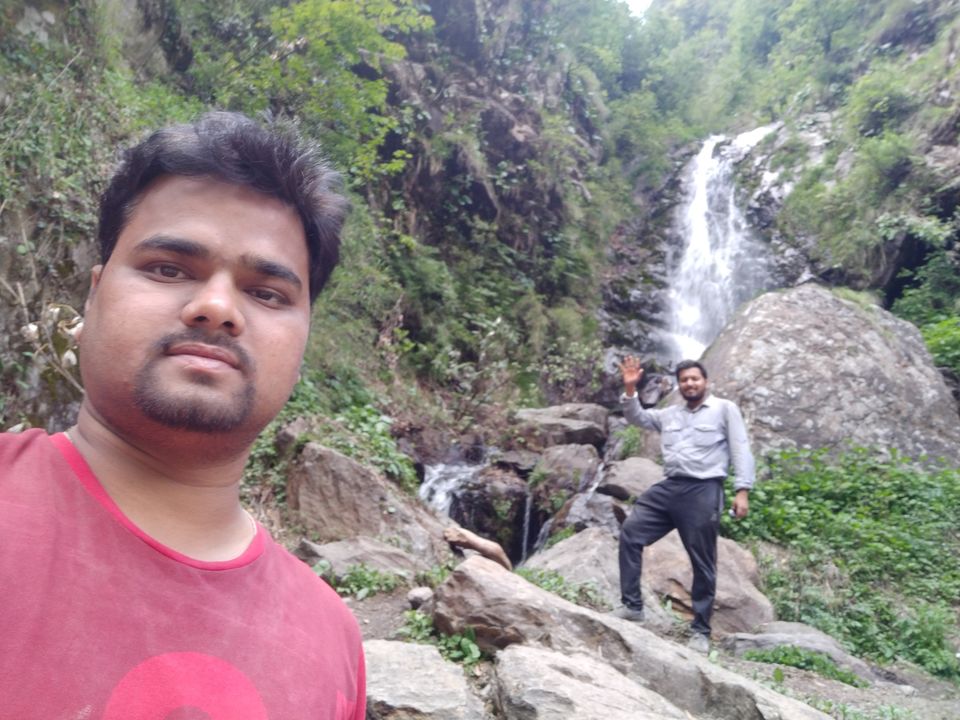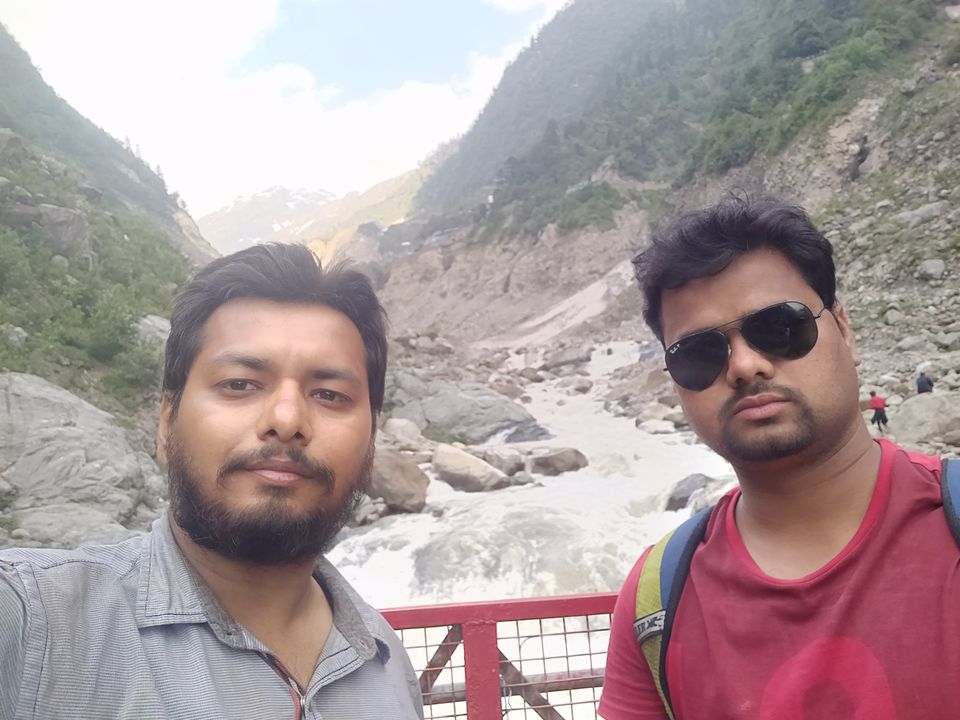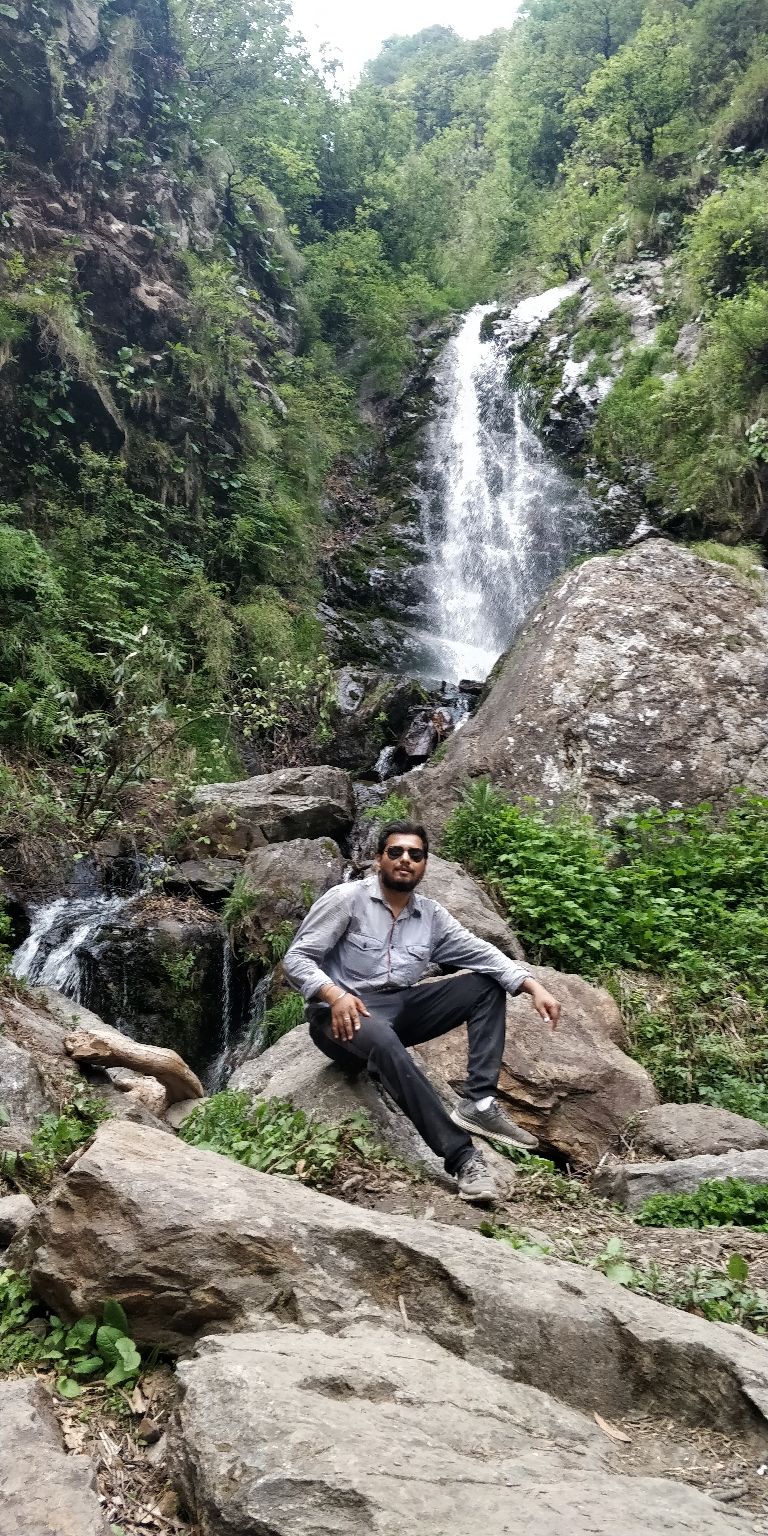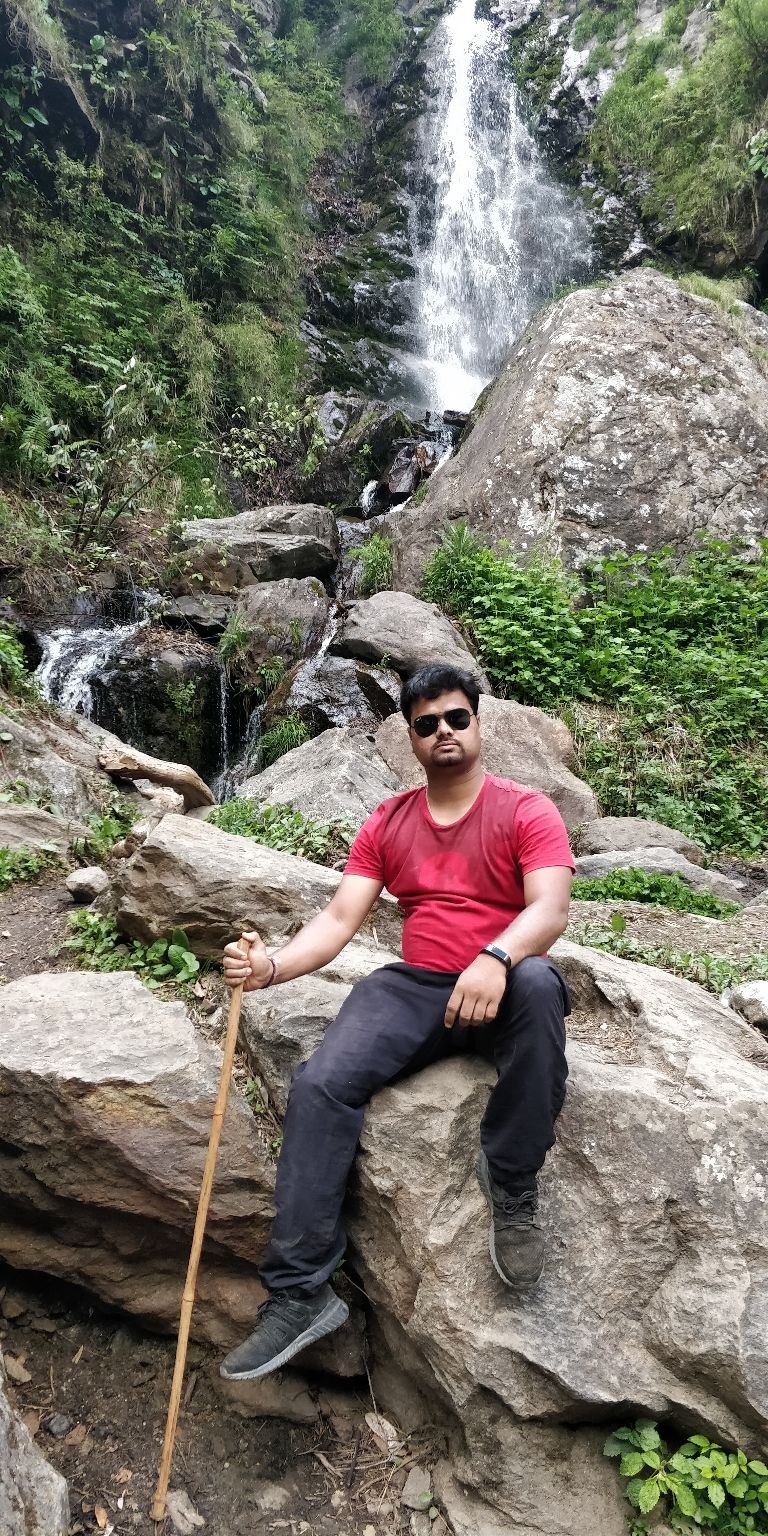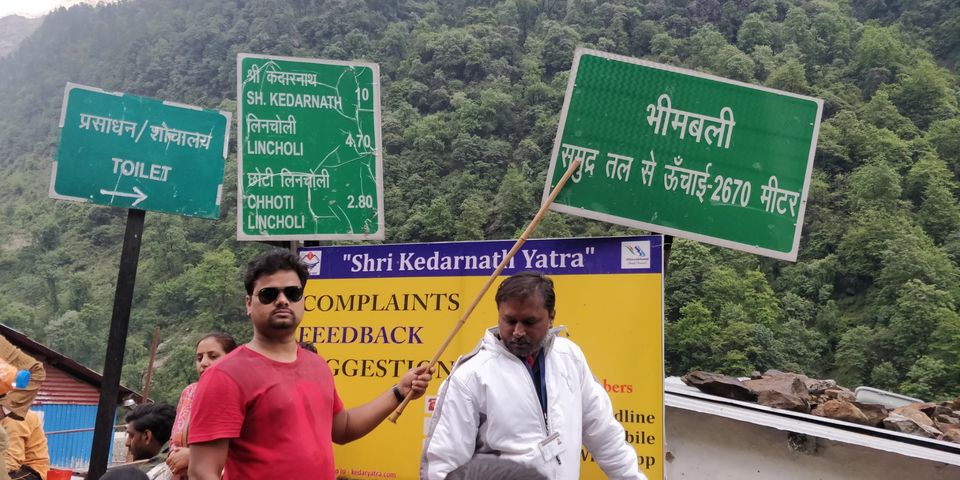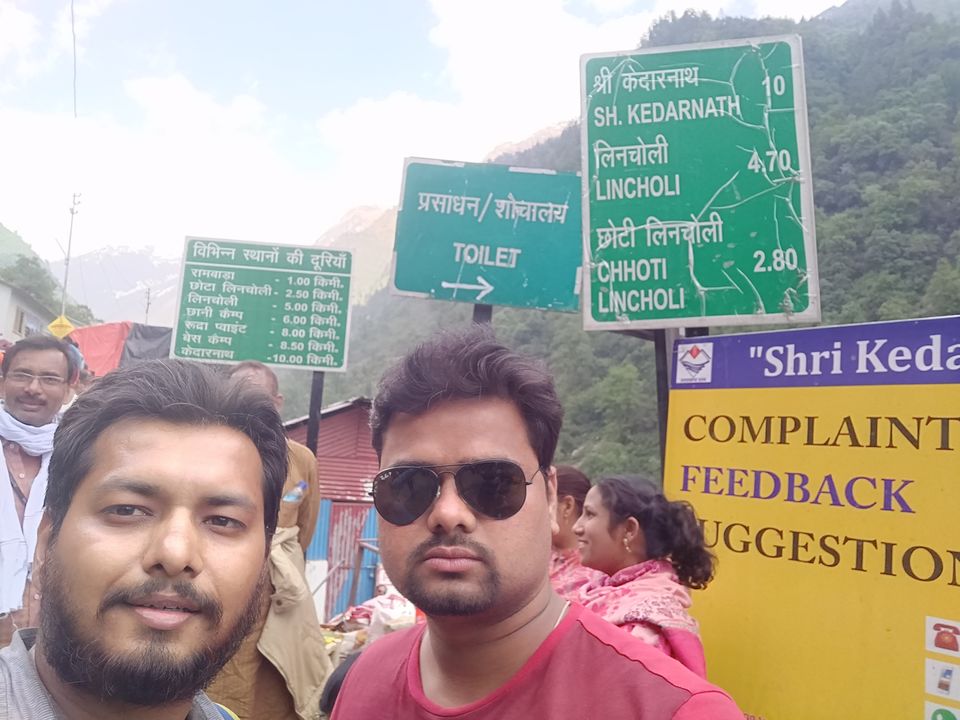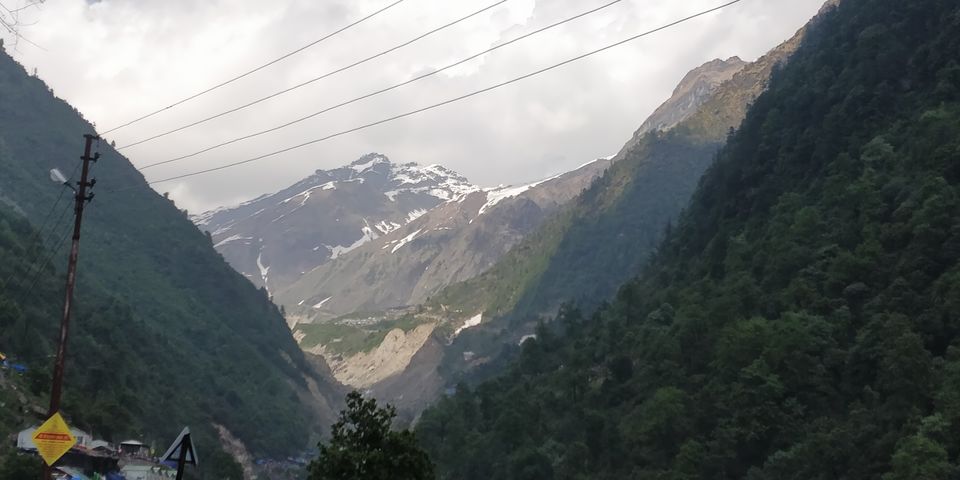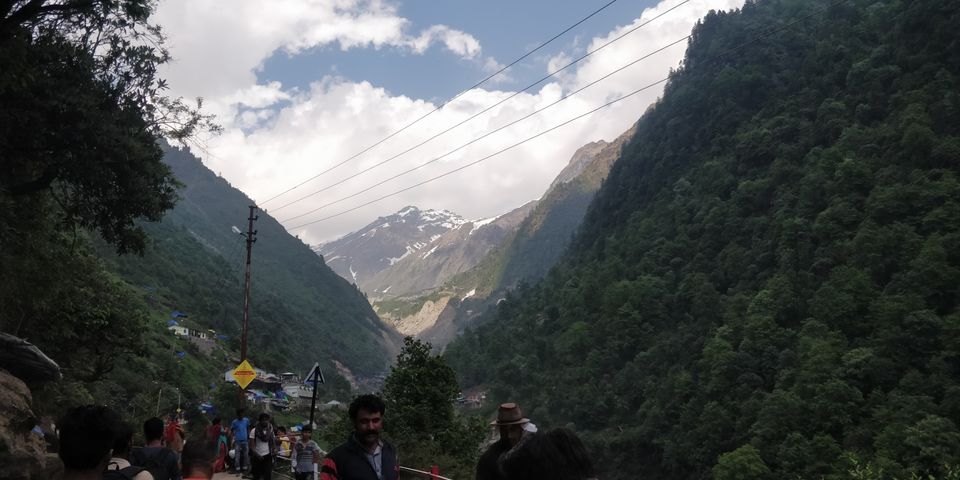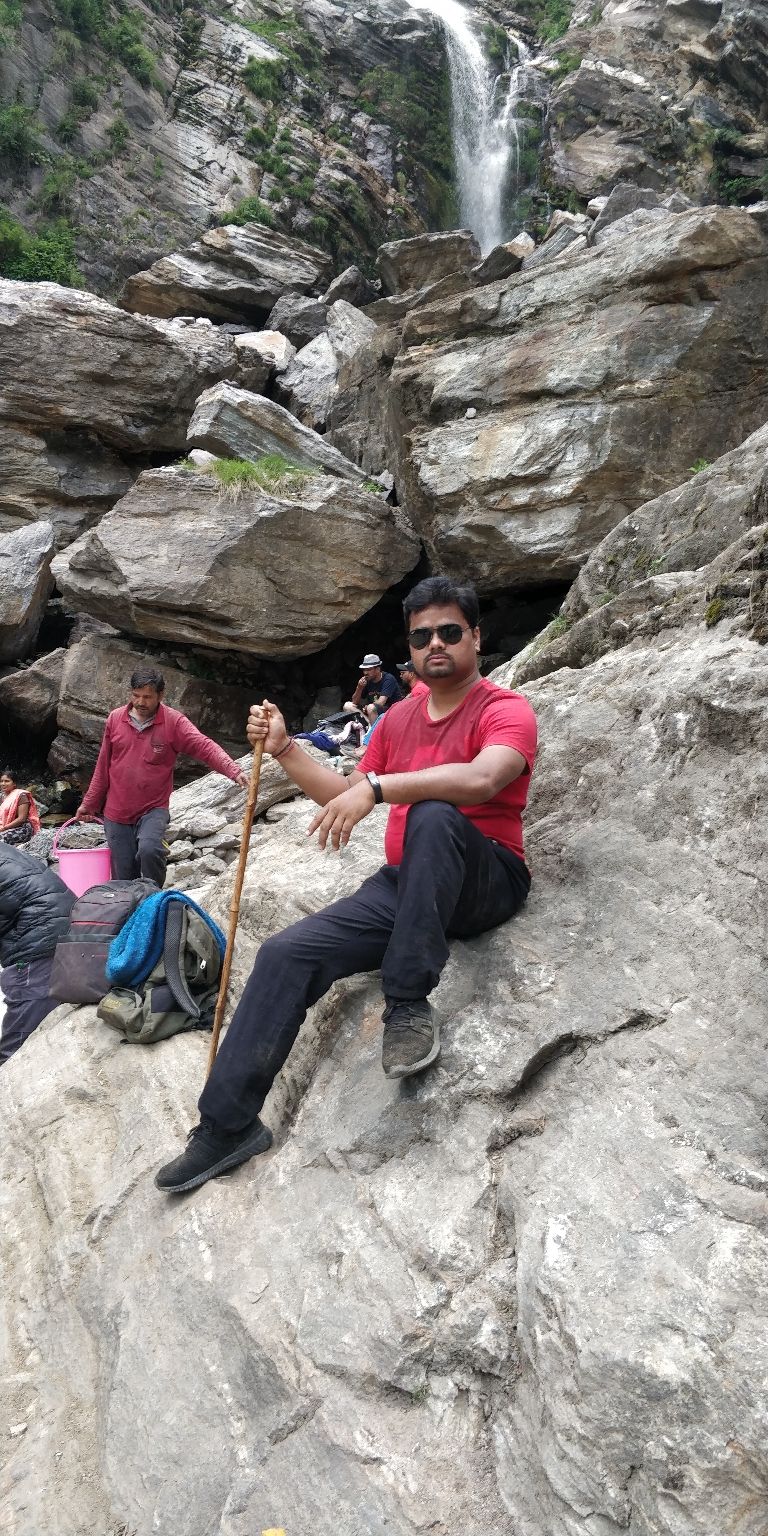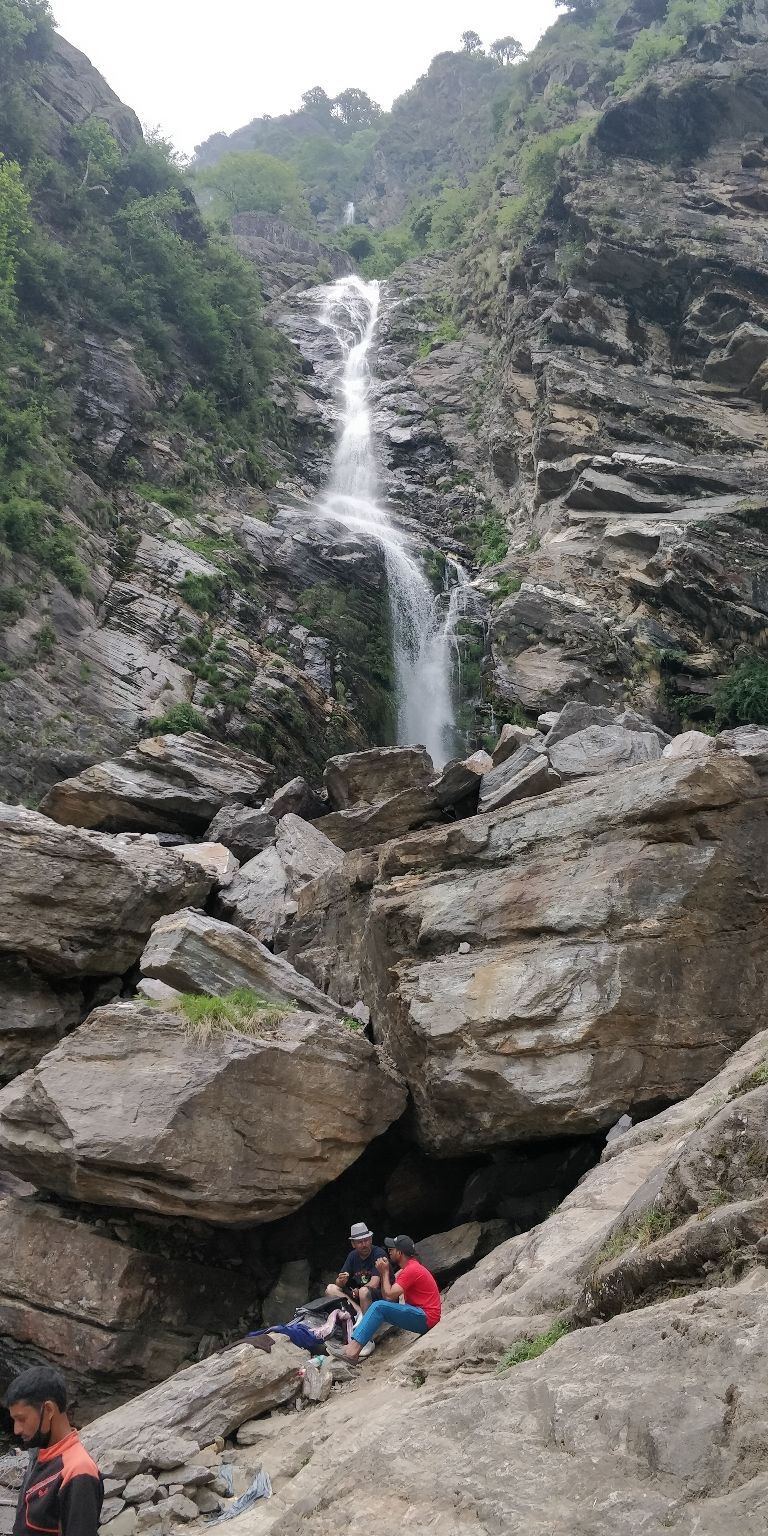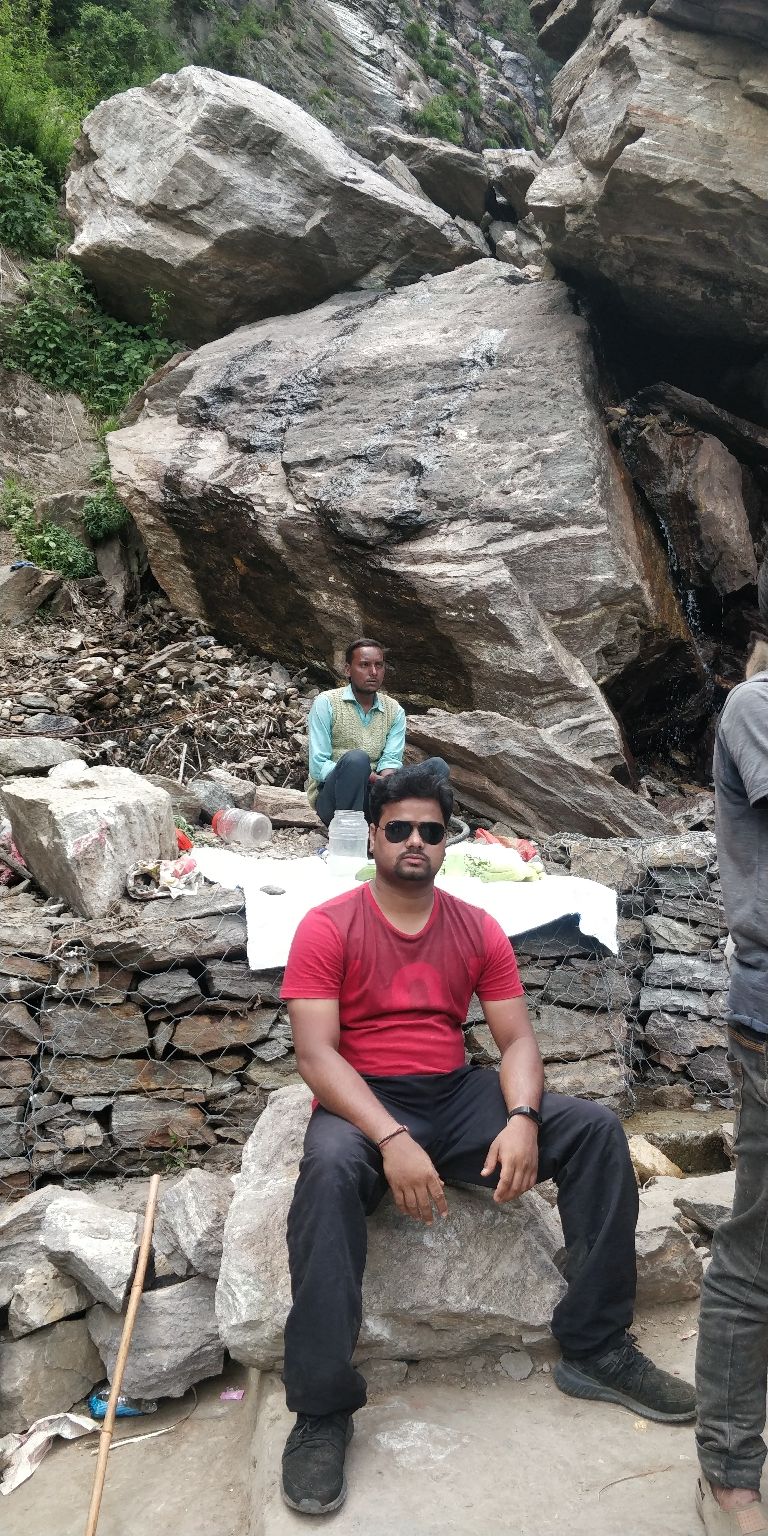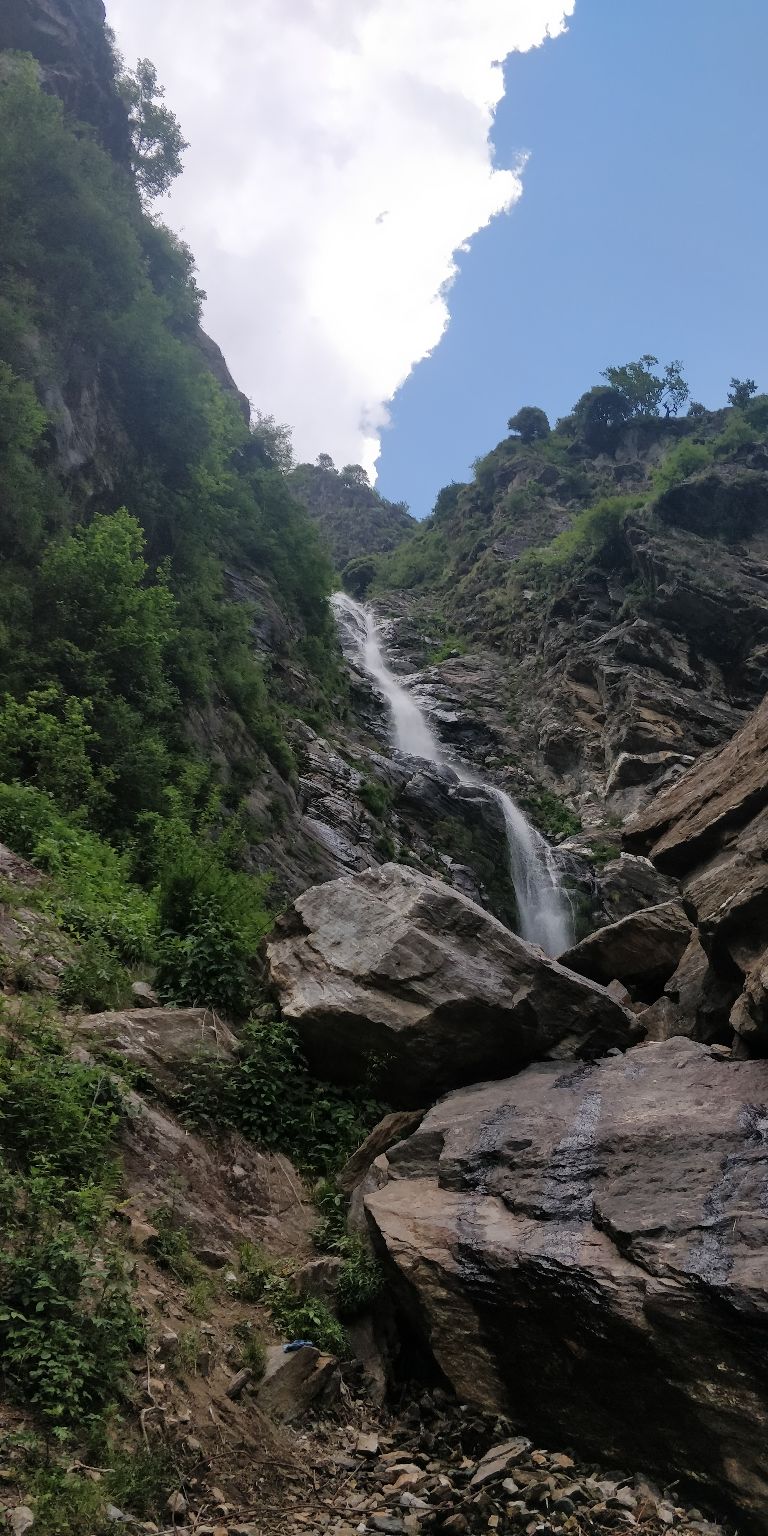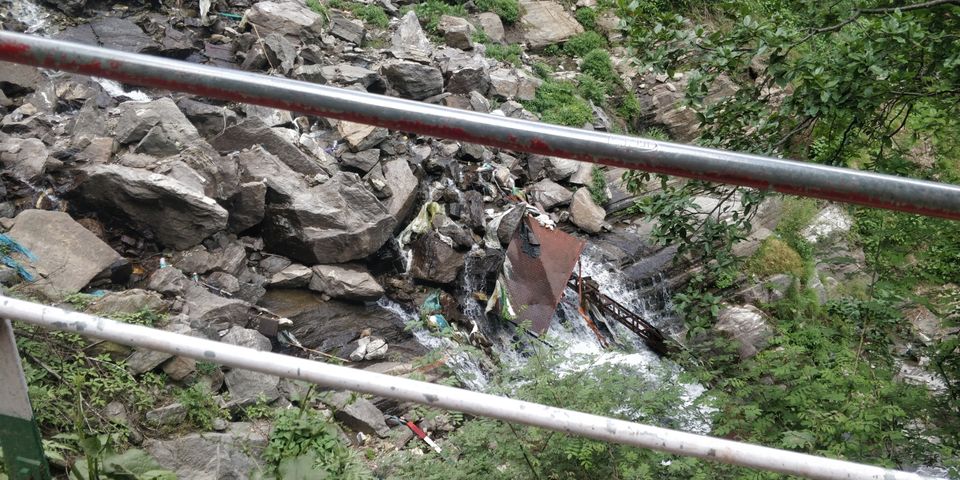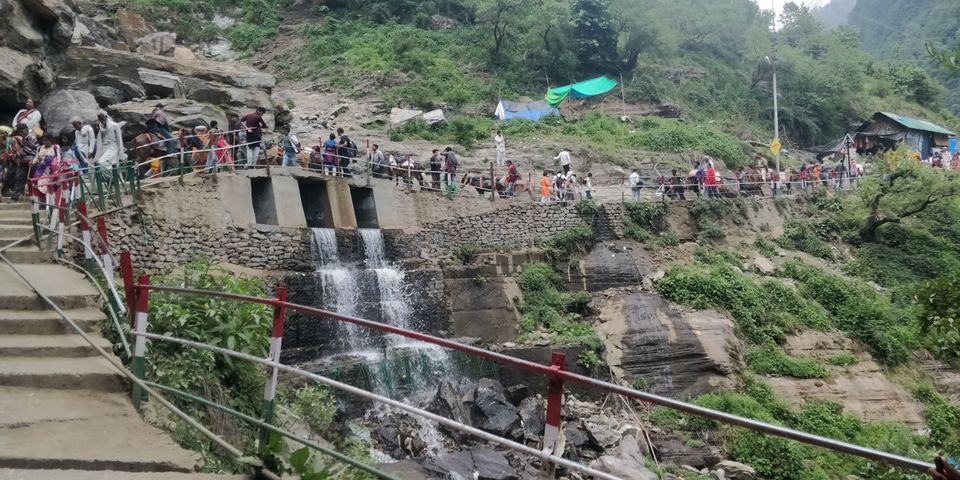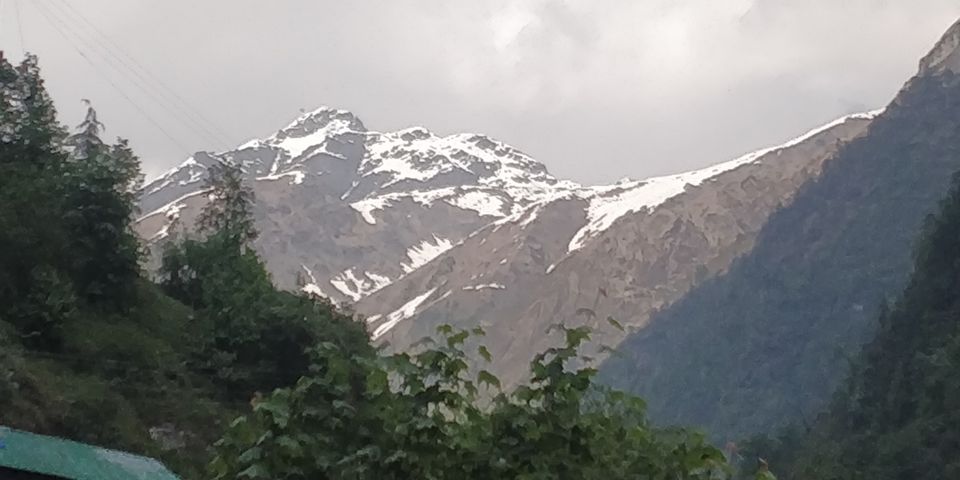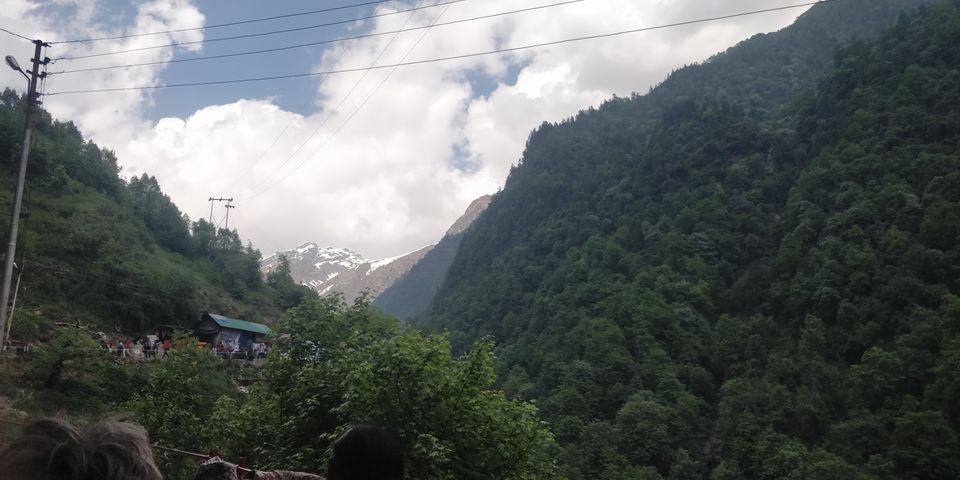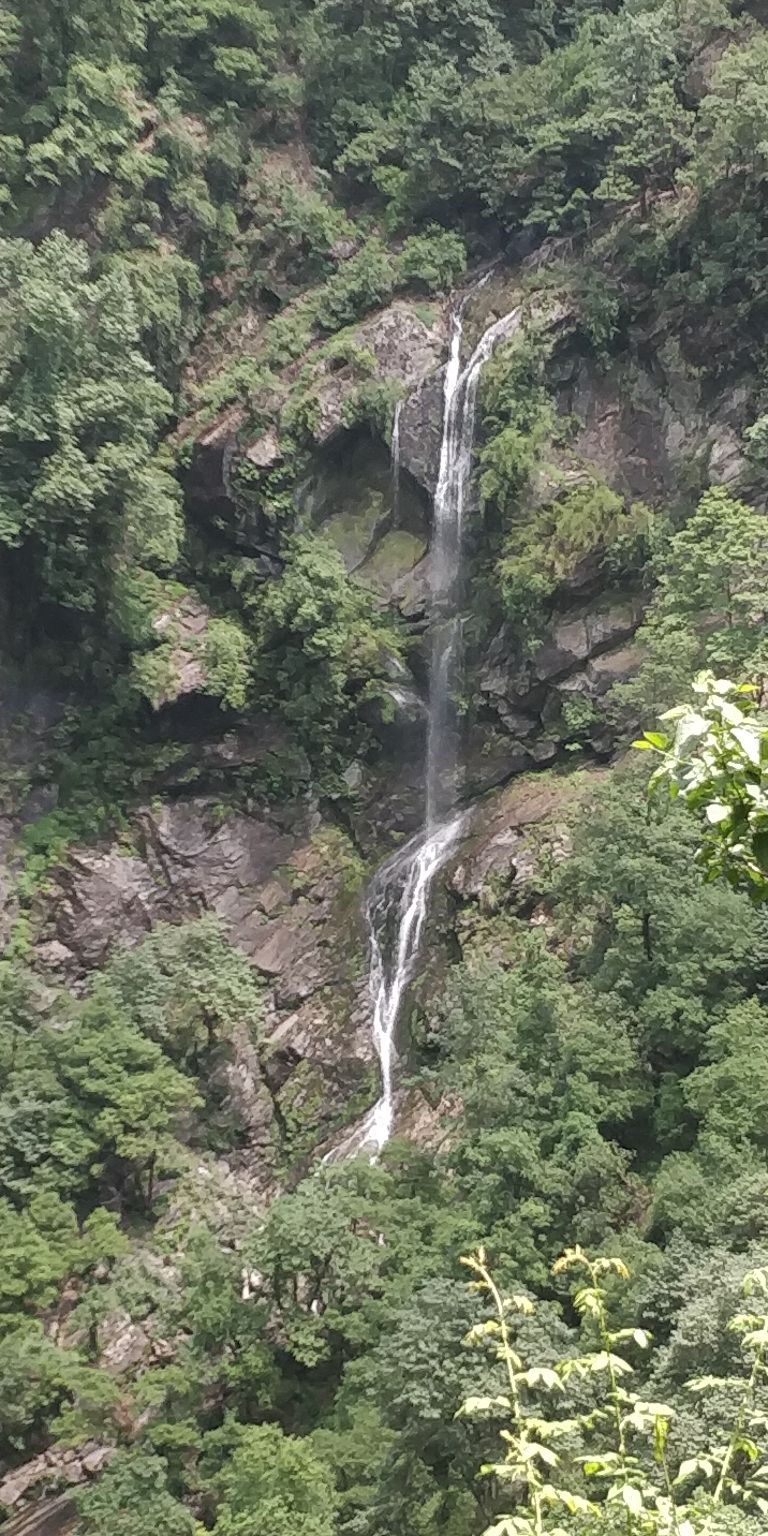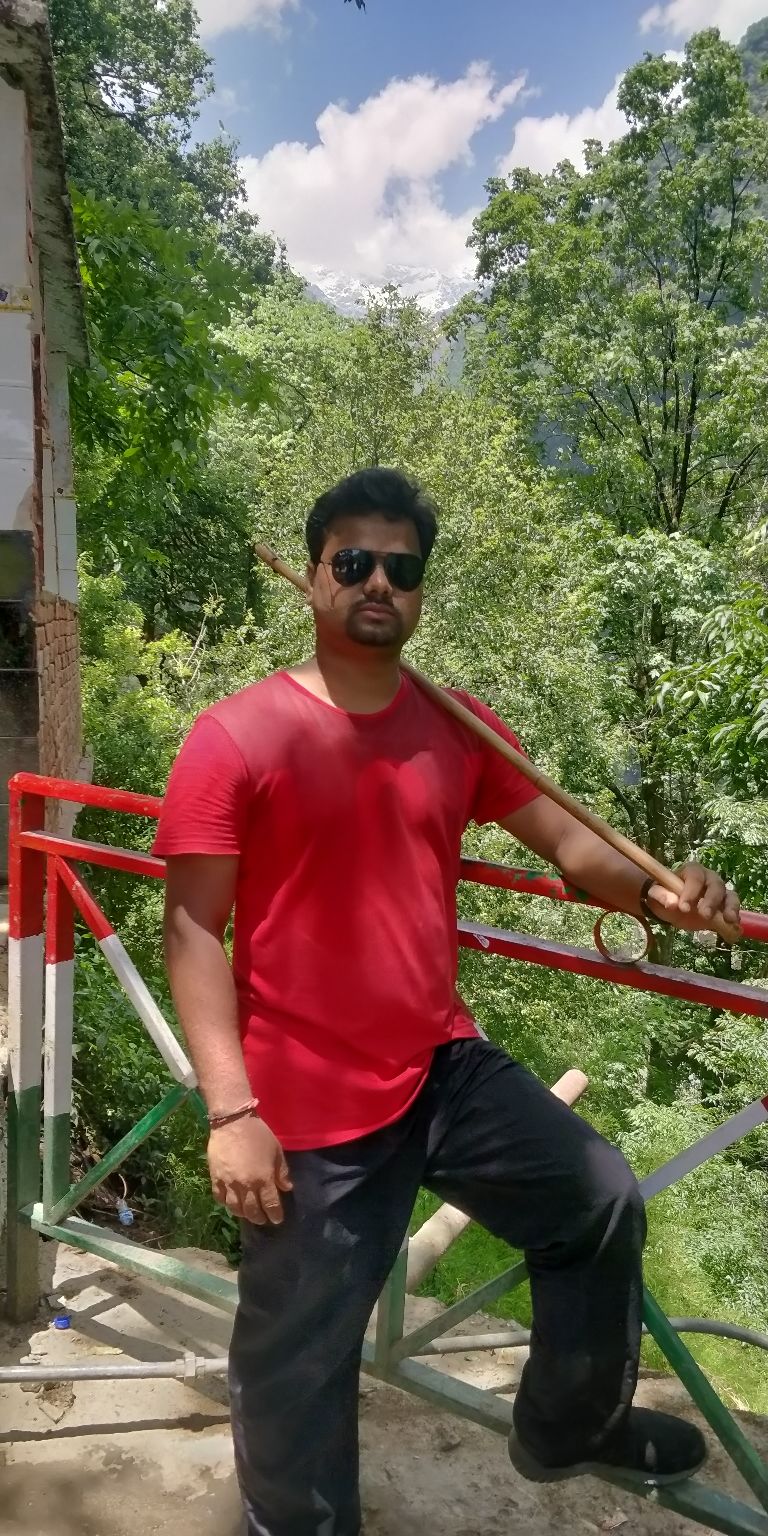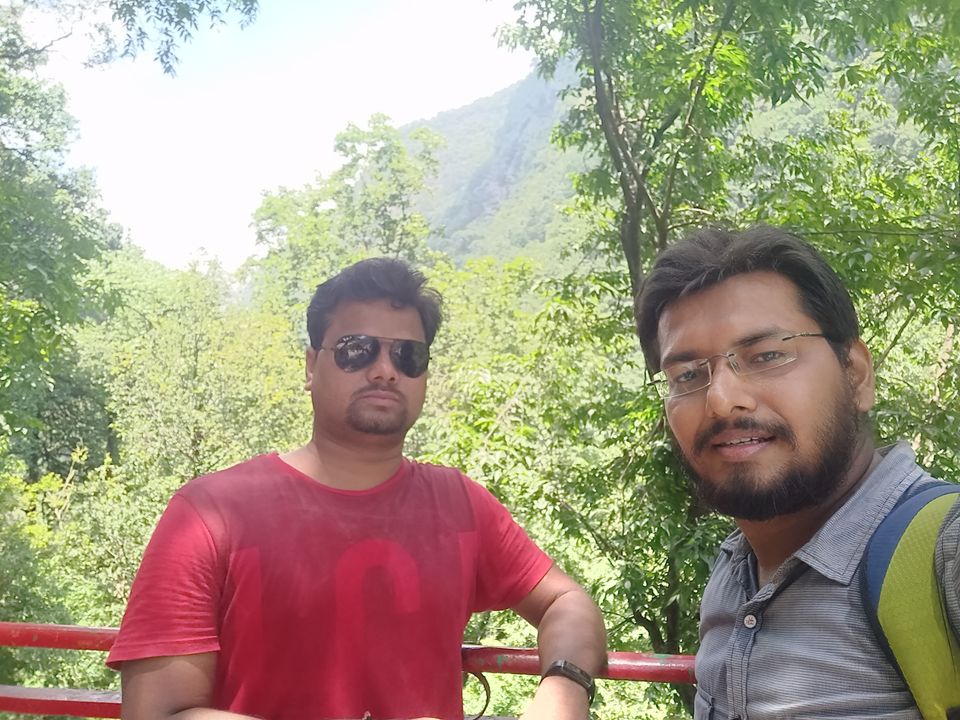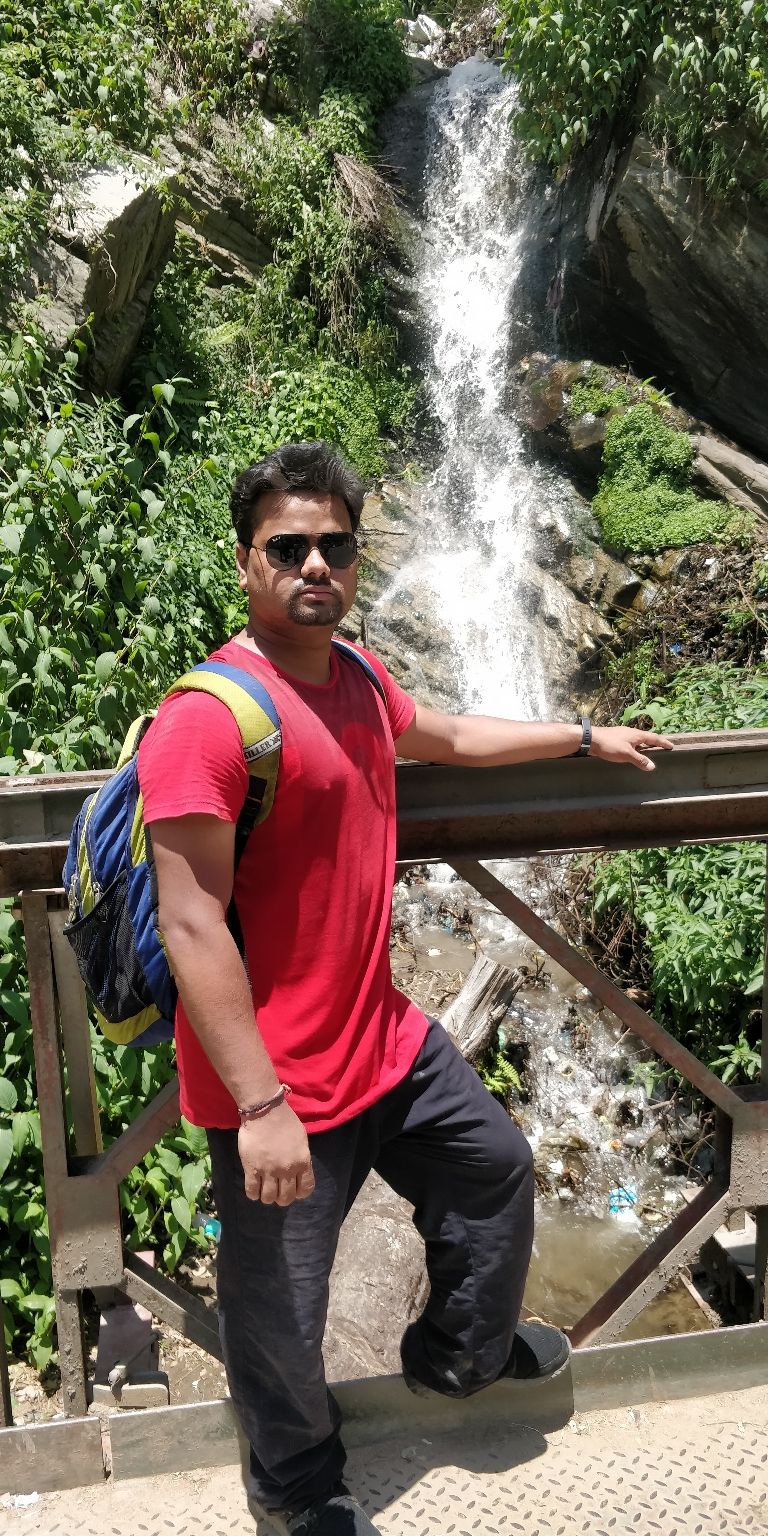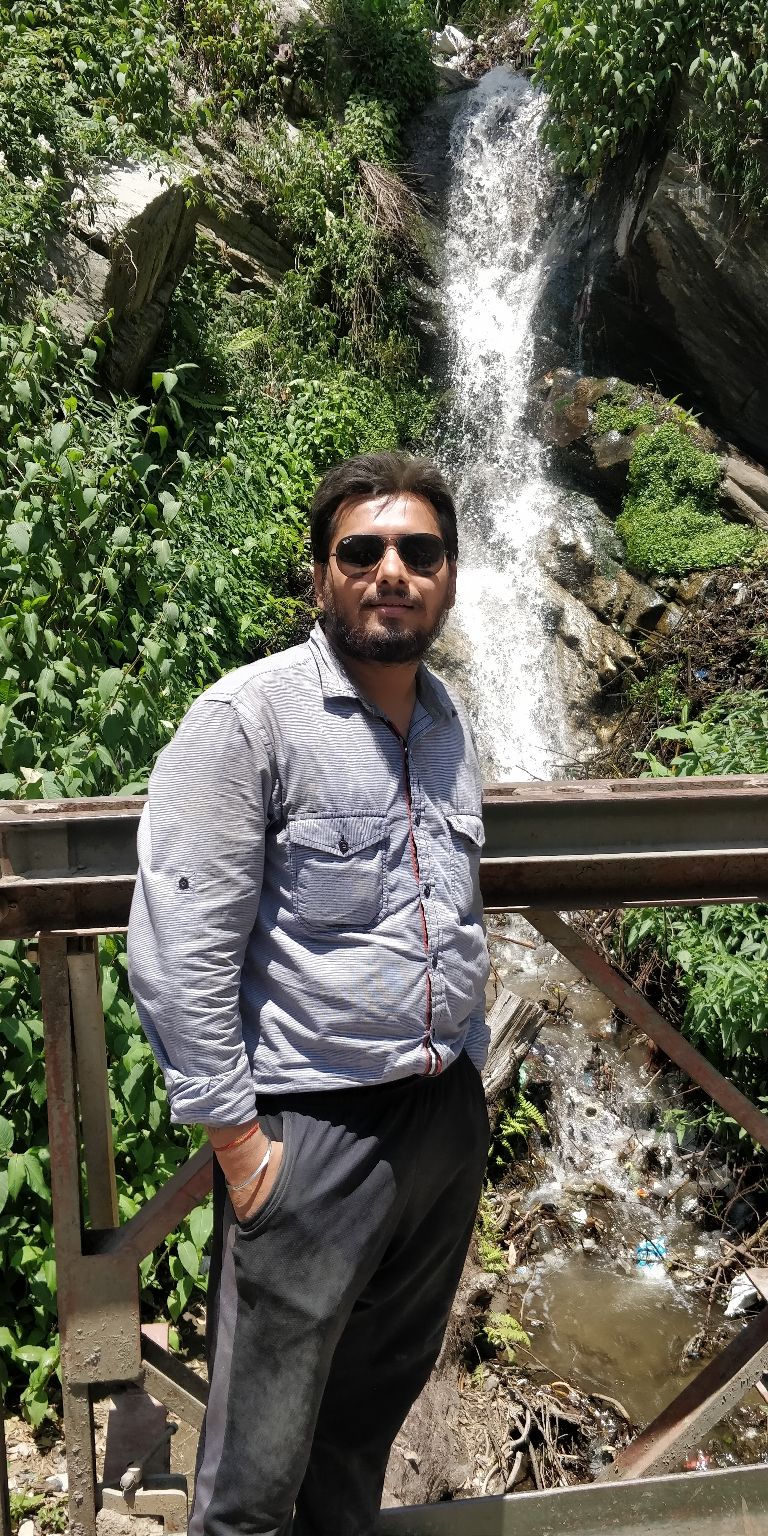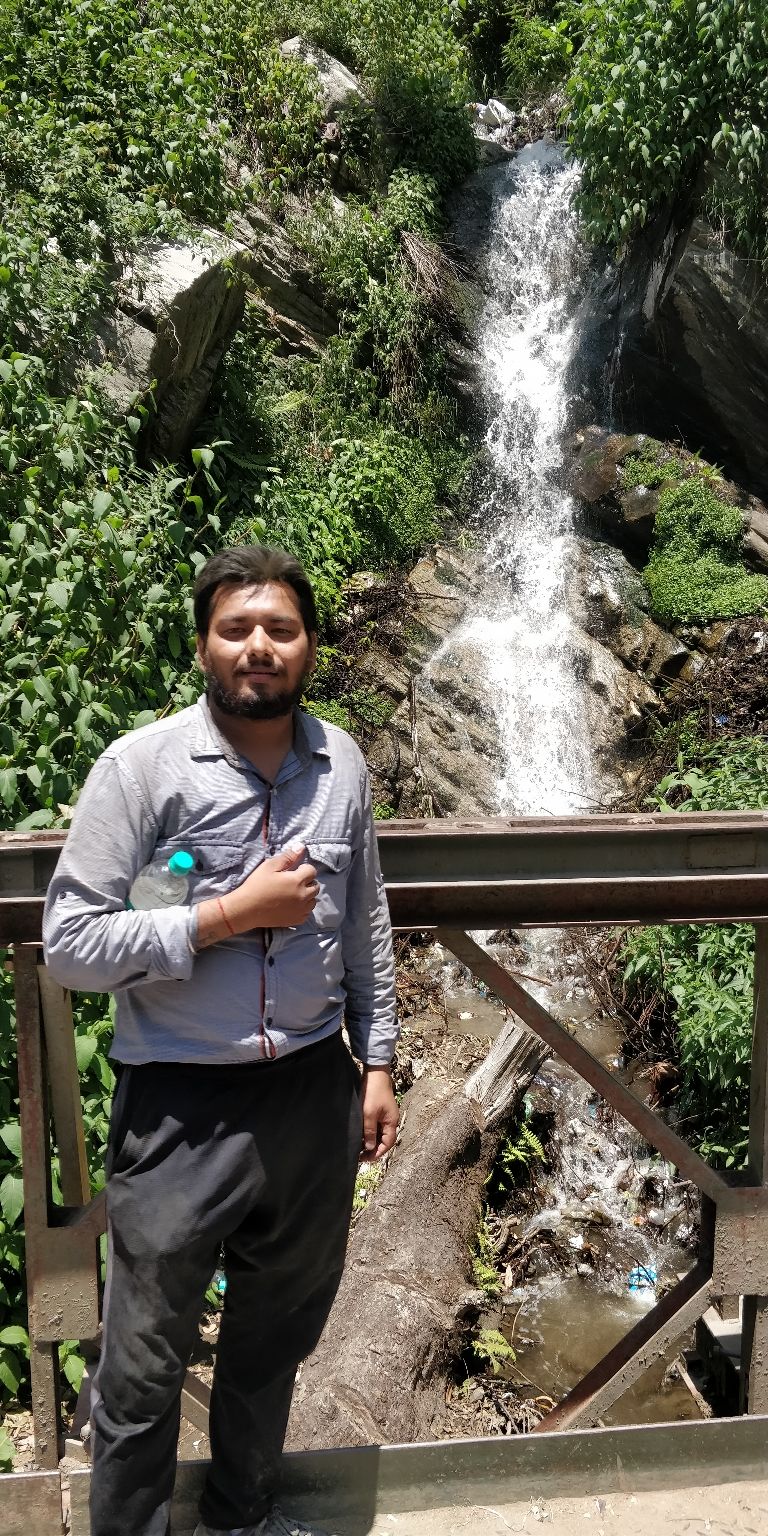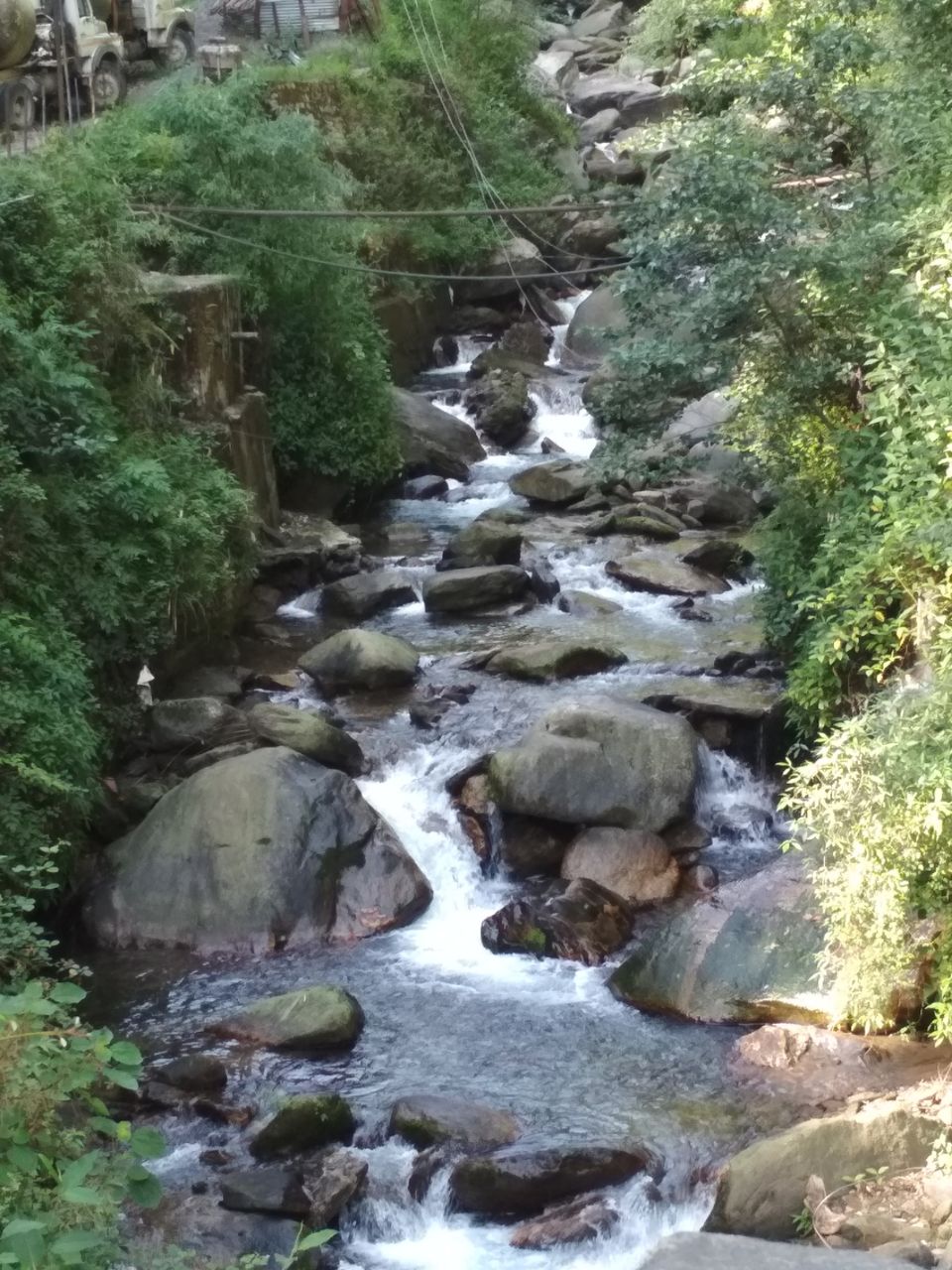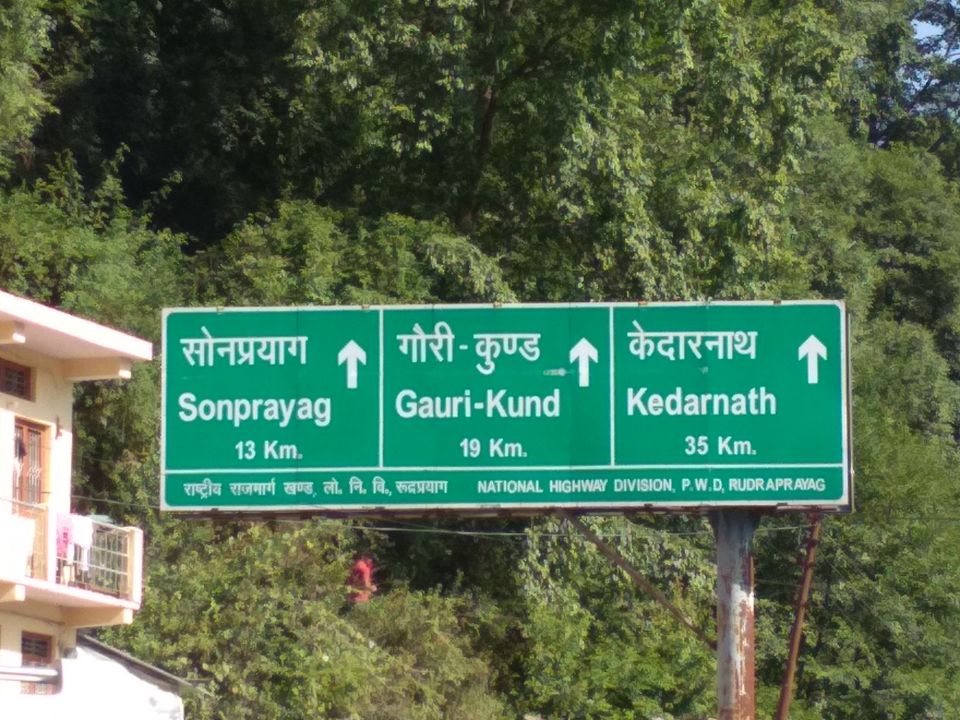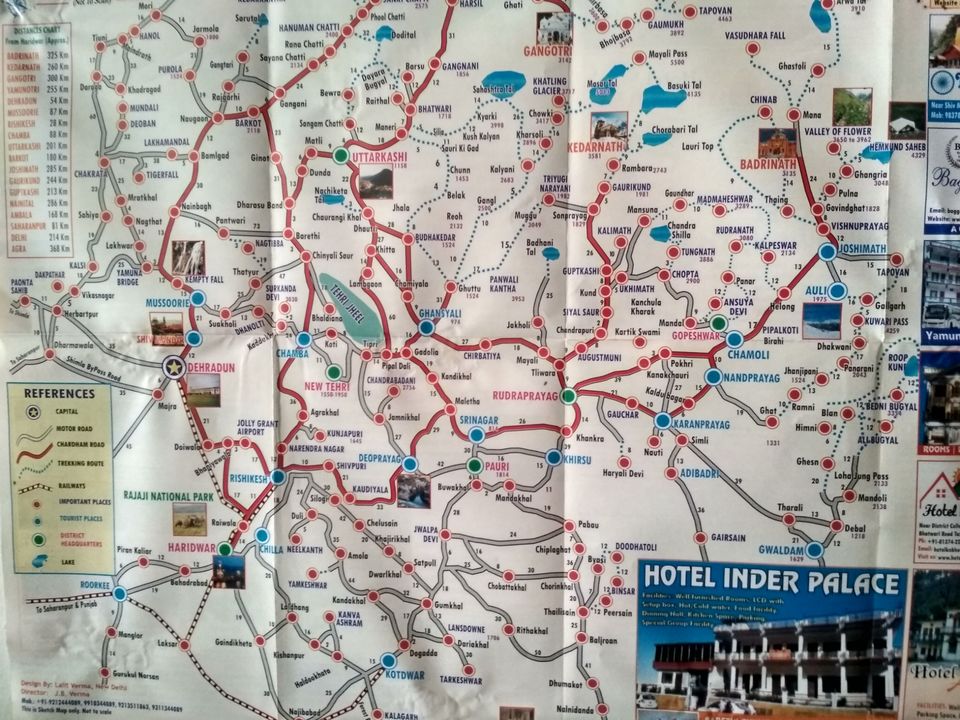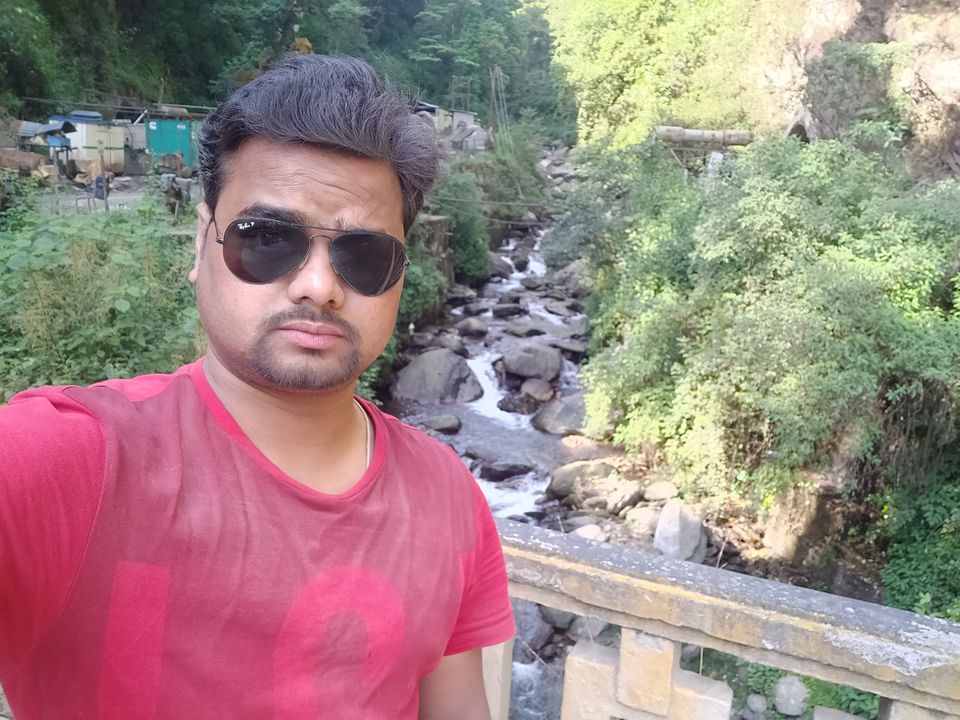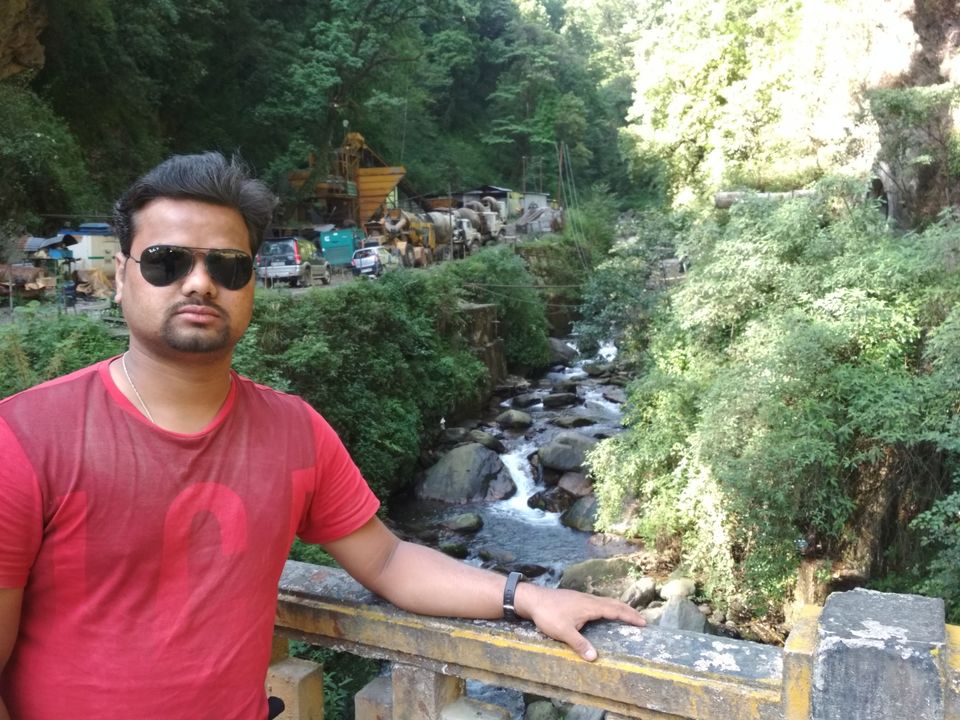 Next morning we started our journey from Ukhimath and reached Rishikesh by 3' o clock and reached Delhi by the fall of night and had a sound sleep in the comfort of our bed. The route was very busy all along the way and police and other machinery was grossly involved in managing the traffic. It was a beautiful journey which was very fulfilling and i am sharing the pics and videos which i think will be able to provide some idea about the beauty of the place and the marvel of nature, as it is rightly said that a picture speaks a thousand words.