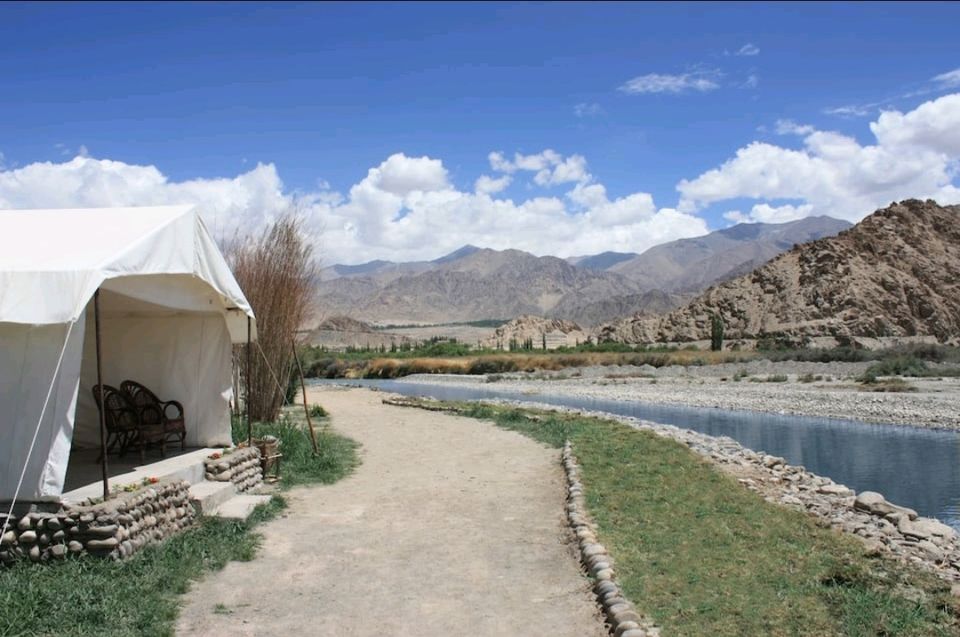 Planning a trip to Goa or Pondicherry with friends? Or craving for a relaxing weekend getaway in Delhi? Or maybe dreaming of a sojourn to Diu/Andaman with your loved ones? Whatever it may be, we've got you covered!
Every Indian union territory has its charm and a plethora of things to offer to every kind of traveller – from nature seekers to history buffs, to adventure junkies and so on…
And, when the style of travelling differs so much from person to person, why should the style of choosing accommodations be so boring & monotonous?
So, this time when you plan your next vacation, instead of choosing an expensive hotel, opt for a unique homestay through Airbnb! You ask why?
Well! We can give you endless reasons. Since the time we (Deep & I) started travelling, our experiences of staying at Airbnbs have been splendid.

Don't know yet what Airbnb is? Fret not! We've got you! It's an online accommodation sharing site where travellers like us can select from a wide range of accommodations to stay on a smart budget. Airbnb does offer unique homestay options as well, like huts, tree houses, tents, farm stays, cottages & etc.
Unlike staying in an expensive hotel room, here you can experience the warmth of a location and get to mingle with the locals that eventually would help enhance your overall travel experience.
Also, homestays at Airbnb offer well done-up spaces with kitchenettes at more affordable prices as compared to any hotel.
So, why not choose the best? Here, we share with you a list of some of the unique homestays you can book on your next trip to any of these Indian Union Territories. Check out!
1) Stay at the Earth House Near Daman & Diu
Planning a sojourn to Daman & Diu? Consider staying in this impeccably built cob-like mud house. Tucked amidst lush greenery in Gholvad village, just an hour drive from Daman & Diu, this 'Earth House' makes for a serene & unique homestay option.
Tariff: INR 12,000/night | Cob 5, Gholvad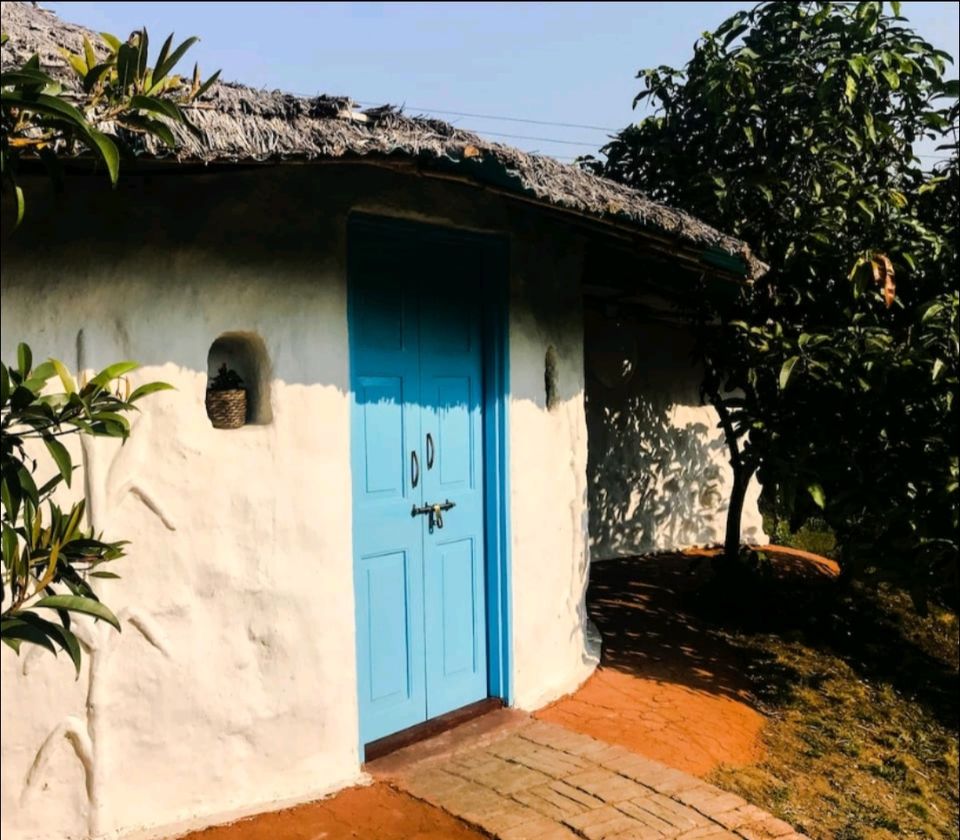 2) Live In An Eco Hut In Pondicherry
Tired of imagining you swinging on a hammock? Or dreaming of spending your weekends in an eco-friendly hut amidst nature? 'Keeth House' is just the right place for you then!
Situated right in the lush greenery of Auroville, this rustic & unique homestay is sure to bring out the best in you. Especially, if you're a nature seeker – you can't afford to miss out on this Eco-consciously created unique homestay experience. So, what are you waiting for? Pack your bags & plan a sustainable trip today!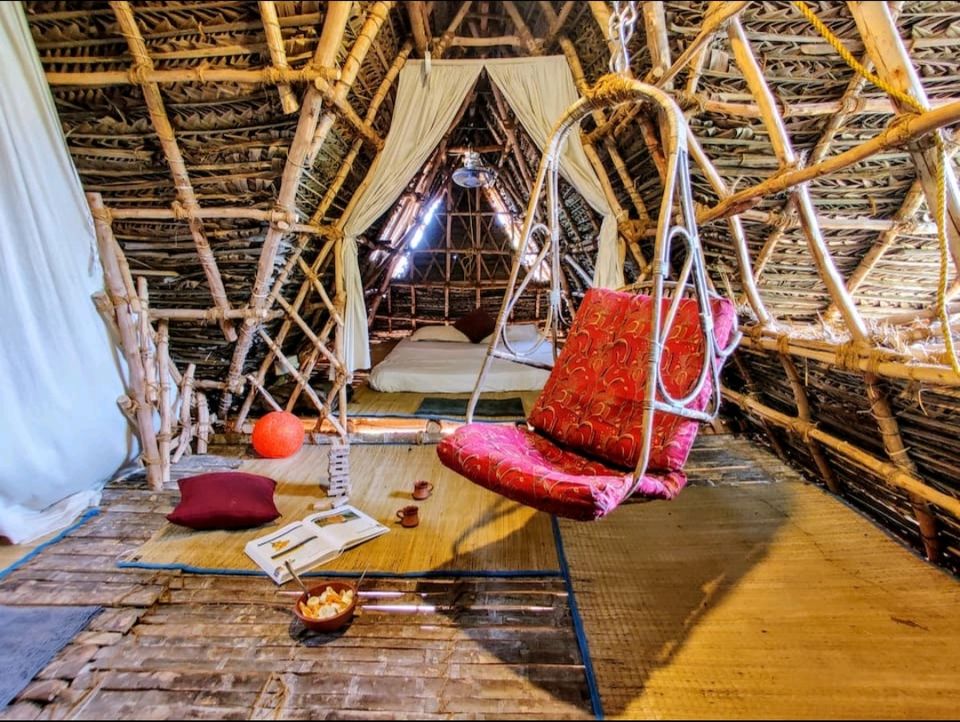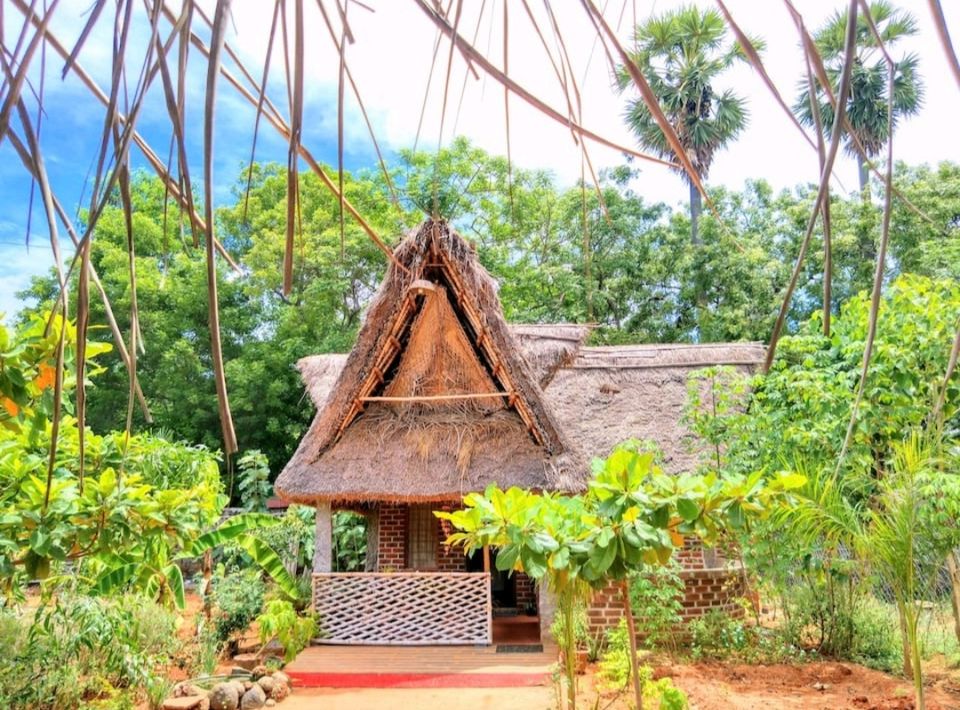 Tariff: INR 3200/night | Keeth House, Pondicherry
3) Relax At A Farm Stay In Delhi
Tired of living in a concrete jungle? Or searching for a perfect weekend getaway accommodation in Delhi to enjoy with the family? We got you! This farm stay called 'tatva' is truly a gem of a place. Experience a breath of fresh air and indulge in fun activities with your kids while enjoying a stay at this wonderful farm stay. Tastefully done-up, all the rooms here offer basic amenities and you can also bring your pooches along with you… Because this property is pet-friendly as well!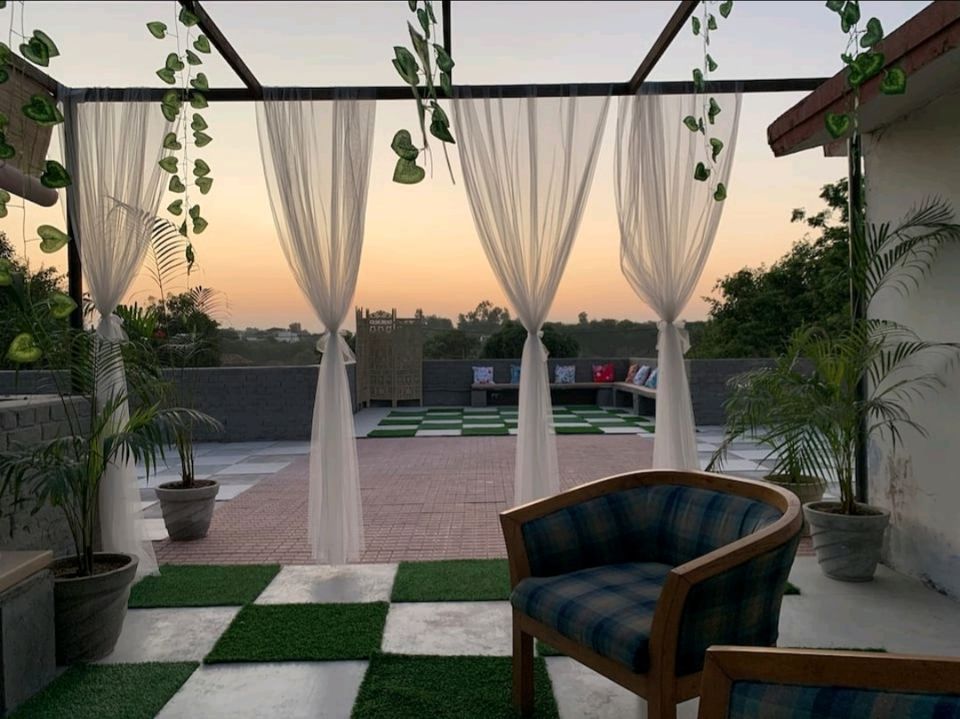 Tariff: INR 6000/night | Tatva Farm Stay, Delhi
4) Enjoy a Wow Vacay at a Tree House In Goa
Romanticizing over staying at a treehouse? Well, we heard you! What else could be better than enjoying a romantic vacation with your sweetheart in Goa? Nestled right between the Vagator-Anjuna area, this unique homestay is sure to make you feel like living in fairy-tale land.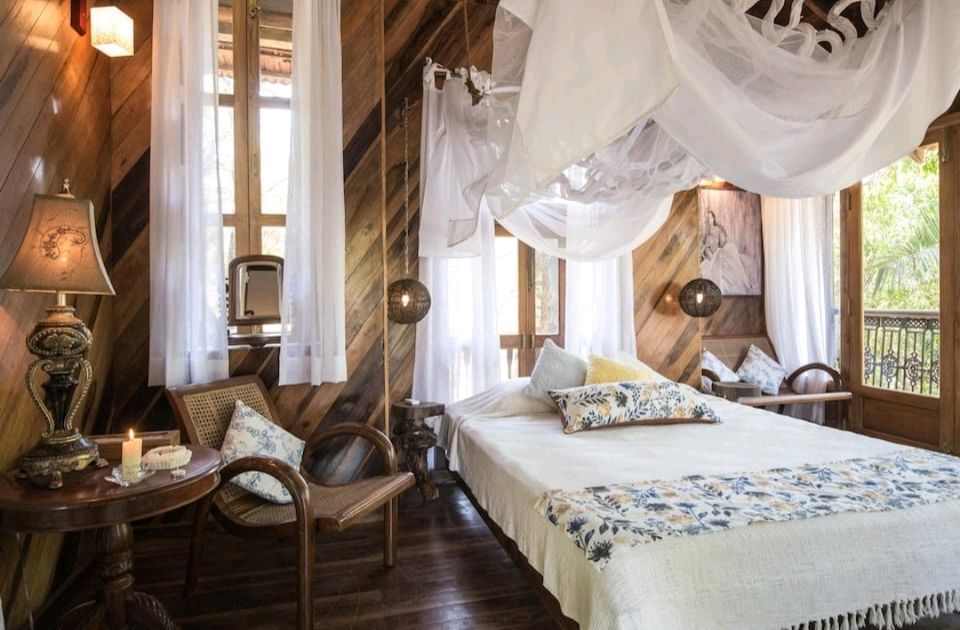 Tariff: INR 8,000/night | Romantic Tree House, Goa
5) Chill at a Cottage In Havelock Island (Andaman & Nicobar)
Planning a romantic getaway to Havelock Island? Wait, Don't yet make your bookings! Because we have something really special for you… Ditch those pricy hotels & experience living in a beautifully crafted cottage. This space is absolutely spick & span and offers the travellers free wifi and an on-site restaurant to cater to all the needs & hunger pangs of the travellers.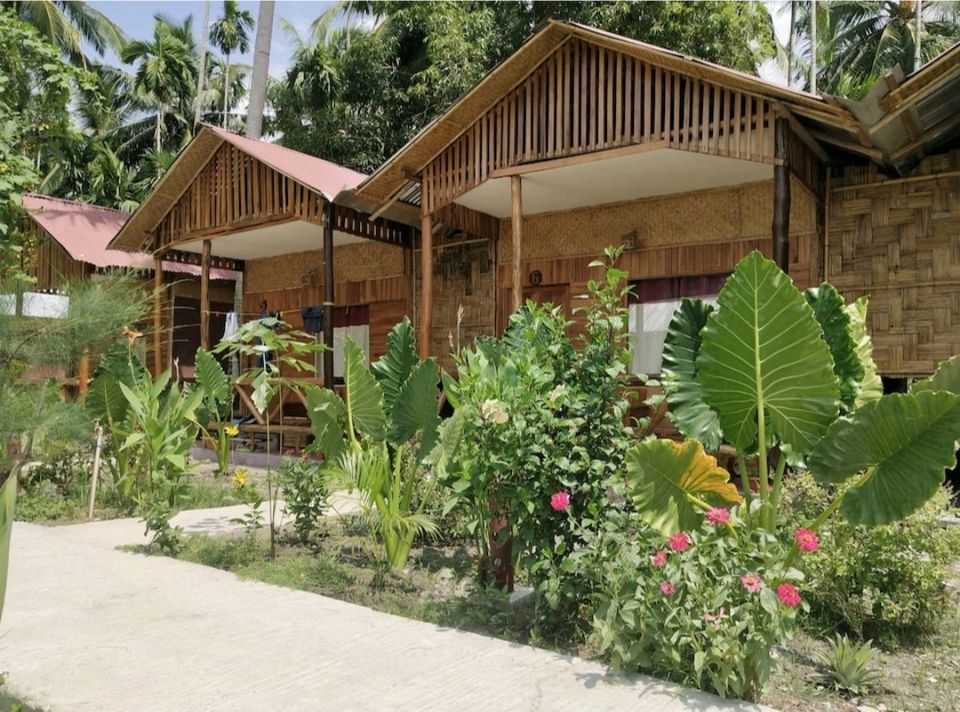 Tariff: INR 3000/night | Havelock Farms, Andaman & Nicobar Islands
6) Sleep In The Laps of Nature At A Riverside Tent In Leh
Discover the little joys of life and sleep in the laps of nature, at a riverside tent in Leh. Seems so surreal? Isn't it? This riverside camp features panoramic beauty stretched across acres of land and is bound to leave you bewitched. So, who's already craving for a vacation like this?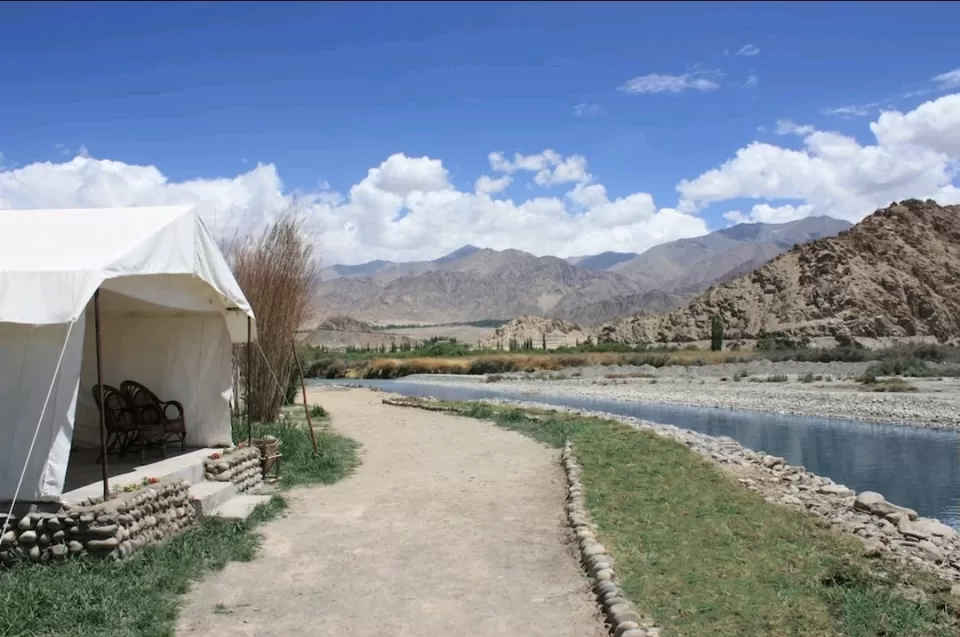 Tariff: INR 6,000/night | Indus River Camp, Leh
So, which unique homestay caught all your attention? Do let us know in the comments. 😊
Also, don't forget to show us some love on Social Media –