18 Riders, 4 Days and 1600 Km: The ride stills reminds some of the best moments, good times, break downs and meeting some best people.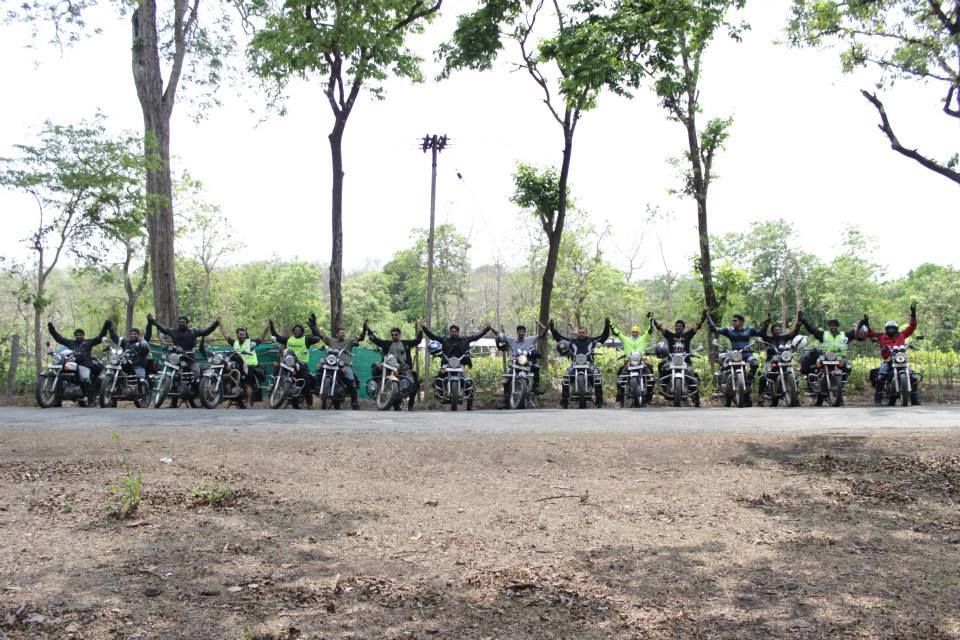 Why the name Endurance Ride? This was when I was moderating the India Bull Riders Bangalore Chapter in 2014 and when I heard about this proposal from Iniyan Bhaai I was Game On as it sounded very exciting and challenging. Lets do this. So far our group rides are one day and overnighters, this is the first time we are attempting a 4 day ride. But when shared with others, Jitu bhaai founder of the IBR Bangalore Chapter and Abdul bhaai, our dear head master of Admin Team and Co-Admin of IBR Bangalore Chapter then were a bit skeptic. It was during the dates of May 1st till 4th which is peak summer where we could almost become Tandoori in all the riding gears, the routes chosen were through ghats and involves off roading. It was an open invite to all club members and hence anyone could join including first time riders. Going as a group for such distance, climatic conditions, terrains, tight schedule and with any new riders shall surely be one 'Endurance Ride' and that was the name given.
Having convinced them saying it would be one adventurous ride we have launched the event and within a couple of days we had the 18 names who would be riding from Bangalore – Dandeli – Gokarna – Sakleshpur – Bangalore .
Design Credits: Koi Nahi' aka Manish
There would have been more but we had to limit the number as already it was a big group and then this idea, why not launch a connecting ride. So now we launched another ride Bangalore – Sakleshpur – Bangalore with an Idea that both the riders meet on 3rd day in Sakleshpur and we all ride together Back to Bangalore.
Day 1 Ride to Dandeli: Its 460 km from Bangalore, we planned to ride on Day 1 and to reach Dandeli post noon. With hype going on with this ride many of us haven't slept the night before. Starting time was 4:00 AM, at Taj Vivanta, Tumkut Road and to reach that place from the city some had to start at 3:00 AM from South Bangalore. Spirits were too high during the ride briefing where we all would be riding for 4 days and 3 nights through some breathtaking landscapes. 4:30 AM, a rider still doesn't turn up, his alternate number also no one responds, but still we had to start and we rolled. First pitstop after the toll we regrouped to have a briefing on things like, what is a single file what is a double file, how we can ride better in a group. Imagine that should be a fantastic start, so that we had to have a re briefing and in mean time comes our dear 500 Shashi, who wakes up at 4:30 AM, flies and reaches to catch us at the first pitstop itself. When we start this time with Biju Bhaai the lead, don't know why he rides above 100 kph, I had to overtake and check why so fast. Oh! JP, my odo is not working, OK J This is just a beginning of the all adventures and crazy incidents.
Second pit stop, supposed to be the breakfast point after Chitradurga, somehow we found an open restaurant only after crossing the city and we entered to find that it takes half an hour to prepare the food. Here we had the first handshake with 'The headmaster' of the ride Biju Bhaai… What are you guys doing? You should ride in a formation, No one is following the rules… Look into your rear view mirrors, give hand signals.. Odibaba! However, we start after breakfast and another one hour into the ride on the Bangalore Hubli highway, tusss… Puncture! Mine!
The next puncture shop is around 2 km from there but naaa. This is Endurance Ride, we were carrying so many tools and we shall do it ourselves. 6 to 32 size spanners used everything including hammer, screwdriver, air pump, nothing else was remaining and we ended up jamming the bolt, which now even the puncture shop guy couldn't remove.

But wait, we were very much prepared, thanks to the puncture foam, the quick fix available in the market. So we filled the tyre up with the foam with an intention to ride till Hubli to get it fixed, and we start again. Ah wait, we also had a spare rider Mr. Mayank for this ride and it was only 17 bikes. Thanks for being light weight he took my bike and I hoped on to Tudu's. 2-3 kms, it was a BLAST… the trye just bursts… Why? The too hot climate and we didn't realize that the foam is meant for two fillings we just filled in too much of foam. This is still just a beginning of crazy things..
Seeing few of us stopping behind, our dear Ashish bhaai rushes to our help, with some fire and smoke coming out in his engine?? Oh yes, He is still on his bike and we could see fire and smoke just below the fuel tank in the electricals. We put water, sand and did put the fire off … One guy shouts, bhaai its my glucose water????????. Well, now two 'Royal' Enfields are down one jammed bolt and one electrical gone case, with not any option we had to stop the trucks passing by and get them towed till Hubli.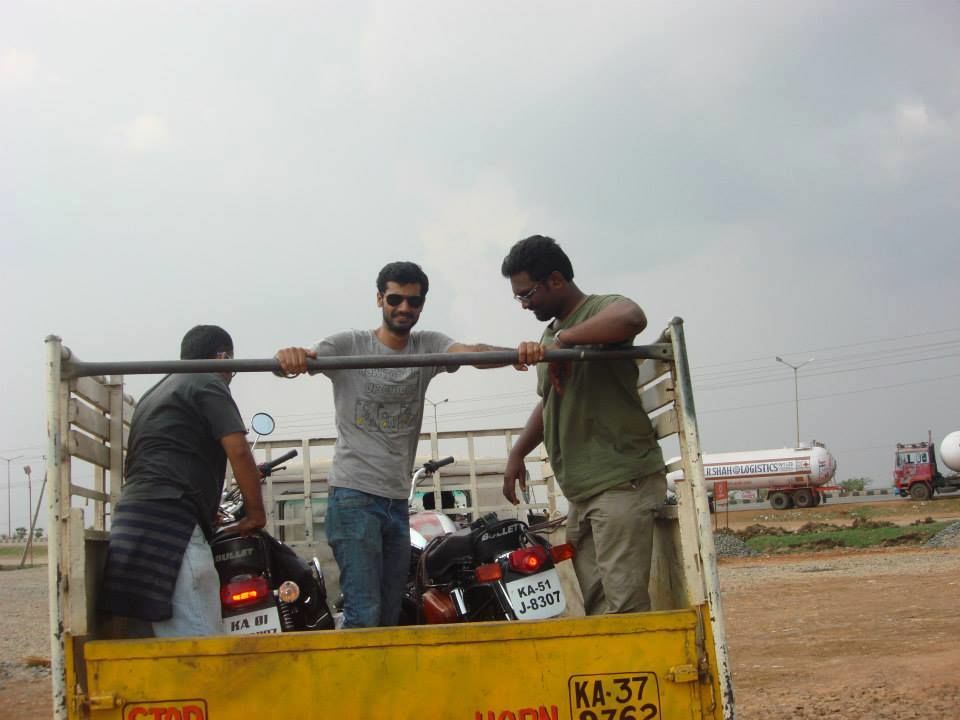 Now starts the story, just within half an hour the climate suddenly changes and we are stuck in some cats and dogs type of rain. Me and others in the open truck had to put on the balaklavas to cover from the rain hitting us hard.
Thanks to friends from wolf pack RE club, we managed to find an open bullet garage to fix our bikes and it was already 7:00 PM in Hubli itself by the time bikes are fixed.
Wasting no much time, we started to ride to Dandeli and the rain starts again. The visibility in the dark with that heavy rains in those ghats section is hardly 5 to 10 meters. I was sweeping in that stretch and told Keerthi Yandendra bhaai who was riding ahead of me to keep a watch on me too, just in case????. That scary roads they were with fallen off branches on the roads everywhere. Damn tired and then around 11:00 PM we are still riding in the ghats, stop for a break, and a bike doesn't start again. It was Ashish bhaai's bike, this time it was short circuit because of the rains J Still good distance to go, what do we do?? Seeing us shouting at every passing truck and lorry no one stops, may be they would be thinking who are these guys shouting at that time. Thanks to one good Samaritan auto wala, all f us reached our destination Dandeli at 2:00 AM. That's the end of day 1, with being 22 hours on the road. Endurance Ride??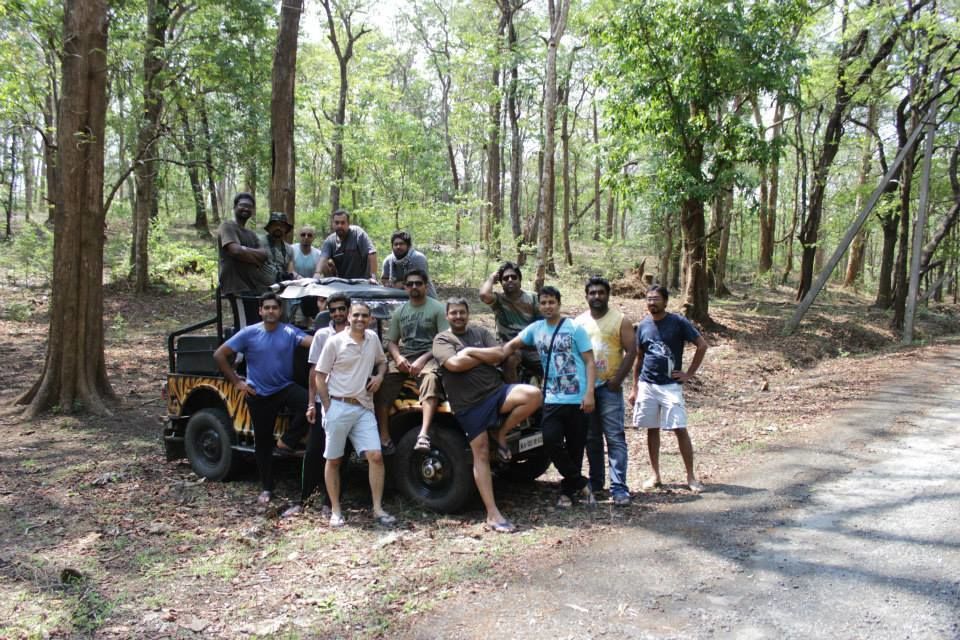 Day 2 Touch base Gokarna: With the conditions of the previous day, the ride started only around 11:00 AM. Riding through some beautiful ghat sections and having fun at the pitstops. By now things were cleared by Biiju Bhaai that smoke break and pitstop both should be different. Few of the riders who sometimes ride fast and stop for the group to join had to throw the smoke away if we hear his bike coming????????.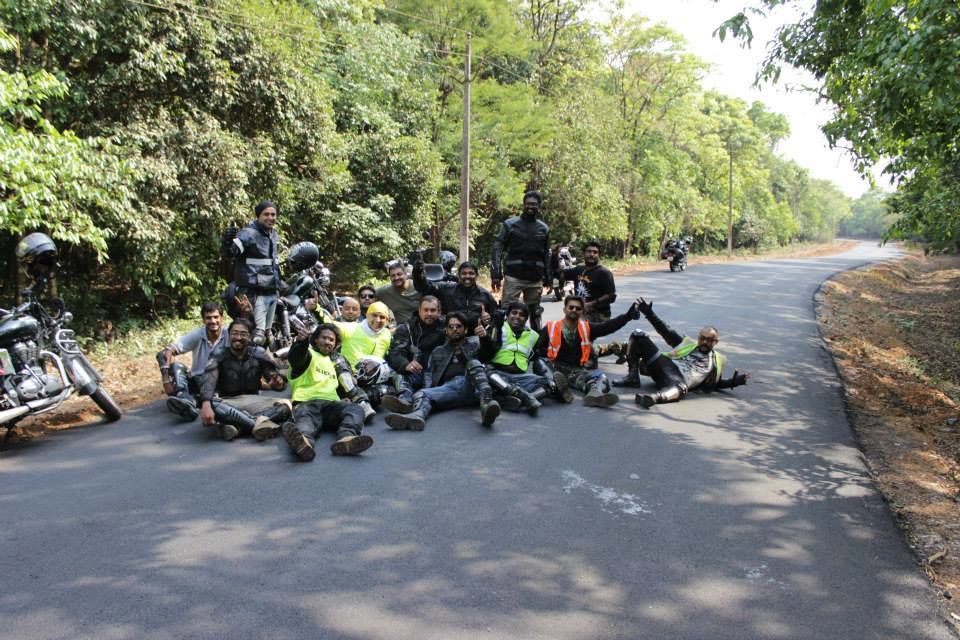 Yes, we also had a marshal on this ride. The Iron Man, Mr. Iniyan, the marshalling was too tight that no rider can escape the pack or miss the pack. Suddenly he comes from nowhere and we get a signal to speed up, meantime he comes from the left and says to speed down. That dynamic marshalling it was, even during a hairpin bend, his bike slips, on him and he still gives some signals. We coulnt understand is it out of pain because of the bike on him or he is still signaling the group to speed up or speed down, but we could see his hands moving up and down. Touchwood, nothing major, our spare rider Mr. Mayank again comes to the rescue and we rode till Gokarna. By the time we reached it was again dark and with not much sightseeing we got into beer guzzling, our expertise. Head Master Biju Bhaai and me speak to riders once again for keeping up the spirits high and on some briefing for the next day.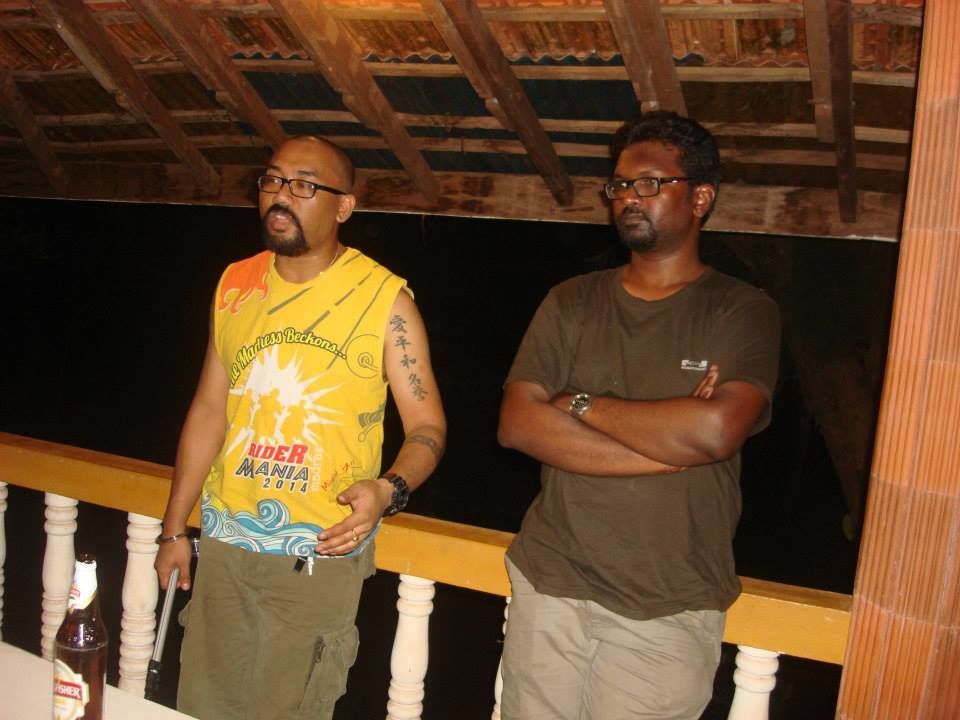 Day 3 Riders High: The start time of the ride was at 9:00 AM and hardly anyone were out of the rooms. By now many were exhausted and few fell sick. It was almost a situation where we had two choices, either to split the group or push a little and go together as one group. Everyone were on a high, me Biju bhaai, Iniyan and Shashi 'How do we take the group together, its not even half distance we covered, what would happen if we push more' Few others 'Lets take a break, we start later, we are sick, if needed our bikes go back' Phew… What a scene to remember. (Memorable now to have a laugh J) Somehow we all decided to start late at 11:00 AM together as a group. We just started and thank you very much, it was a puncture Mr. Shobit Dimris bike.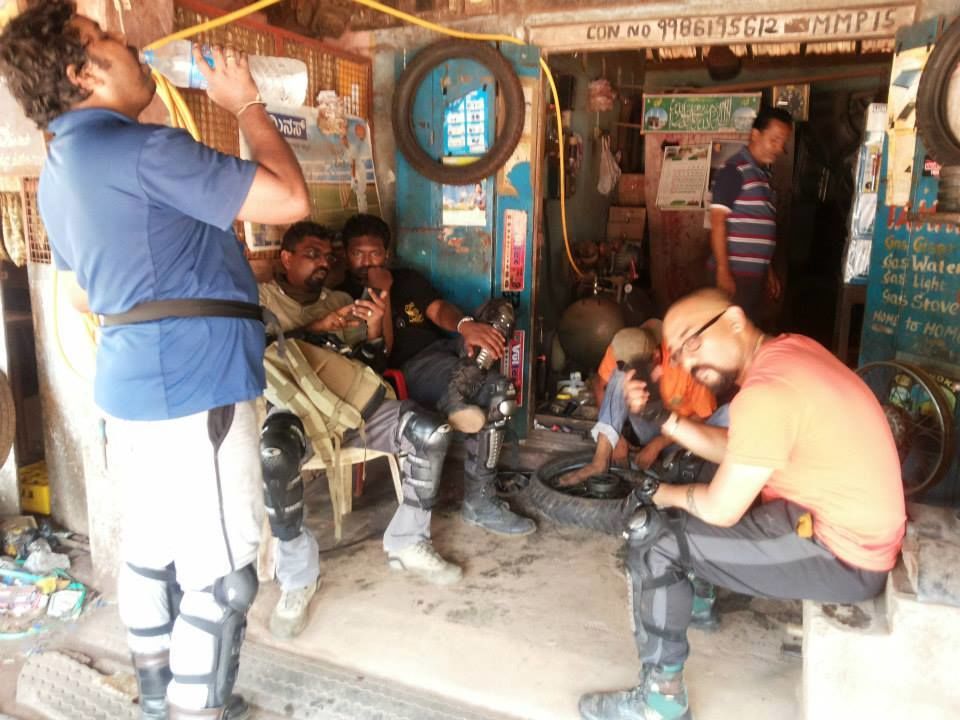 OK. Its 12:00 PM now in that burning hot sunny day, we rode for a couple of hours and then a puncture again. Thank you very much this time to Arpan Laha. Anek, the most happy guy in this ride signals Ashish bhaai that his signal light is on, that's it. The next pit stop it was a Boooom by Ashish bhaai: Why are u disturbing me? I am meditating and you disturb it. Iniyan: I know the route, I asked to the local guys its this way. Biju Bhaai: Fuck that, I have GPS its this way. Shashi: Follow me, this is my home town route and we go into some wrong direction. Gosh this was the high we were in.
Meeting the Batch 2 Riders at Sakleshpur: Riding through the twisties in the ghats we reach Sakleshpur, and to reach the homestay we had to off road and it was deadly due to the rains. We are welcomed by Hari bhaai and Alok bhaai who came till the main road to receive and guide us. When we reach the homestay it was a thunderous entry with all bikes revving and thumping, that we all made it safe and sound till Sakleshpur. One of the best riding nights, we shared laughter explaining our adventures to the batch two riders, Shobith Dimiri who made it more creative and uncontrollable.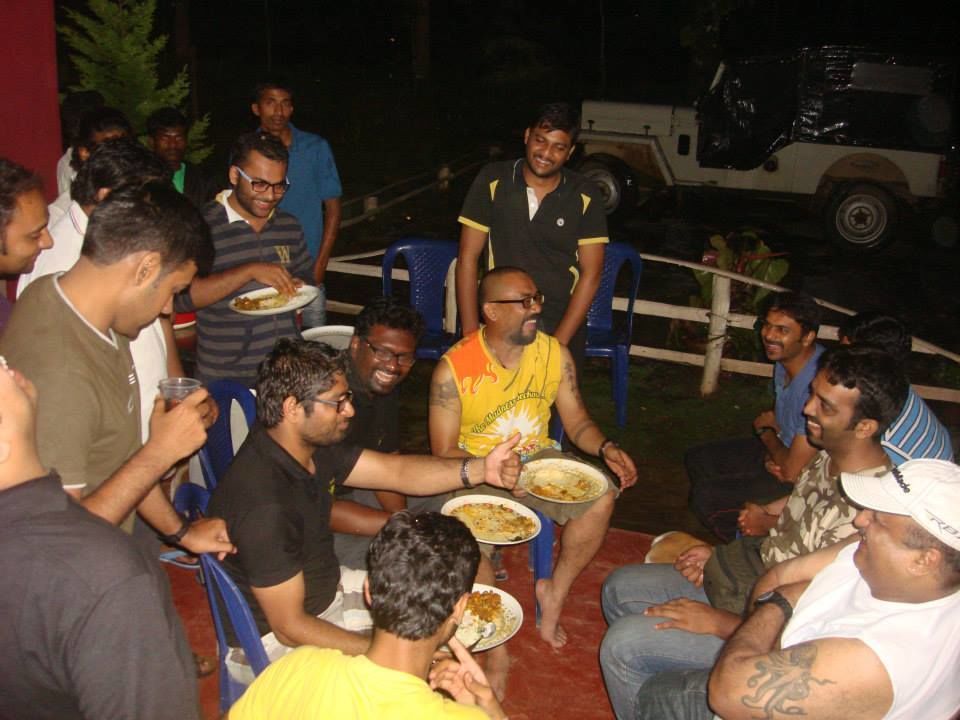 Day 4: Sakleshpur: Its one of the beautiful hill stations, this time we few of us did camping. Thanks to the kind gesture of batch 2 riders, that they have given us the rooms as would be a bit tired and they chose to sleep in the tents.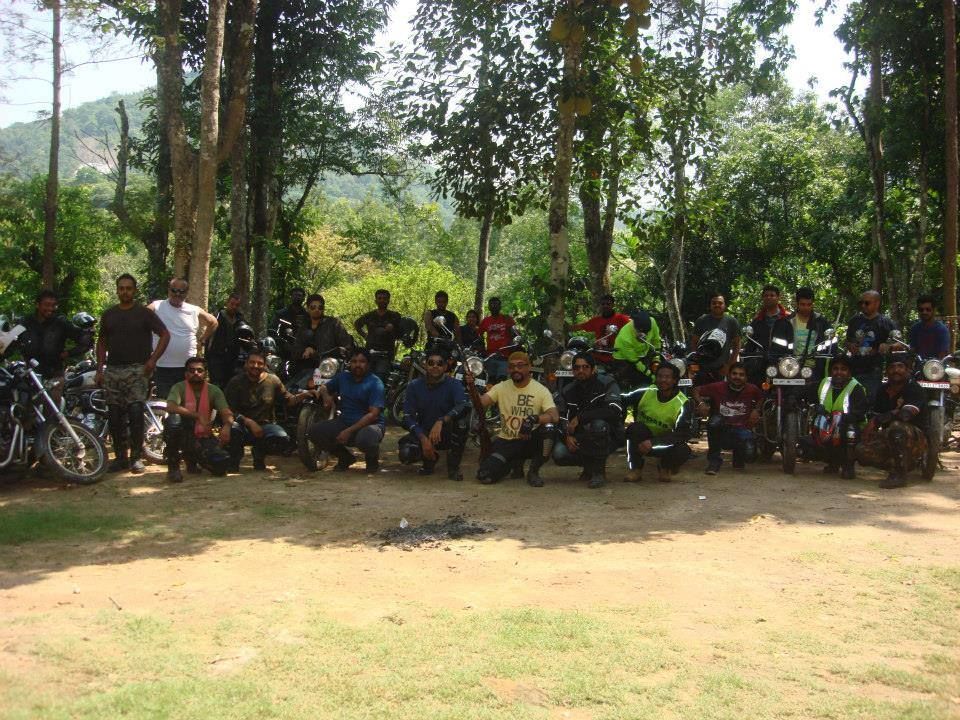 Next morning some group pics to remember and we all ride together to Bangalore, with some of the best riding memories and making some of the best friends. By the time we reached Bangalore Nelmangala Toll we have ridden 1600 kms for 4 days in the best terrains of South India.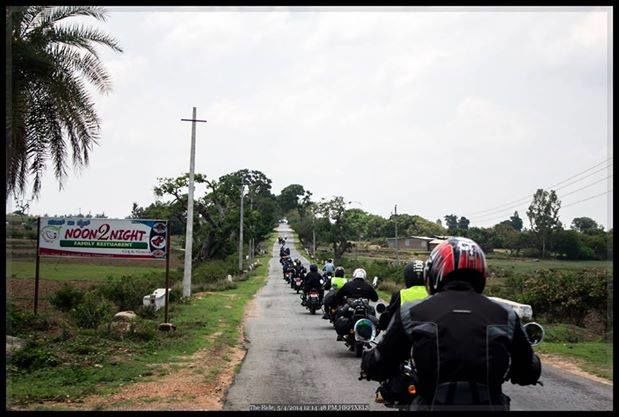 Breakdowns: 4 Punctures, 3 Clutch wire breaks, 1 Odo cable cut, 3 times into tow trucks, I bike on Fire ..
Good Times To Cherish was the 'Endurance Ride, 2014'…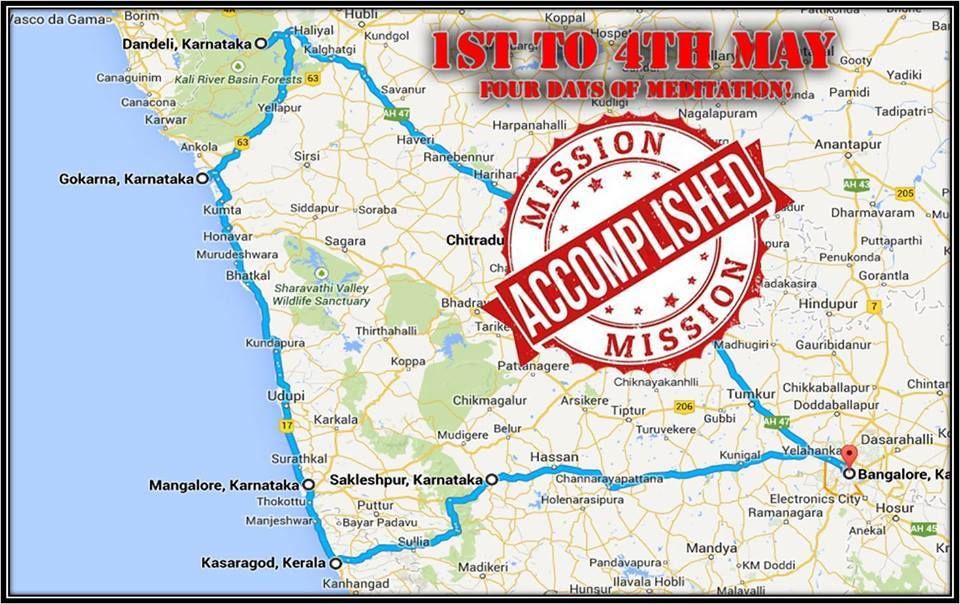 PC: Iniyan, Hari Bhaai, Ashish Bhaai
Frequent Searches Leading To This Page:-
place to visit near bangalore in weekend, Exciting weekend Getaways from Bangalore, Weekend Getaways from Bangalore, Breath-Taking Destinations Around Bangalore, weekend trips from bangalore