'Some tourists think Amsterdam is a city of sin, but in truth, it is a city of freedom. And in freedom, most people find sin.' ― John Green
Amsterdam, the original sin city – is known for its warm and friendly people and its cosmopolitan liberal culture.
Amsterdam is a compact, charming, and cosmopolitan city, which was voted the second-best city in the world by Time Out in 2021, and around 2.5 million people from across the world visit the city every year.
With its amazing bike culture, huge parks, and unique architecture overlooking the canals, visiting Amsterdam is a trip that must be at the top of everybody's bucket list.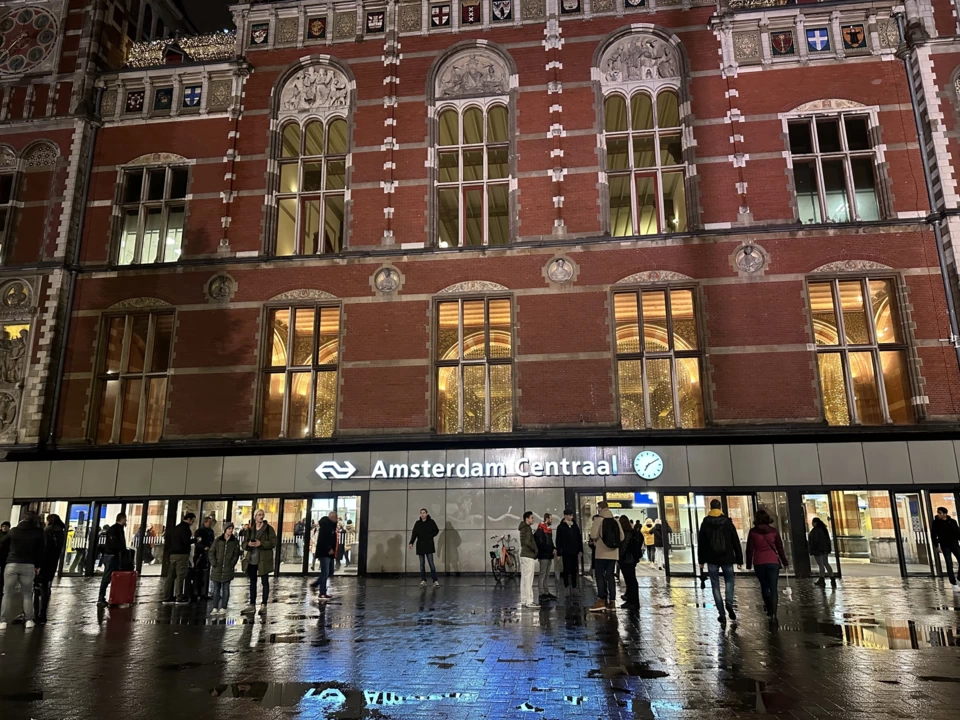 I mostly had a day and a bit to spend in Amsterdam, hence all roads were pointing only in one direction – The Red Light District. Hence this article will focus mostly on what I was able to experience in the (in)famous Red Light District area.
We will get to know all the secrets of the Red Light District, the do's and don'ts of visiting the place, the coffee shop culture and types of cannabis available, and the collective opinions of other people about the place.
'Amsterdam has more than 150 canals and 1,250 bridges, but it never seems crowded, nor bent and bitter from fleecing the tourist.' – Julie Burchill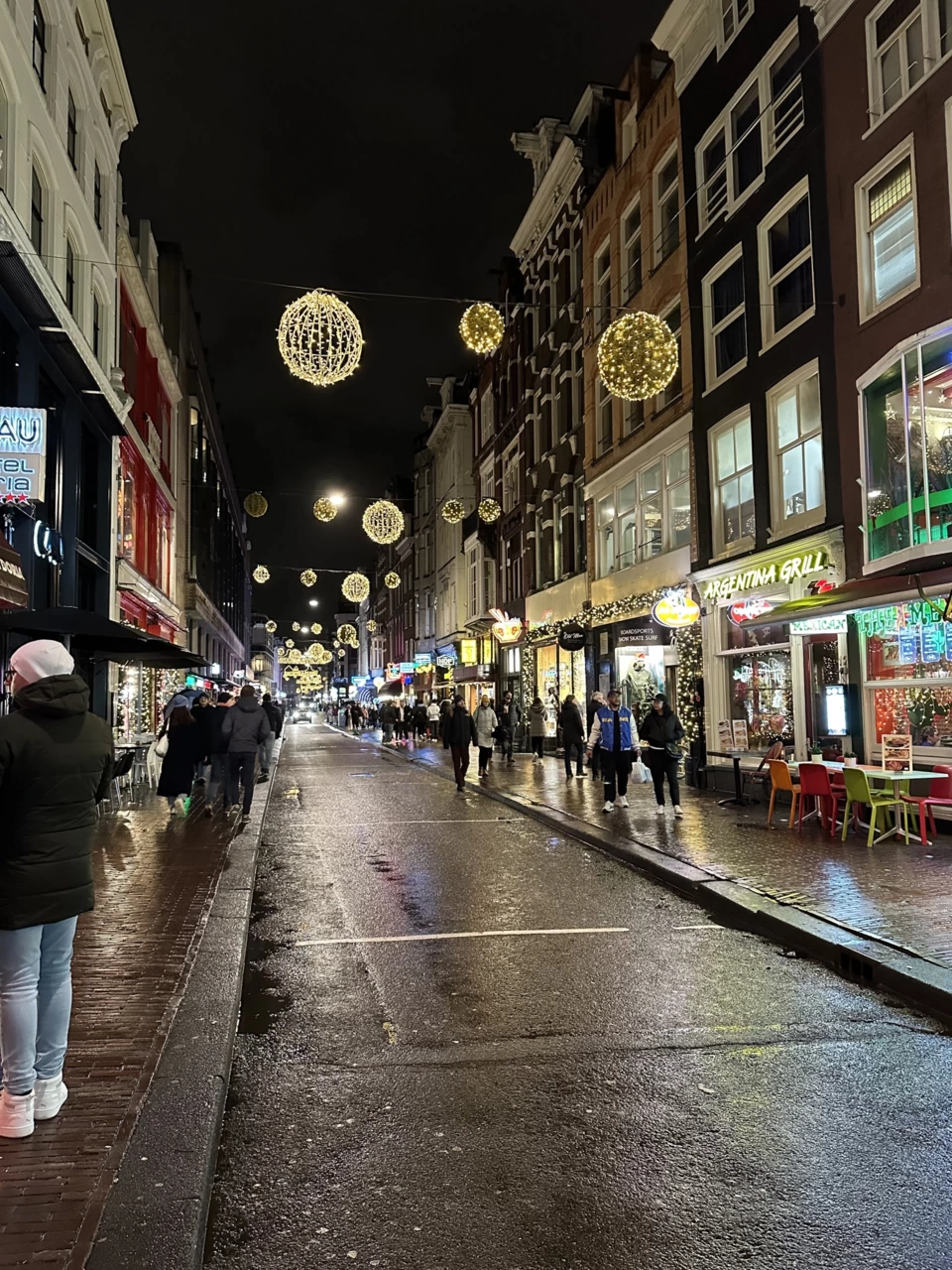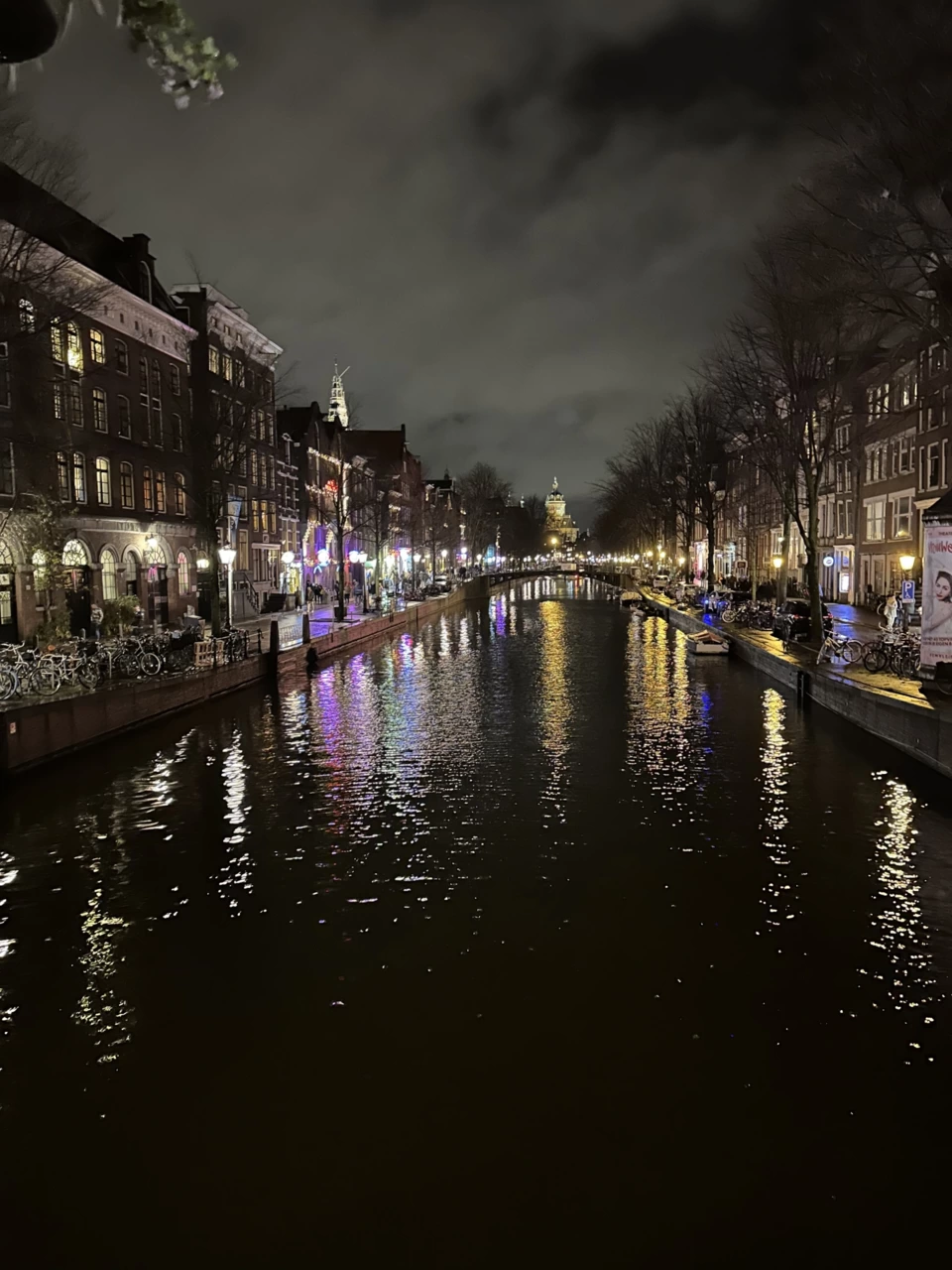 Stay – Meininger Hostels
Tariff – 2.5k ₹ /30 € per night for a bed in a 6/8-bed dorm
Review - Excellent Hostel Chain in Europe | Great Breakfast options | Super Clean
The Red Light area, known as "De Wallen" (pronounced Day Vaw-len), is named after the red neon lights that outline the many windows where women dressed in mostly lingerie to do one of the oldest professions in the world – prostitution.
It's no surprise as Amsterdam is one of the most open-minded and progressive cities in Europe, if not the World.
The District doesn't have an entrance or an exit, but it's simply a small neighborhood. It basically consists of two canals and some connecting alleys.
Right through the district, we'll find prostitutes offering their "services", from behind a window. Along with that, the area is known for its many live sex shows, sex shops, brothels, and strip clubs. Apart from that, we'll find a lot of restaurants, bars, and hotels.
"Amsterdam lives and breathes creativity. One moment you walk into a building from the 17th century and the next you find yourself in a hub of creative start-up companies."
– Marcel Wanders, a Dutch designer and art director
It also includes the Museum of Prostitution and the world's first condom specialty shop. De Wallen is also home to some of the city's 250 coffee shops, establishments where anyone over the age of 18 may legally purchase and consume cannabis or hashish.
Pro Tip: While the terms "coffeeshop" and "coffee house" may sound like images of delicious lattes or mochas, coffee shops in Amsterdam have nothing to do with a cup of coffee. Rather, they are establishments where anyone over the age of 18 can purchase and consume marijuana and hash. If you want a cup of actual coffee in Amsterdam, ask for a "cafe" instead of a coffee shop.
Things really start to pick up around 10 p.m. — especially on Friday and Saturday nights — and slow down between 2 a.m. and 3 a.m. as the neighborhood businesses start to close.
Of the observation of many people on the street, to render the service of any woman behind the red window, one simply has to start with sharp eye contact, slowly impressing his way towards the liking of the Woman. If the Woman finds the guy worth it, she would allow him to open the door and negotiate the price. Remember, the final call shall always be of the lady.
"I don't have a problem with saying, 'I love you.' I probably said it to the whole of the red-light district in Amsterdam when I was about 21. "
― Shaun Ryder
Another thing to note is to never take photos or film the women in their windows. Although it's technically not against the law, breaking this etiquette rule can result in security guards demanding that you delete the image or a smashed cell phone with little sympathy or support from the local authorities.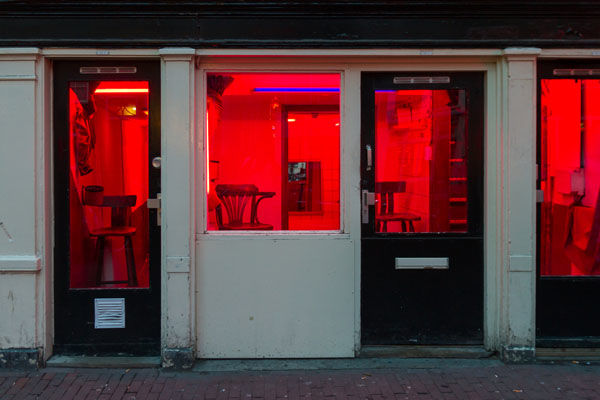 Apart from prostitution, the red light district showcases live adult store sex shows, strip clubs, cannabis coffee shops, bars, and peep shows. One can also visit popular museums such as the Red Light Secrets Museum of Prostitution and the Hash, Marijuana & Hemp Museum.
There are endless tourist traps within the Red Light District, but still, it is worth the fun. Here are the best bars, strip clubs, and sex shows that locals recommend :
Bananenbar – entertaining strip club: The legendary strip bar is a witty mix of half-naked girls, tourists, bananas, and alcohol. At the entrance, you pay 60€ for one hour.
Sex Palace – peep show: Here you pay 2€ for 2 minutes in a cabin. The cabins are arranged in a circle around a round stage. You can enjoy the show of the dancers through a peep window.
Cannabis College – all about weed: There's not much to see at first. Glass showcases with information material and a cozy sitting area. However, if you talk to the staff, you get accumulated knowledge about the green crop.
Casa Rosso – live sex show: In these shows, couples have live sex on stage, and beautiful women perform erotic stunts. You are sitting on a bench, watching like in the movies. You pay 50€ for one hour.
Red Light Secrets Museum: A notorious brothel turned into a museum. Red shop windows and slippery exhibits – everything was left in its original condition. Personal stories give you an authentic insight into the work of a prostitute.
Coffeeshops (ie cannabis cafes) exist all over the city (and country), Greenhouse and Baba are two of the area's most popular. Cannabis is not technically legal in the Netherlands but the possession and purchase of 5g of 'soft drugs' (ie marijuana, hashish, space cakes, and truffles) are widely tolerated and users won't be prosecuted for this amount.
- The Bulldog Coffeeshop
- Barney's Coffeeshop
- Mannekenpis Fries – Voted as the No. 1 Fries in Holland, they are chunky, fat, and crispy on the outside and soft and velvety on the inside. A variety of more than 15 sauces are available to choose from; ketchup, mayonnaise, mustard, cheese, cheese, tartar, cocktail, etc. I liked mine with mustard and tartar. Fries are served in portions of small, medium, and large. Medium is quite a large portion while small is good for a quick snack.
- The Grasshopper
There are multiple coffee shops around the district, a couple of which I have mentioned above which I visited. It's also important that you do not purchase drugs from a street dealer. The coffee shops throughout Amsterdam are licensed businesses where it's perfectly legal to consume marijuana or hash. But it is illegal to purchase these items (or other offerings) from a street peddler or consume any drugs out on the streets.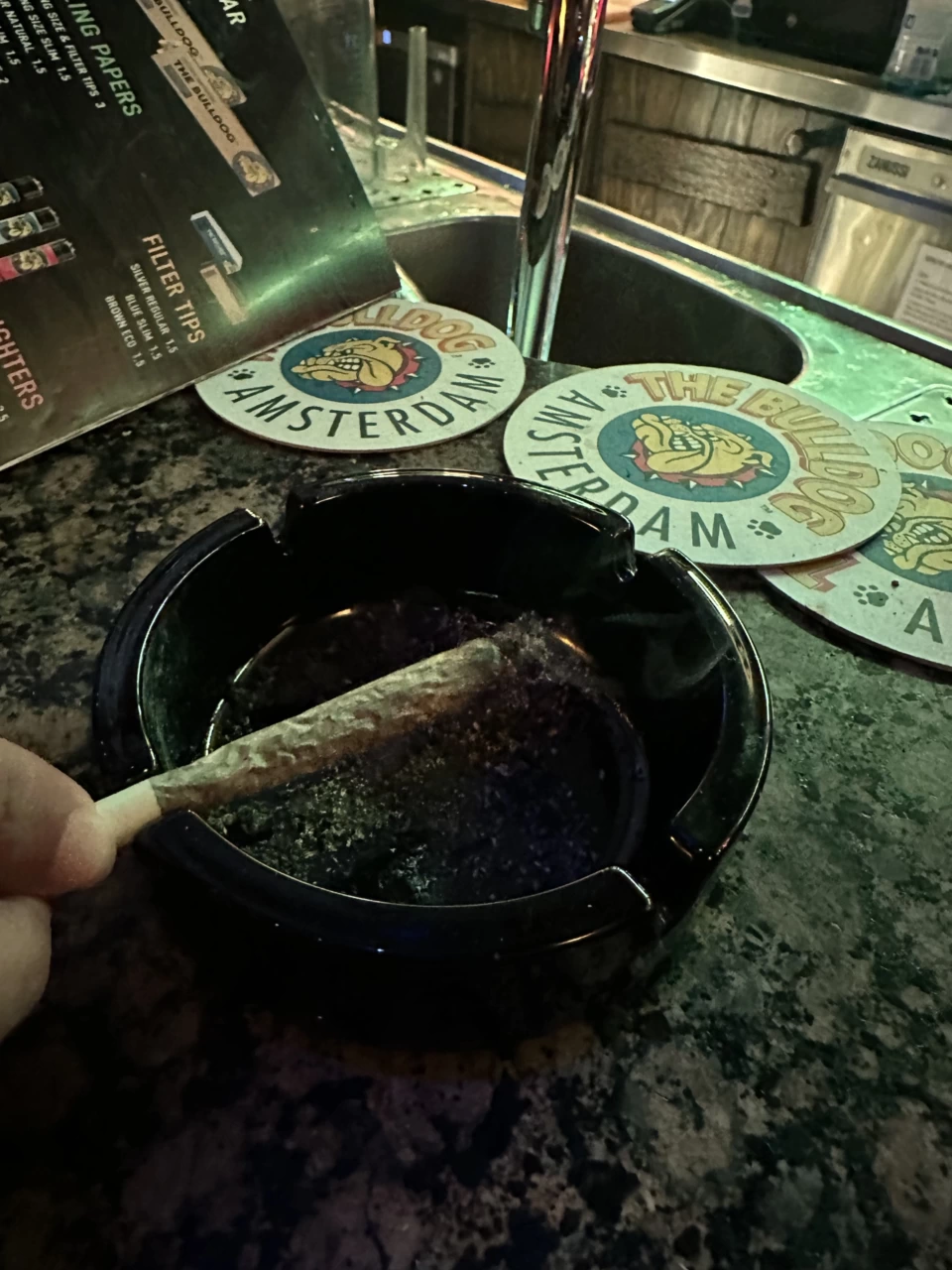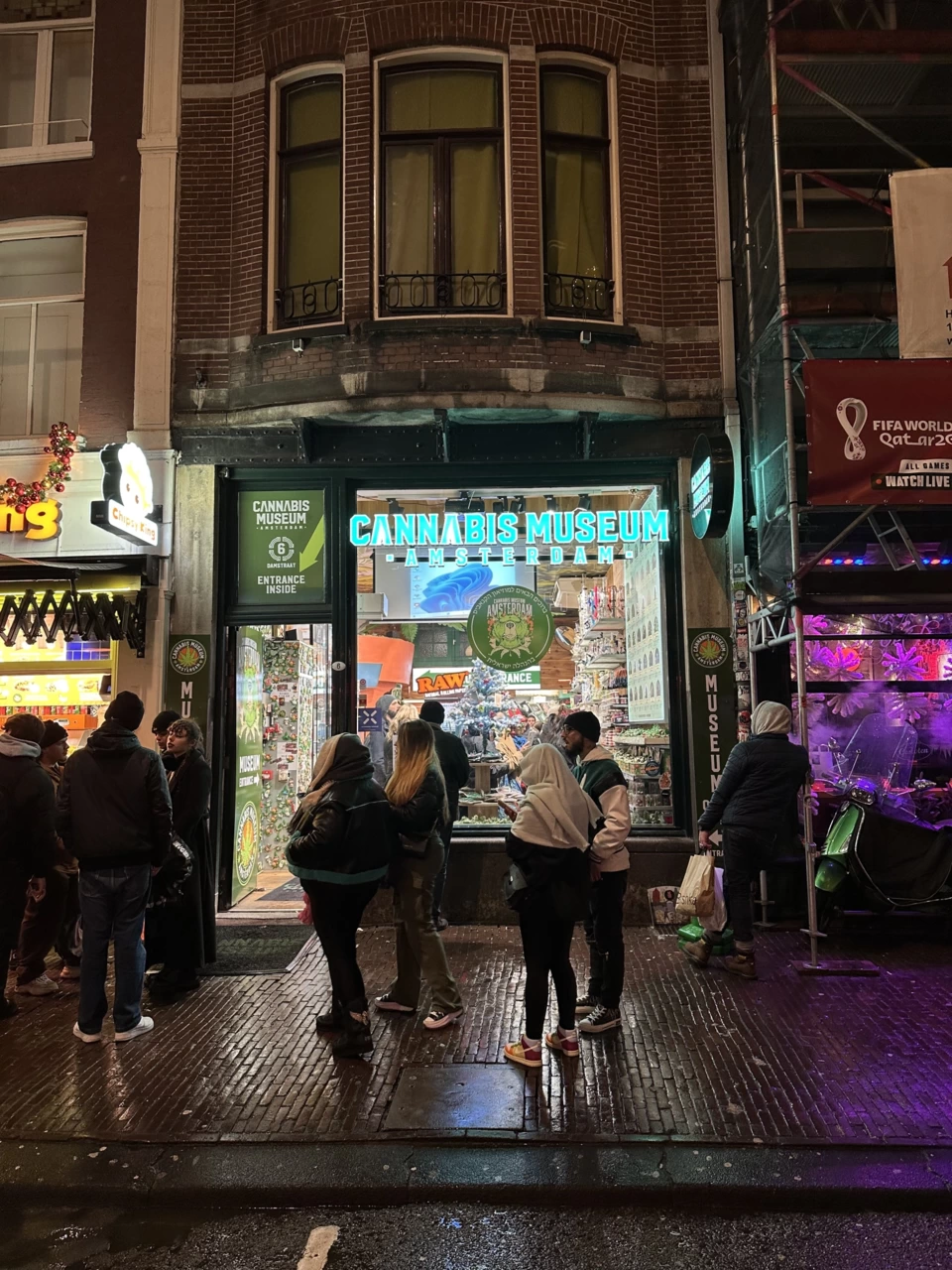 The most potent cannabis varieties contain 15% tetrahydrocannabinol (THC), the active substance that gets people high (anything above 15% is classified as a hard drug and therefore illegal). Cannabidiol (CBD), another substance of cannabis, doesn't make us high and keeps a perfect balance between our mind and body.
Choosing the best strain of weed in Amsterdam can be a complicated ordeal — especially for a newcomer to the Netherlands or the Amsterdam coffee shop scene.
There's much to consider when choosing your ideal weed in Amsterdam. Do we want an uplifting high, or something more chill What mood we're in is also important. Depending on what we smoke, we may amplify that mood — or go in a completely different direction.
Pointing out some basic definitions for the novice before we go a bit more in detail on the Cannabis World –
Cannabis refers to the plant (genus) itself whereas Marijuana or Weed is more of a nickname for the recreational drug by-product.
Marijuana or Weed is produced when the Cannabis plant buds are harvested by hanging them dry, while a Hashish, a brownish substance, is produced when these dry buds are separated from their epidermis.
How do go about visiting a coffee shop in Amsterdam, well walk in and ask for the menu, and we will be asked the following questions :
Hash or weed? Loose buds, pre-rolled, or edibles? Want to experience high or get stoned?
Each Hash and Weed strain is further broken down into –
Indica – Produces a calming effect and gives a good nap. It relieves anxiety, pain, and insomnia.
Sativa – Produces an uplifting high. It relieves depression, fatigue, and mood disorders.
Hybrid – Mixing both above in proportions one would prefer.
Pro Tip: The most popular way to consume Cannabis for a first-timer is a sweet-savory known as "Space Cake", which comes in the form of a cookie, muffin, or brownie. Edibles are the best way to consume cannabis as THC/CBD is fully absorbed by the body.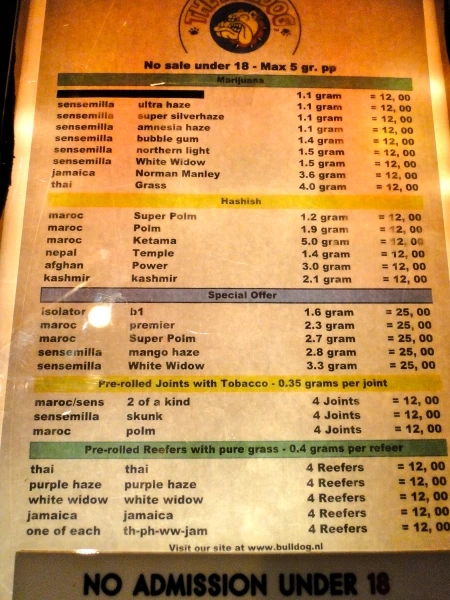 Rates of various cannabis I came across –
Pre-rolled Joints (with) Tobacco – 7 € / (w/o) Tobacco – 10 €
Loose buds per gram for Weed – 15 € / for Hash – 20 €
Space Cake – 10 €
If one does partake, always exercise caution; even many regular smokers can't stomach the local product.
"Last time I was here I slept in a park because I spent all my money of hash and hookers."
― Anthony Bourdain
Lastly, no matter how many times you visit or read and think about it, you can never get enough of a city like Amsterdam!
------------------
Thank you if you have come this far reading this article. Going to write a lot more of them in the near future.
Follow my Instagram @shutter_up_shantanu for more updates.
------------------