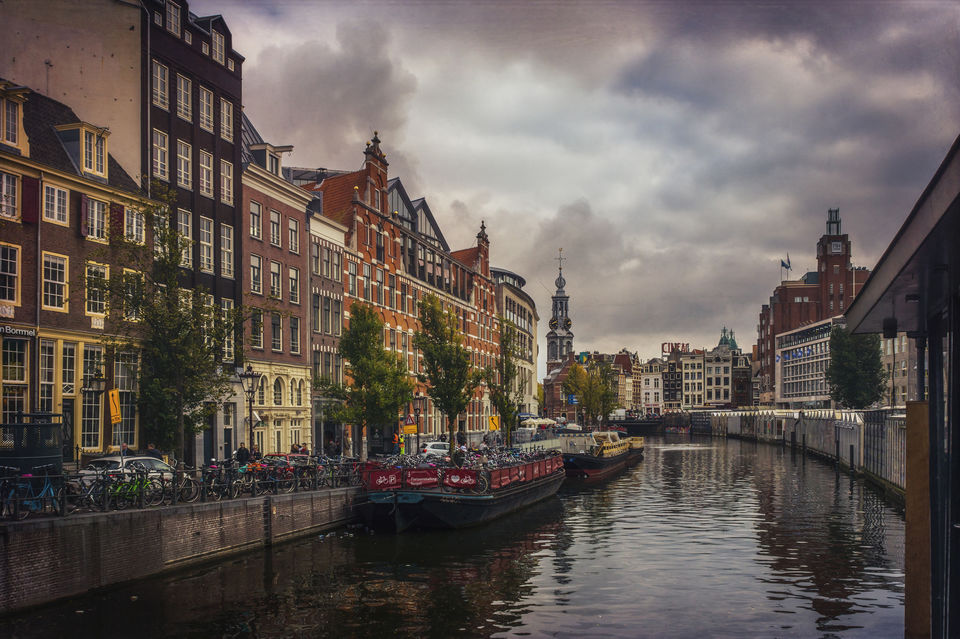 Irrespective of whether you are a Michelin Star snob or a lover of cheap local grub, Amsterdam will keep you satiated. The Dutch capital has everything from good old pizza and heart-warming steaks to what is perhaps one of the best bar scenes in the world. And yes, if you're looking for a legal, guilt-free high in the heart of a red light district, you're in paradise. Here are the top ten places to eat, drink, smoke and smoke up in the sex, drugs and rock and roll capital of the world.
1) La Rive
One of the most prominent luxury hotels in Amsterdam is also home to the fanciest restaurant in town. Intercontinental's Michelin starred La Rive serves otherworldly French cuisine and has the best tasting menu you can lay your hands on. The dishes are presented like works of art and are very Instagram-worthy and so are the dreamy views of the canal. La Rive also has a fantastic selection of European wines if you are a bit of a connoisseur.
Location: Professor Tulpplein 1, 1018 GX Amsterdam.
Opening Hours: Daily: 18:30 - 22:00.
2) Ciel Bleu Restaurant
Yet another posh address in the city of canals, Ciel Bleu serves delectable Asian-inspired dishes and has a superlative selection of seafood. Can't decide between their juicy King Crab and their hearty Tom Yum soup? Order them all as everything on the menu tastes just as heavenly as it looks. The list also includes some yummy Dutch dishes for people who like to play safe. There's a reason why this place has been awarded two glittering Michelin stars.
Location: Ferdinand Bolstraat 333, 1072 LH Amsterdam.
Opening Hours: Monday to Saturday: 18:30 - 22:30.
3) De Silveren Spiegel
A tiny restaurant run by a father-son duo, De Silveren Spiegel or the Silver Mirror serves beautiful Dutch food and is housed inside one of the many heritage buildings of Amsterdam. Their six course tasting menu has everything from lovely beef, duck and scallop preparations to numerous vegetarian options. There's also an impressive wine list and two beautiful paintings by Rembrandt gracing the establishment's walls. What will surprise you is the fact that their supremely talented chef (the son) is only 24 years old.
Location: Kattengat 4-6, 1012 SZ Amsterdam.
Opening Hours: Daily: 18:00 - 22:00.
4) Rijks
Located alongside Amsterdam's iconic Rijksmuseum, this Michelin star restaurant whips up amazing Dutch and European fare. The chefs seem to have knocked their white asparagus and beef tartare preparations out of the park. Do keep in mind that the food at Rijks is experimental and mimics art and comes in rather small portions. The price is a little steep given the location, ambience and quality of the ingredients used.
Location: Museumstraat 2, 1071 XX Amsterdam.
Opening Hours: Monday to Saturday: 11:30 - 22:00; Sunday: 11:30 - 15:00.
5) Jacketz Nieuwendijk
All baked potato and pulled pork lovers visiting Amsterdam absolutely need to head over to Jacketz Nieuwendijk for a great time. The portions are huge and the prices are more than reasonable. A lively restaurant with amicable servers, Jacketz also has a decent selection of salads, lemonades, coffee, beer and wine. The menu also has some vegetarian options for those who don't eat meat.
Location: Nieuwendijk 32, 1012 ML Amsterdam.
Opening Hours: Sunday to Thursday: 12:00 - 22:00; Friday and Saturday: 12:00 - 23:00.
6) The Bulldog
Coffee Shops in Amsterdam are very different from conventional cafes because these legally transport you to something that could best be described as 420 percent bliss. The Bulldog, a hostel that is an institution in itself also has a bustling coffee house where you can sit and smoke, smoke up and drink like a sailor. They also have 'special' muffins and cakes if you're a little too hungry.
Location: Oudezijds Voorburgwal 90, 1012 GG Amsterdam.
Opening Hours: Daily: 08:00 - 01:00.
7) Greenhouse
Yet another red light district 'coffeeshop' in Amsterdam, Greenhouse gives you a legal high with its weed, hash and magical 'space cake'. This place also serves good coffee and hot chocolate if you like playing safe. Do keep in mind that IDs are imperative for purchasing and smoking pot. Visit this cafe only if you don't have a problem with large crowds and noisy hip-hop music.
Location: Oudezijds Voorburgwal 191, 1012 EW Amsterdam.
Opening Hours: Daily: 09:00 - 01:00.
8) Barney's Coffeeshop
One of the few cafes in Amsterdam that serves normal food and beverages like tea, coffee, milkshakes, pancakes, sandwiches and burgers apart from the usual cannabis and magic loaded muffins, Barney's Coffeeshop is an experience like no other. The staff is friendly and the place is never as crowded as the others around the area despite the fact that it is quite small. The prices aren't steep either.
Location: Haarlemmerstraat 102, 1013 EW Amsterdam.
Opening Hours: Daily: 09:00 - 01:00.
9) Melly's Cookie Bar
Melly's Cookie Bar, for a change, is an actual delicatessen in Amsterdam and serves no pot or suspicious baked goodies whatsoever. Popular for its cakes, meringues, strudels, lattes, juices and of course, cookies, it is quaint and cosy. There are plenty of vegan and gluten free options if you have any dietary restrictions. The servers are nice and efficient and everything on the menu is more than affordable.
Location: Nieuwezijds Voorburgwal 137, 1012 RJ Amsterdam.
Opening Hours: Monday to Saturday: 09:00 - 18:00; Sunday: 10:00 - 20:00.
10) Dampkring
If you are a fan of the Ocean's trilogy, you would remember Dampkring making an appearance in Ocean's Twelve. An iconic pub-like coffee shop in the Dutch capital, it serves great drinks, baked treats and smoke, as a matter of course. Owing to its popularity and excellent location, it tends to get very crowded in the evenings so do go keeping this in mind. Dampkring's website proudly describes itself as 'old skool strains, old skool grown, old skool pricing and old skool vibes' and lives up to every claim.
Location: Handboogstraat 29, 1012 XM Amsterdam.
Opening Hours: Daily: 10:00 - 01:00.