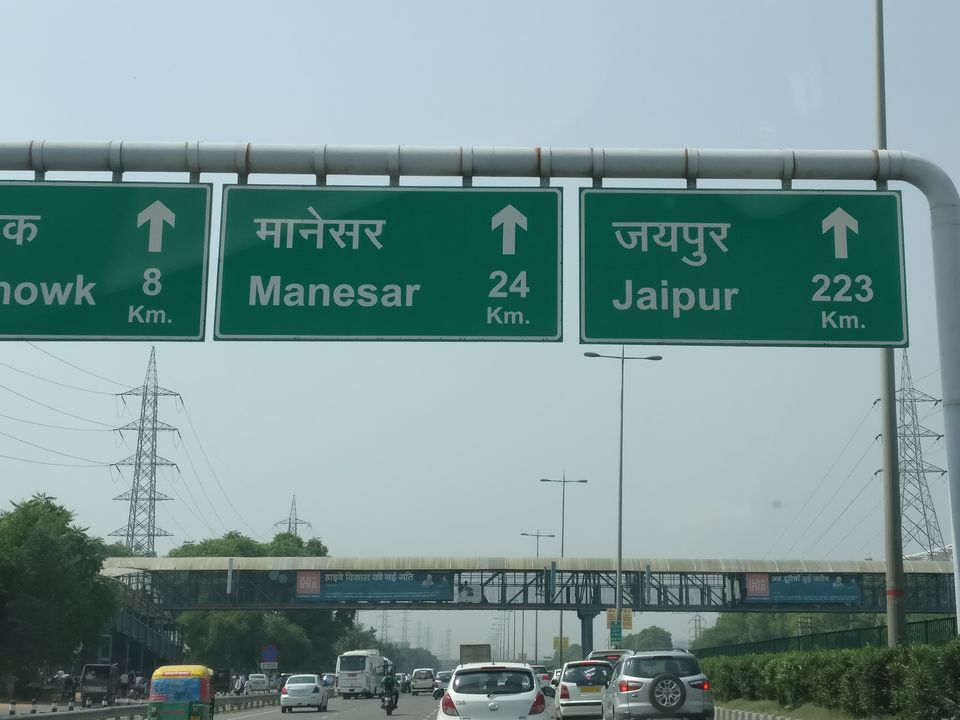 Visiting a place is not just about going to a few tourist spots for me. Its more about knowing the place, its people, doing things like the locals and most importantly eating where the locals eat.
So on my recent trip to Jaipur I made sure that I tried some of the places where the local crowd of Jaipur hangs out along with a few touristy places as well.
So this is technically not in Jaipur, but since we road tripped from Delhi to Jaipur, we made a pit stop at this place for lunch. It's a pure vegetarian restaurant along the highway. There are Baskin Robins & Amul icecream carts inside the restaurant, and there is also a Keventers outlet just outside it. The whole place looked properly maintained, including the washroom, which is hard to come across at places like these. To be honest, we had gone inside, expecting to be ripped off a little bit, but I must say the place is worth the visit. Not too expensive, the service is super quick, and the food was also delectable.
Verdict - Recommended
We had read and heard about Tapri cafe before we even reached Jaipur. So that was on top of our must visit places. And we expected to have a good time there, rather it turned out to be exceptional. There was this earthen Indian vibe which most restaurants screw up. Right from the cutlery to the playlist, it was all in sync. Even the woven chairs which were put there (the kind at your grandma's probably), were far more comfortable than they looked.
Outside seating is most popular there and as soon as we entered we were informed of the waiting time in case we wanted to opt for it. Having no qualms about sitting inside either, we chose not to wait. But one could see the surreal environment of outside from where we were sitting. Two guys jamming on their guitars, a couple of more working out of there, but mainly groups of people hanging around, soaking the fresh air in serene lighting, just spending time with their friends. It seemed like a place where Jaipurites go to hang out.
We ordered Mushroom Cheese Sandwich, Vada Pav, Bun Maska and Iced Tea. The food was good, the best being the garlic chutney served with the Vada Pav. The only thing is that parking is a bit of an issue so going there by cab or auto is the best.
Verdict - Highly Recommended
If there is one place in Jaipur every tourist goes to, its LMB. Its located in Johari Bazaar. You can shop your heart out in Johari Bazaar and drop in LMB for lunch. In fact when we entered the place around 1:00 pm, it was practically full with most of the tables occupied by foreigners.
Primarily famous for its Onion Kachoris, its also the place where you can have authentic rajasthani food. We tried the Kachori, Mirchi Pakora & the quintessential Dal Bati Churma. The place is definitely over priced. In total we paid around 700 bucks for this. But the Kachori & the Mirchi Pakora were worth it.
For Dal Bati, the dal was cooked nicely, lightly spiced with pieces of the Jodhpuri Mirch (the Indian jalapeno) floating in it. It wasn't spicy at all for my Indian palate, but flavorsome, nonetheless. The bati however was disappointing to the roof, void of any taste, it seemed like cooked from before and reeking in ghee. Churma was basically the besan ladoo in the powdered form, traditionally served along with the dish to balance out the spices. All in all, a good one time experience, but definitely not something I would go back for.
Verdict - Good For One Time Experience.
Nibs is another popular place amongst the locals that we went to. Located in the back side of MGF Mall, Nibs is a cute place with ample seating space. Both outside and inside seating is available but not all of it comfortable. We changed our seat once but were good after that.
We ordered two shakes and both were really good. The recipes for both the shakes were just right. I specially liked the Tall Dark Handsome Mocha Shake. The description mentioned that it would contain Dark Chocolate and true to its words, I could feel the dryness of the dark chocolate there. But it wasn't over done and was really delicious. But we didn't try any food there except for the Vada Pav which was just okay.
The owners of this place are very friendly. We had a 15-20 mins chat with them about how they started, journey till now, and what are the further plans etc. They answered all our questions patiently and genuinely.
Verdict - Must Visit
This is the one place in Jaipur that really surprised me. Rawat comes recommended by many if you ask for a good Rajasthani place. And its amazing how awful the place can actually be.
We tried to look for the restaurant with seating space and were directed to the hotel entry on the back side. The main Rawat does not have any seating, its just a Kachori and sweets place having standing tables.
The restaurant of Rawat hotel was a shady looking place with no hygiene at all. So we decided to skip it and returned to the takeaway place for a couple of Kachoris. Not only was the Kachori not tasty, it wasn't even fresh. It seemed not fried properly and oil was dripping from it as you took a bite.
The only reason Rawat made it to the list is because I wanted to make you guys aware of how bad it is.
Verdict - Not worth it at all.
This was out last stop before going back to Delhi. We ordered a Rajasthani Thali and a Mini Thali. I must say the place is outstanding. The interiors was done contemporarily, the staff was attentive and the food was delicious.
We asked them to pack the thali mid way through our meal and though they usually dont pack half eaten thalis they made an exception for us when they realized we had to depart for Delhi.
Also, the pricing is very affordable - the Rajasthani Thali was for Rs. 235 and Mini Thali for Rs. 100.
Verdict - Must visit for Rajasthani dishes.