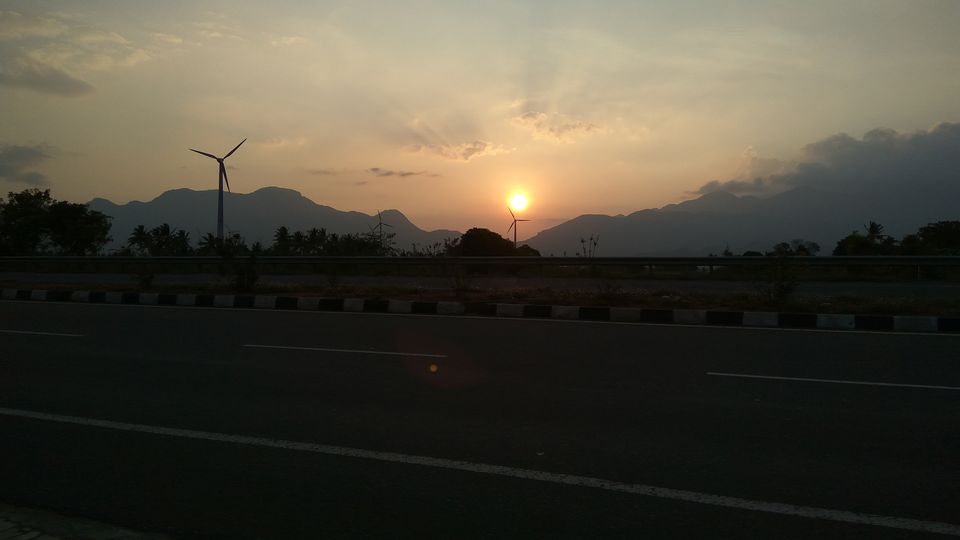 Two bikes, over 1700 km of asphalt and an unforgettable experience.
The trip began from Bangalore at 4:00 AM when the plan was to cover a whopping 665 km in single day.
It seemed undo-able in the beginning but as we began our journey on the 4 lane highway it became easier to see ourselves reaching our destination well before time. The target initially was to see sunset in Kanyakumari.
After a few tea breaks and a 436 km ride on NH 44, we reached our first stop (Madurai). The ride was pretty smooth owing to the 4 lane national highway and there was hardly any trouble crossing any area in the 436 km stretch. We managed to cover it in a span of about 6 hours. There were a few tea and petrol bunk breaks but because of the smooth road, we managed to make good time.
I am not exactly a big fan of temples but this one definitely took my breath away. The architecture that you can see here is pure bliss and the carvings will leave you spell bound. At the very entrance you will be able to see the tower welcoming you to Meenakshi Temple with a variety of idols carved in stone on the tower. It just makes you wonder, how much time, effort and money was spent to build this marvel. This marvel was built keeping in mind all architectural details. Initially it was designed in the form of a square and owing to this square shape, it has entry gates from all the four directions. There are 14 Gopurams inside the temple, the tallest one being 52 m in length.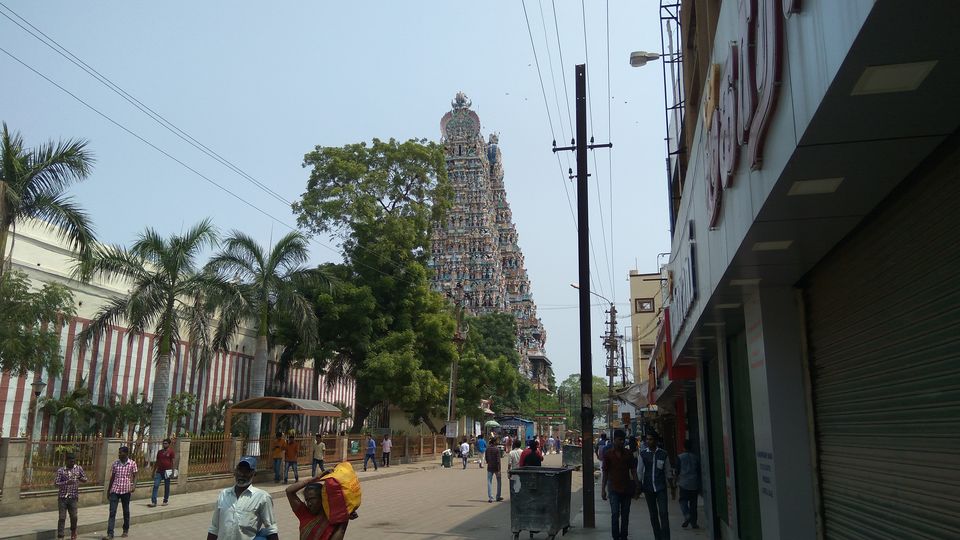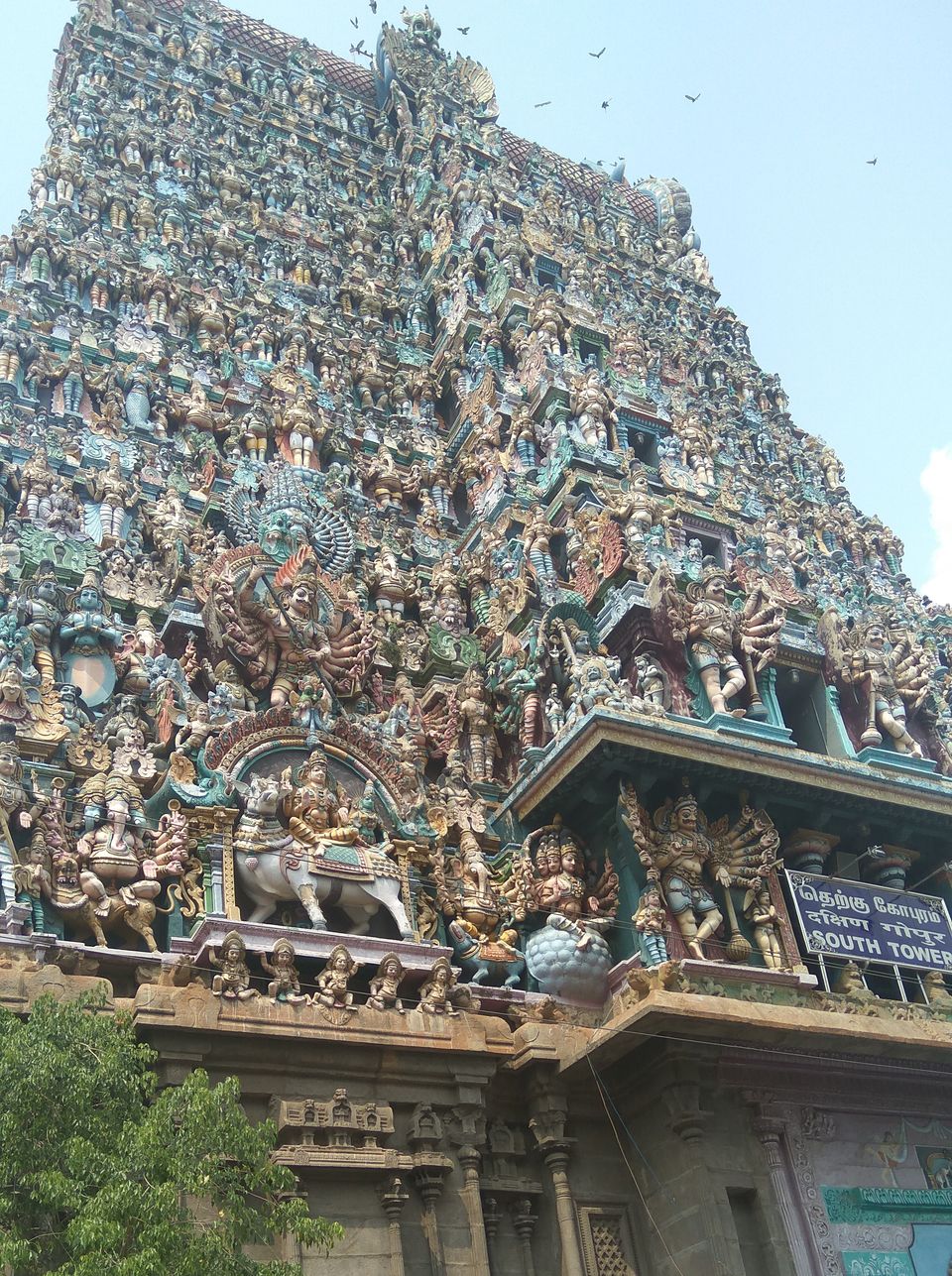 We reach there during lunch time so the crowd was very thin and we were the last people to be allowed entry. We spent about an hour exploring inside the temple and sitting near the small pond inside. Since it was hot outside, we were a little reluctant to continue our journey to Kanyakumari and preferred to wait till it became a little cool.
At around 3 PM when the weather cooled a little bit, we again started for our final destination. There was another 244 km to cover and a timeline according to which we had about 4 hours. From seeing the sunset firsthand in Kanyakumari, the target had shifted to reaching there before sundown. The road complimented our determination to reach by providing straight clear stretches. All the way it was NH 44, which is a 4 lane National Highway so distance was not that big an issue.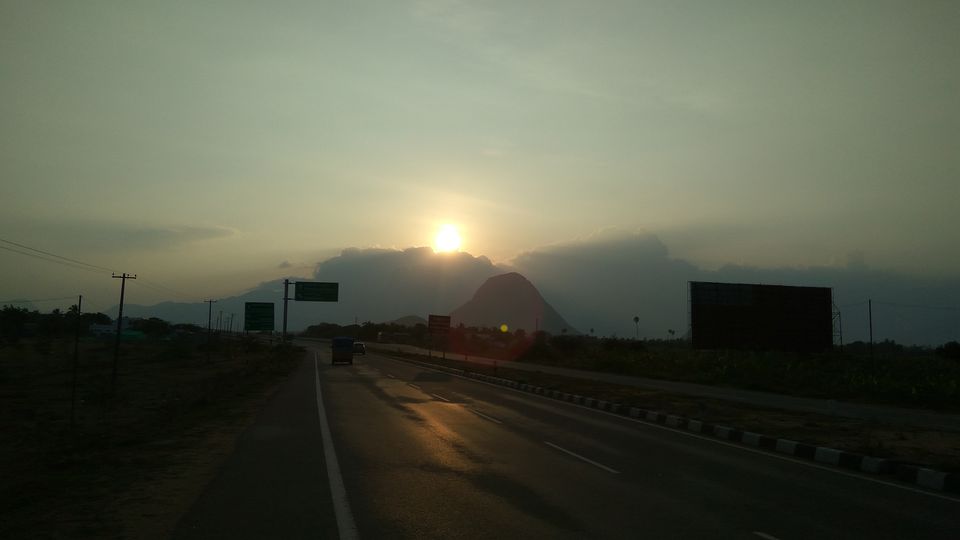 After covering 150 km it started hitting us. The feeling of drowsiness and losing the excitement of the drive. It's pretty natural to feel so when you have driven 570 odd km in a day. Just to rest our senses and regain hold of the concentration, we took a short break at a CCD right there next to a Petrol Bunk. My fellow rider, Chakravarthy was so tired that he took a power nap of 15 min before we started again. This time we were refreshed and pretty sure that we were going to make it till the end point.
After covering another 100 km, the views just started getting better and better. This was the section of road which I remember vividly till date. It was a drive on plains which give views of the mountain ranges around the plains. The surroundings were so clear that you could easily see for kilometers without any obstruction.
With every passing minute the view was getting better and better. From the burning yellow afternoon, the sky started turning into a smooth velvet orange with the sun setting in the nearby mountain range. The last rays of sun came from the side of hills visually demonstrating the Tyndall effect. After we were out of hills, the national highway went though a wind energy farm. Those wind mills combined with the leftover hill section and the setting red sun gave us a better sunset to witness compared to what we could have experienced at Kanyakumari.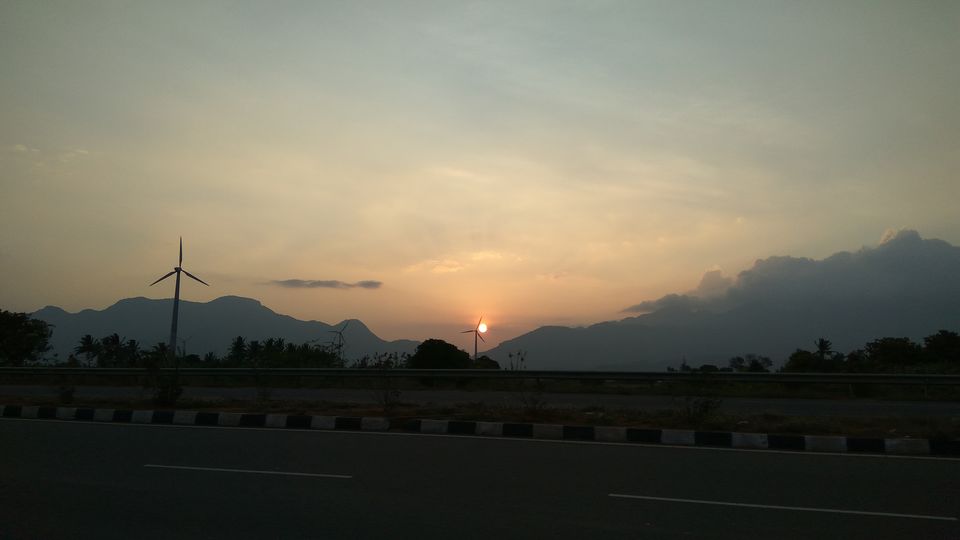 The best part about this sunset was whenever we thought that the views for a bike ride just can't get any better, God surprised us with a more vivid and colorful view of the setting sun very next minute. The drive combined with the views make one hell of a road trip and is highly recommended for any biking enthusiast. We finally reached Kanyakumari at 7 PM. We were not able to see the sun setting in the ocean but were satisfied that we got to see something which was equivalent to that.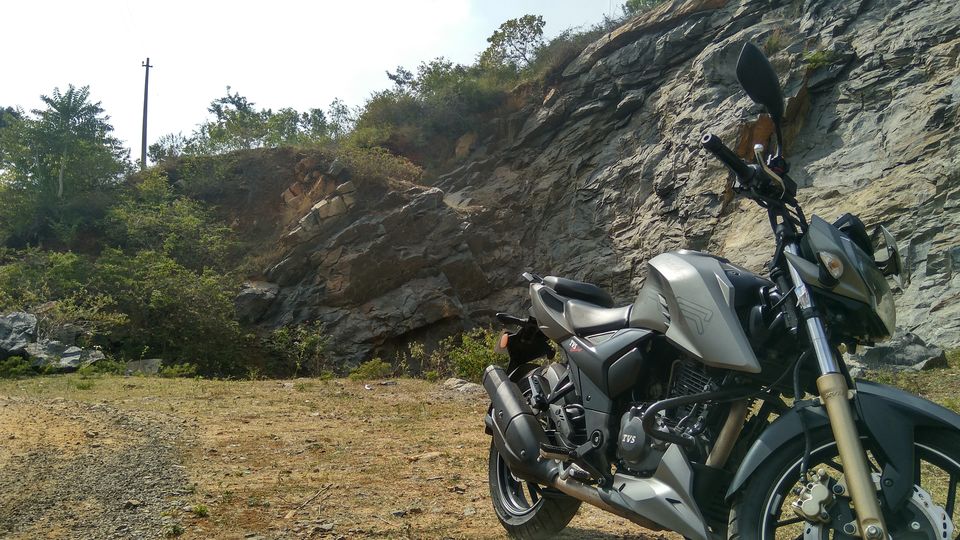 After reaching the first task was finding a place to crash. We were so tired that all we could dream of was a bed to sleep. We found a hotel pretty easily within 10 minutes of reaching Kanyakumari. There is an abundance of hotels near the main circle of Kanyakumari and you can find Hotels fitting in every budget there.
And that is how we managed to cover 700 km in one day. It's the longest drive which I have taken till date, followed by a Bangalore-Hyderabad trip but the views it offered and the endurance my bike showed all the way is something I still keep safe in the back of my mind.
Reaching there:
Bangalore to Kanyakumari is a straight drive on NH 44. Around 670 km and you'll reach Kanyakumari
However you should keep some things in mind before taking such long bike trips
a) Get your bike serviced. All the engine oil is going to get depleted by the time you reach back to Bangalore. Apart from engine oil, the bike is going to need all the help it can get in preparing for the long ride.
b) Carry raincoats. You might find yourself in the middle of rain at times. Since it's a coastal area, rains are pretty common. A raincoat just might save your day of drying clothes after getting drenched on the bike.
c) Take regular breaks after every 100-150 km and keep your body hydrated. These breaks are for you and the bike too.
d) Don't rush the last stretch of 100 km. It might seem like nothing and you might want to rush through it at top speed but that is the exact time when you need to be extremely cautious.