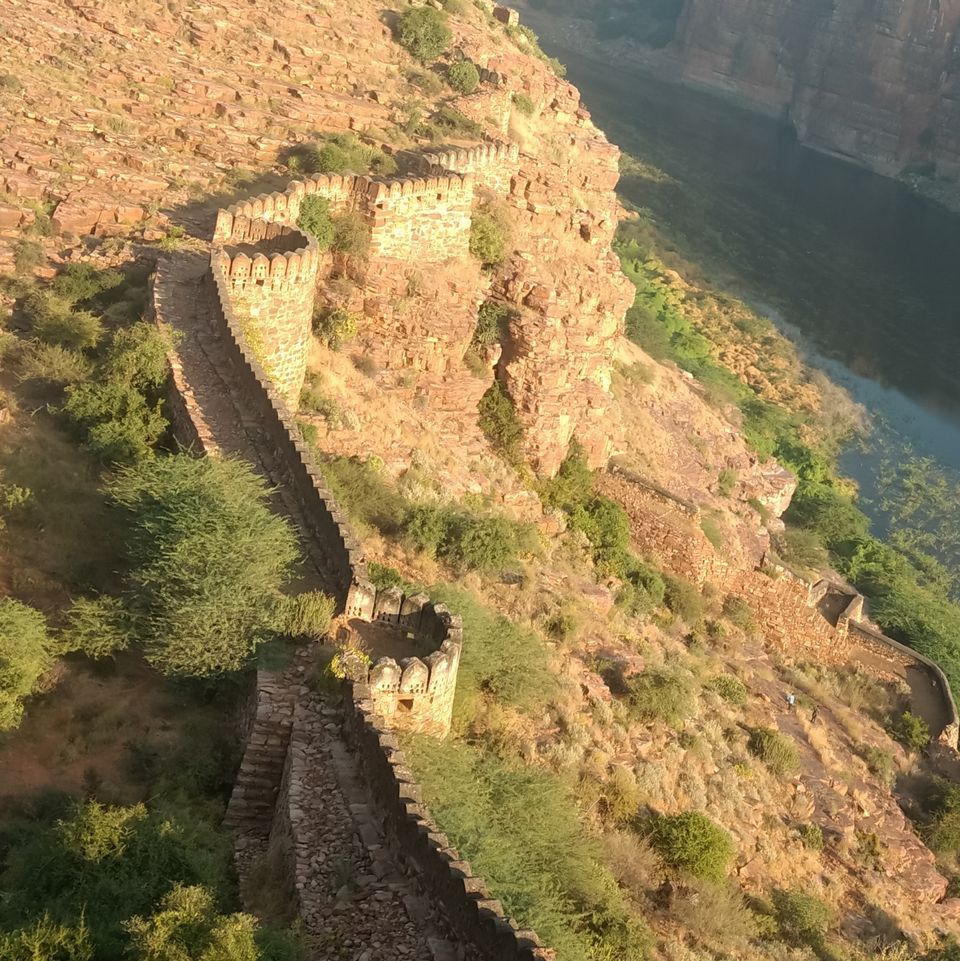 Geological miracles - Gandikota & Belum Caves.
[26-Nov to 28-Nov'16]
Chaiyeee! Chayee!! Chayy!!! a shrieking sound disturbed my sleep. It's Daund and next station is Pune :( End of Journey??
Few of my mates were already woke up; few are still in deep sleep. After freshen up (Saare PAAP dhone k baad – It's milky Rakesh theory :P) started packing my bag and had a tea. Flash back of last 2 days running in my mind & reminded me a famous quote…
"Travel does not exist without home… if we never return to a place from where we started, we would just be wondering, lost. Home is a reflecting surface. A place to measure our growth and enrich us after being infused with the outside world."
Have 3-4 options where to go on weekend… bit confused so did… "Akkad Bakkad Bambe bo…" and it's Gandikota – Grand Canyon and Belum Caves – India's largest underground cave.
The only thing I knew about this tour is I've to go by 'Chennai Express' and saw some clicks of places… That's it!
So I welcomed on Pune station with a HAVRAT voice Aee… Shrikhand! Aeee… Shrikhand! Aee… Shrikhand! Ha…Ha…Ha… :D Almost after 1.5 yrs. got a chance to meet these crazy guys Rakesh, Vikas & Kedar… Khandala Canyon was first time. After Hi! Helloo!! With Vijayslaxmi, Kanika, Merlin Miranda, Leanne (Karishma :P), Surendra Ji, Rakesh (Silky wala) and Kalpesh… Train started with 'Shit' talks… :D :D Now… Most awaited… Opened Biryani packets… Ahhaa… damm it's so good, awesome everyone enjoyed Biryani and Shrikhand too. Aatma Trupt! We exchanged our experiences about Treks, tours we had and discussed about Gandikota canyon… Big Yawn…!
Good Morning! Woke up early… Day-1 started.
It's lil bit cold, Fresh air! Joined discussion with VijayaLaxmi and Merlin. Merlin ne to Baithe–Baithe… Leh-Ladhak, Kashmir and Hampi ki sair kara di… it's nice to listen people while traveling. In no time you will get bunch of experiences. :) Farms of Chillies, Cotton, Tuvar were running behind; was enjoying oranges bought by VijayaLaxmi. One local lady came to sold jungle honey and was amazed by her convincing (marketing) skills, great! Train boarded on Guntakal station. Had Dal-wada and Lemon Rice… Yummy! Me and Vikas finished last night Biryani with curd… maja aa gaya! Meanwhile had a naming ceremony for Rakesh Yadav he is now 'Milky Bouy':P and Our Vikas is 'Chong Vikas'. :D
Surendra Ji… a very particular man was checking his watch… packed his stuff and almost ready. We were about to reach Tadipatri. Aa gaya bhai Tadipatri! A small neat and clean station. So we all 21 gathered here. Our leader gave us few instructions actually a regulatory to follow and we were welcome by Mr. Reddy : )…( A local person who arranged transport for us)
Change of plan, a good decision by leads instead of going to APTDC hotel decided to take food nearby, (Mr. Reddy helped us) as we were running short of time and Tummy is also… everyone is hungry. Drive from Tadipatri to Gandikota takes another ~2Hrs 30Mins journey by road. Food is good bit spicy… reminded us we are in Andhra! And Curd Rice is Ummwhaaaa! Chalabagundi!!!
Now, we headed towards Gandikota. Few are started feeling sleepy… Dozze! Me, Vikas, Rakesh, Kedar n Kanika we all took our place just beside to driver adjust ourselves. If you are always like to sit in front with driver – It's one of the sign that you are born traveller. :) On the way Big farms, herds of sheep's was good treat to eye. Kedar n Kanika started sharing their Rajasthan Backpacking experiences it's awesome simply amazing and I realised what I missed. :(
Anyways, red soil was indication that we are in Rayalseema region – KADAPA (YSR District), surrounded by Nallamala and Palakonda hills. Acquired this name with its relation to the Tirumala Hills. On both sides can see lots of small and medium industries like Spinning mills, Sand lime bricks, Granite cutting and polishing units.
A huge flyover on Pennar River… Almost reached, Clock shows its 3:50PM. Someone confirmed that Sunset time is around 5:30PM… I think… Merlin. It's APTDC 'Haritha hotel' which feels like resort. Cool and calm, can here chirping of birds clearly. Gathered at common area, got the keys of our rooms. Pasha and Bapji (care taker of hotel) are the only person who knows little bit Hindi.
So to catch the sunset, have back in no time as instructed by leaders. Hotel is very near to Gandikota fort, hardly 10 mins walk.
Gandikota Fort (Gorge Fort): Gandikota derives its name from two Telugu words 'Gandi' means Gorge and 'Kota' means Fort. It is a stone fort built upon a hill (Erramala range of hills). Guarded by a huge entrance gate 20 feet high and 101 bastions each over 40 feet high. Still in very imposing structure. Believed to have been built during the latter half of the 13th century A.D. Within a fort, there are many interesting places of worth seeing. 'Ranganathan' and 'Madhavarayaswamy' temples, built during the 15th and 16th centuries, are adorned with sculptures in an architectural style reminiscent of the Vijayanagara period. Juma Masjid, covering a huge area stands next to a large granary, used to stockpile food during the time of a siege. An impressive Pigeon Tower, water tanks and Jail.
We headed straight for sunset view. It is an almost flat trek amidst rocks. Meanwhile got to know that there are many birders in our group. :) Mr. & Mrs. Samvastar spotted long-tailed shrike. :) Surendra Ji confirmed it! and our bird list continues with… Indian Robin, Warblers, Sunbird, Munia, Drango …
Rakesh has already taken his place on top of huge rock to catch the sunset view in his camera. Everyone is busy in taking pictures in their cameras and mobile. Nice.. scenic sunset! OMG! Crazy gals… they must have come up with extra memory cards… Loads n loads of selfies! :D
On the backside breath taking view of the gorge and the Pennar River a deep valley and impassable hills, with massive stones of red granite and the river flows about 300ft. below on the west and northern sides. This also affords strong natural defence to the occupants of the Fort. It's Grand Canyon. Woww! Phenomenal!! I wish my eyes could take photos. Layers and layers of rocks, felt like they are arranged purposefully. In no time one can start meditating by just sitting on cliff of gorge. Yellow, orange rocks already turned into Reddish maroon –Sunset added more colour in it. Incredible colour show! Now it's turning to dark n dark maroon and finally ample dark. All we were resting on cliff.
A Twinkle… "See Venus" –Leanne, History student. Everyone started looking up into the sky. Show after show… sky started lighten up with stars. Also observed 2-3 moving starts don't know what it is exactly but we were busy in applying our fadu logics… it could be UFO, Satellite… He..He… Someone said Aeroplane :P. I was just thinking what will be the colour of this Red stones on Full Moon… Just Imagine!! :)
We started moving back to hotel. Slightly discussion turned to ghost stories by taking affordable benefit of darkness. Me and Rakesh actually added background music by making some weird spooky sound. Believe me it worked!! Our group about to cross the second corridor of the fort adjacent to Main door of the fort. It's complete dark! And suddenly a big ghost sound… which got disappeared in screaming sound… :D … Aaaaeeee…Eeeee…!!! Ha Ha big fun… I think Aparna (Doubtfire) and Meena (detective Meena) was more scared ;) Dhamal…!!!
After dinner, the main attraction was Bonfire. It's our time… time to mingle… yes time to mingle because we have a group with superb age variation from teenage to old age. ;) One thing to notice here… oldies are grown older like Vintage wine! :) Had a nice introduction round… but was it Bonfire Holi thi bhai Holi… itna bada bonfire… Maa kasam! Fun begins: D notifying everyone's expression after 'Imali Zatka' eeeYoo!! Chit-chat started… again few haunted stories… Aparna k doubts :( My god! Chotisi Bollywood mehfil. Guys like Avadhoot and Kalpesh really cool and calm. Tom-N-Jerry fight of Rakesh n Rashmi added more flavour in entire tour. Till the time bonfire settle down… people started moving slowly as we must have to be ready tomorrow early morning by 6:00AM. Ab bas bache-kuche hum aur apani apani yaadein!
Gooood Mooorning Gandikota!! (Day-2) What an enthu… all were ready on time. :) Watching sunrise through Grand Canyon! Aaa..haa…!! Again reflection of colours… I am gonna mad yaar. What a beauty! "Aafree Aaafree! Husn-e jaanaa ki tareef mumkin nahi."
'Khichak-Khichak'! Selfie, Groupee, Solo... Yo! Sana –ye to selfie ki Sikandar hai, Meena also follows her barabari ka mukabala, Rashmi –Her OneThird(1/3) photos could be in some classical Indian dancing pose. A big smile on Kedar's face… Finally he has his GoPro with him. :D Aparna was trying to be fit in a frame such a way like she did some adventure ;) also insisting same to Rakesh (silky) and other guys.
We were exploring the fort… The entire fort wall has a perimeter of five miles (makes it one of the largest forts in India) and the length of the gorge is about 4km and depth up to 700 feet at certain locations.
Now the most beautiful sculptures… Ranganathan and Madhavaraya Swamy temples… Ranganathan swamy temple made of red granite, though there is not a single idol of Gods. Still there is something mystical which would keep you engaged for an hours. Whereas on other side Madhavaraya swamy temple dedicated to lord Vishu, is a fascinating play of architecture with many sculptures of Hindu Gods and everyday rituals of common people carved on the pillars and walls of the temple.
Back to school days! :) Enjoyed Khatte-Mithe Ber, Sunflowers seeds, Aparna managed to get full bag of Sunflower seeds with good negotiation. Our Chong Vikas has given some Martial Art poses: D again Dr. Rashmi with classical posture. :) Merlin wove some flowers very decoratively which was really looking nice on her. Finally had actual group fotu here :) Reached hotel for breakfast… Took 6 Idalis :D 2-Bowls of Chatani & Sambar… person who was serving started laughing looking at my plate ;) but who cares! And who bothers!! Chong ka naya funda ;) Chai–Idali … Yaaa.. mast tha!! Pongal and tomato pickle was also nice combination. :) time to say BByye to Gandikota!
Rajuu… Nikalo Gadi…
Journey began for entirely different world. Actual 'underworld'! A flip-flop situation… till the time was praising the beauty of nature. Now it's time to surrender your ego against power of nature! Supernatural!! Belum -name derived from Sanskrit word "Bilum" (hole - caves). One of the largest underground caves in India –Belum Caves. We welcomed by giant Buddha statue. A place was much crowded due to some local schools Picnic to Belum caves. Total length of caves is around 3229 meters but hardly ~1500 meters is open for visitors for obvious reason. There are still several passages that are yet to be explored. Caves were formed by the action of water Chitravati River flowed on limestone deposited constantly over millions of years, forming stalactites, stalagmites, siphons, sink holes, and water galleries.
Entry of caves makes you realise that it's something mystic. A cave actually begins from 'Sinmhadwaram' it looks like lions head. While crossing at some places you have to actually crawl or bend. Also you will notice temperature difference while roaming in caves. "Yaar ye Ganpati decoration jaisa lagta hai" –Vikas stated rightly. Within cave visiting Mandapam, PatalGanga, Meditation Room, Banyan tree hall, Thousand hoods, Maya mandir ….etc is just Woww! Incredible!! We were exhausted and sweated a lot… trying to capture/record structure of limestone, decorative stalactites & stalagmites.
Yo! What a tempting smell… some school staff was serving Pulav Rice to students… which made us hungrier. I tried to have a bite of that… but could not get it, school staff was very strict. :( Food is ready thanks to our leads and Mr. Reddy. Its local food… Yummy Rassam Rice, curd. Some lucky fellow got fish curry. Resemblance of school kids… :) we sat in big round form on ground and enjoyed food. :)
Husshh! Time to catch the train… back to Tadapatri. On route visited Rameshwaram (Ramlingeshwara) temple. Marvellous, amazing architecture. Had a Darshan of Goddess Jogeshwari, Rama-Stia-Laxman and Shivlinga installed by lord Rama. Shivlinga was decorated by colourful, fragrant flowers. Water flows from bottom of Shivlinga. Pujari sprinkled this holy water on us. :) felt divine.
In route to Rameshwaram and Tadipatri had a small round of Antakshari… Believe me it's a mandate! 'Agar Antakshari nahi kheloge to India ka koi bhi outing unsuccessful hai :P :P :D'. Bad luck with "Jonnu" this time ;( not getting?? It's Shrikhand! :D but Yess!… our great leader Kanika and Rakesh bought Kasata Ice-cream for us :) B..Bye Mr. Reddy & Raju. We were at Tadipatri station and crossed the platform while enjoying ice-cream. :) Ooo! Got to know that today is Anniversary Mr. & Mrs. Samvastsar. What a way to celebrate. :) That is the reason I said earlier oldies are grown older like Vintage wine! :)
This time we all are in one coach. :D and train started with mixed feelings. After arrangements of births … it's MAFIAAAA time. ;) Instead of playing MAFIA explaining rules and regulations of game was big task for Kedar and Rakesh – The only reason is Doubtfire Aparna. Game started, don't know why every time Mafia killing me very first time and Doctor is taking zero effort to save me. ;( :( Meenaaa… played very good role of Detective! Dhanya ho aap!! Both Sawant's… Kalpesh & Priyanka… has same expression for every role one is too calm and other one with very broad smile. Sana, Rakesh (silky), Rashmi, Kanika, Kedar, Rakesh n Vikas contributed well. We ended up with funny memories. Good Night to All! :)
Day 3 started – I am still looking at empty tea cup. End of flash back!! Pune about to come… packed my bag with loads of memories and said Good Bye to everyone!! :)
Thanks to MT for adding one more fabulous experience in my life!!
- Vaibhav Kudale.
#Gandikota #BelumCaves #MumbaiTravellers