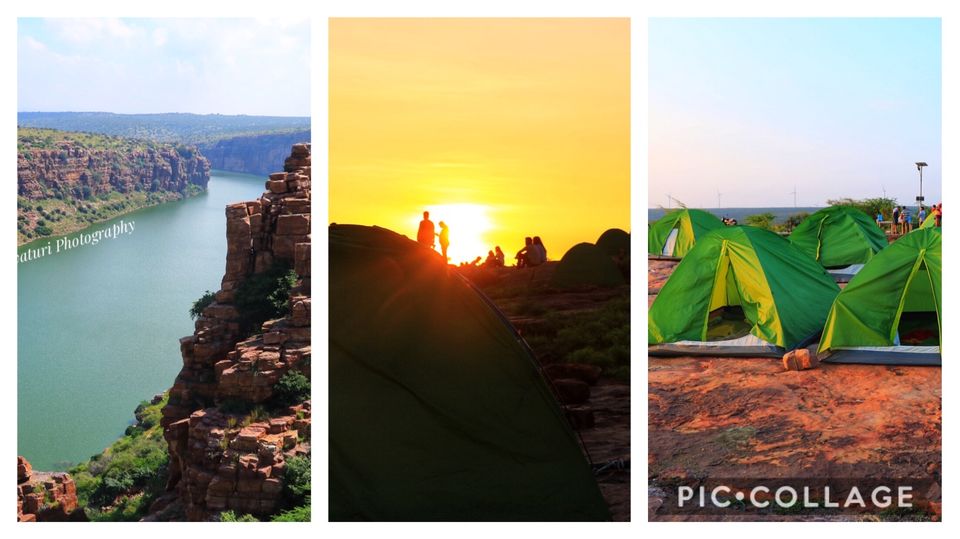 With Friday, Nov 1st being a holiday in Karnataka for Kannada Rajyotsava, my wife had a long weekend. I decided to take a day off from work to make it a long weekend, and planned a road trip with family (kids and parents). The thought came to mind while I was speaking to a colleague at work about his hometown (Proddatur). As I looked at the map, I realized that Gandikota (The Grand Canyon equivalent in India) was nearby, and a 2 day weekend trip would be ideal and we would have a day in hand to rest.
Then, as I started researching about other attractions nearby, I learnt about Yaganti, Belum Caves, Gooty fort, Tadipatri, Ahobilam, Mahanandi, Kurnool and Alampur. Each place had so much history, culture, mythology, and religious prominence that it was not to be missed. We realized that to cover all these places, 2 days was not going to be sufficient. Finally, we decided to make it a 3-day road trip, and also cut down the places to visit. There are several blogs from people who have a 2-day itinerary of combinations of these places (Yaganti/ Belum Caves/ Gandikota, or Gandikota/ Ahobilam, or Mahanandi/ Alampur, or Mahanandi/ Ahobilam - and the list goes on).

THINGS TO BEAR IN MIND:
Because we were traveling with kids and parents, we had to keep in mind the following:
Accommodation - these are remote places, and good accommodation is not easily available. So you need to plan slightly in advance. We booked camping tents in Gandikota for the first night, and a hotel in Nandyal for the second night.
Travel - Plan/ Book your own travel and know the routes (and nearest cities/ towns). You will be traveling through farm land, villages, and help may not be imminent.Plan with a contingency of 3-4 hrs (unforeseen incidents, traffic, flat tire, kids/ parents wanting a break). We rented a 7-seater vehicle from Avis Rental India. It made the journey comfortable. Roads are amazing - NH40 and Rayalaseema Expressway - both were a pleasure to drive.
Food and Water - Carry bottles of water with you (again, because of the remoteness of some of the places). We did not have much space left after packing our luggage. So we took 5 liter cans (easier to handle), and 1-liter bottles from home to refill as and when we needed. There are plenty of food options along the highway, so that is not an issue.
Read up about the places you are visiting - one will not be able to appreciate the value unless they know what is the history behind these temples, and their architectures.
Enjoy the journey - it's ok if you miss a place or don't stick to schedule. You can always come back another time. We missed seeing Orvakal rock garden and Konda Reddy Fort. But we still have amazing memories of the trip!
Here is how we planned our itinerary for the trip (we planned on our own):
Our ride - Avis Rental Car (comfortable car, good service) - suggested by a friend.
Day 1 (Nov 1, 2019)
We started from home around 5.20 am.

Had breakfast at Food Pyramid (140kms, 7am), reached Yaganti Temple (Agastya Cave, Pushkarini, Venkateshwara Cave) by 10.30am (temple closes at 11am). It took us almost 2-3 hrs to see all temples and caves and to have lunch.
This little known place is house to the Uma Maheshwara temple and caves where Agastya Maharshi performed his penance for Lord Shiva. The temple architecture is reminiscent of Chalukya style of temples (red sandstone temple). Story goes that when the crows disturbed him, he cursed them not to be seen anywhere. Till this day, there are no crows in this area (but a lot of monkeys are found in the temple vicinity). The temple was originally planned for Lord Venkateswara, but the idea was dropped when the idol had a broken toe nail. Later, the idol of Uma Maheshwara (half Parvati & half Shiva) was found in the premises (rose from the earth), and hence the temple dedicated to Uma Maheshwara. There are three caves (moderately difficult to climb), of which in one of them Agastya maharshi performed his penance.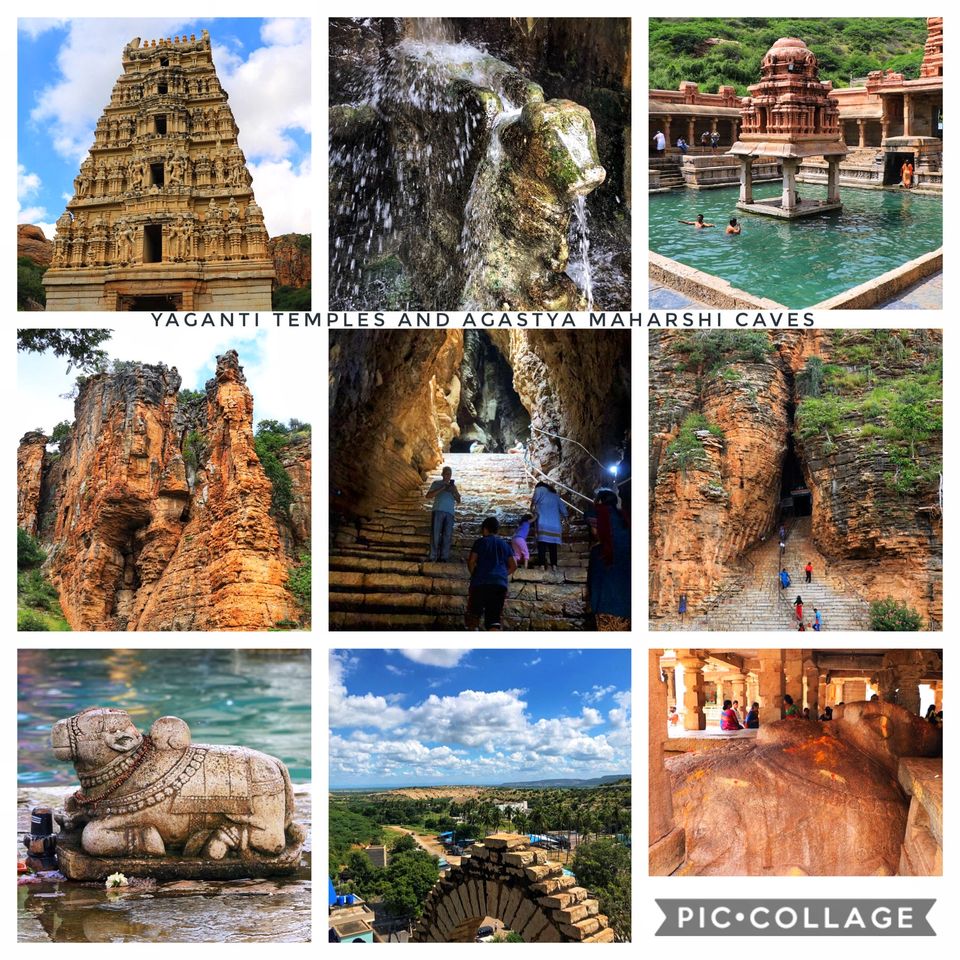 Due to shortage of time, we could not, but if you can, please visit Katavani Kunta (500,000 years old rock paintings) - paleolithic art (they are 20 mins away from Yaganti temples).
From Yaganti, we went to Belum Caves - largest underground caves in India and spent 1 hr there. Due to recent rains, some part of the cave was waterlogged, and we could not go to the end (1.5 kms long caves).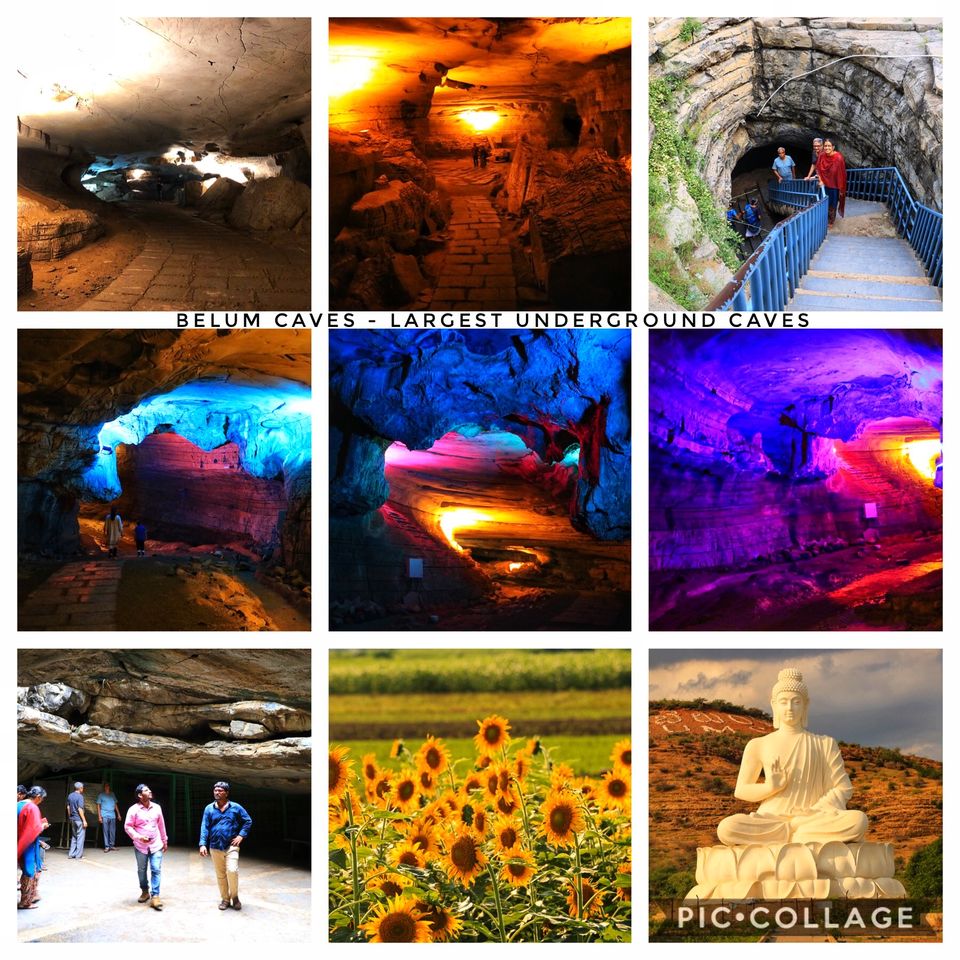 Our next stop was Gandikota. We reached there (via Jammalamadugu) just around 5.10 pm. Sunset was at 5.47pm, so we were just in time. We watched the sunset from the Gandikota fort steps.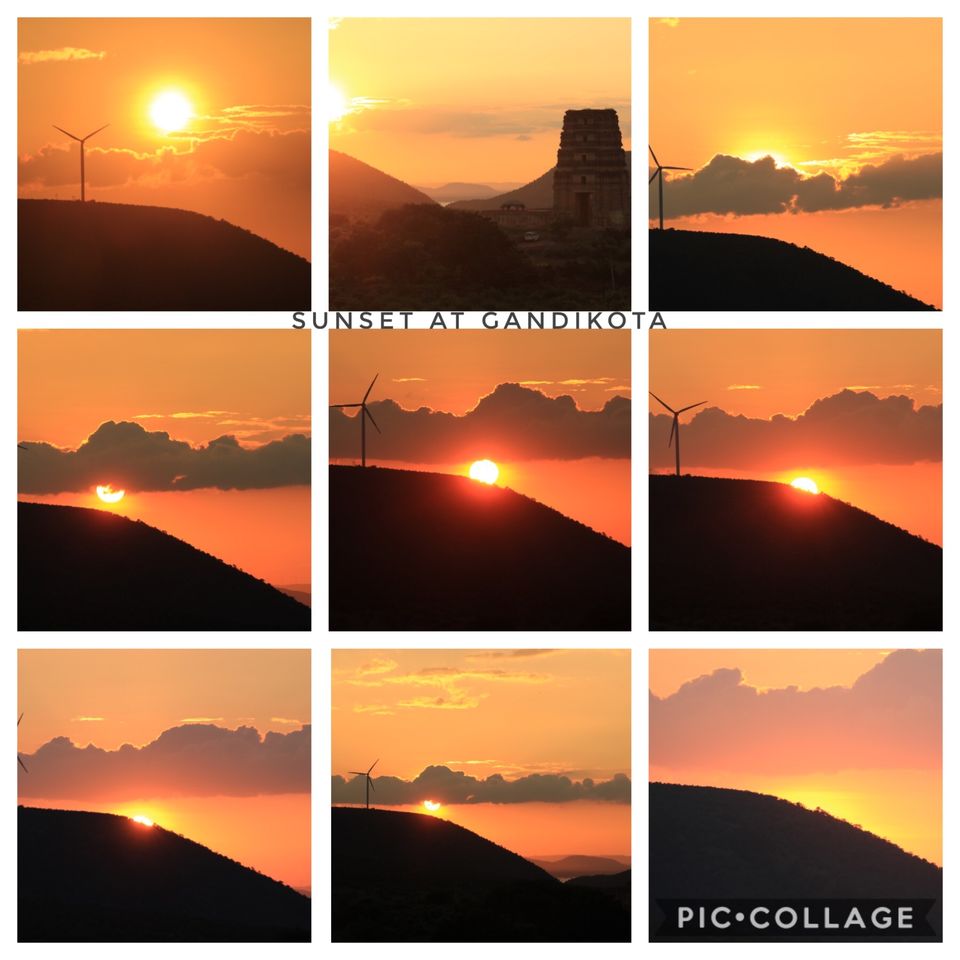 After the sunset, we freshened up in Haritha resorts and then camped in the camping site for the night (we used "Camping at Gandikota") - AC and non-AC tents are available if booked in advance - totally safe and worth it. APTDC offers tents and cottages too, but after doing our research, we decided to camp with someone else. All food, washrooms are provided by APTDC Haritha Resort (as it is a small village). There are limited options for food with 2 small hotels near the fort.
Day 2 (Nov 2, 2019)
We woke up early, and watched the sunrise from the cliff overseeing the Penna river. We got a picture of how, and how many camping tents there were. Weather was pleasant at night, and it started heating up in the day. This place is best visited in the winter months.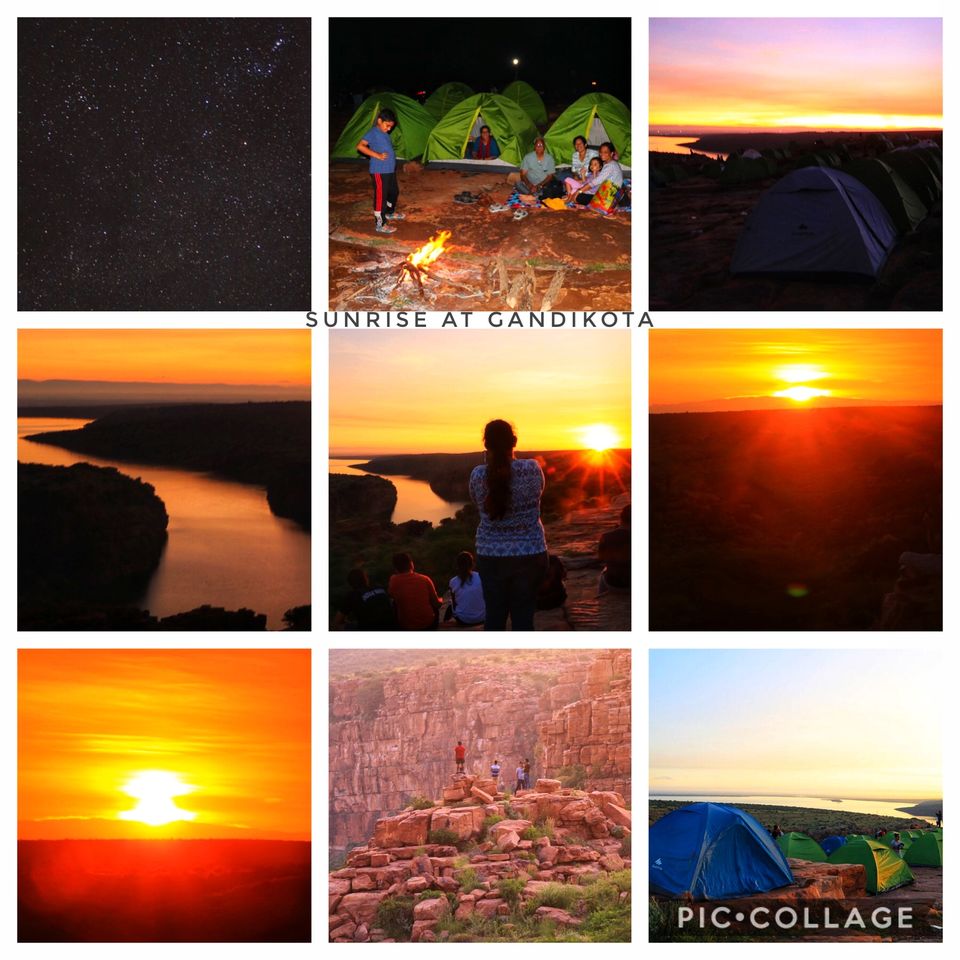 We went for a short morning stroll, followed by breakfast, drive through the Gandikota village and saw the local ruins - Jama Masjid, Charminar, Ranganayakula Temple, Mahadevula temple and view point (of Penna river). Gorgeous gorge! The local guide wanted to take us to the waterfall too, but we skipped it as we had to reach Ahobilam before lunch.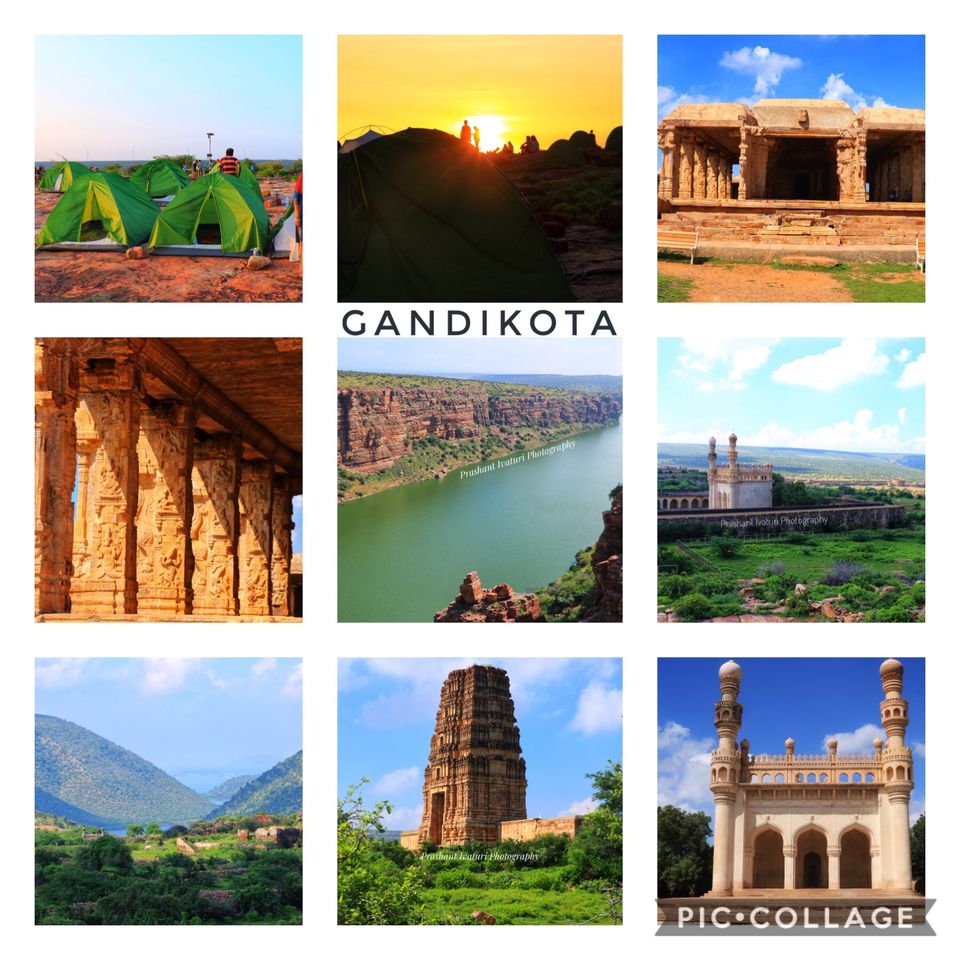 We finally left for Ahobilam by 10am (2 hrs drive) & reached upper Ahobilam by 1pm. As it was a Saturday, vehicles had to be parked much before reaching the top. Free service vehicles took us to Upper Ahobilam. It was fun to sit in those share auto style vehicles. We had lunch in one the Brahmana Nitya Anna Daana Satrams, followed by visit to the 4 Narasimha Swamy Temples - it is impossible to cover all 6 of them. They are not easy to reach by foot, and need trekking shoes. We tried to cover as many as possible (till 4 pm) as temples close early in Upper Ahobilam. The temples are nested in the forest, beautifully. Please carry water with you as options to buy/ borrow are less. There are natural water streams, but they are not easily accessible.
After Upper Ahobilam, we drove to Lower Ahobilam and visited the Laxmi Narasimha Swamy temple (it is open till 8pm). This temple's architecture was noteworthy, and this temple complex was huge.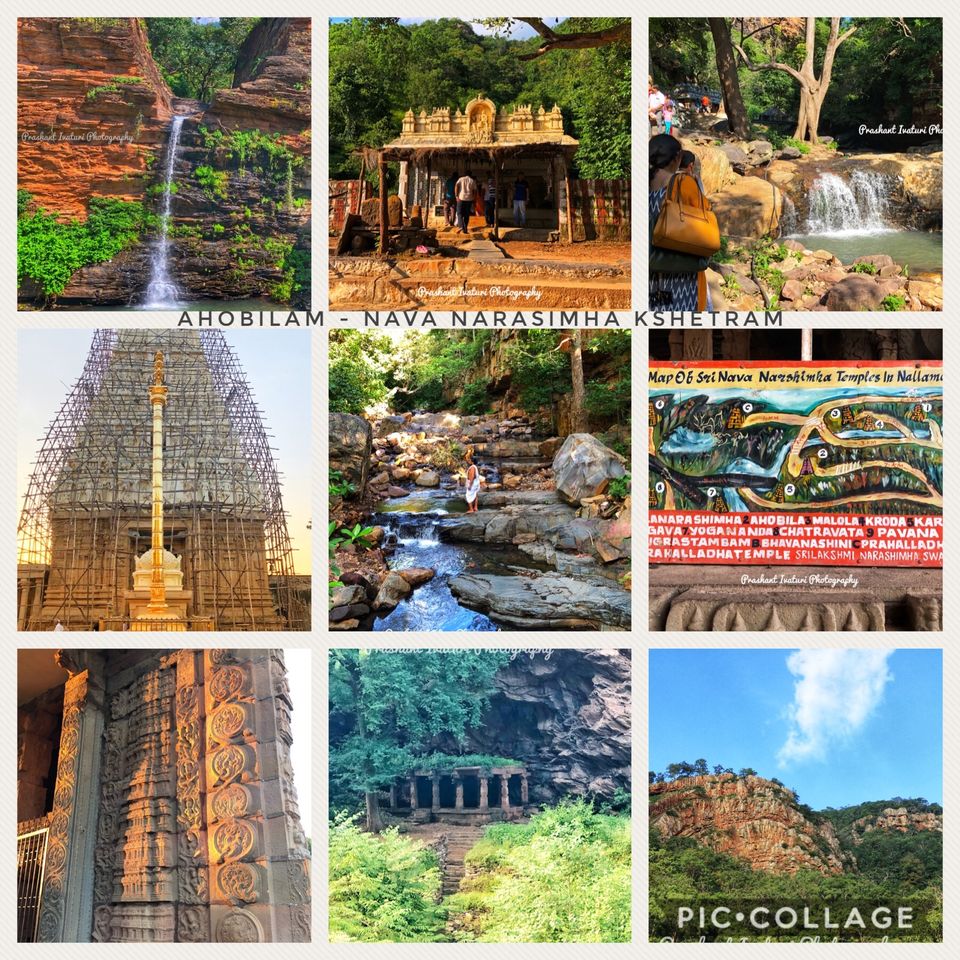 As Ahobilam is a small village, we had planned our stay overnight in Nandyal - nearest town with decent hotel facilities. It is 60 kms from Ahobilam. We had dinner in Nandyal (Shankar Vilas Veg Restaurant) and then checked in to the hotel. The hotel rooms were big, but quality of the rooms was deplorable.
Day 3 (Nov 3, 2019)
After breakfast on day 3, we started to Mahanandi Temple by 9.30am. It is a short 15 km/ 30 mins drive from Nandyala. The Mahanandeshwara temple is one of the sacred Navanandi temples in the region. The temple was crowded on a Sunday and we spent more than 1 hr there. One has to remove their shirt if they choose to go inside the garbhagudi. After darshan, we headed to Alampur/ Kurnool.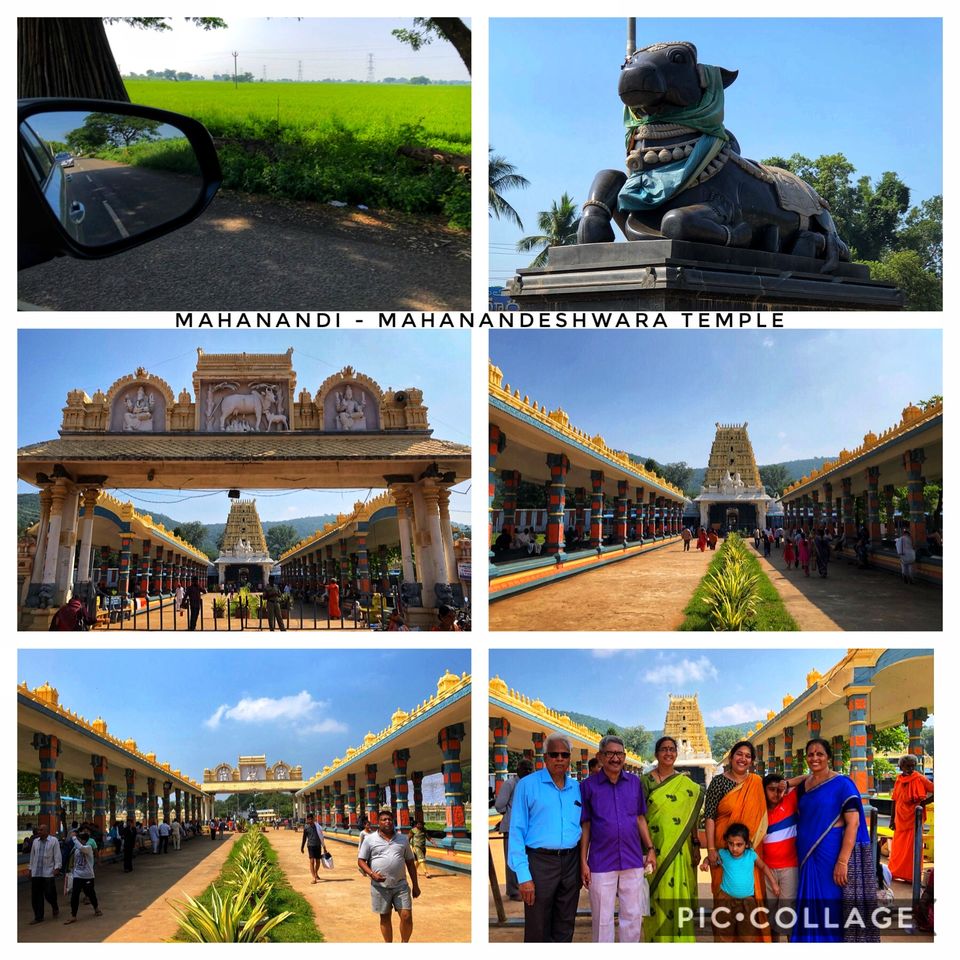 Along the way, there is Orvakal Rock Garden which is unique, but we were running late and everyone was tiring out. So, we decided to skip and headed straight for Kurnool for a quick lunch.
After lunch, we went to Alampur (40 mins from Kurnool) - to visit the Alampur Jogulamba Temple, 5th of the 18 shakti peethas, and also the Bala Brahma Temple, and Sangameshwar Temple, Tungabhadra river view (slightly further ahead, Krishna & Tunga merge - Kritunga), hence the name "Sangam"eshwar temple.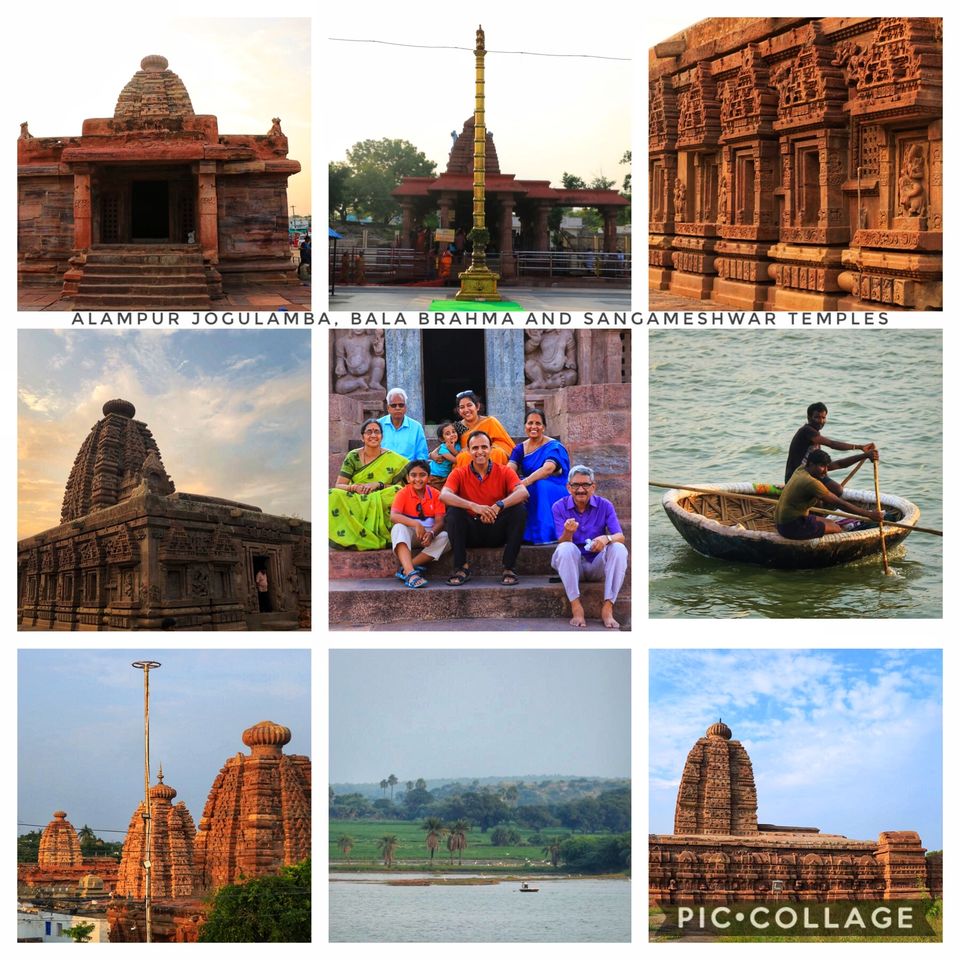 After visit, we left for Hyderabad and reached around 9.30 pm.
Our trip was memorable, with kids and parents enjoying alike. Overall, we stuck to the above itinerary and were mostly on time (I still cannot believe we did it!). Roads, for most part, were smooth and driving was a pleasure. As this entire route was close to Krishna, Tungabhadra and Penna river belt, there was greenery all around. The skies were blue - as blue as they come.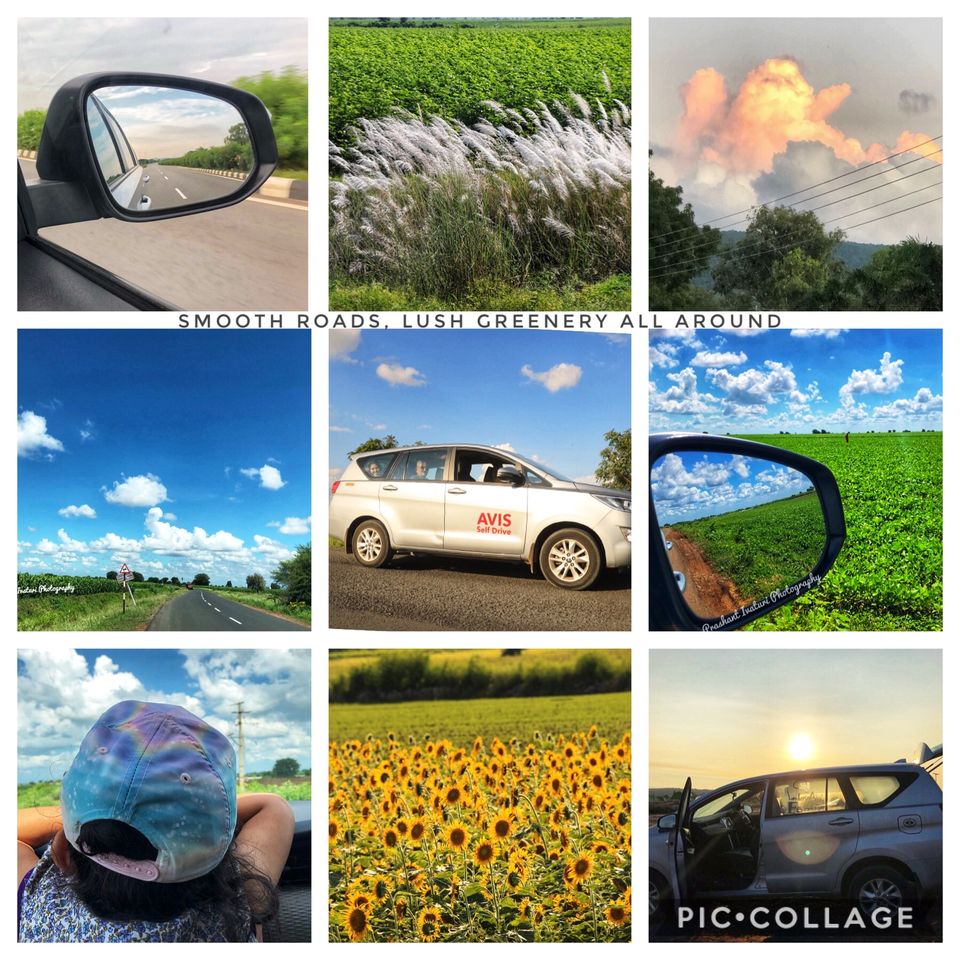 If you are planning the same trip, then here is a handy checklist of things to carry (hope it helps you)
Govt ID card
2 pairs of clothes (1 spare), 1 night wear
1 pair of shoes (for trekking in Gandikota and/ or Ahobilam)
Toiletry kit - Toothbrush, paste, soap, deo/ perfume, sunscreen, moisturizer, mosquito repellent, lip balm
Torch (useful in Gandikota at night)
Umbrellas - despite the onset of winter, it was very hot in each of the places.Camera, batteries, memory card
Water, snacks, plastic covers for wet/dry waste
Sunglasses, caps
Medicines - Pain, fever and any other necessary medication
Warm wear (depending on the season) - One sweater/ light jacket - this was not needed after all.
Towel
Light bedsheet
Outdoor mat (if going in a large group)Mobile chargers, powerbanks, aux cables - as per your need
Reference Articles that helped us plan:
Wikipedia links of Gandikota, Ahobilam, Belum Caves, Mahanandi, Alampur
https://www.tripoto.com/trip/gandikota-grand-canyon-of-india-roadtrip
https://gotirupati.com/yaganti-temple/
https://gotirupati.com/alampur-jogulamba-temple/
https://traveltriangle.com/blog/guide-to-gandikota-fort-grand-canyon-of-india/
https://www.holidify.com/places/kurnool/yaganti-sightseeing-6239.html
https://www.trawell.in/andhra/yaganti
https://www.holidify.com/places/kurnool/belum-caves-sightseeing-2528.html
https://www.thebetterindia.com/65395/belum-caves-andhra-pradesh/
Frequent searches leading to this page:-
weekend getaways near hyderabad, umrah tour packages hyderabad, hyderabad tour packages from vijayawada, hyderabad to varanasi tour packages, hyderabad to vizag tour packages, ancient temples in hyderabad telangana