5 days, 4 friends, 3 modes of transport (sorry but couldn't come up with something better:p), 2 destinations and one reason-We needed a break!Break from routine and chill and have fun. And Gokarna-Hampi met all our expectations!
Day 1: Murdeshwar beauty
It is an overnight train journey from Mumbai to Gokarna and we reached in the morning 8 am at Kumta which is 30 minutes away from Gokarna. We had bookings at Kinara stay in Kumta where we checked in and started for the day.We had booked a car for our travel in and around Gokarna which is the most convenient mode to visit all the places around Gokarna. We started with a visit to Murdeshwar, a small town, famous for the world's second tallest Shiva statue and famous for the Murdeshwar temple. First we were planning to cancel the visit to temple for obvious reasons but I am glad we didn't because it was very beautiful place with serene atmosphere and lovely beach.
After Murdeshwar, we spent our evening at Apsara Konda beach (also known as eco beach); the beach where you feel you own it since it's not crowded!
View from Murdeshwar temple: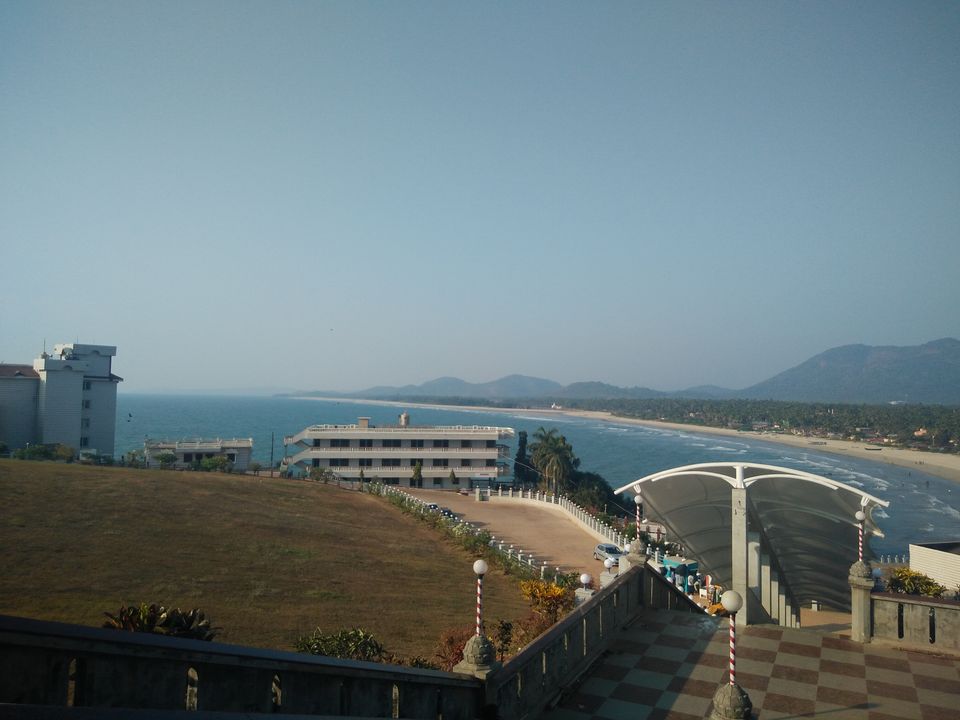 Day 2: Dolphin spotted!! and leopard too:p
We were excited for the 2nd day of Gokarna because we were going to the most hyped beach of Gokarna - Om beach! The day started with full of adventure as we went to visit Jog waterfalls near Gokarna. Background-To reach Jog waterfalls one needs to walk through jungle which is around 700 meters of walk through jungle and we were only 4 of us heading towards waterfall. We started walking in the jungle with full fun-jokes, talks, clicking pictures and as we started moving ahead; the way became scary. 4 of us in the dense forests who were little scared by then suddenly saw the board on the way saying, "Help us protect the leopard" and we got shit scared after reading that and were contemplating our decision to go ahead. And believe it or not we all heard a roar of an animal which we believe it to be of leopard and we immediately ran back to the base point. It was very scary then but became very hilarious moment of our trip later. Long story short-we didn't make it to Jog waterfall and came to know later that there was other safe way to to reach the waterfall:(
We headed to Yana then, which is a village located in forests known for the unusual karst rock formations- two rocks which are tourist attractions over there and has a mythological significance.
Then we visited a famous Gokarna temple and headed to the beautiful Om beach. No wonder it is so hyped! It's beautiful! We had lunch at Namaste cafe-a must try cafe on the Om beach and spent the time at our own leisure. We went to Kudle beach which is quite near to Om beach and took a boating ride to Half moon beach and Paradise beach from there. Best part of the boating ride-we spotted one dolphin and that made our day:) P.S:All these beaches are must go because they are different in their own beautiful way!Also, all these beaches can be done as a trek but we all were lazy bums and took the easier way out of taking a boat ride.
Evening we came back to Om beach and spent our time there sitting and enjoying the view, place and the beach engrossed in our own deep thoughts and lost in our own little world:))
Day 3: Road Trip to Hampi
We started in the morning at 8 am from Gokarna and reached Hampi around 4 pm. The road journey was beautiful but bit tiring!But as we entered Hampi-it's architectural beauty enthralled us! As you enter this ancient village you see boulders and numerous ruined temple complexes welcoming you and making you go awe for it's ancient beauty. For those not aware about Hampi, it is an UNESCO world heritage site.
On the day of arrival at Hampi, since it was evening by then we just chilled near our guest house and had a dinner at Mango tree restaurant which is very nice restaurant in Hampi and where we ended up going two more times!
Day 4: Trekking-Walking-Trekking
We started our morning with a trek to Hemkuta Hill for the sunrise-for which we were late and missed the sunrise but the view was amazing. Then we started with a visit to famous Virupaksha temple and all other important and famous ruined complexes- Stone Chariot, Queen's Bath, Elephant's stable , Sisters rock, Achutarya temple and many more. Suggestion-Do take a guide at Virupaksha temple and Vijaya Vittala temple to know about Hampi and it's history better!
Evening was a time for Matanga Hill trek.When in Hampi, you simply can't miss this trek. It is wonderful sunset point and not that difficult to climb except for monkeys make it little bit scary!
Day 5: It's a last day:(
Today we explored the other side of the river. Hampi is divided by river where the other side of the river is Anegundi village.There are coracle rides to take to cross the river which we had heard lot of and wanted to ride on but sadly since there was no water in the river we just crossed the river by walking and reached the Anegundi village and visited main attractions on that side- one of the best one for it's view being 'Monkey temple' or also known 'Anjani Parvat'.After climbing 575 steps and saving ourselves from the monkeys we finally made it to the top all exhaused but view was all worth the pain!
We chilled at Laughing Buddha shack-also a must go when at Hampi enjoying the "Dolce far niente"(an italian saying which means-sweetness of doing nothing) and enjoying the last moments of a trip full of fun!
We left for Hospet in the evening which is 30 minutes away from Hampi for our bus to Mumbai! And this ended our wonderful trip to Gokarna and Hampi and we were back with beautiful memories to treasure lifelong!!!