Its been few months since i bought Mahindra Thar and wanted to go for a really long drive . All my plans earlier were cancelled to Gokarna & Hampi for unusual reasons. This time need a desperate break from work and applied for a vacation in office to take a break.Fortunately and unfortunately ended up as a Solo trip. Here is the initial plan.
Start from chennai and hit the places - Nandi hills, Lepakshi - Hampi - Gokarna - Chikmagalur - Bangalore - Chennai.
Few places were skipped in the trip due to tiredness and road conditions.
Here is the trip covered in 7 day long drive trip.

Day 1 - Chennai - Vellore - Palamaneri - Kolar - Nandi Hills - Towards(Le Pakshi)
Day 2 - Bagampalli - LePakshi - Towards Anantpur- Hampi
Day 3 - Hampi Sight seeing - Hubli - Yellapur
Day 4 - Yellapur - Sathodi Falls- Gokarna
Day 5 - Gokarna - Trekking to beaches
Day 6 - Gokarna - Murdeshwar - Shimoga - Tumkuru - Towards Tirupathi
Day 7 - Tirupathi - Chennai
Beautiful Moments: Most of the roads and places are first time visit for me. Its combination of forest, beaches and temples/heritage places.
Loved the roads of Palamaneri , Yellapur forest roads, Sathodi falls, Gokarna trekking and Hampi/Le Pakshi monuments and temples. Hated the roads of Hampi to Hubli in the hot sun since the road work is in progress and more diversions. Also hated the last day in Tirupathi. 11 hours of waiting to see Venky on a less crowded day. It took just one hour for ~10 godowns to see the darshan after opening from the vaikundam Q complex .Unfortunately not booked the premium tickets ( started hating TTD , the way money is treated better than the free darshan devotees.)
Here is the detailed trip details
30880KM to 31270KM - 390KM
After a disturbed sleep, by mistake took an opposite route and ended up in Anantpur Highway . From there enquired and then reached out to Lepakshi via Bagampalli. Had a breakfast in a hotel just before the tollgate.
Reached Le Pakshi temple around 9 AM. Le Pakshi is an historic temple built in Vijayanagara empire period. Loved the architecture and took few snaps .
En route to Hampi, thought of visiting Daraji Bear Santuary and hit the route. It was all narrow roads in to a no mans hilly terrains. Reached the santuary around 3PM and was told it was pure luck to spot the Bears by the authorities.
Paid around Entry fee of 550Rs for Jeep & Myself. It was a 4 KM stretch from the entrance and you have a watch tower to spot the bears.
Waited for around 2 hrs and no luck and few visitors have already left . Finally two bears climbed down from other side of the mountain to cheer us up. It was a nice place to keep yourself away from the busy roads, noisy city/towns. Loved it when i was alone sitting for an hour without uttering a word and just listening to the essence of forest.
Peacocks, Monkeys, chirping tiny birds and the breezy wind for more than an hour without an human intervention is lively and lovely moments. After successfully spotting the bears, started to hampi.
Reached Hampi via Kamalpura town around 7.30 PM and stayed in a hotel today to take rest. yesterday night stay made me to find a hotel today.
Day 1 - Chennai - Sriperamapadur - Vellore - Gudiyatham - Palamaner - Kolar - Nandi hills
ODOmeter - 30455 - 30820 (Nandi hills ) - 30880km(Night stay) - 425 km on Day 1
Stared around 6 AM from Sholinganallur and took sri perampadur to hit the bangalore Highway. Somehow tried to escape from the heat waves in the NH. Around 12 PM reached Palamaner.
Gudiyatham - Palamaner is a narrow road but still loved it with trees on both sides and always love to drive in these kind of roads.
Reached Nandi hills around 3.40 Pm. It was a gloomy sunset and golden hour . View was fantastic from the hill top. It was little bit crowded since it was a saturday.
Spent close to 2 hours enjoying the view from different angles and directions. Started around 5 PM towards Le Pakhi.
Google map showed different options and choose a less used route and ended up in getting lost in an unknown place. The road are good with farming on either sides. Chilli everywhere on the roads.
At some point completely lost into a village and not able to find the actual route. No signal in that hilly terrain made it worse. Somehow managed to find the nearest route but was very tired after a long day.
Around 7.30 PM parked the Thar in some unknown place to rest for the night. It was a normal road with less vehicles and thought it will be manageable, But i was totally wrong. Around 12 PM Cops knocked on the door and started questioning randomly.
Told them i came from chennai, going to Le Pakshi and was tired. So parked it here and started sleeping. Police mentioned, this is outer area, so be careful and left. I continued my sleep. Again another set of Cops knocked on my Thar with more quesitons around 4 AM. This time i have to show all my ID cards and infact he took a photo of my tired sleepy face (not sure if he posted in any of his group of FB). Now i was asked to move to nearby place. So i went another km ahead and stayed near a CBSE school. Finally my sleep was completely disturbed and around 6 AM started to Lepakshi
Day 2 - Lepakshi - Hampi
Visited Le Pakshi temple and enjoyed the vijayanagar architecture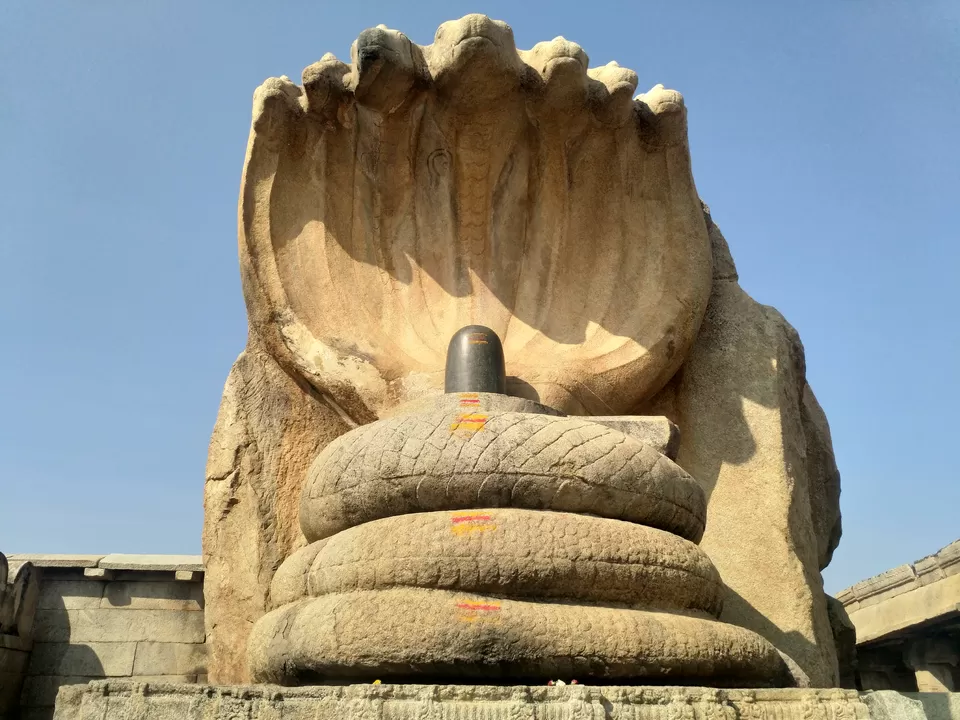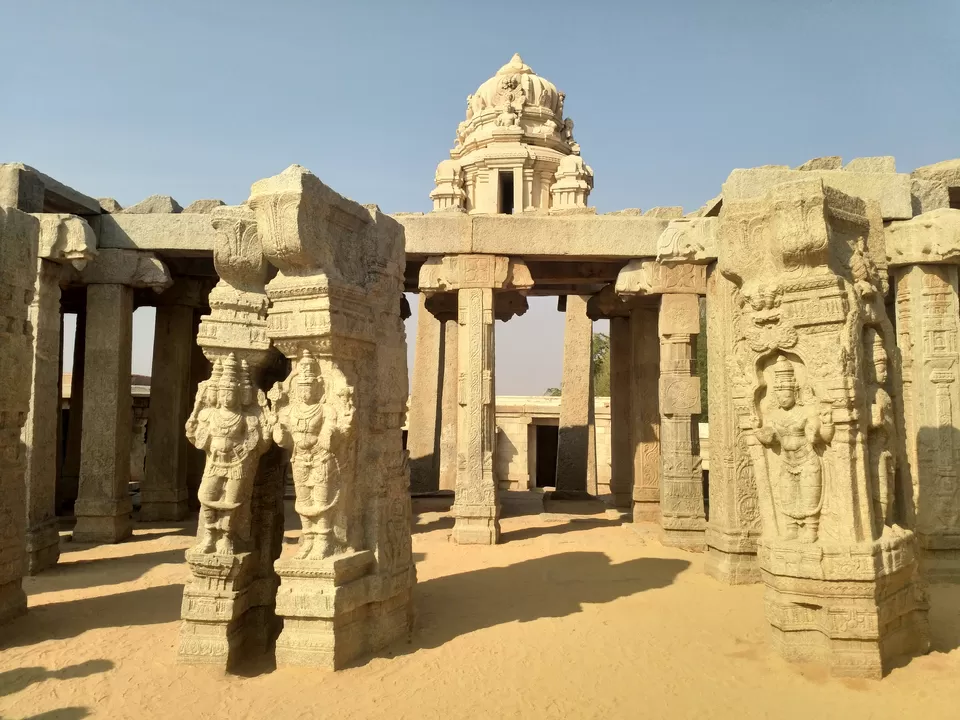 Day 3 - Hampi - Hubli - Yellapur
Hampi is heritage town that takes you to the 7th century Vijayanagar empire and its Architecture. It was fabulous place for art and architecture lovers located at the river bank of Tungabhadra.
Virupakshi temple, Monolithic bull/Ganesa, Pushkarni, Lotus Mahal, Archeological ruins of vittala temple, Hemakunta hill are must visit places.
Started around 8 AM in the morning and went randomly to all the places. It was very hot in Hampi that day but neverthless the places are mesmerizing and beautiful. It was the architectural talent that will make us time travel to centuries back. Hampi is a World heritage site declared by UNESCO.
After visiting most of the places (not all) planned to take an alternate route to Hubli from Hampi via - Anagundi - Hanuman Halli - Kopla - Hosapet to Hubli
Hubli road was tiring since it was hot already and road work is in progress, Though the lanes are already done, it was the diversion that made me tired and frustrated .Finally crossed those patchy roads and entered in to the forest route from khadghat to yellapur. Yellapur stretch is very beautiful and i was driving slower not to escape this route soon.
Original plan was reach Gokarna and stay , but changed my mind after seeing Sathodi falls signboard just before Yellapur. Decided to stay in Yellapur and visit Sathodi falls the next day. Parked my Thar in a HP petrol bunk and slept for the day
Day 4 - Sathodi falls - Gokarna
This was an unplanned destination but turned out to be best day of the whole trip. Started around 7 AM and reached a 20 Km stretch of complete forest route from yellapur. Enjoyed every bit of it with dense forest without a single tourist vehicle.
It was really a lucky day for me. Imagine you are the only traveler or tourist in the whole forest today. There were few vehicles of local people every 5 km and everyone starring at my jeep like an alien entering their place.
No worries about the road since it was a Thar that i was driving.This road might be challenging during rain/monsoon time. Only one bus came in the morning.Reached Sathodi falls around 8 PM and took an entry ticket. Walked around 1.5kms from the entry point and there lies the beauty.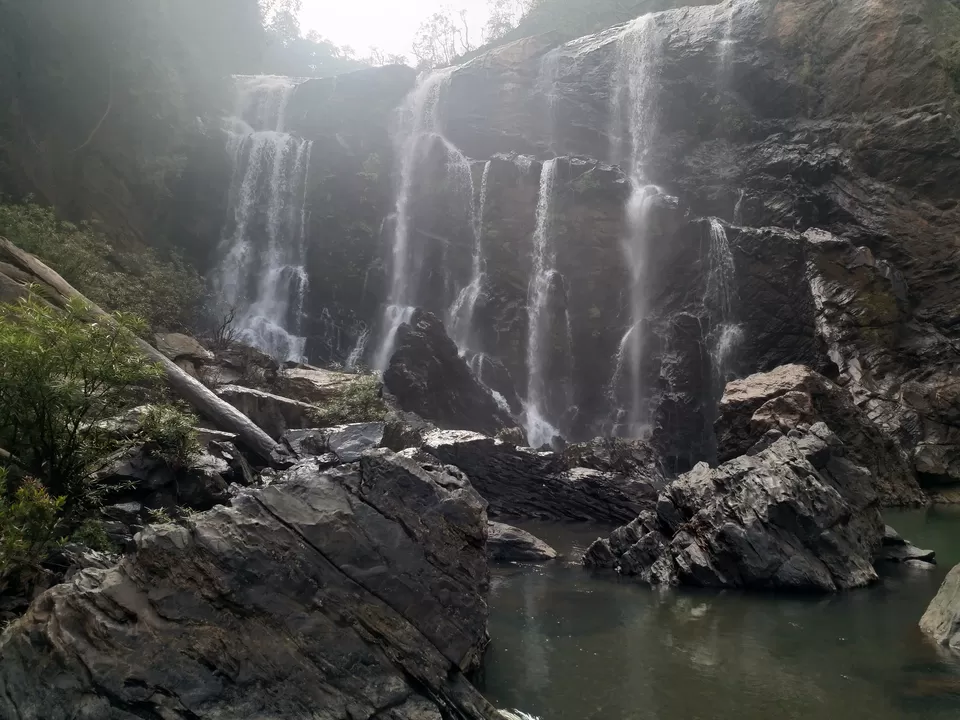 Though it was not that over flowing water, there is water in the falls . Not sure what to do , since i was the only visitor for the day. Decided to move closer to the falls and enjoy every view. Spent around 2.5 hours in the falls all alone. Took snaps from every angle possible . Took a nice nap and the water is crystal clear. Sometimes loneliness is a bliss keeping you away from everyone. It was such a day in Sathodi falls keeping all my worries, commitment and just devote myself to nature.
Far somewhere birds chirping, crystal clear water falling from the hills with cold breeze and surrounded by lushy mountains...... what else we can ask for...
After a long stay decided to visit the near by places. back to entry point and took some tea biscuits to keep my tummy quiet for sometime.
Next was an amazing view. Remember the hollywood movie where a top angle forest view and an island with greenish water .....it was such a view ......
Spent another 20 minutes.Next was an amazing architectural elegance- Hanging bridge
Again it was one place where i remember the thriller movies showing scenic and exotic locations and you are left all alone. Here is another one.
I enjoyed every bit of Sathodi falls today and finally with half heart leaving this amazing beauty just to say hello to the beaches of Gokarna
Day 5 - Gokarna
Gokarna is a small town located in western coast of Karnataka. Unlike Goa, Gokarna is less crowded and comparitively cheaper. Gokarna is serene and beautiful with its beaches surrounded by hills.
Gokarna Beach, Kudle beach, Om Beach, Half Moon beach and Paradise beach are the must visit places. Decided to spent the whole day in Gokarna and stayed in kudle beach. you can get as cheap as 200 to 300 Rs per day for stay options.
As cheap it goes, less facilities you will get. Infact few places will have a very poor huts/shacks with shared/common bathrooms. Woke up in the morning and decided to go for a trek from Kudle beach to Om beach to Half moon beach and Paradise beach.
Started around 7 AM in the morning and went to OM beach. It will take approx 20 to 30 min from each beach to other. All the beaches are unique and beautiful. If you are trekker and adventure seeker, Gokarna is the place to go.
Liked the trekking though its bit tough to climb those little hills with the hot sun and humidity, loved it for the views and beach.
You need to climb up to see the view and climb down to enjoy the shore line and again have climb up for the next beech. Om Beach resembles Om Sign. Paradise beach is the last one and as it says, bluish arabian sea hitting the shore line with mountains standing behind is beautiful .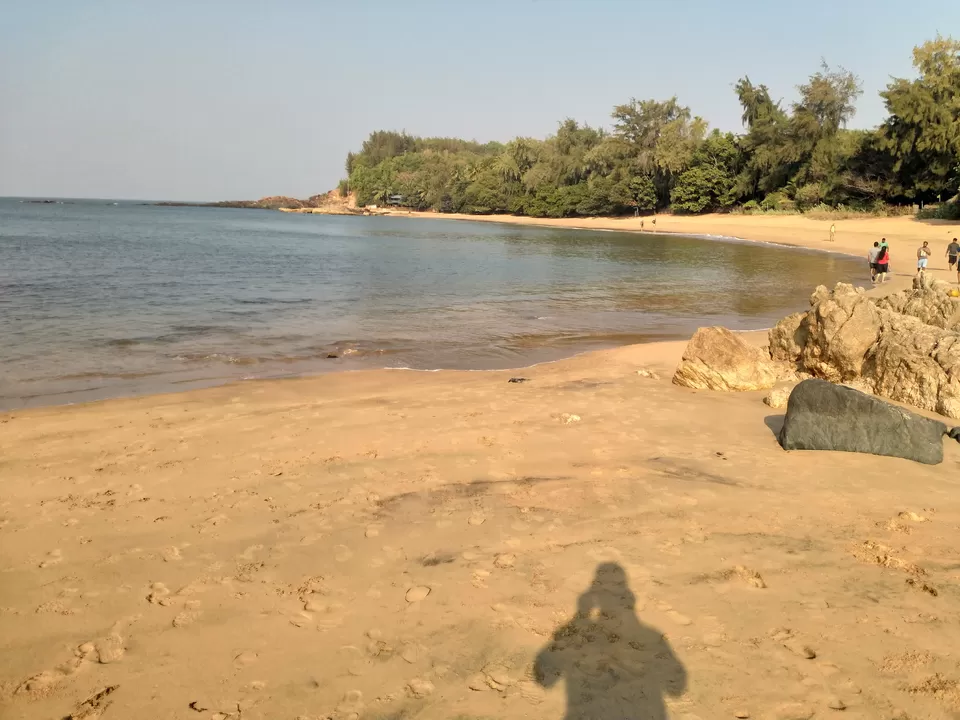 Day 6/7: Gokarna/Murdeshwar to Tirupathi via Tumkur/Sira- Bagampalli - Byler - Madanapalli - Tirupathi
My plan was actually to hit Chikmagalur or Agumbe and then reach chennai back . Somehow mood changed after visiting Murdeshwar and decided to go to Tirupathi .
Actually regret if i should have gone to Chikmagalur or Agumbe after a long tiring wait in Tirupathi Godowns. I should have booked and went to save some time/energy
Finally reached chennai around 4 AM on day 7. A complete week with lot of memories , confidence and pleasure of driving.
Loneliness is a bliss !