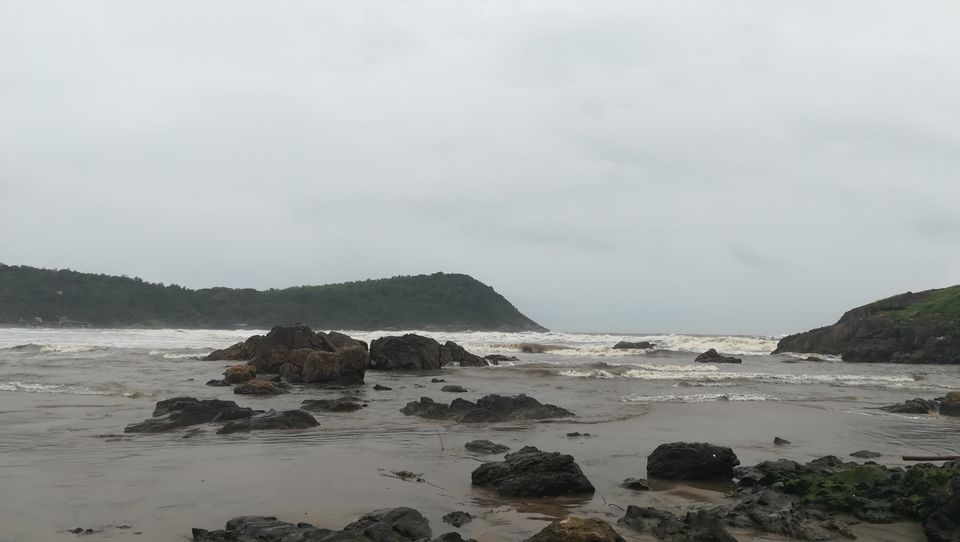 Being a beach person, Gokarna has always been on my travel bucket list and trust me, I regret not going there earlier and waiting 24 years.
So I was in Bangalore and with 2 of my sisters, we decided to take a Volvo ksrtc bus to Gokarna (Uttara Karnataka) on the 6th Sept, 2019. It is monsoon and off-season in Gokarna but I've always wanted to go to beach in rains. Also, I strongly believe that season/off-season are a matter of concern for a tourist but if you are a traveller, you just go wherever your heart takes you. All 3 of us were looking forward to the bus that would take us and confirming our fears, it turned out to be a seater bus and not a sleeper. We knew we were in for an adventure from then. The bus started from Yeshwantpur at around 10pm and we reached Gokarna bus stand by 10am the next morning. On your way to Gokarna, you also come across this very pretty town called 'Sirsi'. There's green all around and for a person who's living in Mumbai, the sight of such lush forests was a visual treat. The only green that you see in Mumbai was Aarey who's fate is going to be written soon. Let's pray, it be positive.
Finally, we were in Gokarna, tired but excited. We took a rickshaw to our hostel, Trippr, Gokarna. We were excited that the hostel was on the beach side but, ah yes, there's always a but, the sight upon entering the hostel wasn't that exciting. The shack (common area) and the dorms assigned to us were dirty and messed up, especially with the rains. So we were a little frustrated and dissapointed. I couldn't let my spirit die, so we tried cheering each other, accept it and move forward. One Ray of hope was that, the hostel staff took our suggestions and cleaned everything in sometime. The food at the hostel was good (another Ray of hope) , though the service was 'turtle speed'. We were energised after the food and had a small briefing from the hostel staff about the home rules and of course about Gokarna. Gokarna basically has 5 beaches, the main beach, kudle, om, paradise and half-moon. The staff advised us against going to paradise and half-moon as the trekking paths are not safe during the monsoons. By road, you can always visit these beaches.
7.9.2019
Though Gokarna has been on my bucket list since forever, I never knew Gokarna was more than just beaches and treks. Gokarna is a temple town. Wherever you turn, there's one. But we weren't properly equipped with temple clothes and could not visit any.
Tip: please carry some temple clothes along. The temples are pretty and you wouldn't want to miss them.
We had mutually decided not to hire bikes and walk and explore Gokarna. The paths here are very earthy and remind you of those small town roads and lanes that you've seen in movies. So we walked along the beach coast, trekked some and reached the famous Kudle beach. The Mahabaleshwar temple dedicated to lord shiva comes on the way of this trek. You can also find a lot of cafes on your way few of them being Mantra cafe in the Zostel, Gokarna compound, Zorbas etc.
The best part about the beaches in Gokarna are that they are comparatively less polluted than beaches in Goa or anywhere else in India. Even the tourist season in Gokarna is not as bad as a tourist season in Goa. Its less commercialised and looks fairly untouched. We played, sat and watched the sea to be interrupted by women and children selling bead anklets and hair braids. The only thing worth shopping in Gokarna are these anklets. They customise it according to your wish as well. The rates vary from rs. 50 to rs. 120 per piece, but you can always bargain. After our mini-shopping, we headed back and stopped by Mantra cafe to gorge on some finger-foods and delicious smoothies. Prices are very reasonable. They have the weirdest combination of smoothies, but good ones.
It started raining the moment we left the cafe and we still had a long way to walk before we reached our hostel. We had one umbrella and a rain-coat. By the time we were back walking on the beach coast, the rain gods had become unmerciful. The umbrellas and raincoats weren't of much use but the experience of getting drenched in rain and walking along the beach is worth dying for.
Tip: please try doing all this if you are in for that kind of adventure and not at the risk of your lives.
We managed to get back to the hostel, ordered some beers and chilled for a while.
Note - Trippr only serves beers as alcohol and they don't allow alcohol from outside in their premises. So if you want to drink something else, please have back-up plans.
The co-hostlers were planning a round of Uno and we joined in. It was an ice-breaking for everyone. Later at night, there were more beers, good music, good people around and the beach, it was a night to remember. Both my sisters had retired to their dorms earlier than me while I returned back at 6am the next morning.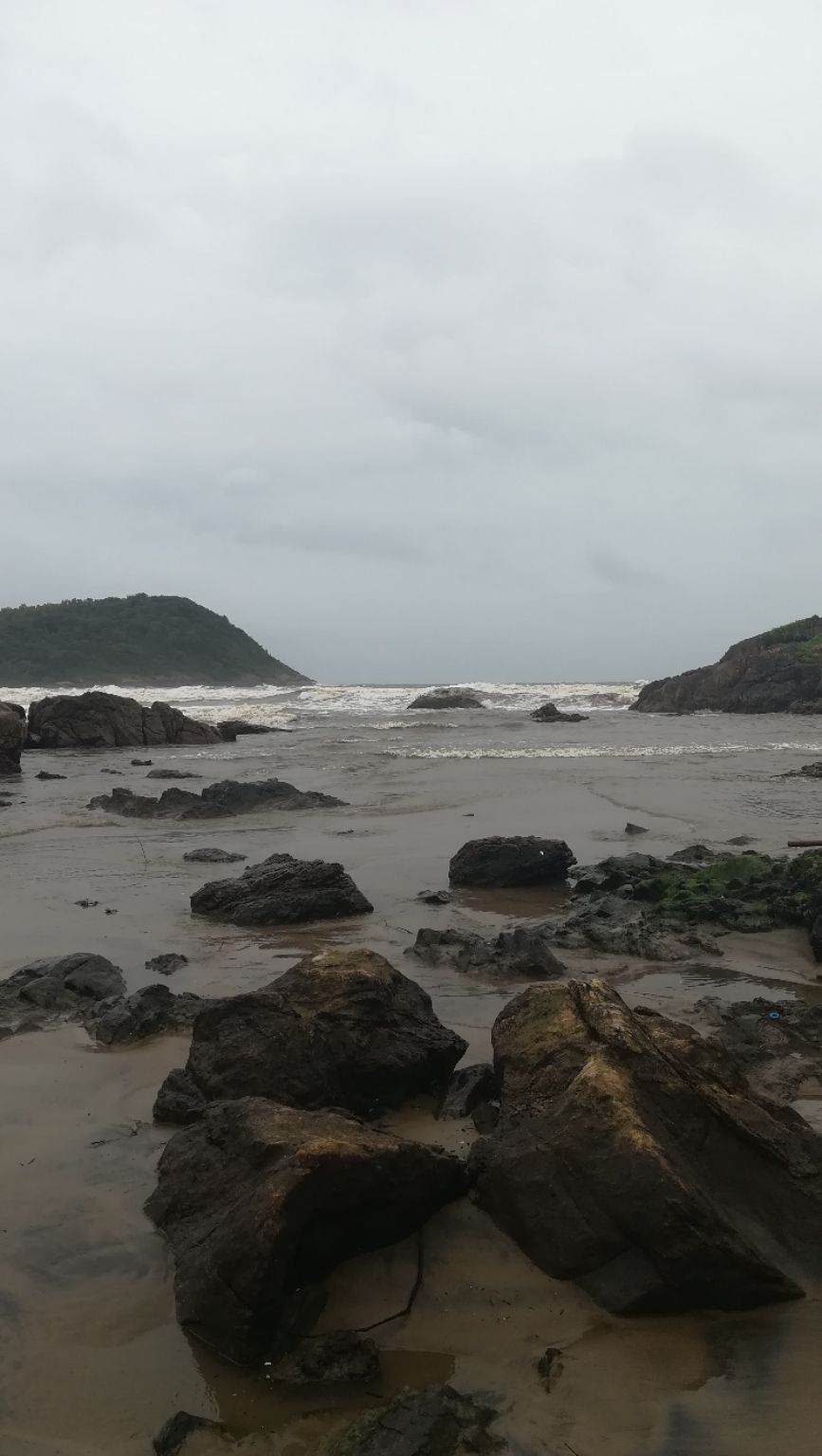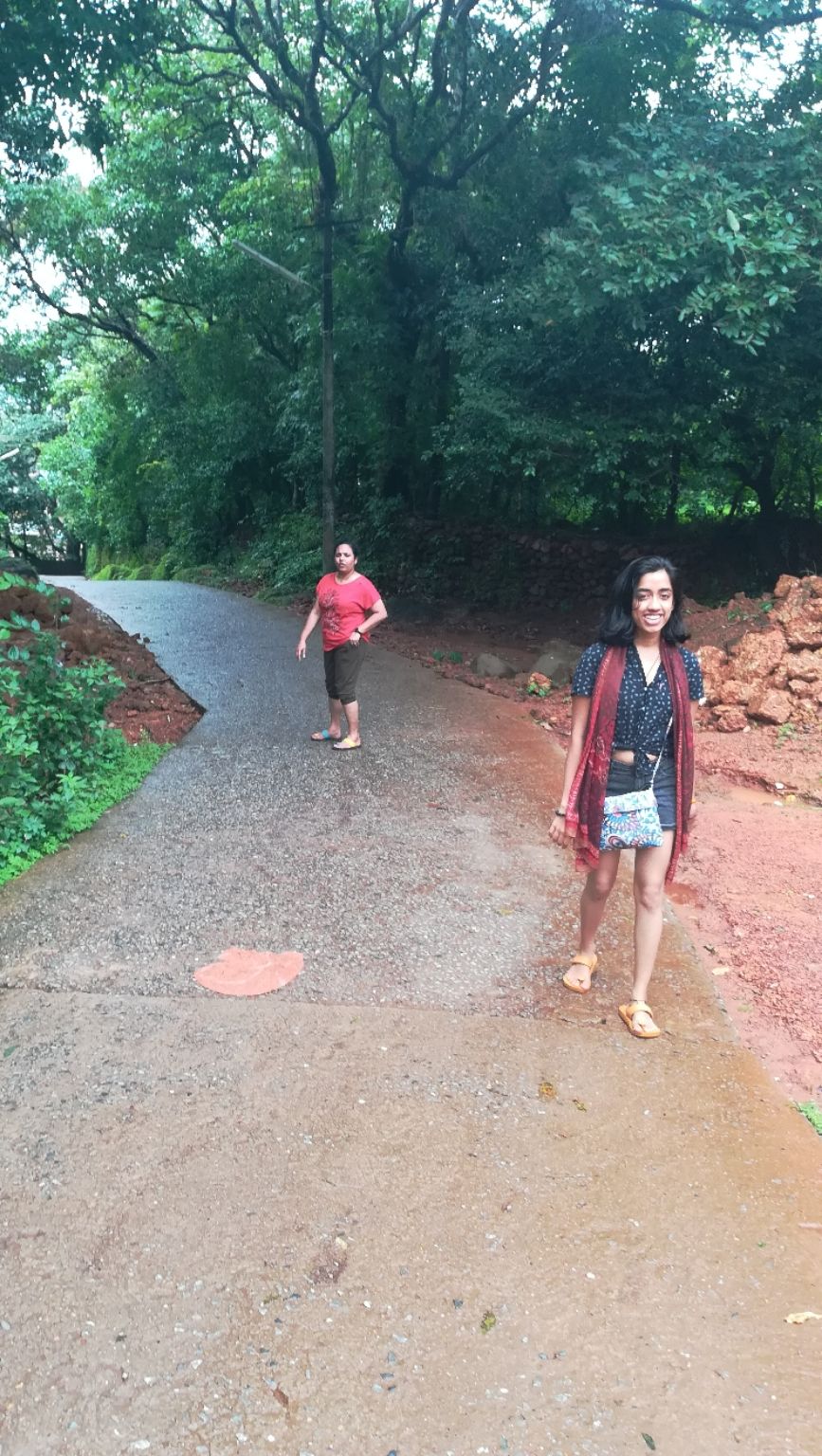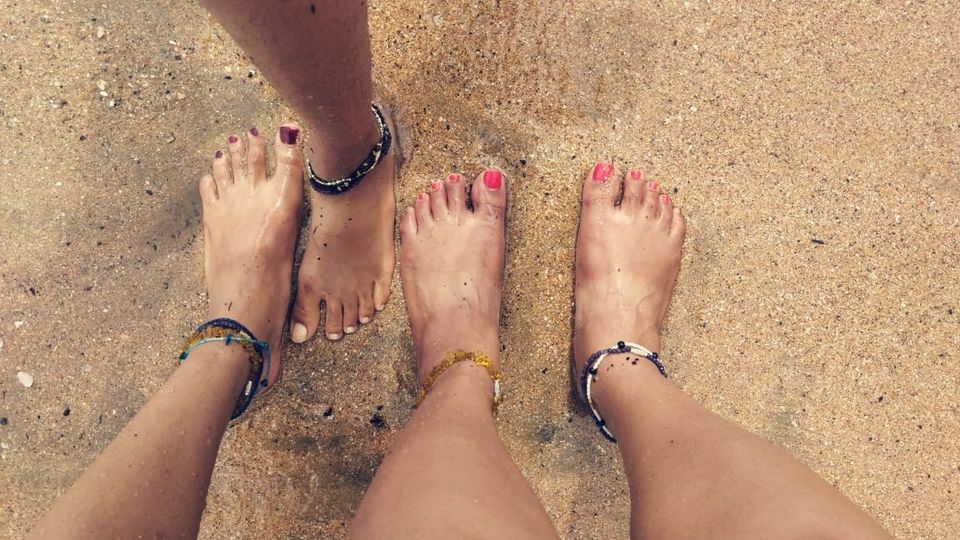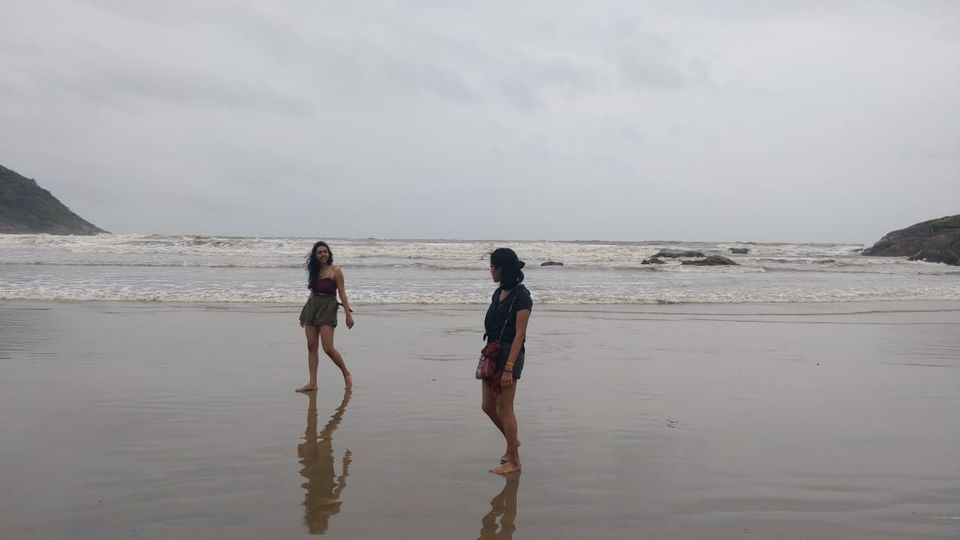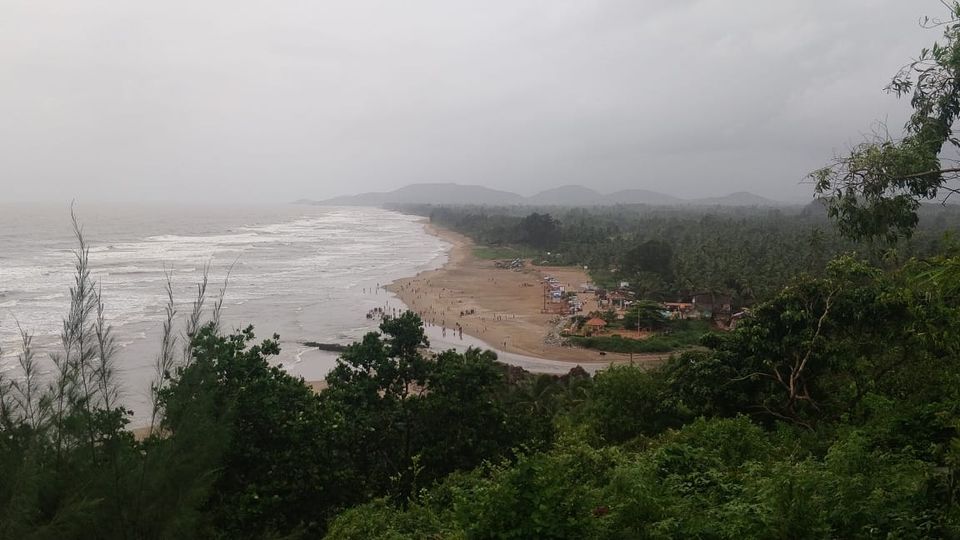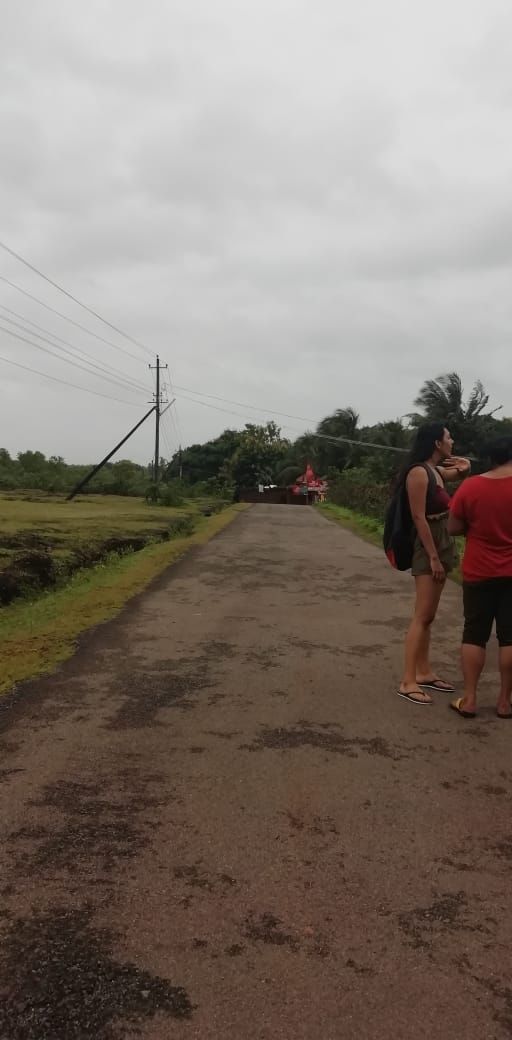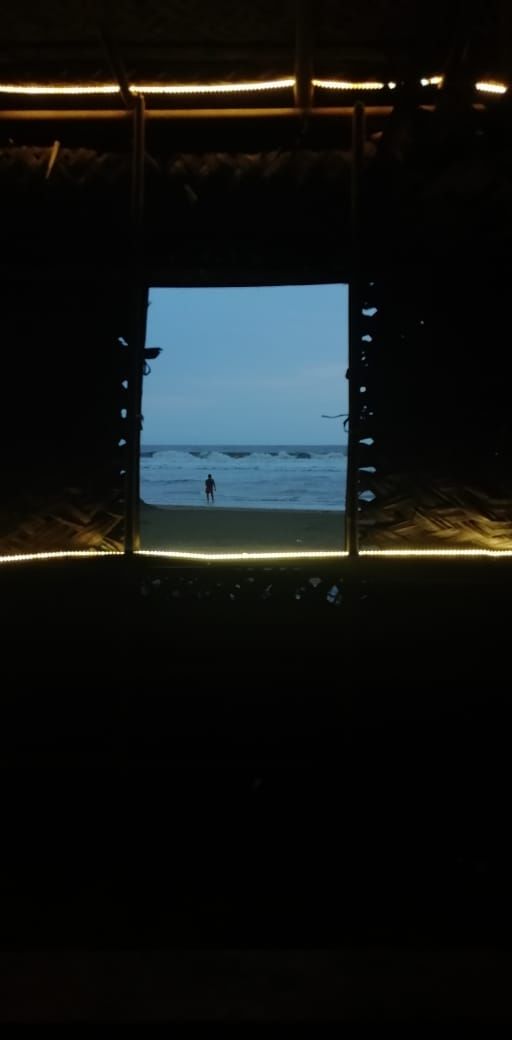 8.9.2019
I could manage only 2 hours of sleep as we had other places to explore the next day. My body was exhausted but my mind wasn't. So after breakfast, we headed to Om Beach via rickshaw. Its about 8km from our hostel. The beach gets the name from its om shaped coast, which is visible if you stand on top of the rocks and look upon the coast. Om beach is cleaner than Kudle and has the famous Namaste Cafe at its side.
After yesterday's rain, we weren't expecting a harsh sunlight, which meant no sunscreens. But alas, it was scorching hot and all of us got tanned royally.
Tip :pls carry sunscreens and necessary lotions whether it's summer/winter/monsoon to beaches. Anything can happen anytime.
We stopped at Namaste Cafe and had juices, spent a little more time at the beach and decided to head back. Instead of the roads, we trekked back from Om to Kudle and then to our hostel. The trek is very smooth.
Some of our hostelers from last night had left. But the good part was there were new people, with whom we got to interact and have a great time with. It was our last night in Gokarna and we were at the beach outside the hostel for a very long time. In just 2 days, Gokarna had felt home, comfortable and relaxing. All of us retired to our dorms early that night.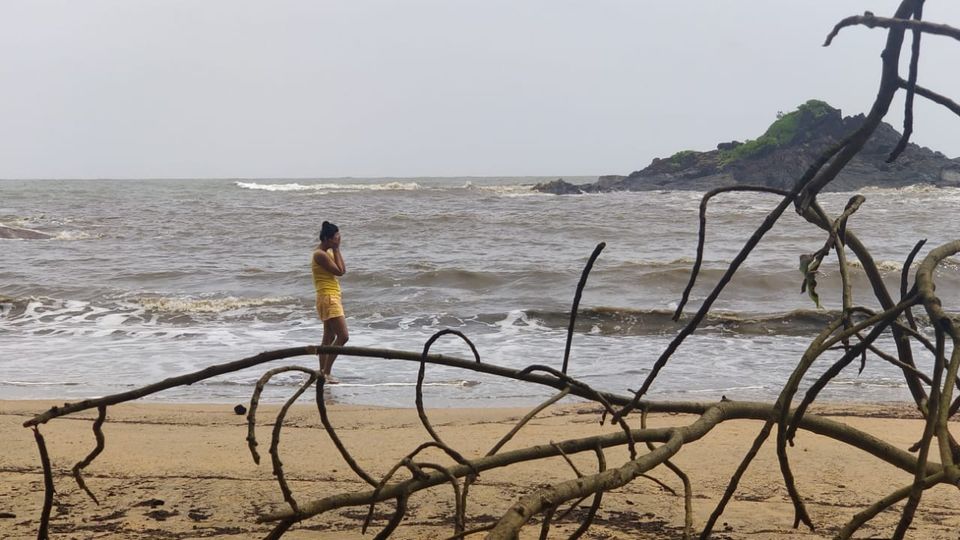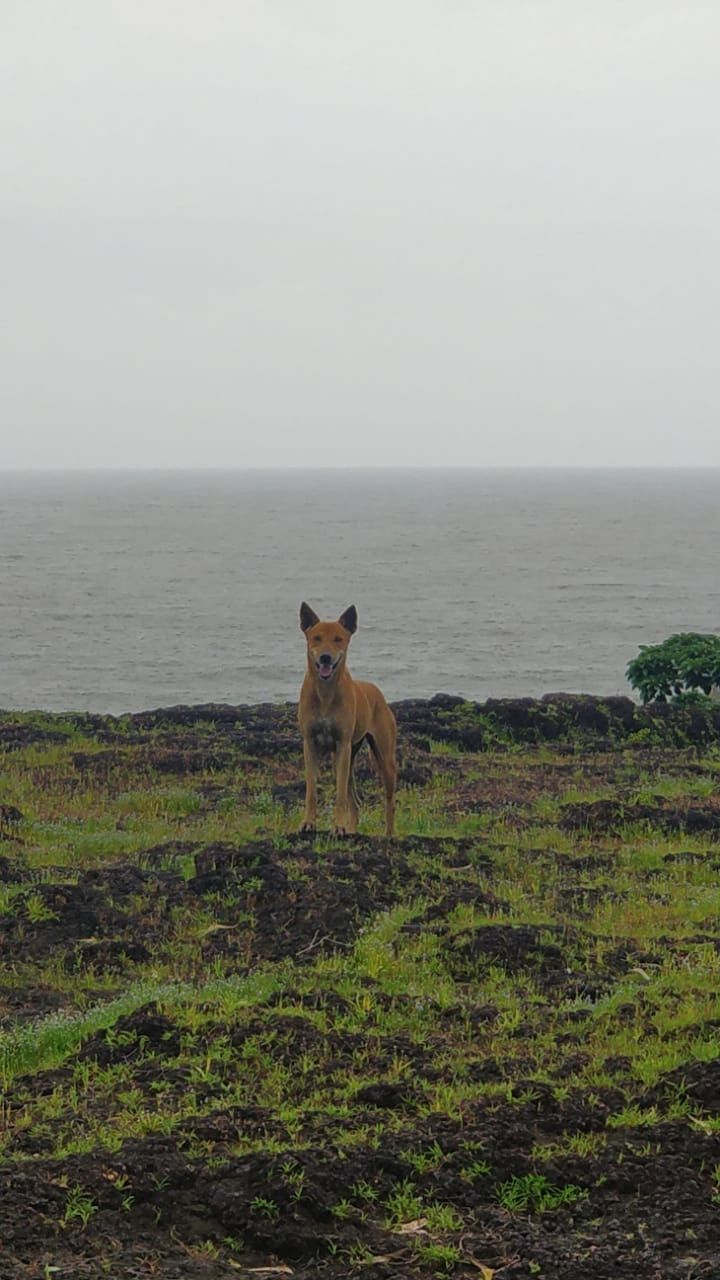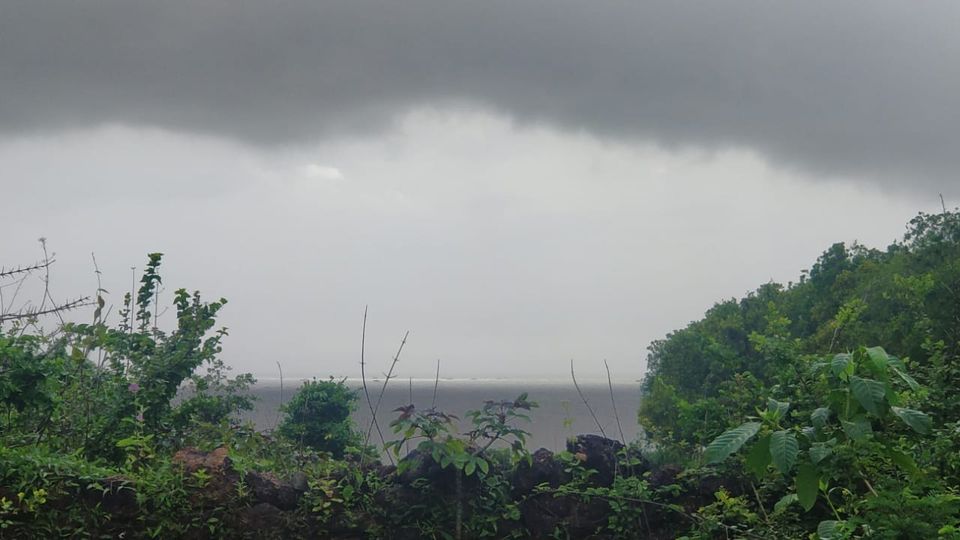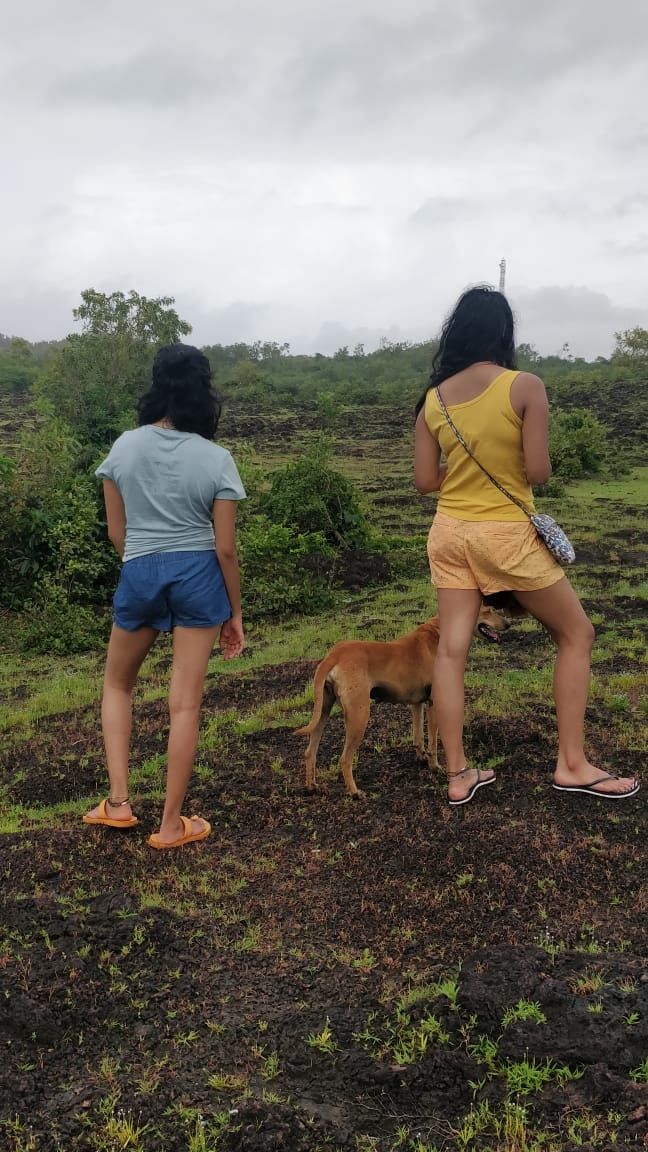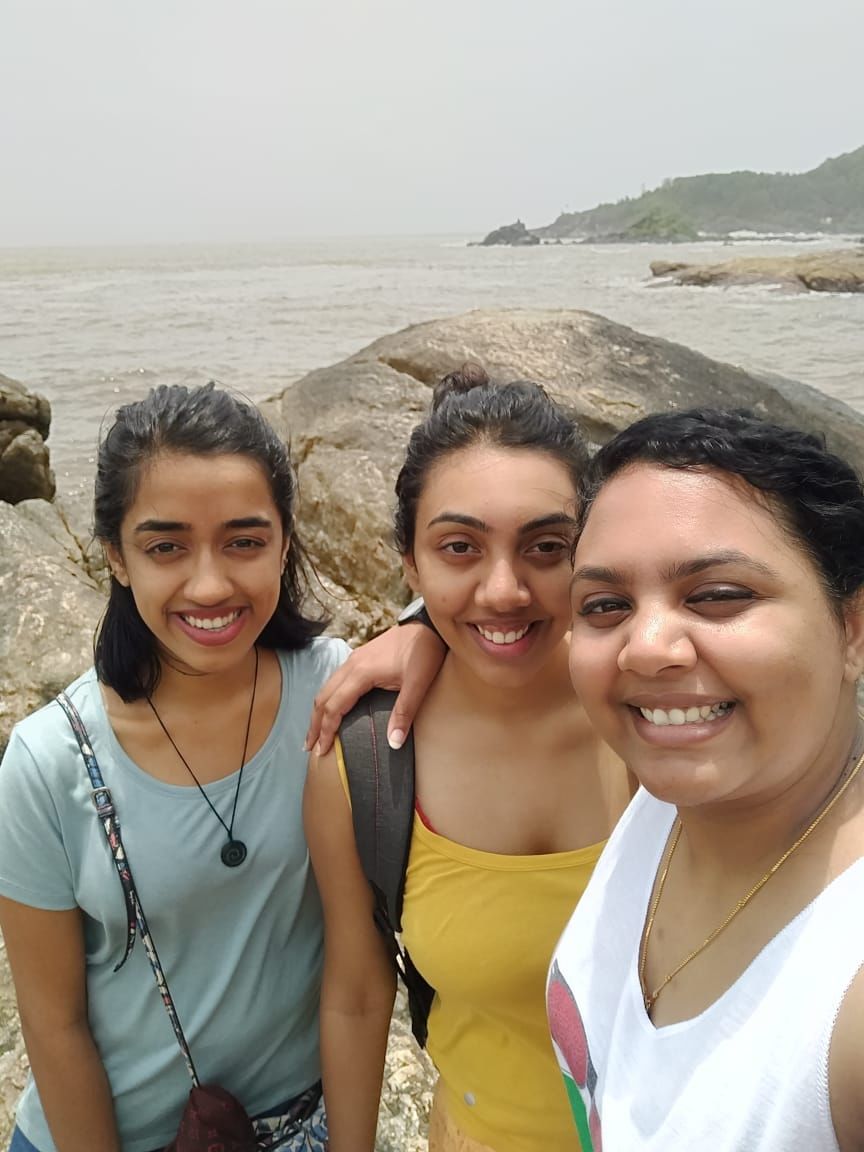 9.9.2019
We checked-out of the hostel and reached the bus stand to catch our buses back. What you realise about Gokarna is that it's a a very simple, sleepy town where even time takes its own time to move. But once you are here, it makes sense, the old world charm of the town draws itself to you like a magnet.
If you have more time, Uttara Karnataka is a haven for trekkers with a lot of waterfalls.. Some places you can explore are,
Sirsi
Yana rocks
Murudeshwar
I hope all of you have a great time in Gokarna, if you planning one. Because guys, it's time we give a break to Goa and take the road less travelled.
If I have a choice between Goa and Gokarna, it's always going to be Go.. GO.. Gokarna.
Happy travelling!