If you've ever made travel plans with your buddies, chances are that camping in Rishikesh has come up as an option more than once. As a place that has been unanimously chosen as the country's adventure capital, Rishikesh has a lot to offer.
Whether it is just the need to relax and breathe in fresh, unpolluted air while sitting on the banks of the Ganges or the desire to get an adrenaline rush from river rafting, Rishikesh is the perfect destination, no matter what you are looking for. You can come here for rejuvenation or to get that kick of adventure or even to satisfy your spiritual side and you will not be disappointed.
But before you make your itinerary, have a look at our list of the best spots for camping in Rishikesh. You'll be surprised at the options.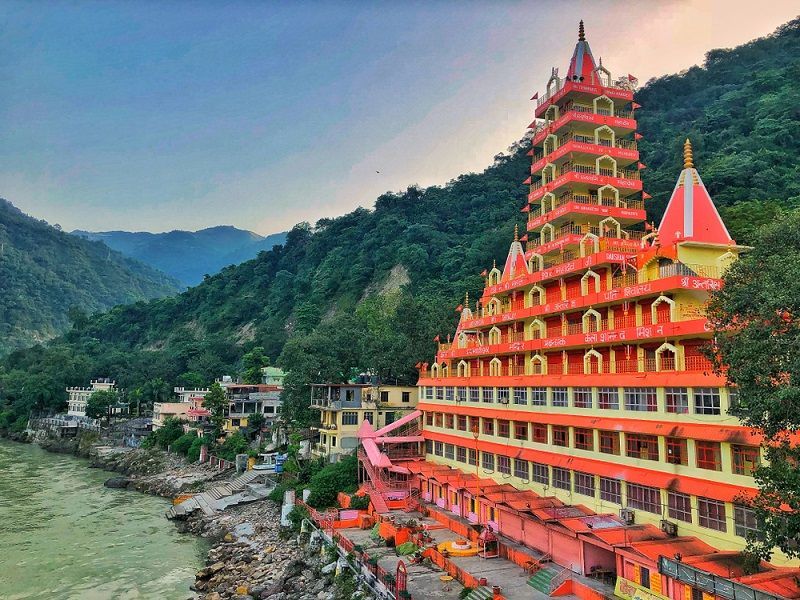 Rishikesh is located at a distance of 245 km from Delhi, 230 km from Chandigarh and 55 km from Dehradun.
Air: At a distance of 20 km, the closest airport is Jolly Grant Airport in Dehradun, but the two-terminal Indira Gandhi International Airport in Delhi (233 km away), will be a better option for those travelling from farther away as it offers more connectivity.
Rail: The closest railway station is in Haridwar, which is located at a distance of 35 km from here.
Road: Daily buses ply from Delhi, Chandigarh and Dehradun. You can also book a cab from these cities depending on your budget. On average, a cab from Delhi to Rishikesh costs about Rs 3,000.
5 Best Spots To Go Camping In Rishikesh:
Camping and convenience are two words that don't really go together. But one of the most popular lodging destinations for camping in Rishikesh, Aspen Adventures, gives you a great blend of both. Located just a few kilometres ahead of the Laxman Jhula, this site for camping in Rishikesh is close enough to the main town to allow you easy access, yet far enough to give you the seclusion you need.
With attached bathrooms in the tents, this is probably the most luxurious option for camping in Rishikesh. For those looking for something slightly more upscale, they also offer air conditioned luxury cottages.
The package for camping in Rishikesh usually includes all three meals, a selection of outdoor activities and what we all go to Rishikesh for, rafting.
Cost: A night at the camp costs upward of Rs 6,000 if you book from travel websites. However, it is best to call the resort and book with them directly, as you'll be able to negotiate.
One of the most picturesque camps of the lot, the Swiss tents at Camp Aquaforest, will make you feel like you're no longer in India. Great attention has been paid to detail to ensure you don't have to give up hot water or air conditioning while you reside in the middle of wilderness. They also have a small pool on the premises for those who don't want to take a dip in the river.
Considering the amenities they offer, this is one of the more affordable camps in the area. Their packages usually include river rafting, cliff jumping and trekking. If you're interested in bungee jumping, they can arrange for that too.
Cost: The rates are subject to change as per season, but on an average, the package usually costs Rs 4,000 per night for one person.
If you're looking for an honest, rustic experience of camping in Rishikesh, this is the place for you. Situated bang on the banks of the Ganga, this isn't your average luxury escapade of riverside camping in Rishikesh. It is for the hard core. Situated at a 30-minute-trek from the nearest road-head on the Rishikesh-Badrinath highway, this Rishikesh adventure camp offers accommodation on a twin sharing basis.
Camp Ganga Riviera is best enjoyed at night, gazing at the stars as you sit outside your tent, around a bonfire. Besides camping in Rishikesh, you can indulge in a number of activities on offer here like badminton, volleyball, yoga, and trekking, as a part of their packages. You can mix and match and choose the option best suited for you.
Cost: Packages start from as low as Rs 2,300 per night per person.
If you love the hills, you will love this place for camping in Rishikesh. Camp Footloose is probably the only one in the area that offers an uninterrupted view of the Himalayas on all three sides, giving you a chance to really celebrate the nature around you while camping in Rishikesh. This is one of the few camps in the area does not offer riverside camping in Rishikesh. So if you're looking to take a dip, it will take you a 5-minute walk through the wilderness to reach the riverside.
Located at a 5-minute trek from Shivpuri Bridge, it is a well-maintained property with an extremely courteous staff. This is an ideal place for those looking to relax with their family or group of friends.
Cost: They offer various packages for different groups and need to be contacted in order to negotiate the cost.
One of my personal favourites, Camp Wildex is situated in the middle of Rajaji National Park, allowing visitors to witness rare Himalayan birds all year round. It is not very crowded as it doesn't have as many tents as some of the other places for camping in Rishikesh, making it one of the best places to spend a romantic getaway.
Like the other spots of camping in Rishikesh, it has all basic amenities (hot water on demand, Indian and western bathrooms, and four meals a day) and offers different packages (only camping, camping and rafting, camping and adventure sports etc.) depending on the requirements of the group. Their food is one of the major highlights of camping in Rishikesh and so is the service.
Cost: Their packages start from an upward of Rs 3,000 per person per night.
Already been to one of these places? Which one is the best camp in Rishikesh, according to you? Share your experience of camping in Rishikesh in the comments section below.
Tripoto has also curated an amazing Mindful Retreat in Rishikesh, which will surely soothe your soul.
Ready to travel for free? Earn credits and redeem them on Tripoto's weekend getaways, hotel stays and vacation packages.