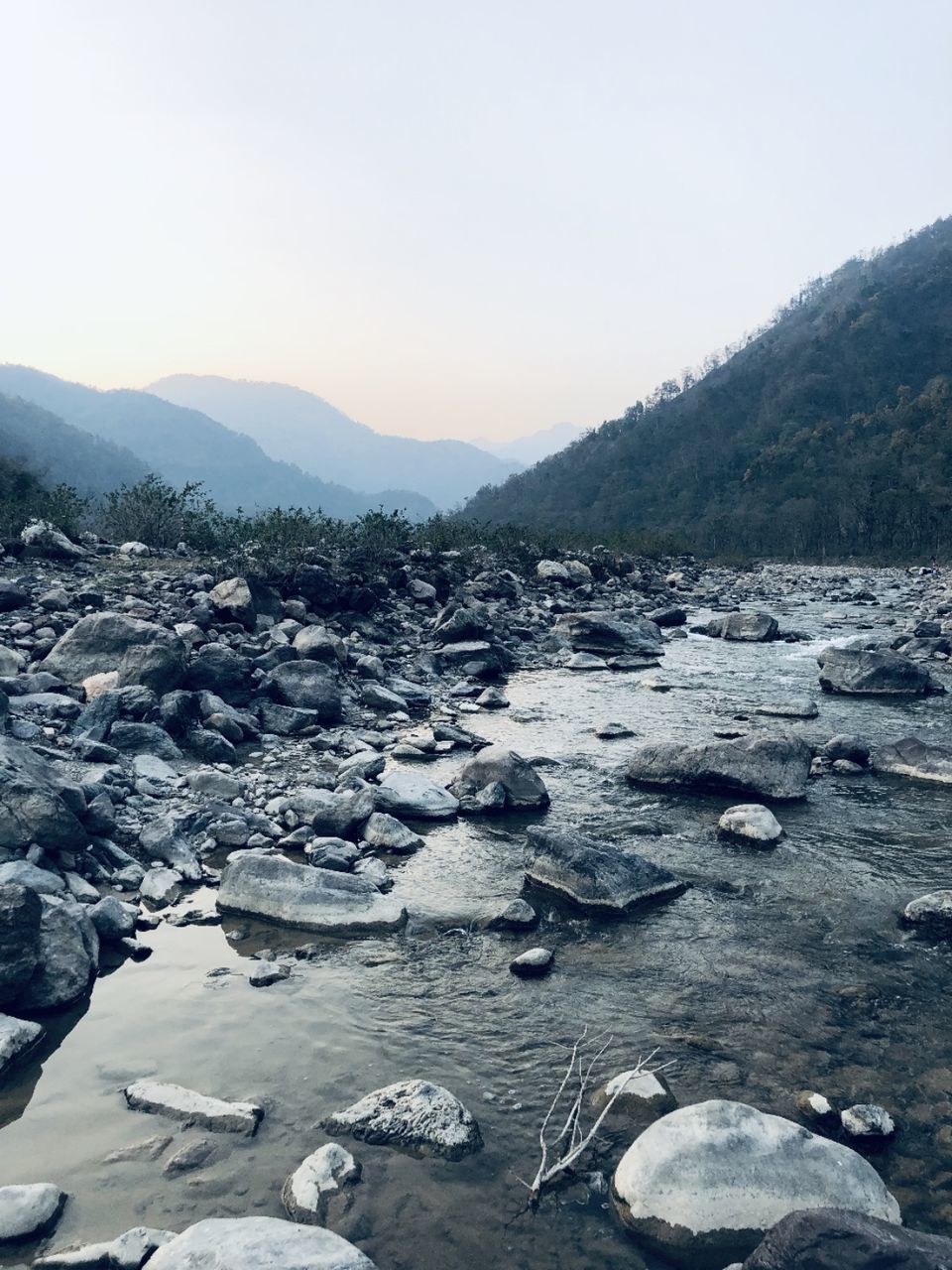 Uncertainty is Captivating!
Introduction
Twice have we missed the opportunity and yet we do not intend to give up and here we are on the route to Rishikesh.
There was no certainty and no planning. Only One shear aim: Do River Rafting (though we eventually ended up experiencing so much more.)
Journey Begins!
Our trip started from Indore (INDB). We boarded the Intercity Express (Indore to New Delhi) which departs at 4.35pm.
When it comes to train journey, Upper berth is such a blessing, put your luggage by your side, sleep whenever you want to and observe people around you.
For us, this journey was more of breaking the small inconspicuous barrier in our relationship.
The train reached earlier at Hazrat Nizamuddin than expected time. We had two options from now :-
1st- take the Dehradun Expressway which were to leave in 15 mins.
2nd- wait till 8 and then take Janrath (UP State AC Bus INR-460/-) to Rishikesh.
Sometimes we take the decision because time constraints make us choose things in fear of losing the choice.
Yes, we boarded Dehradun Express and as we conversed with people the fact that the train usually end up getting late and will reach Haridwar past 3.30 pm came to no more as sheer disappointment to our hopes. Though we started planning on changing our schedule of activities. But then we could make it more early if we unboarded at Meerut and took local bus to Rishikesh. Time to change the transport again.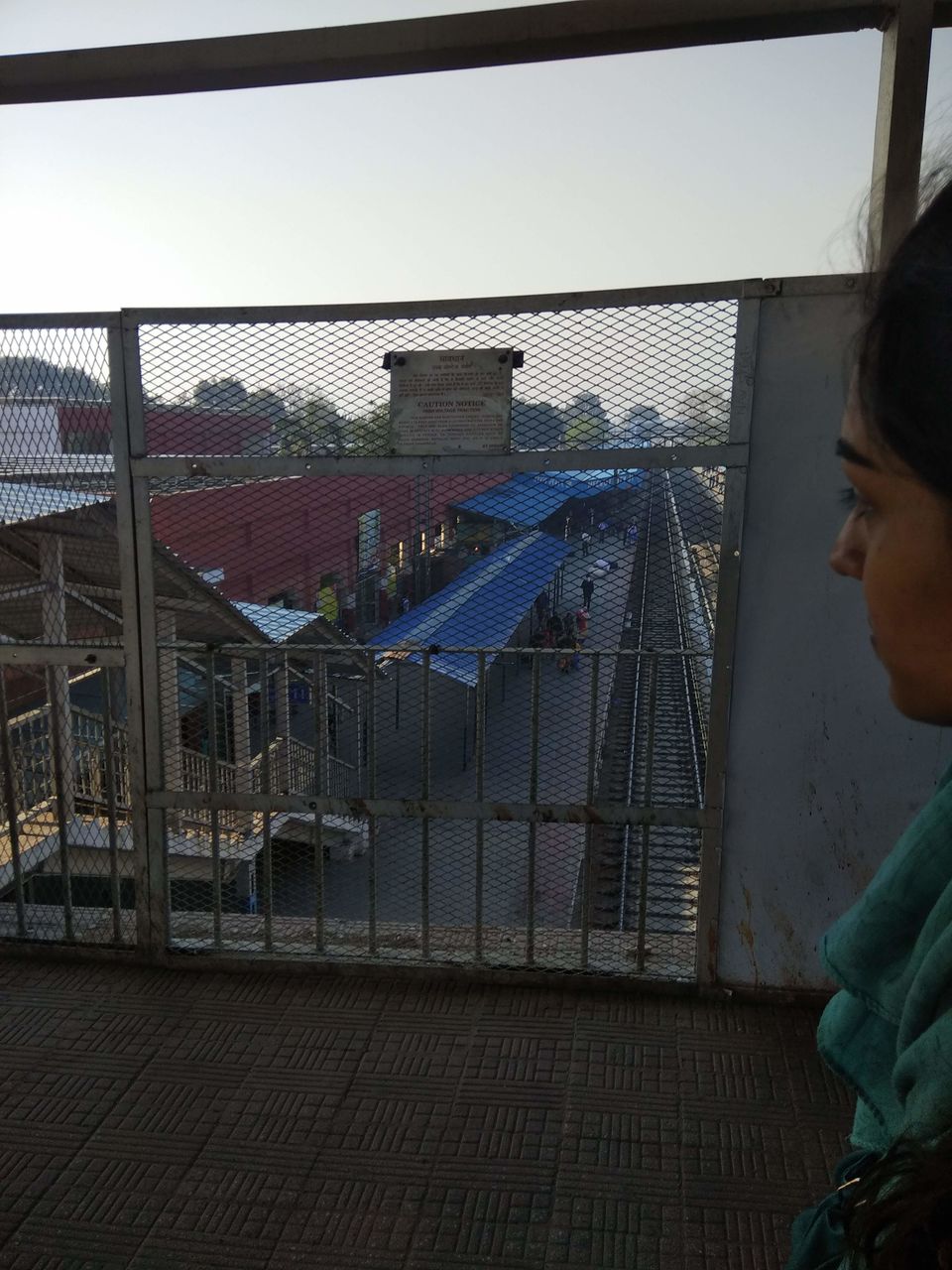 See the last thing you would want is to fall ill (because I have once) during, before or after the trip. It drains the happiness out of you. So be cautious while eating.
Took auto from Meerut City Railway Station to Meerut Bus Stand (20 mins journey, INR 15/person), had our lunch at a nearby restaurant. And in addition to the fact that I could feel hunger pangs and mood swings, the person made parathas (Indian bread) very tasty. (good quality and quantity, affordable cost).
Boarded the bus for Rishikesh at 10am (leaves in every 1/2 hour) (INR 202/-).
Local buses have a different environment of their own. While it might be uncomfortable sometimes and to some people but it is filled with locals who are constantly talking in their own accent, about their own topics and the driver, his driving leaves you with one wish "may I reach safe and with an undamaged heart".
Reached Rishikesh Bus Stand at 2.45 pm. After having lunch, we started looking for transport to Shivpuri (camping and rafting site). Autos don't go there. There are buses to Srinagar on which you can board but they would deny you to board for Shivpuri else would ask you to pay the fare to Srinagar.(also, the last bus leaves at 3.30-4pm)
There would be different people with different offer to rafting-camping packages. People would usually misguide you saying there is no bus to Shivpuri or would overcharge you in some way or other. So be smart and ask multiple people before settling for one.
Tired from the journey, we finally ended up with an autowala who took us to Shivalik Adventure (charging 150 if we don't take the package and 50 if we take the package, later we came to know that transport is usually free or it costs from 10-30 INR.. Dunh!)
So we went to Shivalik Adventure Office and took the package of camping 1 Night + Rafting (16km/18km : it is one and the same) which costed us 1800/- per person (the cost of rafting has been fixed by the UK government and for 16km it is 1000, rest camping charges vary for individual organizer. For us it was 800 per person, some charge 500/- and some online brands like red chillies charge 2000/- for it).
Half an hour later, the vehicle arrived to take us to our campsite near Shivpuri.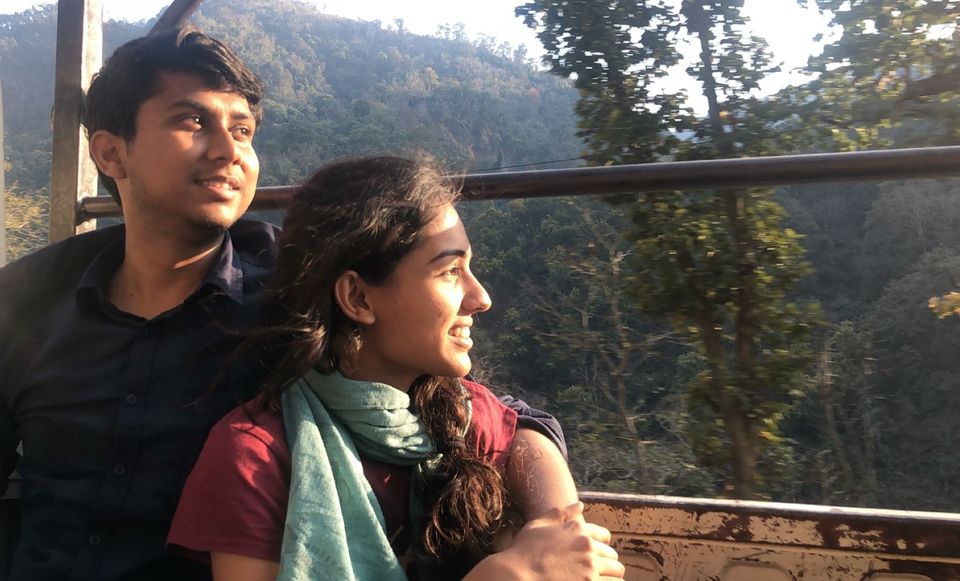 We interacted with the driver asking about Holi celebration and local stuff and he let us sit in the back of his miniature truck during our journey so we could have a better view (It was safe and had grills all around).
Camping on the banks of the main river Ganga has been banned by the government for obvious reasons as you must be aware of the talent of littering places with in-disposable plastics and carelessness of so called educated people.
Now camping occurs alongside a small tributary of Ganga. There are numerous camps varying in size and distance from the tributary.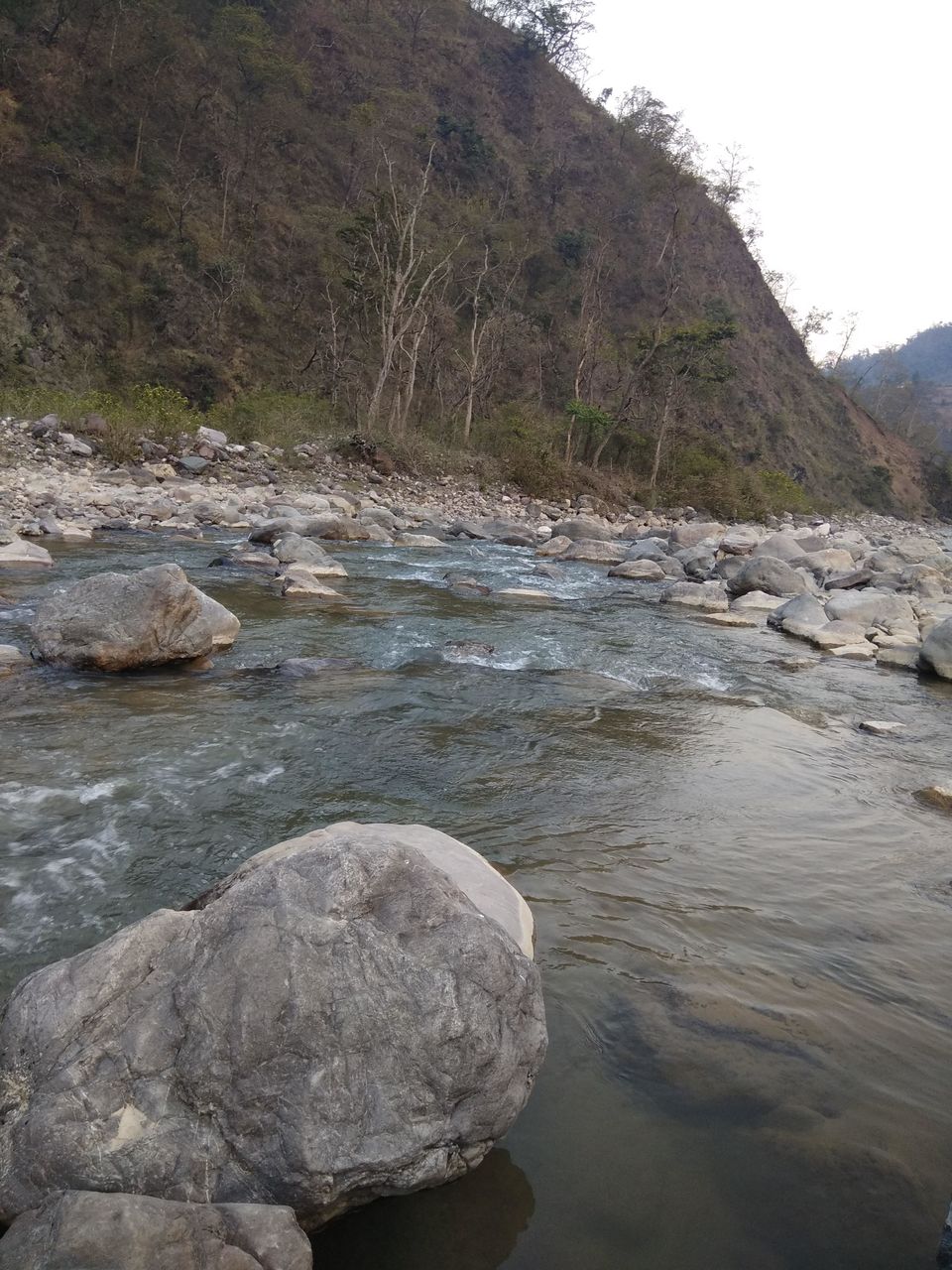 It depends upon which organizer you have chosen.
Now there are other campsites as well like near Neer Waterfalls ,which have gained popularity now a days.( information source being rahul- Naam to suna hoga? Anyway he will come into story! )
Our camp was River Dreams ( organizer have tie ups with different camps and they may allot you anywhere, you can ask them while looking of an alternate campsite as well. Be smart. Ask questions.)
To our surprise, there were no people other than the working staff which was weird and made us feel a bit worried. After putting our bags in the tent, we left for the walk along Ganga.
While sitting on the rocks with our legs dipped into the cold soothing water of Ganga, we admired the beauty of mountains with the sun slowly setting, coloring the canvas which was sky into shades of pink, purple and orange.
After clicking pictures and splashing waters, we went to camp for the evening snacks (pakora and chai).
After that a group of 12 men from Dehradun came followed by a group of 4 girls from Mumbai. There are several games like volleyball, badminton, carom, musical chairs which you can play.
Star studded sky and a full moon, flames burning in front of eyes and cool winds gushing by with the sound of flowing river and most of the times of music playing in your speaker , added up is the advantage of having a guitarist, a bonfire lits up the feel of camping.❤
After dinner, we sat for a long time near the bonfire and retreated to our tent.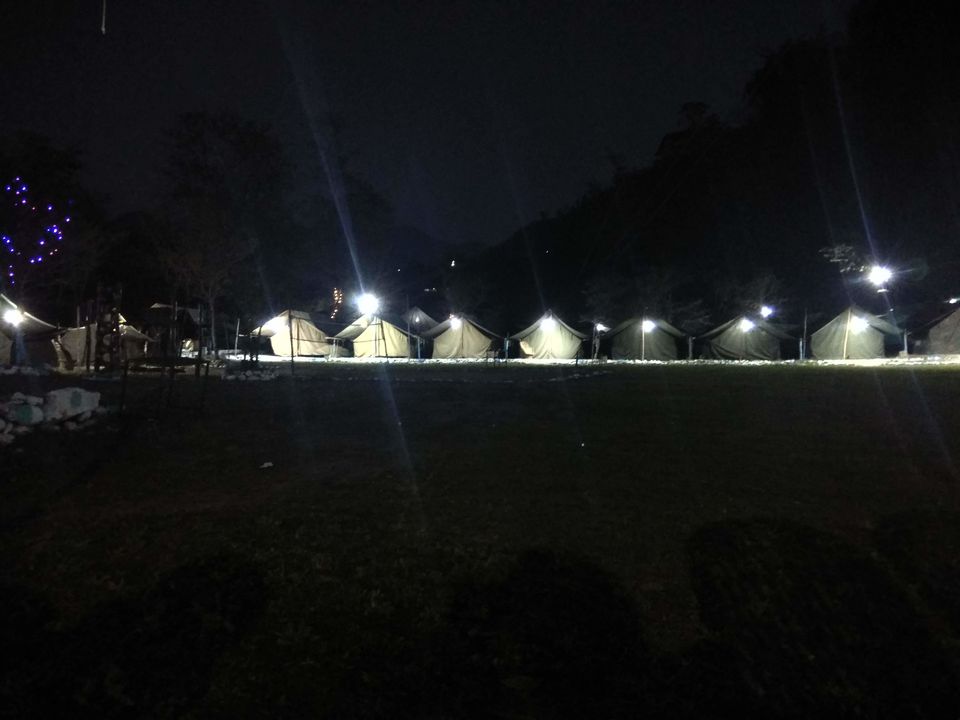 Here comes the talk of safety, as for a couple or a solo traveler, safety is a must issue to talk about. Since there were none and then came 12 men who then drank too much, we girls were really worried. To which the camp in-charge himself came and said that if any sort of discomfort or nuisance occur we can directly come to him *showing his tent* and also later we came to know that all the locals and the camps(numerous) in-charge have a good coordination and whenever any person or any group of people creates a nuisance, they are well taken care off and thrown out of the camp immediately. So yes, it is safe.
Morning- The sunrise and the cool winds, mild drizzling have started in the morning, had our breakfast which was puri-sabzi-egg bhurji and chai and then played games for sometime. Clicked photos to capture as much as we can.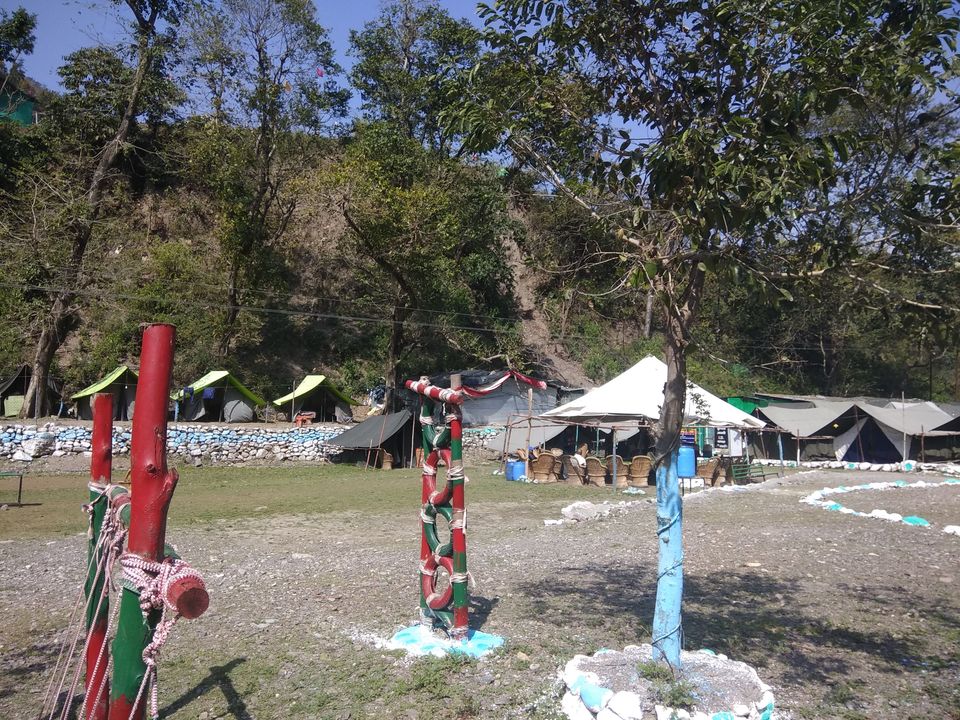 The flock of birds flying and their chirping would pull you out of your physical form into their own world. It feels ecstatic to be close to nature. We then packed our bags and left for rafting. Bolero had come to take us to our rafting location. That feeling of awe on seeing the river so close, so clean and just after a swift turn would leave you spellbound.
Hold on, there is more to come.
Time for Rafting has Come ❤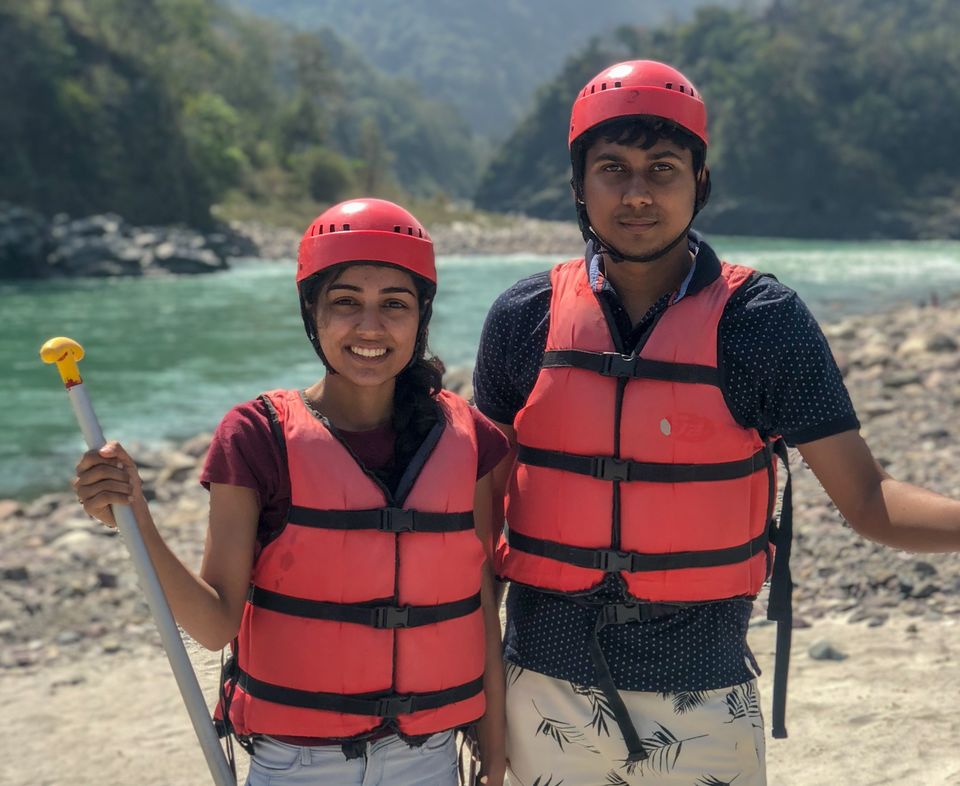 Our guide was Rahul. If you come with your group, you need no push for interaction. But when you have strangers as companion and 16 km to raft, rowing a boat won't be able to bring out all the joy. That is when guide comes into play, first he provided instructions on how to row and safety procedures to follow. Then all along the journey he cheered us well and was actively taking part in conversations as well. After passing some minor and 2 major rapids, he even let us body surf in the 3rd major rapid named Clubhouse and we were visibly enjoying more than our counter rafts. He developed the confidence in us. And some of us were scared to jump off the cliff (Cliff Jumping at Maggie Point) but eventually did and even motivated other raft's members to do the jump.
Although the water was extremely cold so as to make your limbs feel numb yet the adrenaline rush would drive you to the water for body surfing to cliff jumping. It is worth it. Do it once.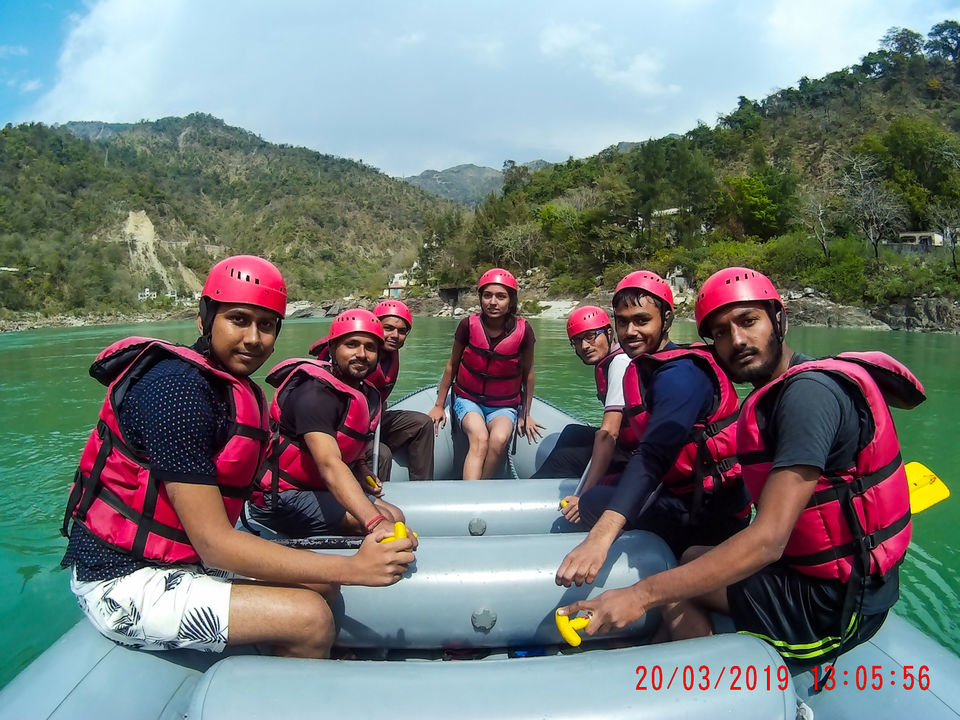 The end point of rafting was Ram Jhula and our luggage had been brought there. Small camps were available for us to change. The charge of videography (clips) and photos was 2800 for the raft but we negotiated it for 200/- per person (i.e. 1400 for 7 people).
After that we took auto (10/person) to Tapovan where we had our lunch at Dev Ganga restaurant and booked our room (800/- Ac) at Hotel Monal. The staff here is friendly and courteous.
After resting for a while, we left for Devraj's German bakery and cafe near Lakshman Jhula (Our personal favourite), with its riverside location, it is a perfect ambience for peace, delicious food and scenic beauty.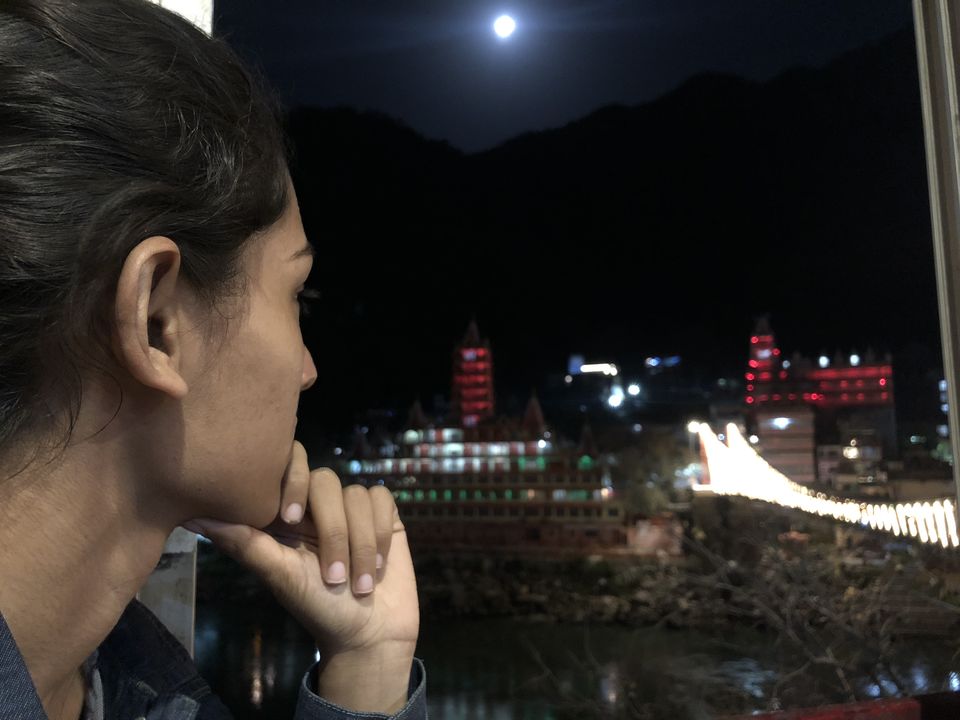 We love this place because people here (like in whole Rishikesh) are from different countries and of different age groups talking and passing smiles. It feels beautiful.
We then went to Lakshman Jhula to attend the Holika Dahan after hearing of it from several locals. that back to place of Holika Dahan- music, dance, colors, it was alluring and soon we were dancing on the rhythm and playing Holi as well with brief talks with random people.
Next morning, we woke up early to not miss the holi celebration at the same place.
Whole of the Rishikesh gets covered in the blanket of vibrant colors, splashing balloons and pichkaris.
Policemen at the service to prevent any kind of nuisance and inconvenience. And play the 'Yeh Jawani Hai Deewani' Holi.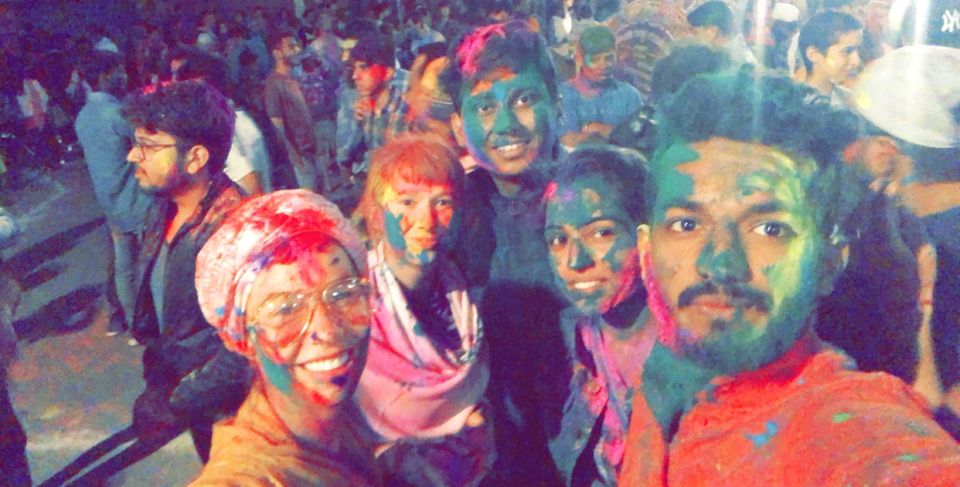 We love this place because people here (like in whole Rishikesh) are from different countries and of different age groups talking and passing smiles. It feels beautiful.
We then went to Lakshman Jhula to attend the Holika Dahan after hearing of it from several locals. that back to place of Holika Dahan- music, dance, colors, it was alluring and soon we were dancing on the rhythm and playing Holi as well with brief talks with random people.
After that, we went to the shore of Ganga and were shocked to witness that the water has turned red, blue, pink and green. People playing Holi inside the water with 'pakka' rang and throwing the plastic packets and bottles. Also there was no arrangement of dustbin either, which in no way justify our ignorance to the one we worship( the ganga).
After that we rented an Activa (500 + 200 for petrol), went to Neelkanth (24 km from Rishikesh), a temple.
The drive to the Neelkanth is scenic beauty with blind turns and fits the saying "journey is more beautiful than the destination itself".
Of the hills is a small and famous temple of Neelkanth (Lord Shiv).
Since it started getting dark, we left for our hotel at 6.30 pm.
Reached the hotel and went ahead for the cafe Little Buddha. En-route Lakshman Jhula looked ever beautiful these all days and the cafe was on the other side of the bridge.
We happen to reach late (spent some time for shopping as well) and because it was Holi, some cafes were closed and others were heavily crowded. Little Buddha Cafe was closed and others were taking 1.5-2 hours to give the order. We eventually ended up at Cafe Nirvana where we met the lady owner who happen to be from Lucknow and said that since people were hungry and kept coming she had extended the cafe timing. We ordered Falafel and pizza as limited choices were available due to time constraint. Had juice on the roadside fruit shop which tasted blissful.
Since it was past 12 am, so we asked the cafe owner if it is safe to travel back to our hotel which was 2km from this place and she said that being tourist place, it is very safe here, you will find people roaming here and even policeman at some points today being Holi. And yes, it indeed felt safe. Some restaurants were on the verge of closing, we could also hear music from different places who were having their own celebration and reached hotel.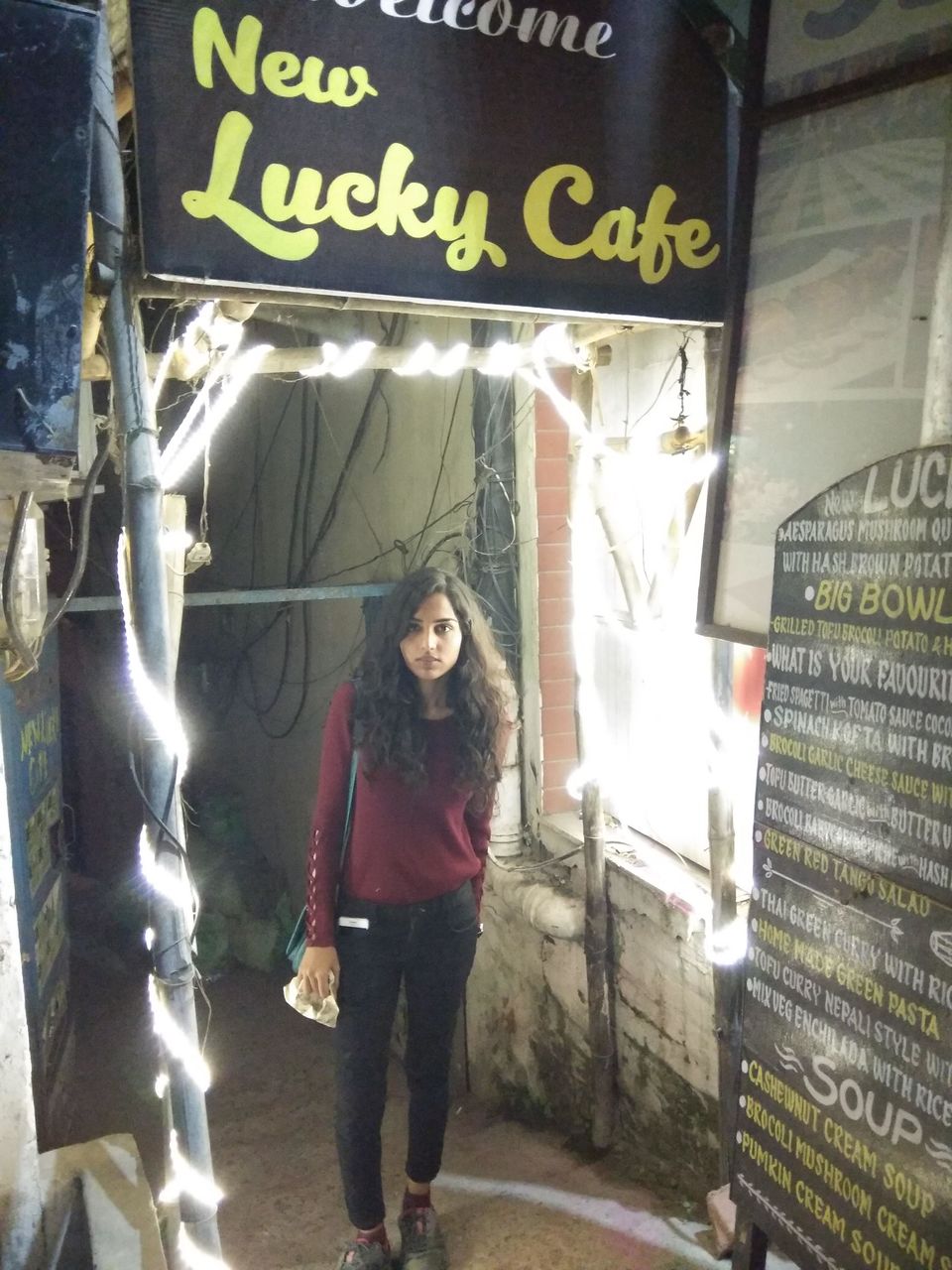 The next day we were to booking for bungee but it wasn't available even for tomorrow ( Do advance booking for bungee, you can book online on sites where they give offers or offline by any of the organizers.)
After shopping for our loved ones, we left for Delhi. Took auto from Tapovan to Rishikesh bus stand (30/-) then took Janrath (AC UP State bus, 460/-) which departed at 3.30pm. Reached Kashmere Gate at 10.00pm.
Why Rishikesh?
Rishikesh is a place where one visit would never feel enough. You will keep coming to this place and each time would see its different color.
There lies two extremes here:
- Spirituality of Meditation and Yoga
- Adrenaline rush of Rafting and Bungee Jumping
Some lose themselves here while some find their calling. (Heard of The Beatles visit to Rishikesh?)
Frequent searches leading to this page:-
delhi to rishikesh trip plan, adventure activities in rishikesh packages, haridwar rishikesh dehradun mussoorie tour package, rishikesh 3 days package, rishikesh package from bangalore