This is the continuation of the previous blog and we reached Mathura in bus at around 7:45 PM. I can see the festival atmosphere once it reached the Mathura town. The bus stopped at the Krishna Janmasthan temple and everyone got down and went inside the temple and after that bus will start to Vrindavan and leaves to Delhi. So instead of visiting the temple, we wanted to check the hotel for the accommodation.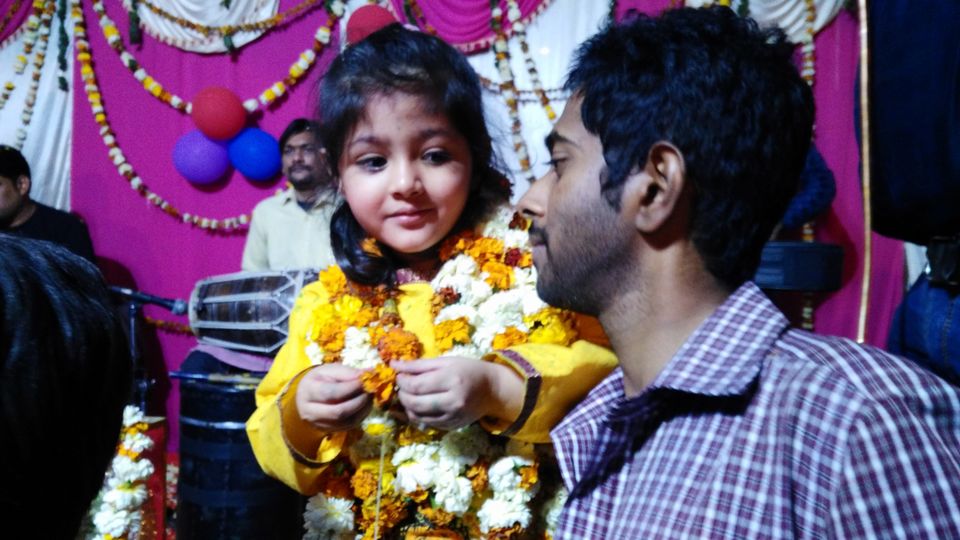 We thought we would visit the temple the next day. Me and Sujeet went to search the hotel and the other two were at the bus, so that if bus starts they will call to us. After checking few of them we again came back to the bus, now this thime me and Anand went to search the hotel and there's no use. We were searching for the hotel from the past 20min on the streets of mathura and everyone was saying the hotel is full as it is a festival season. Now the people came back and the bus is about to start to Vrindavan and dropped our plan to visit Vrindavan in bus as we didn't got the hotel. Sujeet and Lavakumar took our bags from the bus and the bus left.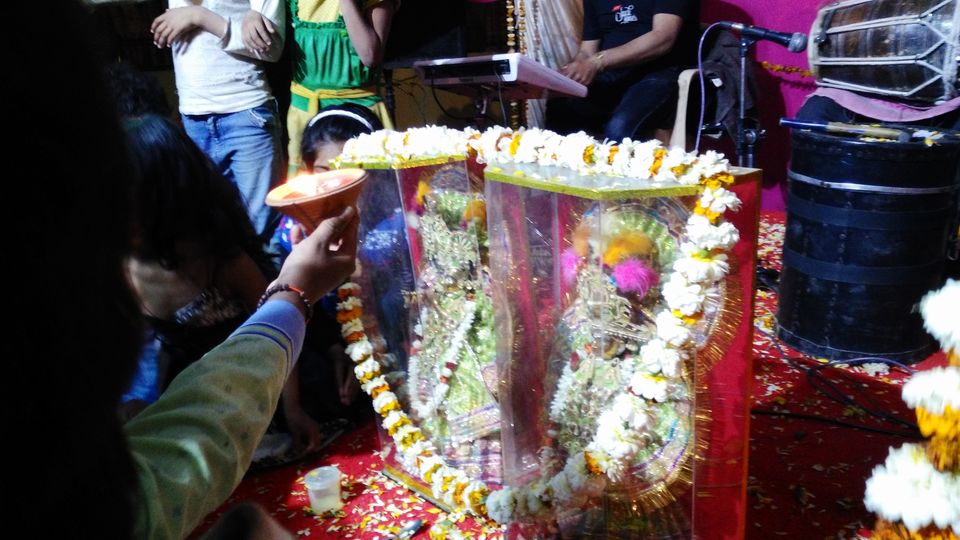 Finally we managed to get the room in the hotel for 1300/- per night. We freshed up in the hotel came out, the time was around 8:30 PM and we heard a loud sounds from the speakers and went there to see what's happening and it was a stageplay where everyone was praising lord Krishna and dancing.The vibe was completely different at that place. After the stageplay they burnt the statue of Holika.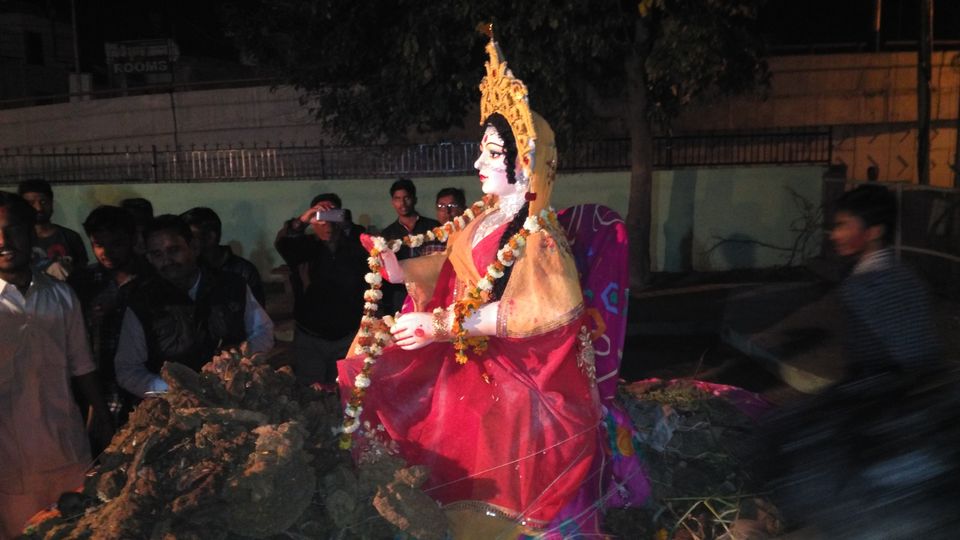 Later we were roaming around the streets of mathura, tasting the street food on that night around the temple.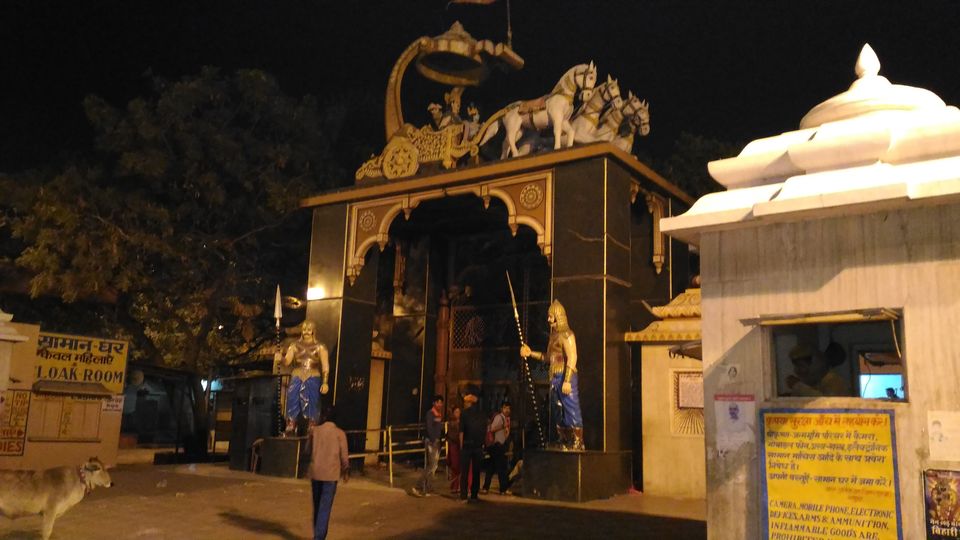 I bought the new white shirt for the next day and my friends were trying pagdi and all.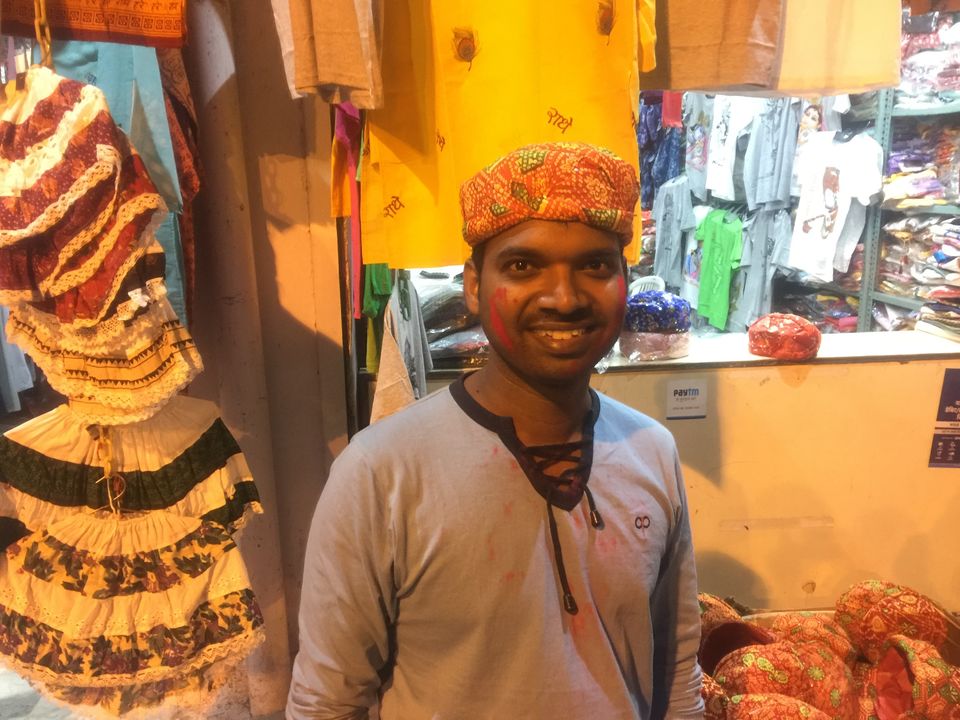 We woke up at 5:30 AM and freshedup within 30min and came out of the hotel at 6:00 AM, finished our Tea. The first destination for today is go Vrindavan, so we took an auto to Vrindavan and by the time we reached ISKCON temple at Vrindavan it was 7:00 AM and ISKCON was not yet open, then we decided to go Nidhivan Temple (Mysterious Temple), a temple where visitors were not allowed to go inside after the sunset, it is said that Lord Krishna will come to that place every night and play with Gopis and people who went to see this never came alive (Why would lord Krishna kill their devotees who came to see him? That is the reason, it is said to be mysterious).
We took Toto, and started to temple and was discussing with our driver chacha, suddenly a monkey came and took the spects of Anand and ran, within a minute another money came and took my sunglasses and ran. We had to stop the vehicle to get our glasess, mine was a normal sunglass but anand's was a site glass so he needs that. Our driver chacha told me to go to shop and buy one fruity and come (the idea was to put fruity in one hand of the monkey and take the glasses like a business deal with monkey). When I ran and saw the shop, there was a big queue at the shop for the same fruity (Looked like these shopkeepers made a deal with monkeys to sell the fruity). Some how we managed to get Anand's spects and mine was gone. With all this drama we reached temple and our driver chacha said there will be lot more of these monkeys inside temple & told us to be careful with bags and mobiles. I had my gopro in my hand and my main moto was to protect it from monkeys. We entered temple and people were warm and giving hugs and wishing everyone. We have seen people dancing and singing songs inside the temple.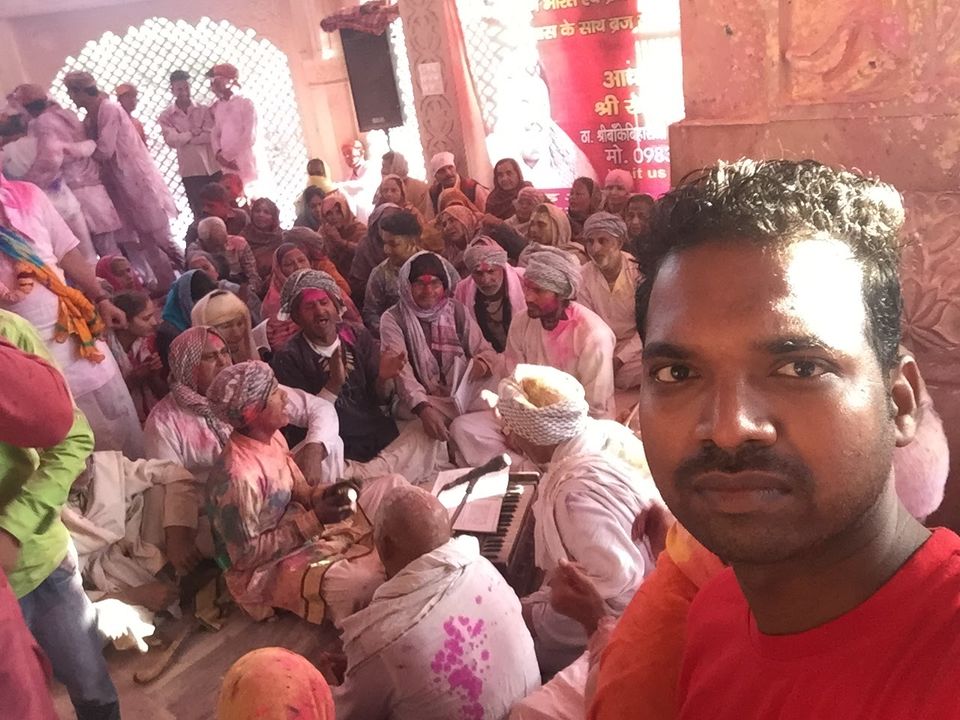 The actual party started when we came out of the temple. It was 8:00 AM and few of the locals were on top of the buildings and throwing color waters on the people who were passing through the streets. We started to the famous Bankey Bihari temple in Vrindavan.
It is the hub of holi festivals in Vrindavan which starts a week before the holi. We saw one narrow street going towards Banke-Bihari Temple from the backside of the temple and within 5 minutes, my white shirt had been coloured with different dry colours. The atmosphere at the temple has magnificent energetic and was high, the doors of the temple are opened to all the visitors to come and play holi. The priest throws the colors, water with pichkari and crowd chanting and praising lord Krishna "Hathi Ghoda palki, Jai Kannayya Lal ki".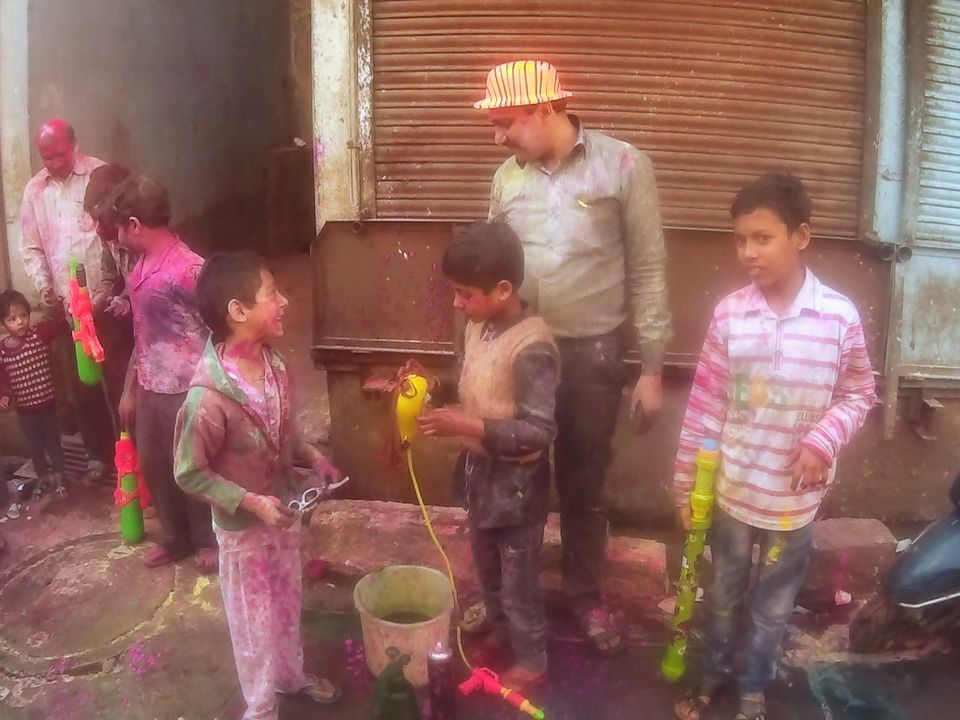 We were not allowed to click the picture of Lord Krishna as people of Vrindavan say that once a princess had come to worship Lord Krishna in Banke Bihari. She continuously stared at Krishna & made a strong eye contact with the statue. After that, she went back to her Palace but surprisingly the statue of Lord Krishna also went along with her so Vrindavan people placed another statue of Lord Krishna in Banke Bihari. The Original statue is there in Gujarat as the princess was from Gujarat. People say that nobody should make any eye contact with Krishna's statue in Banke-Bihari or click picture as Krishna's statue goes along with the person who does it. Therefore, they have kept the curtain in front of the stage & photography strictly prohibited however people still take pictures in the temple.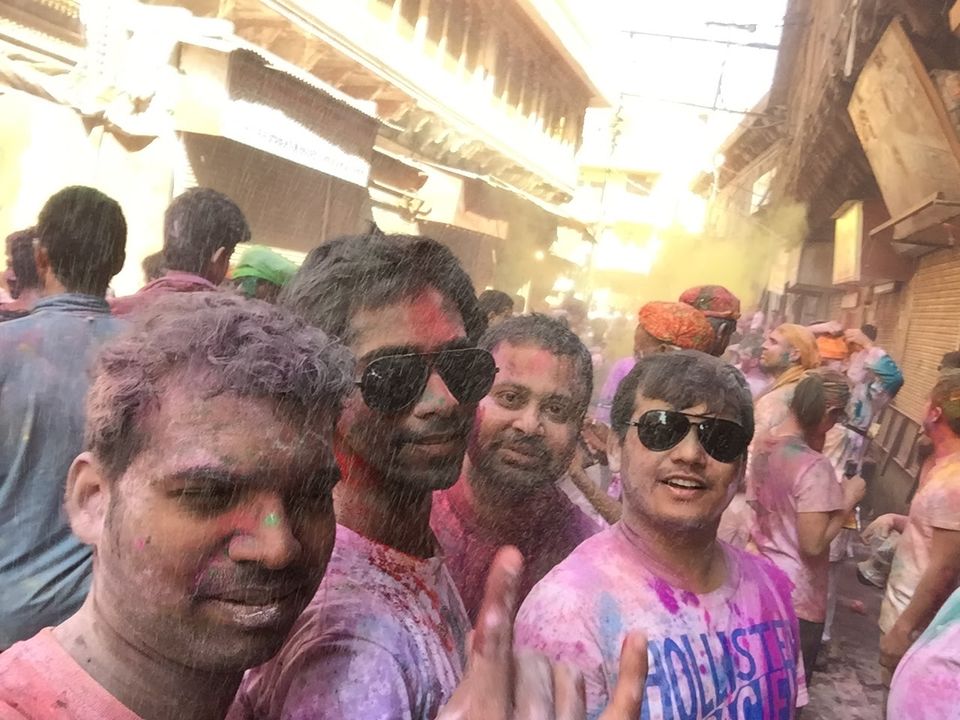 With all this super energetic crowd, we came out of the temple and started walking, we don't know where we are going to but were walking along with the crowd as we were stuck in the magic which was happening around us. Everyone, almost everyone comes and hugs you and wishes Happy holi and put a pinch of color on you. Nobody was a stranger there as everyone used to wish each other Holi with dry colours. There was just one word which was chanting by everyone, its "Radhey Radhey". Radhey Radhey was in the air in the twin towns of Mathura and Vrindavan.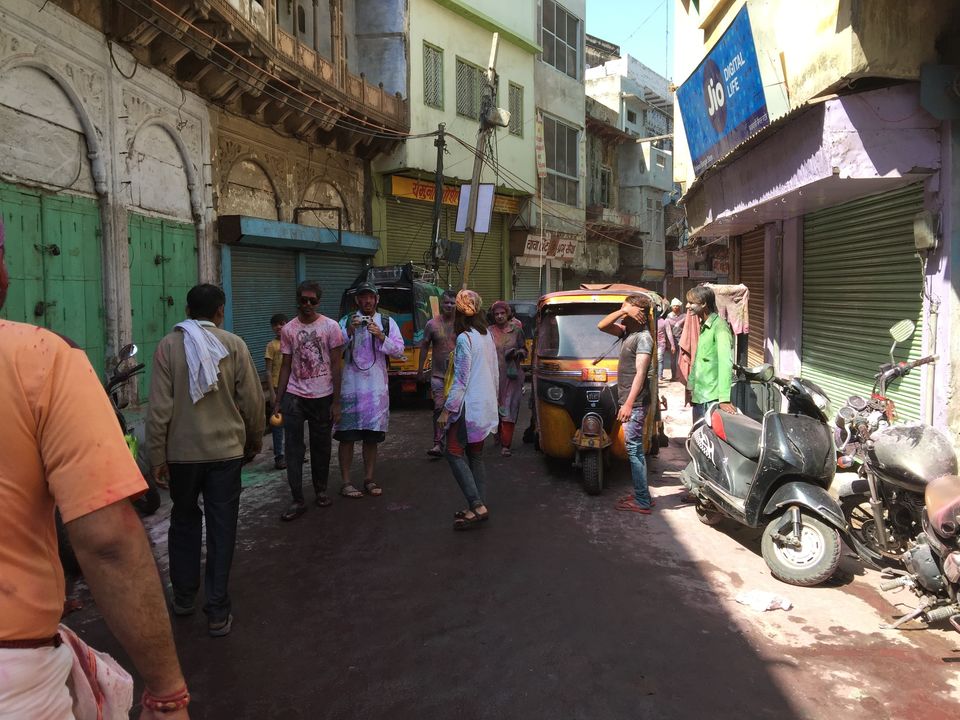 When we reached ISKCON, it was closed again and now we took an auto for Mathura. It is 12Kms from the vrindavan as it was festival day, he was asking for 150 Rs/-. Now we reached mathura and to go for Dwarakadeesh Temple. We decided to walk on the streets till the temple. The walk through the streets was absolutely fun filled with kids throwing colors, strangers greetings and hugs, people throw color water on the people who are going on streets from the top of the buildings, throwing water ballons etc. It was a fantastic walk when we reached temple, the whole atmosphere was vibrant with people, chants, praise of lord, colors, dance, drums.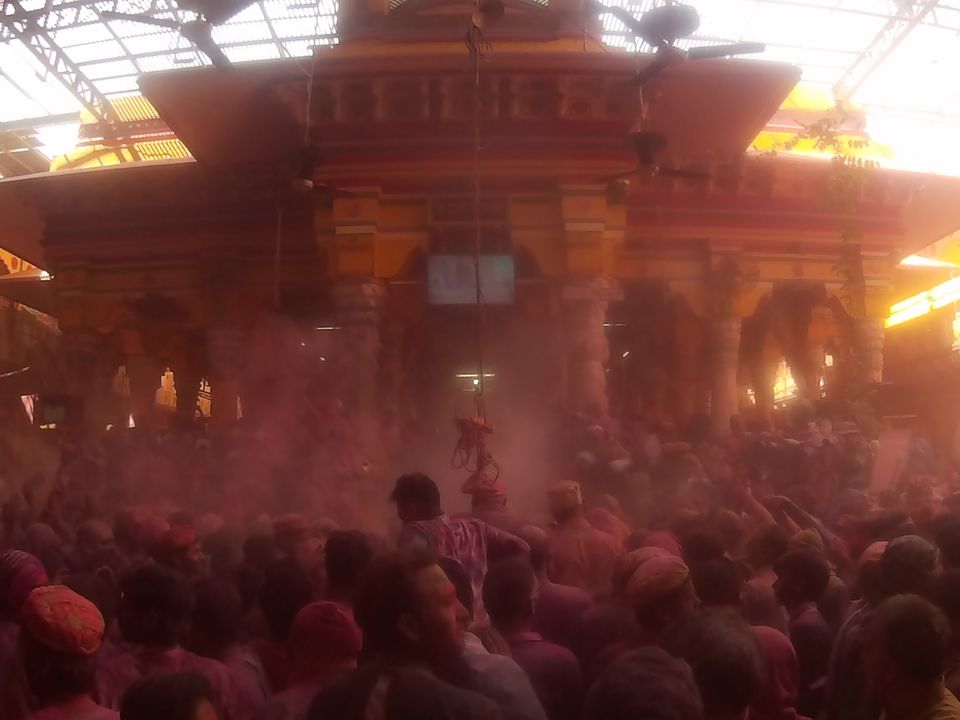 Then we came out as the Krishna Janmasthan temple will close at 12:00 PM we took an auto from there and reached the temple. We deposited our phones in the locker and went inside the temple had the darshan which was just about to close.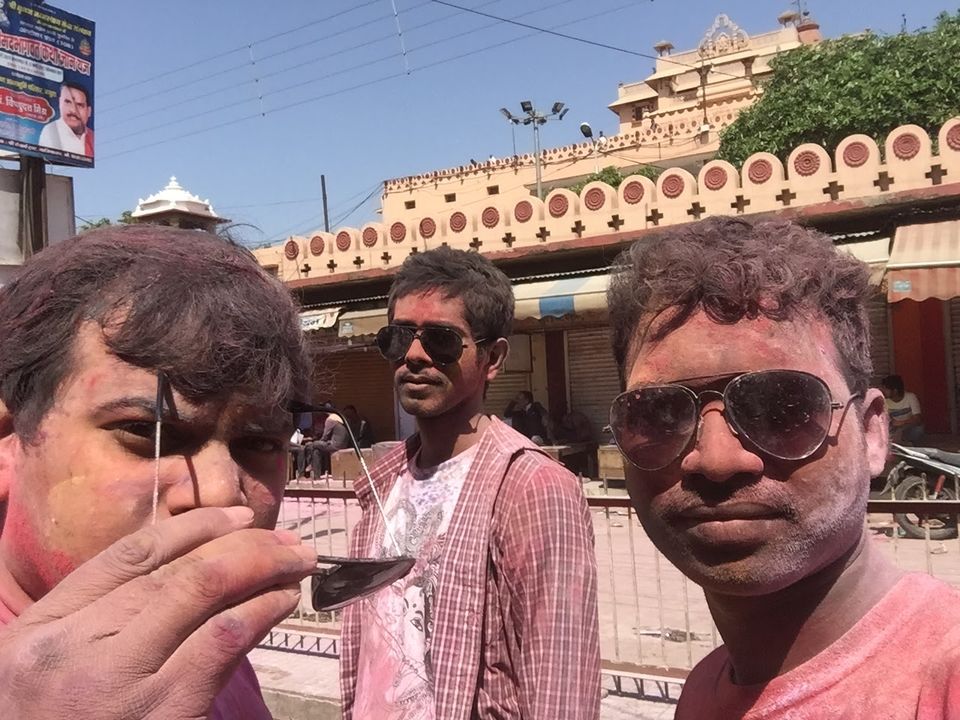 Then we came back to the hotel and freshed up and started to the Mathura Railway station to go Delhi. We took some train and reached delhi by 5:00 PM. We went for shopping for some time and took Aero Express Metro and reached Airport & headed back to Hyderabad by 11:30 PM in the night.
How to reach Mathura and Vrindavan?
Mathura is well connected from Delhi with Yamuna Expressway. Mathura comes on the way from Delhi to Agra and there are lot of buses, trains from Delhi. Mathura railway station has trains running from almost all major cities of India.
Vrindavan is 12kms from Mathura and you can find lot of auto rickshaws, electric vehicles, buses from Mathura.
Places to visit in Mathura and Vrindavan on Holi
Bankey Bihari Temple @ Vrindavan
Prem Mandir @Vrindavan
Dwarakadeesh Temple@Mathura
Holi Gate in Mathura
Krishna Janambhoomi/Janmasthan @ Mathura
Major Events & Dates
Lathmar Holi at Barsana (15th March 2019) & Nandagaon (16th March 2019)
Poolan Wali Holi at Bankey Bihari Temple, Vrindavan on 17th March 2019
Widow's Holi at Gopinath Temple, Vrindavan 18th March 2019
Holi at Bankey Bihari Temple, Procession at Mathura & Holika Dahan 20th March 2019
Holi at Dwarakadeesh Temple.
What to eat?
You will find lots of street food in Mathura and Vrindavan. You will have many options to choose.
Accommodation
Though there are lot of mid range options, most of them will be filled during the festival. So I'll suggest you to book hotels well in advance otherwise you gonna miss the party searching for hotels.