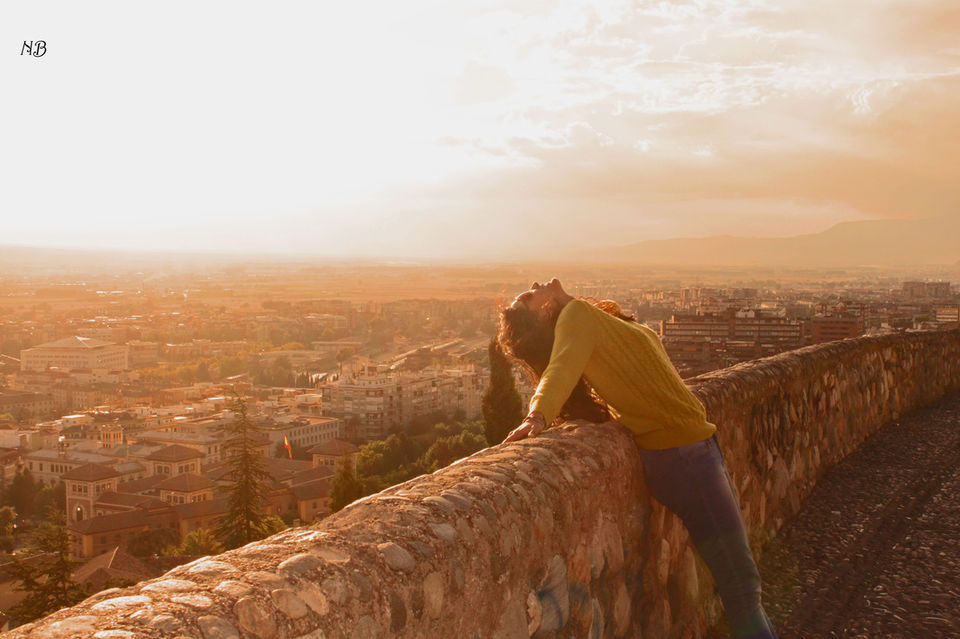 Travelling alone is similar to riding a cycle for the first time. It's difficult to even kick the pedal while maintaining the balance, but you overcome the inertia and finally get moving. As you gain confidence and balance, you ride carefree and caress the wind. In your travel adventure, this is the part where you get used to your own company and are in control of every step you take. You are no longer anxious. However, soon you lose the focus and fall down. This reminds you to be alert about every little thing, no matter how silly it may seem in your native land. You understand the true essence of accountability. After trial and error, you eventually become better at planning trips and start advising others! To get started on planning your first solo trip, ask these questions:
Do you know which places you will be visiting and how to reach there?
Do you have the city/bus/tram/train maps?
Can you carry your luggage comfortably, if you have to walk for a long distance?
Knowing each detail is important for your own safety. Some tips that will help you before you set out on your own:
1. Trip Planning:
Plan your itinerary in detail.Every bus and train that you will be boarding, arrival and departure times, time of reaching your destination to ensure that you are not alone at odd hours. I make an excel sheet with train/bus details and time schedules. Share it with someone you can contact if there is an emergency.
2. Stay:
Know where you are going to stay. Call in advance and book a room before the journey instead of trying your luck after reaching. Carry a map (Google maps with directions may also work) or download the map on your phone. Ensure that you don't reach your stay at odd hours and get stranded because you can't find the place. Europe has good network of cheap and safe youth hostels. Few sites for booking hostels:
http://www.hostelworld.com/
http://www.youth-hostel.com/
http://www.hostels.com/
You can avail student discount at certain places. Some hostels have discounts for youth hostel members. Hostels will cost anywhere between 10 to 40 Euros. Some hostels have good kitchen facilities. Ensure to check the check-in time before you leave. Other option is to book flats through
3. Apps:
Download Eurail app to see all the train links
Download City maps and take maps of all the cities that you shall be visiting. These maps are available offline and can help you reach your hostel.
Download Triposo. It has good reviews on everything that you can do in the city. Works offline.
4. Tourist Information:
Visit the tourist information center outside the station or check the nearest one on city maps. Most of the European tourist centers give city map, tram map and city guide booklet for free. Keep them with you to plan your itinerary for the day. Get important locations marked on the map (railway station, hostel, city center, tram lines, train lines etc.)
5. Travel:
Most cities have day passes that make your travel free in the entire city. You can get information about it at the tourist center.
6. Money:
Most countries in Europe accept Euro. However, countries in the Eastern Europe and Scandinavia have their own currencies and it's better to get local currency at the money exchange office. You can find one near the railway station or in the central area of the city.
7. Safety:
Always keep money in three different places. Don't leave important things in the hostel unless you have a locker. Carry your money, passport and important things along with you in a small backpack when you leave the hostel. Be careful and don't give too much information to people when you doubt them. However, be open. You will meet wonderful people on the way.
8. Things you should pack:
Emergency food
Water bottle
Book/Diary/Music
Power bank
Medicines
Slippers ( you will forget about this and then be forced to walk in shoes everywhere, including your hostel )
9. Luggage:
Please travel light and only pack luggage you are comfortable carrying if you have to walk.After you have finished your first lone trip in Europe, you will feel the power within yourself to go anywhere without waiting for anyone. You will get all the undistributed time to think, to read and to write. You will attract other lone travellers and have great discussions. You will realize all the loopholes and get better next time"Part of us is always the observer, and no matter what, it observes. It watches us. It does not care if we are happy or unhappy, if we are sick or well, if we live or die. Its only job is to sit there on our shoulder and pass judgment on whether we are worthwhile human beings." A lone travel is the perfect way to meet our own observer.
Frequent searches leading to this page:-
Europe honeymoon tour packages, Europe honeymoon tour packages from Delhi, Europe honeymoon tour packages from Mumbai, Europe honeymoon tour packages from India, top things to do in Europe in winter, best things to do in Europe in winter