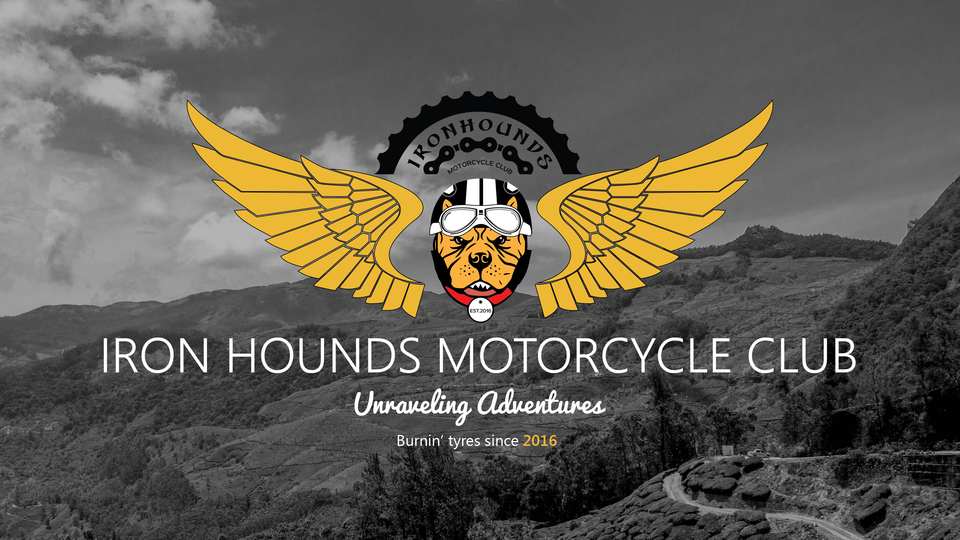 We are savages when it comes to the enthralling two wheeler adventure. Spontaneous decisions, a bag-pack, riding boots and the never ending bumpy highway are all that we need. Ironhounds MC wanted to capture the serene beauty of Kerala (Gods Own Country) and must I say, it was a decision i will never regret.
We decided to rendezvous at Koramangala early morning, chilly breeze and a cup of the bicycle chai and a cigarette is what we needed, (Bdw Cigarette smoking is injurious to health, Stay in school and don't do drugs). After 30 minutes of brainstorming, deciding what speed limit one should ride, documentation, feeding phones with enough battery, we started our iron stallions, Oh my! The thunderous sounds of Royal Enfield and other minions broke away the silence of dawn.
As our spirits soared higher, the adrenaline was haywire, for some, it was their first long ride, so imagine, the ecstatic testosterone was uncontrollable.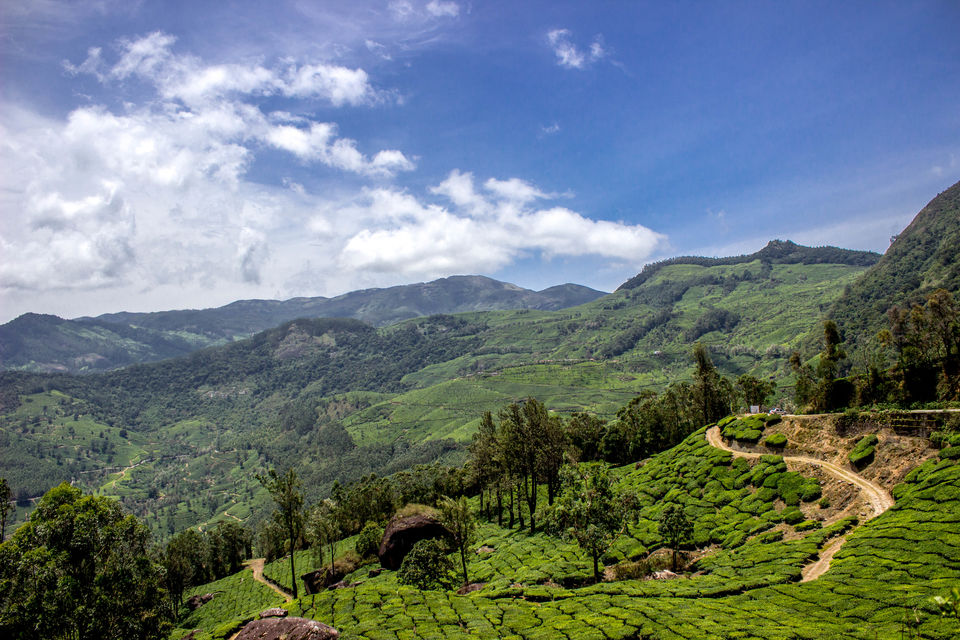 We rode for 2 hours and had our first pit stop at McDonalds, Shoolagiri for a lip-smacking breakfast. Black coffee and a few hamburgers made us lively, energetic and wanting for more. Now Kerala is a big state and we couldn't possibly cover all of it so we had to make a decision as to where to lay our weary bones thus we chose Munnar, a divine, serene, untouched, radiant place surrounded by lush tea gardens, hills covered in mystifying clouds, and a breeze which makes you orgasmic, (lol).
We started our engines and looked at the map, we had to cover 140 kilometers to reach Salem to grab a typical Tamilian lunch. The road was dry, hot, sweating from our arses, but as the saying goes, "ek baar hamney joh commitment kardi, toh hum apna bhi nahi suntay hain". So we rode on and on and on and on. Stopping to water the nature in between and hydrating ourselves with coconut water, we do managed to get a glimpse of hard rocky mountainous terrain, but what we encountered after that was more terrifying than Gabbar himself. The velocity of the wind was absolutely hysterical. As we rode, we came upon a long stretch dominated by huge windmills, the wind was so brutal that it swayed our bikes like a bloody pendulum. I could see scooters parked on the sidewalk because people were actually terrified to ride but we had to be the heroes and we rode. After battling the wind for hours, we reached Dharapuram and stopped for some tea and vada.
There was only 125 kilometers to Munnar from Dharapuram, so after a short break, we throttled our acceleration in full force and we could feel Munnar calling us. It was absolutely breath taking, we could see the lush green grass overpowering the concretes. Ufff!!!! The feeling was too expensive. Alas! we had reached Munnar. Its actually impossible for me to express what i felt because there was a clash of emotions, tired and exhausted yet exceedingly happy. Here is a picture to show you guys what i saw.
Tell me, tell me, how would you describe this? Coming from a concrete jungle with horns honking, traffic, pollution, over populated people to this is extravagant. Blessed!
We stopped to take some pictures, what is the use of a smart phone, lol. We are all making faces and posing for selfies, posting on social medias.
We then made way to our hotel, a small cozy inn situated at the heart of Munnar, it was more of a hostel, a large building with dormitory kind of rooms. And yes, hot water was available. It was around 7:30 pm that we reached and all of us was super tired. In came the expensive whisky,Dewar's to nourish our debilitated souls. Cheers to Munnar, what a ride was probably the last thing i remember. We talked, we laughed but all in all it was absolutely worth it. The night was freezing so Do Not Forget To Carry a Piece of Warm Clothing. Lights Out!
The next day after breakfast, we made a decision to ride towards Ooty, another hill station, it was around 11 am, we packed our bags and started descending. Believe me when i say this, Munnar is breath taking, stunningly beautiful, like a bride on her wedding day. My personal opinion, if you want to go to Munnar, go on a bike. Here are some pictures to support my statement.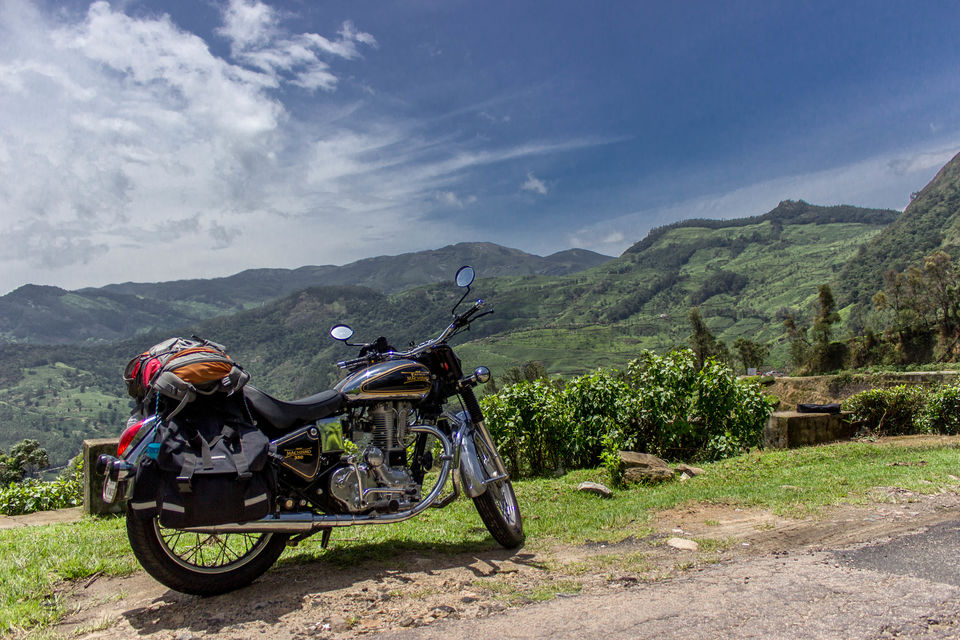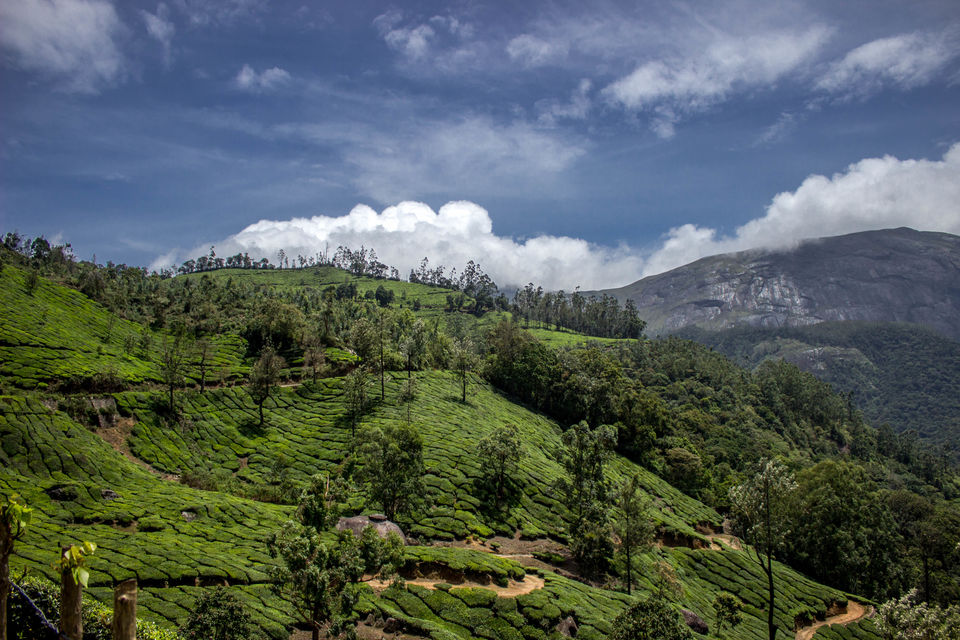 Between frolic and laughs and never ending photographs we came upon a small stream, radiant glittery water which makes you jump with joy and feel like a small child, we parked our bikes and went straight away to the stream to quench our thirst and splash some water.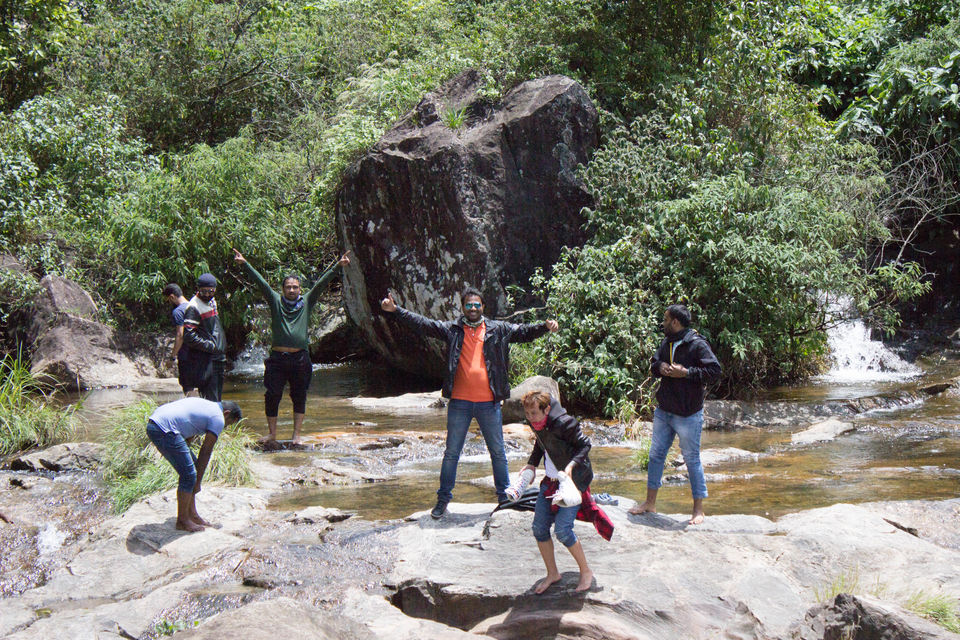 We started descending taking our time, since we were so mesmerized but time was of value, we had to make it to Ooty before nightfall, it was a race against time so we did what we had to do, less of sight seeing and more of riding.
https://www.instagram.com/p/BHcb4HFhItv/?taken-by=cupid_prankster
Since my article is getting longer than anticipated, i am going to cut short. So we finally left Munnar and getting closer to out destination, and dusk was catching us, like i said, it was a race against time. The Uphill ride was more a butt pain due to traffic and steep slopes and hairpin U-turns. I wasn't so much excited about Ooty since it was my third visit and Ooty was more a commercial tourist spot with thousands of people flocking in. As we ascended more towards the hilltop, we were welcomed by rain, rain, Oh My Dog! The last thing we wanted, traffic and rain do not merge well but we reached our lodge for the night.
Believe me when i say this, it was a 110 years old bungalow, narrow passages, dark rooms and a 101 year old piano made it even more scarier. We had a friend who was so scared and i did played some pranks on him, he was shit scared, makes me smile every time i think about it. Below is the place where we crashed.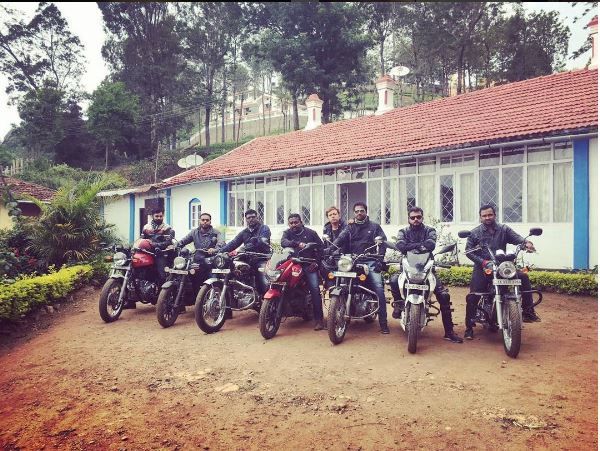 As we bid adieu to Ooty, it was another painful ride towards home. The fourth day was a longggggggggg ride towards Bangalore. It was raining and we had no choice but to ride and take risks. Slippery road, wet shoes, we started to descend until we reached Bandipur National Reserve. Oh Man, what a feeling, the rain had just stopped and everything was covered with dew. The green forest had turned more greener, PETRICHOR!! Sniff, Sniff! The earth never smelt so good.
Elephants, Black Bear, Herds of Deer was some of the fantastic animals we saw, Unfortunately we weren't allowed to stop and take pictures, patrolling cars were ever so vigilant. Its all captured in our brains for the rest of our lives, but i did get to click a picture of a sunflower farm. Just like in SRK movies, this place was unreal, check it out.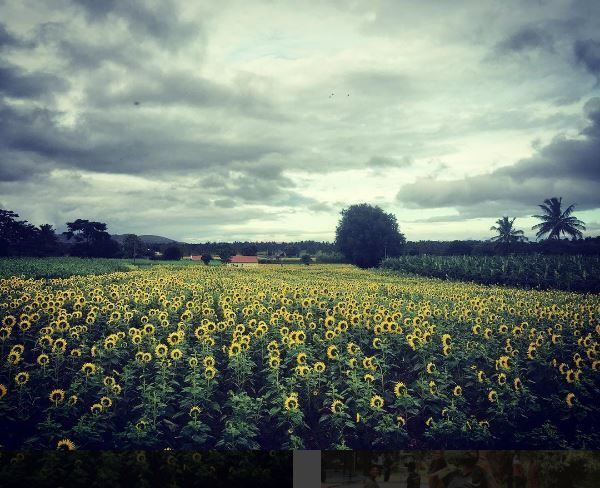 That was probably the last time we stopped for pictures, from here on-wards it was ride until we reach Bangalore and stop in between for some dinner.
All in all it was one of the most beautiful gateway we did. Four days of thunderous riding, forest, nature, rain, animals, tea gardens etc etc. Man o man it was phewwwwww but all worth it. A budget of 5k each for food, lodging and fuel was worth it. The only thing i did not have was a bloody GoPro else i would have captured most of it, so readers, i am open to gifts especially GoPro. :P :P..
Do check out the links:
https://www.instagram.com/prathap_javagal/
https://www.youtube.com/watch?v=D9cpiz7tdB0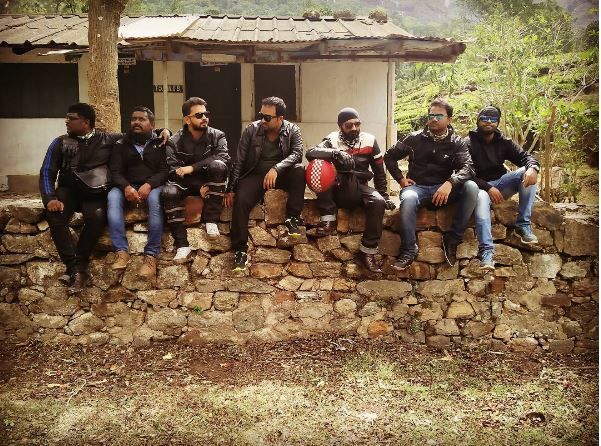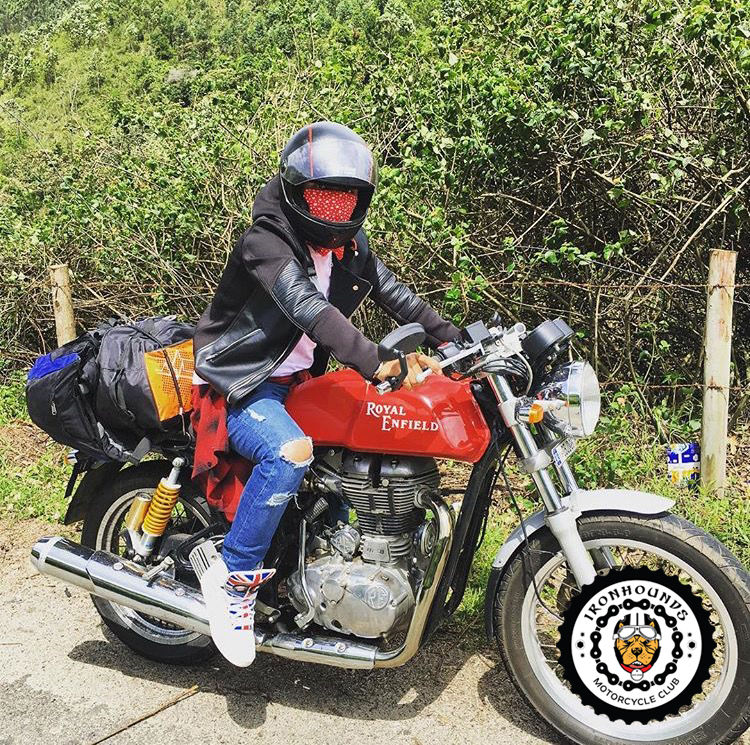 Coming up with the next ride soon! Stay Tuned and thank you for your time