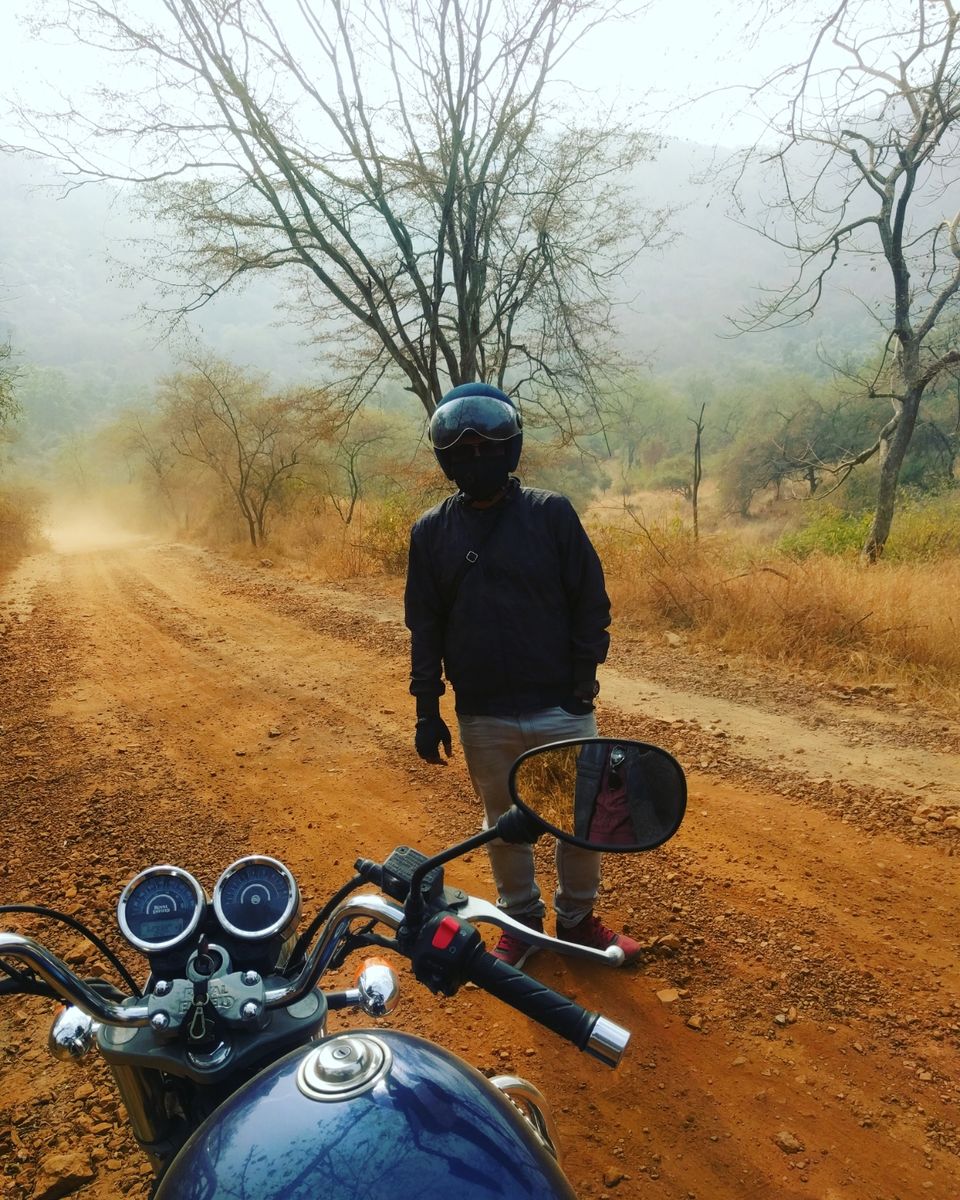 After a long hectic week, I kept a vigil eye on the weekend to arrive. After a lot of google search in quest of a weekend gateway within 200 km radius, finally I decided to visit Sariska Tiger Reserve in Alwar district of Rajasthan which is roughly 170 km from Gurgaon. The salience feature of Sariska Tiger Reserve lies in the fact that, it is completely situated in the lap of oldest mountain range Aravali. It was 5:00 am in the morning. Winter was in its nascent stage in Gurgaon.I and my friend decided to left for Sariska as soon as possible. Though it was a bike trip to Sariska, we were fully prepared with warm clothes. But the excitement of trip nullified the mighty winter factor. As soon as I ignited the mighty RE Thundebird, a sheer joy of tremendous pleasure gave us a solid push for Sariska.
After a week of long planning , finally we hit NH8 with a decent speed. NH8 is arguably a rider's paradise. Wider roads and fully constructed.But more we went deep into NH8, the ride became more agony. Roads were fully congested with heavy vehicles movement and as usual wayward driving by truck drivers. Up to Manesar Toll, ride was somehow manageable but beyond that it was the most scariest ride for me. Vehicles from opposite lane with high beam made the ride completely nightmare. I felt the real horror of highway ride at darkness. I was really missing the absence of an anti fog riding glass. Which is a mandatory accessories specially during night riding in winter. Some how we reached the famous"The OLD RAO Dhaba" near Dharuhera. It was our first tea break. It was a must needed break after a horrible ride. We ordered aloo paratha and chai. Both the items were superb. We decided to stay a while in the OLD RAO, waiting for the sun to mooting out.
It was 7 am in the clock and roads were clearly visible with the ray of sun light,though a thick blanket of smog covered the NH8. We left NH8 as per google map and captured Alwar-Tizara road. The best part of this road was that, unlike NH8 it was not congested at all and hassle free.So I was able to maintain a good speed. Passing though many unknown road side villages were giving me a new joy of experience. The surrounded greenery was acting as a panacea from the city life pollution.Pumping me with fresh dose of oxygen.Working as a relaxing tool for my jaded mind requiring a break from daily routine. The more we rushed towards the Sariska, a portrait view of Aravali was clearly coming to our sight. Far mountain range was approaching towards us like a brisk. As if they wanted to tell something.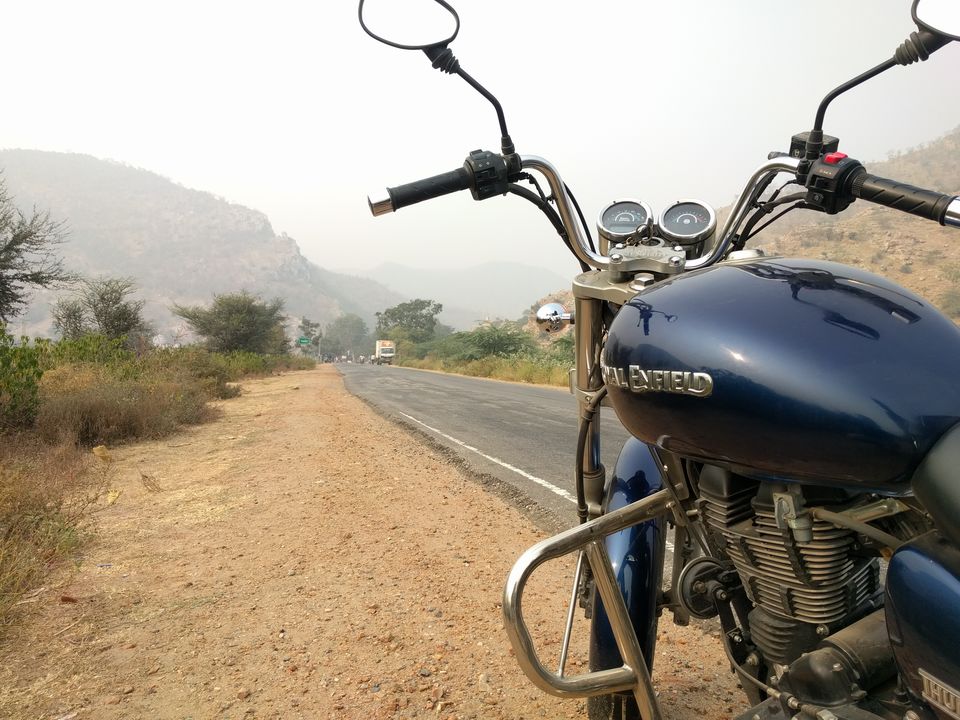 The sheer joy of riding a Royal Enfield in the picturesque surrounding with the thumping sound of bike was creating a magnum opus atmosphere for both of us. The weather was getting more and more pleasurable as we were heading towards the Tiger Reserve. The performance of bike with the deteriorating road of the Sariska was meaningless in front of the charismatic surrounding.
Finally after piercing through many unknown roads we reached our destination at 9 am. We were very much excited to explore tigers in the Safari Jeep. But we were completely broken by hearing that Safari booking was closed at that time. To enjoy a Safari ride, one needs to book before 8 am at the booking counter on the spot or after 2 pm or pre book via online. This was informed to us by the authority of Tiger reserve. We were clueless and precarious ,thinking about our next action plan. As we were unaware about the instructions. But one can take private vehicle into the park on Saturday and Tuesday. And that day was Saturday. Initially we were circumspect to explore the Tiger Reserve on a two wheeler. But I subjugated my hesitation and managed to convince my friend to explore the Tiger Reserve on a two wheeler. We both were scared as well as excited. Many questions were mooting out in my mind. But seeing other people in two wheeler gave us some confidence. So we entered into the Tiger Reserve in search of tigers.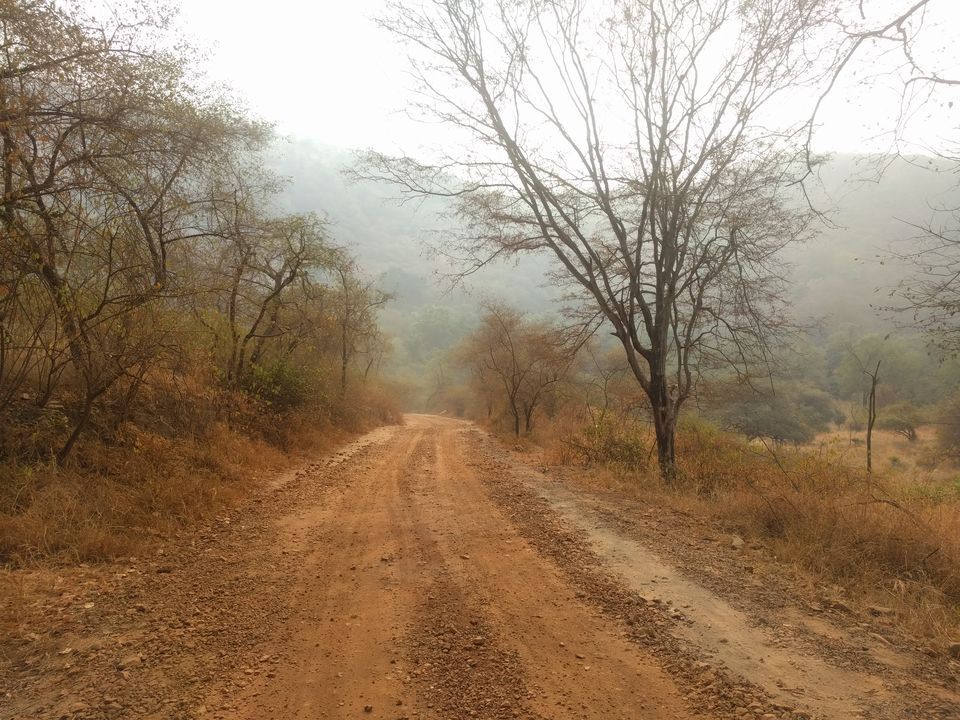 There was no proper road inside the Sariska. It was a pristine jungle road more ever one can say, uneven cuts with sharp deep trench. I hardly put my bike beyond 2nd gear. My bike was under some serious scrutiny for his performance in this terrace. The more we entered deeper into the Tiger reserve , we witnessed the more pristine view of the tiger reserve. It was enviable so as untenable. Every moving animal was giving us a glimpse of a tiger. We were very cautious while riding through the gang of grey langurs thronged on the pseudo roads of Sariska. Crossing a bunch of deer was a shear treat to eyes. Watching uncountable peacocks playing side by was adding more value to our ride.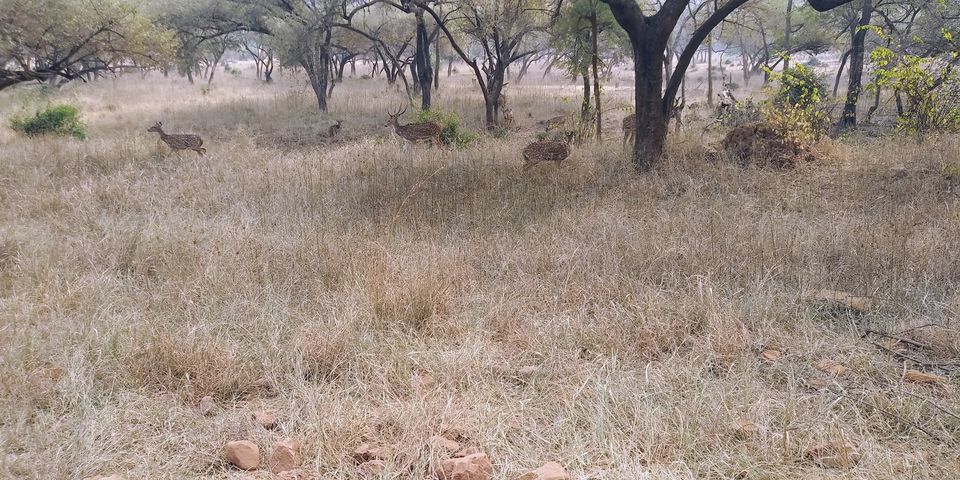 I was maintaining a decent speed and cautious about the thumping sound of royal enfield. I didn't want to create an unnecessary agony for wild animals. The more we entered into the Tiger Reserve, the feeling of acceptance for the Reserve was getting stronger and stronger.I was steadily accepting the surrounding, making it more familiar. The behemoth Aravali was charismatic. It was like spreading its blessing towards us.
Roads were getting worse as we go into deeper part of Tiger reserve. But the stability and power of royal enfield making it an ease of ride. The worst part of ride was the sand dust created by the heavy vehicles movement inside of Sariska. We were not at all prepared for this. We suffered a lot for this. It is advisable to keep a full face helmet with a face protection mask inside Sariska Tiger Reserve.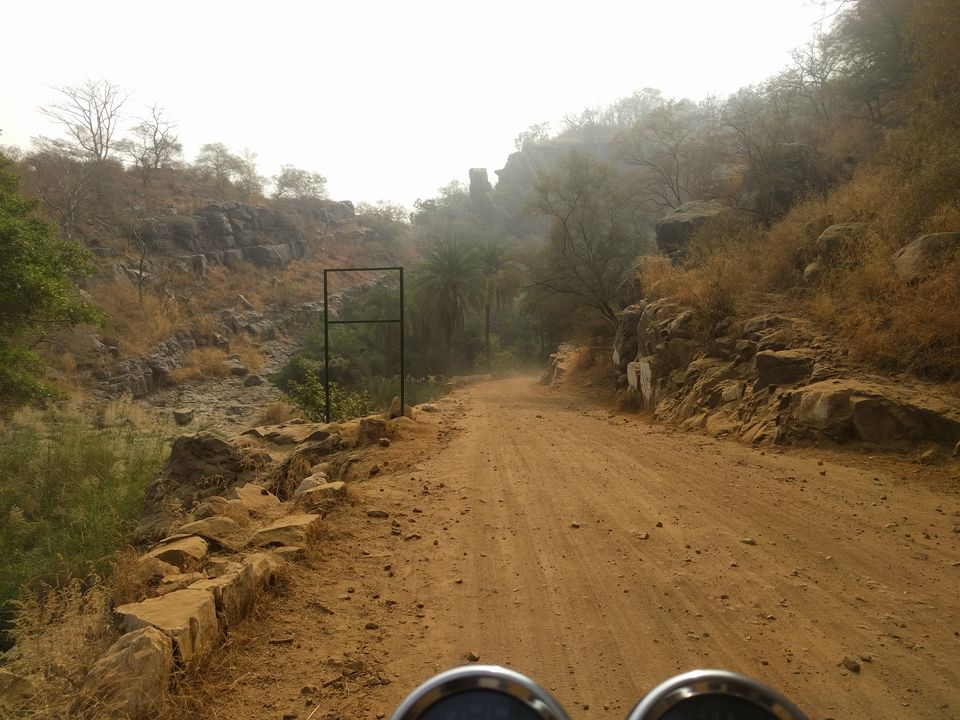 After piercing 21km into Aravali , we reached Pandupol Hanuman Temple situated deep in the Sariska. Mythology says, this temple belongs to Pandava Era. The same was also confirmed by a local people in that temple. A layer of dust was grabbed us beneath it. We took some water treatment in the temple periphery and cleaned ourselves. Took blessings from the lord Hanuman. By the time we were very much hungry. Tasted some local Kachodi with Kadi. It is a famous dish in Pandulop temple. I purchased some Ladoos. Those were very delicious. I found people offering food items to the Grey langurs sitting near by.
The uniqueness about these Grey Langurs is that they were very much disciplined. They never snatched food from devotees rather they loved to take it from their hands instead. You are needed to be respectful towards them while offering the food items. I shared my ladoos with them. I had never experienced that. It was awesome.
After taking blessings from Lord Hanuman, we started our return journey to home. By that time I was completely familiar with the place. A special bond had created between the place and me. I was not a travelling freak by then but after the Sariska trip, I have discovered an inner happiness within me. We are all busy in our daily day today life , but the extreme pleasure of long road trips, exploring new places has its own credibility. Though we hadn't found any tiger in the Sariska but the shear joy of extreme pleasure has its mark on me. I am eagerly waiting for my next weekend gateway.....