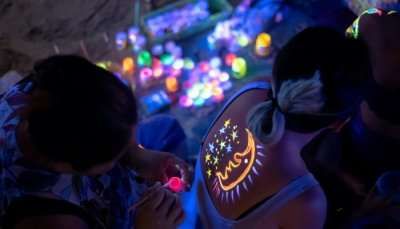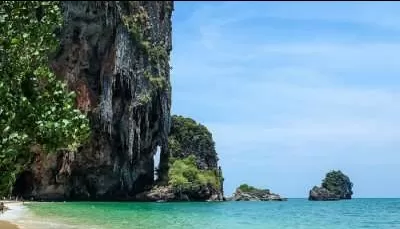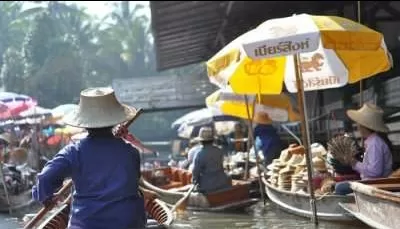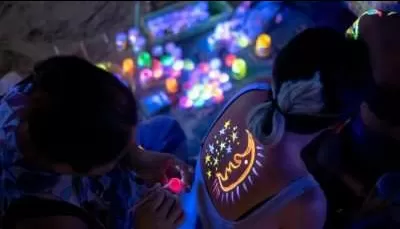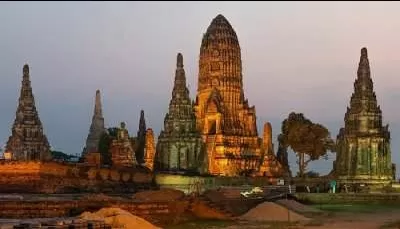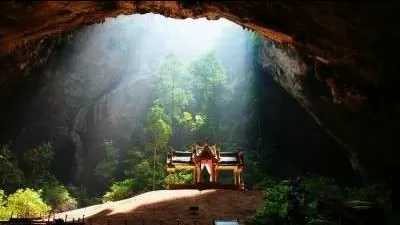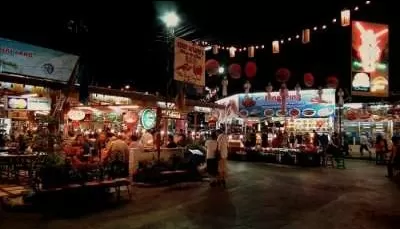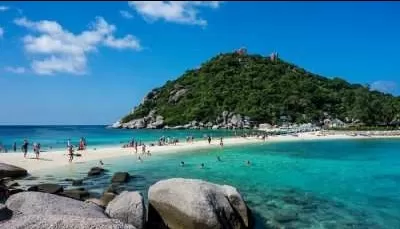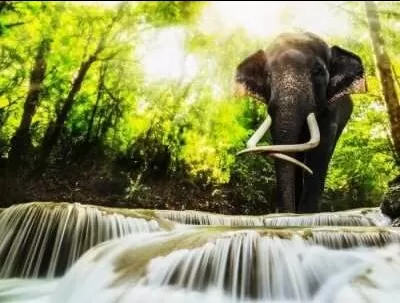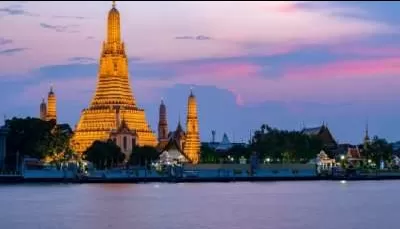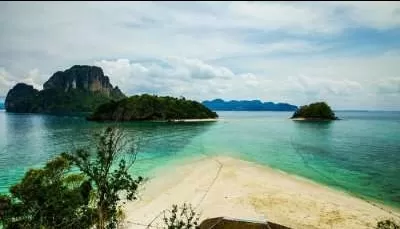 1. Beaches – Mandatory In Thailand
Of the many popular tourist places in Thailand, the beaches of the country top the list. Go snorkelling among the shallow coral gardens at Mu Ko Ang Thong, swim around the sea cliffs of Krabi – which is amongst the best must visit places in Thailand, indulge in scuba diving at the wild white beaches of Ko Lipe, dance around with gentle sharks at Kao Tao and Ko Pha – Nigam, learn about the gypsy life from the fishermen in Trang, gaze at the sun reflecting off the white sand at the Hua Hin. These Thailand tourist spots have majority of vacationers sunbathing and swimming on the beach.
Best Time To Visit: November and April
Tourist Attractions: Sunbathing, coral gardens, snorkeling
Location: Krabi, Phuket, Koh Lanta, Koh Phi Phi, Koh Samui
2. Floating Markets – Try Something Unique
Floating markets are the top tourist places in Thailand. Damnoen Saduak Floating Market is the most famed tourist spot as it proudly embraces the title of being 100 year old. Some of the other famous floating markets are Taling Chan Floating Market, Tha Kha Floating Market, Amphawa Floating Market and Ayutthaya Klong Sa Bua Floating Market. Make sure you visit at least one of the markets during Thailand sightseeing.
Best Time To Visit: All throughout the year
Tourist Attractions: Souvenirs, trinkets and groceries
Location: Ratchaburi, Bangkok
4. Ayutthaya – Admire The Architecture
One of the best tourist places in Thailand, stroll around the Thai capital for 417 years and you will get the feel of an open – air museum. Every corner of Ayutthaya speaks of structures dating back to centuries, ruins of the second capital of Siam and marvels of art and architecture. This is one of the best places to see in Thailand to learn about the country's glorious past.
This place is ideal for those who really have some interest in the history of a particular country as each and every monument situated at this place tells us about the past of Thailand. This place comes under the world heritage site and has been protected by the UNESCO. Most of the things that were built here no longer sustain and what we see here is the remains of it.
Whatever is left and is seen by people was recollected by the UNESCO. Most of the idols that we see here are of Buddha, but they are not in good condition at all. Some do not have their head and others do not have some other parts of the idol. One can come here by any of the local transport services and can spend the whole day watching these amazing and beautiful art forms.
Address: Phra Nakhon Si Ayutthaya District, Phra Nakhon Si Ayutthaya, Thailand
Timings: 7:00 AM to 6:00 PM
Entry Fee: THB 50
Things To Do: Royal Palace: Take A Look At How The Kings Lived, Ayutthaya Historical Park: Travel Back In Time, Million Toy Museum: Bring Out The Child In You, Ayutthaya Island: Take A Boat Trip
Ideal Duration: 1 Night/2 Days
Best Time To Visit: November to February
Tourist Attractions: Temples
How To reach: The bus takes around 90 minutes, buses leave from Mo Chit station twice hourly
5. Mu Ko Chang National Park – Explore The Flora & Fauna
Soak yourself in this jewel of 50 islands and also one of the top places to visit in Thailand. Spend your mornings with wilderness and bookmark the evenings for the thriving parties.
Cherish doing nothing on the white sand beaches and then break the day's rhythm with snorkelling and diving. From being around the whimsical waterfalls to fishing to diving to kayaking, do something new every day. So, while you're wondering what to do in this scenic place
Address: 23/7 Village No. 3, Koh Chang Subdistrict, Ko Chang Subdistrict, King Ko Chang District, Trat 23170, Thailand
Timings: 8:30 AM to 4:30 PM
Entry Fee: Foreigners: 200 Baht -100 Baht, Thai citizens: 40 Baht – 20 Baht
Places To Stay: Evergreen Koh Chang Resort, The Erawan Koh Chang, Marina Sands Resort, Little Sunshine Boutique Beach Resort & Spa, 15 Palms Beach Resort
Best Time To Visit: December to March
Tourist Attractions: Wildlife and views
How To Reach: Take the bus from Bangkok Mochit Bus Terminal to Ao Thammachat Pier. Take the car ferry from Ao Thammachat Pier to Ko Chang.
6. Chiang Mai Night Bazaar – The Shining Star In Thailand
It sweeps across several city blocks embracing footpaths, inside buildings and temple grounds. Pick up handicrafts, arts, clothing's, souvenirs from here. This market was the stopping point of Yumnanese trading caravans along their ancient trade route between Siama and Mawlamyaing. So, while you're out and about, make sure you explore one of the best shopping places to visit in Thailand with friends.
Apart from the nightlife, it has many other things that it offers to the tourists who come to visit this place. One such thing is the awesome food that it has. If you are a real foodie and love to try new food, then you are going to love this place. Along with the continental food, this place gives you some really awesome Thai food that is worthy of a try. It has been said that once you will eat the local cuisine that the restaurants here offer you, then you will become a fan of that food. Not just the food, this place has become the hub for the wanderers.
7. Koh Tao – For Peace & Tranquility
The smallest island of Thailand, Koh Tao is one of the best places to visit in Thailand. It owes its name to the copious sea turtles that inhabit its shores. Drifting tranquility in the Gulf of Thailand, this island is famed for its laid- back nature.
Do dance with sharks and raise a toast to Thailand on its white beaches. Ko Tao is also called the Turtle Island and is considered as one of those places that are a must-visit in Thailand. This place is perfect for the person who loves scuba diving. One cannot just do the diving for fun and with the help of an instructor, but can also learn it by doing a diving course at a very reasonable price and with the help of a really good and admirable instructor.

The best part about learning to dive is that one does not need to go to the pool and can actually learn it in the sea only. It may be sounding bit difficult and indifferent, but is actually very easy and one will enjoy here more as compared to the pool. If you are a person who is not much into these water sports then you can go for trekking and all as there are some good trekking sites also. Even if you do not like trekking and hiking also you can go to the various beaches that are on the island and can chill over there. So, together we can say that this island has at least something for every person of different taste and this is that one thing that makes it the place that one must visit whenever they come to Thailand.

Things To Do: Scuba diving, Shopping, Nightlife, Sightseeing
Best Time To Visit: March to May
Tourist Attractions: Beaches, swimming, snorkeling
How To Reach: Services run from the mainland leaving Chumphon and Surat Thani, and from the islands of Koh Samui and Koh Phangan. There is no airport, and no bus or train stations on Koh Tao.