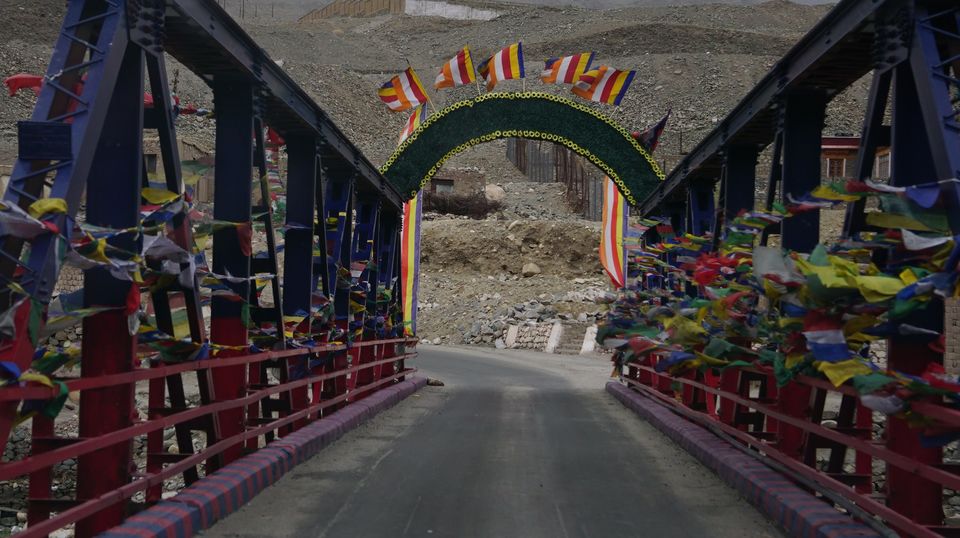 Ever wondered of going on a Leh backpacking trip? Well, you should head to Leh this coming holiday season, and feel enchanted amidst the majestic Himalayas. Leh is a serene and calm location in the lap of astonishing mountains and valleys. No pictures or words will ever do justice to its beauty. Visiting Leh is something you will remember forever.
Going on a Leh backpacking trip is on the bucket list of most Indian travelers. In recent years, thousands of foreign nationals are also visiting this part of the world owing to the beauty and serenity of Ladakh. As somebody who has recently backpacked to Leh, I can tell you that you will have the time of your life here. All you need is a proper itinerary and some budget saving hacks. The earlier you plan your Leh backpacking trip, the better it will prove for you.
Leh is a lovely travel destination. From the warm welcome from your guesthouse managers with a cup of butter tea to tall mountains and snow you see around, use the word Juleh carefree. Juleh, pronounced "joo-lay", is a magic word, just like the magical aura of Leh itself. Say juleh when you want to say hello, goodbye, thank you, how are you, nice to meet you and you're welcome. This coming holiday season, plan for an exciting Leh backpacking trip just as I did a while ago.
Leh Backpacking Trip: An Overview
Ladakh is one of the most sought after travel destinations in India and rightly so. With rugged mountains, crystal blue skies and unique terrain, Ladakh is truly mesmerising.
Before I proceed into the details of how to plan a successful Leh Backpacking trip, here are a few things that you need to know about Leh as a travel destination.
Is it Possible to Make the Leh Backpacking Trip Cost-Effective?
Budget travel, food and stay in Leh are all possible if you looking in the right places. From taking the local bus from Manali or Srinagar to staying in guest houses, Leh can be easily travelled on a budget.
For food, wander around the market streets and you can easily find small kitchens that serve hot delicious lunch and dinners at nominal costs.
The local market is a really big place to shop for things for self. Many shops sell jewellery, warm clothes, pashmina shawls, and various souvenirs. Try exploring shops other than those in the main market for the cost-effectiveness of your budget. Read the detailed blog on where and what to buy in Ladakh.
Ideal Visiting Time and Weather Conditions for Pursuing the Leh Backpacking Trip
The temperature in Leh varies around the visiting seasons. Therefore, you need to pack things for your Leh Trip accordingly. During October to November, and March to May, the temperature goes to a minimum of - 1°C and 15°C maximum. However, temperatures at Khardungla and Pangong lake can go as low as - 10°C. Between late May and early October, the weather conditions are warmer, as the snow starts to melt and the green starts to come back.
If you are interested in snowfall and really cold weather, October-November, and March-May are the best months to visit. Also, the traffic is limited, so Leh backpacking trip can be pursued.
Special Advisory for Leh Backpacking Trip
During March-May, the road routes from Manali to Leh and Srinagar to Leh is closed. The only mode of travel will be via Air from Delhi or Srinagar. This might add up as an extra travel cost to Leh.
Nominal Accommodation Options for Leh Backpacking Trip
Accommodation in Leh is easy to find and can suit everyone's pocket. There is one luxury hotel in Leh -The Grand Dragon. However, this isn't a convenient place for backpackers.
For budget travellers, there is nothing better than homestays and guesthouses. When I say homestay, don't picture a hostel room or dorms. All homestays in Leh have furniture for all your needs. The hosts usually live downstairs and the guest area and accommodation is upstairs.
The prices of the rooms are negotiable. Rooms can be booked in advance. These homestays or guesthouses also offer food on demand in case you prefer it.
Facilities Available for the Recommended Accommodation Options
Based on my own travel experience in Leh multiple times, I'd suggest you stay in any of the following places. I'm enlisting the facilities available. Also, the distance from Leh airport has been mentioned for your convenience. Almost all the accommodation places in Leh keep changing prices as per the season. So, make sure to book in advance. It'll help you save money for your Leh backpacking trip.
The following guest houses and homestays will keep your Leh backpacking trip budget-friendly.
Quite a delightful place comprising spacious rooms and comfortable beds. The Gangs Shun Homestay is reasonably close to the main town of Leh and so, is accessible by all. The owner will help you with anything you need.
Located slightly on the outskirts of the main town of Leh, the Druk is a comfortable place to stay during your trip. Rooms are clean and equipped well.
Leh can be accessed via various routes and transport options.
How to Reach Leh from Outside India?
For visiting Leh from outside India, it is important to reach New Delhi first.
Best deals on Flights and Accommodation
In case you're planning to take the Leh backpacking trip during peak season, the average prices are bound to scale up. However, you can avail various budget deals in case your timing is correct.
Explore the following for the best deals on flights and accommodation not just for Leh backpacking trip but for a nominal trip around the world. The subsequent 3 booking websites are being suggested to you because I've experienced the services of all for my various trips to North India.
My Top Transport Tips for Leh Backpacking Trip
Transportation can form a major part of a travel plan and also the total travel costs. In order to have a successful trip and keep your budget under check, you need to take care of the following things while travelling to Leh.
Inner Line Permit: Must have Document for a Successful Leh Backpacking Trip
Inner Line Permit (ILP) is a travel document issued by the Government of India. It allows visitors to travel to a protected area for a limited period of time.
Obtaining the ILP is essential for all the citizens, who do not belong to the state of Jammu and Kashmir. Foreigners travelling to Ladakh are required to obtain the Ladakh Protected Area Permit (PAP).
The PAP is required for visiting areas like Khardung La, Pangong Tso, Tso Moriri, Dah, Hanu Villages, Man, Merak, Nyoma, Loma Bend, Turtuk, Tyakshi, Chusul, Hanle, Digger La etc.
What in My View are the Must Visit Places on your Leh Backpacking Trip?
Leh has lots of natural beauty and is full of palaces, monasteries, lakes and beautiful valleys. One can visit Kargil, Alchi, Magnetic Hill, and various passes on the way.
Khardung La and Chang La are two most visited passes in Leh and are crossed while visiting Nubra Valley and Pangong Tso respectively. Hunder in Nubra valley has two-humped camels. The magical Magnetic Hill is a place of its own significance.
Leh also has various national parks like Hemis National Park. All these places are under 200 km from Leh, and regular buses or personal taxis can be hired. The Leh Palace, Hall of Fame, and Shanti Stupa are around the main city of Leh.
What Lakes to Visit on your Leh Backpacking Trip?
Leh is blessed with naturally formed magnificent lakes. While some like the Pangong are well known, there are many other lesser-known lakes in Leh- Ladakh.
A Special Note on Pangong Lake
The approximate distance between Leh and Pangong lake is about 154 kilometres. It takes 4 to 5 hours to reach Pangong Lake from Leh.
Try starting early from Leh to be able to spend ample time in and around Pangong lake. The entire journey from Leh to Pangong Tso is splendid.
Leh via Chang La or from Nubra Valley via Shyok Villages and Tangste.
The sheer beauty of Pangong Tso or more popularly known as just the Pangong Lake, makes travellers visit it from far and wide. It has serene bright water that changes shades from blue, green and even reddish at times. The rugged mountains on one side of the lake add to the stunning view.
All the hype about the water being so blue are all true. It is a must-visit the spot on your Leh backpacking trip.
Tips for First Time Travelers Visiting Pangong Lake
Here are a few tips for first-time travellers visiting Pangong lake:
If you'd like to know more details about visiting Pangong lake, you can read this blog.
Alluring Monasteries and Palaces to Visit on your Leh Backpacking Trip
As mystic is Leh, so are its monasteries and palaces.
Magnificent Valleys to Visit on your Leh Backpacking Trip
The two most gorgeous valley that should most certainly be covered in your Leh backpacking trip has been listed below by me.
A Special Note on Nubra Valley
Nubra is a splendid Valley, located not that far from Leh. If you are visiting Leh, you just cannot miss Nubra valley.
The distance between Nubra and Leh is 150 km and takes on average of 5 to 6 hours. Leave early for Nubra so you can enjoy a beautiful sunset from sand dunes over barren mountains in Hunder.
The most accessible and common route taken by travellers for Nubra Valley is via Khardung La. This happens to be the highest motorable pass in the world and has a different charm to it during early May.
Although it is not too cold here, one can suffer from sunburns when the sun is shining brightly. So, do apply sunscreen, and keep your skin covered.
Nubra Valley is a mysterious place tucked up in the lap of the Himalayas, that is filled with an enigmatic culture, mesmerizing valleys, double-humped camel rides, captivating sand dunes, and challenging roads.
The Shyok River meets the Nubra River in this mesmerizing village, that separates the majestic Ladakh and Karakoram mountain ranges.
Nubra Valley is also known as a cold desert due to long stretches of sand dunes, that offer a serene view between Hunder and Diskit. Sunrays bring life to the vast never-ending stretch of sand dunes, that proves you are at a high altitude cold desert.
Tips for first-time travellers to Nubra Valley
In case you would like to know more about visiting Nubra Valley, you can go through this blog.
The Uncanny and Mysterious Magnetic Hill Near Leh
Magnetic Hill is located near Leh in the north Indian state of Jammu and Kashmir. It is around 30 kms away from mainland Leh and it is on the Leh - Kargil national highway.
Magnetic Hill is an extremely famous and mysterious destination. Not only is the uncanny component of the hill a topic of exploration among backpackers, but also among people at large.
However, the mystery is not the only thing that surrounds this place. Beauty and awe are what inspire travellers to visit Magnetic Hill often.
Does Magnetic Hill Defy Gravity?
Magnetic Hill is said to be possessing strong magnetic properties. It is this magnetism which is responsible for pulling the vehicles uphill and air crafts to be shifted on a higher altitude while passing by the area.
People experience their vehicles being dragged on the road even when the vehicle is turned off. The vehicle starts to move ahead with a speed of about 20 km.
A few people say that the magnetic phenomena is felt only when the vehicle is big. Small vehicles like bikes do not experience any pull.
Theories Behind Magnetic Hill
There are two major theories that are generally discussed around the Magnetic hill. Challenging two scientific approaches, one is, of course, the Magnetic force which allows vehicles to move on an upward hill without racing the gear or even not turning it on.
Second is the optical illusion which plays around with people's mind. It is claimed that the hill is actually going down, but because of the illusion created by the ambience of the mountains, it works as a natural trick to the eyes.
Not defying the rules of gravity, but it actually creates an opposite image on the viewer's mind. It looks like the force is pulling you upwards.
Owing to the phenomena of Optical illusion, a downhill slope appears to be an uphill slope. It depends on the horizon lines, and we usually take reference of the horizon to mark something as up or down.
So, it appears to be defying the rules of gravity.
Rare Wildlife that can be Observed on your Leh Backpacking Trip
Leh is home to some of the rarest species of fauna. Set in the upper reaches of the Himalayas, animals such as the Asiatic Ibex and Marmot can be spotted here.
Asiatic Ibex is one of the rarest animals found in Leh. It's like a wild goat and its scientific name is Capra Ibex Sibirica. It is a long vaulted horn curved that grazes at high elevations.
They like to stay in high altitude meadows in the rocky hills. They are rare to spot in Leh but can be found randomly while travelling to various locations at Leh.
About 8 to 10 kilometres before the Pangong lake, a cute Himalayan creature can be found hiding in burrows or even on the side of a remote road. This animal goes by the name - Marmot.
It is one of the highest elevation residing mammal in the world. Any visitor who spots a Marmot should be careful enough to not disturb the innocent animal.
Due to the heavy influx of travellers on the way to Pangong lake, the marmots are decreasing in number over the past few years.
Food Guide for a Yummilicious Leh Backpacking Trip
As a traveller exploring a new land on your Leh backpacking trip, make sure to taste the locally prepared Butter Tea. This tea is prepared in specially made equipment and has butter and salt in it. As weird as it may sound, it is amazing.
Along with butter tea, don't forget to savour specially made momos. Also, the local dishes like Tigmo, Mokthuk, and K ahwa are available at local eateries.
When you enter the Mall Road of Leh, various small shops offer delicious breakfasts and lunch options.
While exploring the markets, you will come across many small kitchens that offer delectable lunch and dinner options at a cost of mere 70-80INR per person.
A Comparison of Leh Backpacking Trip: Solo Travelers versus Group Travel
Leh Backpacking trip can be done solo or with a group of friends. Both have their own advantages and both can be really fun if planned properly.
As inspiring as it may sound, solo travel to Leh can be a tad bit expensive. The fact that you're travelling alone will put the entire responsibility of finances on yourself. This will prove especially true for accommodation and food.
However, this does not imply that an ideal Leh backpacking trip for solo travellers is not possible. It can be done if you ensure a few things:
If travelling solo, try to book your accommodation way in advance so that you are able to avail the best deals. Also, try staying closer to the main area. This will be helpful not just from a budget point of view but safety point of view as well. Try reaching out to fellow solo travellers for the sake of sharing cabs. Private transport can be expensive in hilly terrains. So if you pool, it'll prove cost-effective. Else, just avail of public transport. Lastly, eat at places where a whole meal is cheaper than mere junk food.
Now coming to group travellers. On average, a group of three to five can easily pursue the Leh backpacking trip. Since you're not alone, you can split bills for your stay, food and internal transport.
A reasonable way is to contribute money in advance to the most travel-friendly person in the group. Transfer the money in his/her account before the commencement of the trip. Throughout the trip, let him/her pay. This will save all the extra hassle.
In case you don't pool money in advance, there are significant chances of the onus falling on only one person.
Whether travelling solo or with peers, make sure to have lots of fun on your Leh backpacking trip. The region will own you forever, and you would most certainly want to visit again.
Average Cost for Leh Backpacking Trip
The daily average cost for your Leh backpacking trip will depend entirely on 3 factors - place of stay, transport options and nature of trip - solo or in a group.
In order to assist you better, I will methodically do a full break down of expenses for your Leh backpacking trip -
Transportation to Use on your Leh Backpacking Trip
Public transport
Cost of boarding a bus from Manali to Leh will be 500 INR to 2500 INR. It will be 500 INR for a non-deluxe bus and 2500 INR for a deluxe bus.
For travelling via bus from Leh to Pangong lake, bus service will cost you about 600 INR.
Nubra Valley can also be reached via a direct bus from Leh bus stand.
Accommodation to bunk in on your Leh Backpacking Trip
There are many accommodation options in Leh. From guesthouses to homestays to hotels, there are different types of stays available at different price tags.
Food to eat on your Leh Backpacking Trip
While there are many food options near the Leh town, options start to shrink as you start moving to the interiors. Cafes and restaurants are only available at major stops. However, you can find small eateries at most of the major attractions.
Shopping to do on your Leh Backpacking Trip
Souvenirs are reminders of our travels. There is a lot of things that you can bring back from your Leh Backpacking Trip. From Pashmina shawls to unique Tibetan motifs, there is plenty to choose from in the markets in Leh.