On 5th October 2021 at 11 AM we leaved M M Hotels Kanchipuram for Mahabalipuram which is 68 km away. Reached Mahabalipuram at 1.30 PM. Car entry at Mahabalipuram is Rs. 75/-. Checked in hotel Nirvana for 2 days. After resting some time we enjoyed swimming in resort's swimming pool, had coffee and pakode at the poolside of the resort then played table tennis, watched sunset on backwaters from resort. At night went for dinner at hotel Arabian garden restaurant. Ate fish and chicken dishes.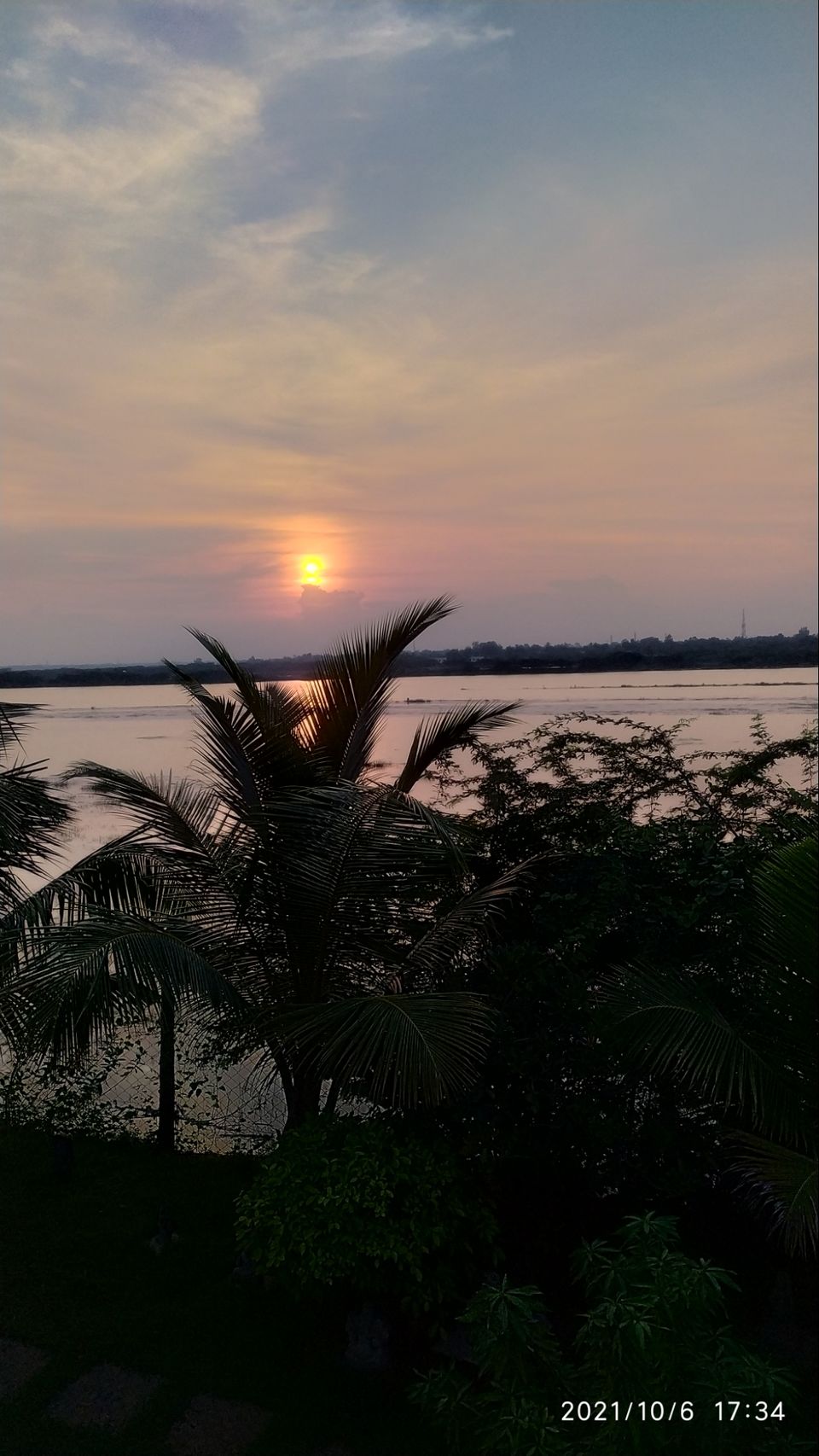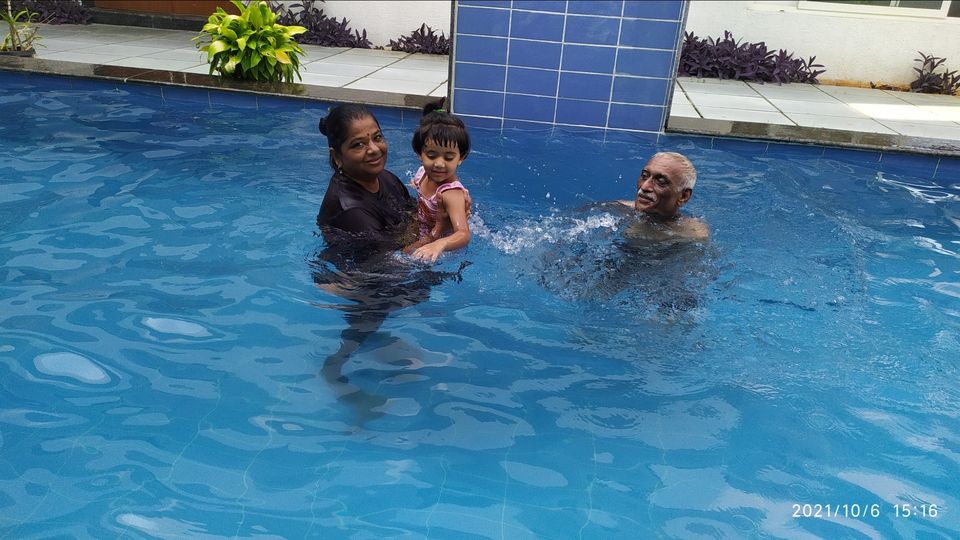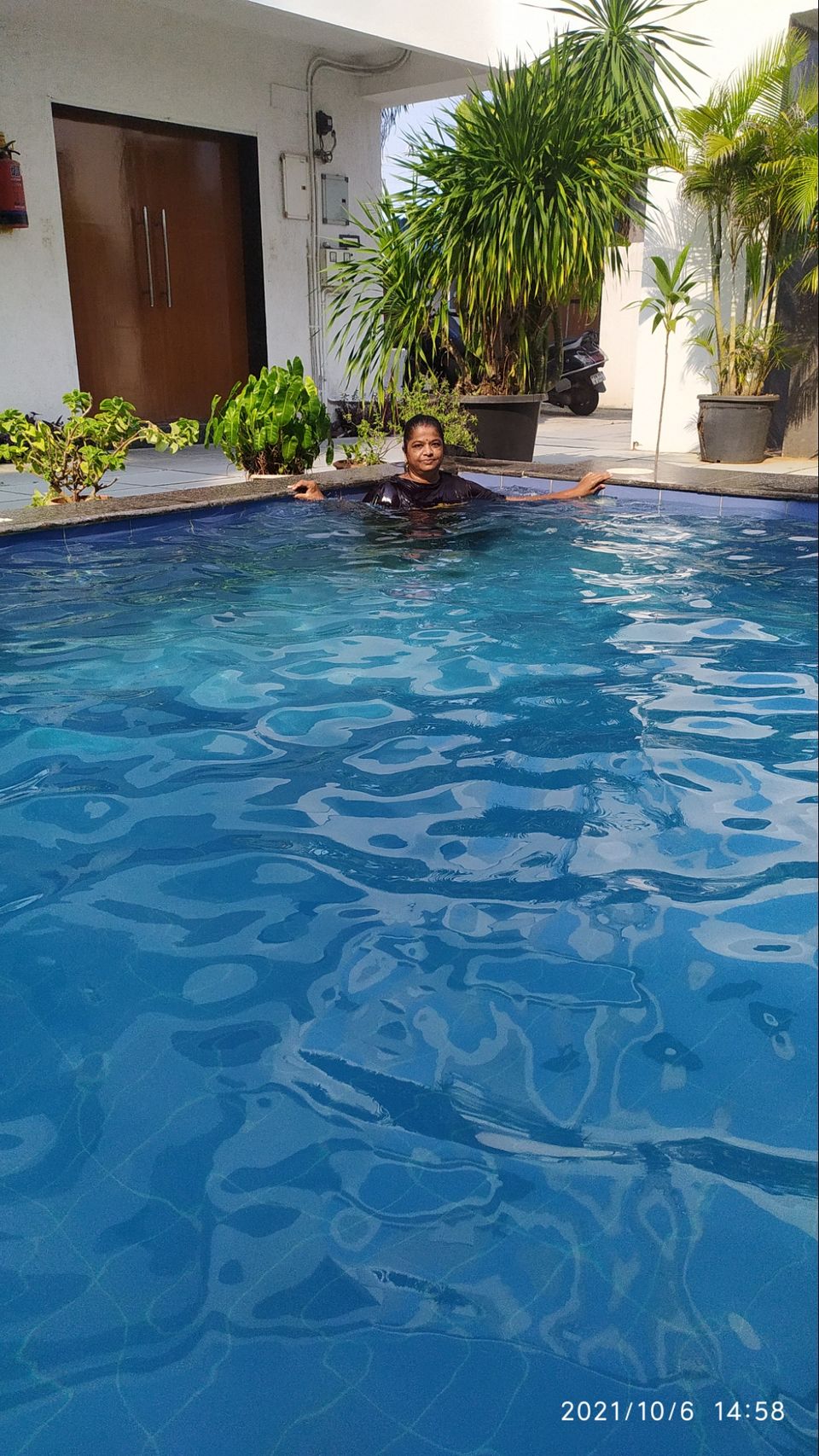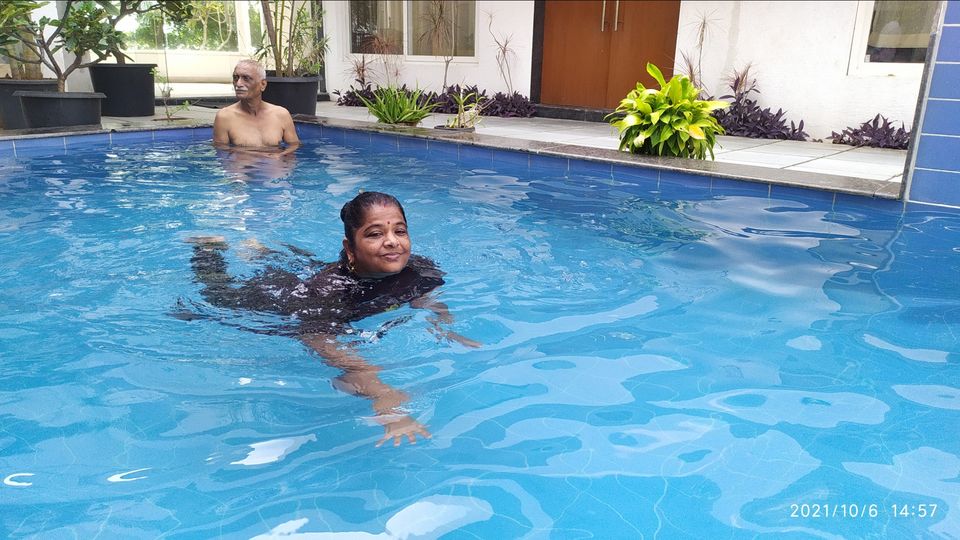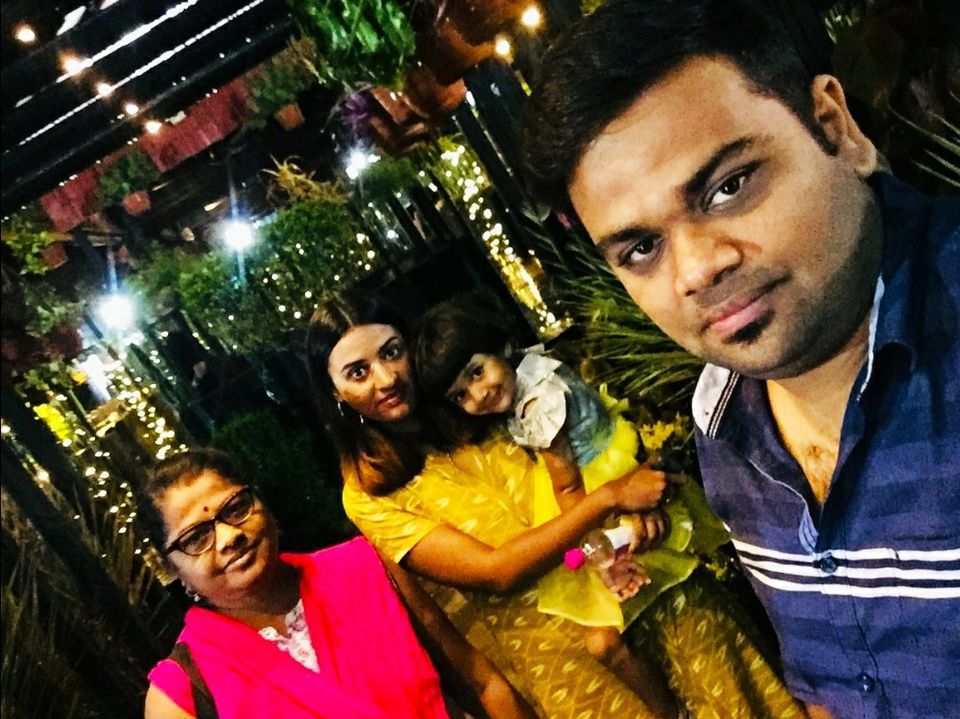 On 6th October 21 at 9AM we went to visit Shore temple, on the way we had breakfast and coffee. Shore Temple opens at 10 AM. We hired a guide at Rs. 700/- including entry tickets Rs.140/- (35/- per person) who committed to explain the history of 4 places. Car parking is Rs.75/- This entry fee and parking is for all places in Mahabalipuram for the same day.
Shore Temple- It is situated on the shore, on the banks of bay of Bengal, it is classified as a UNESCO WORLD HERITAGE SITE since 1984. The area around the Shore Temple is beautiful, also beach is beautiful and there is a green lawn around. Shiva and reclining Vishnu temples are there, but due to pandemic not open for darshan. You can see temples from outside, can see architecture and sculptures. There are many sculptures of Nandi's on the compound wall. Guide told that initially there were 108 Nandi's but due to natural calamities and salty water wind coming from sea, some Nandi's get damaged and some were shifted to musium. ASI has constructed break-water wall all around the sea shore to save the temple from further damage. Good time to visit temple is the evening time. After visiting shore temple we went to visit Panch Rathas. Also known as Pandva Rathas. The complex is carved with monolithic rock cut architecture. It is a UNESCO World Heritage site, as group of monuments. Five Rathas named as Draupadi Ratha, Arjuna Ratha, Bhima Ratha, Dharmraja Ratha, Nakul Sahdev Ratha. According to a plaque displayed at the site by the ASI, the Pallava dynasty had planned the structures as models of chariots in rock based on prototypes of ancient rathas built in wood. Work on these five rathas was discontinued following the death of King Narasimha Varman in 668 AD. The purpose of their construction is not known as the structures were not completed. Though it is incomplete, it looks marvelous. But one can imagine if it have been fully carved out, how beautiful it would have been. It is a must visit site in Mahabalipuram. Then we went to Arjuna's Penance. The descent of Gangas and Arjuna's Penance are portrayed in the two monolithic boulders measuring @49 x 100 ft. It is a masterpiece and cannot be seen anywhere in India. The sculptures carved in the natural fissure that divides the cliff not only depict a cosmic event of Ganges descending to earth at the command of Shiva but also shows the event being watched by gods, goddesses, people, half humans, yaksha, gandharv, kinnara and also wild and domestic animals, all admiringly looking up at the scene. The total number of carvings are said to be probably 146. The carvings of elephants are almost life size. Since it is open air, it becomes very hot for sightseeing. But the architecture is excellent. It is a UNESCO World Heritage site. You must hire a guide or ask to an expert at site.
Then we went to Krishna's Butter Ball which is just 2 minutes walking distance from Arjun's Penance. Krishna's Butter Ball is a giantic granite boulder resting on a short incline. It is a part of group of monuments site at Mahabalipuram by UNESCO World Heritage site. it is a popular tourist attraction. It is listed as a protected national monument by the ASI. In 1908, then-governor of the city made an attempt to use seven elephants to move the boulder from its position due to safety concerns, but got no success. The boulder approximately weighs 250 tons and is said to have been at the same place from 1200 years. The boulder looks round from 3 sides and half spherical from backside. It is a big surprise that how this giantic granite boulder delicately balanced by nature on the slope of the hillock. It is must visit place. As it was my Papa's birthday, we had special lunch at a rooftop garden beachfront Bombino hotel. Ate prawns fry, chicken and biryani followed by dessert and back to Nirvana. After resting a while enjoyed swimming in pool and at night ate only fryed rice at the poolside.