Mawlynnong - A Village rose to fame through cleanliness
If a village is famous the common notion bloom to our mind are its agricultural prosperity, thriving small scale industries or occupation closely woven with basic living needs. And how many times would "cleanliness" strike our mind when think of village's popularity. Yes, there is a village which became famous, not exaggeratedly, for cleanliness. Mawlynnong village, located in East Khasi Hills district of Meghalaya, became famous for its cleanliness. So what exactly it is like to be in the village which finds a constant place on all Meghalaya traveler's Itinerary.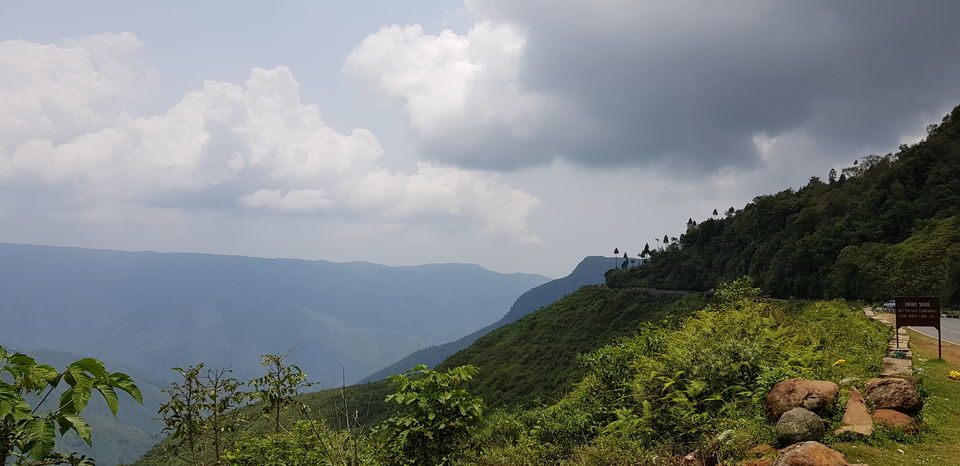 Background
Mawlynnong village has attracted multitude of traveler's attention following Travel Magazine - Discover India's recognition in 2003 as Asia's cleanest village. It has, in addition, acquired India's cleanest village award in 2005. And from then on, it has started gaining popularity, fresh tourist: many day visitors and some stays overnight.
Where is it?
Mawlynnong lies close to two picturesque places of Meghalaya: Dawki & Cherrapunjee. It is 78 kms from Shillong, 81 kms from Cherrapunjee and 35 kms to Dawki.
A road junction Pongtung diverts Mawlynnong and Dawki when coming from Shillong. Mawlynnong and Dawki are 16 and 19 kms respectively from Pongtung junction.
A Day in Mawlynnong
Living Root Bridge
The first thing that welcomes you while traveling to Mawlynnong is Living root bridge. Root bridges are Meghalaya's distinguished pride. There are lot of root bridges in Cherrapunjee, including famous Nongriat double decker root bridge. The root bridge in Mawlynnong village is famous in its own way. Contrast to Nongriat Root Bridge, Maylnnong living root bridge doesn't demand tiring trek (Nongrait demands min 3 hours one way trek) and offer a grand experience, to people who couldn't afford time or wellness, to witness ancient engineering marvel.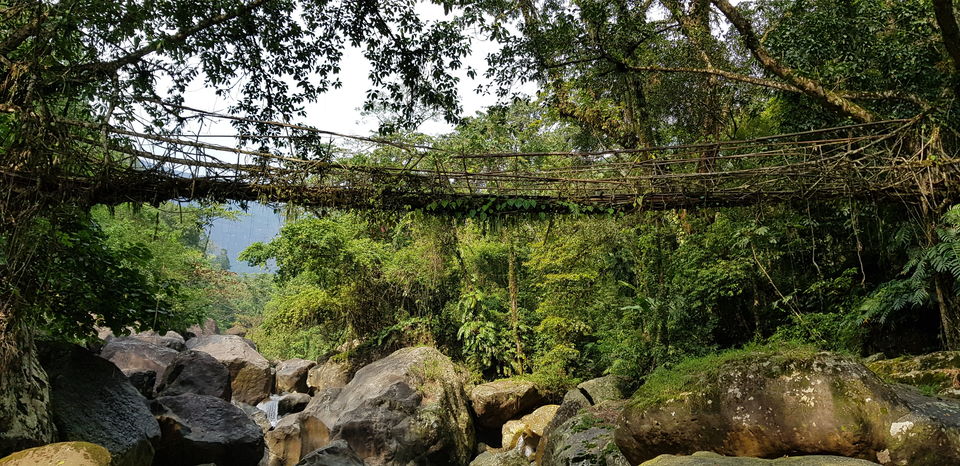 The tribal people invented this kind of intertwined living root to form a bridge across a stream to pass easily and safely. The process of making living root bridges will take approximately around 15 years and it's life span varies many hundreds of years. Even now, the local people create living root bridges (I personally witnessed root bridge-in-making in Nongriat village). Root bridges are formed by rubber fig tree (ficus elastica) roots over scaffold made of wood or bamboo. The elastic roots are made to grow through the tree trunks placed across the streams until the roots attach to themselves. The trunks guides, protects and provides necessary nutrients to the roots to form formidable bridge which can bear even an elephant across. The bridges are made firm using stones, sticks, etc.
The Mawlynnong village bridge is opened for tourist between 9 and 6 P.M. You have to actually struggle for parking if happen to arrive other than early morning or evening.
Village
By following the trail of Living root bridge you would come to a junction to choose between two narrow road. Right road will lead to few viewpoints, is isolated and recommended to traverse in midday and return before evening, and left road will lead to the village.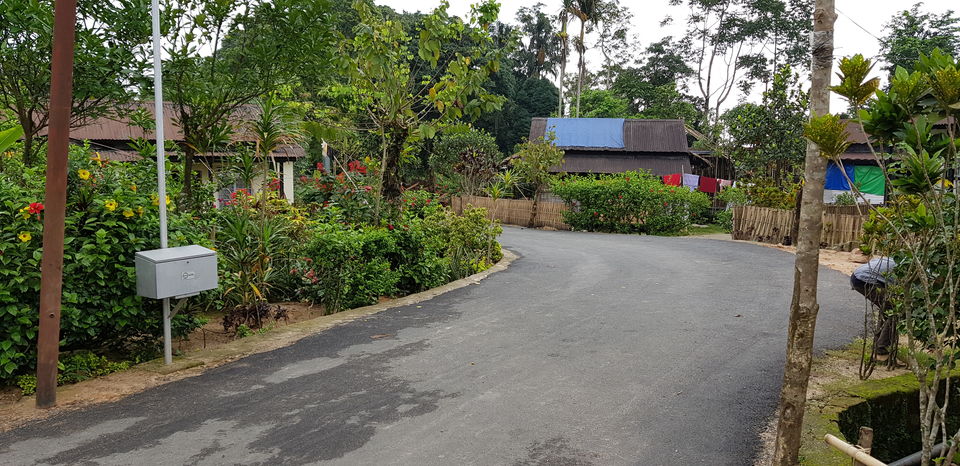 Finally, the village. The village has separate entry, exit way and even charge your vehicle entry fee. The narrow path expands to a circular plaza surrounded by small restaurants and shopping kiosks. If you happen to enter the village in midday you would hardly believe it as a village in first place. It looks more like a tourist pit stop. It will be filled with enthusiast tourists and their cab.
The village has neatly planted floras, perfectly paved streets (Tar roads) spread across the circular plaza is pleasing. You could walk along the limited streets in maximum of 30 minutes to admire local huts which, invariably, has small shops built in front, well-tended gardens and its varieties of flowers, bamboo baskets to collect garbage and their overall cleanliness discipline.
There is a watch tower built by local tribe in bamboo serves as view point overlooking Bangladesh landscape. It is a private property, owner charges minimum fare to climb the 85 feet bamboo tower.
This is the common day detour of tourist coming for a day trip and a local meal. The small restaurants offer limited varieties of food. Excited tourist will be content, for the fact, visiting the Asia's cleanest village in short span of time. The time taken to reach the village (in narrow, single lane) would be irksome if not for living root bridge.
A Night in Mawlynnong
Mawlynnong cease to be a village in day (my view) and serve as a modern, commercial picnic spot. The village is left with no choice but to tend the admired tourists and smartly make income. As the village performing the role impelled on it, the same transpires to its natural state every night - village.
Most of Mawlynnong tourist are day guests, but it also enjoys limited guests stays overnight. The village, first of all, itself enjoys adopting it's true nature and, secondly, presents few overnight patrons its natural self after sending off its day customers.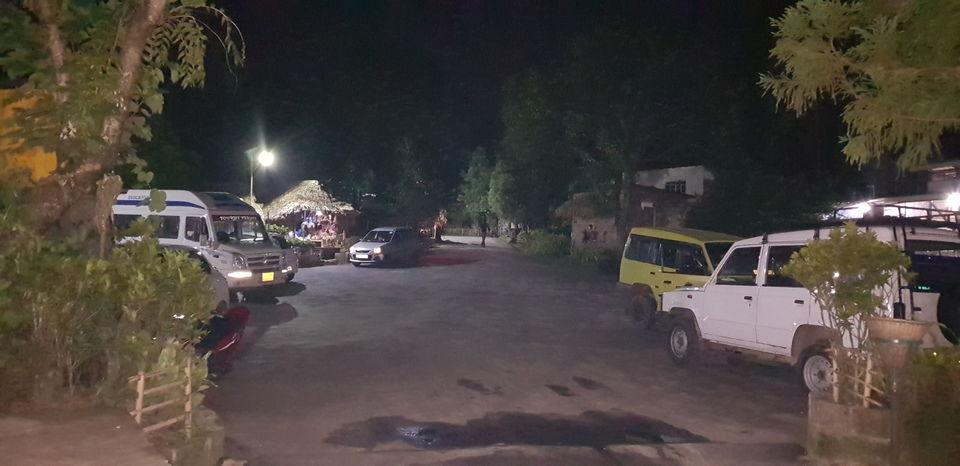 Just like any other village, kids play hide and seek in plaza while men overlooks them amidst their nattering, women sit in the middle of street and chatters. All the kids go to the only stall open at the dusk, gets mouthfuls and return to their play which lasts till last one of them feel sleepy.
Eureka Moment
There was a surprise discovery for me in the trip in the Mawlynnong Village. I, swear, was disappointed with the very first glimpse. It never looked like village as I stated above, tourist were clamoring in the local restaurants and handicraft shops. Other than the tourists and the little shop there was nothing in the village and it can be covered in matter of an hour even considering the time taken for lunch. And there I was left thinking the reason, in the first place, for booking an overnight stay.
And the first stroke of village feel came in the form of electricity. I found there was no power in the entire village in the particular time, not even in the restaurants. Every dropping sweat increased my aggravation. Even the time teased me mercilessly when the power returned to the whole village except to my room (not exactly! to some houses as well). My lodger informed one whole transformer power is yet to return and asked me to be patient.
Then I decided to take a way in the direction away from the place tourists are herded. And it turned out to be a wisest decision of the trip. The other side of the village opened up to a wide playground with a small elementary school rooms lead to an adjacent village called Nongkhaiwai. A narrow stoned flight descends amidst greenery unwrap the hidden quiet and stupefying stream. Both the village people share a magnificent stream for their own. Certainly tourist weren't aware of the place as I hadn't shared the spot with anyone till I was there. There was one local guy who walked through the stream to the village and except him there was none.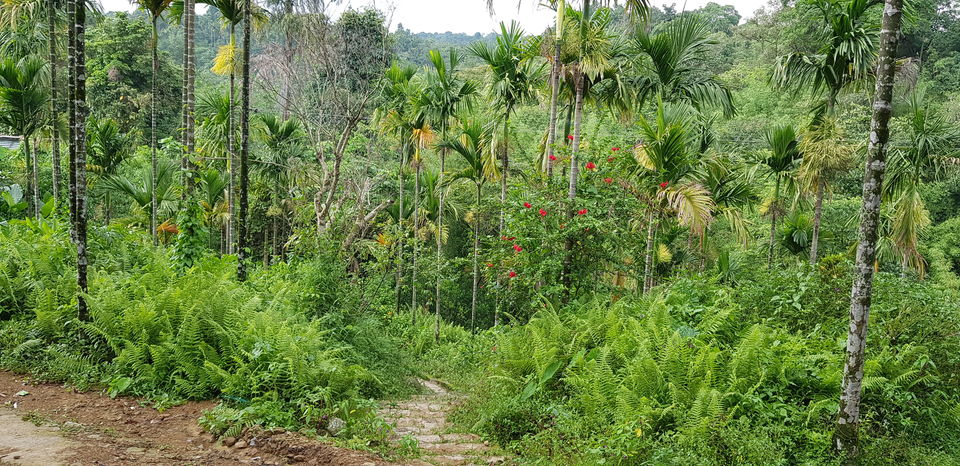 Most of the villages would have one or other of these kind and they stay special staying away from outsiders privately. And this stream is once such for both the village – a perfect rendezvous spot :)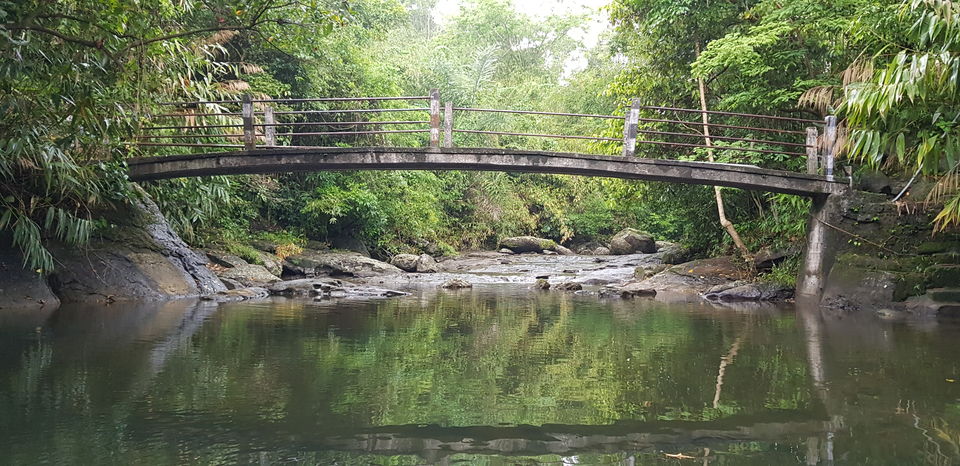 Postscript
--> The village is open Mon through Saturday and closed for tourist on Sunday's where the whole village together clean and attend weekly mass.
--> Most lodger provides dinner, check with your lodger in advance. Otherwise keep some snack or packed foods as the restaurants shuts before 8 P.M and offers very limited dinner food.
--> Next perfect place to visit from Mawlynnong is Dawki – an Indo-Bangla border. Do take only Mawlynnong-Pongtung-Dawki route as other route is in cruel shape and take hell lot of time to reach
Worth Visiting?
Yes - if,
>> Planned to visit living root bridge (after all 1 more hour won't matter much)
>> Looking for a clam overnight stay
>> Looking to minimize a travel time to visit Dawki --> staty overnight in Mawlynnong, explore Dawki & return evening to Shillong or Cheeranpunji
No - if,
>> You are on a tight schedule
>> You are looking for "real village" not pit stop for meals
PhotoGrid