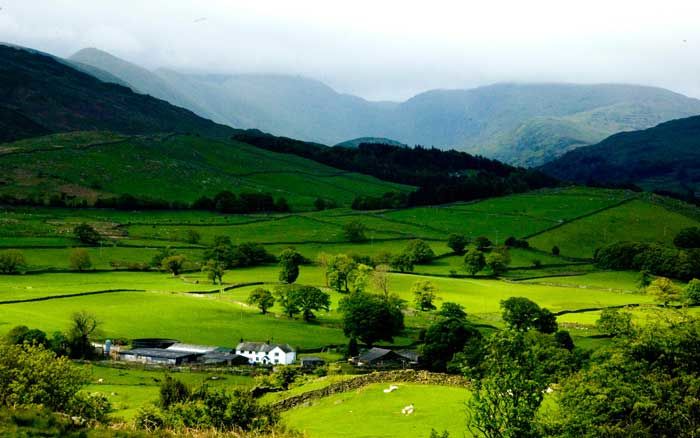 Living in the city can be a challenging affair: never-ending traffic jams, noisy irksome crowds, dreary concrete structures sprouting out of the ground, and amidst all the chaos and confusion of an exploding world population, we find ourselves trying to survive. In such a scenario, it's hard not to be disgruntled and it's definitely not uncommon to crave a change. A change so stark, it makes you feel everything up to that point was set in a different reality. When such a feeling kicks in, the only acceptable thing to do is to follow your heart and take off! Escape the madness of the city by exploring a low-key village that exudes a quiet charm, away from the din and disarray of urban living. Head to the cleanest village in India for a holiday and watch your mental space also get cleansed!
The Cleanest Villages In India
Here's a list of the nine cleanest villages in India that you have got to check out in this lifetime (if you haven't already!).
Believe it or not, this gorgeous little village in the East Khasi Hill district of Meghalaya had quite rightfully earned the title of 'cleanest village in Asia' back in the year 2003. But what's admirable is that it has managed to keep that reputation intact to this very day. Located about 90km from Shillong, this little village is way ahead of its times in terms of environmental consciousness, and follows a community-based approach to being more planet-friendly.
Out of the 95 households in Mawlynnong, every house has a dustbin made of bamboo, used to collect waste. This is then disposed off in a common pit and used as manure for crops. This fascinating little village boasts of a 100% literacy rate and most locals are comfortable speaking English.
How to get there: Shillong's Umrai Airport is the closest airport. Hire a private cab from there and take the AH1-AH2-NH40 route.
Not many know of this enchanting village in Karnataka with its mysterious rock formations sprouting out of the ground, attempting to scrape the sky. With the Sahyadri mountains as its backdrop, Yana sits comfortably in a scenic spot, hidden away from the rest of the world. The limestone rock formations that intimidatingly tower over you, are home to a self-manifested Shiv lingam with a figurine of goddess Parvati inside. This village is a must-visit for pilgrims, nature lovers and those into adventure activities such as hiking and trekking. It also helps that Yana is one of the cleanest villages in India.
How to get there: The closest airport to Yana is Goa's Dabolim Airport (210km away) or Bangalore's Kempegowda International Airport (480km away). From there you can take a local bus or private cab to this charming village.
According to the Guinness World Records, Majuli in Assam is the largest river island in the world. Located on the Brahmaputra river, it is one of the most enchanting and cleanest villages in India. The people here are warm and friendly and place immense respect in their culture and heritage. When you're here, make sure to check out the several gazillion museums around, or plan your trip in such a manner that you get to attend one of the many vibrant fairs and festivals here. Definitely check out the Elephant, Majuli and Assam Tea Festivals to get a taste of authentic Assam.
How to get there: The closest airport is Jorhat Airport, also known as Rowriah Airport, located in Jorhat city in Assam. It is about 20km away from Majuli. Since the river island is only accessible by ferries, all you need to do is hop into a ferry once you're there.
Much like the rest of picturesque Kerala, Idukki spoils us with its natural beauty and tranquility. Surrounded by lush mountains, this gem of a place is at the highest point of the Western Ghats and is a paradise for all nature lovers. Whether you wish to walk along winding trails, wander through a silent green forest, sit by a gurgling waterfall or jump into a calm, clear lake, Idukki offers it all. This is a must-visit for anyone who wants to experience the glory of Kerala.
How to get there: Kochi's Cochin International Airport is the closest airport (approximately 97km away and takes close to three hours and 20 minutes by road). Taxis, state buses and private vehicles can easily get you to this gorgeous village.
This small hamlet in Maharashtra sits at an altitude of 800 metres above sea level and boasts of some incredible views of quiet mysterious valleys and surrounding hills. The pleasant weather, that promises to rejuvenate you, is just an added bonus at one of the cleanest villages in India. However, the coolest thing about Matheran is the fact that no vehicles are allowed here. So for all the 'city breds' looking to escape the toxic fumes of urban living, Matheran will be a breath of sweet fresh air and total serenity.
How to get there: It's super easy to get to Matheran from Mumbai or Pune, as it is well connected by rail. There is also a toy train to Matheran from Neral every two hours. If you plan to take your personal vehicle, you can take your conveyance up to the car park, beyond which no vehicles are allowed.
This one is for all water sport enthusiasts out there! Apart from being one of the most gorgeous places in the country, this peaceful little village in Lakshadweep surrounded by aquamarine-hued waters, boasts of amazing aquatic diversity – corals and colourful marine life. It is super popular for activities such as scuba diving, sailing, snorkelling, glass-bottom boat tours, kayaking, fishing, water skiing, or you could just spend your days here swimming and soaking up the subtropical sun. Hop onto a bike and travel extensively across this little island – most definitely the best way to explore Agatti – absorbing the natural beauty around while you let the wind playfully ruffle your hair. Most places, with the exception of the only one resort here, shut down by around 8pm, so it's best to make dinner plans way in advance. The locals here are simple folk and lead a slow and uncomplicated life.
How to get there: Cochin International Airport, at a distance of around 494km, is the closest airport to Agatti Island. From here, you can either take a flight (only Air India runs flights to Agatti) or ship cruise to Agatti. The Agatti airport is situated at the southern end of Agatti Island and is the only airstrip in the archipelago.
This hamlet is located in the high-altitude and wondrously beautiful Spiti Valley, and is very close to the Tibetan border. Arid, desolate and barren, Nako is uniquely beautiful and a place you should visit if you want to experience something a little different than your run-of-the-mill hill station holiday. This quiet little village has an ancient monastery complex, which is a cluster of four old temples, run by Buddhist lamas. The walls of these temples are adorned with beautiful frescoes. As for recreational activities, during summer you can go boating here and winter months offer fun ice-skating sessions.
How to get there: The nearest airport to the Spiti region is the Kullu Airport in Bhuntar. From here you can rent a local cab to reach Nako. The journey should take approximately five hours. Either that, or jump aboard a Himachal Pradesh State Transport bus or a private bus to reach your destination.
Most of us are familiar with the annual Ziro Music Festival held in Ziro Valley in Arunachal Pradesh. This four-day occasion of absolute music revelry is organised by the friendly local Apatani tribe that resides in the valley. But have you ever thought of exploring the charming little village of Ziro?
Situated about 115km away from the state's capital of Itanagar, this isolated paradise has been shortlisted as a UNESCO World Heritage Site. The sloping hills surrounding it are covered with pine and bamboo trees. Ziro has vast stretches of beautiful green grasslands, especially the Ziro Puto hill which appears to be covered by a green fluffy carpet of grass.
One quirky and rather interesting fact about the Apatani tribe is that the women in the tribe got facial tattoos because they were believed to be too beautiful for their own good! The tattoos apparently concealed their beauty so men from other tribes wouldn't woo them away!
This tiny hamlet remains largely unexplored by tourists, with the exception of the occasional backpacker. But anyone who loves nature, clean fresh air and fascinating trails should definitely head here because it is one of the cleanest villages in India.
How to get there: The closest airport is the Guwahati International Airport. You could either book a cab from here to Ziro or take the train to Naharlagun Railway Station, about 15km away from Itanagar. From here, you could hop on to a bus that will directly take you to Ziro. The distance by road should be covered in about six to eight hours.
Around 20km away from Kohima, the capital of Nagaland, is a sleepy village called Khonoma, but let that description not deceive you. This warrior village happens to be India's first "green village", known for its ecologically-sensitive people and community conservation projects. This 700-year old hamlet with a population of about 3,000 people, is known for its emerald green forests and sloping terraced hills blanketed with rice plantations. Some of the conservation efforts that have taken place to preserve biodiversity and wildlife include development of the Khonoma Nature Conservation and Tragopan Sanctuary, successfully banning hunting in the region and strengthening systems of natural resource management.
How to get there: The closest airport is the one in Dimapur. From there you can rent a cab and travel to Kohima by road, which takes close to two hours and 40 minutes. Khonoma is only 20 minutes from Kohima and is accessible by local buses and cabs.
Have you been to a picturesque and clean village in India that amazed you? Add to this list by sharing your experience here!
Frequent searches leading to this page:-
beautiful villages in south india, beautiful villages in kerala, cleanest village in india, best clean village in india, most beautiful village in world, book Lakshadweep package include villages