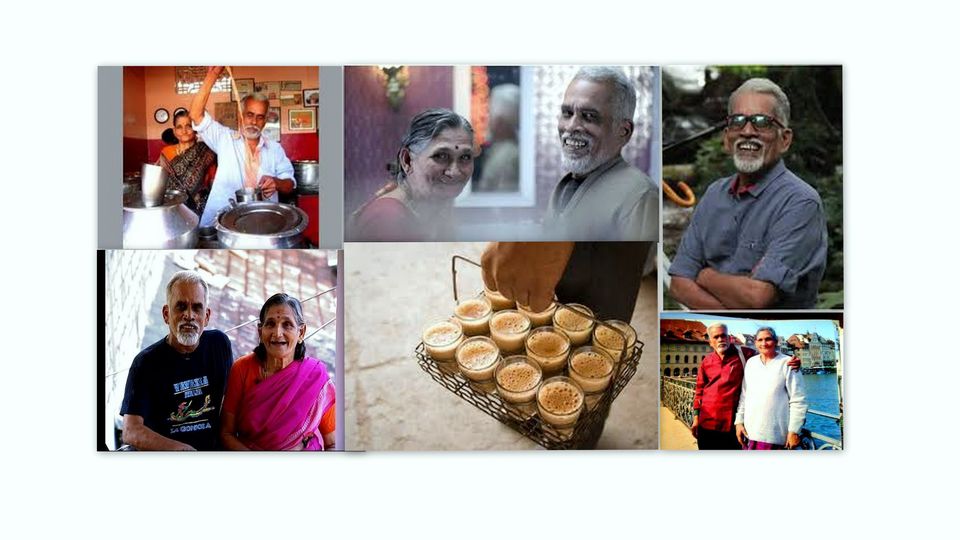 I still may not know what I want to be when I grow up(adding years to my present), but, I do know that I want to live  at home filled with books & travel souvenirs. And, the walls that aren't covered in bookshelves will be covered with photos of my family, friends, loved ones and the trips which made me another myself. When I leave home I will be going to a job I love, and, I'll return to a person I love. So, that is the dream I am working on!
Similar kind of dream, dreamed this "Chaiwalla" inspiring me and many others, that, If you can dream it, you can do it. Here, let me introduce you all to Mr. Vijayan. Vijayan , a 65-year-old wayside tea-seller owning a tiny tea shop in Kochi says it clear-"If you really wish to chase your dreams, nothing can stop you from it."
Vijayan has been a tea-seller for over forty years, however, that hasn't stopped him and his wife from touring almost every scenic destination in India along with a whopping 16 other countries- Britain, France, Austria, Egypt, UAE, the list goes on. 
His tea-stall is his only source of income, something that has never been an obstacle in fulfilling his dream of travelling all over the world. "I got the obsession in traveling from my dad; he took me to different places since I was 6 year old. We went to Madurai, Palani and many other places. Those travel memories with my dad helped me unleash my dreams", says Vijayan.
Life was not easy on Vijayan while he was growing up. Trips with his father to almost all temples in Kerala triggered his passion for traveling; however his father's death brought all possibilities of travelling to a standstill as he took up all family responsibilities. It was only in 1988 that he resumed traveling when he accompanied a man as his cook on a pilgrimage to the Himalayas.
What is the point of fulfilling your dreams if you have nobody to share it with, says Vijayan as he refers to his wife Mohana, who joined him forty years ago. Back then her life revolved around Kochi, but post marriage, the couple have explored exotic cities, all on their own. Excitement lights up her face as Mohana explains her most enjoyable journeys.
Vijayan, say it with proud that-"I was really excited when we first traveled abroad. Belonging to a very poor family, I never dreamed of a life like this. Later along with him I too became obsessed with the journeys. Switzerland is my favorite among the places we visited", she says.  Switzerland may have been her favorite but according to her, seeing the statue of Jesus in Israel left her rooted to her spot for a long time. 
The journey for Vijayan was not at all easy, they struggled and worked hard, but all to live there dream. Despite all the financial securities, the couple took the loan, travel abroad , come back , repay the loan for next three years and all stood up again, for another destination, another life, another journey and for adding another story to their life.
Vijayan follows a very simple way for saving money, "I save rupees 300 a day for our tickets and spend just 10 dollars or less on picking up some tiny souvenirs from the places of visit. We don't spend anything more."
There is no question of spending lavishly for this couple.
They may have traveled to 16 countries, but one country on their to-go-list still eludes them is the United States of America, a place they have been wishing to go for a long time now since their last trip to Europe in 2012. 
Considering their age, the couple in recent times have faced difficulties in getting loans to finance a loan to their next dream destination. But all is not lost, says Vijayan."Once I was completely stuck without money, then one of my old acquaintances who resides in South Africa offered me stay and food there. Then I somehow managed the ticket fare and visited the country. So am sure that somehow I will be able to visit the US", he said. 
Despite the financial burden the couple will have to sustain, Vijayan is steadfastly stubborn about one thing, about not leaving his wife behind. "I can't travel without her, I will happy only when she is around", says Vijayan smiling.
Don't tell people your dream, show them what Vijayan perceived and achieved. Vijayan story, makes me believe today- sometimes life is risking everything for a dream no one can see but you, touched my soul and once again, inspired me to live my life traveling. What you waiting for, make your life worth living in all better way-Travel as far as you can.
Explore. Dream. Discover.
Travalive Tours - for all your travel needs